5 WAYS TO HANDLE THE NEWS OF DEATH
Published Apr 29, 2016
Updated Apr 26, 2017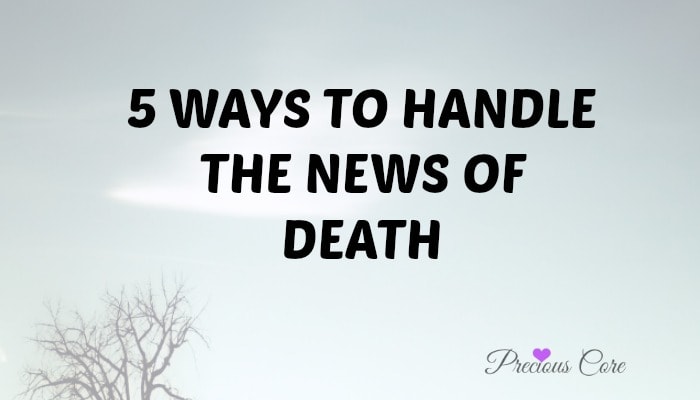 We hear of people dying everyday. As more humans enter the earth, more humans leave the earth. Sometimes the news of death we hear is expected either because the deceased lived long and was old or was in a bad situation like sickness. Other times, the news we get is downright shocking and devastating.
For the past few days I have heard so much about death. It began with
the sad news of my friend who died in an accident
. This was followed by the heartbreaking news of a father who drowned and died with his kid while on a short vacation. Next, all over the news I see images of a certain,
Prince
a singer I know nothing about. People seem to love him and are devastated by his death. Then I hear of the death on stage of African artist,
Papa Wemba
. Though it might not be the most exciting thing to say, people will always die. It is an inevitable path. While we might not be able to escape hearing about death, we can choose to handle the news of it in the right way. Here are five ways we can do that.
1. Talk about it
When I heard the news of my my friend's possible death, I was in total denial. It is normal to react to death in this way. However, when you are ready talk about it. Try to know how and why the person died. This might not make your pain less but it will give you some sort of closure.
2. Allow yourself to grief
Don't bottle up those feelings. Let them out. Cry, hit walls then stand up and face life.
3. Do something you love
This might not be the likely time for you to want to do something your really enjoy but as long as you still have your breath, life has to go on. After you grief, try to live.
4. Cherish those who are still alive
Death is brutal reminder that the person you see might not be here tomorrow. Therefore we should tend to cherish the moments we spend with the people in our lives. Leave no room for hate, malice or bitterness. Don't waste time fighting. Spend time loving because we won't be here for very long.
5. Pray
God binds the heart of the broken-hearted. There is tremendous power when we pray. When you are grieving, take your worries to the One who knows tomorrow.
How else can we handle the news of death? Let's talk.
"Blessed are those who mourn, for they will be comforted."