7 PLACES TO FIND A HUSBAND IN DOUALA
Published Apr 15, 2016
Updated Apr 26, 2017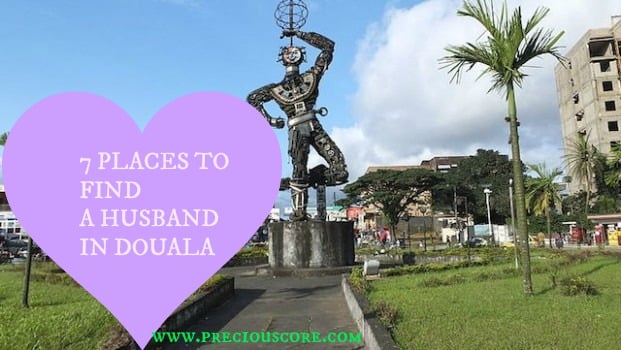 I lived in Douala for 3 good years after Mr. N forced me to fall in love with him, pack my bags and follow him to his infamous garri boy house with flaky walls and different colour shades of curtain (story for another day). So when I tell you that there are husbands Cameroon's largest city Douala, my sister, believe me there are! Find them here:
1. Winner's Chapel, Ndogbong.
The brodas in this mega church are something to write on
Precious Core
about. Suits, on point! Hair-cuts, on point! Shoes, well pointed
pointininis
worn by brother Shoekwumas!. Spiritual life: it is evident in the way they wave their hankies in church, and sing on Sunday morning:
Celui qui donne la victoire son nom c'est qui?
C'est Jesus!
Celui qui donne la femme oh son nom c'est qui?
(Answer here)
2. Marche Nkululou
I love this market! In Marche Nkoloulou, second hand and tenth hand clothes are sold at very moderate prices. A single man who shops there knows the true value of okrika. You can even shop for your wedding there. Marry him.
3. Bonaberi Traffic
The traffic at Bonaberi can be so annoying, yet so useful. They say when life gives you lemons you make lemonade, right? So when Bonaberi gives you traffic, instead of using up several muscles to frown, lighten up with a smile and strike up a conversation with that dude seated next to you. You could find your life partner in annoying traffic.
5. Douala International Airport!
Somebody say ohon ohon! Please, go here when Christmas is approaching. Eligible husbands of different shapes and sizes will be arriving from different parts of the world with iPhones and iPads.
Some will be be from Qatar, others from Tokyo, others from Lebanaon, Brazil, UK, US, Ukraine, all the U's! No matter where they are from, they will have one thing in common, sister: the American accent. Who doesn't want a husband that yells, "shirt mehn!" when angry?
6. Bonanjo
This is where the life happens in Douala! Women start preparing to
roast fish
for the day at 11 pm! The Makossa icons have a thing or two to do with this neighbourhood.
Makossa sah ba side. Side!
Makossa sah ba side. Side!
Is that how they sing that song? You know the kind of husband you will get from there.
7. Glacier Moderne
This is where you will meet the javeur kind of guy. If he orders a hamburger and doesn't finish it, go for him, sister. Money answereth all things.
*singing off-key and running out of post*
Love is on the way
On wings of angels
I know it's true, I feel it coming through
Love is on the way
Time is turning the pages
I don't know when
But love will find you again