8 THINGS TO DRAW FROM NATHALIE KOAH'S STORY
Published Feb 25, 2016
Updated Apr 27, 2017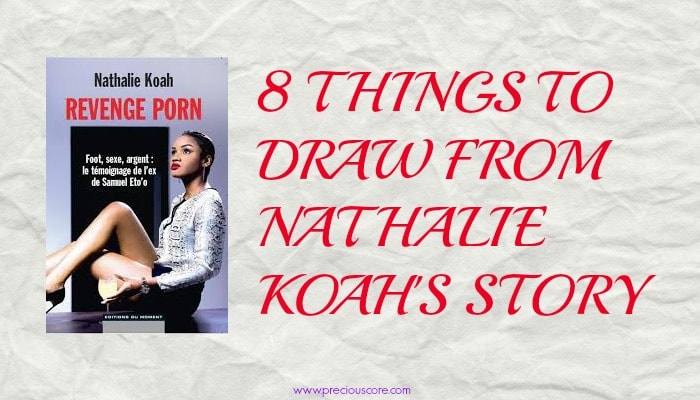 For the past weeks, the Cameroon social media scene has been raging with posts and comments about Nathalie Koah's saga. Nathalie Koah a former Cameroonian air-hostess had a passionate 7 year relationship with popular Cameroonian footballer, Samuel Eto'o. According to story-tellers, she walked out of the relationship and the footballer allegedly published nude pictures of her online as a form of revenge.
In response, Nathalie wrote a tell-it-all book, captioned, "Revenge Porn" to tell her side of the story. This story tells us a lot about the state of our society. Here are some things that are evident in the story:
1. SEX RELATED STORIES GET ALL THE ATTENTION
As soon as this story became popular, it almost seemed like nothing else was happening in Cameroon apart from Nathalie and her book. Conversations ensued about her sexcapades with the footballer and other men in the book. The saying, "if you want to hide something from a black man put it in a book" does not hold water in this case. Black brothers and sisters are going all in for this book of over 200 pages! Even more interesting is the fact that those who don't understand French, the language of the book go the extra mile to get some form of translation. A leaked copy of the book was even released online before the stipulated day of release. If this were a book about how each person could contribute to stop Boko Haram or a book on how to be an entrepreneur in the 21st century, I doubt if it would have garnered such attention. When it comes to stories on sex, stereotypes about are broken. Does this say something about the mental state of our people?
2. WOMEN ARE ALWAYS BLAMED MORE
In this story, many men and women have come out to call Nathalie derogatory names. In the normal fashion of women fighting women, more women have been quick to bash her. On the other hand, very few are saying the same about Eto'o, a man who has fathered children with more than one woman. If Nathalie had children, with different men, the name-calling would have been amplified. When a man and a woman do something wrong why does the greater part of the blame go to the woman?
3. MONEY AND FAME APPARENTLY IMMUNISE YOU FROM MISTAKES
When you are rich, famous and people love you, you can do almost no wrong in their eyes. People tend to forget that you are human, make mistakes and sometimes need to apologise. Money and Fame do not buy integrity but some people are probably blind to that.
4. PROMISCUITY IS MORE COMMON THAN IT SEEMS
Multiple sex partners and sending of nude pictures are a regular practice. The fact that many stories about this haven't been brought to the light doesn't cancel the fact that they are there. In this story, many are screaming, "let he who is without sin cast the first stone."
5. SLEEPING WITH A MAN FOR MONEY IS EQUALLY TERMED "HUSTLING"
Apparently, sleeping with a man for money now has the status as other kinds of businesses. Prostitution is gradually getting to a state of normalcy or wait… hasn't it gotten there already?
6. TOMS, DICKS AND HARRIES WILL USE TRENDING TOPICS AS THEIR CLAIM TO FAME
A lot of people have something to say about this controversial story. This is some sort ladder to fame. Apparently, people just want to be known by fire, by force. It doesn't really matter what they are known for.
7. THERE IS A THIN LINE BETWEEN LOVE AND HATE
These two people who balled together are now fighting. Very thin line between loving somebody and hating them.
8. THE LOVE FOR MONEY IS THE ROOT OF ALL EVIL
Put a highlight on ROOT and ALL. If Eto'o was a barrow pusher with an unknown name like, "Garri Boy Atangana" there will be no story.