Cameroonians Brand Kuwait the New Hell: A Case of Modern Day Slavery
Published Jul 10, 2015
Updated Sep 29, 2016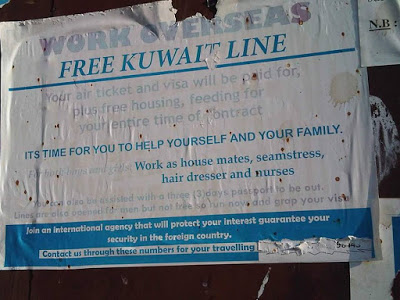 Photo credit: Facebook page of Angie Forbin
Scrolling through Facebook, I land on a post by perhaps the most loud-mouthed friend I have on the social media, Nakinti Nofuru Besumbu. As usual, I pause to savour her post. It is a hearty letter to commercial bike rider, which she wittily captions, "Letter to an Okada/bike man."

After saluting him, she proceeds to say she has lost sleep over an issue he discussed with her. The bike driver, transported her from a food market in Bamenda, capital city of the North West region of Cameroon, to her home.
On their way he took a longer route, explaining to her that he didn't want to be seen by his creditor. He had borrowed some money to use in financing his wife's journey to the Western Asian country, Kuwait.
With a poetic flare, Nakinti states in her letter, "My dear Okada Man, despite the fresh breeze that was blowing as you rode your dilapidated bike, I sweated from head to toe when you told me that your wife was travelling to Kuwait for greener pastures."
She proceeds to narrate how she bursts the man bubbles by out-rightly telling him that she is uncomfortable with girls travelling to Kuwait and Lebanon to do domestic work. After explaining to him that many girls have lived lives of torture in those countries, he became as uncomfortable as her.
He left with teary eyes and told her he was going back home to persuade his wife against journeying into the dark.
After reading the post, I am concerned for his family and hope the bike man made the right decision. Before I even finish digesting this disturbing piece of information, I stumble on a request by a Cameroonian girl who says she has fallen into the pangs of suffering abroad.
Maintaining anonymity, she writes on a faith-based group on Facebook, First Ladies saying she is in a state of deterioration in a country overseas. She urges her Christian sisters to pray for her saying:
It was seven months ago when an opportunity came up to go be a maid abroad. The working conditions as explained, looked favourable: working from 8:00 a.m to 3:00 p.m to resume only the next day. It seemed cool. I prayed about it but did not get any red light in my spirit so I launched and the day I alighted from the plane, so did my dilemma start. It is simply slavery, dear First Ladies. As I speak, I am having serious palpitation and body pains. We barely rest, no freedom. I have not even gone to church since then, It's imprisonment and above all my body isn't supporting it any longer. It's a two year contract and if you wanna come home then you have to give 1.5 million to your boss. I'm completely trapped and to think I still have more than one year ahead of me is unthinkable.
I am a stranded Christian and this is simply the hardest challenge I've had in my entire life. Please First Ladies, evoke the name of Yahweh to make a way for me either by providing me with a different work or making a way for me to go home… sweet home.
A comment beneath the post urges her to reveal where she is so others can be warned against following suite. Through the administrator of the group, she announces that she is in Kuwait. That name, "Kuwait" rings a bell in my head. I quickly think of Nakinti's post in which she says this country has horrendous working conditions for our green pasture-seekers.
The suffering sister further explains how she wears the same panty for many days and goes to bed completely exhausted.
It is a sad day for me as I reflect on this horrific eye-witness account. Then after a couple of weeks, I am hit by the testimonies of not one or two but three "freed slaves" from Kuwait, uploaded on sound cloud by Cameroonian journalist, Tapang Ivo Tanku.
After transcribing their stories which were originally aired during Cameroon's breakfast radio show, "Cameroon Calling" on the nations state-owned radio, I upload them on this blog. I then proceed to dig deeper into this case of man's wickedness to man.
I find a video supposedly taken by a Cameroonian girl who is presently living the reality of the inhumane treatment. She shows her bed: apparently mere wood covered by a sheet. Speaking in Cameroon Pidgin English, she says she'll rather sleep on the rug than lie on that "bed". Watch the video below:
Then there is this picture used as a Facebook cover photo on the wall of a Cameroonian man named John Egyawan: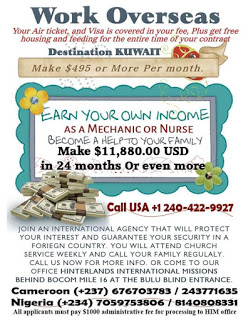 The man who is obviously one of the agents that recruits girls to send to Kuwait has been put on a hot seat by Cameroonians on Facebook who say he is one of the culprits in this case of modern slavery.
Mr Egyawan claims "his girls" are in safe working conditions and he has a vision to fight poverty in Cameroon.
Many eyes are equally looking at another agent simply identified as Kome who operates in the South West regional town, Limbe. A Cameroonian man on Facebook says this agent nearly tricked his sister into going to Kuwait.
He said he got a friend to translate her visa which was in Arabic and discovered that the visa explained that she was to work as a house maid. He stopped his sister from travelling and this severed ties with Kome.
According to the government-owned broadcasting service in Cameroon, Cameroon Radio Television (CRTV) Cameronian women make up up to 90% of the African women population in Kuwait. Worse still, about 30 new Cameroonians flood into Kuwait everyday.
After hearing all these tales of woes coming from Kuwait, I wonder if there are any impressive success stories from there.
If family members can beg, borrow or steal safe just to get these girls to Kuwait, then they can equally put together decent amounts of money to enable these girls start small businesses.
Kuwait is the new hell. Let us discourage people from going there. Don't forget to sign this petition asking the Kuwaiti government to release the Cameroonian girls trapped there.
You can share the following picture to support this course: