Judgement Day
Published Sep 13, 2014
Updated Sep 29, 2016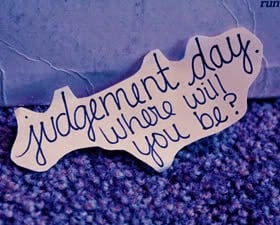 How many people live life constantly thinking of the 'judgement day?' It is very easy to forget about what lies ahead but a constant reminder of the future will keep you in check.
For we shall not all sleep but one day, in a moment, in the twinkling of an eye, we shall be caught up to be with the Lord. (1 Corinthians 15:51-52) This scripture talks about the rapture, which is one of the ways men will leave the earth. It shall be an 'unsurprising surprise'. I use the words 'unsurprising surprise' because in the Bible, Jesus clearly tells us the signs to watch out for that indicate that the end is near. We have seen these signs and we are seeing these signs: rumours of war, families tearing apart, epidemics, sicknesses, etc (read Matthew 24 for signs of the end). So the signs are there already and the end could even be now!

Yet the Bible says he shall come like a thief in the night. That will be a huge surprise! I once got a visit from a thief in the night and it was one of my most shocking experiences ever. I least expected or imagined that something like that could happen that night. By morning, my television set and other valuables were gone. It wasn't funny. May we not wake up one morning to find that true believers in Christ have been raptured. It is the most unpleasant experience and may it not happen to you.
The Bible tells us the story of the five wise and the five foolish virgins (Matthew 25). The wise virgins had oil in their lamps and were ready for the bridegroom's return. However, the foolish virgins lacked preparation. Are you prepared for His return or do you keep postponing the decision to be ready? Now is the acceptable time of salvation. Tomorrow may be too late.
How do you get ready for the Master's return? Here is how: Is Jesus the Lord of your life? Are you living to please Him and He alone. Remember, the Bible says children of God are 'in the world' but not 'of the world'. Which standards are you following? Worldly standards or Biblical standards? You can never serve God and Mammon. Choose this day whom you will serve. Stop sitting on the fence. Hypocrisy will never take you to heaven. You need to make a firm decision.
If the Lord tarries, death might not tarry. There are many people your age who are dead, buried and probably forgotten. God has spared you so you can get this message. When death comes calling will you be happy to meet your God or you will be scared of the unknown? After death comes judgement. How prepared are you for the life after this life? Indeed there is a life after this life, a life that will last FOREVER.
Watch your thoughts, watch your actions, watch your words! Let the word of God be your map. With this, you will smile at the end that is to come.
LET HE WHO HAS EARS LISTEN