Yassss! That's all I can say about this cheesy one-hour homemade pizza recipe. Plus if you have never made homemade pizza before, here is an invitation to try it out. You will never look at the fast food version again! I made a video for you so watch me whipping it up easy breezy below.
And here is the printable recipe for your homemade pizza-making pleasure: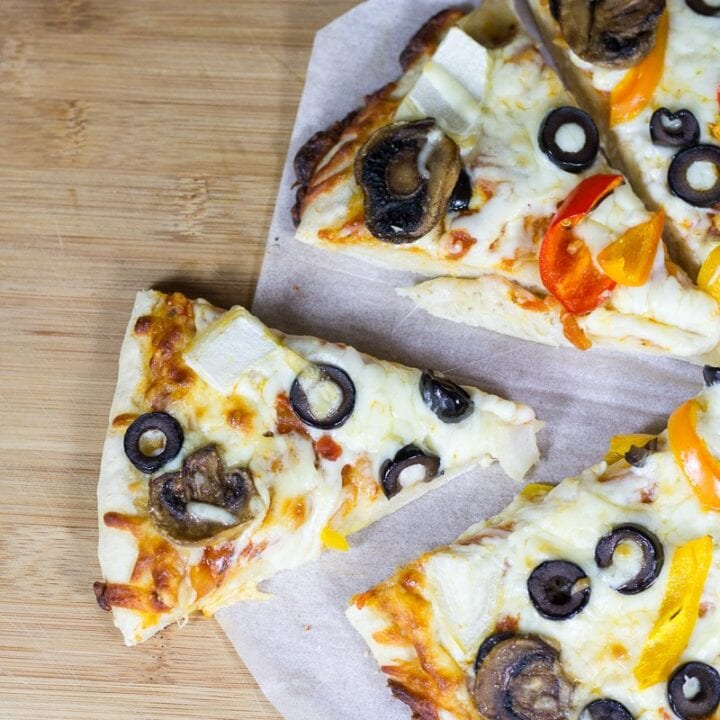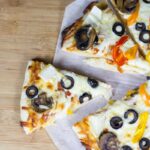 ONE-HOUR HOMEMADE PIZZA
I eat a similar pizza with same toppings at my favourite Italian restaurant. I decided to emulate the recipe by making mine at home. The result: perfect. It comes together in only an hour. Winner!
Ingredients
For the Pizza Dough
2

cups

all-purpose flour

1

teaspoon

rapid dry yeast

½

teaspoon

salt

1

tablespoon

olive oil

1

tablespoon

sugar

½-1

cup

warm water
For the Toppings
½

cup

pizza sauce

1

cup

shredded mozzarella cheese

½

cup

chopped bell peppers

½

cup

sliced pitted olives

½

cup

sauteed mushrooms (optional)

½

cup

onions chopped into large chunks
Instructions
In a bowl, mix together all dry ingredients for the dough. Then pour in warm water gradually until it forms a slightly sticky dough. Transfer the dough to a floured board and knead for 5 minutes. Form a circle with the dough then roll it out into a bigger circle. Place on a prepared pizza tray. If you do not have a pizza tray, roll out dough into a rectangle and place on a regular baking tray.

Preheat oven to 350 degrees F.

Rub sauce all over the pizza then sprinkle on the cheese and arrange all the toppings on top. Sprinkle more cheese if you wish.

Bake in preheated oven for about twenty minutes until cheese is well melted and the dough is slightly brown. Cut into wedges and enjoy!
Are you on Pinterest? Click image below to pin.

I really enjoy this pizza recipe. It is easy to put together and so delicious. You can customise the toppings as you wish. Sausage, chicken and pepperoni make great pizza toppings!
Just in case, here are other pizza recipes on the blog:
Yes, they are all EASY!
If you make this, kindly tag me in a photo on Instagram @preciouscore. I'll love to see!
Enjoy!