Prince Ekosso Says he is Cameroon's Next President
Published Jul 15, 2015
Updated Apr 27, 2017
He is a typical Cameroonian man but not your everyday guy.
Clad in a dark stripped sharp-looking and well-fitted suit, he stares at his onlookers with an expression that says a thousand words. The words by him are the mantra on which his political party rolls.
"Don't wait for the change. Be the change!"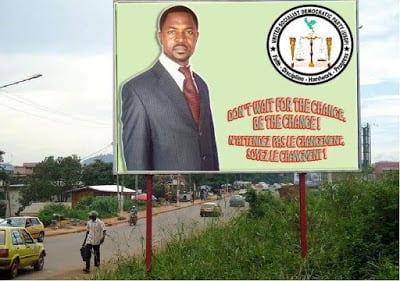 Billboard showing Cameroon's 2018 Presidential hopeful (Photo Credit: Prince Ekosso)
The billboard image which stands tall on an unpopular street in Cameroon introduces to the public, one of the country's 2018 presidential aspirants, Prince Michael Ngwese Ekosso.

Holder of a BA in Social Sciences and International Relations, he chairs the United Socialist Democratic Party (USDP), which was legalised in September 2011.
Although Cameroon has had the same president for 33 years, Prince Ekosso, 40, tells me he has what it takes to be the country's next leader:
"80% of the population of Cameroon is made up of youths, and all of them have been praying and waiting for this moment to come. So, I can honestly and confidently tell you that we already have 80% of the potential electorate both home and abroad."

He frowns at the system of "suppression and oppression" under the country's long-standing leadership:

"We will harmonise the constitution and limit presidential mandates in Cameroon from 7 years to 5 years with 2 terms maximum."
The wannabe president says his regime will be all about creating better opportunities for Cameroonians and luring those abroad to return home:
"We will address t
he social problems of flood, poor housing conditions, low salaries, a corrupt taxation system, poor medical attention for our population, mismanagement of state budget, poor and very slow governance functioning; a system that does not take into consideration the pension benefits of those who have given their sweat and blood to serve the nation. The denial of double nationality law for some of our Cameroonians in the diaspora who have taken up other nationalities, but have the financial, intellectual, educational and technical skills to fix most of our problems, indicates that Cameroon needs change."

Prince Ekosso who currently works as a Business Development Officer and a Cultural Guide at the National Museum in Yaounde, Cameroon adds:

"Note that there are 144 thousand Cameroonian medical experts in France alone. We will bring them back to assist in treating our population from medical conditions which can be easily handled."

One of his strategies is the creation of a Facebook group tagged, "The Next President of Cameroon" through which he aims to motivate the youths to participate actively in the political life of their nation. He has also created a fundraiser where supporters can contribute financially to boost his vision of change in Cameroon.

The husband and father of two states that the grand official launching of political activities of the USDP will take place sometime in 2016.

Among his multiple diplomas and certificates are a Certificate in Project Management and Impact Analysis and a Diploma in Advanced Leadership and Theology. Despite his faith-based background, he says his party is not a religious one. Yet he affirms the supremacy of God and the need for human leadership to draw inspiration from Him.
DISCLAIMER: Precious Core Blog is apolitical so this feature does not in any way endorse a political figure.