THE 4 Hs OF BUILDING AN AWESOME BLOG
Published May 10, 2016
Updated Apr 26, 2017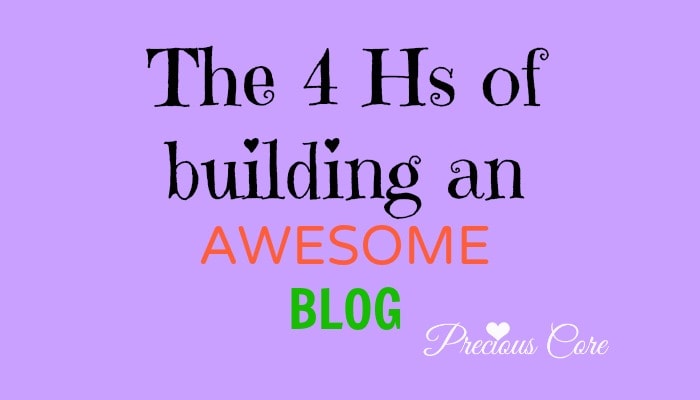 I've been reflecting lately about blogging and what it takes to build an awesome blog. My thoughts can be summarised in these 4 Hs.
1. HEART
To build an awesome blog you need to heart blogging. Be passionate about it. Don't do it just because others are doing it but because you have a unique voice that needs to be heard and a unique story that needs to be told. You need to put your heart into it. This is the only thing that will keep you going when it seems like no one is paying attention to your blog. From the time I started blogging, a lot of times I felt like I was speaking to myself because I was hardly getting any feedback. But I kept going because I love being able to reach others with words and I have this unshakable certainty that that's what I should be doing at the moment. So a lot of times, I blog for one person. If one person gets to see that post and gets value then I'm fulfilled.
Evaluate your goals for blogging and see if you are reaching them. Sometimes we worry about the size of our audience more than the heart that we put in our blog posts. Heart is more important.
2. HONESTY
Be truthful, real and vulnerable in your blog posts. There is tremendous power when you just allow yourself to be yourself. After all you are a normal person with weaknesses and trials and the fact that you sit behind a computer screen and type doesn't make you a super- human. You don't have to reveal anything and everything about yourself but be honest about who you are. Let your audience love you for who who are.
3. HARD WORK
No matter how passionate you are about blogging, you won't go anywhere if you don't put in the work. Read articles about blogging on the web, create awesome content and be consistent. Keep working at building your brand, doing everything you can possibly do to move it forward.
4. HOPE
Does blogging have its ups and downs? Yes it does! What will sustain you is hope. Do not lose hope. Do not give up on that dream because "whatever you vividly imagine, ardently desire, sincerely believe and enthusiastically come to pass must ardently come to pass," Quote by Mary Kay Ash
Are you thinking of starting a blog? Check out my article on how to start a blog for free:
"
Death and life
are
in the power of the tongue,
And those who love it will eat its fruit."