THE DAY I WORE FAKE LASHES
It was my youngest daughter's dedication so I decided to take my makeup to the next level by putting on fake lashes. After, scanning through an array of lashes at the store, I settled for one that looked more natural and less conspicuous. At the isle in which the lashes were displayed was a lady with very exotic ones on her. I asked her to help me choose an appropriate glue to help me glue the lashes to my eyes. She chose a hair glue for me, telling me it was going to be stronger than the glue specifically made for the lashes. She had lashes on herself so I figured she knew better. There was no need taking her advice with a pinch of salt.
On the day of the occasion, I asked my niece-in-law to help me glue on the lashes. She rubbed the glue on the hairless end of the falsies and asked me to close my eyes while she attached them. In what seemed like forever, she kept pressing on the lashes to ensure that they were well attached. I lifted up my eyes and looked into the bathroom mirror and there was I, looking like a semi-witch. My innocence was gone. My calm look, all gone. The lashes added some character to my face that I didn't quite like.
"Hmm, is that how it is?" I asked.
"Can we cut it?"
My in-law said cutting it was possible. So she took it off, got a scissors and trimmed the lashes then glued it on again.
When I looked into the mirror, I had graduated from looking like a semi-witch to looking like an apprentice witch. I was pressed for time I left the lashes like that and moved on to other things.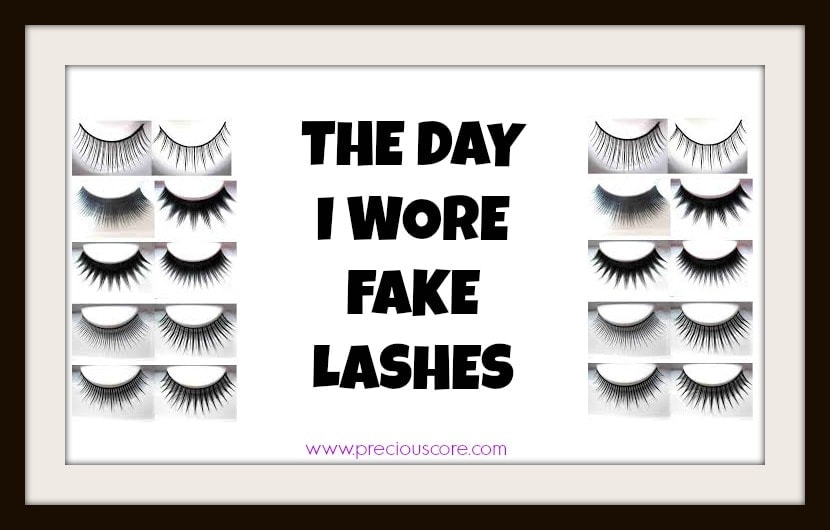 When Mr N saw me, he said, "You don't look like the woman I married."
Wandas! I didn't want to tell him I had fake lashes on yet I felt like I was a different person. On our way to church, that cool summer afternoon, the wind started blowing so fiercely that the left lash slightly detached. So yours truly could see her 'lashes' from the corner of her eye dancing to the wind. That was when I knew I had to do something about the lashes before I disgraced myself in church. I asked my in-law:
"Can I just take them off?"
Thankfully, taking them off wasn't some procedure as I thought. She said I could just peel them off which I did. I was happy to have my life back.