THE FIVE FATHERS IN MY LIFE
Published Jun 20, 2016
Updated Apr 26, 2017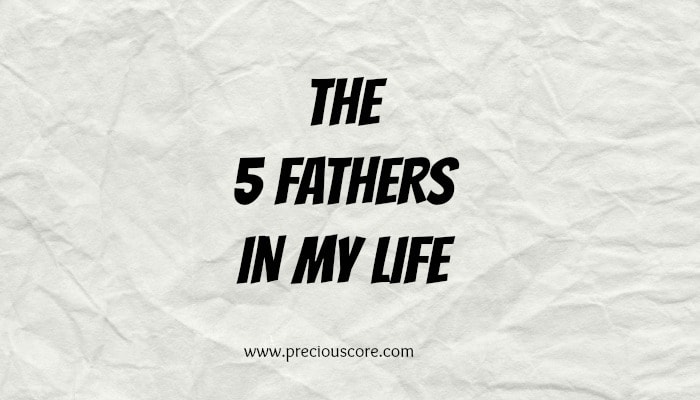 I just can't let this Father's Day pass by without celebrating the fathers in my life. As I think about them, tears well up in my eyes. My maternal and paternal grandfathers were phenomenal before they passed on. They and the fathers that are still here with me are such a blessing in my life. Here are the five fathers in my life:
1. My Daddy
He taught how to study effectively when I was in secondary school. His lessons have stuck with me.
He took me to church when we lived together far away from my mom. Though he wasn't a very religious person, he managed to take me to church and always reminded me that his uncle was a catechist.
He apologised to me when he wronged me. My father taught me that a parent can apologise to his kid and that is okay. He showed me humility by accepting his faults.
My father smoked cigarettes. This is one thing we all including my mother never liked about him. But what touches me is he never smoked in our presence. That showed us how much he respects us.
My father was disciplinary. I grew up with a lot of restriction. I couldn't just do anything I felt like doing especially during those delicate teenage years. That has made me the woman I am today.
I never for once doubted that my father loved me. Thank you so much, daddy for being an exceptional dad. I love you so much.
2. My Maternal Grandfather
He taught me not to "make life with boys."
He wanted to use his little pension to pay for my studies in Nigeria. He attempted to do this while he was bedridden.
He made "contri medicine" for me to drink if I complained of sickness. This included green leaves mashed in a bucket with water and the juice put in a cup for me to drink. I hated that concoction but I love the heart of the man that made it for me.
He taught me to be meticulous. If his slippers where not covering his feet, they were placed in a fixed position, both facing the same direction. He always called somebody to apply body lotion on his back after he had a bathe. He could not just leave his back dry.
He loved my grandmother! Oh I love how he would also call her, "my wife" making us jealous
He visited me in boarding school with a loaf of sandwich bread (kumba/agege bread) filled with butter and gave me 500 CFA Francs($1) for pocket allowance. I can't forget this genuine act of love.
He showed me so much love- I could write a book about him. Thank you Big Papa! Hopefully you accepted Jesus as I told you. I really want to see you in heaven when Iget there.
3. My Paternal Grandfather
His kids are the most united siblings from a polygamous home I have ever met. When you see the way my fathers and his half brothers relate, you would envy polygamy. It must have something to do with the way their father raised them.
He instructed my father to respect my mother. My father told me his father said, "never joke with that woman." Quite an unusual advice for a man of his generation.
He accepted Christ, threw away the stones which represented his "ancestors". Some of his children were angry about this but I am happy my grandfather took this move. I feel so blessed.
4. Mr. N
He plays with the girls. When they begin to play, I am a complete alien. He would give them rides on his back, sing silly songs for them and watch cartoons with them. You need to hear the way the girls talk about him in his absence- like he is a star or something. I have hardly seen a father who plays with his kids so much.
He teaches them about God. This is so important to me.
He provides for them and does that happily.
He is a father of only girls but he has never for once expressed disappointment for having only girls. He is so in love with them.
I remember how he dressed girl number 1 in her nightgown for church when I just had girl number 3 and was too weak to do much.
Some days he makes special breakfast for his girls.
Thank you Mr. N for being the unique Dad that you are. I smile when I see how much you interact with the girls. God bless you, my love!
4. My Heavenly Father
He satisfies me like no other.
He is the creator of the universe, yet he is my Father and Friend.
He teaches me how to live everyday. Sometimes it is hard juggling wife duties, mommy duties, this blog and everything else. This great God teaches me how to do it all.
He is a Good Good Father!
Thank you for reading about the fathers in my life. My two grandfathers passed away but their lessons are still here with me. Who are the fathers in your life that mean so much to you? I'll love to hear about them below.
Love you!