TROUBLE MEETUP NYANGA MAN
Published Jul 30, 2016
Updated Apr 26, 2017
Post title is in Cameroonian Pidgin (creole). It means "Trouble meets a calm person".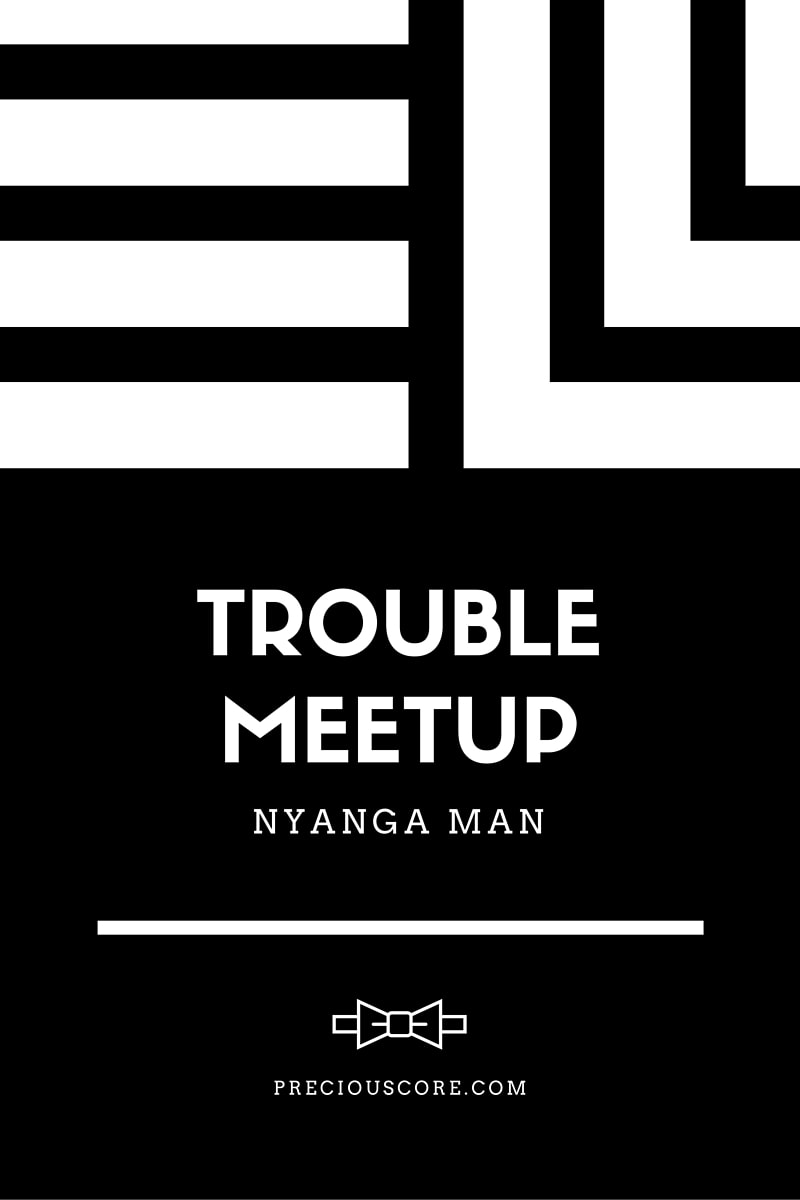 I am in my favourite place in the whole world, my kitchen. I am prepping to go on a culinary adventure with my two sisters-in-law (actually, nieces-in-law), T and N. One of them is getting married traditionally today. We will be making
Jollof Rice
,
Goat Meat Stew
,
Fish Rolls
,
Puff Puff
and
Njama Njama
.
As a food enthusiast, I am so looking forward to the meals. But my kitchen doesn't actually share my sentiments. She has soiled dishes in her sink, a grainy floor and little humans, strutting around. If I must get things done, I must make my kitchen ready. So I reach for the sink where I squeeze some liquid soap onto a foam and restore health to the dishes. I am on a mission to get the cooking space worthy.
Sister-in-law, N is home with me while T just drove out to do some last minute shopping. Boom! Boom!! Boom!!! The door quavers with a hard knock. N reaches for it. I hear a male voice talking to her. I hobble to the entryway where I meet one of my neighbours, a tall lanky Caucasian man who always says, "hi" to me when our eyes meet outside. He tells me,
"Oh, I should be talking to you. You are the one who lives here. Your friend's car hit my van while she was backing out (driving in reverse). The car rocked and Ann, the neighbour on the other side saw my car move. At least, my tail lights are not broken but if you can make me an offer, I won't call my insurance or the police."
By friend, he means T. I ask to see the car. As I follow him to the parking lot, I imagine a twisted car, staring at me and pleading for justice. I reach the car and I see nothing! Rien! Nada! The man rubs his hand on one passenger door with a few faint lines and says that's where T hit his car.
Trouble meetup nyanga man!
Mr N comes to the scene. He comes, examines the car while the man repeats his song of "if you make me an offer, then I won't call the police." He tells the man the faint scratches look old. The man raises his hands in the air and walks out while Mr, N is still talking. It's the kind of raise of hand that says, "I've tried to make peace with you but you don't want to. Be ready for what is coming to you!"
Mr N follows him to his house so they can talk. They go back to the car. At this point, N has called T to tell her someone said she hit her car. T says there was no car by hers when she drove out. N tells the man. This infers he is completely lying!
The man tunes his voice's volume to top high:
"THE CAR WAS PACKED HERE!
SHE HIT MY CAR!"
Ahhh!
Mr N says if she hit the car, then there will equally be an impact on her own car. You can't hit a car and it rocks (according to Ann the other neighbour) and your car has no scratch too.
The man's wife joins him for support. She whips out her tablet and captures photos of the "destroyed car". They are basically taking photos of nothing because they barely-there lines on the man's car won't be conspicuous in a picture. They take quick steps to their house and call the U.S emergency number, 911.
Police vans come into the compound in a few minutes. Mr N is outside anticipating their arrival. One officer goes to Mr N while one officer goes to the man. The man starts by telling them a long story of how he suffers selling newspapers in the wee hours of the morning. Stories of how children are always touching his mini-van. Mr N, on the other hand, explains our side of the story.
T arrives with her car. The police observe it and the body is as smooth as that of an egg. The Police Chief goes further to say both cars aren't even the same height so she couldn't have hit the car at the position the man showed. Ann, the man's supposed witness, shouts from in front of her house with her epic puppy running around her, (I shall tell you about this puppy, someday!)
"I didn't see anything!"
The police enter their cars and drive off. Mr Man bows his head and walks to his house. Mr N goes to meet him and apologises for the sake of peace. We carry on with our day of cooking, talking about how strange the situation is.
I see the man today and I consciously smile and greet because "so far as it depends on you, be at peace with all men." Romans 12: 18
Have you ever had a difficult neighbour? How did you deal with them?