WHY I MOVED FROM BLOGGER TO WORDPRESS
Hello, my blogging friends! Today is the day I tell you all about my move from Blogger to WordPress. I made this move about 5 months ago and it was probably the best thing I did for my blog. When I started blogging in 2014, I started with the Blogger platform. I loved it for a couple of reasons.
Why I Loved Blogger
-It is easy to use. You don't need to be tech savvy to find your way around. Also, you really do not have to worry about site maintenance and speed because Google maintains the site for you.
-There are so many tutorials out there on how to use Blogger. I almost always found what I was looking for each time I hopped on Google to find a how-to post on Blogger.
-It is cheap. All I had to do was pay $12 for my domain name every year as opposed to WordPress.org where I have to pay monthly hosting fees for my blog.
-You can place adverts on your Blogger blog and make some money ( unlike on your WordPress.com blog where running ads yourself is restricted – WordPress.com is limited and different from WordPress.org. I moved to WordPress.org)
-There are so many beautiful Blogger themes out there which will make your blog stand out and look professional. I had one of such themes which really upgraded my blog. In fact, I will be giving away my Blogger theme at the end of this post. So be sure to check the details and enter the giveaway if you are interested.
So for the above reasons, I really loved Blogger but then after much research, I had to switch to having a self-hosted blog on WordPress.org. Now, this doesn't mean I created a new blog. It means I moved all my blog posts and my domain name (www.preciouscore.com) from one content management system to another. This is why I made the switch:
Why I Moved From Blogger To WordPress
1. My Blog Could Finance the Move
I knew the benefits of WordPress.org over Blogger for a while before I made the switch yet I didn't make the switch in a hurry because my blog wasn't making any money yet. I felt it would be unwise to move to WordPress and commit to a monthly fee when my blog wasn't making any money. However, as soon as I started earning from my blog, I decided to make the move. That way, my blog pays for the monthly hosting.
However, this may be different for some people. You may want to start with WordPress.org right away and start paying. That is okay!
2. SEO Purposes – to gain more traffic
With Blogger, I made my blog SEO ready by adding a meta description and optimising each post for SEO. Yet I had read how they were many tools with WordPress that made SEO a breeze! I also wanted my recipe posts to show up as "recipes" under Google search results. This is now possible with the help of recipe plugins.
3. I wanted more control
You know, with Blogger, you are under Google and Google hasn't paid much attention to developing the platform. Ironic, right? In fact, it hasn't been developed in years! However, WordPress keeps updating to meet up with the changes in technology. I wanted to be able to tweak my blog as I want to and make it up-to-date with current standards.
4. Security
This rarely happens but sometimes, Google shuts down a Blogger blog just like that. Because technically they own the blogs on Blogger and they could choose to take down your blog if you break "the rules". I wanted to make sure my blog is in a safe place so I moved to WordPress.
How I made the Move
I am not anything close a tech guru. I only wanted to write but blogging forced me to learn other things that have to do with running a website. One of the things I learned was how to move a blog from Blogger to WordPress. So yes, I moved my blog myself. I wanted to pay a web designer to do it but she was charging me over $200. I couldn't afford to pay her that so I made Google my best friend and DIYed. Boy, this took several hours and even days of my life! I couldn't eat or sleep properly. No jokes. I eventually moved the blog and here we are today.
If you plan on moving from Blogger to WordPress, you can either pay someone to do it or do it yourself. If you plan on doing it yourself, search for "migrating from Blogger to WordPress" on Google. There are so many tutorials on that.
The Giveaway
I'll like to give away my Blogger template/theme. If you have been reading my blog for a long time, you must have seen it in action. It was really cute. You can view the demo here.
If you are a blogger using the Blogger platform and you hope to give your blog a professional lift, this is for you! Enter the giveaway by leaving a comment below telling us why you want to win the theme. Also, be sure to type your blog URL so we could check out your blog.
One randomly selected winner will be announced here on the blog next Monday, April 10. This post will be updated with the name of the winner.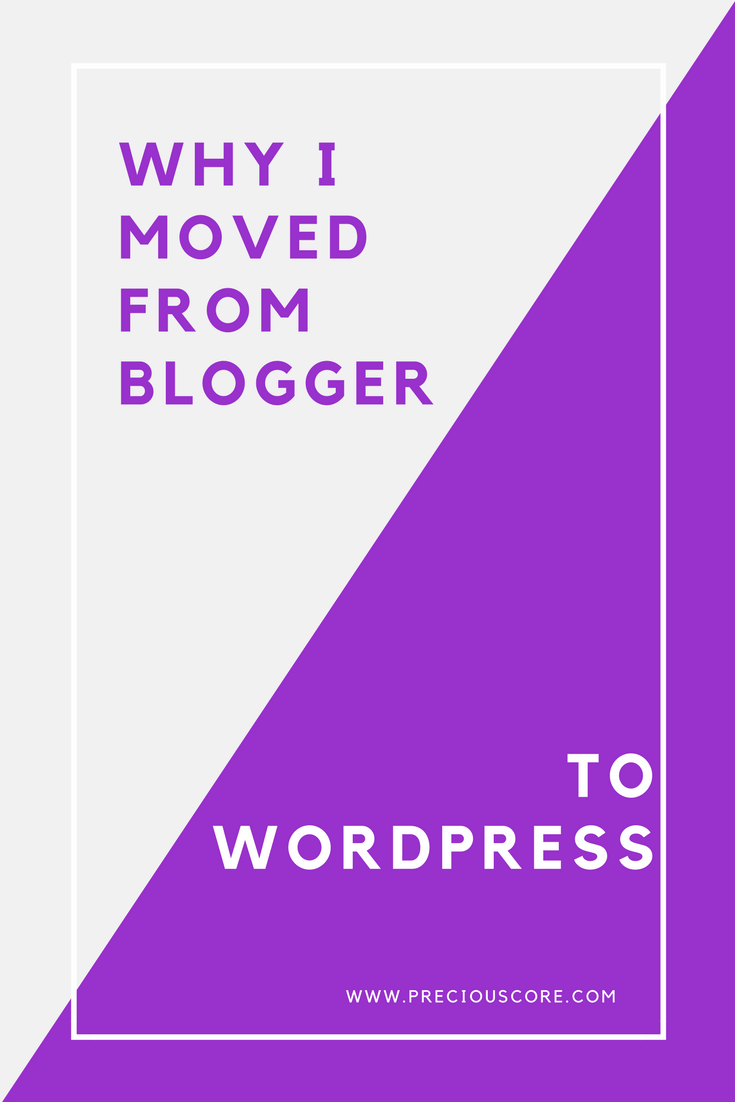 I hope this post inspired your blogging journey somehow. If it did, I'll love to hear from you, below!
Update: There are two winners! The winners of the giveaway are Laura Tinzoh and Dominika. I'll send emails with the theme to you two.