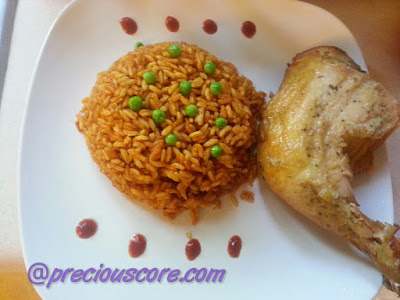 So you are quite busy and you want to quickly make a delectable meal. Try my thirty minutes jollof rice in a rice cooker or better still, a regular pot. Here is what you will need:
3 cups of parboiled rice
6 ounce can of tomato paste
14 oz chicken broth
Half teaspoon powdered garlic
Half teaspoon powdered ginger
1 teaspoon curry powder
2 seasoning cubes (maggi/knorr) or 2 teaspoons chicken bouillon powder
½ cup vegetable oil
1 habanero pepper (optional)
Method

Combine all the ingredients in a rice cooker or regular sauce pan.
Add 2 cups of water. Stir well and bring to boil for 20- 25 mins.
Mix together with a spoon and if you wish add in diced veggies.
Enjoy!