Beignets Recipe
Published Nov 27, 2018
Updated Apr 28, 2023
Soft, buttery beignets, that are not too sweet so the powdered sugar on top can shine! These beignets are light and airy like beignets should be. The perfect Beignets Recipe which you will want to make over and over again!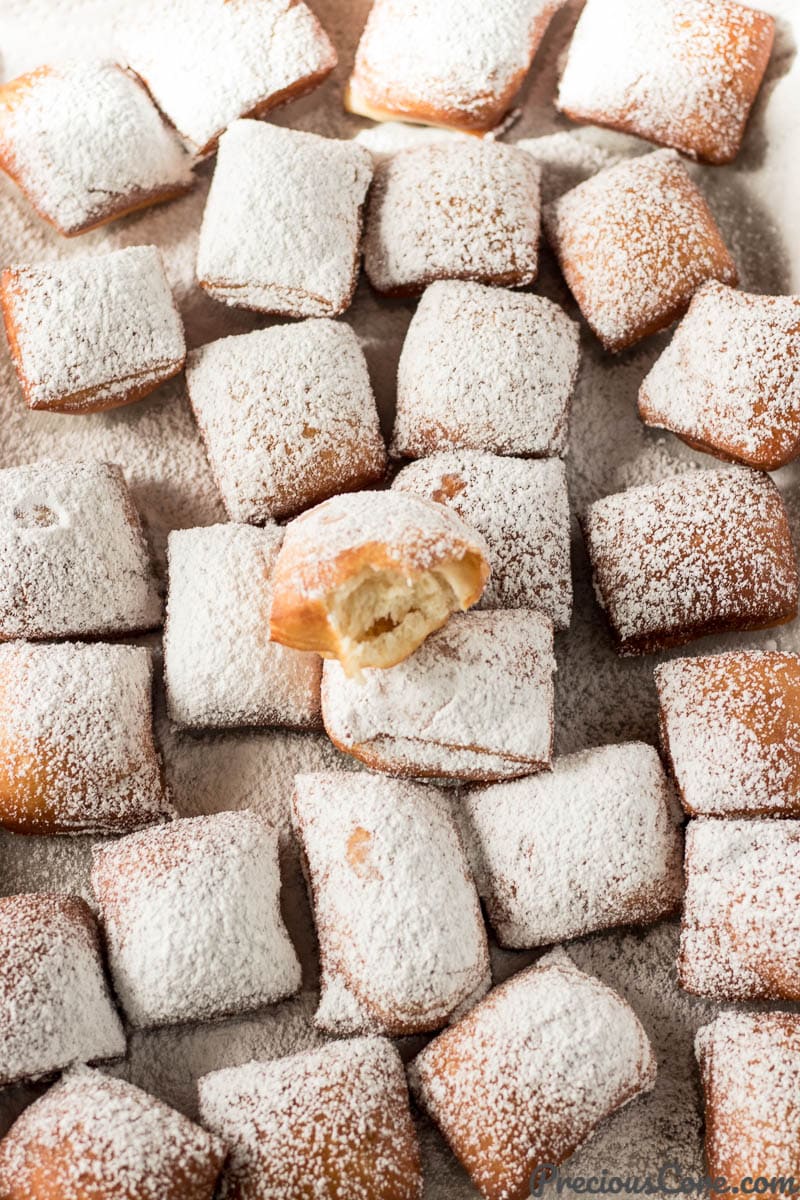 There's just something about deep-fried dough that is hard to resist! I feel so joyful and fulfilled when I make deep-fried dough anything like my Twisted Doughnuts. Also check out my guide on How To Make African Puff Puff.
This beignets recipe is definitely one for the keeps! Serve it with some Ginger Tea for breakfast, brunch, or for an afternoon pick-me-up! In the summer, enjoy beignets with some homemade iced coffee and you'll be in heaven.
A while ago while at a Caribbean/Southern restaurant I spotted the waitress taking some Beignets to a table next to ours. I couldn't help stretching my neck to check out the basket of puffy buns generously dusted with powdered sugar.
The Beignets were calling my name but I had no place to keep them because, on that day, we ordered a ridiculous amount of food and my tummy was full. There was no space for more.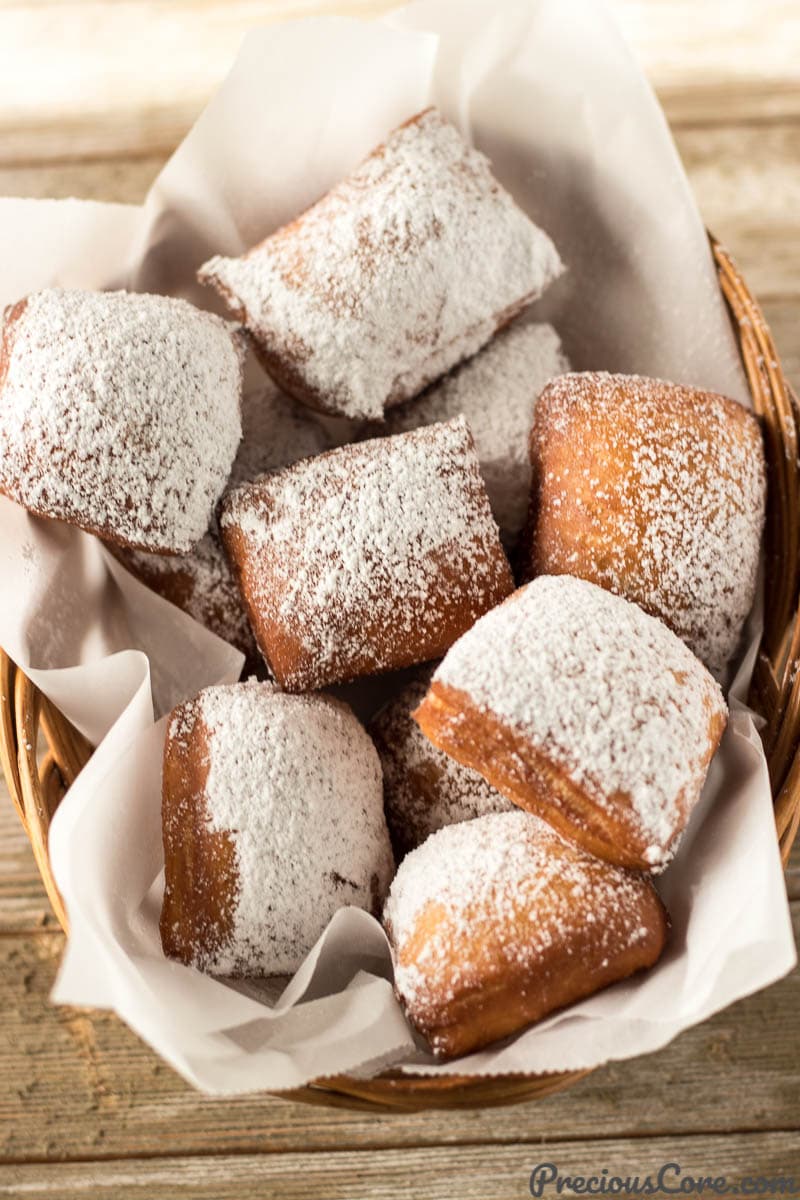 But I just couldn't get the picture of the Beignets I saw out of my mind. So I read up some recipes online and started trying to make my own Beignets.
First, the Beignets I made were dense and not as airy on the inside. Then after experimenting more, I was able to nail the perfect soft light Beignets. And that's the Beignets Recipe I am sharing with you today!
My whole family goes crazy for these. So addictive! We love them warm with hot chocolate for breakfast. Mr. N took some to work and his colleagues loved it!
Take this to your next potluck or Christmas party and you will be the star of the day! These Beignets are simple enough to make but elegant enough to be a star on your serving table.
They take a bit of time but they are ridiculously easy! Just make sure you follow the recipe to the letter and you will have soft buttery Beignets.
What Are Beignets?
Beignets are a form of deep-fried dough popular in the city of New Orleans, in the US Southern state of Louisiana. They are mostly shaped into squares, puffy, and dusted with powdered sugar. Beignets are mostly served with cafe au lait (coffee with hot milk).
"Beignets' is a French word that translates to 'fritters' in English. It is pronounced "ben-yay". Don't be like my husband's colleagues and pronounce it "beg-nets".
How Are Beignets Different from Donuts?
Beignets and donuts are quite similar in that they are both deep-fried dough. However, beignets are shaped into squares while regular American doughnuts are round with holes in the middle. Also, beignets are very light and hollow in the middle.
Beignets on their own are not as sweet as regular American donuts. Most of the sweetness you get from beignets comes from the sugar on the top.
The Ingredients
Here are the ingredients you need to make beignets. They are regular everyday ingredients.
All-purpose flour. Bread flour could work as well since this is a recipe that uses yeast.
Granulated sugar. Feel free to use cane sugar instead.
Whole milk. The milk should be warmed until it is just about 110 degrees Fahrenheit. This helps the yeast activate.
Active dry yeast. You could use instant yeast in a pinch.
Egg. Adds richness to the dough.
Melted butter. Butter is great for flavor but feel free to substitute it with any neutral-tasting oil like corn oil or light olive oil.
Salt. The salt will balance the sweetness of the beignets.
Powdered or icing sugar. Feel free to use as little or as much as you'd like. You could sprinkle a little powdered sugar over beignets or you pile heaps of powdered sugar over beignets. You choose what direction you want to go.
How to Make Beignets
Here is a run-down of the steps required in making beignets (be sure to check out the complete recipe below for accurate measurements):
1. Combine yeast and warm milk and let it rest. This helps the yeast activate.
2. Add sugar, egg, and melted butter and mix well.
3. Add the flour and salt then mix to form a dough.
4. Knead the dough until elastic then place it in a warm place to rise for 2 hours.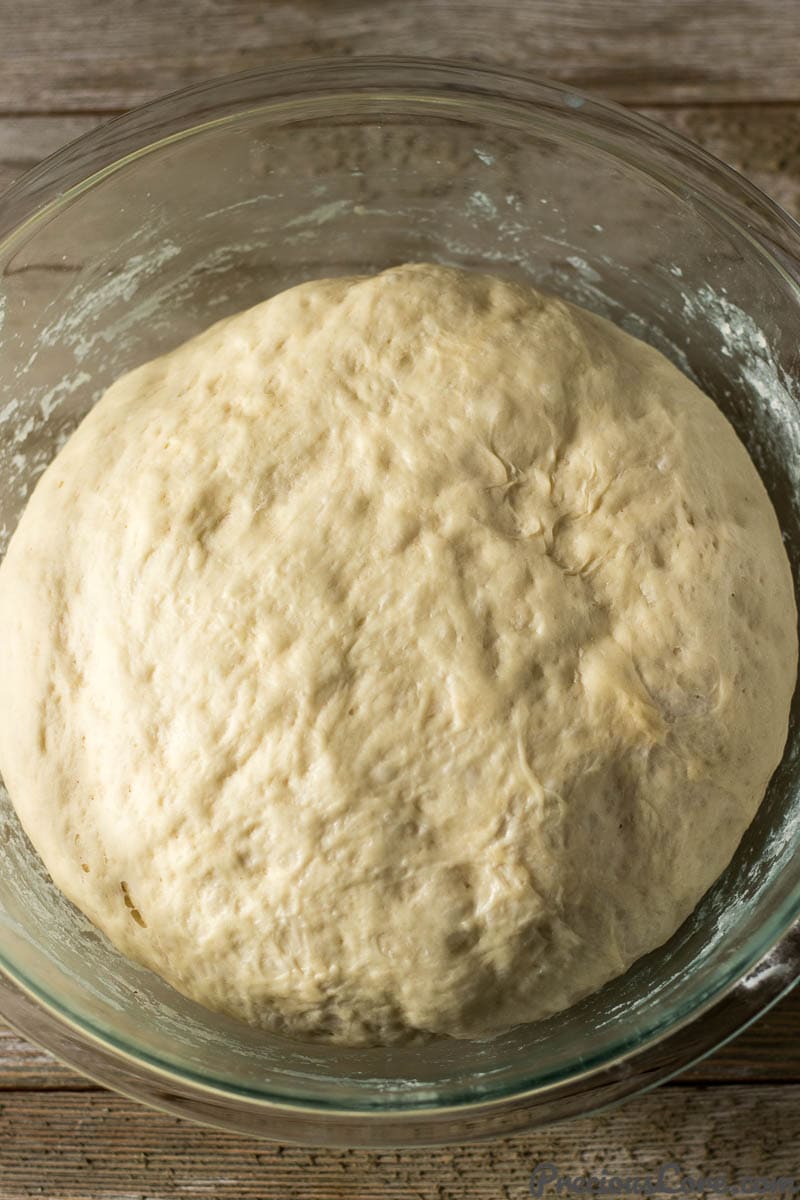 5. Punch down the dough to remove extra air and roll it out into a rectangle.
6. Cut the rectangle into squares.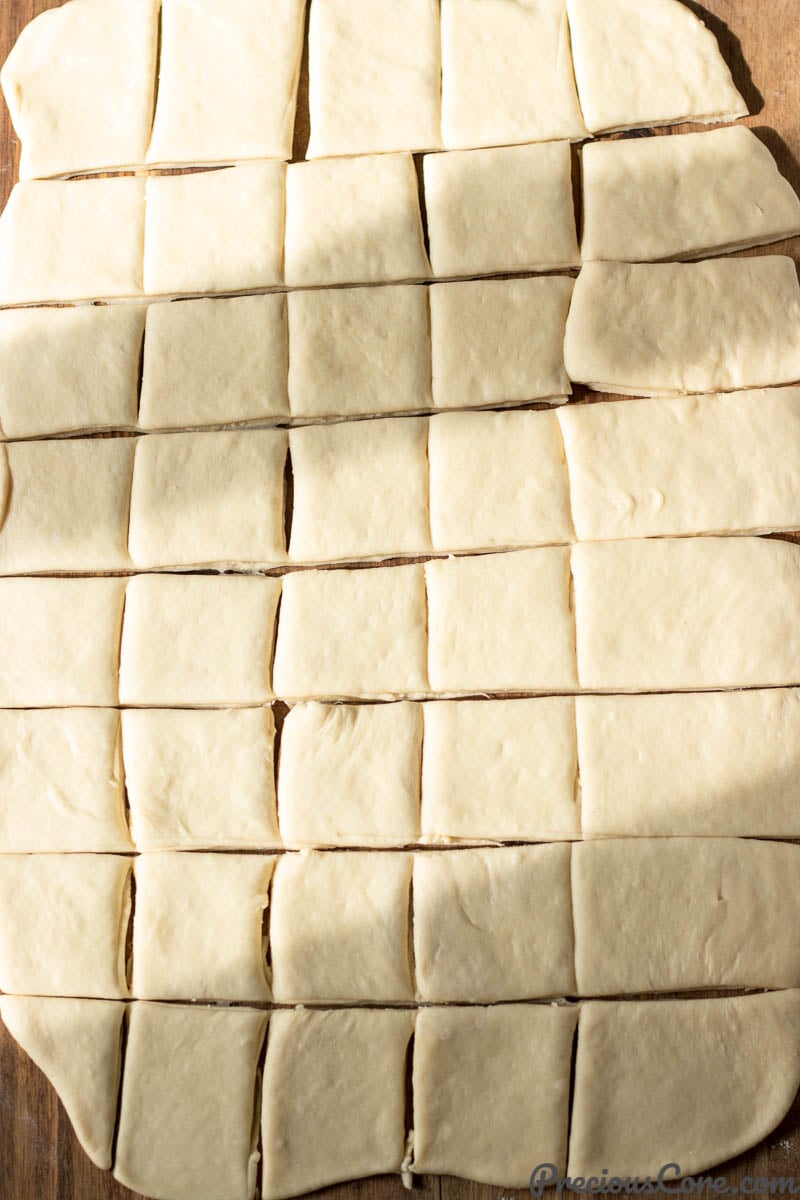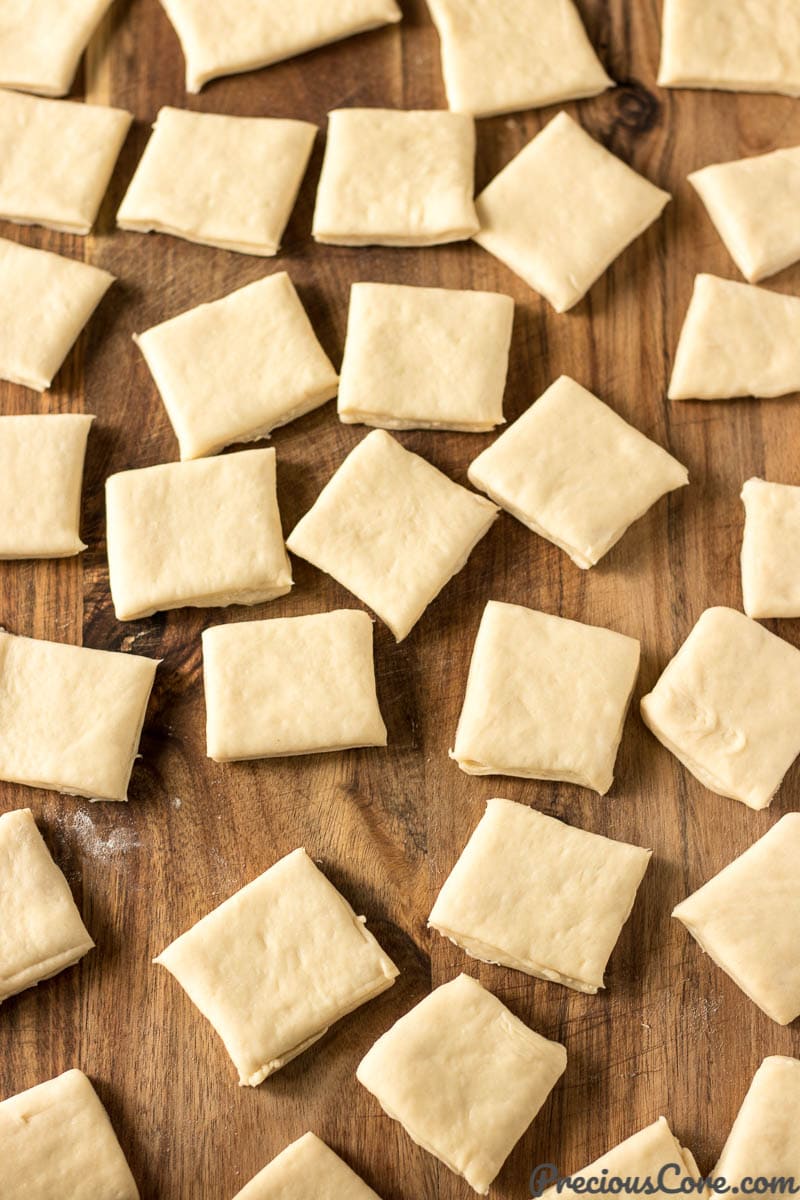 7. Deep fry the squares until golden brown.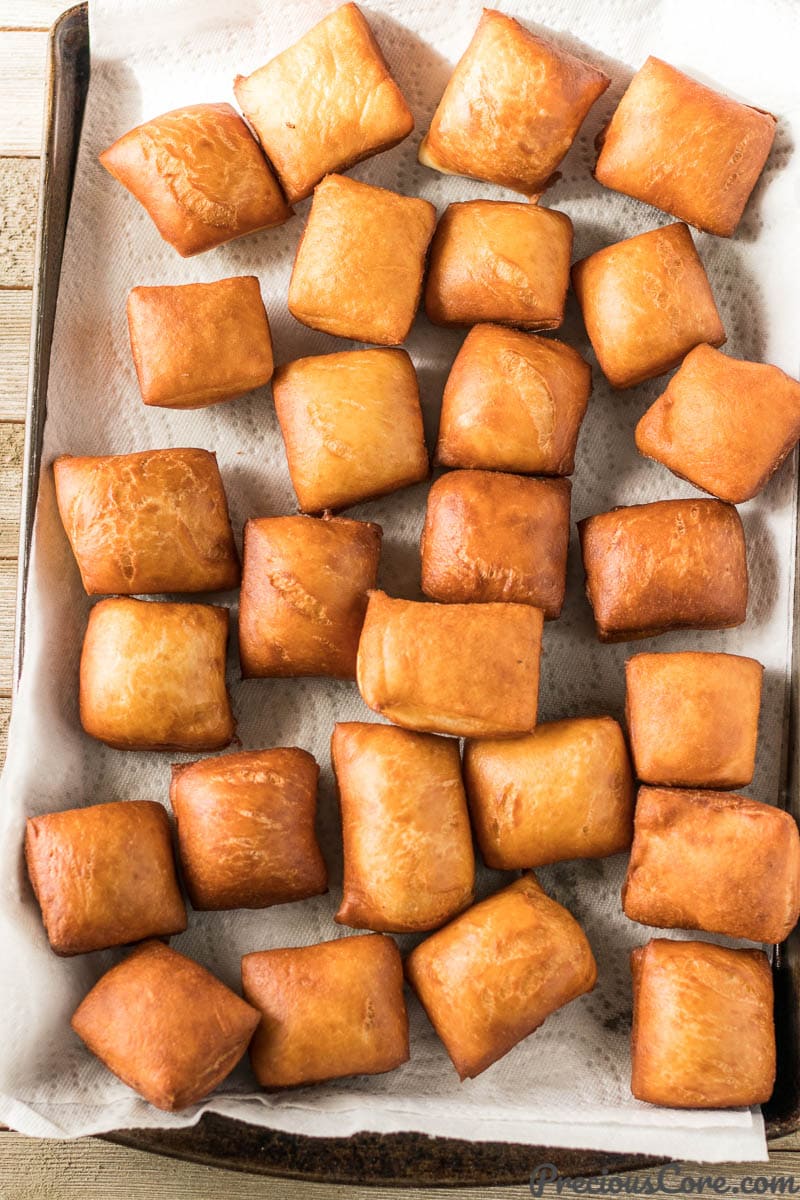 8. Sprinkle with icing sugar.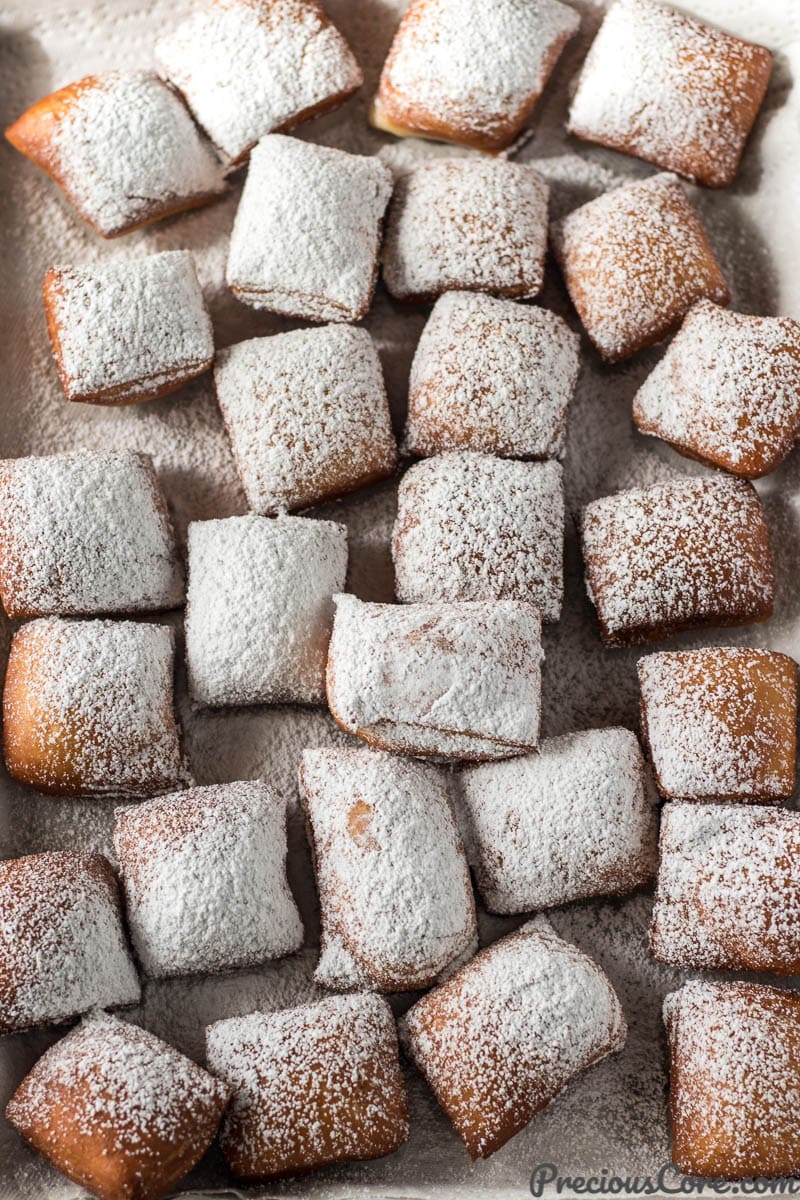 Enjoy!
Variations
Beignets are so versatile and you could switch them up as you like! Try the following variations:
Cinnamon beignets. Mix cinnamon powder together with the icing sugar to create cinnamon beignets.
Chocolate beignets. Fill the beignets with chocolate hazelnut spread. Use a spoon to make a hole in a beignet, pipe chocolate hazelnut spread into the hole until a little spills out.
Jam-filled beignets. Fill the beignets with your favorite jam to make jam-filled beignets!
FAQ
What is the best oil to fry beignets?
It is best to fry beignets in any neutral-tasting oil like peanut oil, vegetable oil, corn oil, or light vegetable oil. Avoid oils that have a strong taste as the taste of the oil will impact the taste of the beignets.
What dough are beignets made of?
Beignets are made of yeasted dough. The dough used for beignets is light making beignets lighter in weight than doughnuts.
Can you eat beignets cold?
Beignets are best eaten warm, shortly after they have been fried. You could eat beignets cold but note that they are not as delicious as when warm.
What do you serve with beignets?
Serve beignets with coffee or hot tea. The bitterness of coffee pairs well with the sweetness of beignets. Beignets could also be served with jam on the side for dipping.
Are beignets supposed to be hollow?
Yes, beignets are supposed to be light and hollow in the middle. The hollowness of beignets is one thing that makes them different from doughnuts.
More deep-fried dough recipes that are irresistible: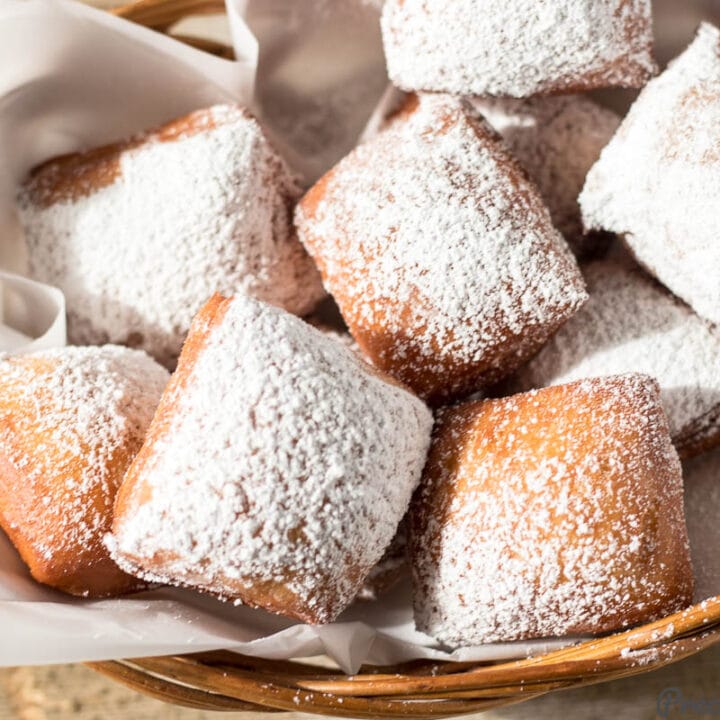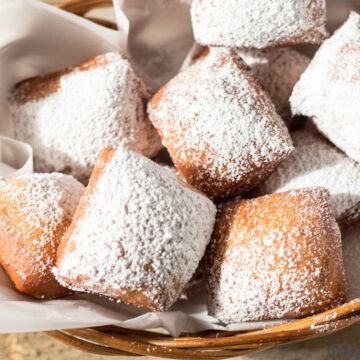 Beignets Recipe
Soft, buttery beignets! The one and only Beignets Recipe you will ever need. Enjoy these with tea or coffee. So good.
Ingredients
4

cups

all-purpose flour (480g)

1/4

cup

granulated sugar (50g)

1 1/2

cup

whole milk heated to be lukewarm (360ml)

2 1/4

teaspoons

active dry yeast (7g or 1/4 oz)

1

large egg

4

tablespoons

unsalted butter – melted

sub with any neutral tasting oil like light olive oil, canola or corn oil

2

teaspoons

salt

2

tablespoons

icing or powdered sugar

for sprinkling, add more sugar if desired
Instructions
Place milk in a large bowl then add the yeast. Let it rest for 2 minutes then add the sugar, egg, and butter and mix well.

Add the flour and salt and mix well to form a dough. The dough will be slightly sticky and that's okay! Place the dough on a floured board and knead for about 5 minutes until it is no longer sticky.

Return the dough to the bowl. Cover with plastic wrap and a kitchen towel then place in a warm place to rise for 2 hours. Alternately, place in the fridge to rise overnight.

Punch down dough to remove excess air. (If you kept the dough in the fridge then let it rest out of the fridge for about 30 minutes until it reaches room temperature before you follow this step.

Place dough on a floured board and roll out into a large (14 by 12 inch) rectangle. Cut the rectangle into 2-inch squares. Let the cut-out dough rest for about 10 minutes while you heat up the oil.

Place oil in a frying pan up to 3 or 4 inches. Let it heat up on medium heat for about 8 minutes. If using a thermometer to measure, heat up the oil until it reaches 350 degrees Fahrenheit (180 degrees Celsius). Let it fry for about 1-2 minutes on one side then flip to the other side and let it fry for another 1-2 minutes. Remove and place on paper towels to absorbs the excess oil. Sprinkle with confectioners/icing sugar.

Enjoy your beignets with tea or coffee.
Notes
1. These beignets fry very fast so be sure to keep an eye on them so they do not burn. They only need to cook for 1-2 minutes on each side.
2. Note that these beignets aren't very sweet – which is one thing I love about them! Most of the sweetness comes from the sugar sprinkled on top. So you could choose to pile sugar on top if you want more sweetness.
3. These beignets are best enjoyed warm. There's just nothing like freshly made Beignets. So soft and irresistible. But you could serve them cold too.
4. Make-Ahead Tip: Make the dough the day before and place in the fridge then take it out the next day and bring to room temperature then you roll out and cut.
Nutrition
Calories:
474
kcal
|
Carbohydrates:
79
g
|
Protein:
13
g
|
Fat:
11
g
|
Saturated Fat:
6
g
|
Polyunsaturated Fat:
1
g
|
Monounsaturated Fat:
3
g
|
Trans Fat:
0.3
g
|
Cholesterol:
55
mg
|
Sodium:
873
mg
|
Potassium:
236
mg
|
Fiber:
3
g
|
Sugar:
14
g
|
Vitamin A:
372
IU
|
Vitamin C:
0.01
mg
|
Calcium:
96
mg
|
Iron:
4
mg