AFRICAN DOUGHNUTS – TWISTED DOUGHNUTS
Give me these twisted doughnuts warm with a glass of milk and I will be in snacking heaven!
These twisted doughnuts are life – slightly crunchy on the outside, soft and pillowy on the inside with an irresistible buttery flavor. They are a variation of African doughnuts which are made into twists – such fun shapes!
Once upon a time, I was at a party making hot gateau (an insanely delicious deep fried dough snack) for people to feast on while a Sierra Leonean woman watched me, assisted me and fed me with stories.
Part of the stories included telling me how the gateau dough was so similar to the dough for Sierra Leonean doughnuts. She even took a part of the dough and tried to shape it into these twisted doughnuts.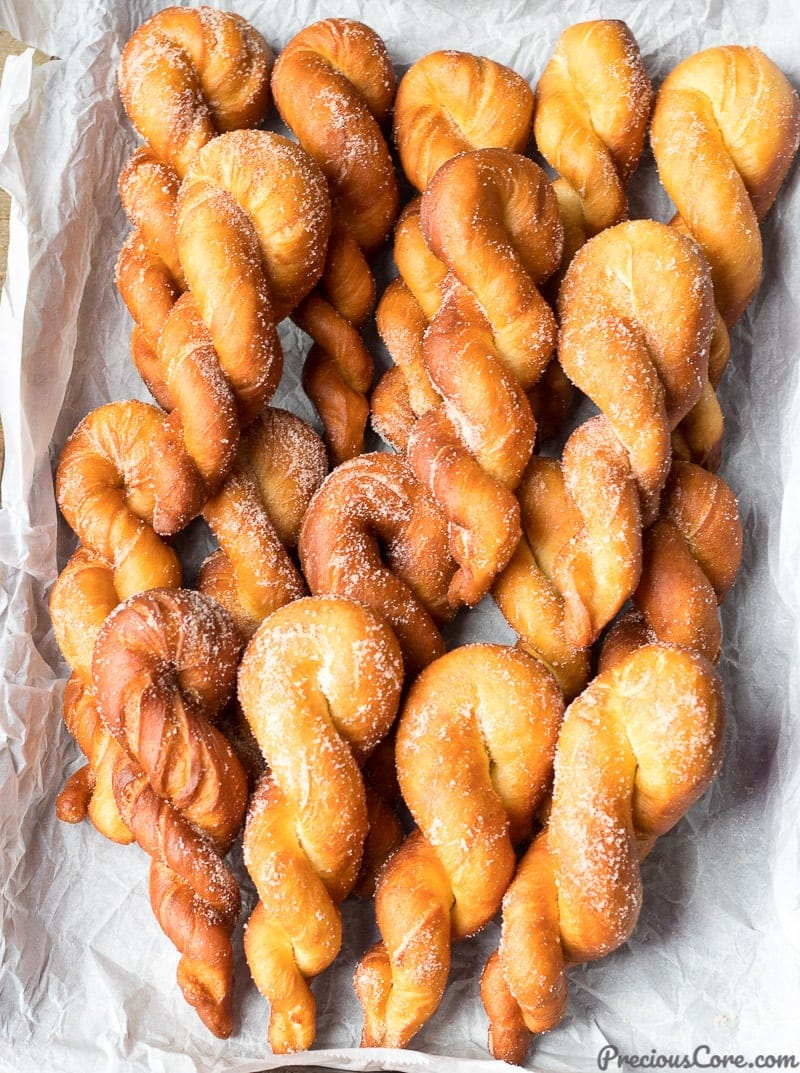 The food fusion in the world is amazing! You know why I say so? Sierra Leoneans make these twisted doughnuts, Cameroonians make them – in Cameroon, they are referred to as gateau (just like Cameroonian gateau).
They are also made in Korea – where they are called kkwabaegi. And they are made in the Philippines – where they are known as shakoy. AND this same dough could be used to make Nigerian doughnuts by simply shaping the dough into rings!
So these twisted doughnuts cut across continents from Africa to Asia! And let me tell you: they have a universally appealing taste so no matter what part of the world you are from, you will enjoy them.
I mean, who can resist the slightly crunchy outside with the fluffiness on the inside and a buttery taste? No one!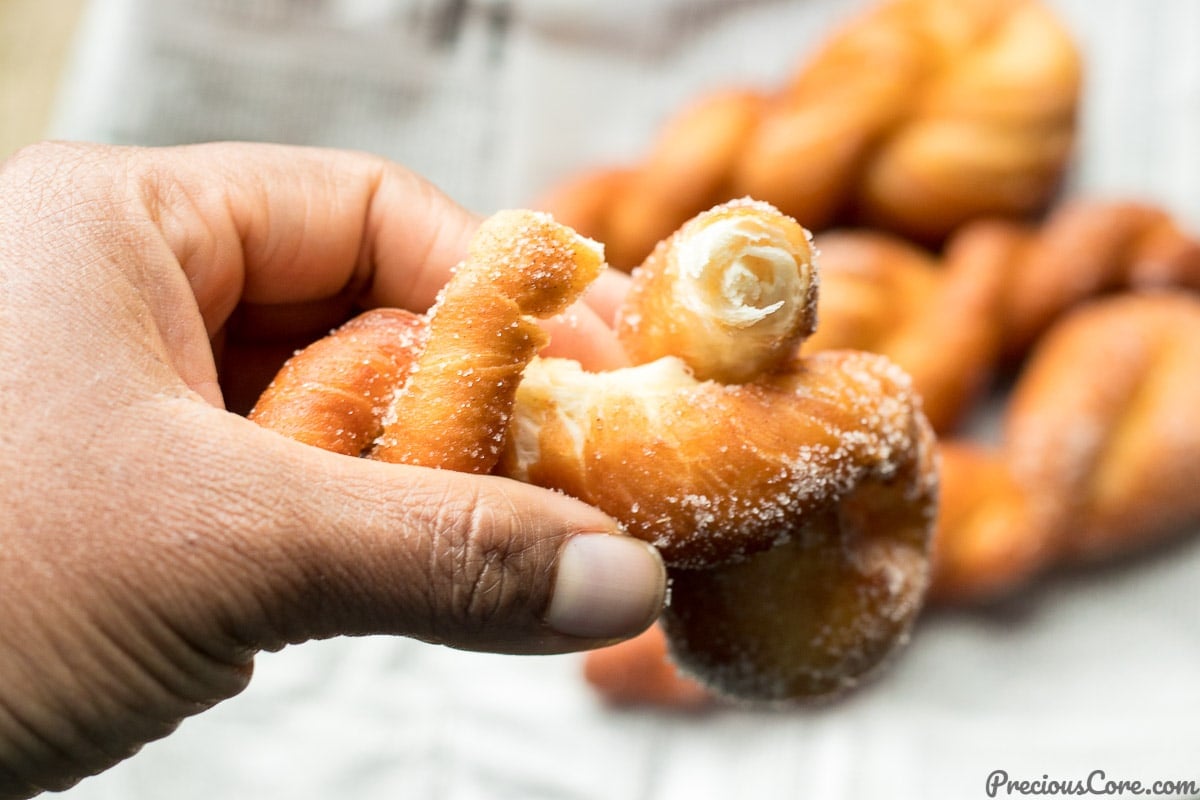 In the Asian store where I usually shop for African food, something similar to these twisted doughnuts is sold and labeled as "sweet twists". I love buying a pack when I go shopping. But let me tell you, homemade is wayyyy better.
I noticed that the storebought version is sometimes fried with old oil which yields an unpleasant taste. When you make these at home, the fresh homemade taste is unbeatable plus it is so much fun to make!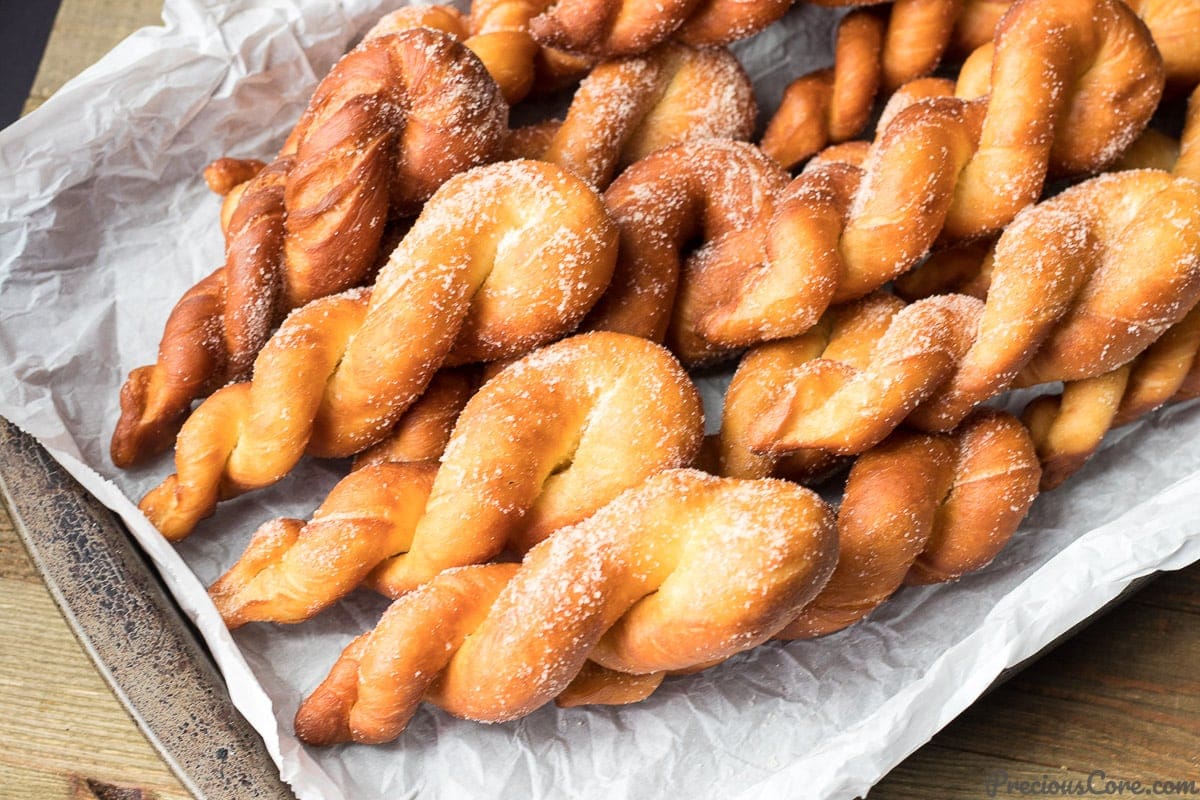 How To Make African Doughnuts
First, you make the dough which is made up flour, yeast, butter, sugar, milk, egg and a pinch of salt.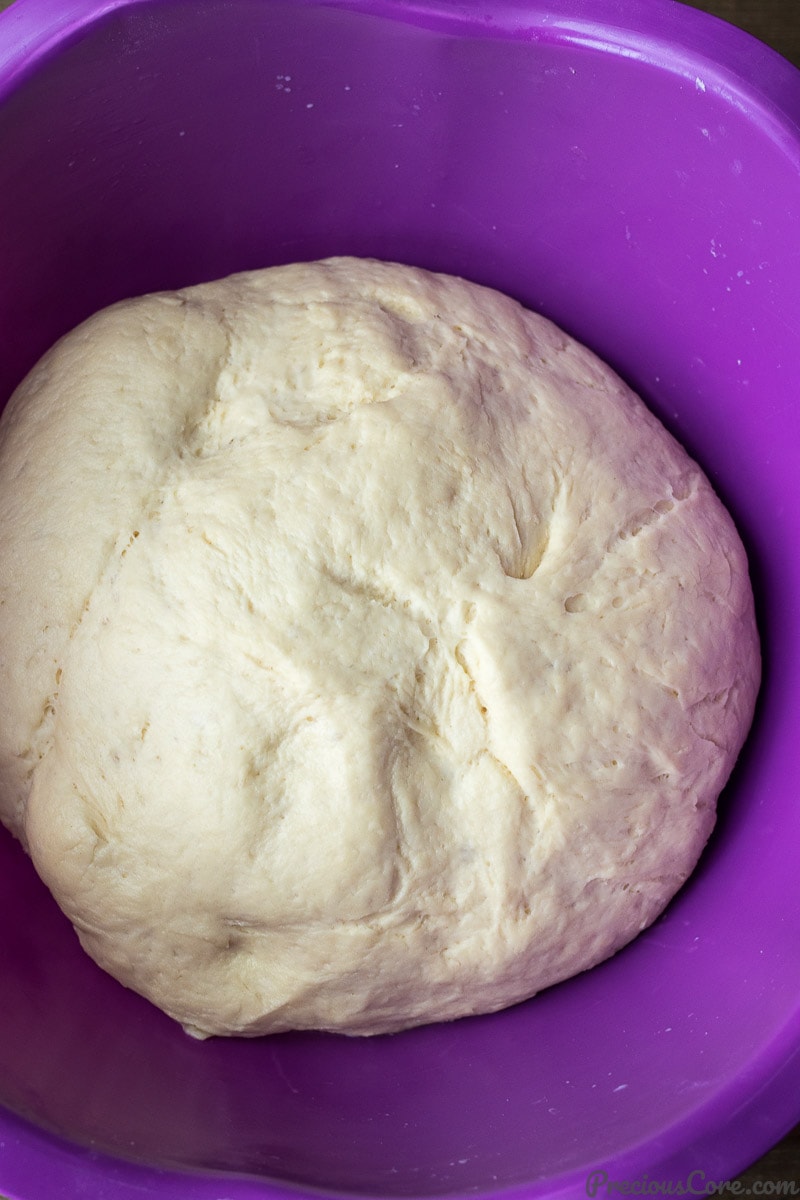 Then you let the dough rise until doubled in size. Then you rejoice at how yeast works it's magic in the dough. Then you punch the dough down to deflate and you shape into fun twists.
To make the twists, divide the dough into 24 equal pieces. Take one piece and form a rope with it.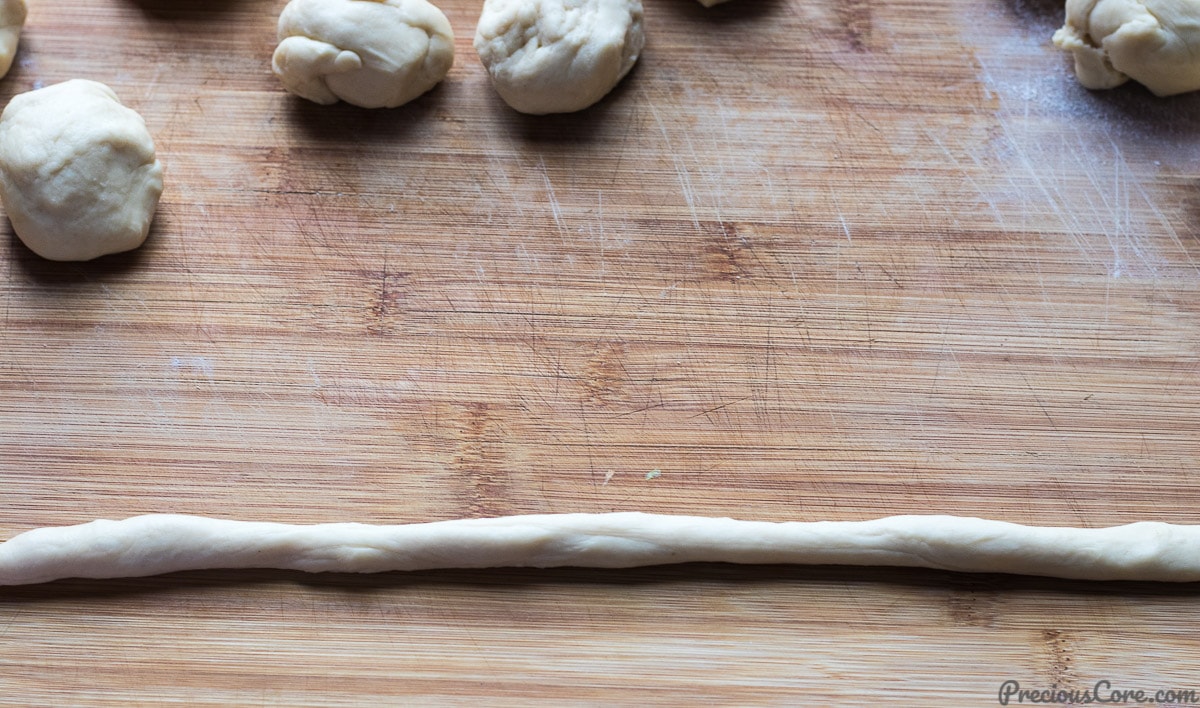 Then using both hands, roll both ends of the rope in opposite directions until it creates some tension. Like so: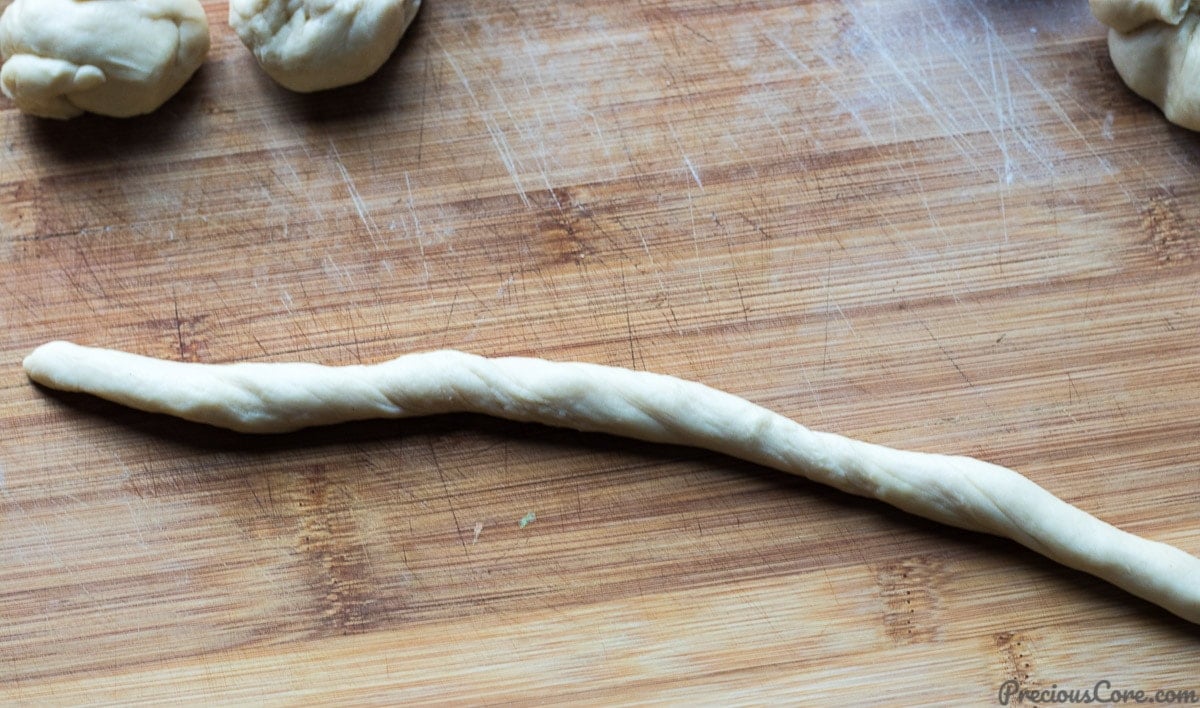 Then you hold up and keep twisting with both hands in opposite directions until it forms 3-4 twists. Press the ends to seal them together.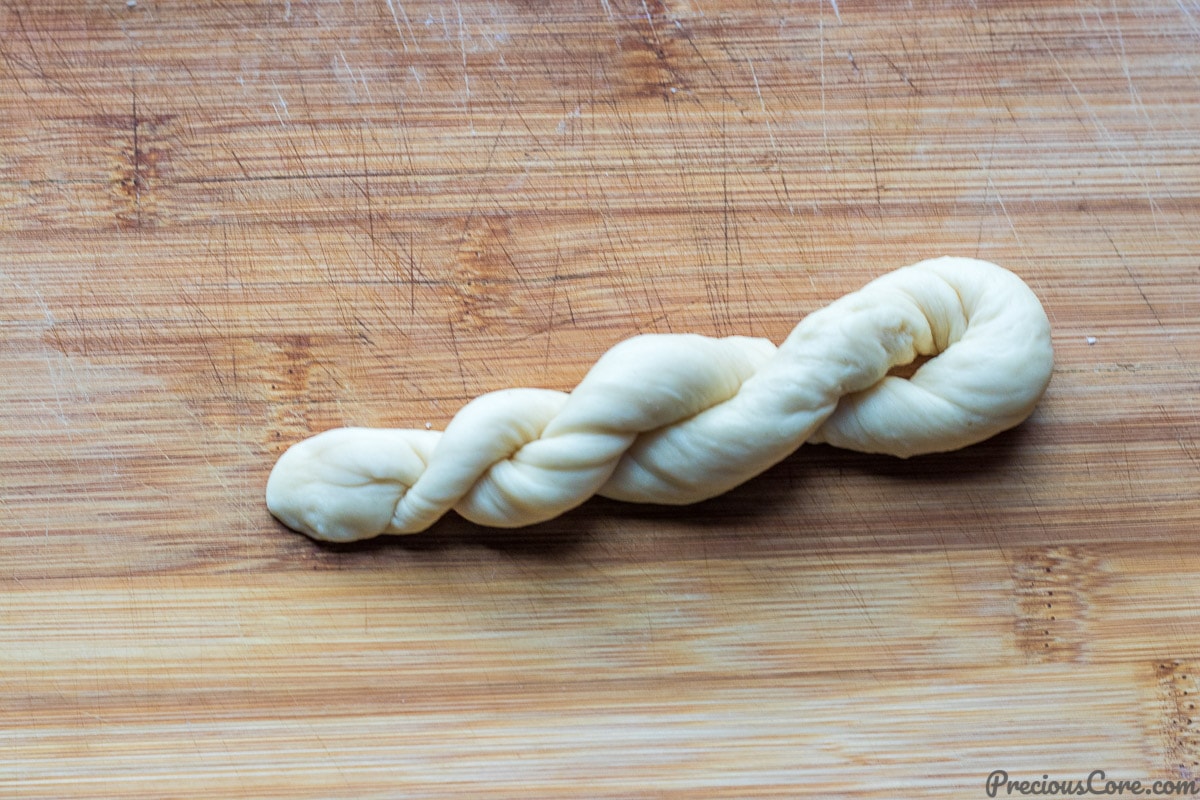 Now note that if making the twists is too hard for you, you could simple shape the dough into small one-inch balls and fry. I'm not gonna lie – I have quickly shaped them into balls and fried when I was hosting an event in my home and had very little time to make the twists. But note that the balls take a longer time to get cooked through compared to the twists.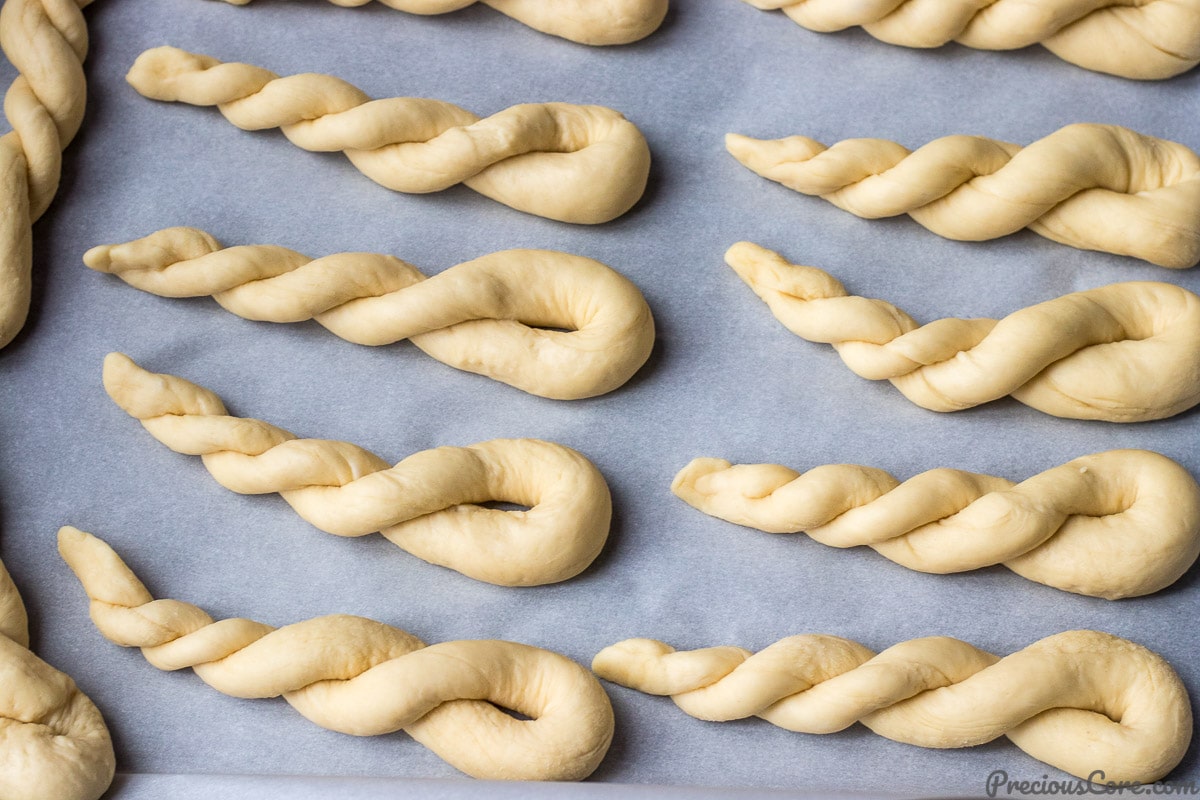 After forming the twists, you let them rise for a few more minutes then you fry them. The frying is the easiest part. And then comes the coating with granulated sugar and the eating! I insist that you must eat some while they are still warm. They are to die for!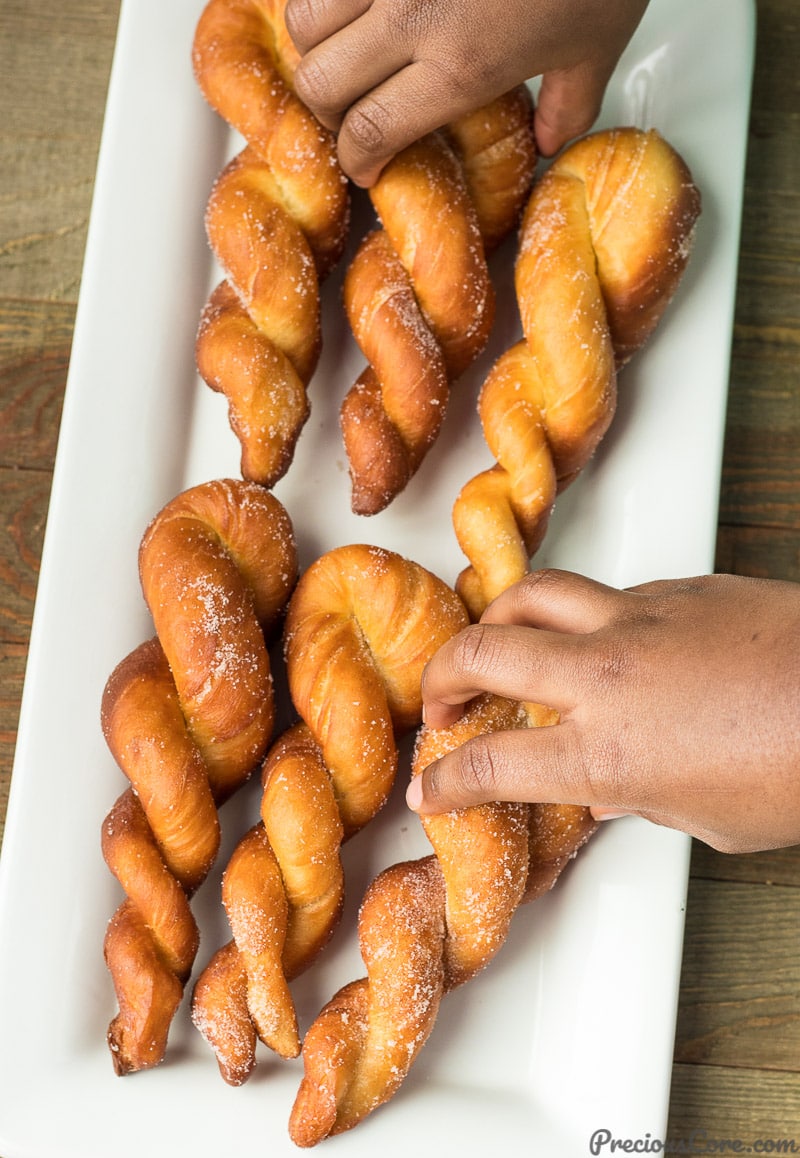 I adapted this recipe from one of my favorite YouTube cooks, Maangchi. After testing the recipe several times, I successfully adjusted the ingredients to suit measurements in grams so those of you who use grams will find it easy to follow.
So for this recipe, you need 500 grams or half a kilogram of flour. Neat, right? Also, 500 grams of flour equates to 4 cups of flour so whether you choose to measure in grams or kilograms, you are good.
You can read more about the measurements in the full recipe below but first, let's look at some facts about African doughnuts!
WHAT ARE AFRICAN DOUGHNUTS?
African doughnuts, simply put are different forms of deep-fried dough. The doughnuts vary depending on which African country or part of Africa they are made/eaten in.
For instance, Nigerian doughnuts are made into rings while Cameroonian and Ghanian doughnuts are made into small balls.
In East Africa, the popular form of doughnuts eaten are called mandazi and they have triangle-like shapes. South African doughnuts are made into braids and are known as koeksisters.
All the various forms are similar in that similar ingredients are used to make them: flour, sugar, yeast (or baking powder) and margarine (or butter).
However, some are richer made with more ingredients while others like puff puff are made with very basic ingredients – just flour, yeast, sugar and salt. African doughnuts are always a hit at African parties. In whatever form you enjoy them,n they are a real treat!
So you guys, make these African doughnuts! Make them for snacking at home, make them for breakfast. Make them for wowing your guests, make them for picnics or potlucks. They are epic in every way!
If you make this recipe, please take a moment to rate it below. Also, share a picture with me on Facebook or tag me on Instagram. I'll love to see!
WATCH HOW TO MAKE AFRICAN DOUGHNUTS
Watch me making African Doughnuts in the video below. If you haven't subscribed to my Youtube channel yet, SUBSCRIBE so you do not miss any of my videos.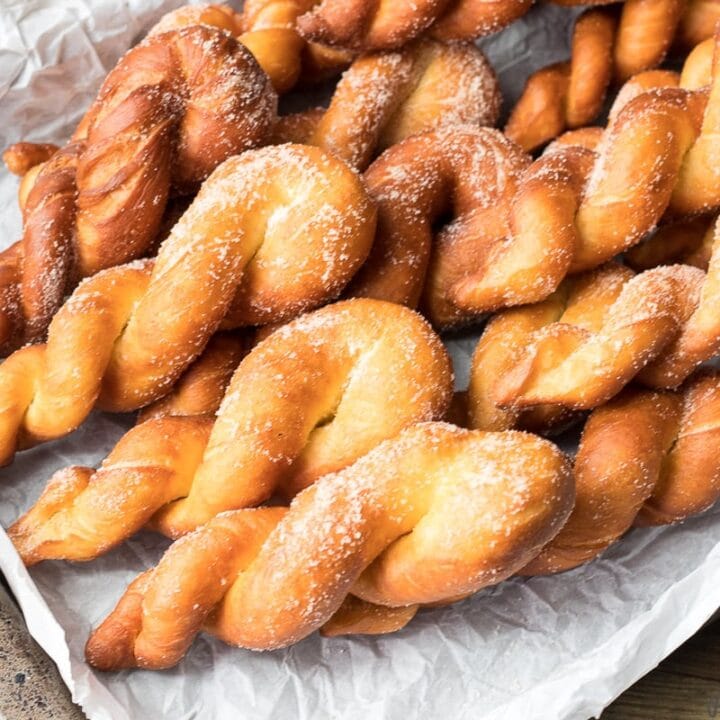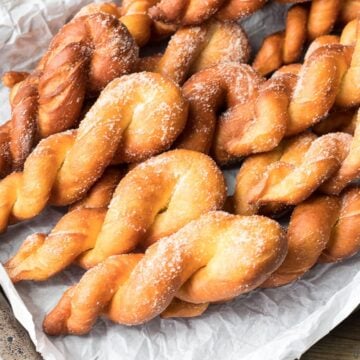 African Doughnuts - Twisted Doughnuts
These African doughnuts are soft, pillowy, fluffy on the outside with incredible flavor! Perfect for snacking, breakfast or entertaining. And the twists are such fun shapes. Enjoy, friends!
Ingredients
4

cups

all purpose flour (500g or 1/2 kg)

2 1/2

teaspoons

active dry yeast (1 oz sachet)

12

oz

evaporated milk (354ml or 1 1/2 cups)

3

tablespoons

butter - melted

3

tablespoons

granulated sugar

1

teaspoon

salt (not heaped)

1

egg

Oil for frying

Corn oil, canola oil or vegetable oil will work well here.
Instructions
Heat the milk to be just slightly warm to the touch. I heated it for 1 minute in the microwave. The milk should be about 110 degrees Fahrenheit.

Add the yeast to the milk and let it rest for 2 minutes. Add the sugar, salt, melted butter and egg then whisk everything together. Finally, add in the flour and mix with a wooden spoon to form a dough. Cover the dough with plastic wrap and let it rise in a warm place for about 1 hour until doubled in size.

Punch down dough to deflate then place on a floured board and cut into 24 equal pieces. (I start off by cutting the dough into two. Then cutting each piece into two twice to form 8 pieces. Then I cut every 1 of the eight pieces into 3. That makes 24 pieces.)

Take one piece and roll out into a 13-inch rope. Twist the rope in the opposite direction (move one hand upward and the other hand downward as you roll). Hold up and keep twisting until it forms a twisted doughnut. Press the ends together to seal them. Place the twisted doughnut on a large tray or chopping board. Repeat process with the rest of the dough.

Let the twisted doughnuts rise for about twenty minutes. Halfway through, flip them to the other side so the flat side can rise too. Also, halfway through place oil to heat up on high.

Let the oil heat up to about 350 degrees F or for about 8-10 minutes then turn the heat down to medium-low. Place in the twisted doughnuts to fry being careful not to overcrowd the pan. (I fry 6 doughnuts at a time in my wok).

Once the doughnuts turn golden brown on one side, flip to the other side and let them cook. Once the other side is golden brown, remove and place on paper towel to absorb excess oil. They take about 4 minutes total to cook.

If you desire, mix 2 tablespoons of sugar and 1/2 teaspoon of cinnamon in a paper bag and place the hot doughnuts in and shake to coat. Insanely good!
Notes
1. If the twists are too hard for you to form, simply form the doughnuts into 1-inch balls and let them rise again as you would with the twists before frying. Note that if you for them into balls, they will take a few more minutes to cook thoroughly.
2. These African doughnuts freeze well. Place them in a Ziploc bag and place in the freezer. To eat, simply remove them and let them thaw before eating. If you want them warm, place in the microwave and warm for a minute before eating - note that arming them will melt the sugar coating on the outside. Also, you should warm them for more than a minute as they will become hard.
3. Nutritional information is per doughnut.
Nutrition
Calories:
110
kcal
|
Carbohydrates:
19
g
|
Protein:
4
g
|
Fat:
2
g
|
Saturated Fat:
1
g
|
Polyunsaturated Fat:
0.1
g
|
Monounsaturated Fat:
0.4
g
|
Trans Fat:
0.1
g
|
Cholesterol:
6
mg
|
Sodium:
126
mg
|
Potassium:
35
mg
|
Fiber:
1
g
|
Sugar:
3
g
|
Vitamin A:
45
IU
|
Vitamin C:
0.004
mg
|
Calcium:
8
mg
|
Iron:
1
mg
Pin this recipe:

You are stronger than you think, braver than you think and more capable than you can ever imagine. Never stop believing in you!