CAMEROONIAN GATEAU (VIDEO RECIPE)
Published Feb 17, 2017
Updated Sep 26, 2018
Hello friends! Cooking is fun fun fun! Today I am showing you how I make Cameroonian gateau – a doughnut-like snack that is sold on the streets, bakeries and in grocery stores in Cameroon. Now gateau literally means "cake" in French but these are not "cakes". In French, this would probably be referred to as "les beignets". This snack is a glorified version of puff puff. This means that it is quite similar to puff puff but it thicker, richer and keeps longer.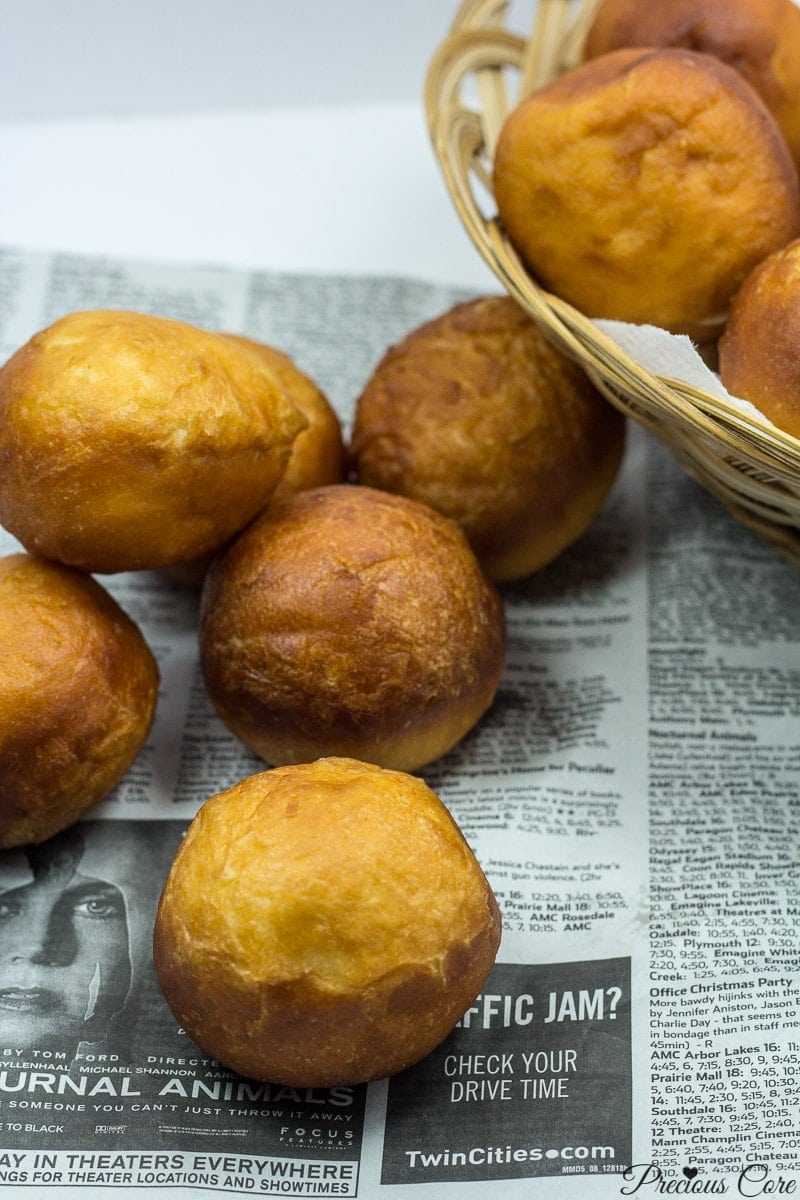 When I published my gateau recipe, it was purely the result of an accident. Since then, I have tweaked and tested the original accidental recipe several times and I have made a few changes. I am publishing those changes here but I would like to leave my original recipe the way it is, in its pure unadulterated form because that recipe still works for many.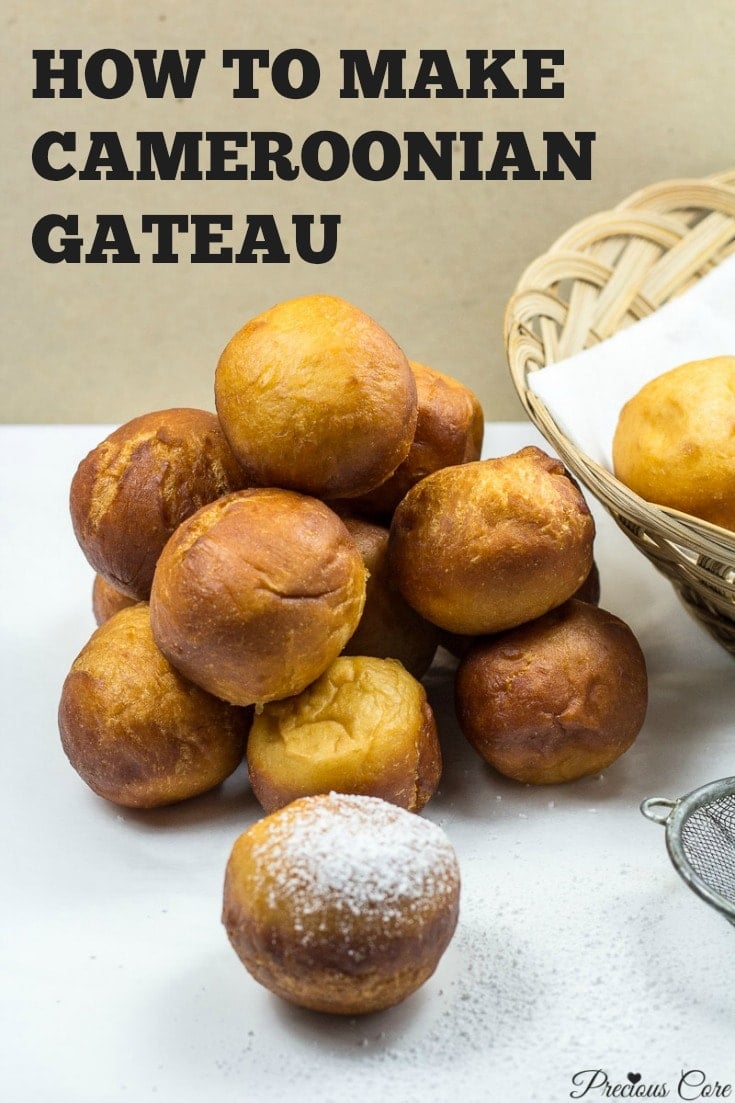 Now unto the changes:
I increased the quantity of flour to a solid 4 cups which is equal to half a kilogram. That way, those who use kilograms to measure find it easier to measure.
I increased the liquid to two cups so the dough rises easily and the taste develops better. It is very sticky but it is better that way because you can generously flour your board before placing the dough on top. Also, this makes the gateau softer and fluffier.
I omitted water and used only liquid milk for a richer flavour.
Now that we have that out of the way, let me tell you something: This recipe comes with a warning.WARN yourself against eating too much!
These are the very definition of insanely delicious! They are irresistibly good! They will make you weep for joy!
I'm so glad that I was able to make a video for you guys. Let's get to it!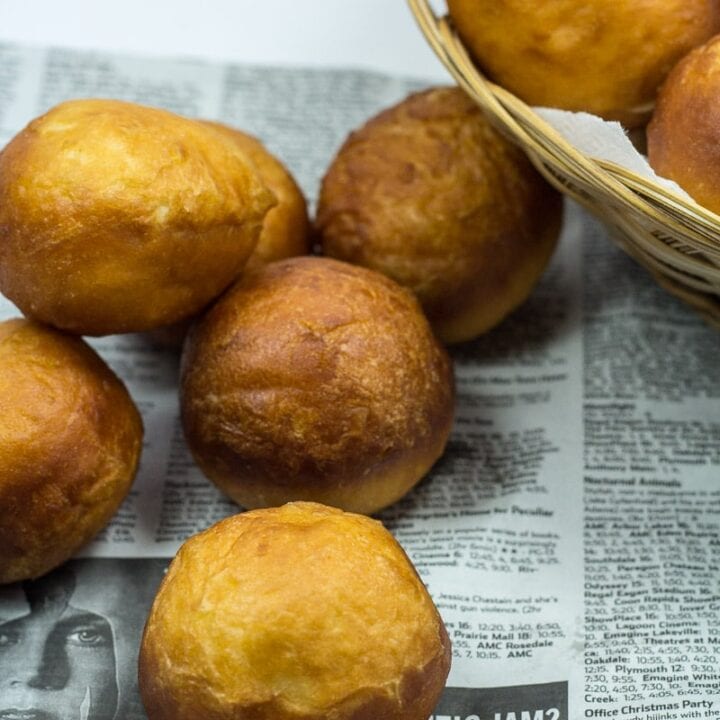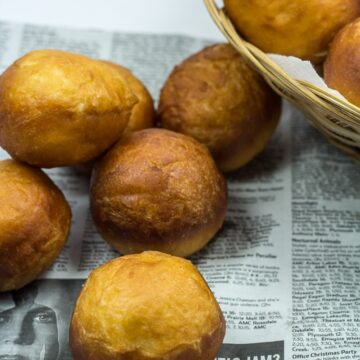 Cameroonian Gateau (Deep Fried Dough)
This a doughnut-like snack that is sold on the streets, in grocery stores and bakeries in Cameroon. It is soft on the inside with a lovely buttery flavour. Making this is so much fun!
Ingredients
4

cups

all-purpose flour (1/2 kg) + 1 cup more for dusting and kneading

5

tablespoons

unsalted butter (or margarine)

1/3 - 3/4

cup

sugar - use according to desired sweetness

1

teaspoon

salt

1

large egg

2

cups

liquid milk (whole or semi-skim)

1

sachet yeast (2 1/4 teaspoons)

Oil for frying- I used corn oil
Instructions
Melt your butter in a saucepan or in a microwave. Let it cool.

While the butter cools, pour milk into a large bowl then pour in the yeast. Add in sugar and salt, stir. Let it rest for five minutes.

Add in melted butter and mix well. Crack egg into milk mixture and beat well until everything is well incorporated.

Add in your flour and mix well gradually, using a wooden spoon to form a very sticky dough. Mix the dough for about five minutes then cover with a plastic wrap and paper towel. Keep it in a warm place to rise. I usually turn on my oven to make it warm then turn it off. When I place my dough into the warm (turned off) oven, it is guaranteed to rise.

Let is rise for 1 hour or until the dough has about doubled in size.

Generously flour a board then turn risen dough onto the board. Punch to deflate and knead lightly, adding flour as needed.

Form one large log with the dough. Cut it into two. Cut each part into two again. Keep cutting into two until you have 32 equal pieces.

Use each piece to form a small ball by molding with your hands.

Halfway through forming the balls, put oil on the fire to heat. I poured about 2 litres of oil in a large pan. Now the temperature of the oil is very important. Let it get heated for 5 - 10 minutes on high heat then turn down the heat to medium. If you have a deep fryer thermometer, the temperature of the oil should be 325 degrees F (175 degrees C). When it is at this point, turn it to medium before dropping in your balls. That way, your balls cook through without burning quickly and remaining raw on the inside.

Drop your balls into the oil, being careful not to overcrowd the pan. I fried about 10-12 balls at a time. When one side is slightly brown, turn to the other side and let it cook too. Keep turning until the balls are thoroughly cooked. It takes about five minutes for each batch to cook through. Remove and place on paper towel to absorb excess oil. Repeat the process with the rest of the dough.
Notes
Gateau is best enjoyed warm, just after frying! However, you can keep it for a few days in a ziplock bag or container.
Nutrition
Calories:
110
kcal
|
Carbohydrates:
19
g
|
Protein:
2
g
|
Fat:
3
g
|
Saturated Fat:
1
g
|
Polyunsaturated Fat:
0.2
g
|
Monounsaturated Fat:
1
g
|
Trans Fat:
0.1
g
|
Cholesterol:
12
mg
|
Sodium:
81
mg
|
Potassium:
42
mg
|
Fiber:
0.4
g
|
Sugar:
8
g
|
Vitamin A:
87
IU
|
Calcium:
23
mg
|
Iron:
1
mg