Cameroonian Gateau Recipe
Published Jun 05, 2015
Updated Apr 27, 2017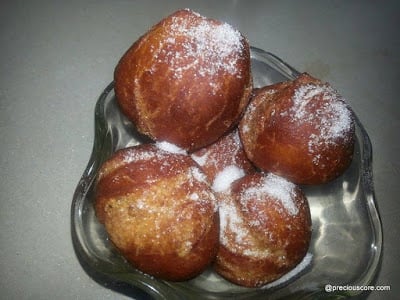 Gateau
This is crazy! I was making something else and I else and I ended up with Cameroonian Gateau. Well, they say some of the best recipes are results of accidents and that is what happened here.

So after watching a pressure test on the TV show, "Master Chef" in which the contestants had to make Cinnamon Rolls in 45 minutes, I was inspired to make mine. I spent my night dreaming of how I will make the perfect Cinnamon Rolls for my family the next day.
After making my dough the next day, I realised that my preheated oven was not anywhere near hot. I put it off and on several times but there was no heat. My oven was bad! I was so dissapointed. So I abandoned my covered dough in the kitchen where it rose and rose and rose for four hours! (Fear not! You do not have to leave it that long).
I kept it in the refrigerator and the next morning, I decided to shape it into balls and fry. After deep frying it, I realised I had made the purrfect gateaus.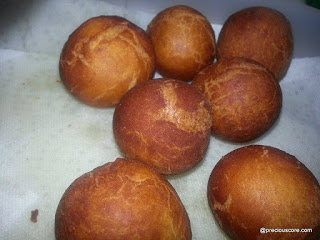 Gateau is a popular Cameroonian snack that is an advanced and better lasting version of puff puff. I had once attempted to make this but it turned out hard and not the way I wanted. These ones were nothing short of perfect.
They are hard on the outside, soft and stretchy on the inside with an irresistible buttery flavour. I now have my go-to Gateau recipe. Yay!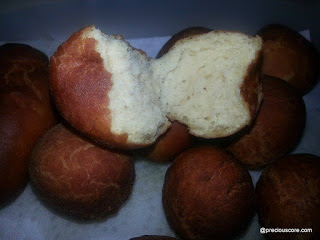 Prep: 25 mins
Inactive: 1hr 30 mins
Cook: 30 mins
Yield: 25-30 Gateaus
Ingredients

3 and a half – 4 cups of flour
5 tablespoons butter
2 and a quarter teaspoons of yeast
Half a cup of whole milk
Half a cup of warm water
Three quarter cup of sugar (I used brown)
1 large egg
1 teaspoon salt
1 litre of vegetable oil for deep frying
Directions

-Mix yeast and warm water in a small bowl and keep aside.
-In another bowl, mix together milk, egg, melted butter, sugar and salt.
-Add half of the flour to the above mixture and mix well
-Add in warm water and yeast and mix
-Add in remaining flour and mix until it forms a stretchy dough
-Put dough on a floured board and knead for 5 minutes
-Put dough in a bowl and cover. Let it rise for one hour
-Punch down dough and knead again
-Shape into small balls like these: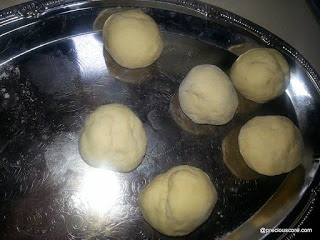 -Let them sit for 20-30 minutes. They'll rise again
-Heat oil and deep fry on medium heat until pale brown.
-Remove from oil and place on paper towel to absorb excess oil.
Imagine these with a glass of orange juice: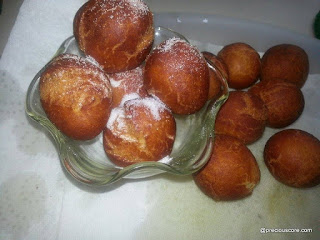 NOTES

Be careful not to fry your Gateaus in very hot oil. This will result in a burnt exterior and an under-cooked interior. Your oil should be on medium heat so the balls can cook slowly and thoroughly.
For measurements in grams/kilograms, go here.
Happy Gateau making/eating!