Chicken Macaroni Salad
Published Aug 09, 2022
Updated Aug 22, 2023
Chicken Macaroni Salad is creamy, and meaty, with a slight crunch from crisp veggies. It is the perfect summer salad to serve with grilled meats. Plus, learn my trick to ensure that your macaroni salad stays creamy and doesn't turn dry on you!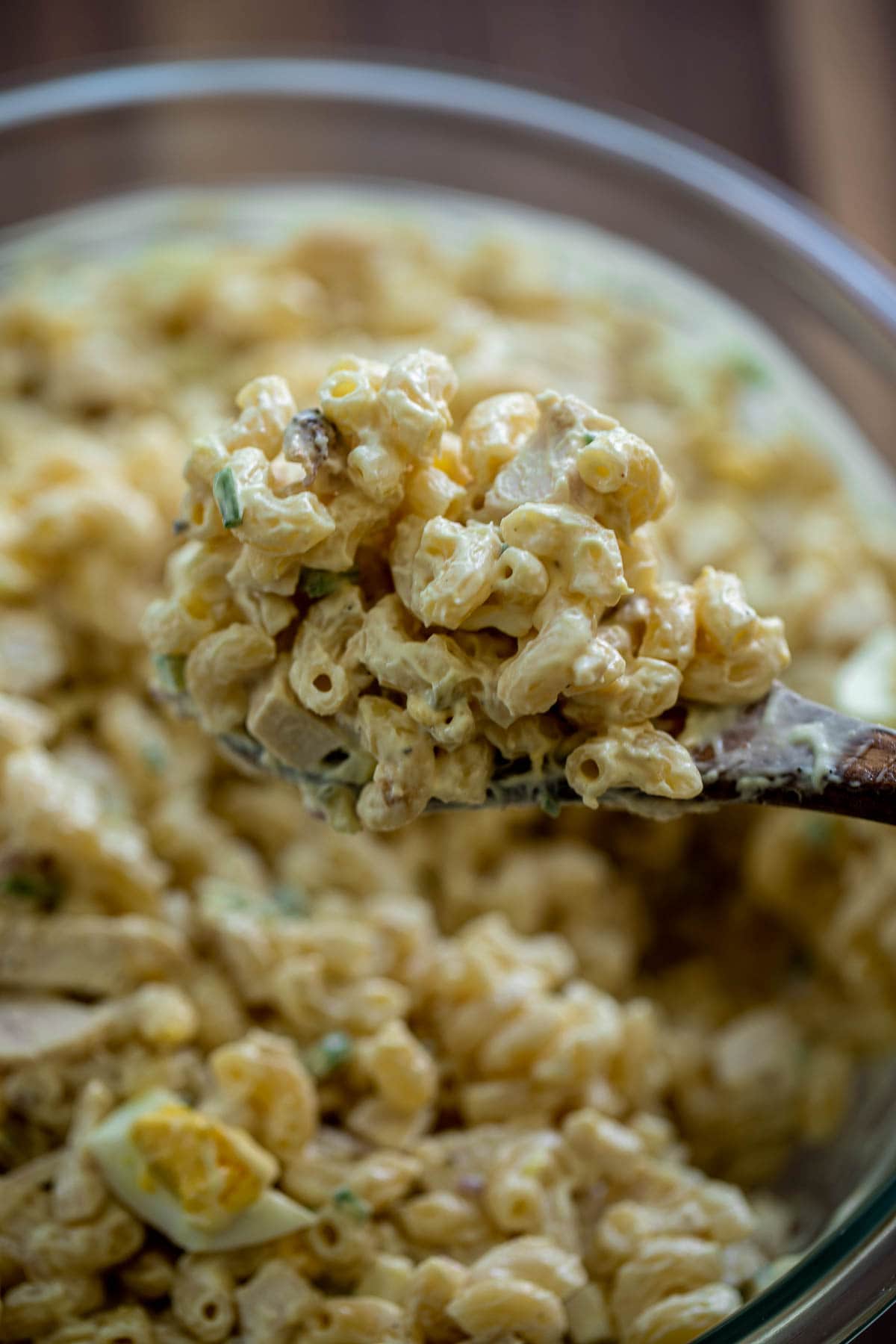 Something about summer just calls for a tasty cold macaroni salad. After some trials, I am proud to present to you my very tasty version of a Chicken Macaroni Salad.
It contains just enough dressing to hug the salad, just the right amount of tang and it is so rich and tasty. My family can't get enough!
Serve this macaroni salad with Pan Seared Ribeye Steak, Baked Dry Rub Ribs, or Grilled Boneless Chicken Thighs. The perfect salad for potlucks, BBQs, or picnics!
Ingredients
Here are the ingredients you need for Chicken Macaroni Salad.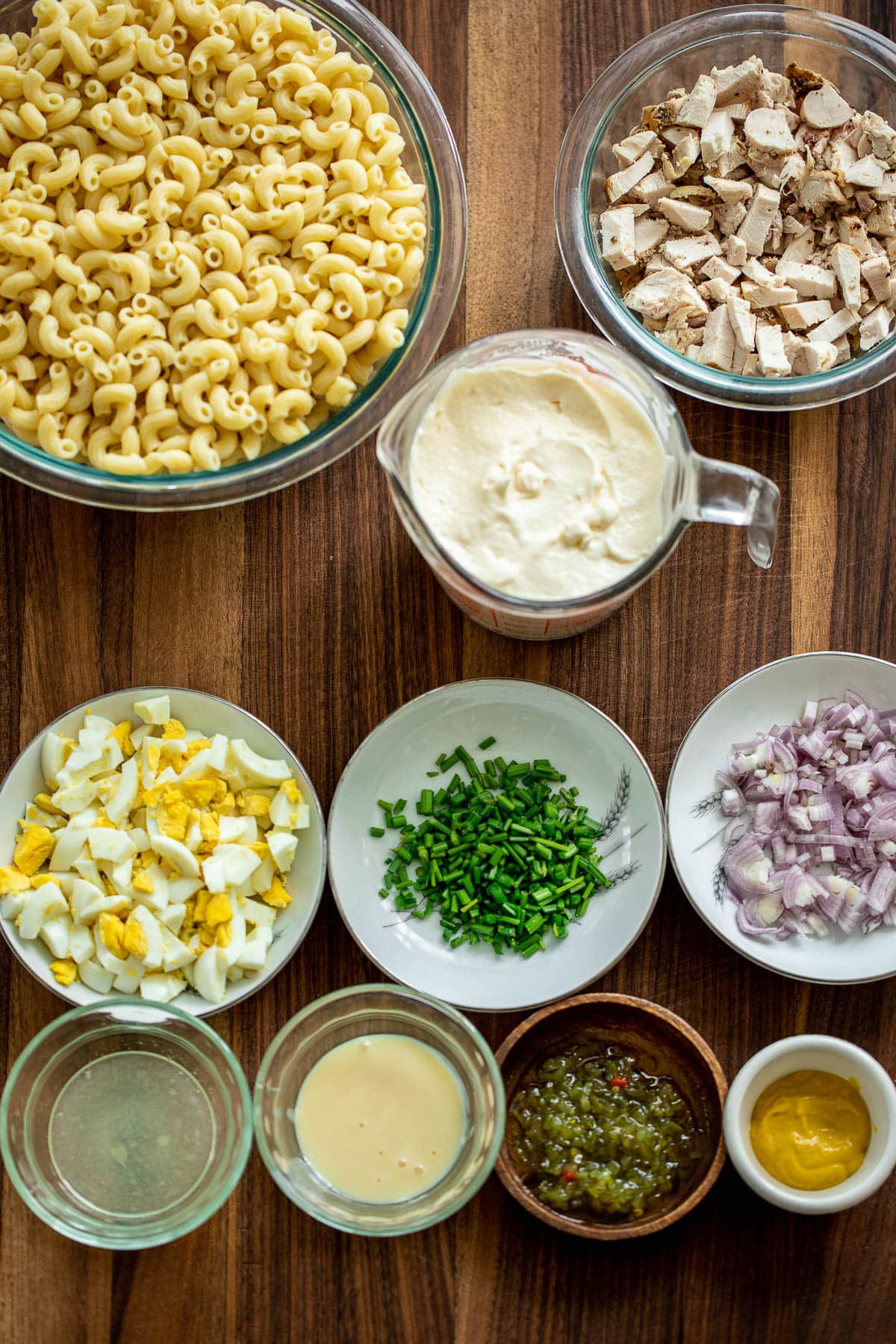 Elbow Macaroni. Elbows are classic but you could use any other small-shaped pasta you have on hand.
Chicken. Precooked chicken like rotisserie chicken works well here. You could also cook chicken breasts in water with salt pepper, garlic and onion powder then use it. (See recipe notes for detailed instructions on how to do this.) For this recipe I used chicken breasts from a whole chicken I grilled.
Mayonnaise. For the dressing and to add creaminess to the salad. Use full fat mayonnaise for the best creaminess. If you don't want to use all mayonnaise in your salad, substitute half of the mayo for Greek yogurt or sour cream.
Hard Boiled Eggs. For extra protein.
Mustard. Yellow mustard or Dijon Mustard is fine.
Sweet Relish.
Lemon Juice. For a little tang which balances quite well with the slight sweetness from the sweetened condensed milk.
Sweetened Condensed Milk. For added creaminess and a little sweetness. This won't be a sweet salad. The sweetness of the two tablespoons of sweetened condensed milk used will just balance the flavors.
Celery. For crunch and freshness.
Red Onion. For crunch and a pop of color.
Chives or Parsley. For garnish. You could also garnish with green onions or any fresh herbs you have on hand.
Sprinkling of Paprika. For garnish.
The quantities of each ingredient are in the recipe card below.
How To Make Chicken Macaroni Salad
Here is how to make Chicken Macaroni Salad in four easy steps.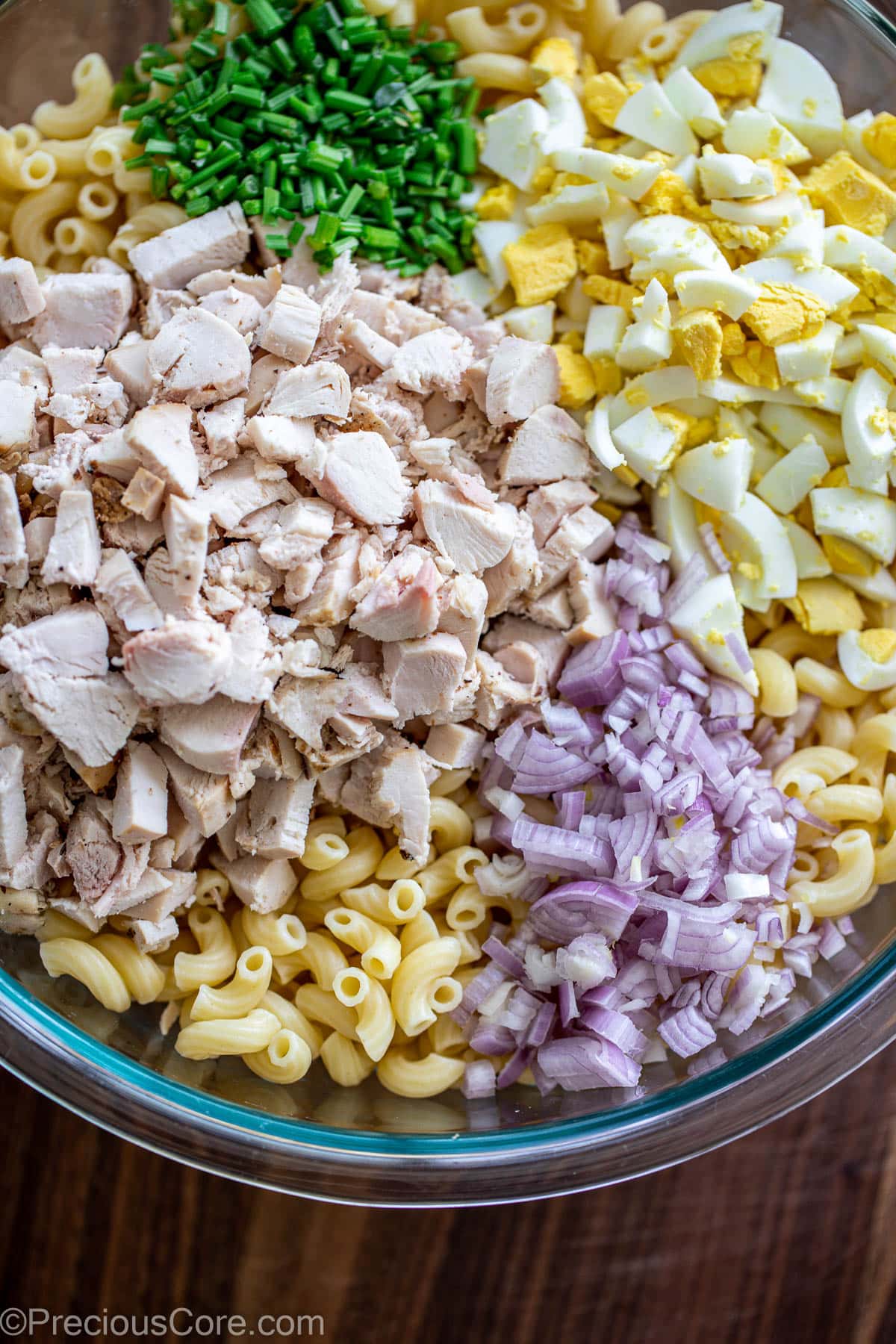 Assemble all ingredients for the salad in a large mixing bowl.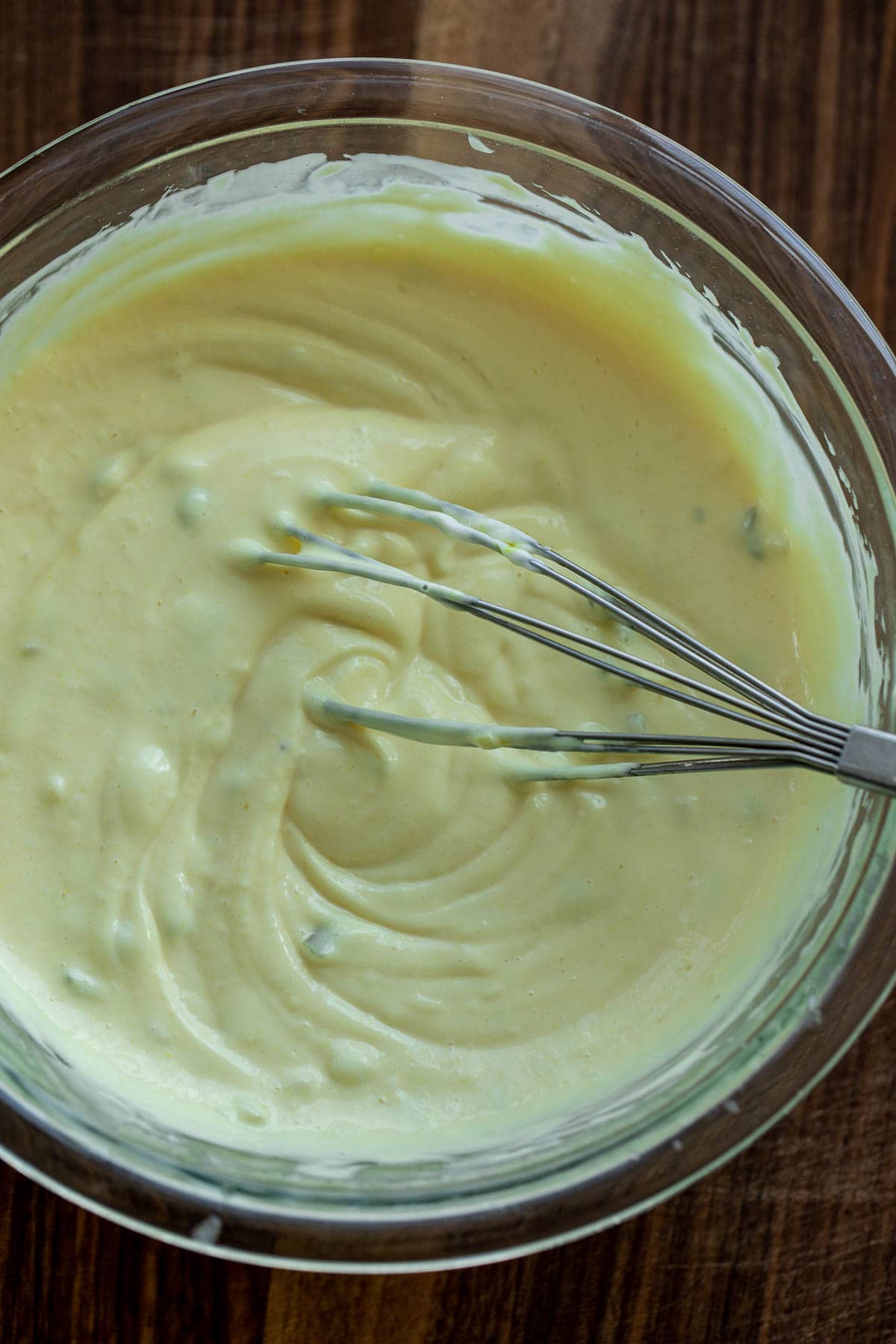 Mix together all ingredients for the dressing in a medium sized bowl,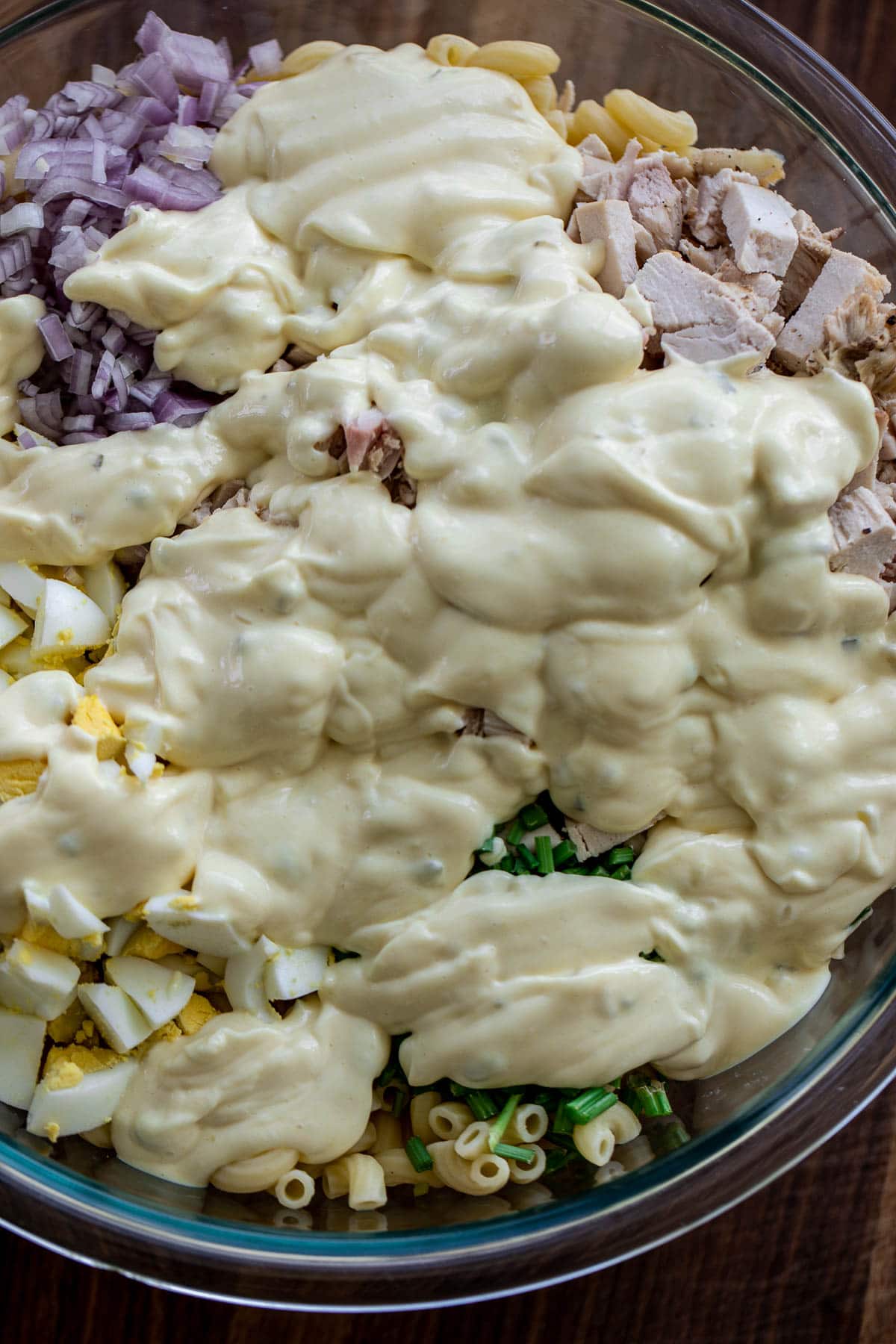 Pour the dressing over the salad ingredients.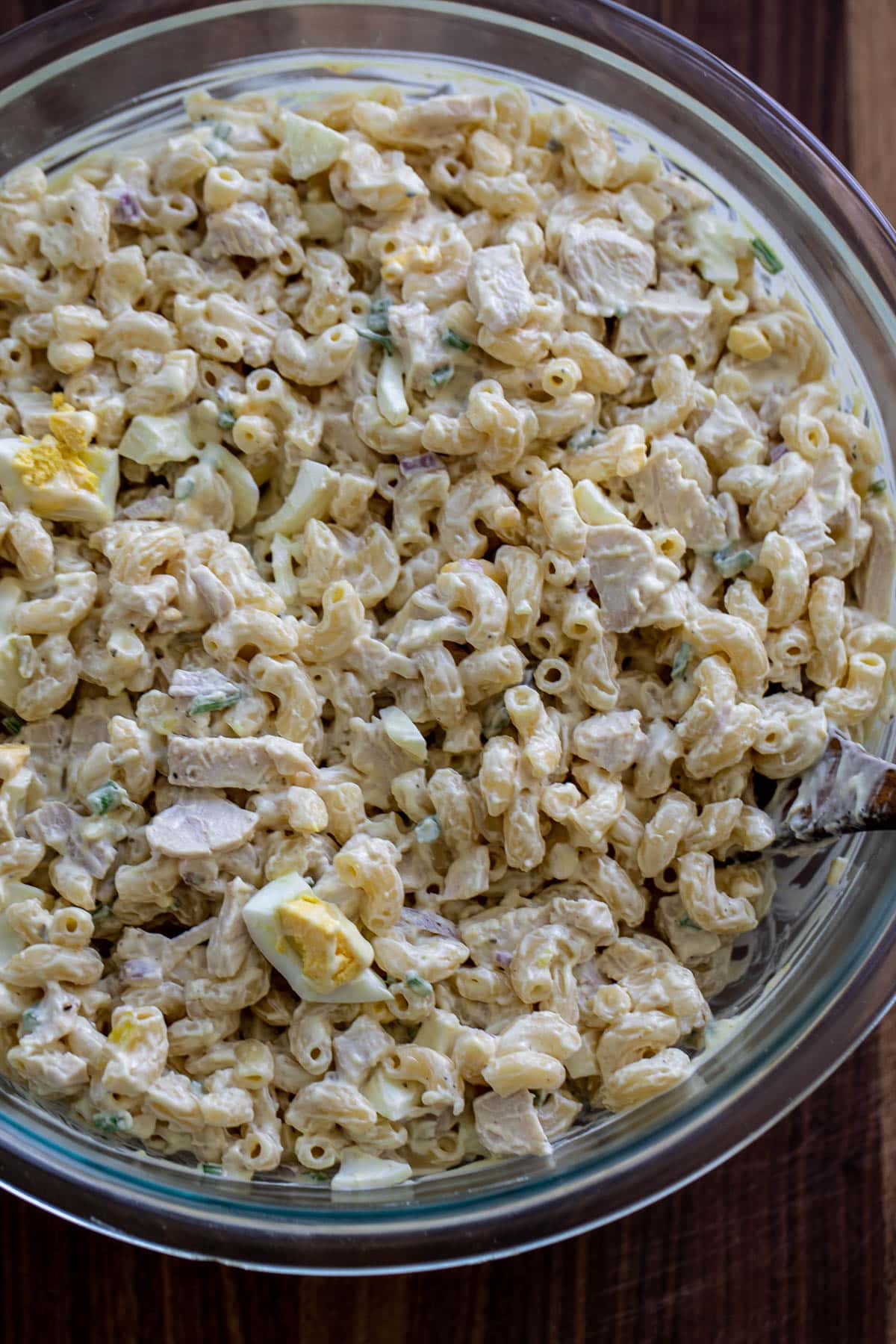 Toss everything together to combine. Season with salt and pepper. Chill then serve!
Hint: It is important to let the pasta cool down completely and chill before you add the other ingredients. That way the pasta doesn't absorb most of the dressing resulting in a dry salad. Also, keep Chicken Macaroni Salad in the fridge. Before serving, toss to redistribute the dressing.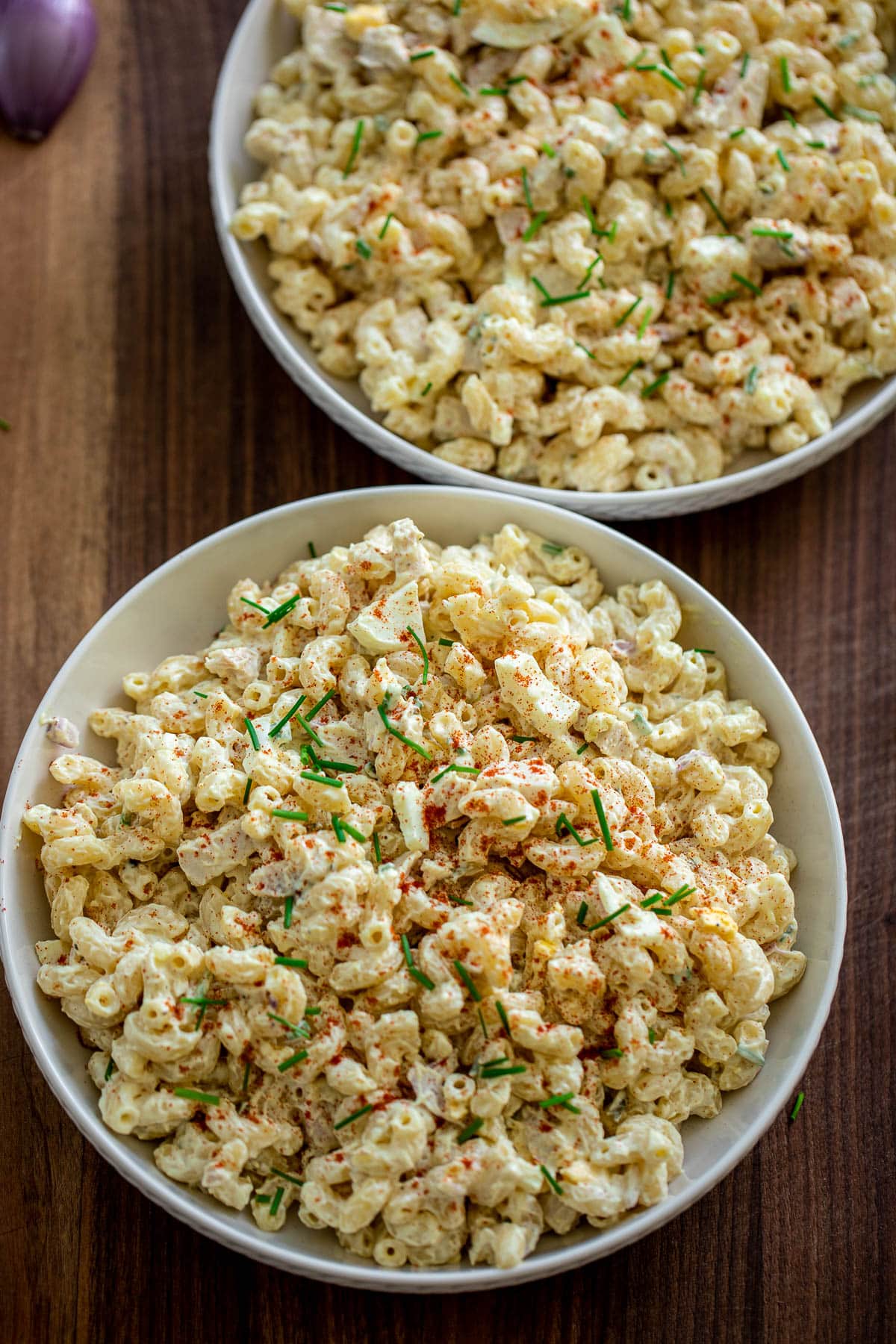 Frequently Asked Questions About Macaroni Salad
How do I stop my macaroni salad from absorbing the dressing? To stop macaroni salad from absorbing the creamy dressing, rinse the macaroni thoroughly with cold water after it's done and let it chill in the fridge until completely cold then use it to make the salad.
Can I freeze macaroni salad? No. Macaroni salad doesn't freeze well. The oil will separate from the mayo after it thaws so avoid freezing macaroni salad.
How long does chicken macaroni salad last? Chicken Macaroni Salad will last in a tightly covered bowl in the fridge for up to 3 days.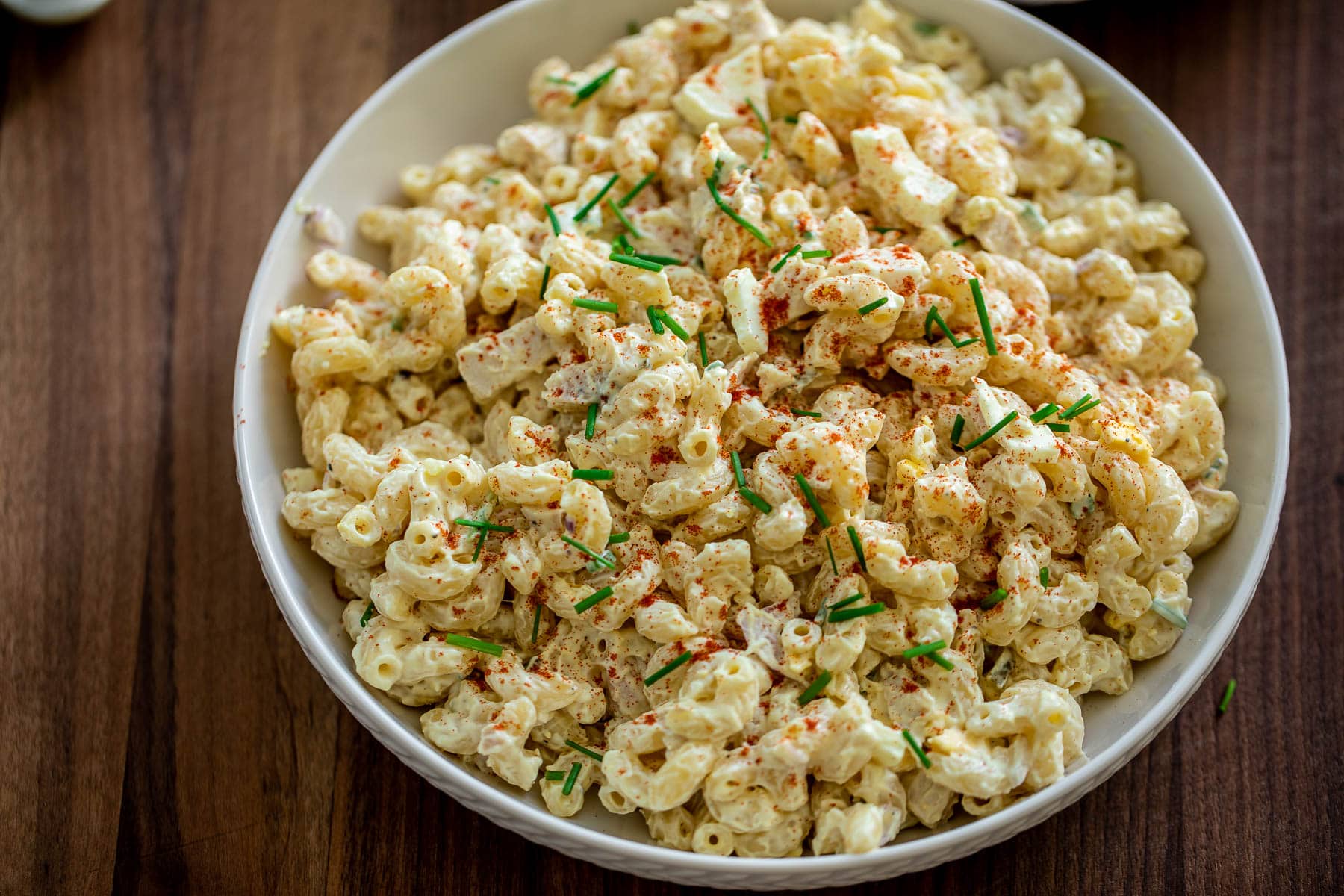 Variations and Optional Add-Ins
Make macaroni salad your own by trying the following variations and addins.
Use diced ham instead of chicken.
Use tuna instead of chicken.
Add in peas.
Add in red bell peppers.
Add in sliced jalapenos for some heat.
Add in sweet corn.
Add in bacon.
Add cheese cubes.
Add shredded carrots.
Add green onions.
Also leave out any ingredients in the salad if you do not love them.
Storage
Keep Macaroni Salad with Chicken covered in the fridge for up to 3 days. If transporting this salad during the summer, put the salad in a bowl and tightly cover the salad then put it in a cooler with ice so it stays cool.
DO NOT freeze macaroni salad. Mayo doesn't freeze well and will separate and become oily once it thaws.
Top tip
To quickly chill the macaroni after cooking it, spread it on a baking sheet and place in the freezer for about 5 minutes or until completely chilled. After that, remove it from the freezer and keep in the fridge until ready to use in the chicken macaroni salad.
Serving
Hope you enjoy this Chicken Macaroni Salad recipe! Serve it alongside:
More Salads
Love tasty salads? Check these out: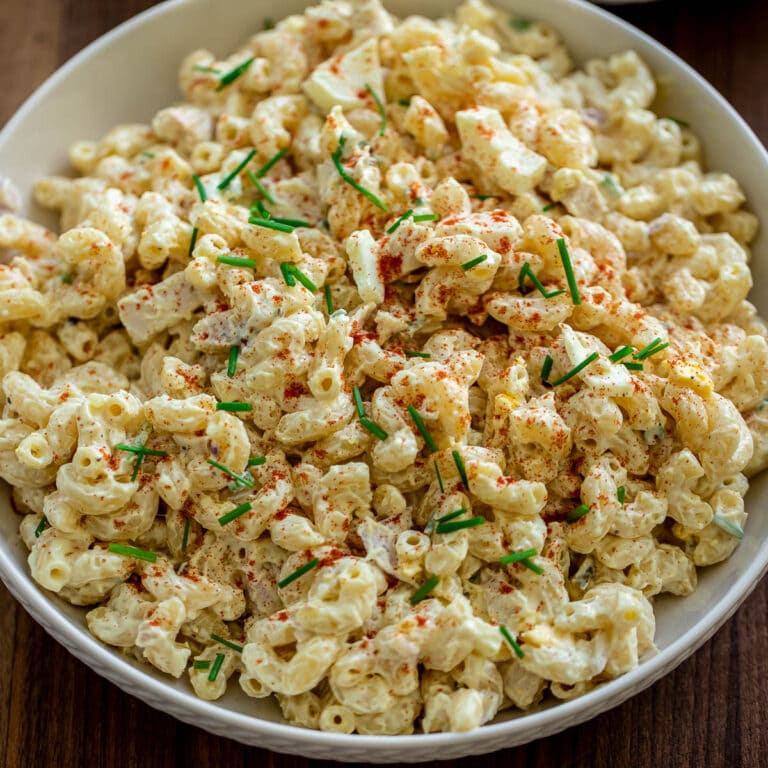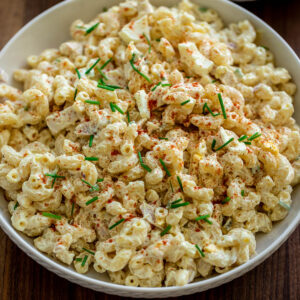 Chicken Macaroni Salad
How to make really tasty and creamy Chicken Macaroni Salad. The perfect make-ahead summer side dish! Make this salad for your next potluck, backyard summer BBQ or summer party!
Ingredients
Chicken Macaroni Salad
16

oz

elbow macaroni

3

large eggs

2

cups

diced cooked chicken

use any precooked chicken, rotisserie chicken or canned chicken. See recipe notes below for how to cook chicken from scratch.

¼

cup

diced celery stalk

⅓

cup

diced red onions or shallots
Dressing
2

cups

mayonnaise

3

tablespoons

lemon juice, freshly squeezed

from about 1 lemon

2

tablespoons

sweetened condensed milk

1

tablespoon

mustard

yellow mustard or Dijon mustard is fine

4

teaspoons

sweet relish

¼

teaspoon

salt

⅛

teaspoon

ground black pepper or white pepper
Instructions
Cook Macaroni. Put 4-6 quarts of water in a large pot and and bring to a boil. Add the macaroni and cook for 1 minute past al dente I cooked mine for 8 minutes.

Chill Macaroni. Spread the macaroni on a baking sheet. Place in the freezer for 5 minutes. Then remove the baking sheet from the freezer and place in the fridge to chill until ready to use.

Note: Chilling the macaroni is a crucial step in this recipe. When the macaroni is chilled, the macaroni salad will stay creamy. When the macaroni is even slightly warm, it will melt the dressing, turn the mayo oily resulting in a dry salad.

Hard-boil eggs then peel and dice them. Put eggs in a small pot. Add water to completely cover the eggs. Bring to a boil. Let it boil for 8 minutes. Place 3 cups of water and 1 cup of ice into a medium mixing bowl. Remove the eggs from boiling water and add to the ice water bowl. Let them cool for 5 minutes. Peel and dice the eggs.

Make the dressing. In a medium bowl combine the mayonnaise, lemon juice, sweetened condensed milk, mustard, and sweet relish. Whisk together until well combined.

Assemble salad. To a large mixing bowl add the chilled macaroni, cooked and diced chicken, diced hardboiled eggs, celery, onions or shallots. Pour the dressing over all the ingredients then toss to combine.

Add salt and pepper, and adjust seasoning. Add the salt and pepper then toss well to combine. Taste the salad and adjust seasoning if needed. Cover salad and chill until ready to serve.

Serve Chicken Macaroni Salad cold alongside your favorite pan seared or grilled meats.
Notes
1. You could cook chicken breasts in water with salt pepper, garlic and onion powder then use it. To do this, place 2 large boneless skinless chicken breasts in a pot with 2 cups of water. Add a teaspoon of salt and ground black pepper to taste. Add a teaspoon each of garlic powder and onion powder or add your favorite seasonings. Cook on medium heat until the chicken is completely cooked through and no longer pink in the middle. Remove chicken from liquid and let it cool down. Then dice it and use in your salad.
2. Before serving, toss to redistribute the dressing.
Nutrition
Calories:
441
kcal
|
Carbohydrates:
25
g
|
Protein:
17
g
|
Fat:
32
g
|
Saturated Fat:
5
g
|
Polyunsaturated Fat:
17
g
|
Monounsaturated Fat:
7
g
|
Trans Fat:
0.1
g
|
Cholesterol:
74
mg
|
Sodium:
403
mg
|
Potassium:
147
mg
|
Fiber:
6
g
|
Sugar:
6
g
|
Vitamin A:
132
IU
|
Vitamin C:
3
mg
|
Calcium:
50
mg
|
Iron:
4
mg