The Best Grilled Chicken Tenders
Published Apr 13, 2018
Updated Aug 22, 2023
These grilled chicken tenders! You guys, they are incredibly tasty with a combination of spices and herbs that just works perfectly! My kids and I had them for lunch this afternoon with some potato fries and ketchup. All plates were cleared, making me a very happy and proud mommy.
So these grilled chicken tenders – make them! You should make them especially if you struggle thinking about what to cook. Do you struggle with planning meals? I know I do! Some weeks, I am totally killing it with an outlined meal plan which I diligently follow. On other weeks, I am confused.com.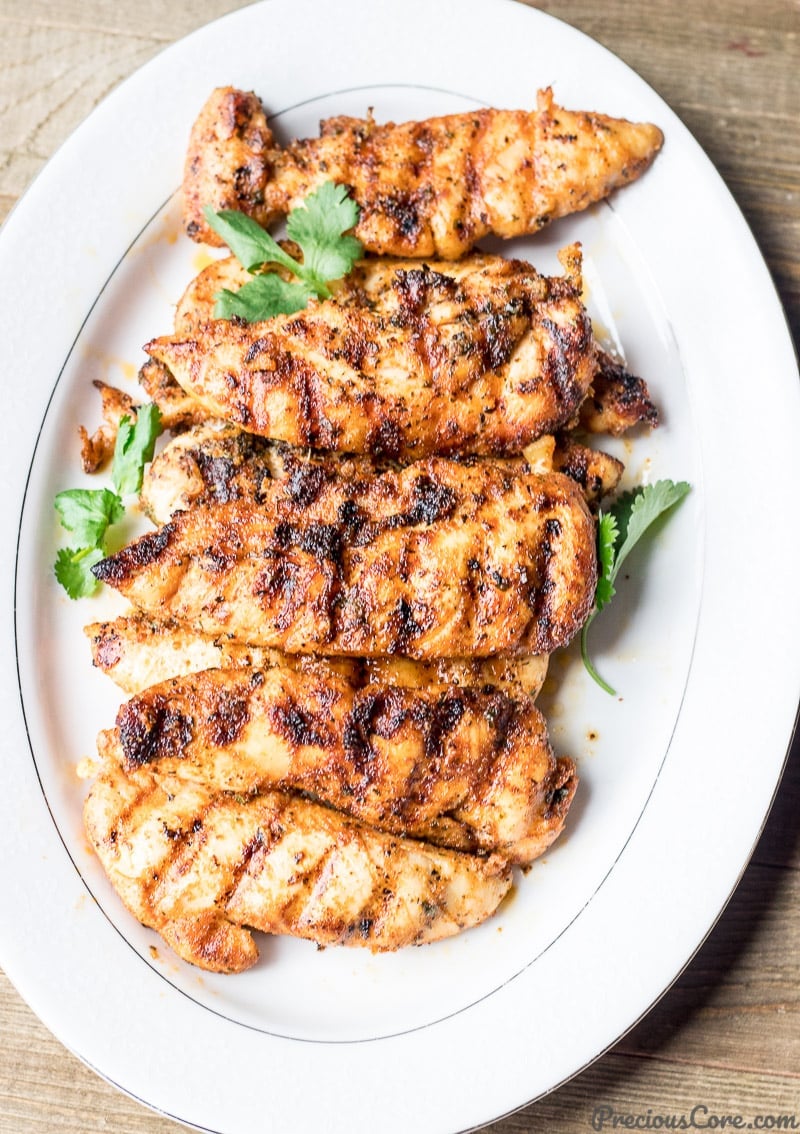 During my weeks of confusion, I wake up each day thinking, what will I feed my family with today? I get very nervous as mealtime approaches. But with an ingredient like chicken tenderloins, I can make a quick meal in no time.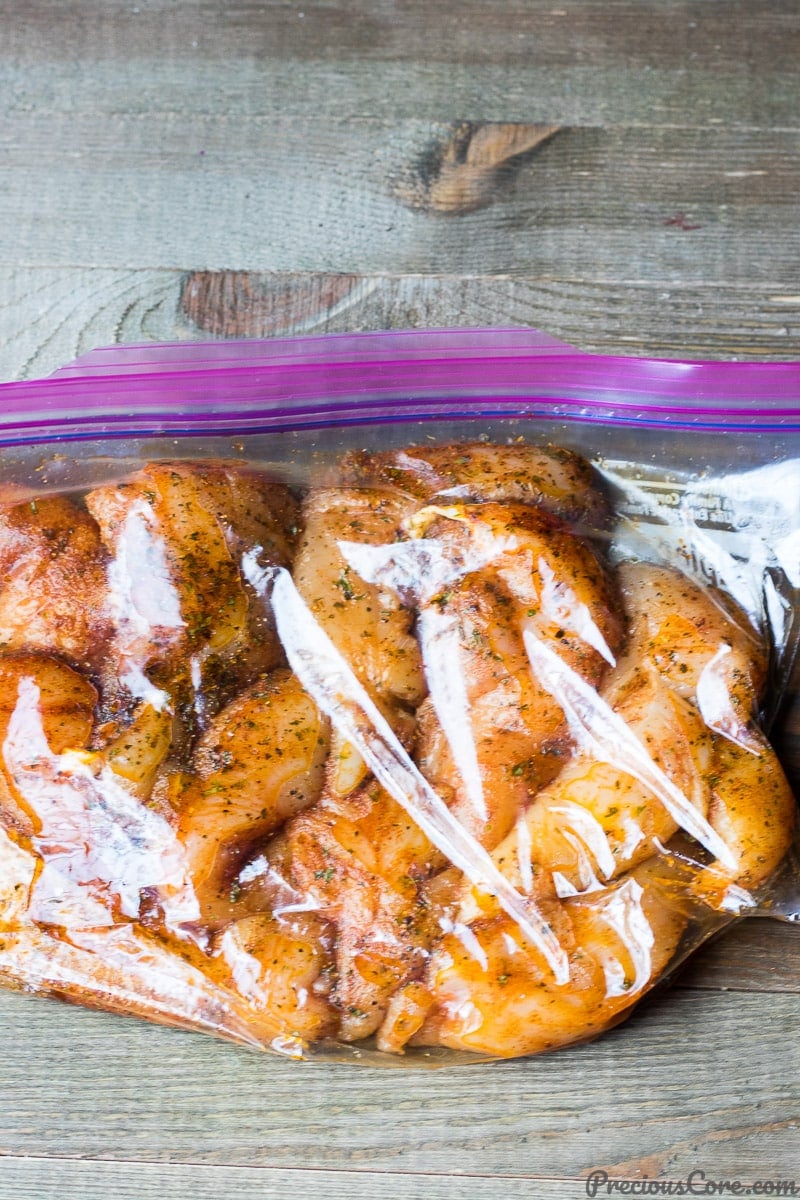 These epic grilled chicken tenders which I posted on Instagram some weeks ago are so easy to make and a solution to your what-do-I-cook-today? problems.
I had a couple of requests for the recipe video. There is no video today but I will be sharing the video very soon on my YouTube channel.
So What Are Chicken Tenders?
For those who are not familiar, chicken tenders are little strips of meat that are loosely attached to the under part of chicken breasts. So each chicken has two tenders. They taste exactly like chicken breast meat! Other names for chicken tenders include chicken strips, chicken fingers, or chickeThey can be battered and deep-fried, used in stir-fries, used to make chicken skewers or in this case, grilled!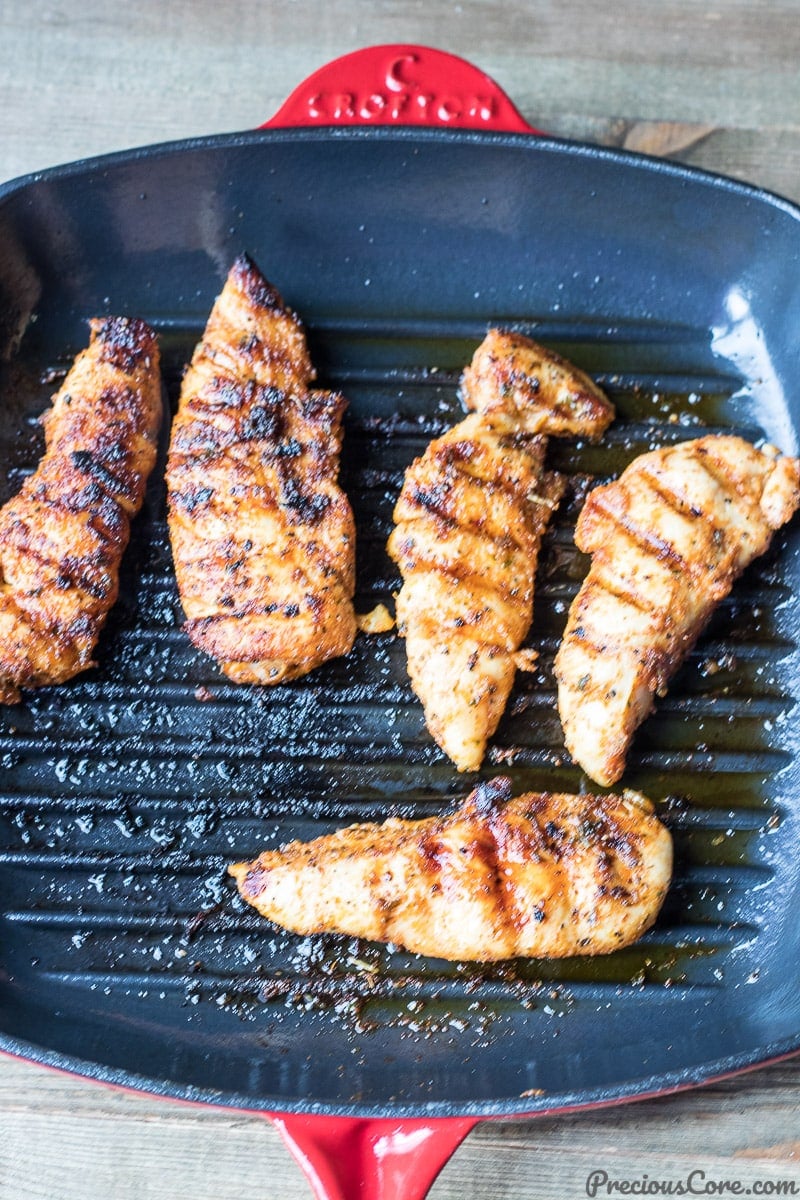 Now, there are two way I grill my chicken tenders. Either I cut them in the middle to open them up and make them flatter like I did with the ones in my Instagram post or I grill them as they are like I did with this recipe. I love the flat ones for sandwiches because they fit nicely into the sandwich buns. But there is really no need to make them flat. I just thought I should put this out there since the one on my Instagram page from which the recipe was requested is flat.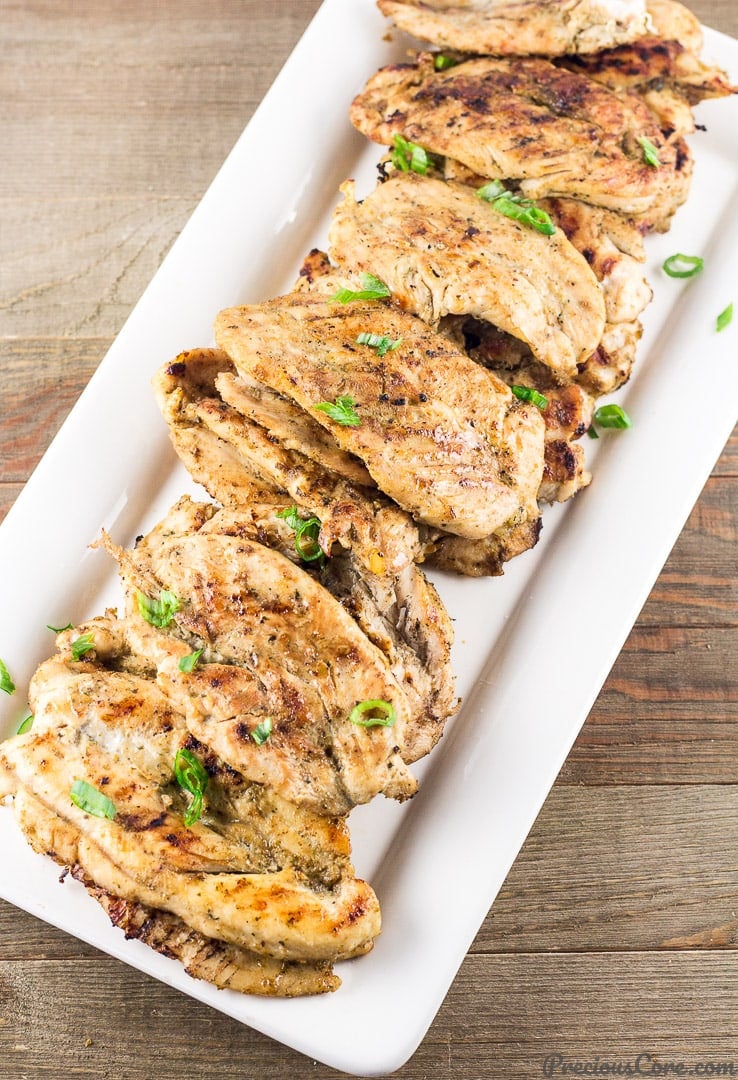 Also, you could use a regular grill or outdoor grill to grill them or just use a grill pan like I did. Here is a similar grill pan to the one I used. It is such a great kitchen tool for making quick grilled meals right on your stove top.
You could enjoy your grilled chicken tenders with any side you enjoy. We had ours with potato fries and ketchup. But plantains and some African pepper sauce will be great too. You could also enjoy it in sandwiches or in tortilla wraps. So so good and so so versatile!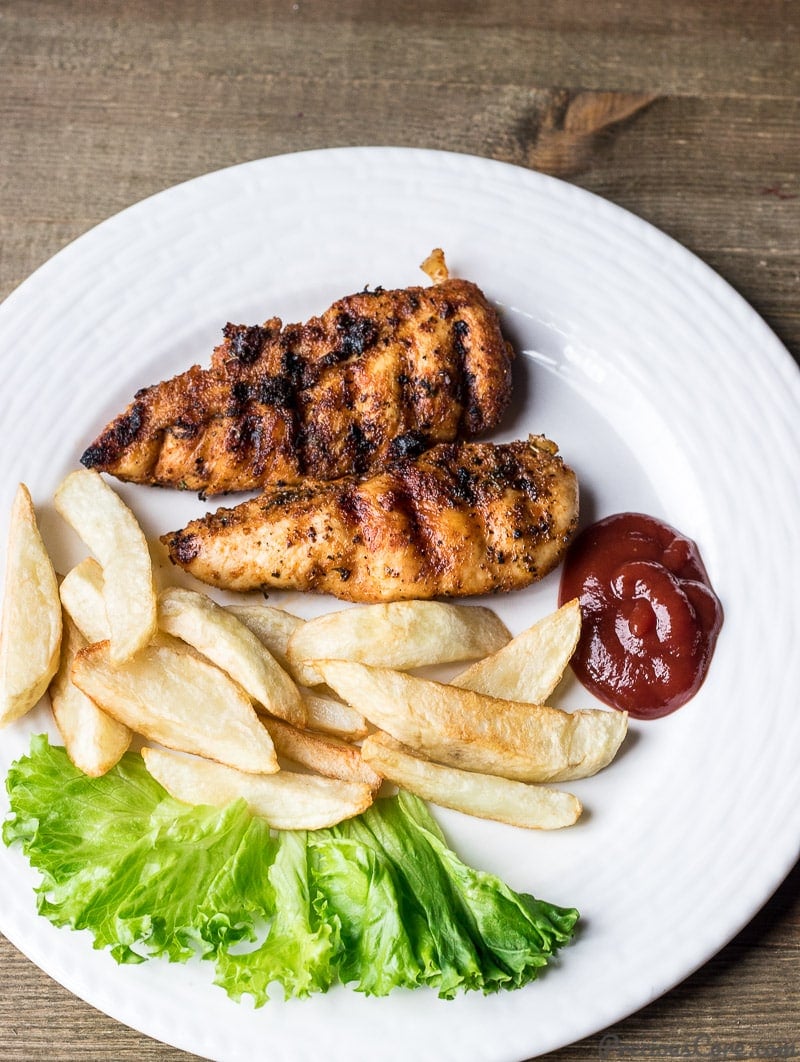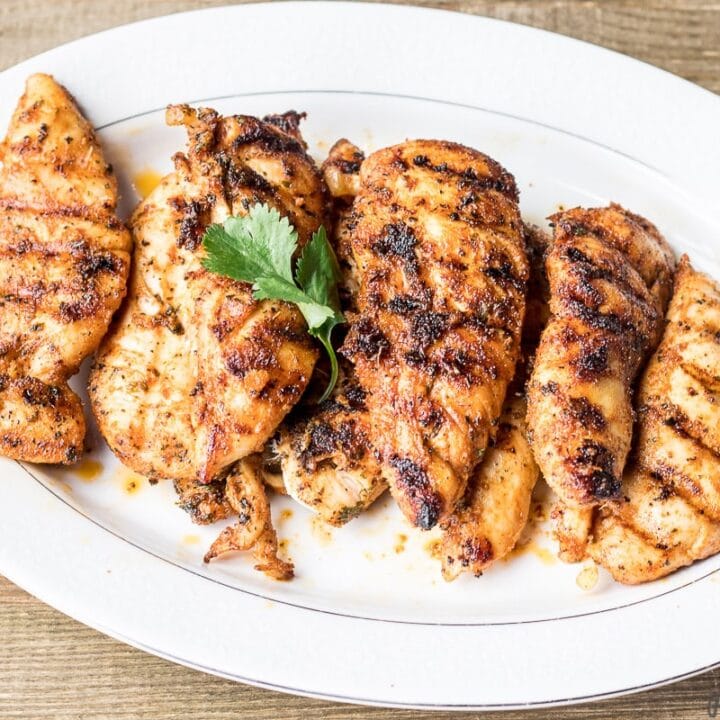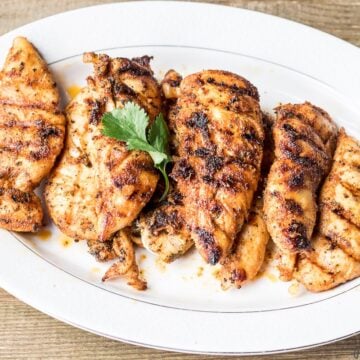 The Best Grilled Chicken Tenders
These grilled chicken tenders! They are incredibly tasty and ready in no time! Perfect for those days when you need a quick meal but you do not have loads of time to slave in the kitchen. My kids absolutely adore this and start eating it when it is still hot out of the grill pan. Make this recipe, friends!
Ingredients
1 1/2

pounds

chicken tenderloins (about 10 chicken tenderloins)

3

tablespoons

olive oil

1

teaspoon

dried basil

1

teaspoon

dried parsley

1

teaspoon

garlic powder

1

teaspoon

ginger powder

1

teaspoon

onion powder

1

teaspoon

paprika

1/4

teaspoon

ground white or black pepper

1/2

teaspoon

salt

1

chicken seasoning cube

4g cube
Instructions
Place the chicken in a Ziploc bag then add two tablespoons of the oil and all the seasoning. Close the bag and lightly massage the chicken to evenly distribute the ingredients. Let it marinate in the fridge for 20 minutes or overnight if you can.

Place a grill pan on high heat and grub the remaining 1 tablespoon of oil on top. Let it heat up until it starts to smoke. Gently place the chicken in the pan. It should take about 5 pieces of chicken at once. Let the chicken cook on one side for 4-5 minutes then flip to the other side and let it cook for another 4-5 minutes. Remove from the pan and repeat process with the rest of the chicken.

Serve warm with your favorite side. We had it with potato fries and some ketchup.
Notes
1. You could use fresh spices and herbs if you want to. In that case, you'll need 3 teaspoons of freshly chopped parsley, 3 teaspoons of freshly chopped basil, 2 teaspoons of minced garlic, 3 teaspoons of ground ginger, and 3 teaspoons of chopped onion. You could combine all these ingredients together with the oil for the marinade and blend then use to marinate the chicken.
2. You could use an outdoor grill with this recipe. In that case, still cook for about 4 minutes on each side.
Nutrition
Calories:
194
kcal
|
Carbohydrates:
3
g
|
Protein:
24
g
|
Fat:
9
g
|
Saturated Fat:
2
g
|
Polyunsaturated Fat:
1
g
|
Monounsaturated Fat:
5
g
|
Trans Fat:
0.01
g
|
Cholesterol:
73
mg
|
Sodium:
491
mg
|
Potassium:
449
mg
|
Fiber:
0.3
g
|
Sugar:
0.2
g
|
Vitamin A:
200
IU
|
Vitamin C:
1
mg
|
Calcium:
13
mg
|
Iron:
1
mg

Sometimes it is when we are about to give up that our miracle is closest. So when you feel highly discouraged still push on. Your breakthrough might be right around the corner.