CHICKEN AND MUSHROOM STIR FRY
Published Aug 25, 2016
Updated Oct 09, 2018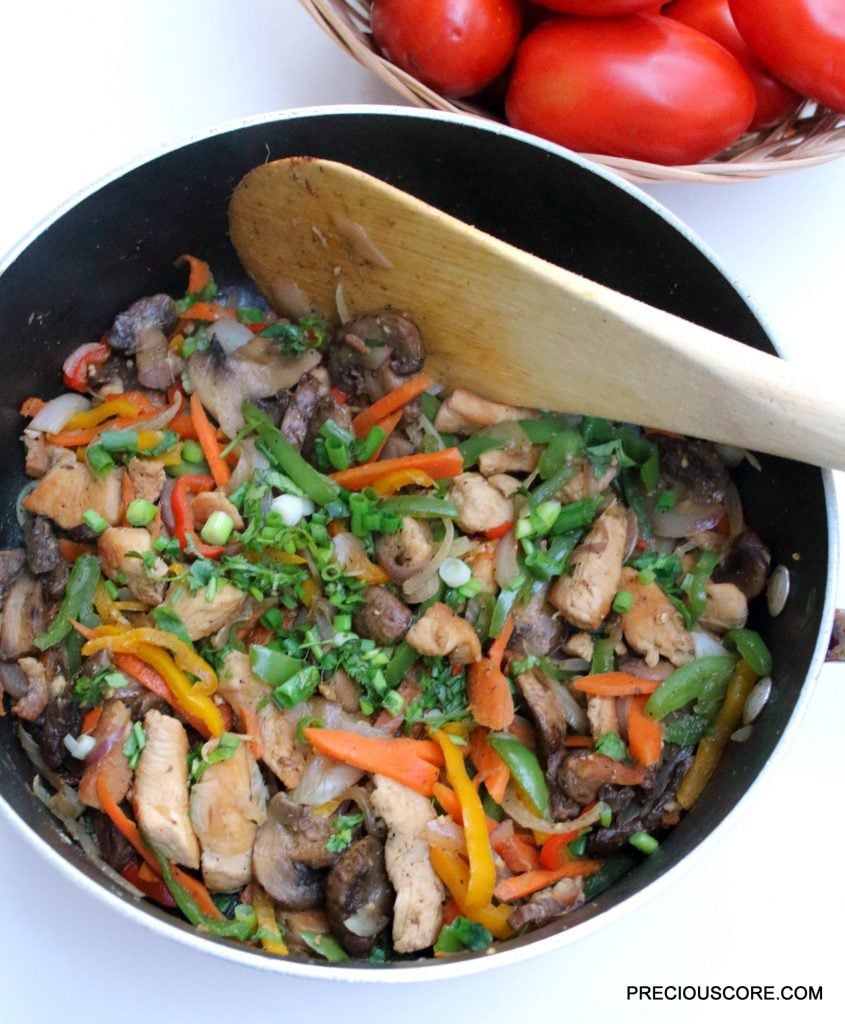 This is the stir fry recipe of your dreams. After seeing Mr N eat this and glow, I could wait to share it with you. It is:
Easy
Fresh
Natural (in the words of the chief taster, Mr N)
Crispy
Flavourful
Healthy
Without further ado, let us look at what you'll need:
Two boneless and skinless chicken breasts. If you can't find this, simply trim the fleshy part of a whole chicken and use.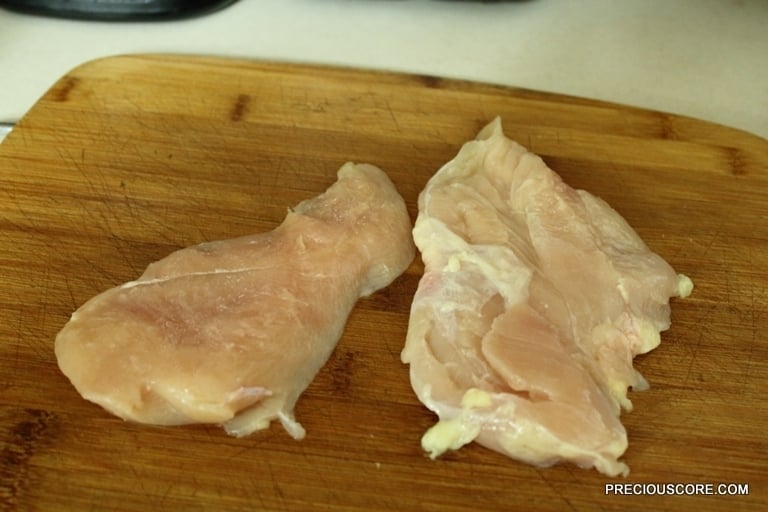 About 10 mushrooms.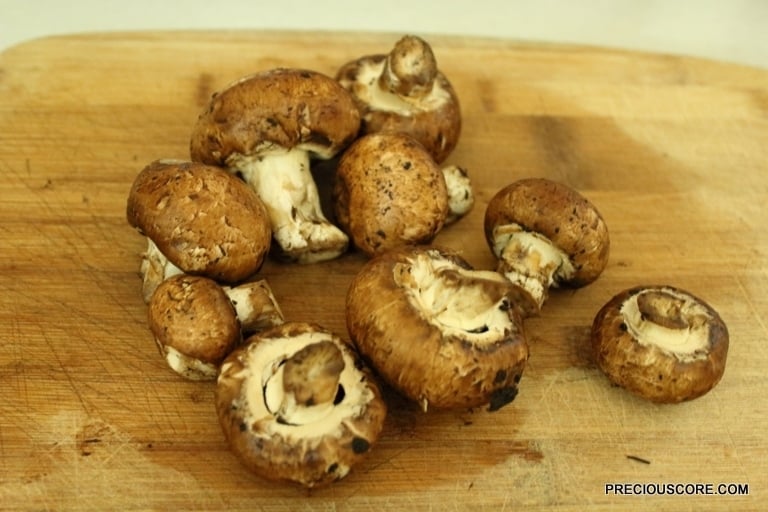 You'll also need some soy sauce (it's a liquidy seasoning in a bottle mostly used in Chinese cooking). If you can't find this, simply substitute with Maggi.
Then you'll need some garlic, ginger, bell pepper, carrot and onions. I always throw in whatever vegetables I have on hand. This is a great way to use leftover vegetables and herbs.Cut your chicken into strips.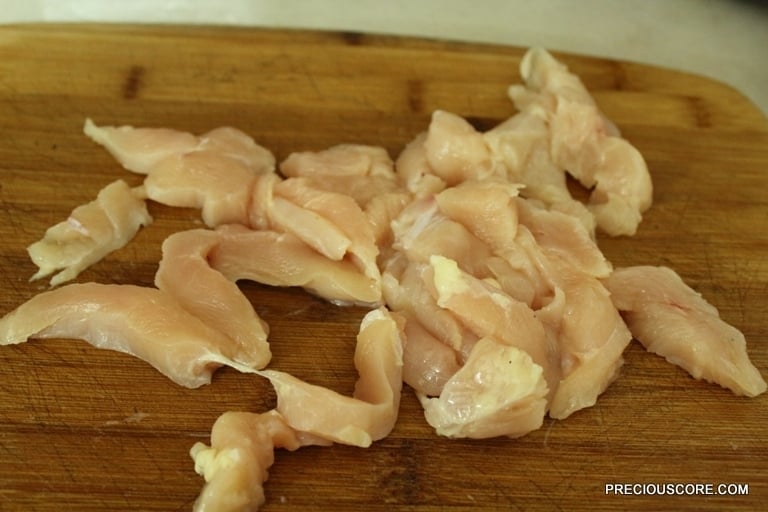 Season with soy sauce or maggi.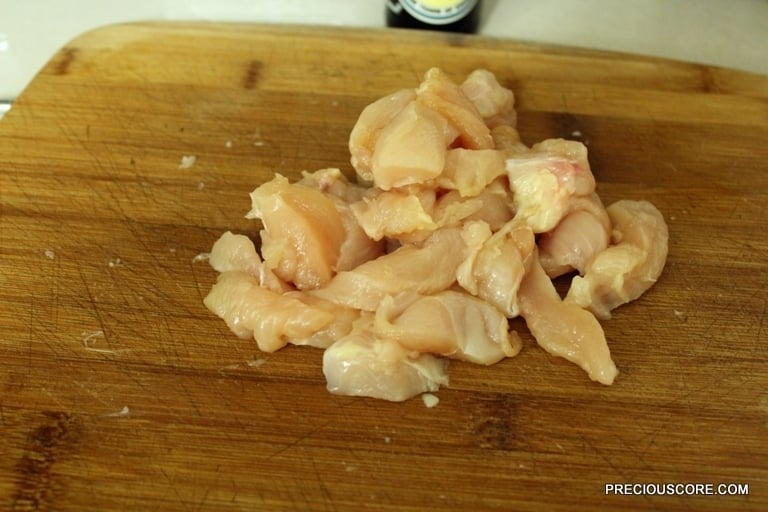 Now heat up some extra virgin olive oil in a pot and put in your chicken.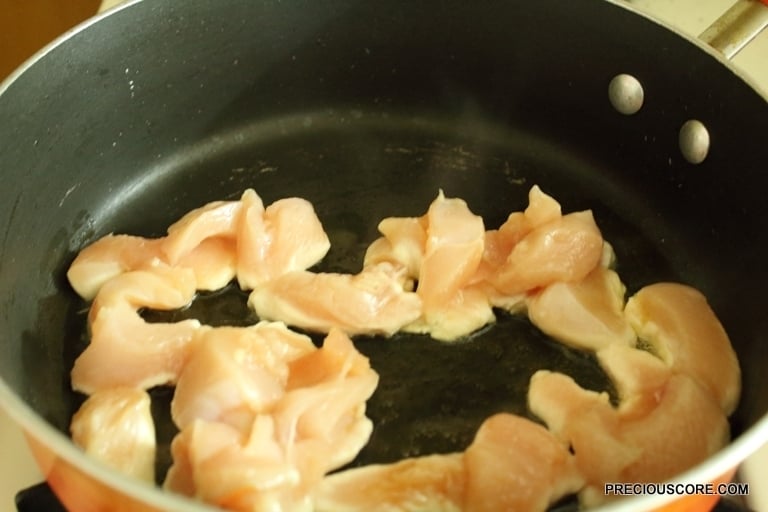 Let it fry…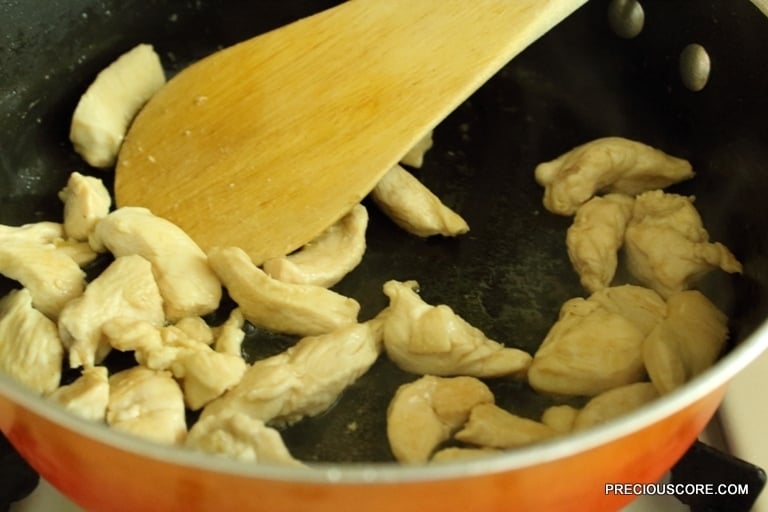 While it fries, chop your veggies.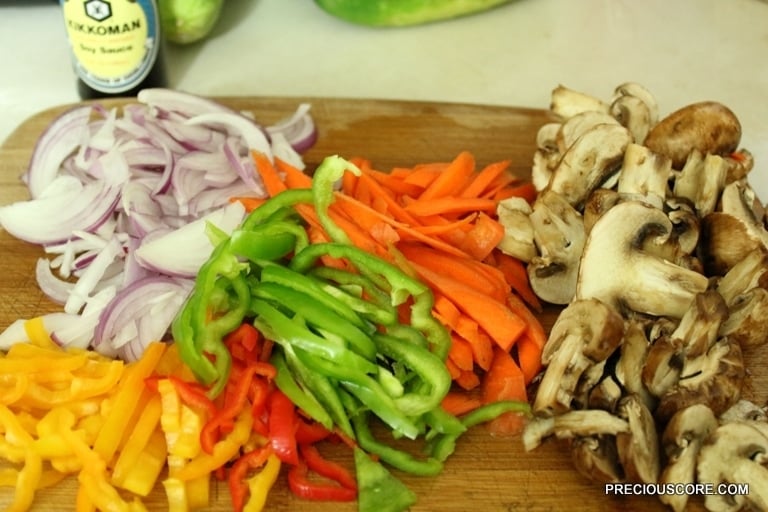 The chicken is done when it all white to the core and slightly brown on the outside.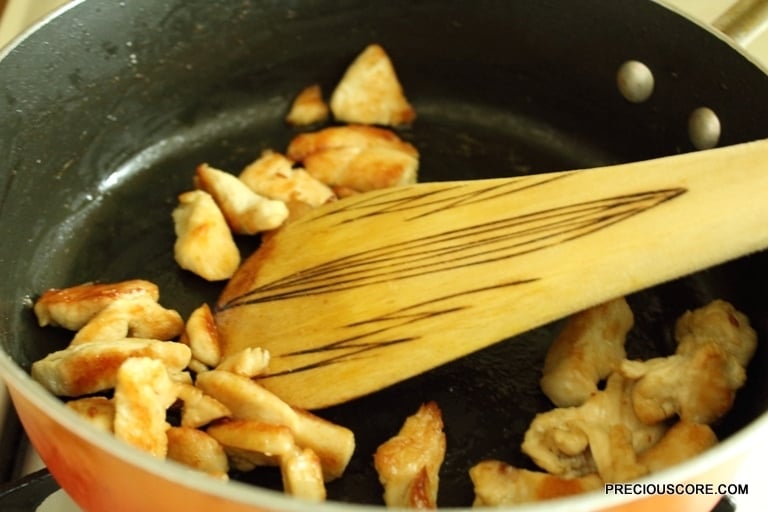 Dump in the mushrooms.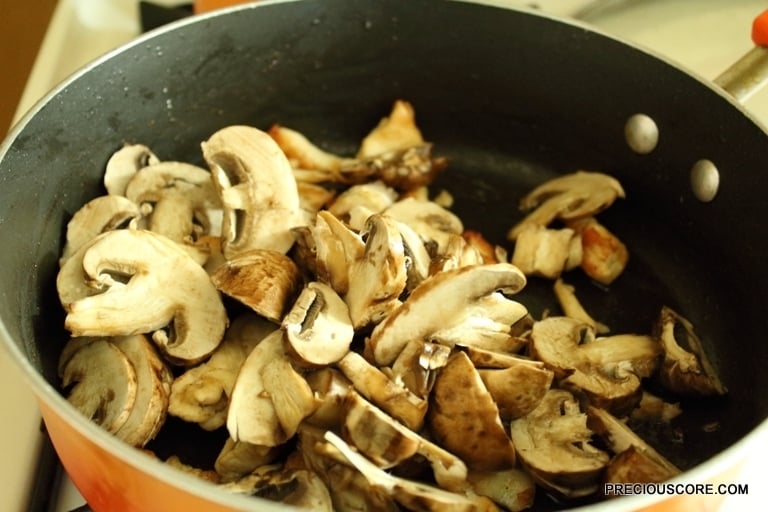 Add in soy sauce,some ground or minced ginger and garlic and let those cook together.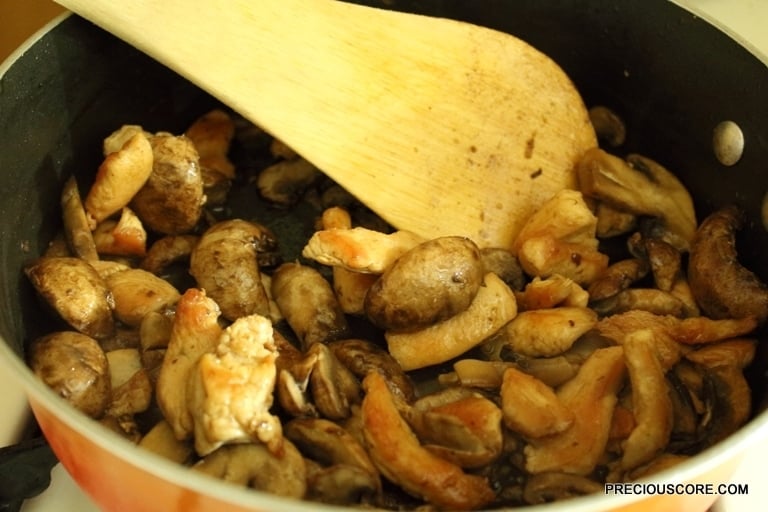 Now add in all your chopped vegetables and onion.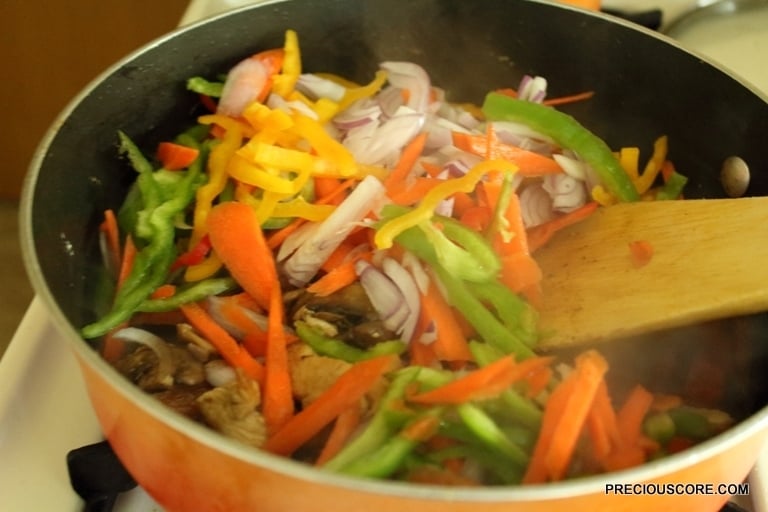 Season with salt and black pepper. I added white pepper to mine. Yummy! Mix everything together and leave on heat for about 3 minutes. I like my vegetables crispy and fresh so I do not let them cook for long.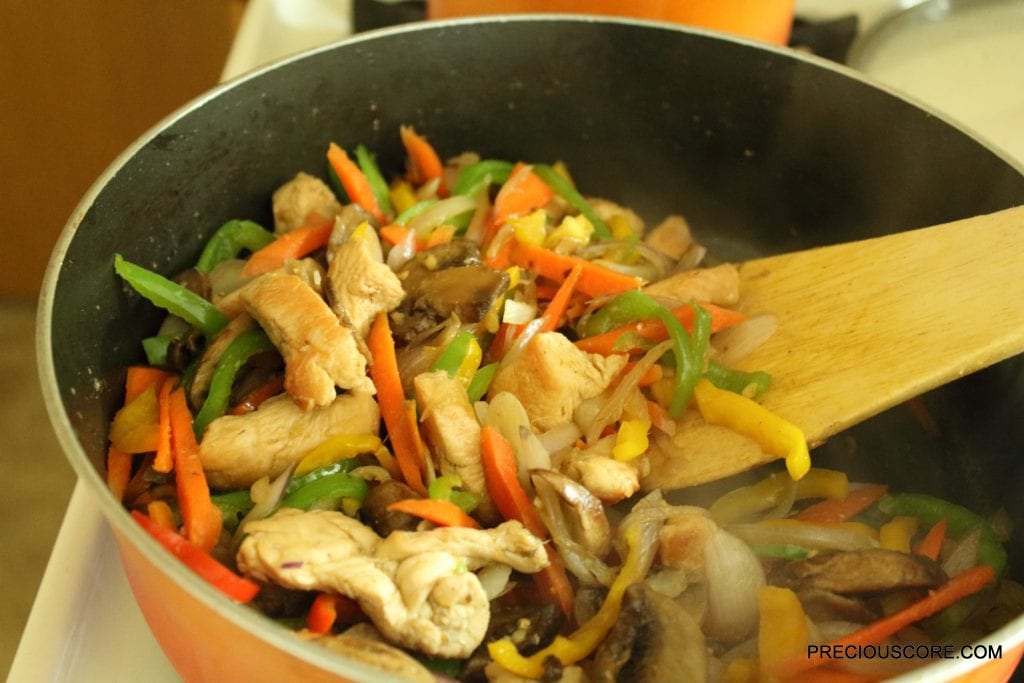 Sprinkle in some chopped green onions or cilantro if you like.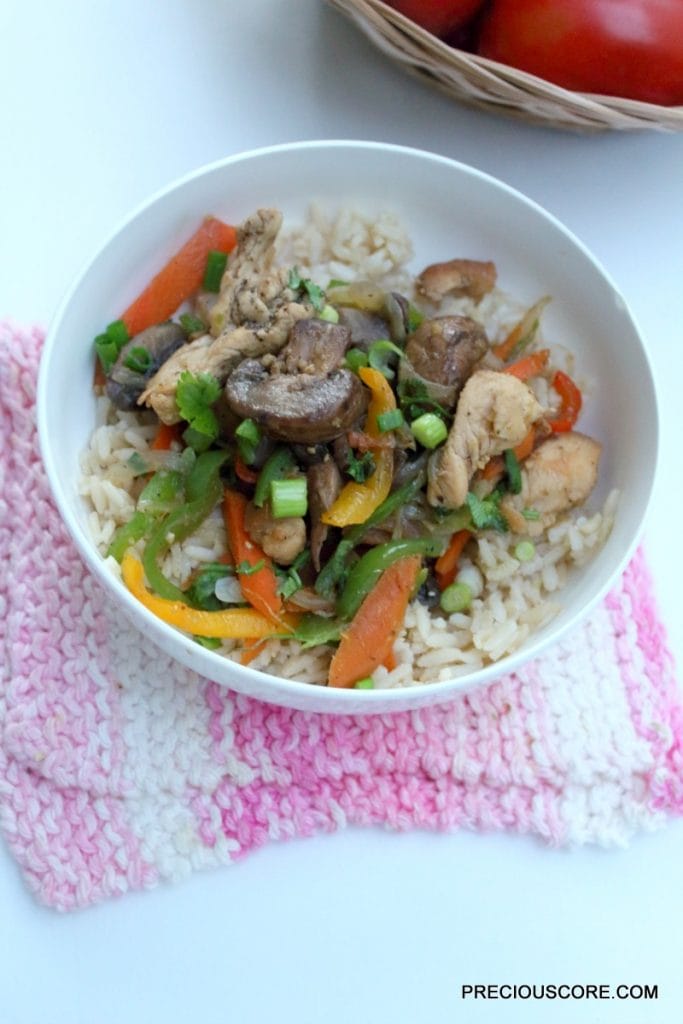 Here is the printable recipe:
print recipe
Chicken and Mushroom Stir Fry
by Precious Nkeih (www.preciouscore.com) August-25-2016
This is a healthy and easy stir fry, perfect for weeknights!
Ingredients
2 boneless and skinless chicken breasts
10 mushrooms
1 medium carrot
1 large or 3 small bell peppers
1 medium onion
2 tablespoons soy sauce (or 2 Maggi Cubes)
1 tablespoon blended or minced garlic and ginger
1/4 teaspoon salt
1/4 teaspoon ground black pepper
2 tablespoons extra virgin olive oil
1 stem cilantro or parsley (optional)
2 stems green onions (optional)
Instructions
1. Cut chicken into about 1-inch strips. Season with soy sauce or Maggi and set aside.2. Heat oil on medium high heat and put in chicken to fry.3. While the chicken fries, cut all the vegetables: onions, bell pepper, carrots and mushrooms into desired slices.4. Add in sliced mushrooms and soy sauce and saute together with the chicken.5. Add in ginger and garlic and stir well6. Finally, add in chopped onions and all other veggies. Stir everything together and let them cook for about 3 minutes. It is healthier to leave your vegetables crispy and fresh.7. Serve warm over boiled brown rice.
Details
Prep time: Cook time: Total time: Yield: 4 servings
You might also love this stir fry recipe: EASY BEEF STIR FRY