EASY MUSHROOM PIZZA
Published Nov 02, 2016
Updated Apr 26, 2017
Some meals that result from unforeseen circumstances or mistakes turn out the best! That's exactly what happened with my Cameroonian gateau (a form of deep fried dough) that has turned out to be "award-winning". And that's exactly what happened with this easy mushroom pizza. First, I was going to make a pizza crust using my basic pizza dough recipe. But I didn't have much time so all that letting the dough rise for a million years wasn't going to happen.
Secondly, the jar containing the pizza sauce blatantly refused to open. And my jar opener for life, Mr. N  was in a deep sleep. I mean the kind of sleep Adam was in before God made Eve. So that meant no pizza sauce for me.
But all I wanted was mushroom pizza. So I had to make it happen. The absence of sauce and a long time for dough-rising turned out to be blessings. The result was this cheesy pizza with a thick fluffy crust that is savoury with a hint of sweetness and an absolute must-make!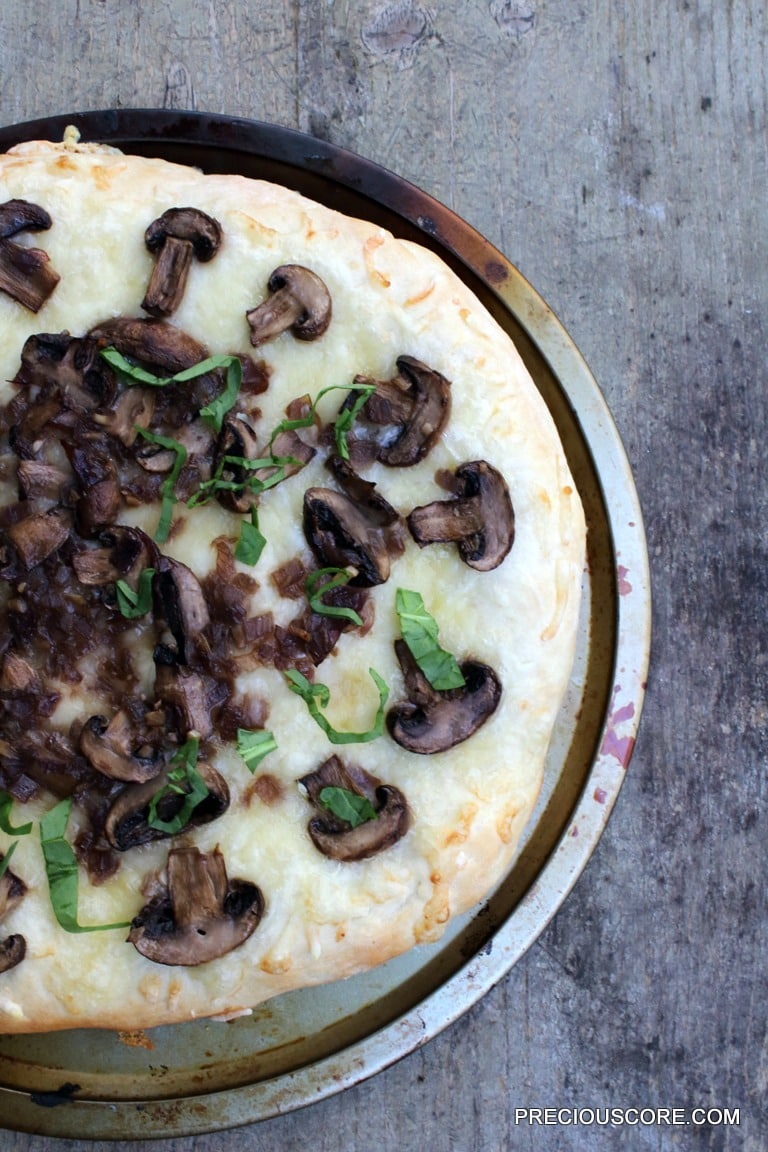 Mushrooms are life!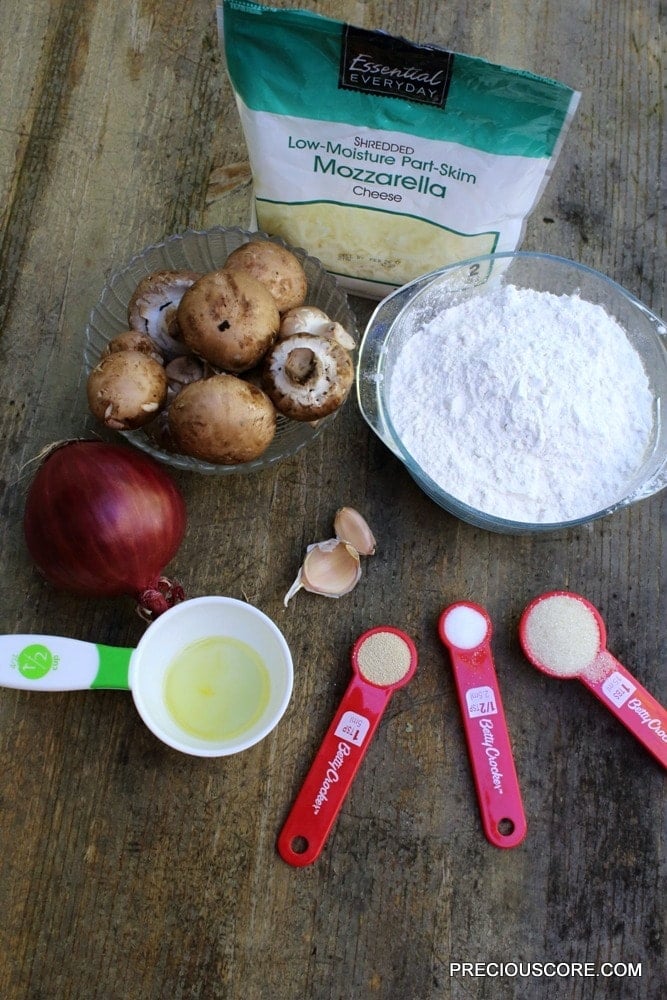 With very minimal ingredients, I started off by mixing the dough.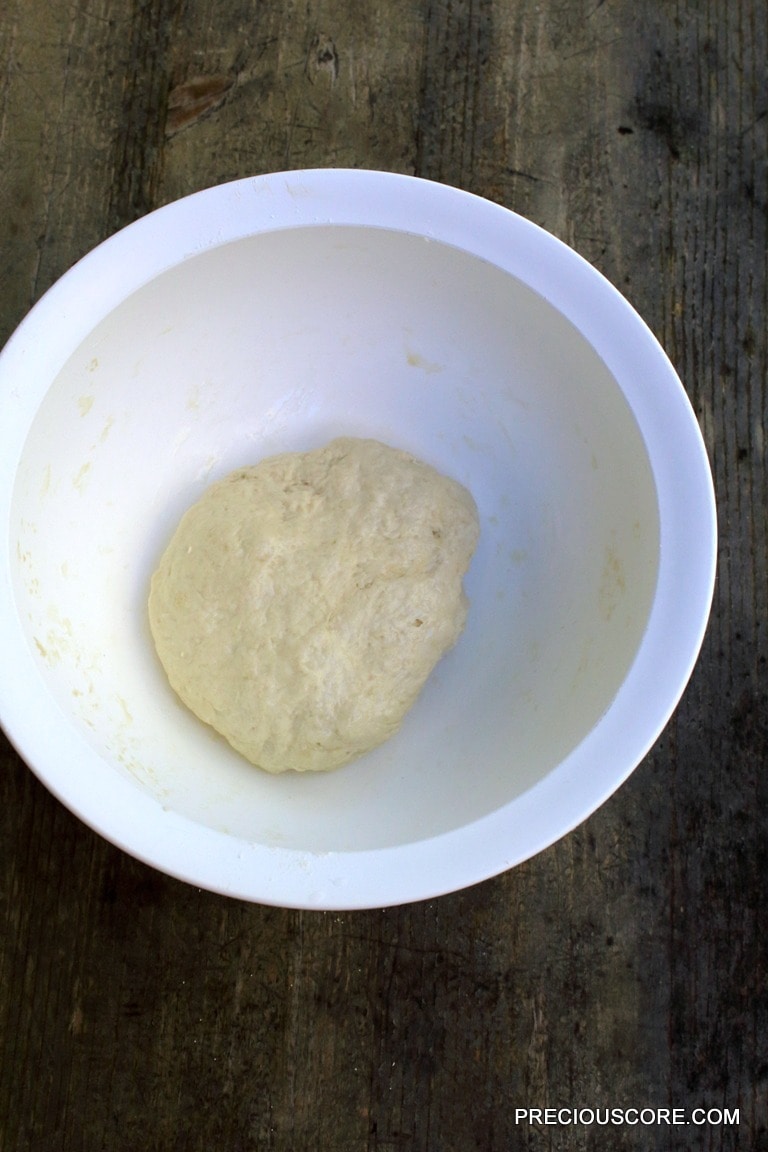 I let it rise in my microwave (it was off!) for a meagre 30 minutes and the dough "added weight".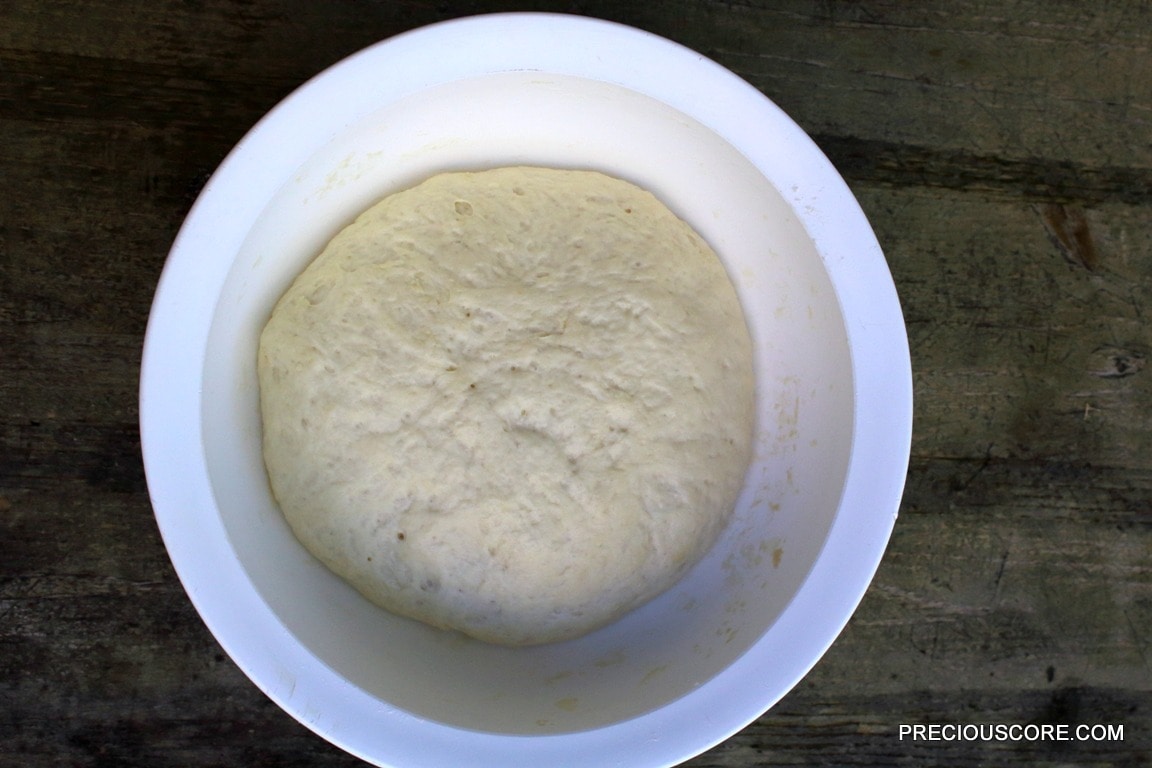 Then my favourite part was sautéing the mushrooms together with some chopped garlic and onion in extra virgin oil. At this point, I just couldn't help throw some of these babies into my mouth. I strongly recommend you do same. It will change your life.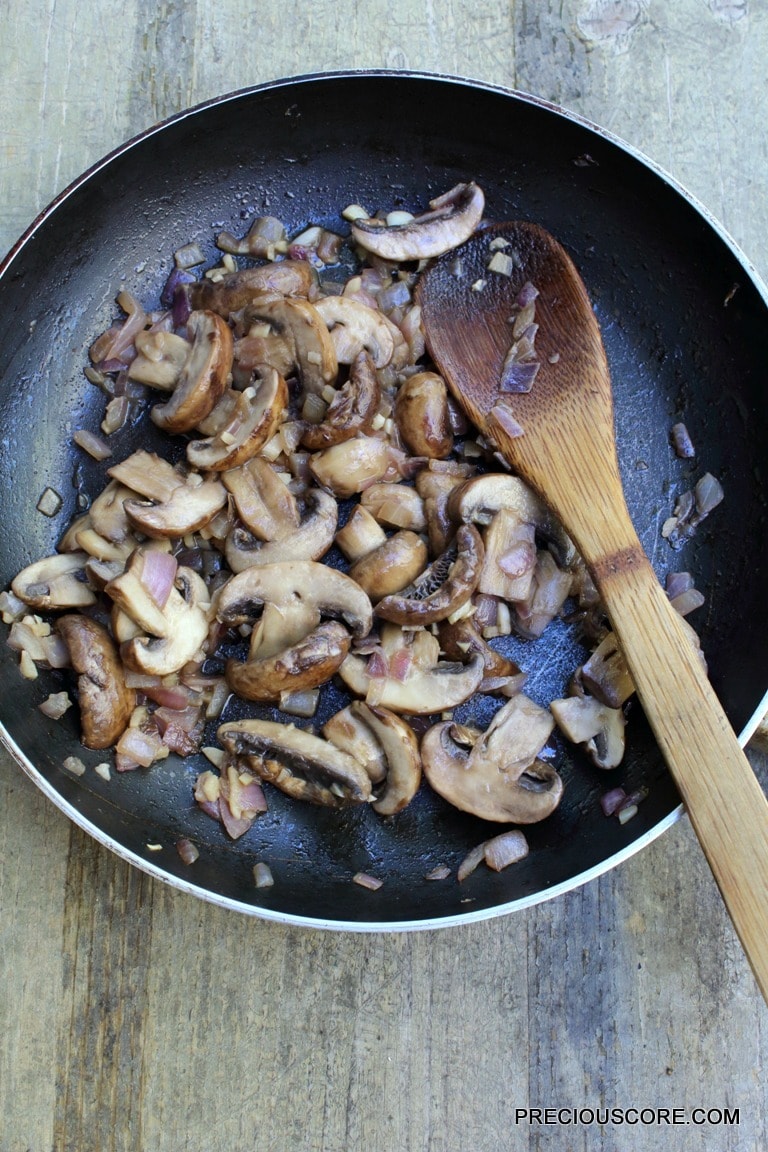 Then I formed the dough into a circle and placed on my miserable-looking pizza pan. I sprinkled some shredded mozzarella cheese on top.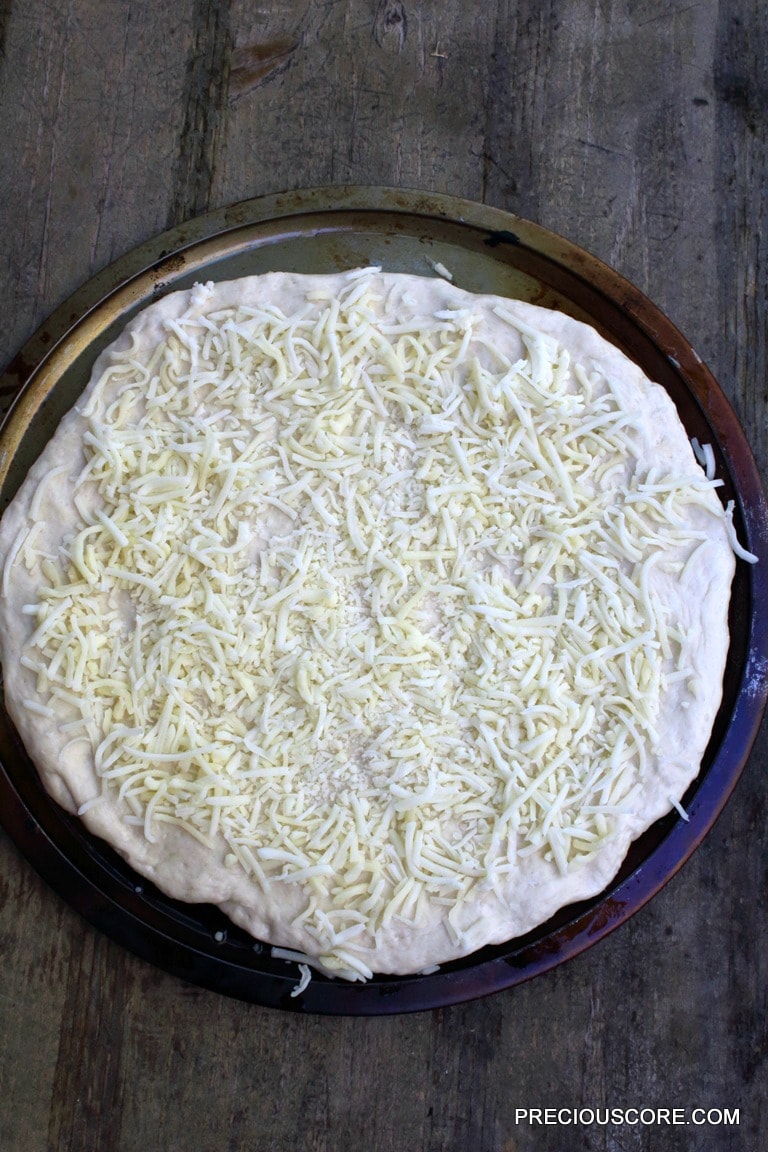 Then I added all that mushroom goodness on top and wept for joy.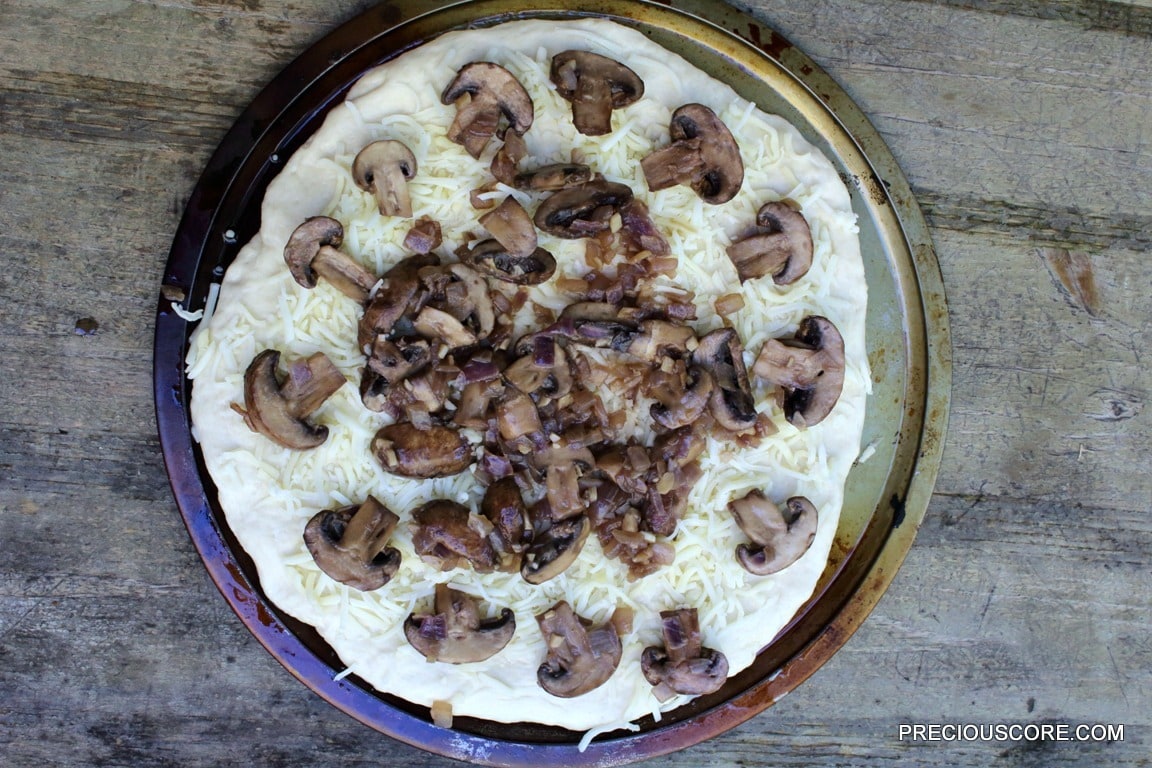 I put in the oven for a meagre 15 minutes and baked until the sides were slightly golden brown.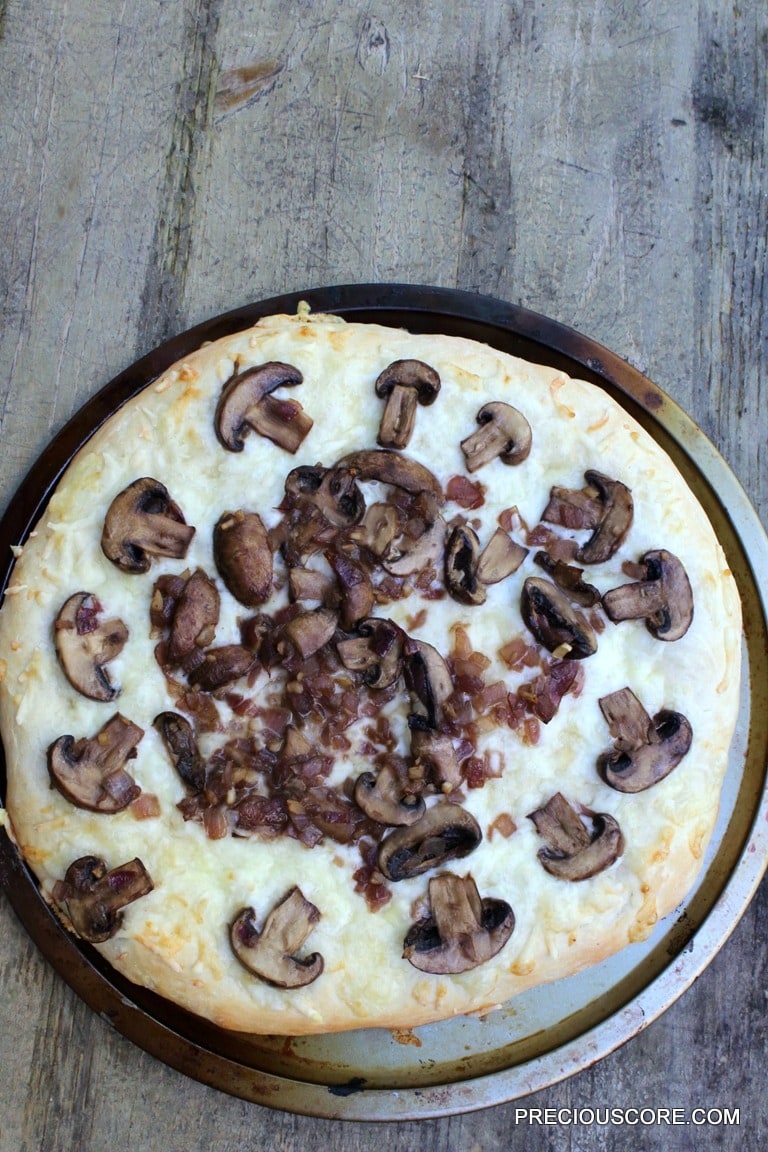 I just have to tell you this: The man with N in his name who has been disregarding mushroom and calling it fungus couldn't resist this one. He ATE.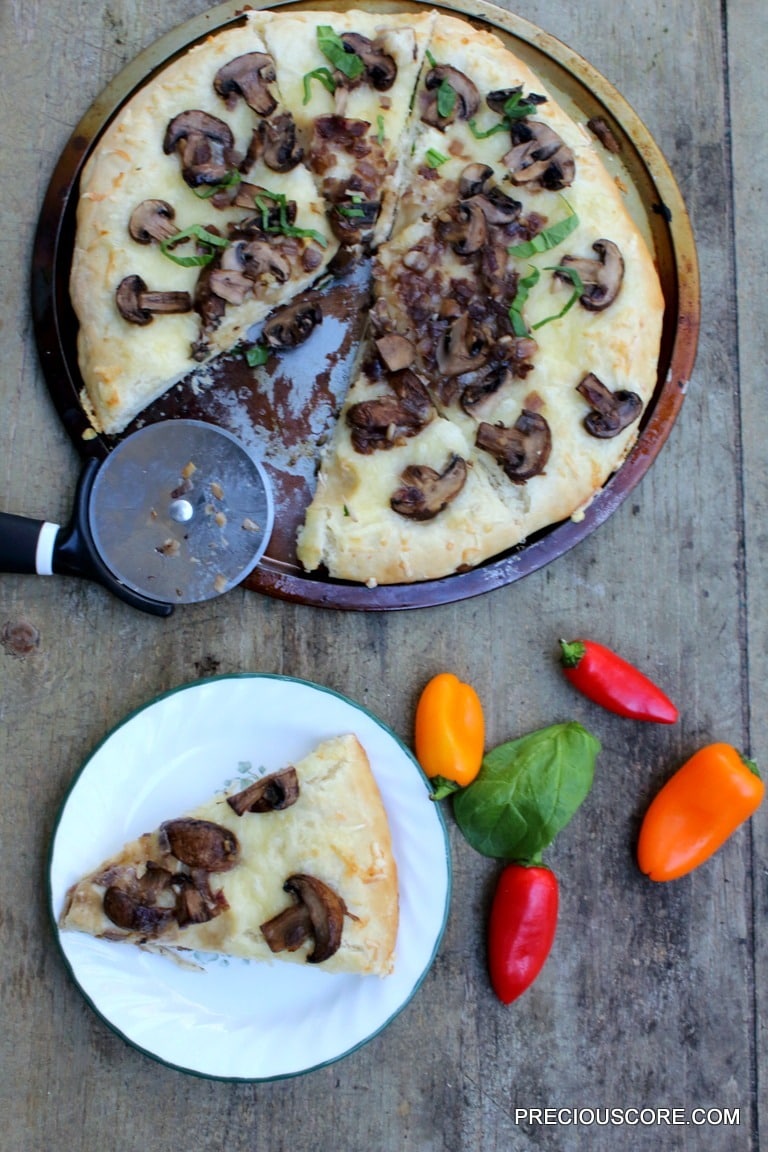 And ate.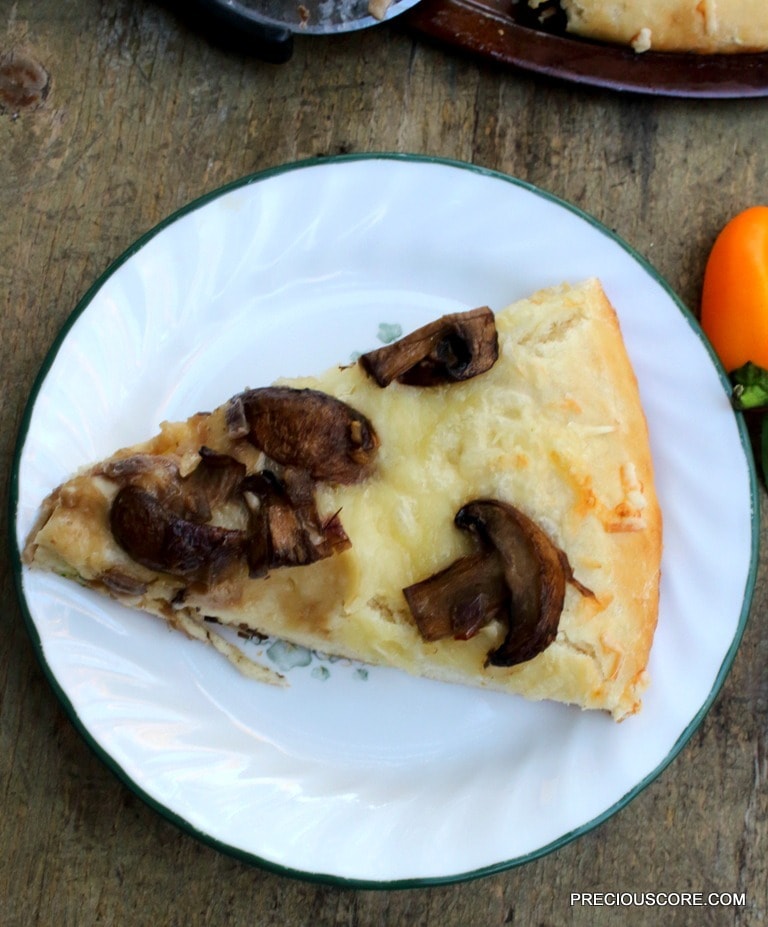 Hope you enjoy this recipe as much as we do around here!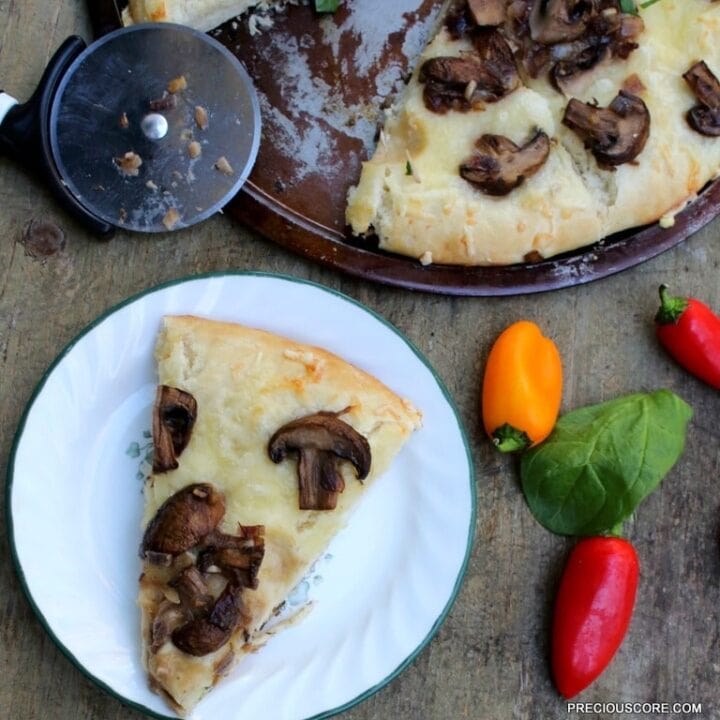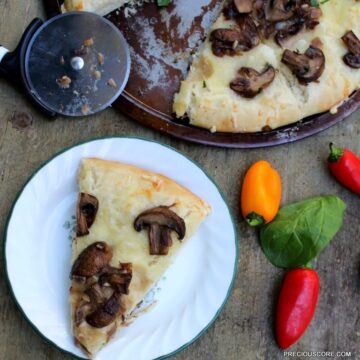 Easy Mushroom Pizza
This mushroom pizza is super easy and super delicious. Perfect for when you want a quick homemade pizza without the fuss.
Ingredients
2

cups

flour

(or 1/4 kg)

1

teaspoon

salt

1

tablespoon

sugar

1

teaspoon

dry yeast

2

tablespoons

olive oil

2

cups

mushrooms of choice

1

cup

shredded mozzarella cheese

1

small onion

2

garlic cloves

1/2

cup

warm water

1/2

teaspoon

black pepper
Instructions
Mix together flour, half a teaspoon of salt, all the sugar, one tablespoon of olive oil, yeast and warm water in a bowl to form a dough.

Cover the dough and let it rise in a warm place for about 30 minutes. You could slightly warm your oven and turn it off then place dough inside to ensure that it rises.

While the dough is rising, sauté the mushrooms. Peel and chop garlic and onions. Wash mushrooms and cut into desired pieces.

Heat one tablespoon of olive oil in a pan. Add in the onion and garlic and let them sauté for two minutes. Then add in the mushrooms and sauté together for about 5 minutes, stirring all the time. Season with about half a teaspoon of salt and a sprinkle of ground black pepper or white pepper.

Let's get back to the dough. When it must have risen, punch down to deflate. the form the dough into a flat circle, the size of a big pizza. Place on a greased baking sheet. It should preferably be a round pizza tray but any other baking sheet would do. You could form the dough into many mini pizzas if your baking tray is rectangular.

Now sprinkle the mozzarella cheese on the dough then spread the sautéed mushrooms all over it.

Put that in a preheated oven to bake at 400 Degrees Fahrenheit (about 200 Degrees Celsius) for about 15-20 minutes until the pizza is slightly golden brown.
Notes
Depending on where you are, you will find mozzarella cheese in a supermarket. Please check the cold section because it is normally kept in the fridge. You'll likely find it in blocks so you'll need to shred yourself using a grater. Please note that the cheese used here is not the same as the cheese you spread on bread.
You could add other vegetables like bell peppers and tomatoes on your pizza if you so wish.
Nutrition
Calories:
419
kcal
|
Carbohydrates:
57
g
|
Protein:
16
g
|
Fat:
14
g
|
Saturated Fat:
5
g
|
Polyunsaturated Fat:
1
g
|
Monounsaturated Fat:
7
g
|
Cholesterol:
22
mg
|
Sodium:
765
mg
|
Potassium:
319
mg
|
Fiber:
4
g
|
Sugar:
6
g
|
Vitamin A:
191
IU
|
Vitamin C:
4
mg
|
Calcium:
165
mg
|
Iron:
3
mg