Easy Moist Chocolate Cupcakes
Published Feb 03, 2018
Updated Nov 26, 2022
Chocolate lovers unite! Feed your chocoholism with these easy moist chocolate cupcakes. They are perfectly chocolatey, easy to make and just so dreamy. In fact, my oldest daughter said after sampling one: "I can't even think. I just keep thinking of those chocolate cupcakes!"
For the longest time, I have had requests for my chocolate cupcake recipe. This is the day when I show you guys how to make perfect, easy, moist chocolate cupcakes. They are so moist! (Did I already say that?)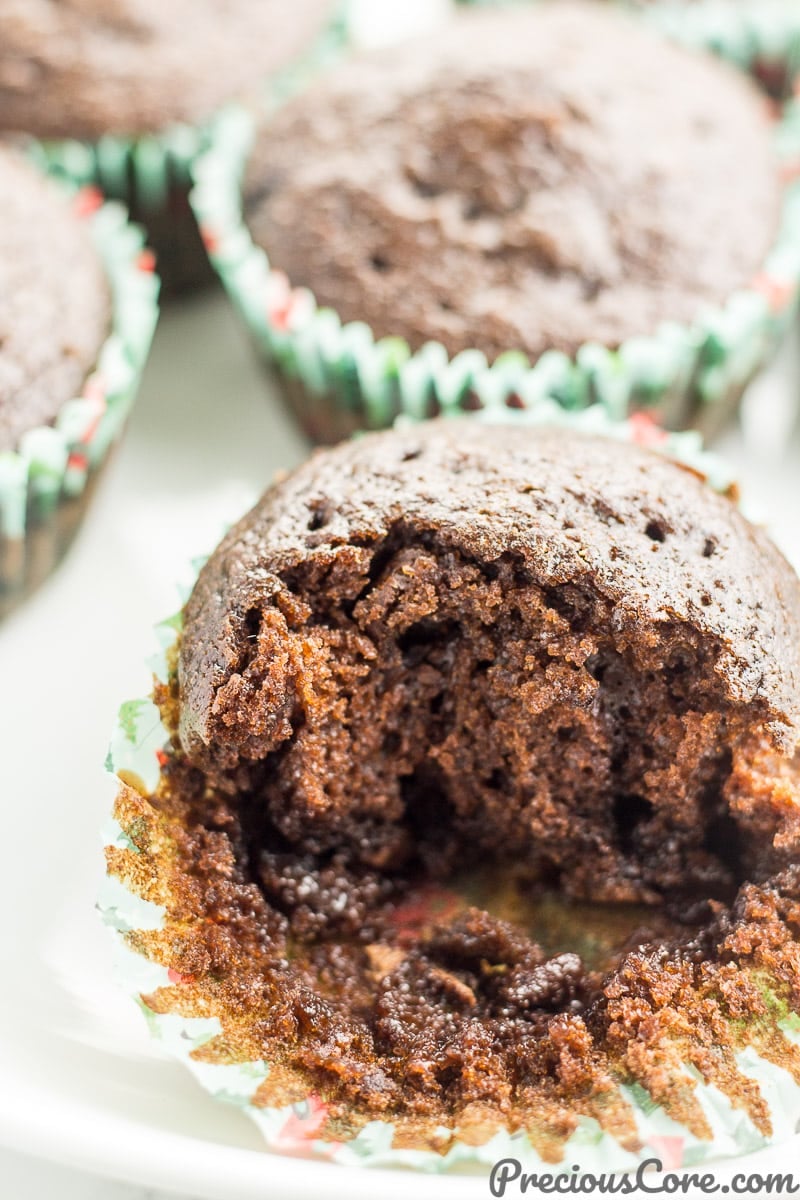 One killer ingredient I used here is chocolate chips. So this is basically chocolate upon chocolate upon chocolate! I garnered the idea of adding chocolate chips to my batter a while ago when I visited my friend and her daughter served me some chocolate cake. It was so moist in the middle with chocolate literally oozing out of it! I asked what they put inside and they said chocolate chips. Aha! I got that wonderful idea from them.
So chocolate chips in here are divine. However, don't expect them to be all melty and gooey. They melt slightly but not completely and biting into them is a pure trip to chocolate heaven!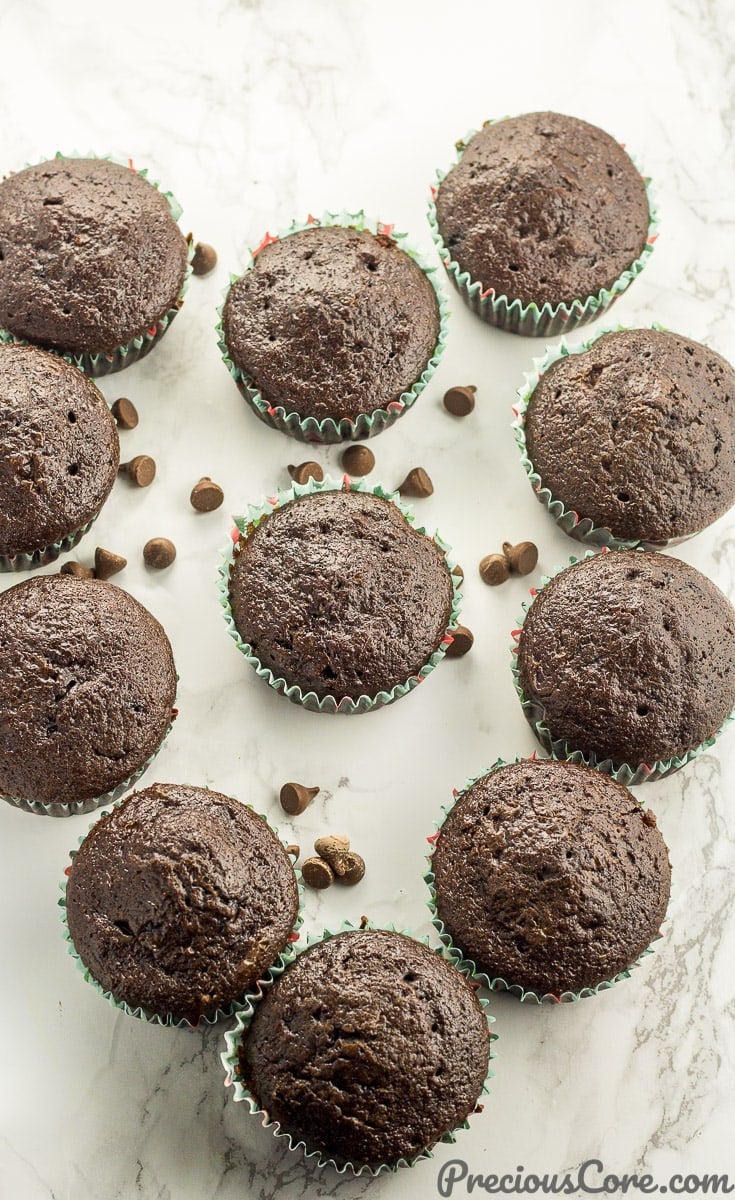 TIPS FOR MAKING EASY MOIST CHOCOLATE CUPCAKES
1. Add a cup of boiling water to the batter. This technique brings out the cocoa flavor, makes the cupcakes very chocolatey and equally brings more moisture to the cupcakes!
2. Add a teaspoon of instant coffee powder to your batter. Again, the coffee powder makes your cakes ultra-chocolatey. You won't taste the coffee but it deepens that chocolate flavor.
3. Don't overmix the batter. This is key. If you overmix, the cupcakes will rise to form a dome, which will be hard and crunchy. So only mix everything until just combined.
4. Bake in a moderately hot oven. Bake at 300 degrees F (about 150 degrees Celsius) for only about 15 minutes. This enables the cakes to rise gently, and retain their moisture as they cook. A very hot oven will cause the cakes to rise quickly and possibly crack at the top.
So those are some tips to help you make the best chocolate cupcakes ever! No, I'm not kidding.
If you want to frost the cupcakes, check out my recipe for chocolate buttercream frosting, here. Also, if you want to bake a big chocolate cake, instead, check out this chocolate cake recipe.
Enjoy this easy moist chocolate cake recipe, friends!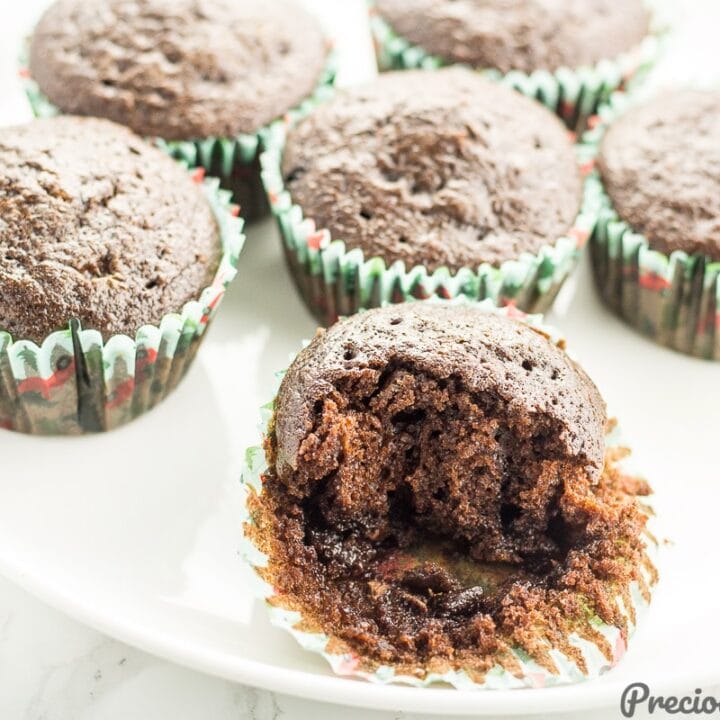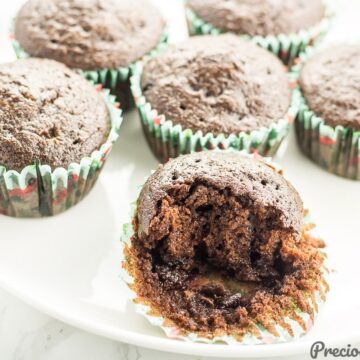 Easy Moist Chocolate Cupcakes
These easy moist chocolate cupcakes are super easy and super moist as the name implies. All you need is one bowl and a few simple ingredients then you will have chocolate cupcakes in no time. They are so moist that they need no frosting - seriously. However, if you still want to frost them, check out my chocolate buttercream frosting recipe.
Ingredients
2

cups

flour (250g or 1/4kg)

1

teaspoon

baking powder

1

teaspoon

baking soda

1/2

cup

cocoa powder

1

teaspoon

instant coffee powder

1

cup

granulated sugar

Pinch of salt

2

eggs

1/2

cup

oil (vegetable or oil of choice)

1

cup

liquid whole milk

see Note 1

2

teaspoons

vanilla extract

1

cup

boiling water

1

cup

chocolate chips - plus more for topping the cupcakes if desired

see Note 2
Instructions
Preheat oven to 350 degrees F (180 degrees C). Line 2 12 cupcake pans with 24 cupcake liners. *see Note 3.

In a large bowl, whisk together the flour, baking powder, baking soda, cocoa powder, instant coffee powder, sugar, and salt until the mixture is all uniform in color.

Add in milk, oil, eggs, vanilla extract then whisk until just combined to form a batter.

Add in boiling water and mix to combine.

Gently fold in the chocolate chips.

Fill each cupcake 2/3 full. I used my quarter measuring cup and each cup took about a quarter cup of batter.

Turn oven heat to 300 degrees Fahrenheit (150 degrees Celsius) then bake in preheated oven for 15 minutes until a toothpick inserted in the middle of a cupcake comes out clean.
Notes
1. I used whole milk here but you could use evaporated milk alternately because it has a rich milky flavor. I have used evaporated milk before and it worked great!
2. I know some people reading this blog don't have chocolate chips readily available where they live. If that's you, use milk chocolate bars instead. Dice the chocolate bars to make 1 cup then add to the batter. If you can't get them then you can totally omit pieces of chocolate in your cake.
3. I used a 12-cup cupcake/muffin pan and 2 6-cup cupcake/muffin pans in this recipe. If you only have one cupcake pan/muffin tin, be sure to bake your cupcakes in batches. 
4. These cupcakes are not overly sweet because I don't like extreme sweetness in my desserts. If you want them sweeter be sure to adjust the sugar according to your taste.
Nutrition
Calories:
170
kcal
|
Carbohydrates:
22
g
|
Protein:
3
g
|
Fat:
8
g
|
Saturated Fat:
3
g
|
Polyunsaturated Fat:
3
g
|
Monounsaturated Fat:
2
g
|
Trans Fat:
0.04
g
|
Cholesterol:
15
mg
|
Sodium:
74
mg
|
Potassium:
103
mg
|
Fiber:
2
g
|
Sugar:
12
g
|
Vitamin A:
40
IU
|
Calcium:
33
mg
|
Iron:
1
mg
Pin this recipe: