This 4-ingredient Grilled Sockeye Salmon is incredibly delicious and sure to please! Here is how to grill the perfect salmon whether you use the grill pan on the stovetop or the outside grill.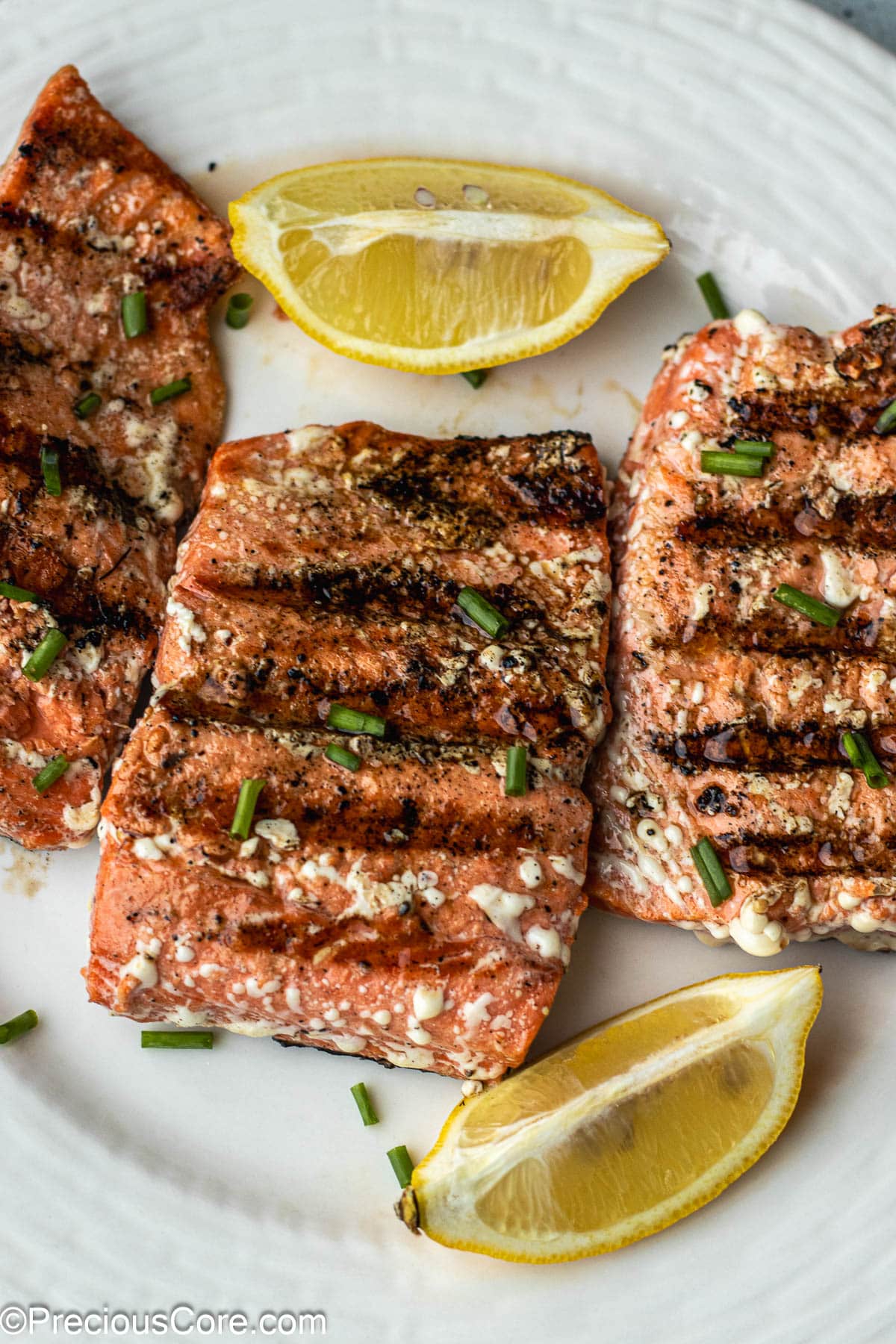 I cook a lot of fish at home and one of our very favorites which is also a reader favorite is this Pan Seared Tilapia.
We also eat a lot of whole grilled fish like Grilled Whole Red Snapper (Oven Grilled) and OVEN GRILLED TILAPIA.
If you are new to cooking or grilling fish, this Grilled Sockeye Salmon recipe is a great place to start! Serve it with Mango Avocado Salsa, and Garlic Herb Rice and you'll KNOW you are living the good life!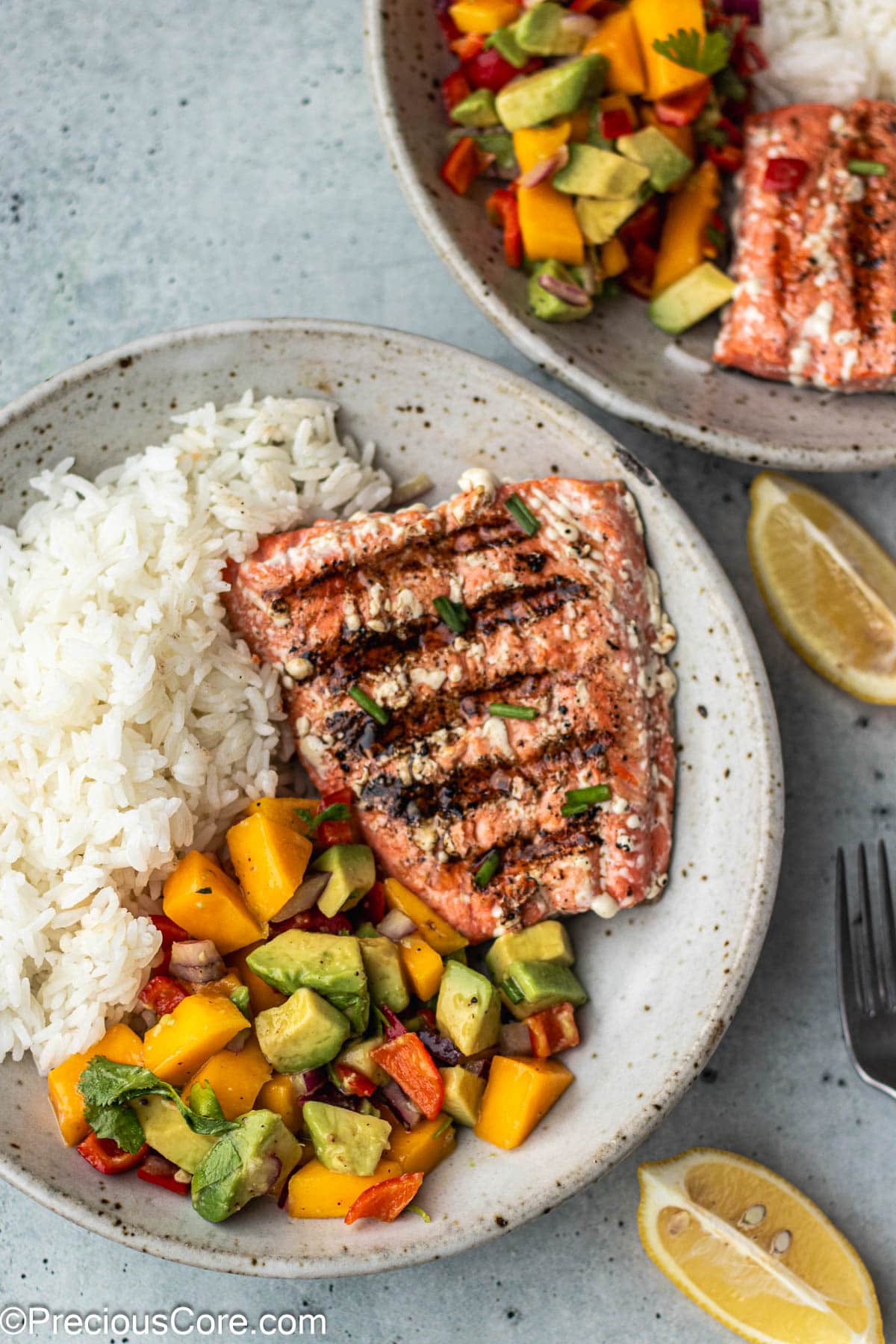 Why This Recipe Works
Minimal ingredients: you only need 4 ingredients.
The salmon is ready in less than 20 minutes so you can go face other things in life.
Sockeye salmon is healthy and very beneficial to the body.
This recipe is versatile: Flake the salmon and use it to make fish tacos. Add it to Lettuce Salad, or a rice bowl with it. The possibilities are endless!
Great for meal prep: Grill the salmon ahead and store it in the fridge for future use.
Ingredients
You only need 4 ingredients for tasty grilled sockeye salmon. A true testament to the fact that great fish doesn't need much to taste good!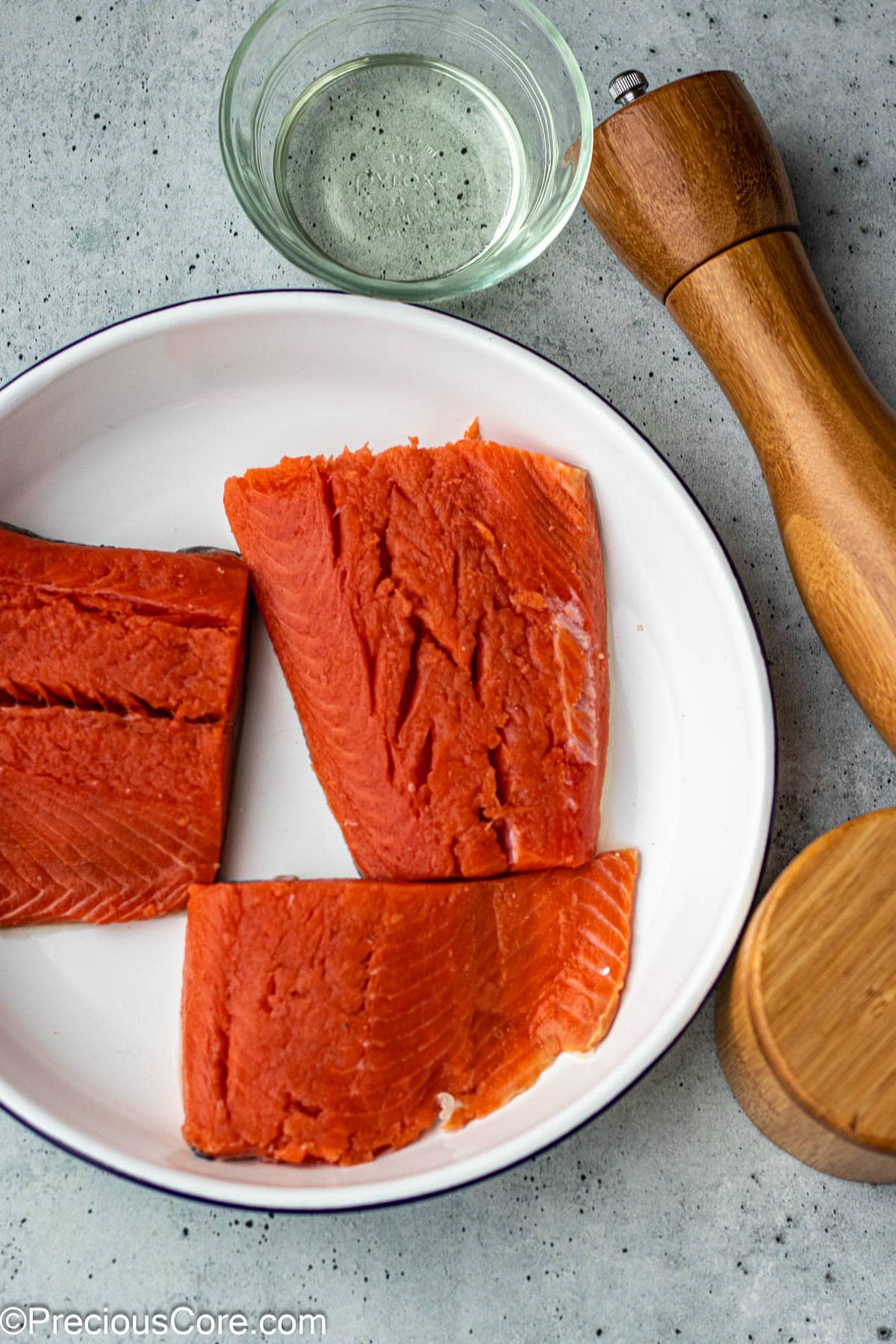 Wild sockeye salmon: This wild-caught salmon has a deeper orange color than Atlantic salmon. Sockeye salmon is a great choice because it has significant nutrients for you and less fat compared to farmed salmon. If you're going to grill farmed salmon, make sure the salmon is "responsibly farmed".
Olive oil: Let the olive oil coat the fish completely. This is a key step that prevents the fish from sticking to the grill grates or grill pan.
Salt and pepper: This is really all you need for really great-tasting grilled salmon but there's a method to it. The method is to ensure that you season the salmon with enough salt that it doesn't taste bland. I find that half a teaspoon of salt to 1 pound of salmon is a great ratio of salt to fish that always produces great-tasting fish.
See the recipe card below with a detailed list of ingredients and instructions.
How To Grill Sockeye Salmon
Here is how to grill sockeye salmon in 3 easy steps whether outside on the grill or indoors on the stovetop.
Heat up heat source. If using a grill, turn it on to medium heat or set a cast iron skillet or grill pan on medium heat on the stovetop. Let it heat up for 5 minutes.
Season the fish. Next generously cover the salmon with olive oil and season both sides with salt and pepper.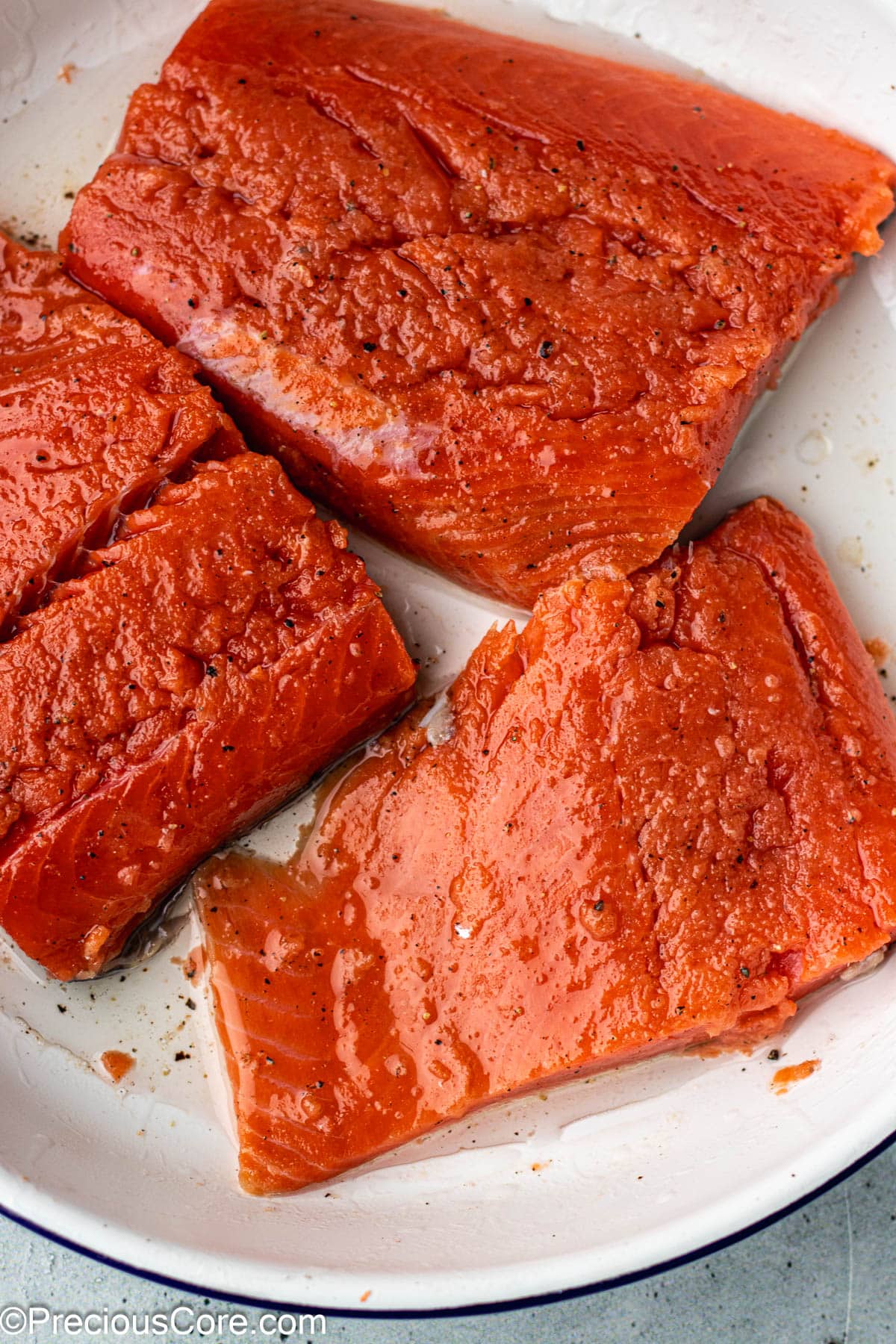 3. Grill for 3-4 minutes per side. Most salmon steaks will grill for about 3-4 minutes per side but adjust the grilling time depending on the thickness of the fish or your desired doneness.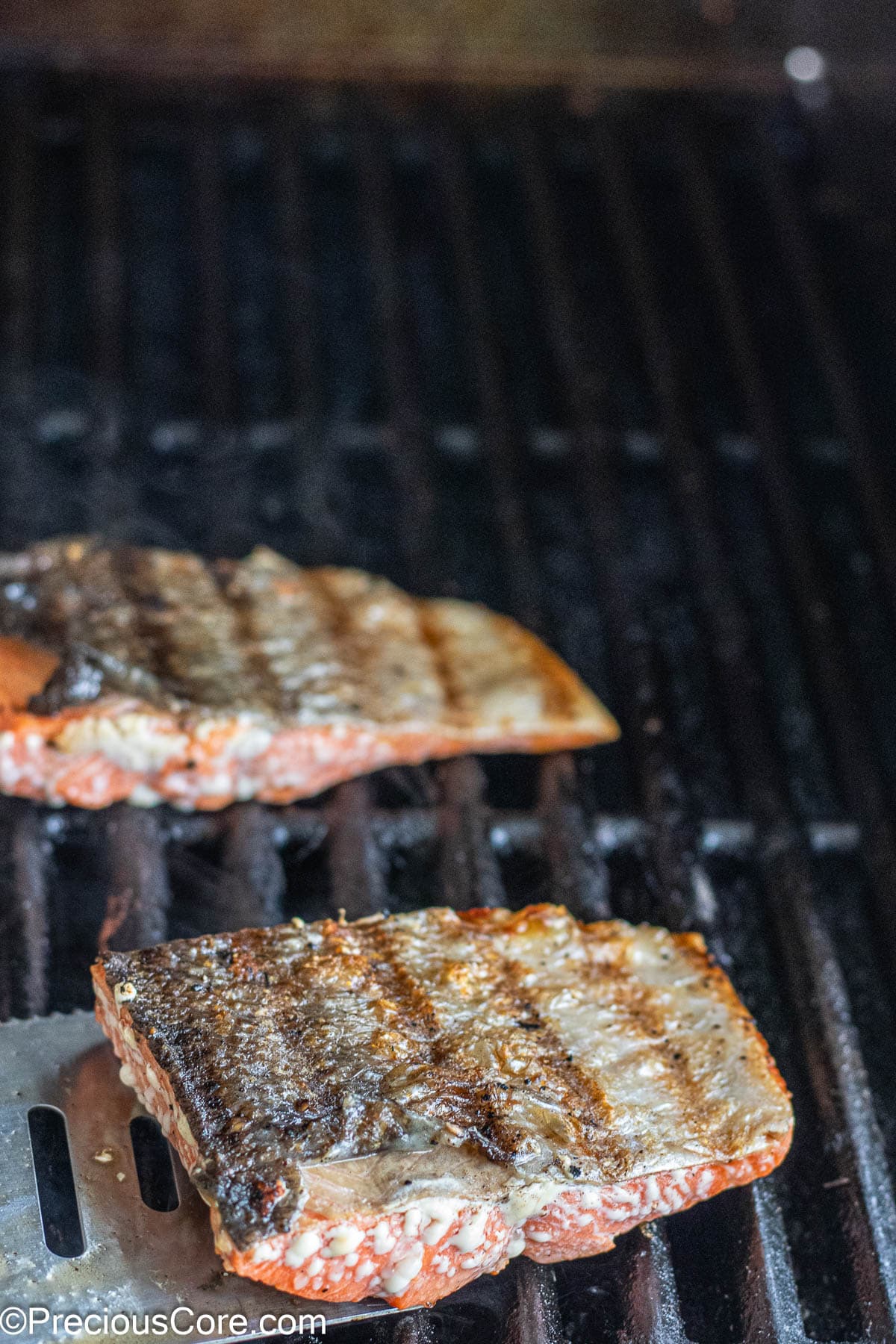 Also, check out these dependable recipes for Pan Grilled Salmon, Salmon and Broccoli Sheet Pan, Baked Cajun Salmon, and Lemon Butter Salmon.
The FDA recommends cooking salmon to an internal temperature of 145°F. You can ascertain the doneness of your fish by inserting an instant-read thermometer into the middle of the fish.
How Can I Tell Salmon Is Done?
Overcooking salmon is a nightmare, isn't it? Here are 2 visual cues to look for when cooking fish to be able to tell that the fish is done:
Salmon is done when the flesh turns from translucent to opaque. Once it loses its raw appearance, then it is done.
Salmon is done when it flakes easily. Pull up some of the fish with a fork. If it flakes without resistance, then the fish is done.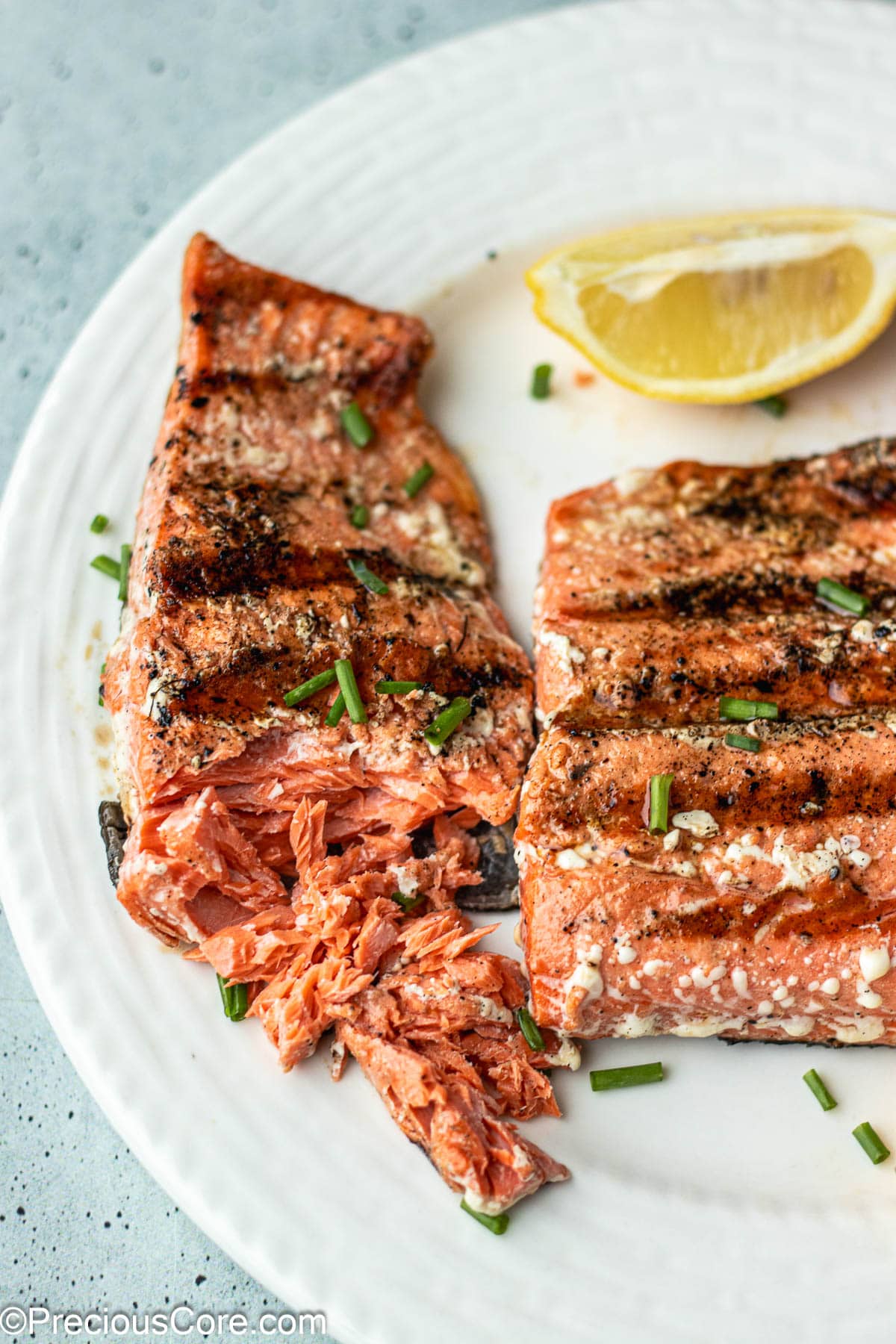 Expert Tips For Grilling Sockeye Salmon
Cleaning grill: When the grill is still hot, scrape the surface. This allows the dirt to come off easily. When the grill cools completely, remove the grates and wash with hot soapy water. Let it dry then add a small amount of oil and rub it in with a paper towel.
If using a cast iron skillet, generously brush with oil before cooking the fish.
Rubbing oil on your cooking tool before grilling is one step that really helps to prevent the fish from sticking.
Pat sockeye salmon dry to remove excess moisture before grilling.
For a fun way to cook salmon, try this Salmon Bites Recipe.
Recommended Equipment
A grilling spatula or fish spatula is great for flipping the fish.
A cast iron grill pan makes indoor grilling a breeze.
An instant-read meat thermometer facilitates checking the doneness of the fish.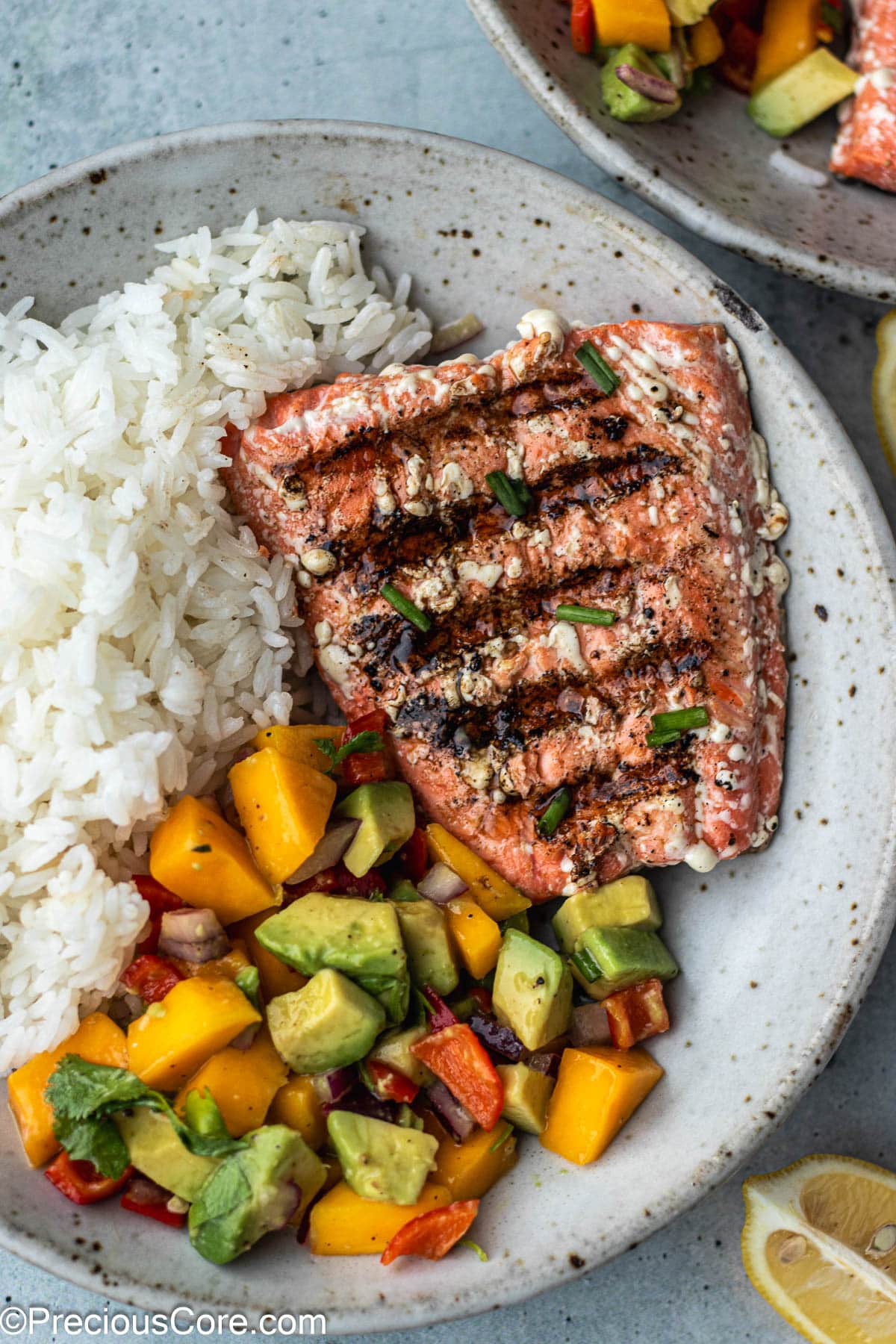 Recipe FAQs
How do you cook sockeye salmon so it doesn't dry out?
Generously brush olive oil on sockeye salmon before cooking to prevent it from drying out. Also, make sure to stop cooking once the fish reaches an internal temperature of 145 degrees Fahrenheit.
Is sockeye salmon better than regular salmon?
Yes, sockeye salmon is healthier than Atlantic salmon, which is the regularly sold salmon. Sockeye salmon is a good source of omega-3 fatty acids, which support heart health.
Should you rinse sockeye salmon before cooking?
The USDA cautions against rinsing raw meat, fish, and poultry, to prevent the bacteria from splashing on other food and surfaces.
Serving
Serve this Grilled Sockeye Salmon with the following side dishes:
More Salmon Recipes
Looking for more salmon recipes? Try these:
If you make this recipe please leave a star rating below. Your rating helps others find the recipe plus I love hearing from you! Thank you!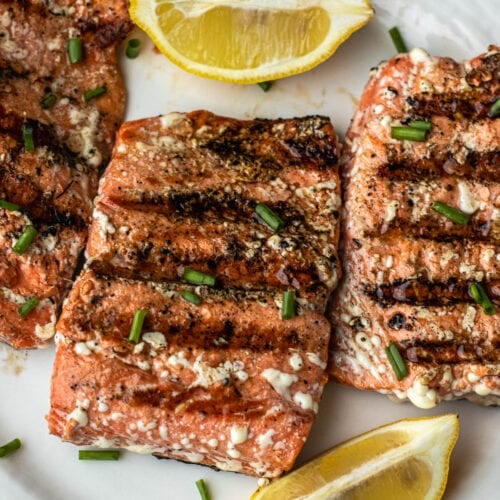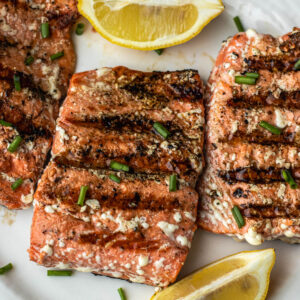 Grilled Sockeye Salmon
This Grilled Sockeye Salmon is so tasty and made with only 4 ingredients. You don't really need much for salmon to shine!
Ingredients
1

pound

sockeye salmon

cut into 3-4 steaks

2

Tablespoons

olive oil

½

teaspoon

salt

¼

teaspoon

black pepper
Instructions
Pat the salmon dry using paper towels. Drizzle the oil over the salmon then sprinkle the salt and pepper evenly on both sides of the fish.

Clean grill grates, set grill to medium heat, and let it heat up for about 5 minutes. Add the fish to the grill, skin side down and grill the first side covered for 3 to 4 minutes. Flip to the other side and grill for another 3 minutes or until the fish flakes easily when pricked with a fork. Or grill according to desired doneness.
Notes
1. Patting the fish dry with paper towels before grilling removes moisture from the fish so it can sear properly as it grills.
2. Feel free to use a large salmon fillet for this recipe.
3. Ensure you completely coat the salmon in oil before grilling. This helps the fish not to stick to the grill grates.
4. Fish with or without skin will work in this recipe.
5. You can substitute salmon with trout or any other firm-fleshed fish.
Nutrition
Calories:
62
kcal
|
Carbohydrates:
0.1
g
|
Protein:
0.01
g
|
Fat:
7
g
|
Saturated Fat:
1
g
|
Polyunsaturated Fat:
1
g
|
Monounsaturated Fat:
5
g
|
Sodium:
291
mg
|
Potassium:
2
mg
|
Fiber:
0.03
g
|
Vitamin A:
1
IU
|
Calcium:
1
mg
|
Iron:
0.1
mg