Chicken Skewers
Published Sep 27, 2019
Updated Aug 21, 2023
These Chicken Skewers are the perfect appetizer or quick dinner recipe! Tender garlicky chicken with a smoky flavor that is to die for. And they are so kid-friendly! My kids love them!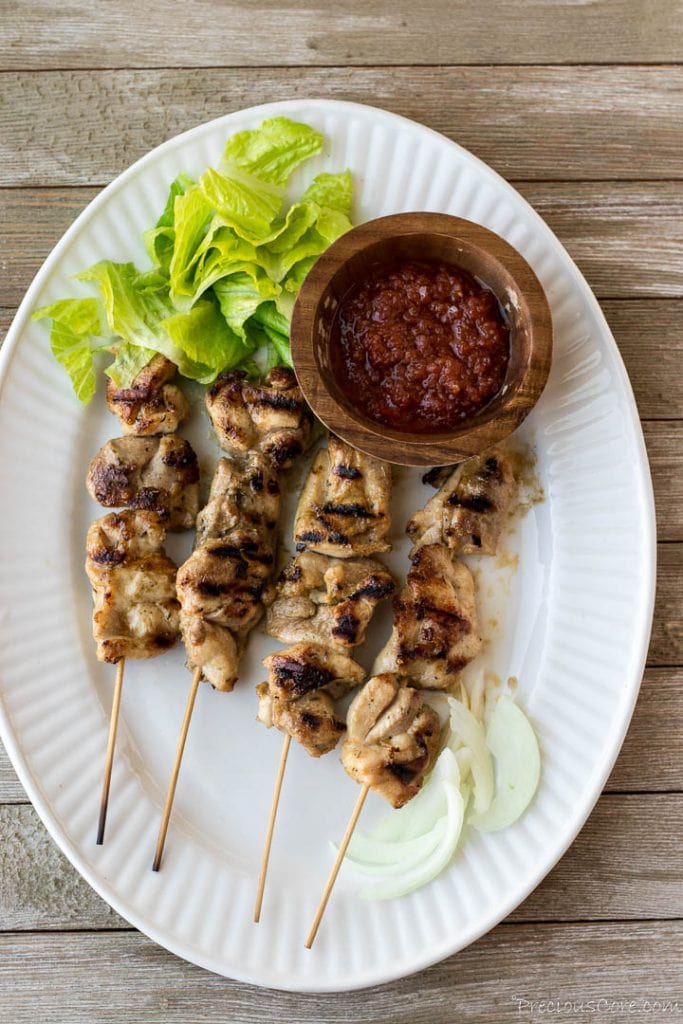 One of my goals for this blog is to publish recipes I can always refer back to when I need to entertain and I am looking for ideas. This Chicken Skewers recipe is one of those recipes I will definitely have on repeat just like this Mango Avocado Salsa.
For more chicken appetizers, check out these Garlic Butter Wings and JERK CHICKEN WINGS.
These skewers are so tasty! The chicken is well seasoned with my insanely flavorful and simple dry spice and herb blend which I will show you.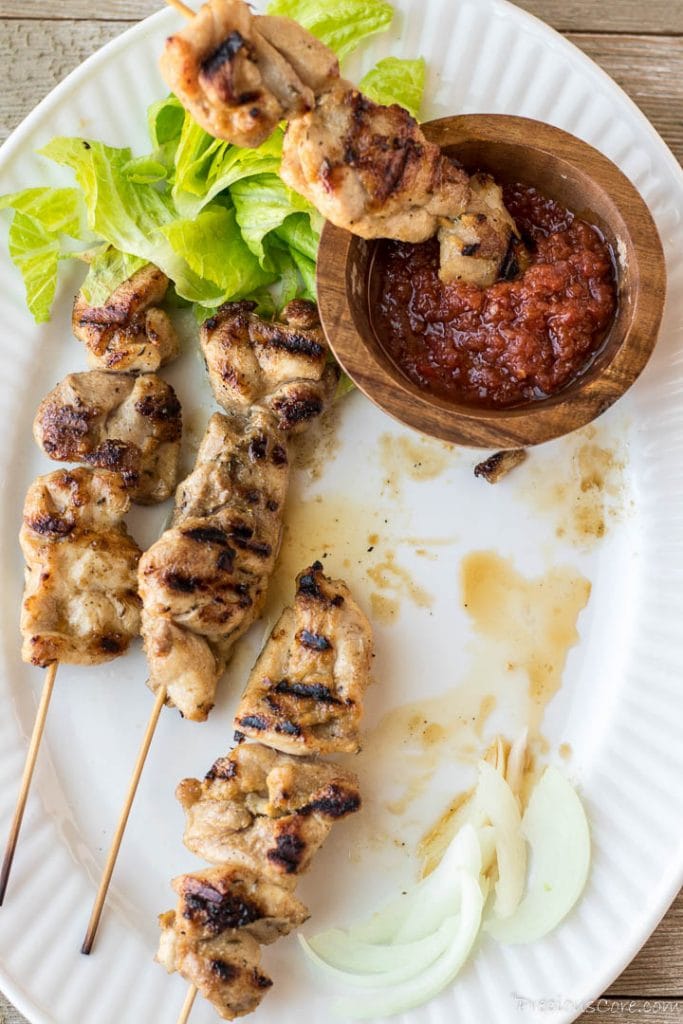 Also, they are so easy to make! Don't be scared of assembling meat on skewers. You could make 10 skewers in no time.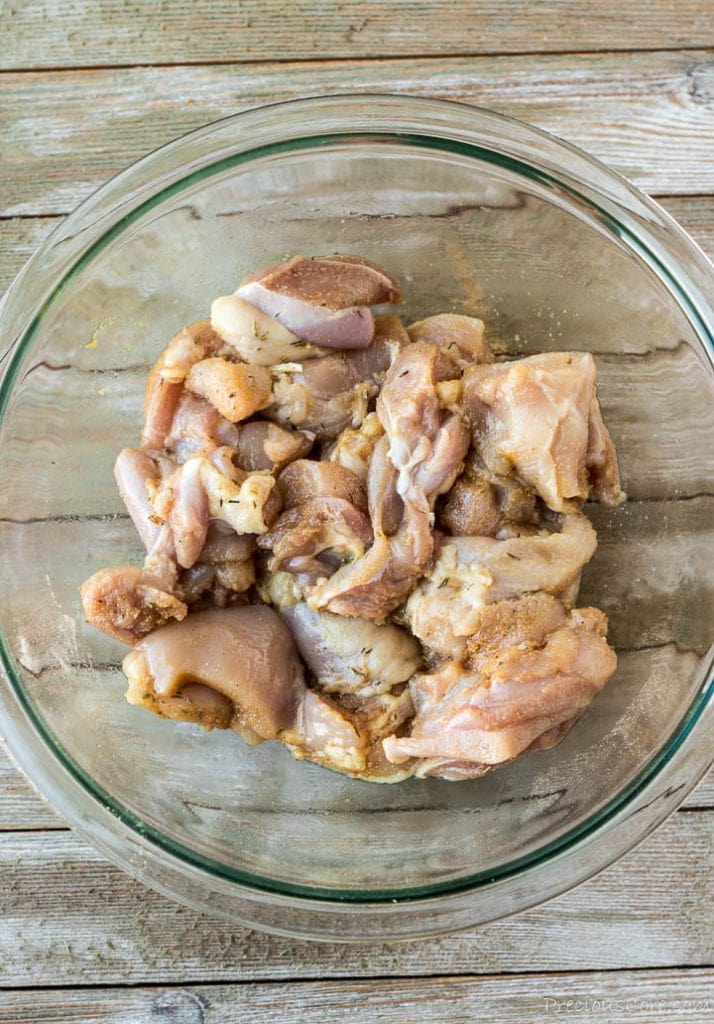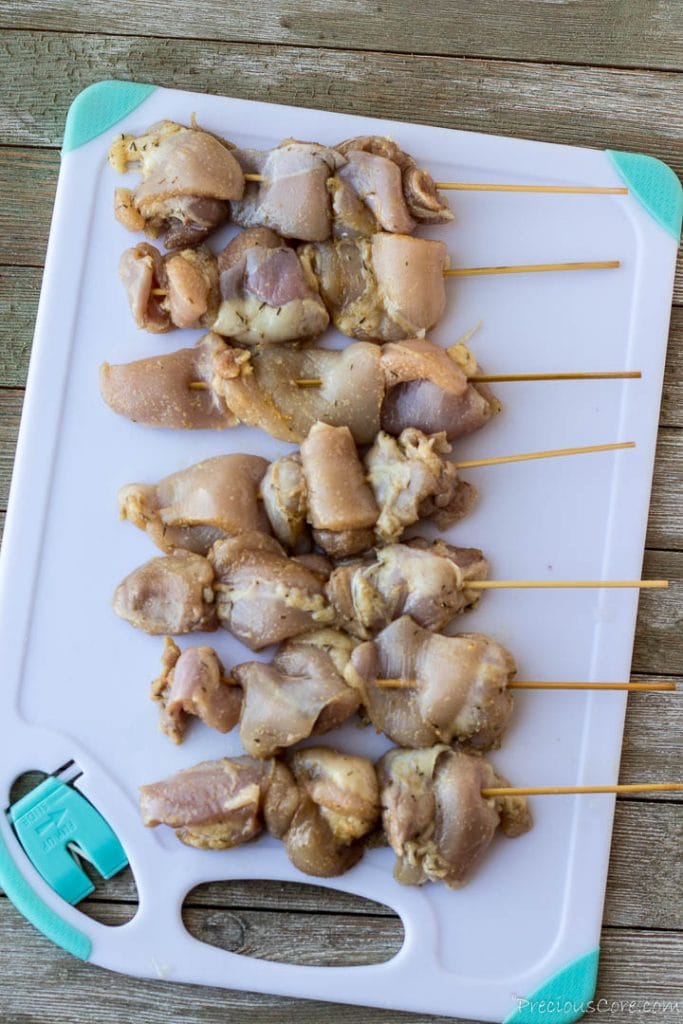 Another reason why this recipe will be on repeat is it only takes about 30 minutes. 30! Once you have all the ingredients down, all you need is 30 minutes.
AND, you do not need to grill these skewers outside. All you need is a grill pan! I find that grilling on a grill pan yields so much smoky flavor, almost like grilling outside.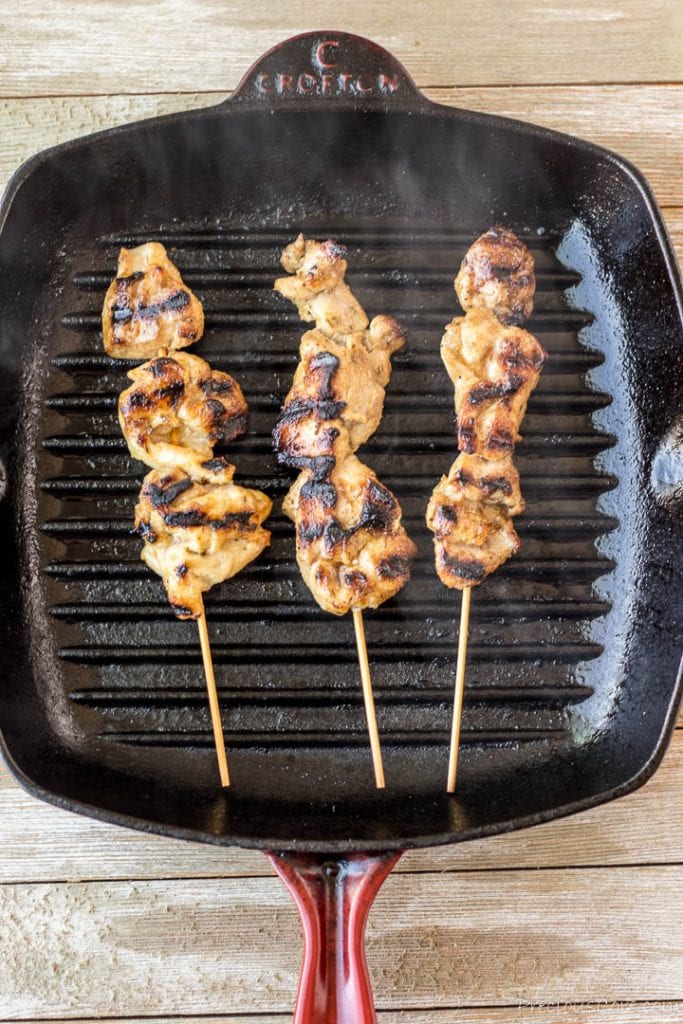 AND, anything served on a stick tastes so good! Amiright?
These Chicken Skewers are perfect for entertaining or for just having a nice appetizer/meal at home. We all love it chez moi because what's not to love?
What are Chicken Skewers?
Chicken Skewers are chunks of chicken placed on bamboo sticks or metal skewers then grilled. Chicken Skewers can be cooked on a grill, a grill pan or in an oven.
Chicken Skewers are also known as Chicken Kebabs or Chicken Kabobs.
Are Chicken Skewers Healthy?
Chicken Skewers are mostly healthy especially if you make them with boneless skinless chicken breasts. Chicken thighs have a little more fat but they are still a great choice because they are used skinless for chicken skewers.​​​​​​​​​​​​​​ Chicken Skewers are a great choice if you are on a low carb or gluten-free diet.
How to Marinate Chicken Skewers
To marinate Chicken Skewers, mix pieces of chicken with the marinade in a bowl. Cover the bowl with plastic wrap and marinate at room temperature for up to 2 hours or overnight in the fridge.
Marinate the pieces of chicken before placing them on the skewers.
Also, note that you could totally make Chicken Skewers without marinating the chicken first. Simply rub the spices on the chicken then proceed with placing the chicken on skewers and grilling. That's the method I use in this recipe and the chicken still tastes great!
How to Cook Chicken Skewers on Grill
To cook Chicken Skewers on the grill, heat up the grill to be smoking hot. This ensures a nice sear on the chicken and those epic grill marks we all love.
Place the skewers on the grill and cook on each side for 4 to 5 minutes or until the chicken is cooked through.
How to Cook Chicken Skewers in the Oven
To cook Chicken Skewers in the oven, grease a baking sheet. Place the skewers on the baking sheet and cook in a 450 degree Fahrenheit oven for 15 minutes.
Flip the skewers after the first 10 minutes.
Can you Freeze Chicken Skewers?
Yes, you totally can freeze Chicken Skewers. Wrap the uncooked and marinated chicken skewers with plastic wrap and freeze for up to 3 months.
Thaw the skewers before grilling.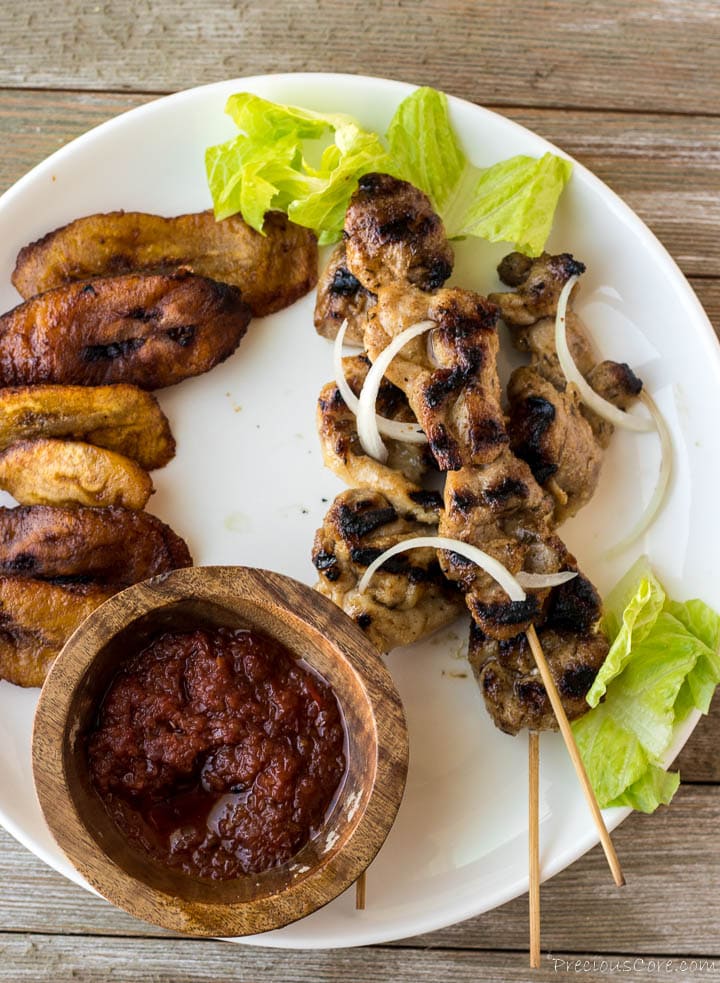 What Goes With Chicken Skewers?
Chicken Skewers can be paired with vegetable side dishes, carbs, salads, etc. Here are some recipes that go good with Chicken Skewers: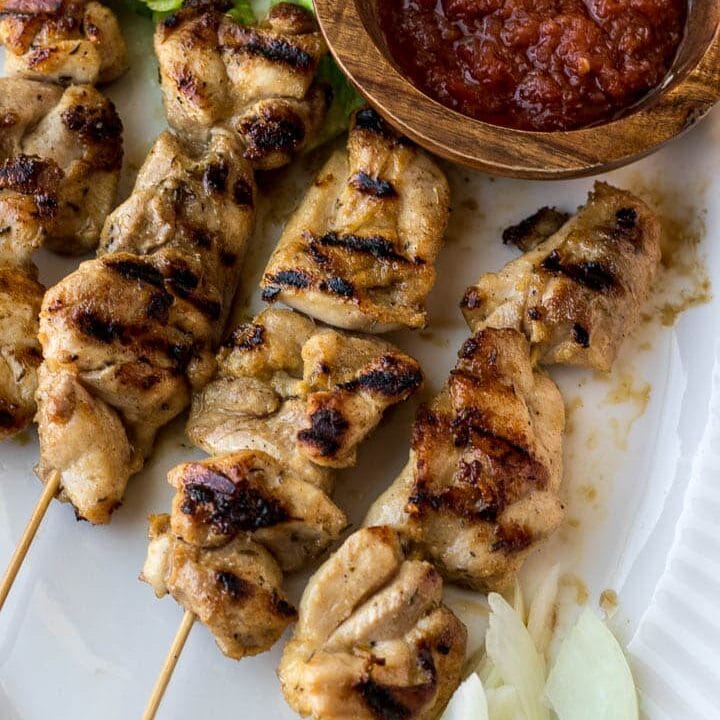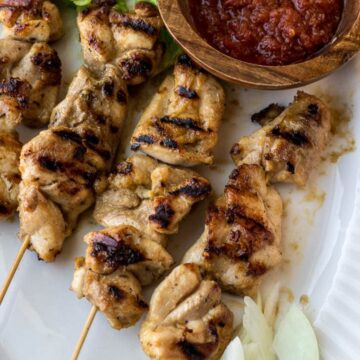 Chicken Skewers
Tender tasty chunks of chicken cooked on skewers. The kind of recipe to make when you want to show off!
Equipment
Grill Pan

Bamboo or metal skewers
Ingredients
1

pound

boneless skinless chicken thighs

1/4

teaspoon

dried thyme

1/2

teaspoon

onion powder

1/2

teaspoon

garlic powder

1/2

teaspoon

ginger powder

1/4

teaspoon

ground white pepper

or ground black pepper

1

teaspoon

chicken bouillon powder

1

tablespoon

olive oil

More oil for brushing grill pan
Instructions
If using bamboo skewers, soak 7-10 skewers in water. Make sure they are completely immersed.

Slice the chicken into 1-2 inch pieces. Place in a bowl and add all the other ingredients. Mix well to ensure that the seasoning gets all over the chicken.

Place 3 pieces of chicken on each skewer.

Heat a grill pan on the stove on high heat for about 3 minutes. Brush all around the pan with oil.

Place the skewers on the pan in a single layer. Don't let the end of the skewers touch the pan because that will yield so much smoke. Let the skewers cook on one side for about 5 minutes then flip to the other side and let them cook for another 5 minutes. Repeat the process with the rest of the skewers.

Serve the Chicken Skewers with your favorite dipping sauce, some sliced onions and veggies if desired. I served them with African hot sauce! They can also be enjoyed as they are.
Notes
1. Chicken thighs are best because they yield the best flavor! You could substitute with chicken breats though. In that case, I recommend drizzling on even more oil on the chicken so it doesn't easily dry out when grilling.
Nutrition
Serving:
1
skewer
|
Calories:
97
kcal
|
Carbohydrates:
1
g
|
Protein:
13
g
|
Fat:
4
g
|
Saturated Fat:
1
g
|
Polyunsaturated Fat:
1
g
|
Monounsaturated Fat:
2
g
|
Trans Fat:
0.01
g
|
Cholesterol:
62
mg
|
Sodium:
127
mg
|
Potassium:
166
mg
|
Fiber:
0.1
g
|
Sugar:
0.1
g
|
Vitamin A:
17
IU
|
Vitamin C:
0.1
mg
|
Calcium:
8
mg
|
Iron:
1
mg
This post contains affiliate links.