Sweet fried plantains done right! They are thoroughly cooked, tender, slightly crunchy on the outside and sweet! Such a wonderful side dish to add to your dinner table! In this post, you will learn how to make the perfect sweet fried plantains every time.
What is the one thing I can't stop eating? Sweet fried plantains!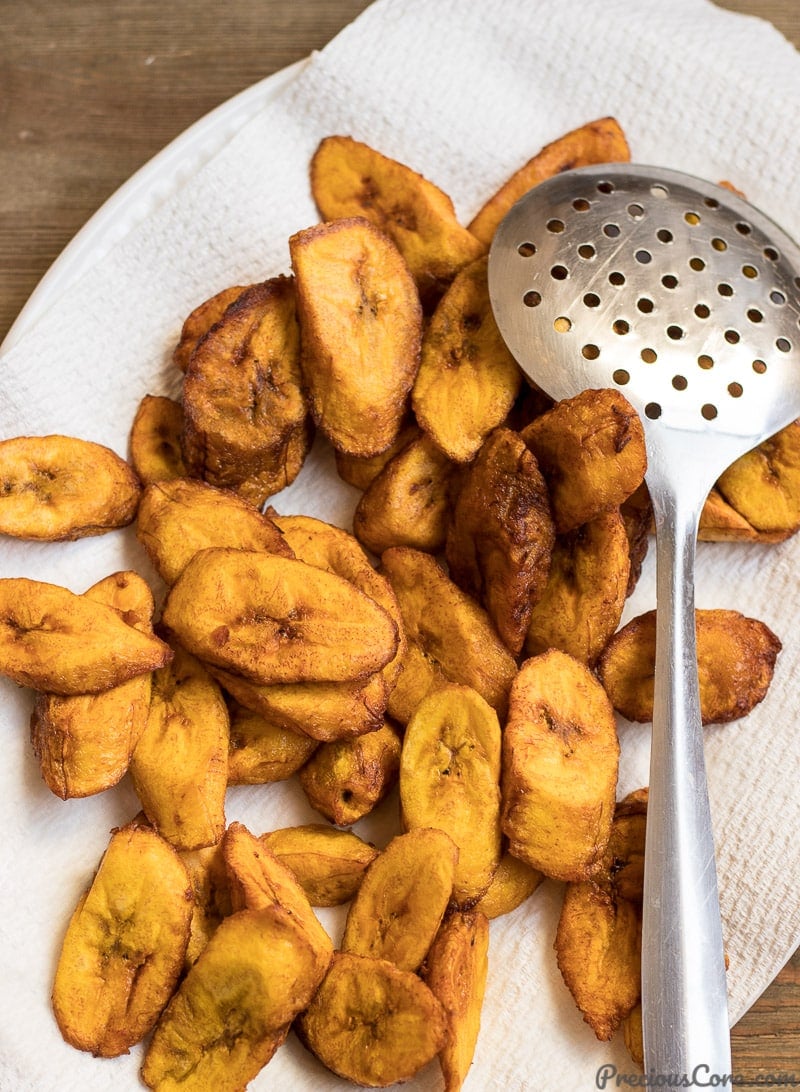 Also known as "dodo" in some West African countries, sweet fried plantains are a real treat! They are equally enjoyed in the Carribean and in South America. I eat them as they are, I eat them with omelettes for breakfast. I eat them with stewed beans. I eat them with stewed spinach. I eat them with stewed anything! I eat them with avocado. I eat them with grilled chicken. I eat them with grilled fish. I could eat sweet fried plantains with almost anything! The point is they are such a versatile side dish!
That is why my friends I am dedicating a post to how to make the perfect Sweet Fried Plantains! The perfect dodo should be thoroughly cooked on the inside and have a golden brown color. The key is to regulate the heat of your oil so the plantains don't burn on the outside without being cooked on the inside.
How to Fry Plantains - Sweet Fried Plantains
Begin with ripe (yellow) plantains which you should thoroughly wash. Washing plantains before peeling will prevent you from transferring germs from its skin to its flesh while peeling.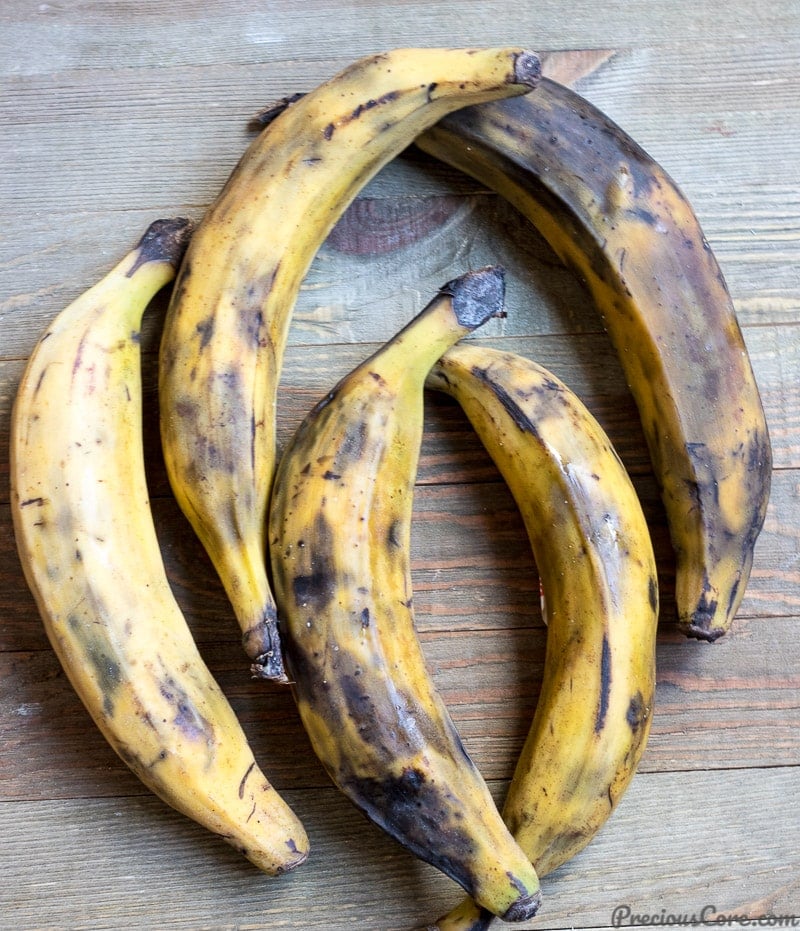 Then you peel the plantains by slicing the skin along the length of its ridges. Don't slice in too deeply. Once you slice the skin, use your hand to easily remove the skin from the flesh then cut your plantains horizontally into about half-inch thick slices.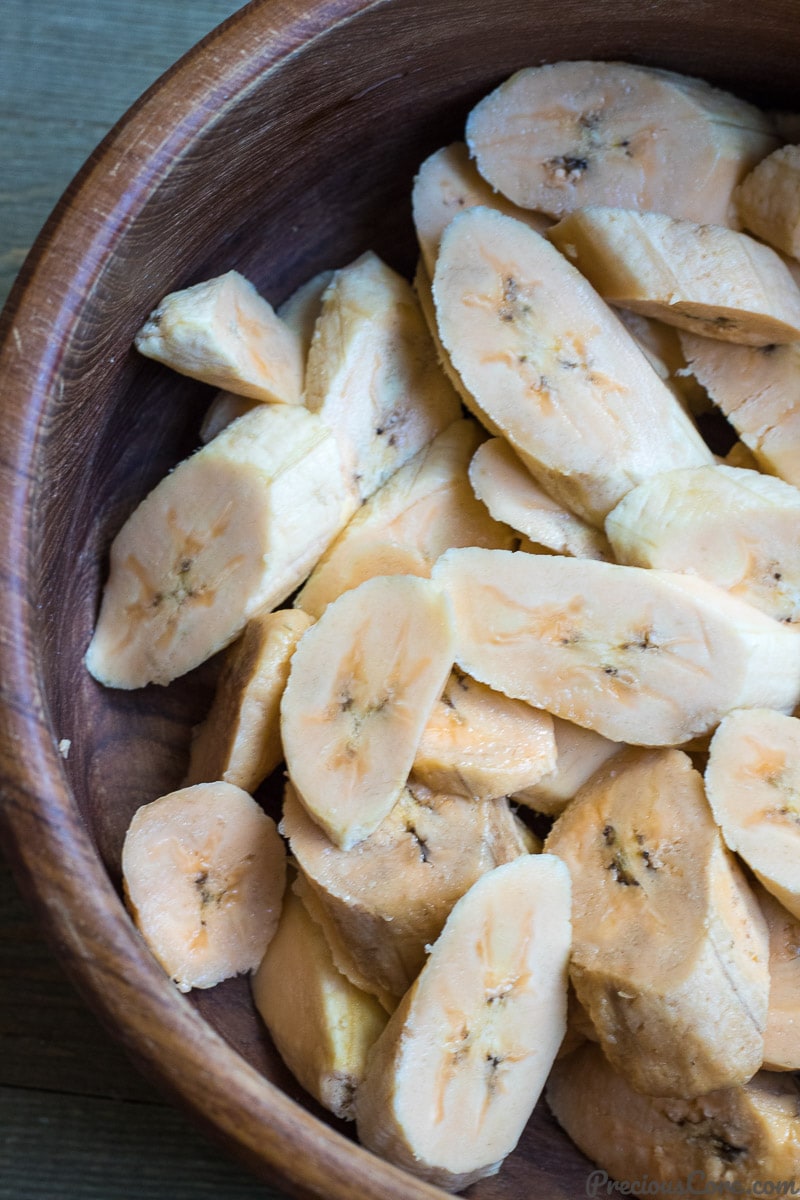 Heat up oil on medium-high heat and deep fry the plantains, flipping to the other side after the first 8 minutes. The plantains should spend a total of about 10 minutes cooking in the oil.
Place the plantains on paper towels so the paper towels can absorb the excess oil. Et voila, you have perfect Sweet Fried Plantains!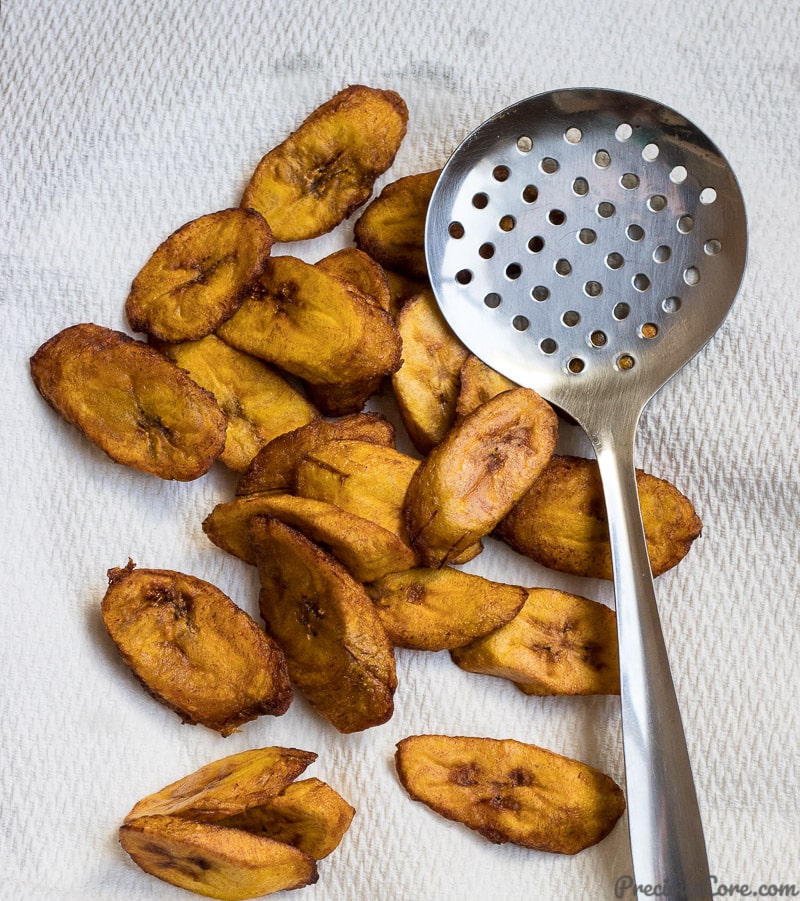 I enjoy these babies with almost every side under the sun! In this case, I had them with my grilled chicken wings which is totally epic!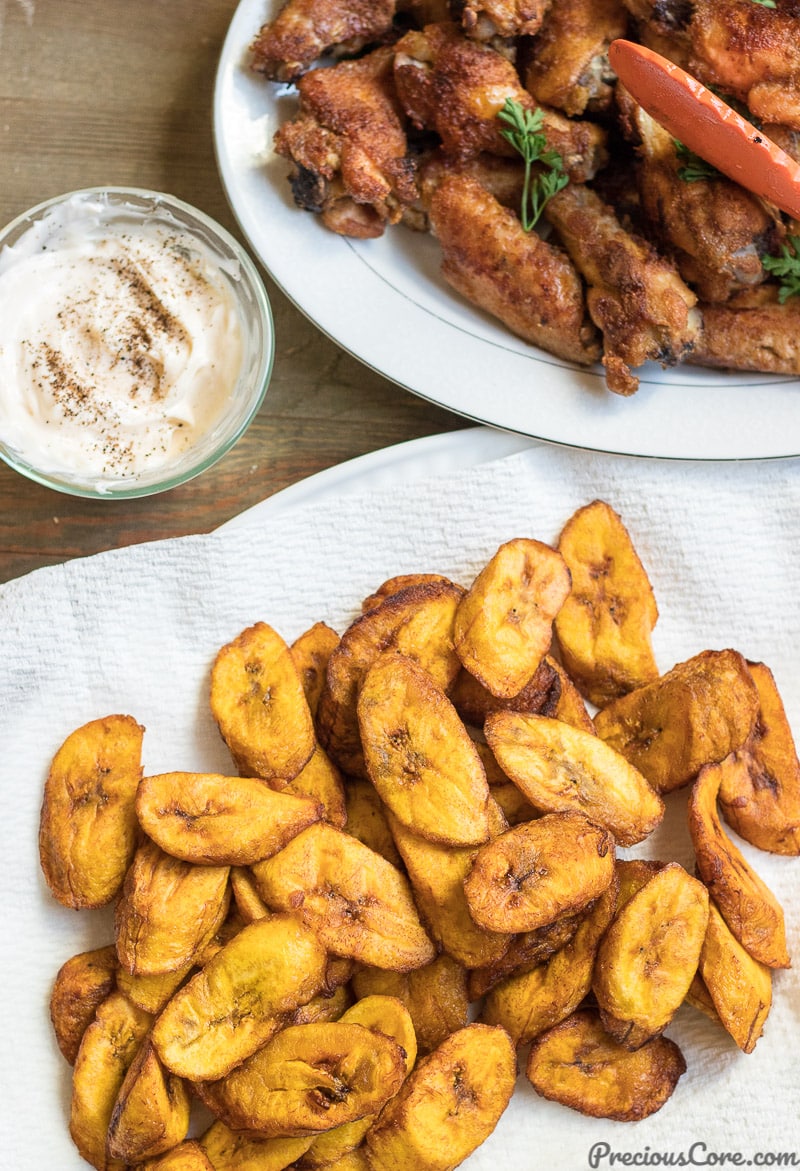 You should try some!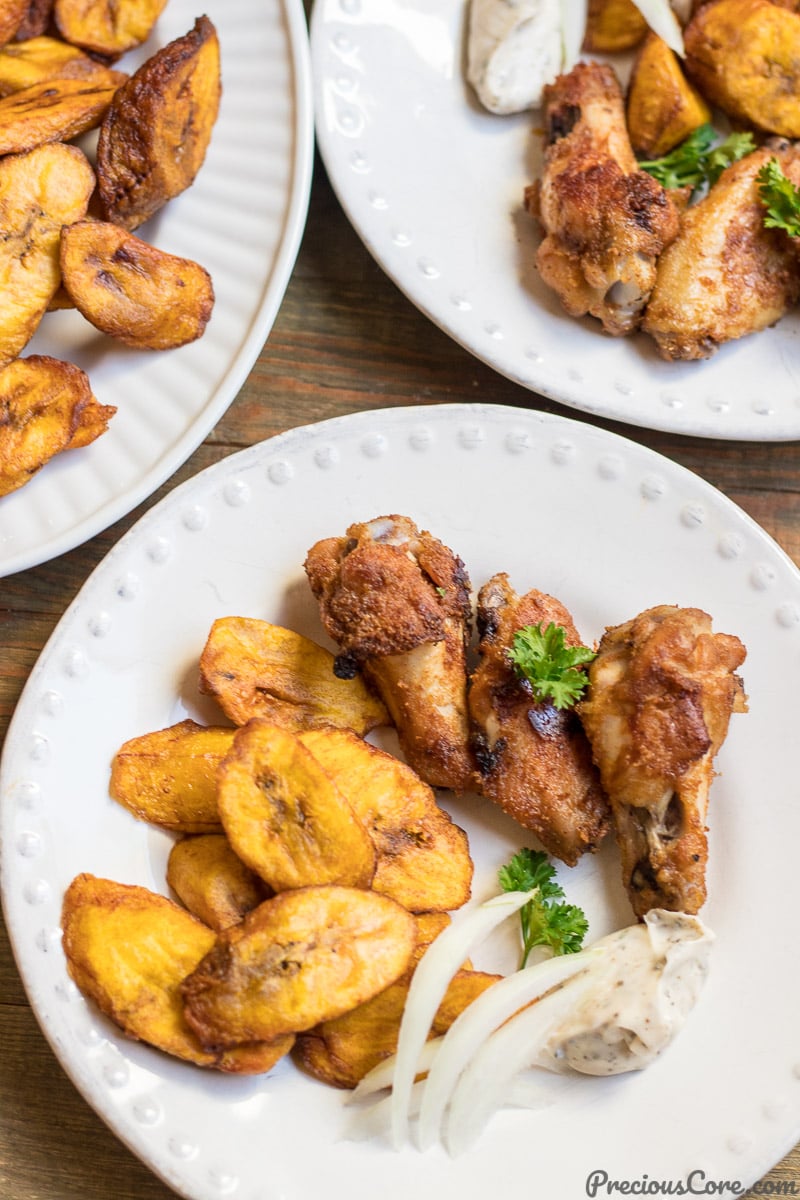 Sweet Plantain Recipes You Should Try
Poulet DG (One pot chicken and plantains meal) - insanely good!
Plantain Puff Puff (Plantain fritters)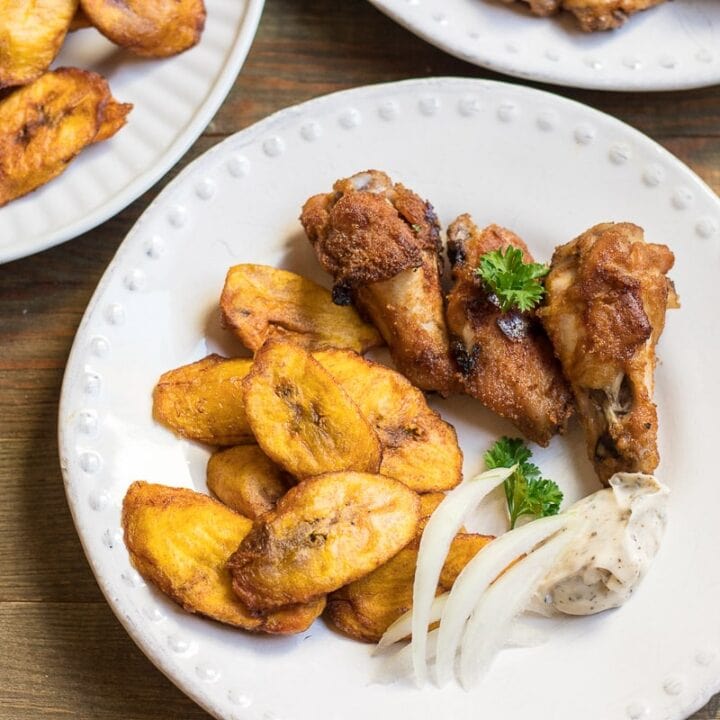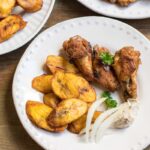 Sweet Fried Plantains
How to make the perfect sweet fried plantains. Sweet fried plantains are a real treat! Sweet, tender, so good and so easy to make!

Ingredients
5

yellow plantains (ripe plantains)

Oil for frying
Instructions
Wash plantains and peel. Cut plantains into desired shapes. My favorite way is to cut them horizontally into half inch thick pieces.

Place oil in a frying pan to 3 inches. Heat up on medium-high to about 325 degrees. Reduce the heat to medium then gently place plantain pieces in the oil one after another. Do not overcrowd the pan (I fried my plantains in 2 batches). Let the plantains cook for about 8 minutes then you flip them to the other side and let them cook for about 2 minutes. They should be nice and golden. Take them out and place on paper towel to absorb excess oil. Repeat process with the rest of the plantains.
Pin this recipe:

"And we know that all things work together for good to them that love God, to them who are the called according to his purpose." Romans 8:28 (KJV)