AFRICAN STEWED SPINACH
Published Feb 22, 2017
Updated Mar 10, 2019
When we moved to the United States, I thought my hopes of eating stir fry vegetables made with fresh green leafy vegetables were dashed forever. My brother-in-law who was to receive us asked us to buy all sorts of dried vegetables – bitterleaf, njama njama, we even bought dried waterleaf (all popular leafy greens in Cameroon). Then in our early days here, one day we visited a Ugandan family. Among the food they served us was this delicious bowl of prepared fresh leafy greens. I was surprised to see fresh greens so I asked how they made it and they told me it was a melange of collard greens and spinach. That paved the way for me eventually making some African stewed spinach.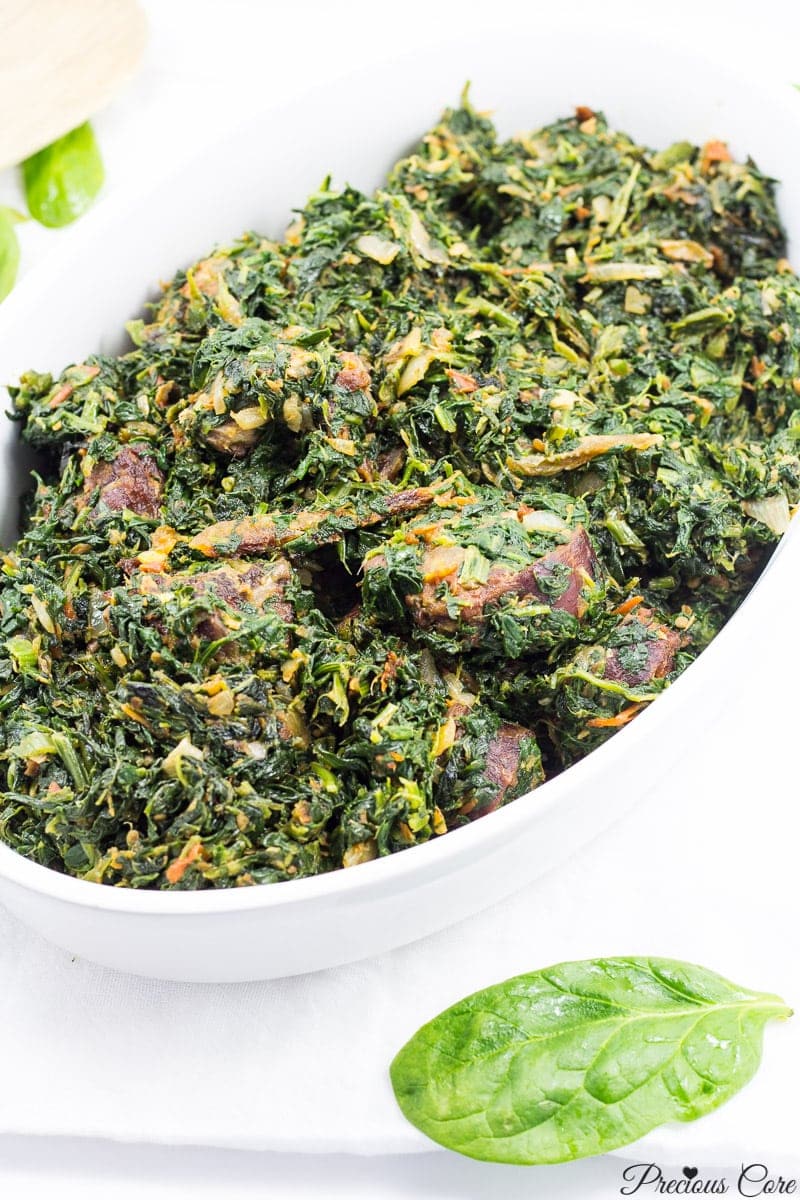 In true foodie fashion, I tried replicating the meal when I got home. My sister-in-law asked me, "wusai you take fresh njama njama?" (Where did you get fresh garden huckleberry from?) She thought it was njama njama. I told her it was spinach and collard greens. It was yum!
From that time, I have experimented greatly with spinach. I have added it to Ndole, used it as a replacement for cocoyam leaves in Kwacoco and used it in ogbono soup. Those leaves are just too versatile.
So, a few weeks back, I made spinach with collard greens, with some crayfish and smoked turkey. Mr N took the meal to work and when he got back home, he said, "that vegetable was gooooooood!"
As team #feedhusbandtillhecan'ttakeitanymore, I have decided to make 'that vegetable' a regular at our family table. I discovered that it works well with spinach only – no need to add the collard greens.
I normally buy fresh spinach which I rinse then chop. I boil water with some salt and a dash of baking soda. I boil plunge the spinach into the boiling water then cover for 2 – 5 minutes. I then strain it with a colander and rinse with cold water after which I squeeze and it is ready for use. So if you are dealing with fresh spinach, you could follow this method. However in this recipe, I bought "chopped spinach" from the grocery store. This is chopped and frozen spinach that you just have to thaw, squeeze and use. Easy breezy!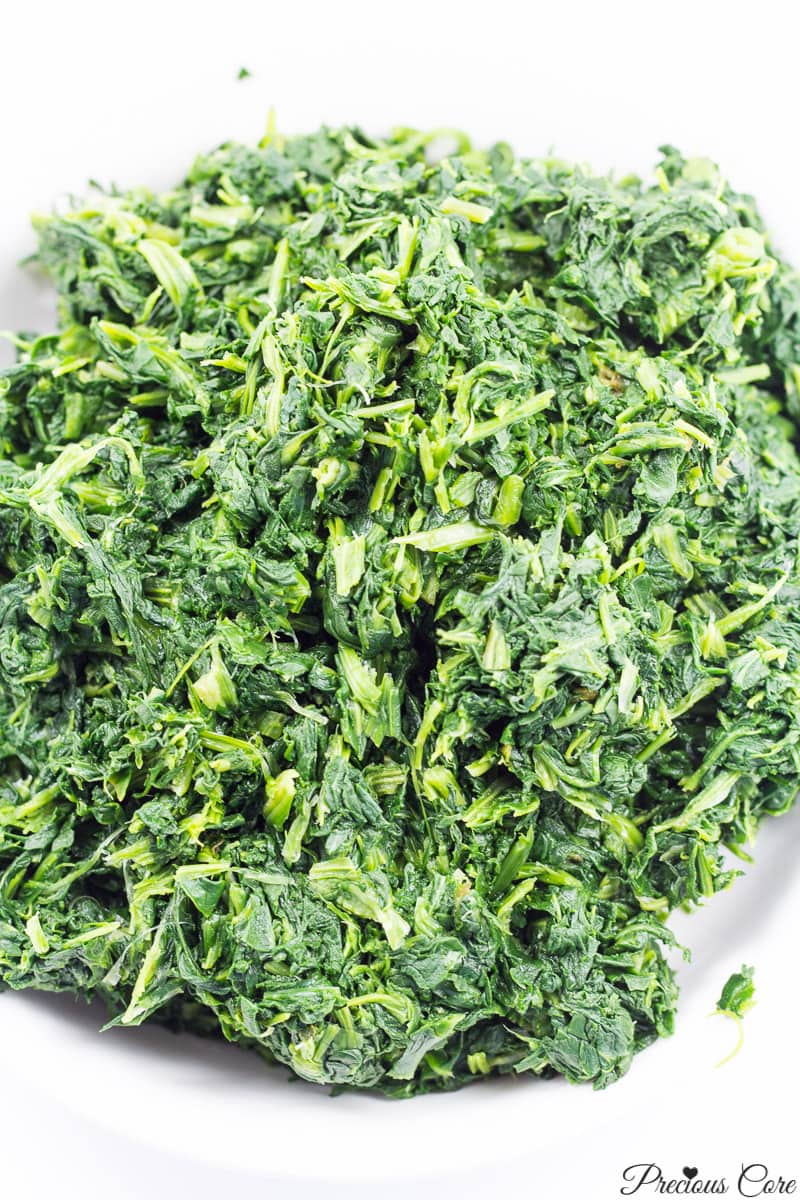 In addition to spinach, you need some chopped tomatoes and onions.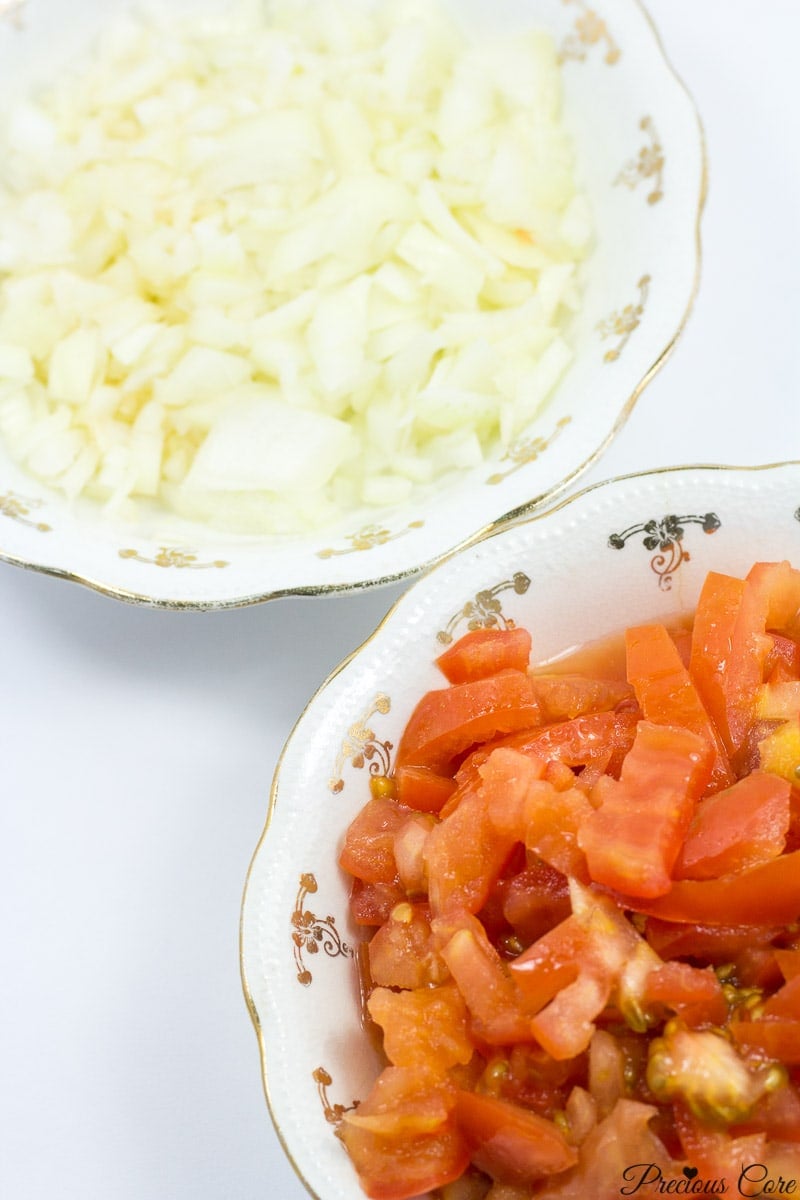 Then you need some sort of meat or fish of choice. I used smoked turkey and dried fish. I boiled them so they could soften up. I started with the smoked turkey and when it was almost ready, I added the dried fish. You could use shrimps, fish fillet or even chicken.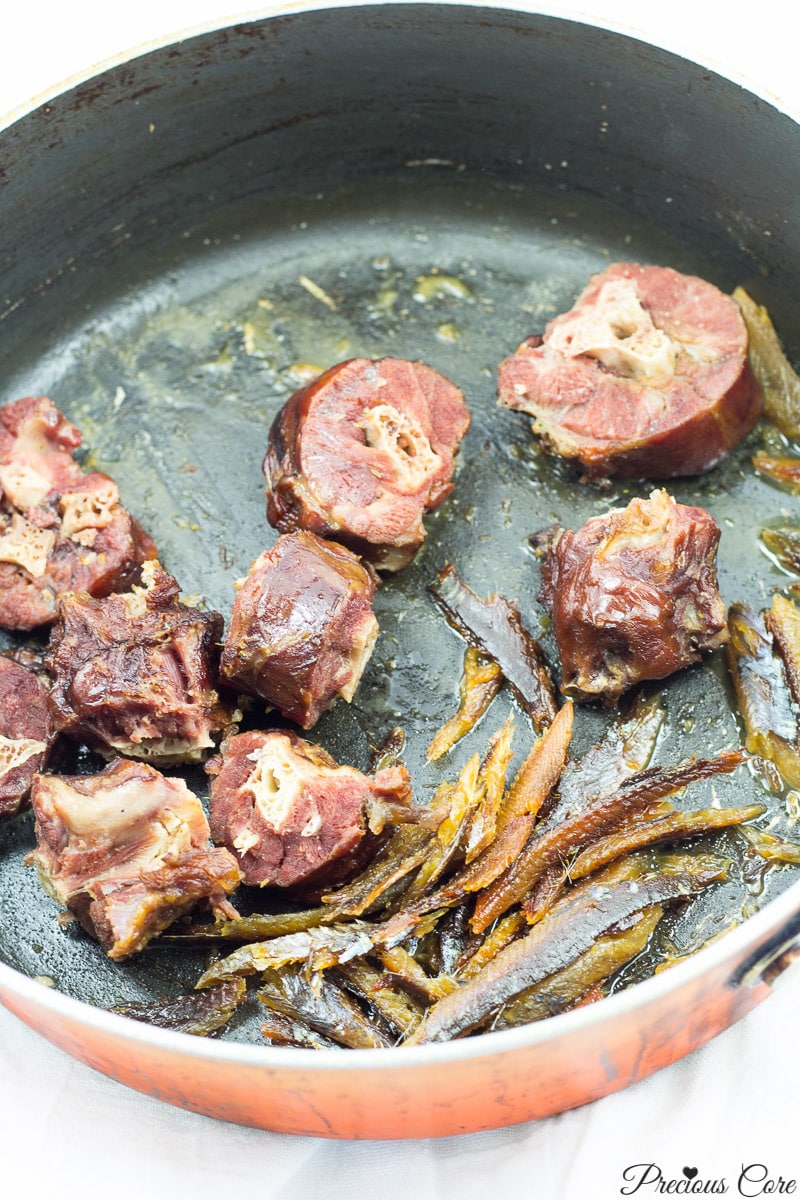 Other ingredients you need; some crayfish, seasoning cubes, oil and salt.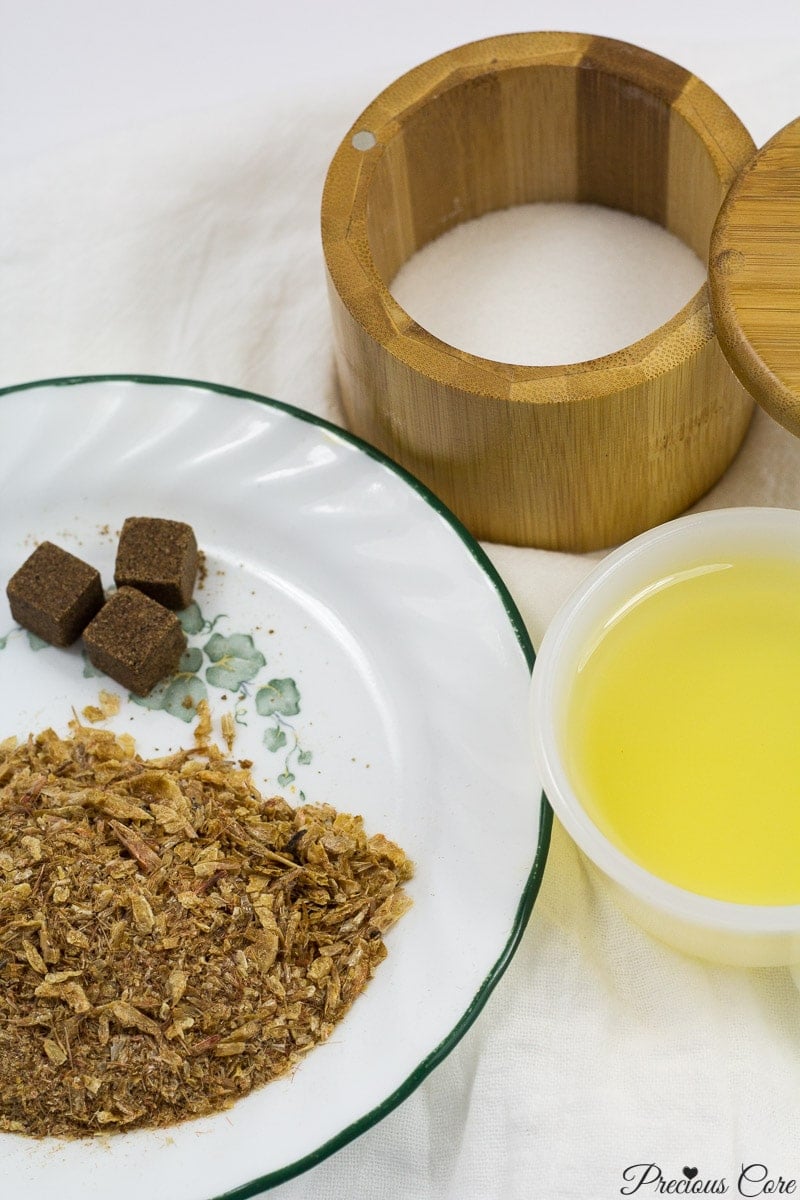 To make the stewed spinach, you need to saute the onions, fry the tomatoes, add in crayfish and all other ingredients and mix. It is really that easy.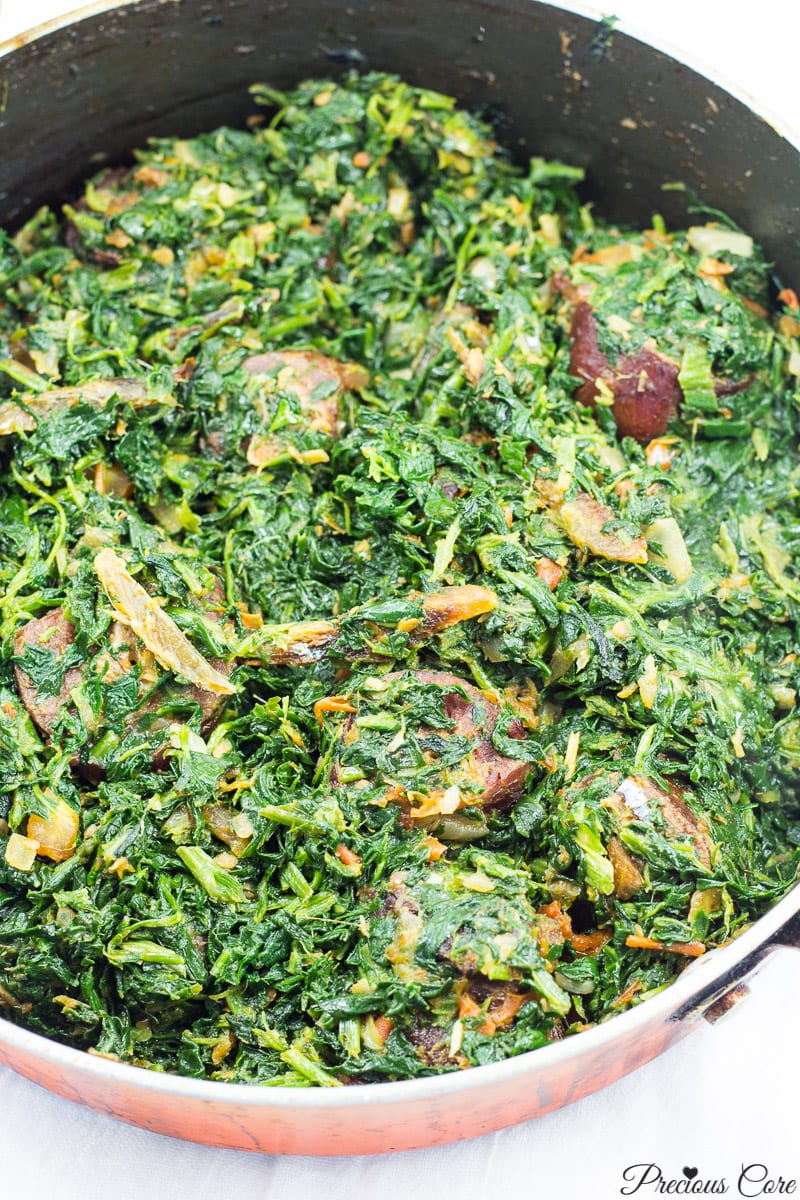 This stewed spinach is soft but not too soft – it has a bit of a bite to it. It is smoky, earthy, so good. Pair it with some boiled plantains, yams, cassava or even some rice if you like!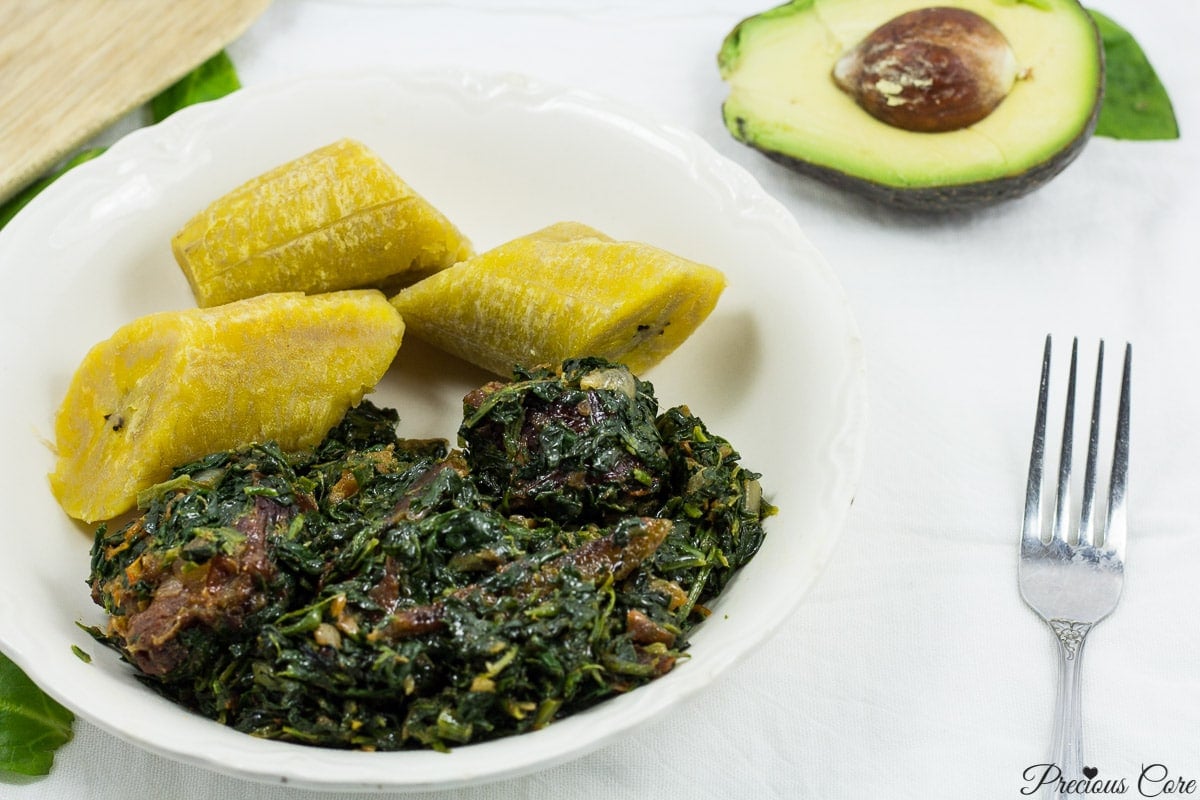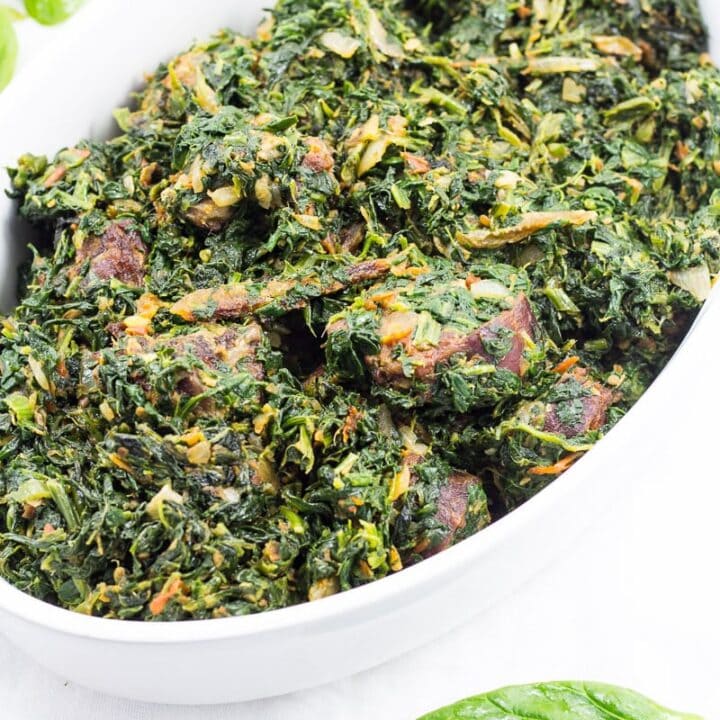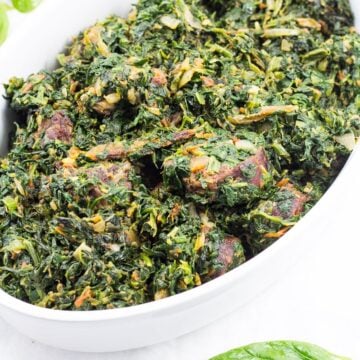 African Stewed Spinach
This is spinach cooked the African way with ethnic flavours. It makes a great side dish.
Ingredients
40

ounces

spinach - frozen or chopped, blanched and squeezed (1132 grams)

I used 4 10 oz packs of frozen spinach

5

large tomatoes - chopped

1

large onion - chopped

1/2

cup

oil - I used canola

1/2

pound

meat/fish - I used smoked turkey and dried fish

3

small cubes Maggi (seasoning)

1/2

teaspoon

of salt

1/2

cup

crayfish - roughly blended
Instructions
Pour oil into a pot and heat on medium heat then saute the onions until translucent. Add in tomatoes and fry until acidity is all gone. Be sure to stir from time to time so the tomatoes don't burn.

Add crayfish into the pot and stir. This will bring out a lovely aroma from the crayfish.

Scatter in the Maggi, sprinkle in salt, add smoked turkey and dried fish or whatever meat/fish you are using. If it is too dry at this point, add a tablespoon of water and stir.

Add in the spinach and mix well with the other ingredients until well incorporated. Let is sit on the fire for 5 minutes, as you stir lightly from time to time.

Serve warm with boiled plantains, cassava (yuca roots), yams or even rice.
Notes
If using fresh spinach, you will need at least 6 bundles or bags. Rinse the leaves then chop. Boil water with some salt and a dash of baking soda. Plunge the spinach into the boiling water then cover for 2 - 5 minutes. Strain with a colander and rinse with cold water immediately. Squeeze and it is ready for use. 
Nutrition
Calories:
461
kcal
|
Carbohydrates:
19
g
|
Protein:
28
g
|
Fat:
33
g
|
Saturated Fat:
3
g
|
Polyunsaturated Fat:
9
g
|
Monounsaturated Fat:
19
g
|
Trans Fat:
0.1
g
|
Cholesterol:
101
mg
|
Sodium:
1310
mg
|
Potassium:
2314
mg
|
Fiber:
9
g
|
Sugar:
7
g
|
Vitamin A:
27945
IU
|
Vitamin C:
103
mg
|
Calcium:
336
mg
|
Iron:
9
mg