NDOLE VIDEO RECIPE
Published Jul 16, 2016
Updated Sep 26, 2018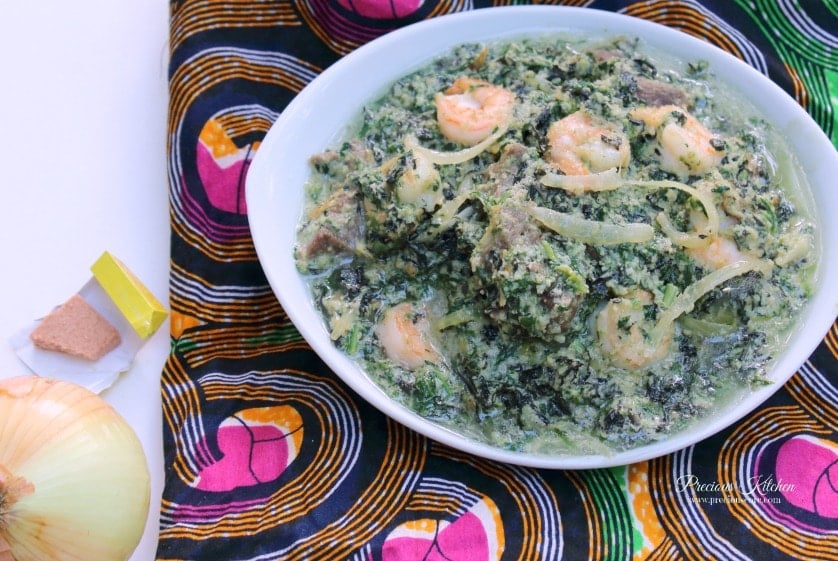 Hello, friends! This is a super-quick post. It is the video recipe for my Ndole recipe which can be found
here in detail
. Ndole is the traditional meal of the Douala people of Cameroon. It consists of blanched blended groundnuts, simmered with green leafy vegetables. It is oniony, hearty and nutty. It serves as a great side to boiled plantains, white yam and even rice. Find a printable recipe right after the video, specially made for you. Enjoy!
Print Recipe

Ndole Recipe
by
Precious Meshi Nkeih (www.preciouscore.com)
July-16-2016
Ndole originates from the Littoral region of Cameroon. It is the perfect culinary combination of groundnuts (peanuts)and green leafy vegetables (bitterleaf).
Ingredients
2 cups

peeled/blanched groundnuts (peanuts)

5 large bundles fresh or 3 cups blanched

bitterleaf(substitute with spinach)

half teaspoon

baking soda (for blanching if needed)

1 pound (about half kg)

meat

5 cloves

peeled garlic

1 inch

peeled ginger root

1 and a half

Crayfish seasoning cube(maggi crevette)

1

large onion

1 cup

vegetable oil

1

hot (habanero) pepper

A quarter teaspoon

salt

a quarter cup

crayfish

1 pound

raw shrimps (optional)
1. Cut meat into chunks and place in a pot. Add 2 cups of water to it. Chop a quarter of the onion and add it. Season with salt and bring to a boil.
2. If using fresh vegetables, rinse and chop them. If using dried bitterleaf, soak in warm water.
3. Pour water to get to about 3 quarters of a large pot pot. Put in a teaspoon of salt and baking soda. Bring to boil. When it boils, soak in your vegetables to blanche (please see video). Rinse and set aside.
4. Blend groundnuts together with garlic, ginger and hot pepper (if using). Add to boiling meat and give that a good mix. Let it simmer for 5 minutes.
5. Now add your vegetables to the simmering groundnut mixture. Stir well. Add in crayfish and crayfish seasoning cube. Stir and let that simmer together for about 10 minutes. Stir from time to time to avoid burns. Taste to ensure seasoning is perfect.
6. Turn off the heat then chop remaining onions and peel and season shrimps(if using).
7. Heat vegetable oil in a frying pan. Saute onions, then add shrimps (if using) and let them cook. They are ready when they turn pink.
8. Pour fried mixture over ndole. Yummy! Serve with boiled plantains, boiled yams, rice or even cooked garri. Enjoy!
Details


Prep time: Cook time: Total time: Yield: 6 servings