OGBONO SOUP WITH OKRA
Published Oct 28, 2016
Updated Sep 26, 2018
Years ago, I tasted this finger-licking soup at Aunty Ngozi's house in Nigeria. Aunty Ngozi, is one of my very kind 'aunties' I went to spend my school breaks with,. She fondly called me, "Kaymerun geh" (Cameroonian girl). On this particular day, we were preparing for a wedding and we needed to load our bellies with food before the wedding delays will kill us of hunger. I don't want to get into how traumatising delays can be for a hungry wedding guest but if you've experienced that before, you know what I mean.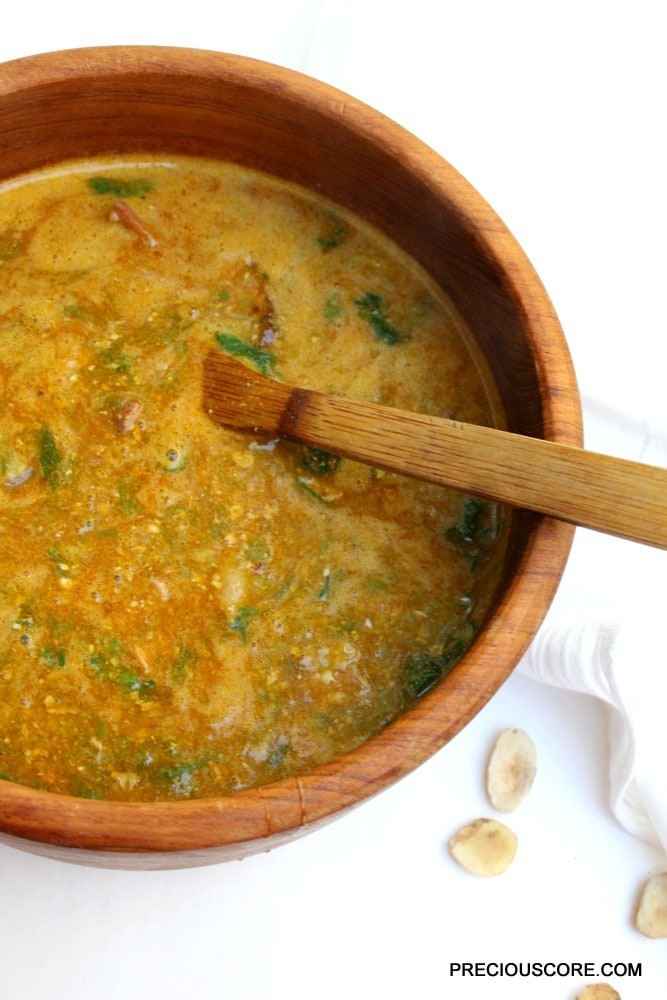 Aunty Ngozi presented me with this finger-licking hunger-curing, trauma-preventing bowl of Ogbono soup made together with okra.
And I haven't looked back since then.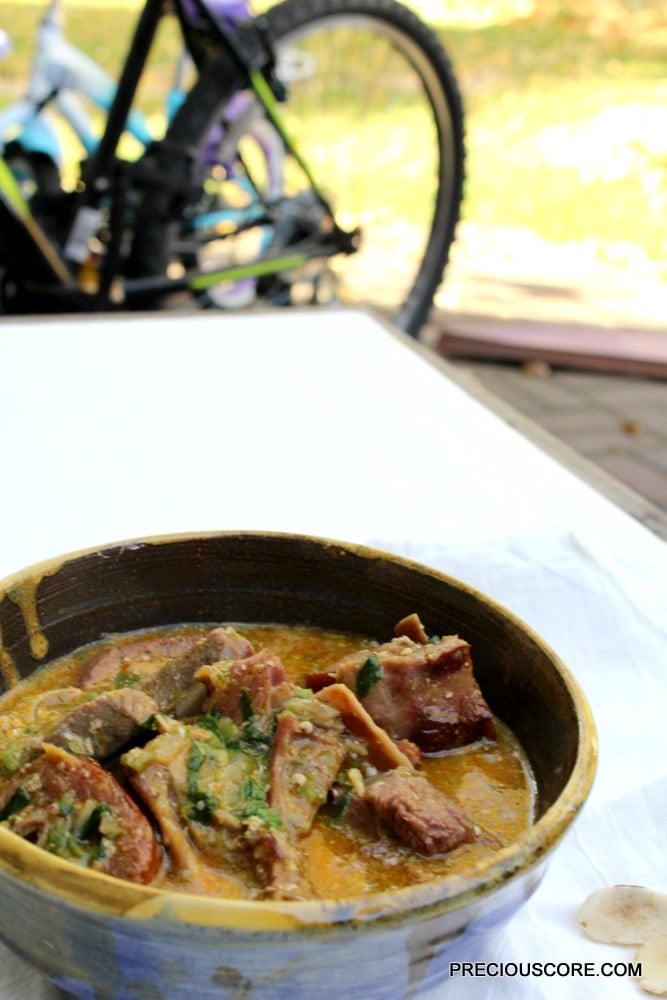 As the "Kaymerun geh" that I am, I was accustomed to eating Ogbono Soup made with Egusi. But this version showed me a new way. Ogbono soup made 'plain' with okra. And this slimy bowl of soup has a signature ethnic taste that is so pleasing to the taste buds. And this bowl of soup is low in calories depending on the meat you use. According to my friend who studied food science, Ogbono seeds have been found to have weight loss properties.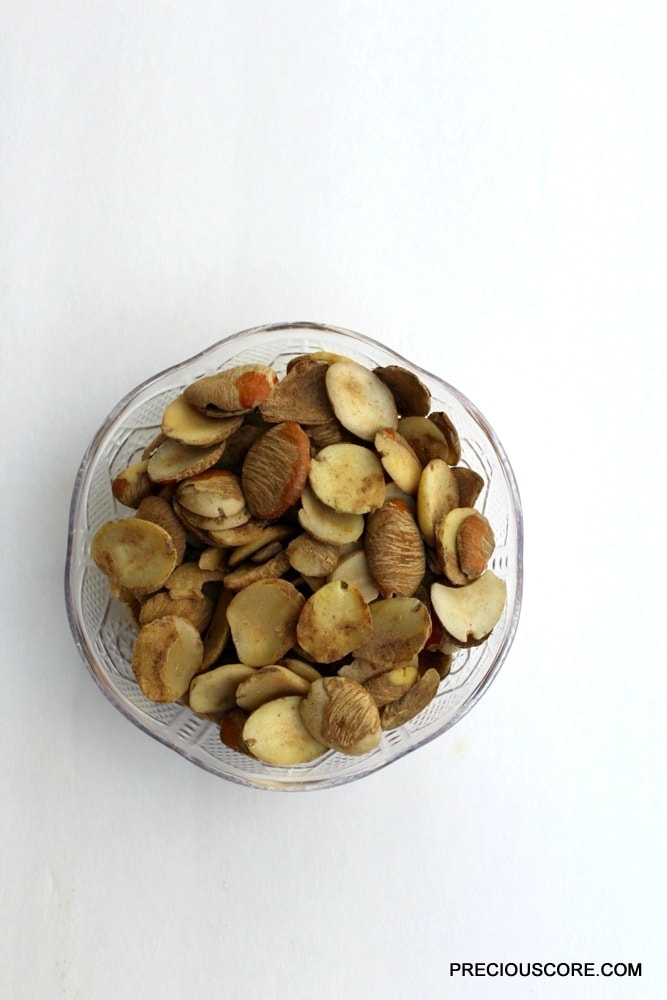 These seeds which come from a specie of mangoes are used in Cameroon and Nigeria to make a variety of soups that are eaten with different kinds of fufu. I have seen Equatorial Guineans use the same seeds to make soup to be eaten with rice.
Today, we are talking about how to cook them together with okra. Ogbono soup with okra together with some garri or fufu is a match-made in heaven.
All you need is some meat and/or fish of choice. I used beef, smoked turkey and cow intestines.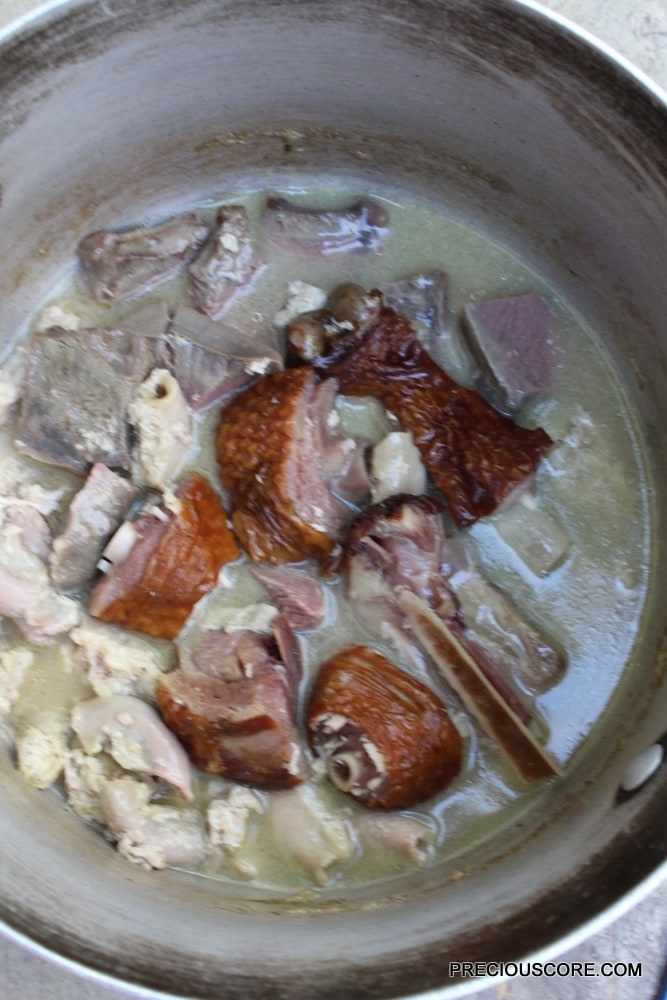 You put in some ground Ogbono, crayfish and plam oil and let it boil. Then you add some seasoning cubes, the okra and some fresh green leaves and viola, ogbono soup with okra.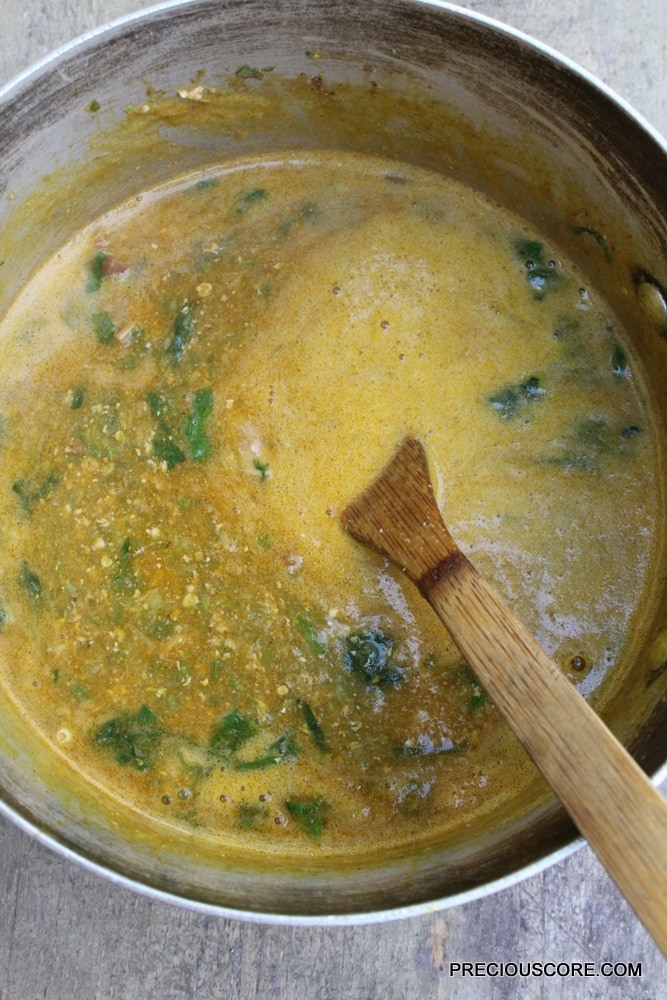 This soup is well-loved by every human being that lives in this place called my home. Hope you and the people in your life enjoy it too.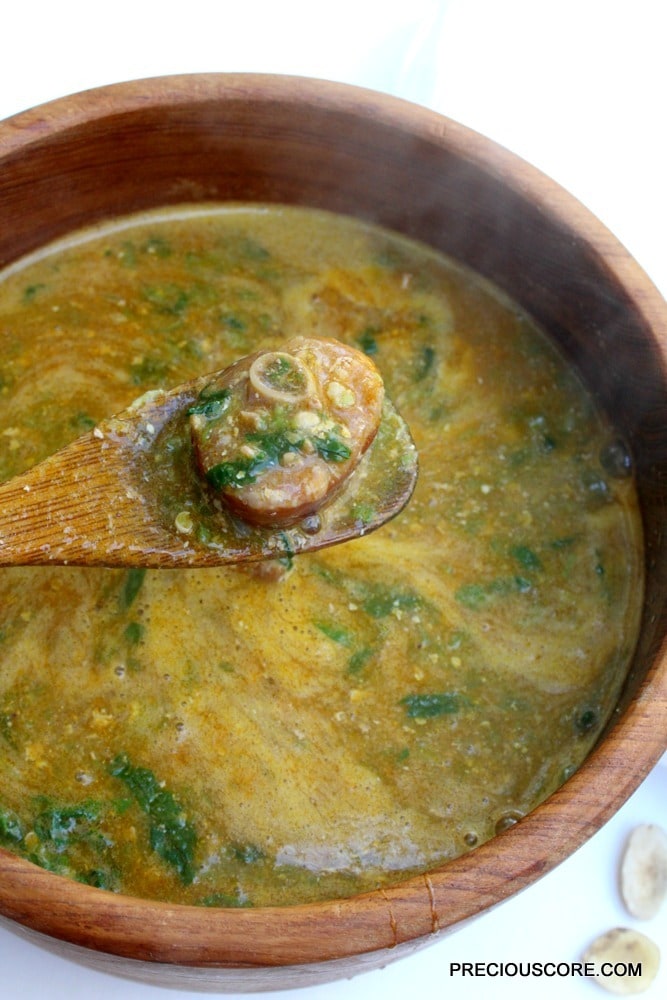 Don't you just want to hug that???
Aunty Ngozi, this is for you. Thanks for introducing me to this delicious soup and for taking care of me selflessly. ♥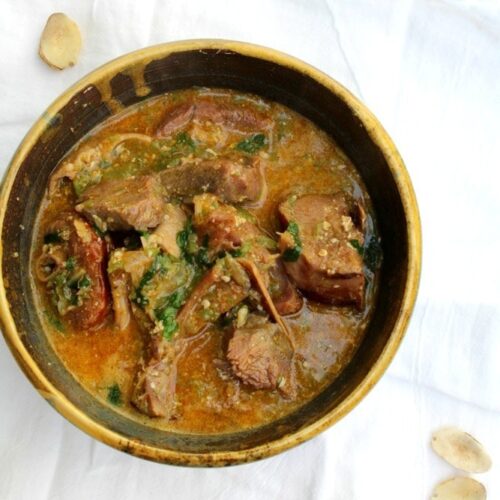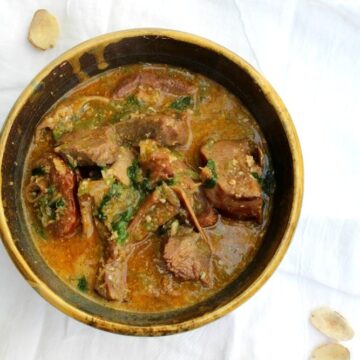 Ogbono Soup with Okra
I first tried this Ogbono soup with okra years ago in Nigeria and I haven't looked back since then.
Ingredients
2

pounds (about 1kg)

boiled meat/fish of choice

1

handful

ogbono seeds

ground

2

cups

chopped okra

1

handful

spinach leaves (or bitterleaf)

2

tablespoons

palm oil

3 or 4

cubes

seasoning cubes(Maggi or Knorr)

1/2

cup

crayfish

1/2

medium onion

(optional)
Instructions
Put meat and/fish on fire together with the stock. The stock should be at the same level with the meat. If it isn't, add water to that level. Chop onions and add in if using. Bring to a boil.

Make a paste with some of the boiling water from the meat with the ground ogbono seeds. It will turn slimy. Pour paste into the pot and mix well. Add in palm oil and crayfish. Let it simmer for about 10 minutes. Stir from time to time with a wooden spoon.

Now add in the chopped okra as it is or you can blend it if you like before adding to the pot. Add in your seasonings cubes too. Let it simmer for 5 minutes. Adjust the consistency of the soup at this point. If it is too thick, add in some water to loosen it up. Also taste to ensure that seasoning is perfect.

Chop spinach (or your leaf of choice) and add in. Stir and turn off the heat.

Serve warm with cooked garri or a fufu of choice. I love it with white garri!
Notes
You'll notice that I didn't mention where to add in the salt. That's because I assume that your meat/fish stock must have salt in it. Feel ree to adjust your salt content as needed.
Options for meat/fish include beef, smoked fish, canda/ponmo (beef skin), beef feet, goat meat, stock fish and smoked turkey. Feel free to include what you enjoy or what you have on hand.
Ogbono soup can also be made without the palm oil and it will be taste great!
Nutrition
Calories:
222
kcal
|
Carbohydrates:
4
g
|
Protein:
35
g
|
Fat:
8
g
|
Saturated Fat:
3
g
|
Polyunsaturated Fat:
1
g
|
Monounsaturated Fat:
3
g
|
Cholesterol:
103
mg
|
Sodium:
383
mg
|
Potassium:
648
mg
|
Fiber:
1
g
|
Sugar:
1
g
|
Vitamin A:
718
IU
|
Vitamin C:
10
mg
|
Calcium:
62
mg
|
Iron:
1
mg