Cameroonian Sese Plantains
Cameroonian Sese Plantains is a one-pot meal with plantains, red palm oil, dried fish, crayfish and other delicious ingredients. It is a hearty meal that is perfect for dinner.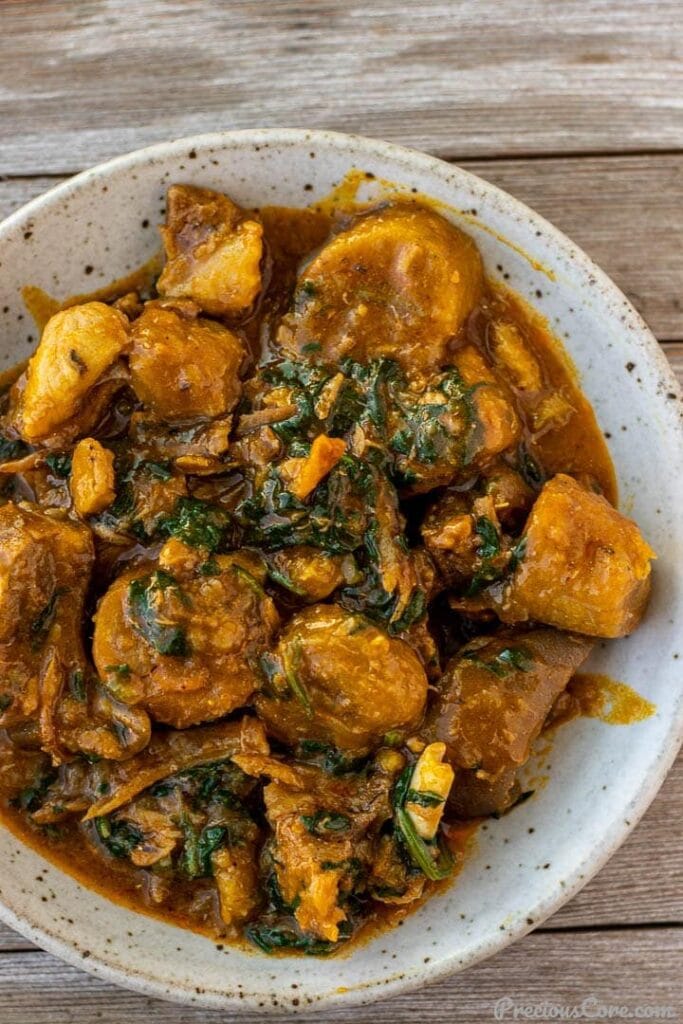 Today I am sharing with you one of my favorite Cameroonian meals called Sese Plantains, Sese Planti or Turning Planti. This meal is also known as unripe plantain porridge or porridge plantains.
The name "sese" refers to the motion of stirring the plantains as they cook.
Growing up, Sese Planti wasn't exactly my favorite dish but my mother knew how to make me love it. The version she cooked included a wide variety of dried fish which added so much flavor to the meal and made it simply irresistible.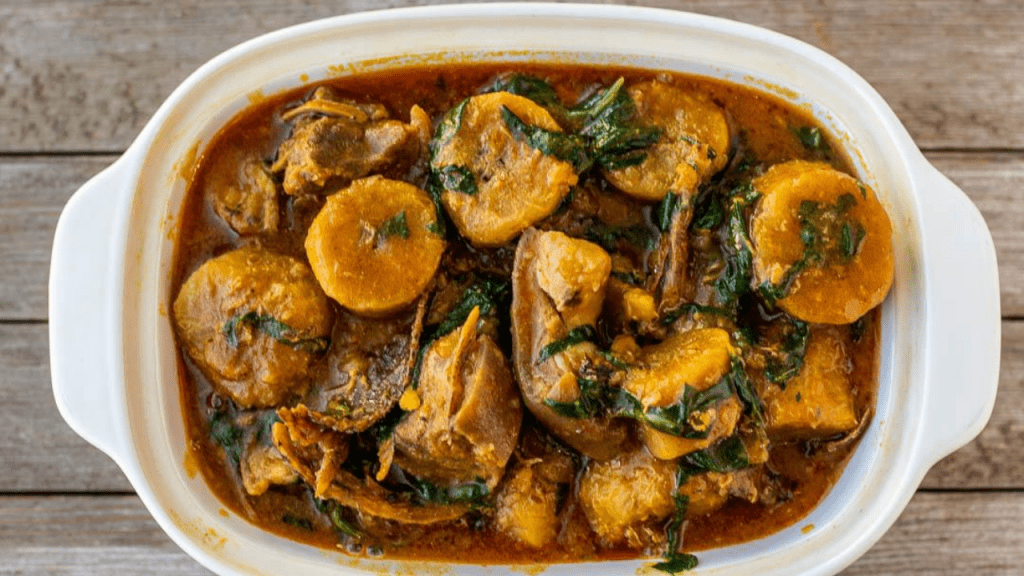 My Sese Plantain Recipe includes a mixture of dried fish and goat meat. Dried fish can be found in African stores. You will probably need to visit an African shop to get the ingredients to make this recipe.
Ingredients for Sese Plantains
1. Green plantains. The plantains used in Sese Plantains are unripe which means they should be green and firm to the touch.
2. Red Palm Oil. Red Palm Oil is one of the healthiest oils out there. It is sustainably sourced and widely used in West African cuisine. Red Palm Oil gives West African dishes a distinct taste and bright orange color. It adds so much flavor to Sese Plantains. Vegetable oil or other neutral oils won't cut it here.
3. Crayfish. Crayfish is a variety of shrimp that is dried and common in West African cooking. It is a key ingredient that gives meals like Eru their distinct taste. Crayfish adds smokiness and a nice depth of flavor to Sese Plantains.
4. Dried Fish. Fish that has been dried or smoked in commonly used in West Africa. There are various kinds of dried fish and anyone will work here. Just make sure the bones are removed.
5. Goat Meat. This is optional because I haveemade delicious Sese Plantains many times without any form of meat. BUT if you can, add the goat meat. It adds more flavor, it is lean meat and adding it makes this dish really special. You could substitute goat meat with beef.
6. Leafy greens. Traditionally, a leafy green called bitterleaf is added to Sese Plantain. But since I can't get fresh bitterleaf I used baby spinach instead. I love using baby spinach because I don't have to pick the leaves from the stem.
7. Salt. For flavor
8. Maggi seasoning cubes. For flavor.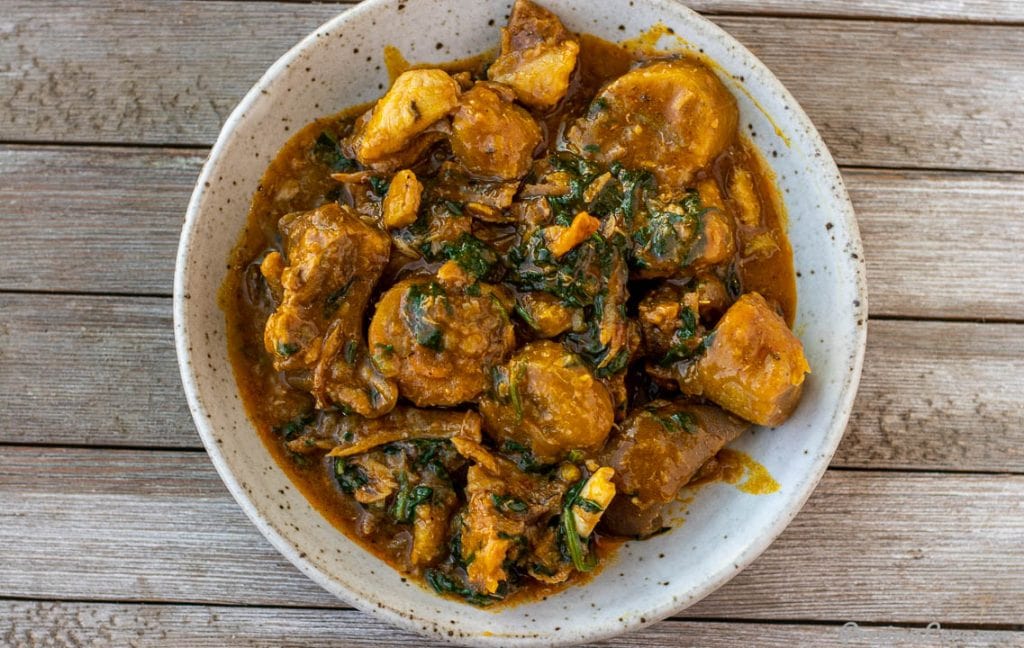 Sese Plantains is smoky, so flavorful and so hearty. Hope you enjoy this sese plantain recipe!
Watch How To Make Sese Plantains
Watch me making Sese Plantains in the video below. Also, please SUBSCRIBE to my YouTube Channel so you do not miss any of my videos!
More of My Favorite Cameroonian Recipes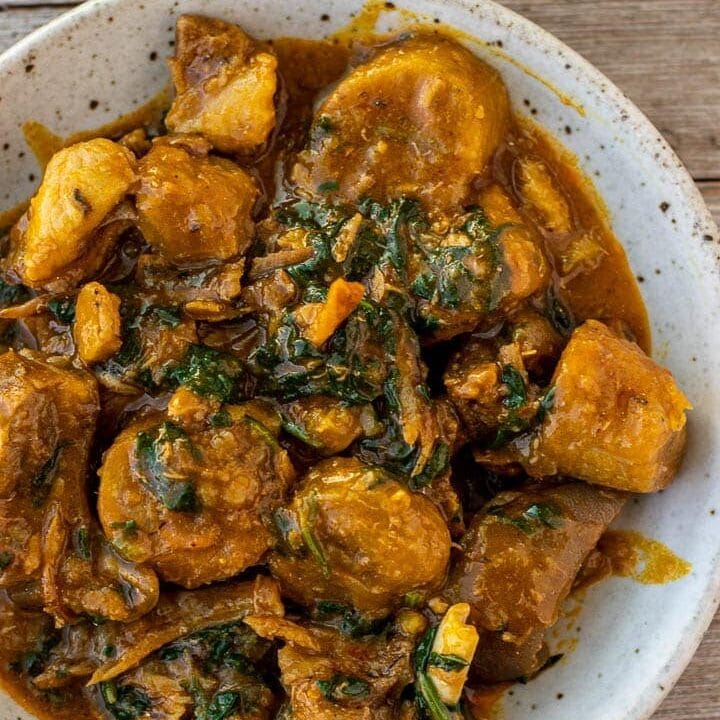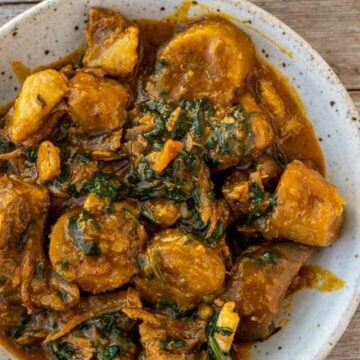 Cameroonian Sese Plantains
Cameroonian Sese Plantains is a one-pot plantain dish with red palm oil, crayfish and other delicious ingredients. It is hearty with a bit of smokiness and so much flavor from the spices used. Green plantains are a good source and if you haven't incorporated them in your diet yet you should. Hope you enjoy this meal which reflects my cultural heritage.
Ingredients
1

pound

goat meat, cut into 2 inch slices

sub with cow meat or more dried fish or smoked fish

2

medium onions, chopped

1 1/2

teaspoons

salt

6

green (unripe) plantains

2

cups

dried fish, bones removed

1/2

cup

crayfish

1

cup

red palm oil

2-3

inches

ginger root, peeled

6-8

cloves

garlic, peeled

4

Maggi seasoning cubes

4g cubes

1

habanero or scotch bonnet pepper

optional

4

cups

baby spinach, sub with kale
Instructions
Put goat meat in a pot. Pour in water to completely cover the meat. Add in 1/4 cup of the chopped onion and sprinkle in 1/2 teaspoon salt. Cover, bring to a boil and let it cook until the goat meat is tender but still has a bite to it. About 20 minutes.

Peel the plantains. To peel a plantain, cut the ends of the plantain then score the plantains from top to bottom being careful not to wound the flesh of the plantains. Give a 1-inch gap then score the plantain again from top to bottom. Repeat the process two more times. Use your fingers to lift the skin of the plantains off the flesh. It should come off easily.

Rinse the peeled plantains then cut them into coins that are about 1 inch thick.

Add the plantains to the goat meat. Add in water to completely cover the plantains then add in the palm oil.

Crush the crayfish to break it down a little. You could either use this using a blender a small mortar or a Ziploc bag. To crush using a Ziploc bag, place the crayfish into a small Ziploc bag. Press the bag to release all the air then seal the bag. Use a rolling pin to hit on the bag until the crayfish is broken down.

Add the crayfish to the plantains. Mix everything with a wooden spoon to combine. Cover and bring to a boil.

While the pot comes to a boil, blend the garlic and ginger into a paste (I used a small mortar to crush them).

After the pot comes to a boil, add in the blended garlic and ginger, the remaining 1 teaspoon of salt, then sprinkle on the seasoning cubes (Maggi). Also add the habanero pepper if using (I add the full pepper without crushing so it releases a bit of flavor but the meal isn't too spicy).

Stir everything to combine. Cover the pot and let it cook for about 30 minutes until the plantains are very soft and break easily when pierced with a fork. Add more water to the level of the plantains if the water gets low. Sese Plantain needs to be saucy.

Once the plantains are completely cooked, taste to ensure seasoning is perfect. Add more salt if needed.

Roughly chop the spinach and add to the pot. Mix well to combine. Once the vegetables shrink and mix well with everything turn off the heat.

Let the pot rest covered for 5 minutes then serve hot. Serve with some avocado on the side. So good!
Notes
1. It is important that you let the plantains cook until very soft. When the plantains are not well cooked they could be hard and the meal will be unappealing.
2. Traditionally bitterleaf, a leafy green in West Africa is used to make Sese Plantains. Bitterleaf has some bitterness to it which adds a distinct delicious taste to Sese Plantains. Unfortunately I don't have any fresh bitterleaves so I used spinach. You could use kale as well.
Nutrition
Calories:
756
kcal
|
Carbohydrates:
47
g
|
Protein:
52
g
|
Fat:
41
g
|
Saturated Fat:
18
g
|
Polyunsaturated Fat:
3
g
|
Monounsaturated Fat:
15
g
|
Trans Fat:
1
g
|
Cholesterol:
151
mg
|
Sodium:
5143
mg
|
Potassium:
1856
mg
|
Fiber:
3
g
|
Sugar:
25
g
|
Vitamin A:
3022
IU
|
Vitamin C:
36
mg
|
Calcium:
146
mg
|
Iron:
4
mg