Here are some things that happened while we were filming this Eru recipe:
A part of my blouse that wasn't supposed to show poked out while I was doing the intro
My wig chose to show its age
I started with both earrings on, I ended with only one earring on
So if you see me with only one earring towards the end of the video, know that it is not swag. The earring's sister fell and refused to be reattached.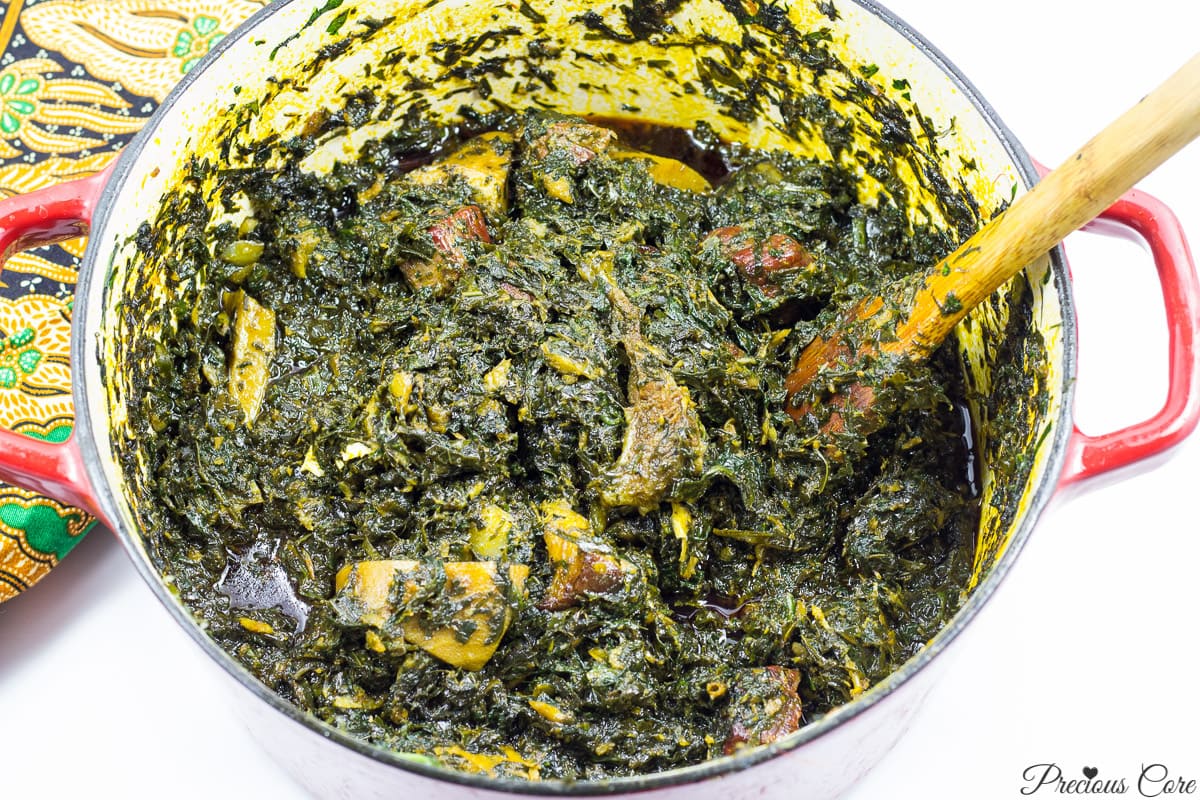 Now that we have that pout of the way, let me just say I am excited to be bringing you one of my favourite things to cook of all time. I've probably made this 4000 times in my life. Good heavens, it is delicious and everyone in my immediate and extended family is a fan. Eru is a forest plant which is scientifically called Gnetum africanum. Yes, I stole that from Wikipedia. It is called okazi or ukazi in Nigeria. Some Central African countries call it koko (thank you, Wiki!)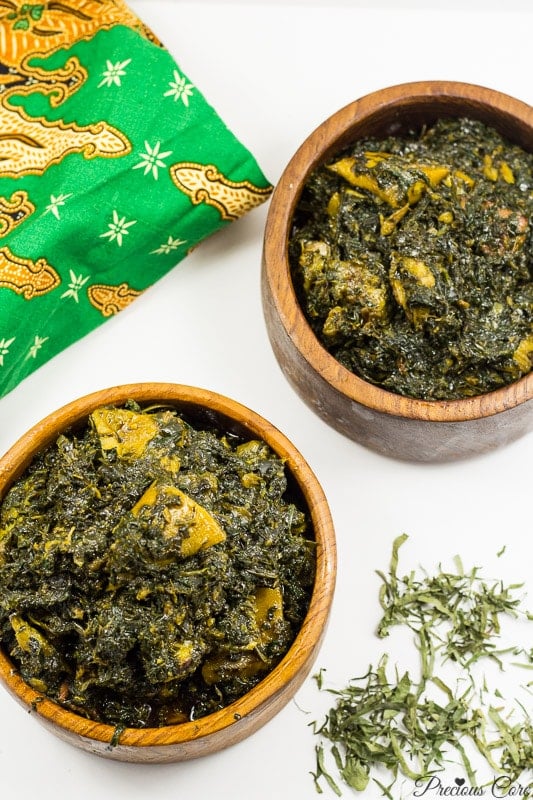 Eru is cooked in different ways including simmering with groundnut or cooking with waterleaf (or spinach). The Eru and waterleaf method is the most popular way it is made in Cameroon. The meal originates from the Manyu people of the South West region of Cameroon. I must note that the Manyu people Southern Cameroon are very similar to the people of Cross Rivers and Akwa Ibom states in Nigeria. Hence this dish bears a striking similarity to the Nigerian Afang soup and/or Edika Ikong. If you ask me, I will say this is where Afang and Edika meet.
Hint: This smoked meat is divine in Eru.
I do not know if I should refer to Eru as a soup or as a vegetable or what? Please help me here, people. It is not quite a "soup" but it is often eaten with a starchy side like garri or water fufu (similar to akpu). These are both products of the root food, cassava.
Eru has a very ethnic taste that is hard to describe. You just have to try it for yourself! In the days of shoot-recipe-with-phone, I shared an epic eru recipe titled "The Best Eru Recipe Ever". You should check it out if you haven't done so already.
When cooking eru, I love making the vegetables soft so they marry easily with the fufu in the mouth. Watch me making some below and don't forget the earring part.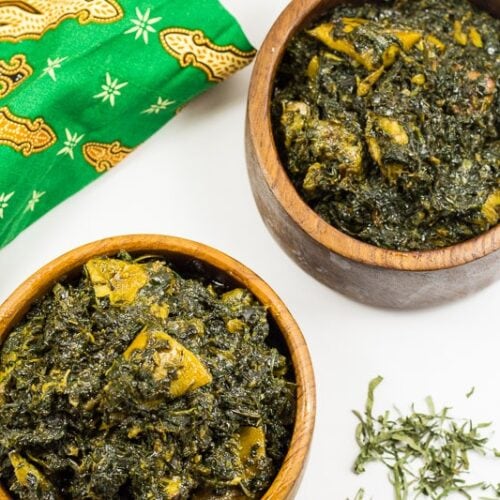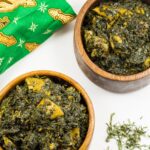 Eru
This is a meal typically made by the Manyu people of Cameroon.
Ingredients
8

cups

dry eru/okazi (packed) or 5 cups of fresh

250g

10

cups

chopped waterleaf or spinach or less if using fresh eru

280g

1 ½

cups

crayfish (lightly blended)

1 ½

cups

palm oil (325 ml)

1

teaspoon

salt

2

pounds

(about 1 kg) of a variety of boiled meat with a cup of stock- I used beef, beef skin (canda) and beef tripes

½

pound

fish (I used stock fish and smoked cat fish)

4

small cubes Maggi

2

scotch bonnet pepper - blended or whole (optional)
Instructions
If you are using dried eru/okazi, soak it in warm water for at least 30 minutes before cooking. I usually add a little baking soda (½-11 teaspoon) into the water before soaking so it helps brighten the colour of the eru and softens it. But that is completely optional so you could leave it out.

Put meat and stock into a large pot. Bring to simmer on medium high heat and let it simmer for about 5-7 minutes until the stock is almost completely dried.

Add in spinach and let it cook for 5 minutes. It will wilt greatly and release its juices. Stir the spinach and let it cook again for another 5 minutes or less. Do not let the spinach become brown.

Now rinse the eru thoroughly and add into the spinach. Mix until both vegetables are well incorporated. Pour in the oil and stir well. Let them simmer together for another 5 minutes while you stir from time to time.

Add in the seasoning cubes (Maggi), pepper (if using), crayfish and fish. Give that a good mix. Let it cook together for about 5 more minutes. At this point, taste the seasoning to ensure it is perfect. Your eru should be moist but not watery. If it is too dry, add some water or oil to make it moist. If it is too soft, let it cook some more so the water dries up.

Turn off the heat and serve warm with fufu or garri of choice.