WHITE BEAN STEW
Published Jul 12, 2017
Updated Sep 26, 2018
You guys, white bean stew to the rescue! When I was moving to the United States, my dear aunt gave me a fat bag of dried white beans. Once I got here, it only took a few days before I started cooking up all sorts of meals in my brother-in-law's house where we lived at the time. The white beans were cooked in no time. I stewed them in a similar manner I stewed the ones I'm showing you in this post. It was a delicious experience. And I wished I could find the same white beans to recreate that dining experience.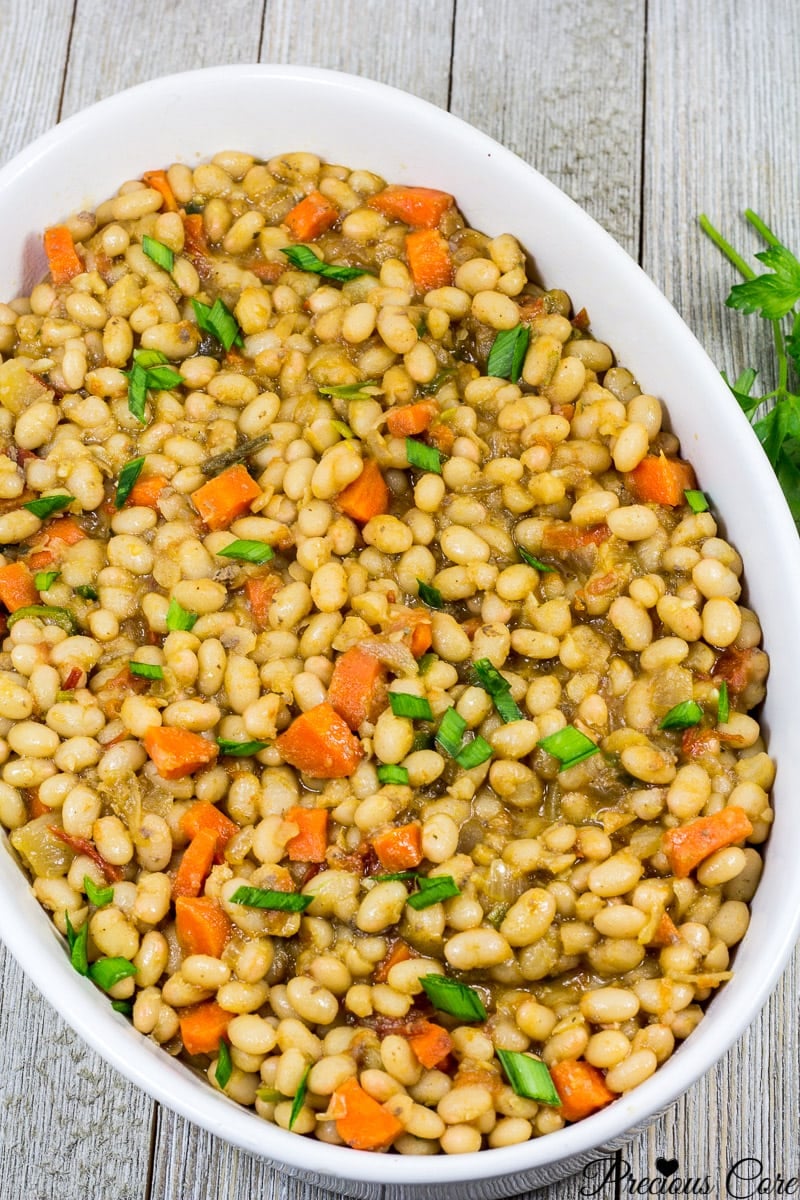 But I didn't find the same white beans in the grocery store. Or let me just say I didn't look enough. Or maybe they were absent at that time – I don't know. All I know is that I stumbled upon very similar dried white beans labelled as "small white beans" the other day and my life changed.
I brought the small white beans home and boiled them. Then I made this hearty white bean stew known in French Cameroon as Haricots Blancs. It is bursting with flavours and so tasty! I hope I'm not bossy if I command you to make this. But if you are looking for a quick meal or ways to incorporate more beans or meatless protein into your diet, here is the way to go!
You could buy dried white beans from grocery stores or a market, depending on where you live. You could also buy already boiled white beans. Any white beans will work here.
To cook an epic pot of delicious white bean stew, here is what you need: boiled white beans, tomatoes, onion, garlic, carrot, salt, Maggi, white pepper, leeks and oil. (See full recipe below for the exact quantities).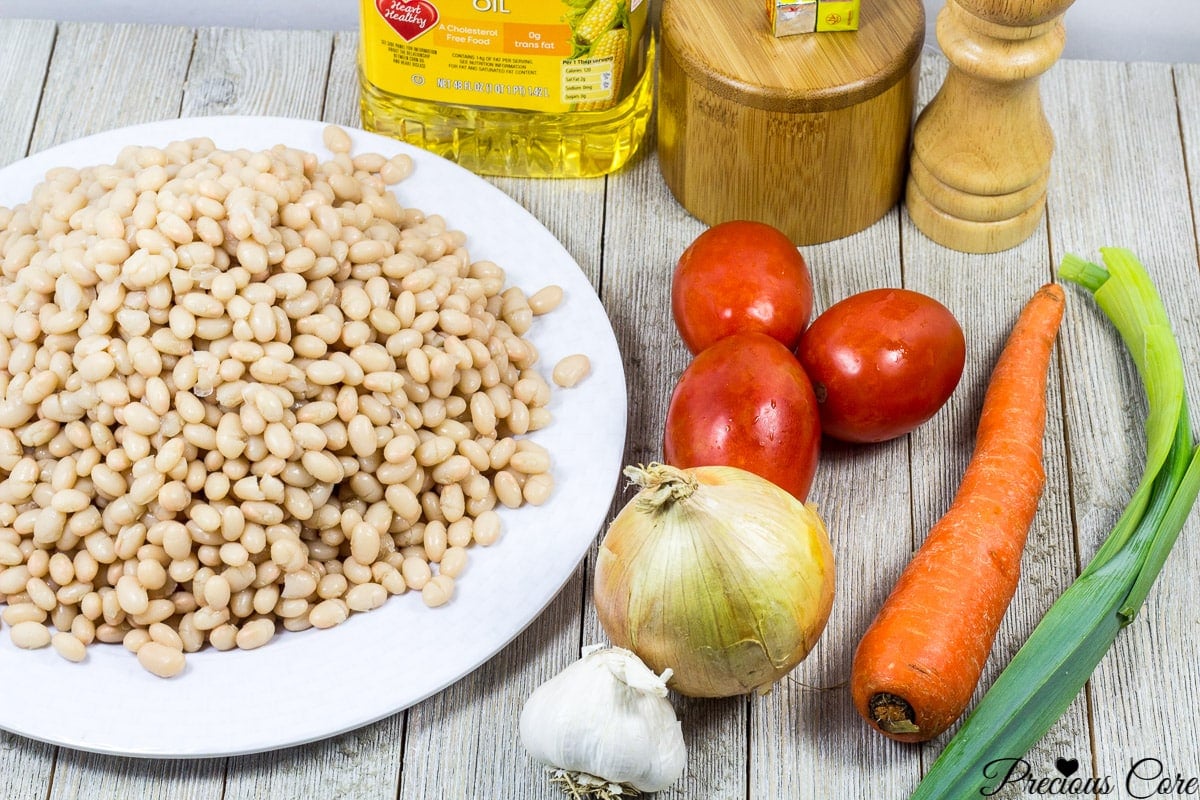 Chop all the choppables and mince the minceables. I chopped my tomatoes, onion, carrots and leeks then I minced aka finely chopped the garlic. I just enjoy prepping my ingredients and laying them out like this before cooking. Am I the only one who enjoys this?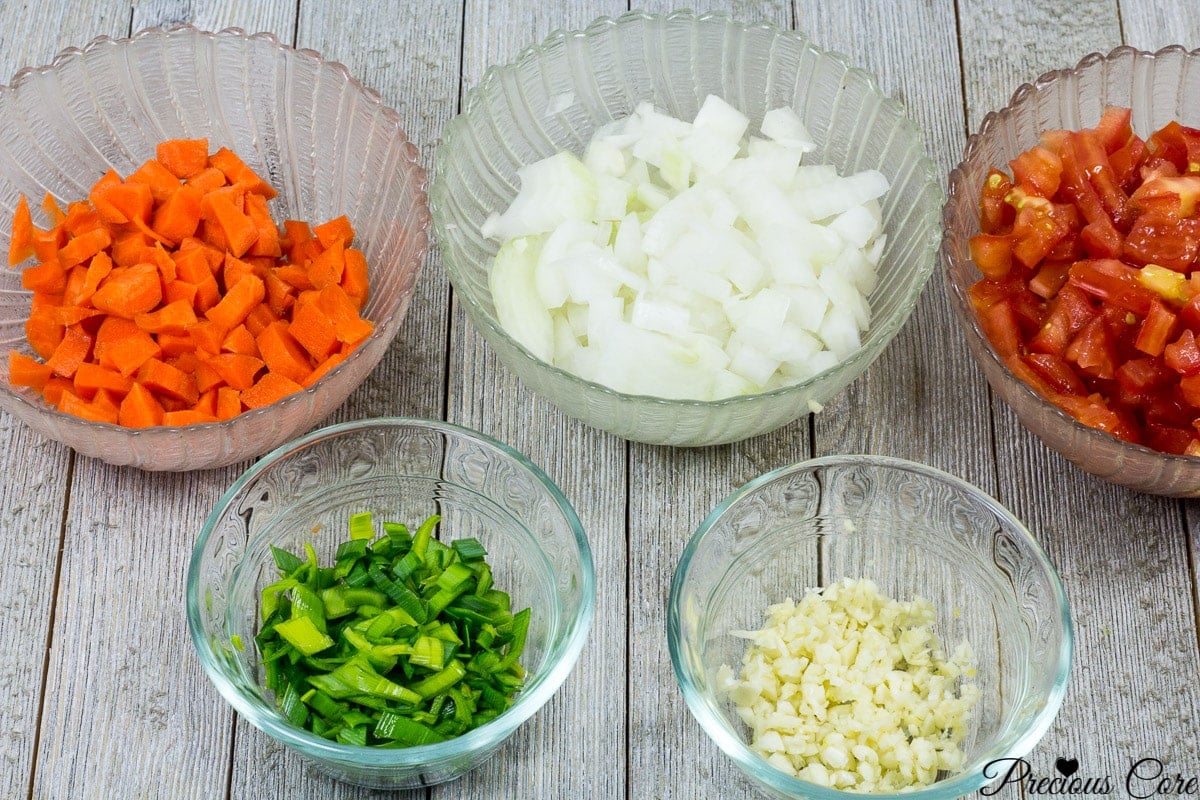 Then you saute the onions, add in the tomatoes and eventually all other ingredients except the beans and cook to make a stew.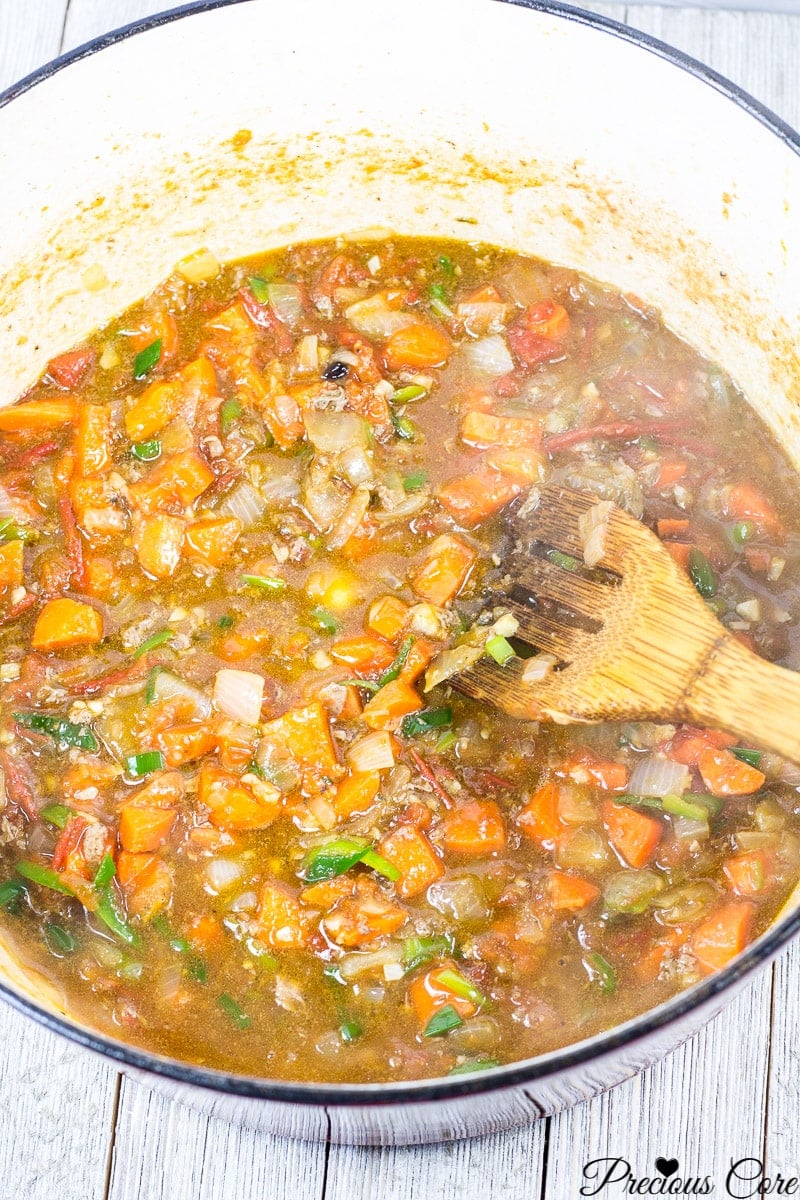 This stew is so delicious I could pour it all over my white rice and enjoy myself. But now let's make it even better. Add in the beans and mix until it becomes married to the stew.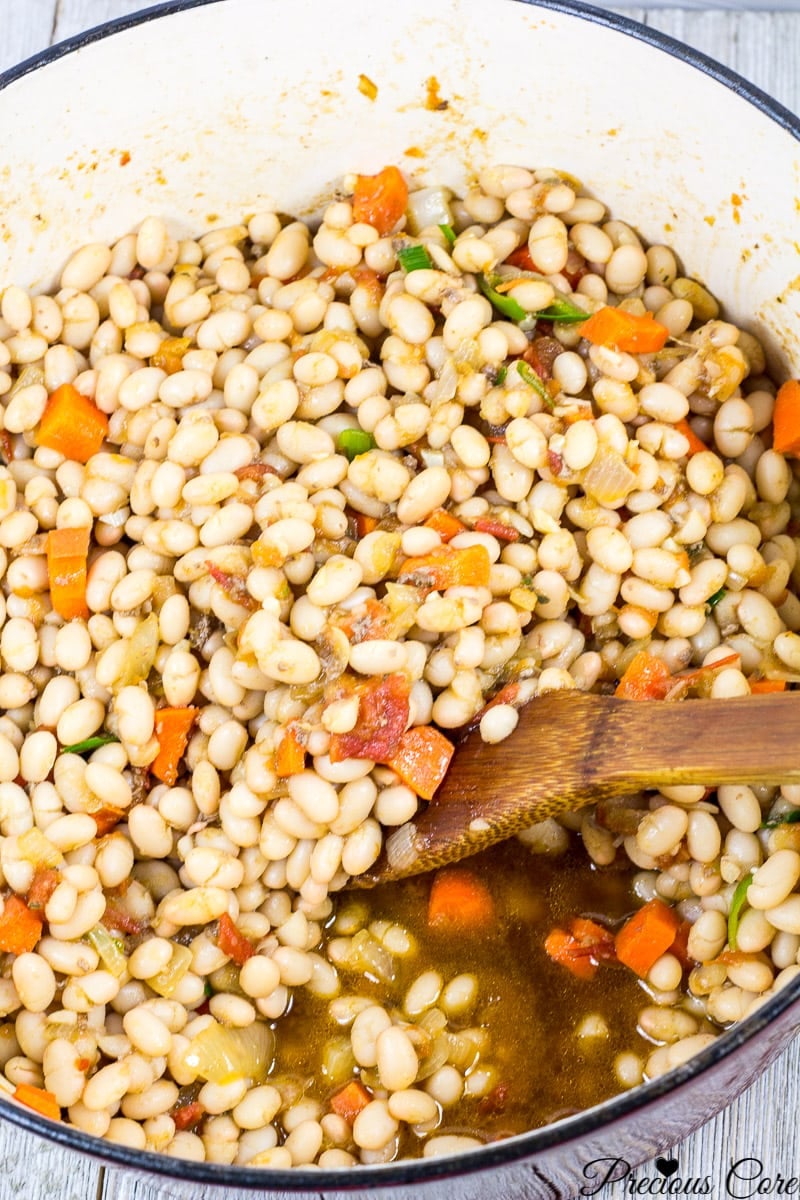 When the stew and the beans simmer together for a few minutes, your white bean stew is ready! Serve it with some boiled rice or with any side of choice. I am imagining this with fried ripe plantains. They will be a match made in heaven. But for now let's manage with rice.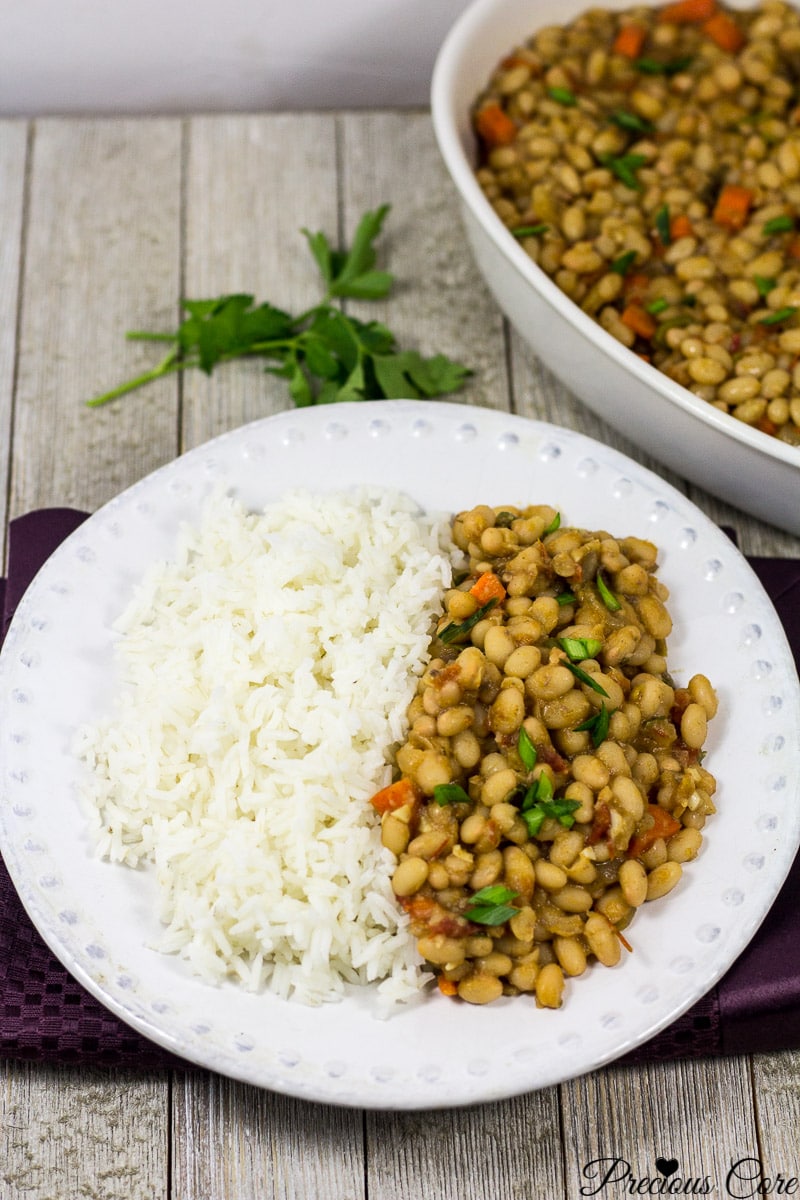 This is absolutely delicious and it makes a quick weeknight meal if you boil the beans a day before.
And guess what, I found the exact white beans I used – canned version on Amazon! You could click below to purchase (affiliate link).
Hope you enjoy stewing some white beans! Your body needs it.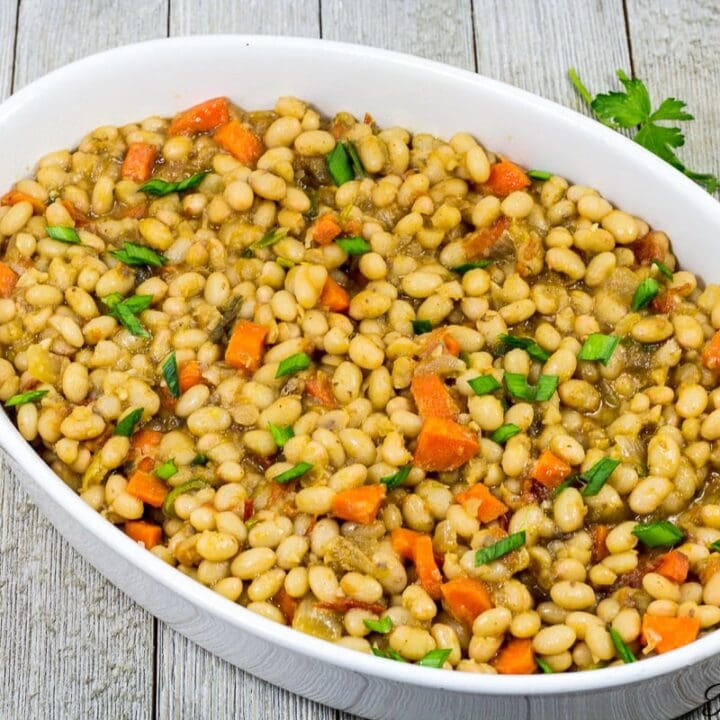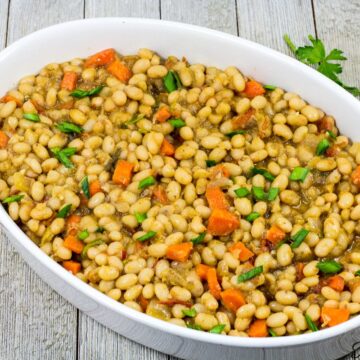 White Bean Stew
This is a hearty white bean stew made with tomatoes and other spices. I love enjoying it with boiled white rice. So so delicious and vegan!
Ingredients
6

cups

white beans of choice - boiled

I used small white beans

3

tomatoes - chopped

1

medium onion - chopped

5

garlic cloves - minced

1/4

stem of leeks - chopped

1

teaspoon

ground white pepper

3

small stock cubes (Maggi) about 3.5 g cubes

optional

1/2

cup

oil

I used corn oil

1

carrot - chopped

Salt
Instructions
Pour oil in a pot and heat on medium heat. Add in onions and saute until translucent. Add in tomatoes and fry stirring all the time until it starts sticking to the pot. Add in garlic and stir until fragrant.

Add in the leeks, white pepper and carrots then stir. Add a cup of water (or stock if you happen to have some), stock cubes and salt to taste. Stir well and let simmer for 2 minutes,

Add beans and mix to combine with the stew. Let it simmer for about 5 minutes. Add more water if you like it watery but if you like it thick, leave as it is. Taste to ensure that the seasoning is perfect.

Serve with boiled rice or with any side of choice.
Notes
1. You could add other vegetables like bell peppers or green beans to your white bean stew if you like.
2. If you like the white bean stew hot, add some chili, habanero or scotch bonnet pepper when you add the garlic.
Nutrition
Calories:
354
kcal
|
Carbohydrates:
43
g
|
Protein:
15
g
|
Fat:
15
g
|
Saturated Fat:
1
g
|
Polyunsaturated Fat:
4
g
|
Monounsaturated Fat:
9
g
|
Trans Fat:
0.1
g
|
Cholesterol:
0.2
mg
|
Sodium:
593
mg
|
Potassium:
1105
mg
|
Fiber:
11
g
|
Sugar:
5
g
|
Vitamin A:
1501
IU
|
Vitamin C:
17
mg
|
Calcium:
183
mg
|
Iron:
7
mg

If you make this recipe, please share a photo on Facebook or Instagram and tag me.