African Chicken Peanut Stew is a very easy dinner recipe that is ready in 30 minutes. It is perfect with rice or any side dish you like!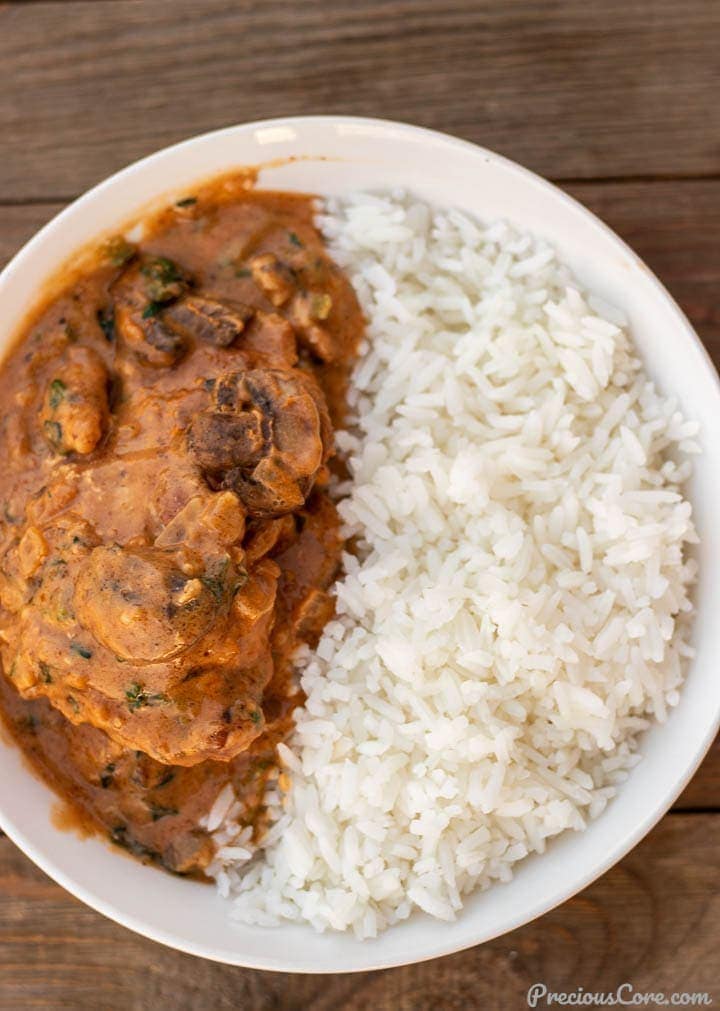 I grew up in Cameroon, Africa and I ate a lot of peanut stew or what we typically call Groundnut Soup.
We would typically roast the peanuts, grind them then proceed to make the stew. This is an easier version of peanut stew as I use peanut butter instead of raw peanuts.
For this recipe it is important to use natural peanut butter with no sugar or salt added.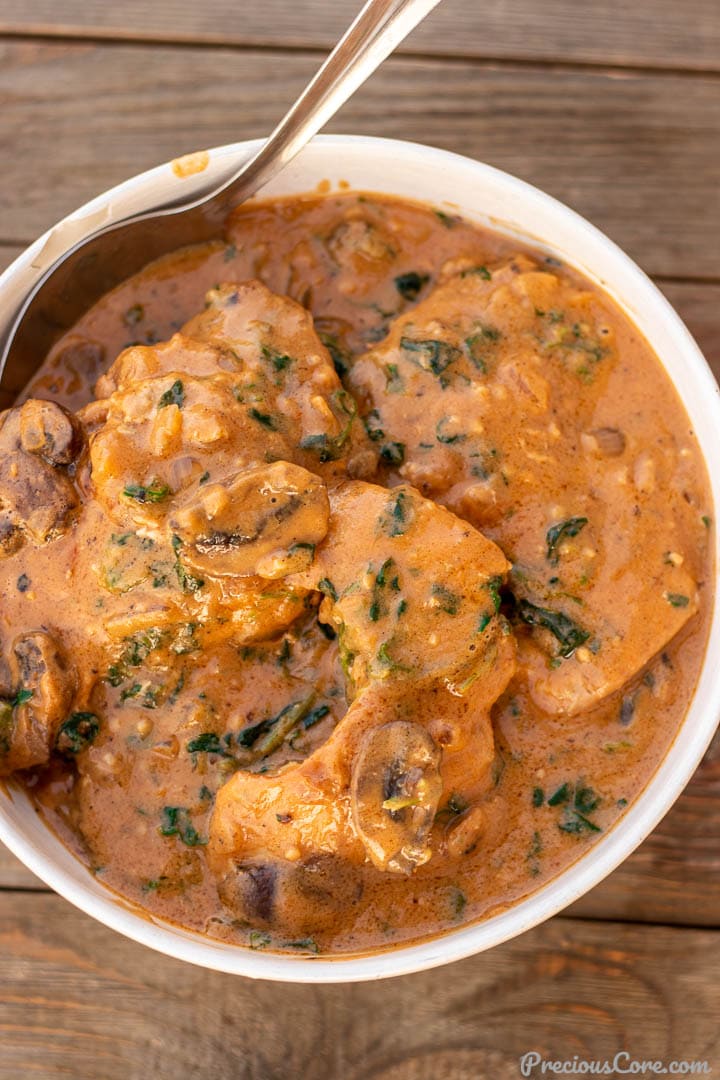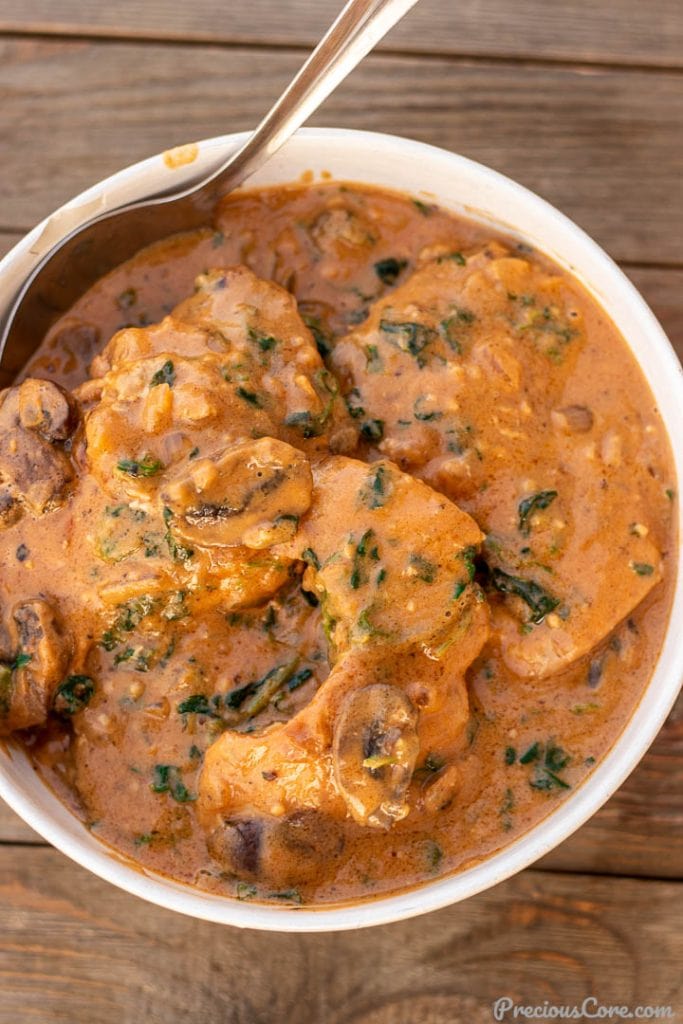 This version of peanut stew is also on the healthier side with less oils and some added veggies for extra nutrients.
I added sauteed mushrooms (yum!) and spinach to my stew but feel free to add any veggies you like.
Other veggies you could add include potatoes, bell peppers, egg plant or carrots.
Also, make the stew as thin or as light as you want. Mine is on the thicker side so feel free to thin it out if you want yours lighter.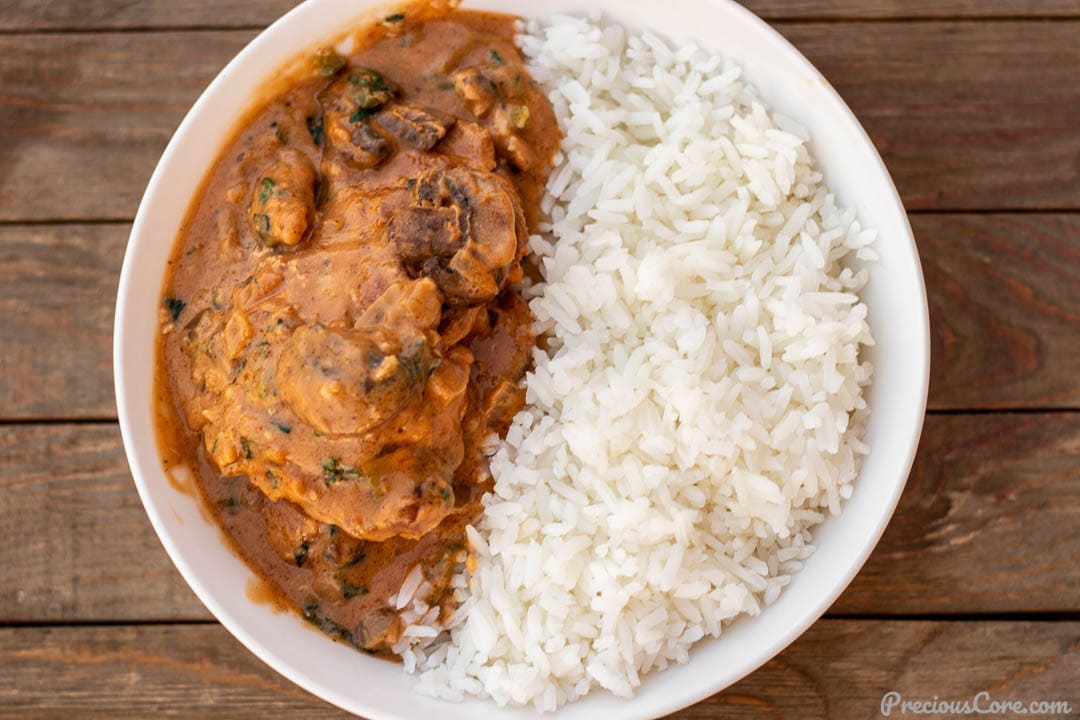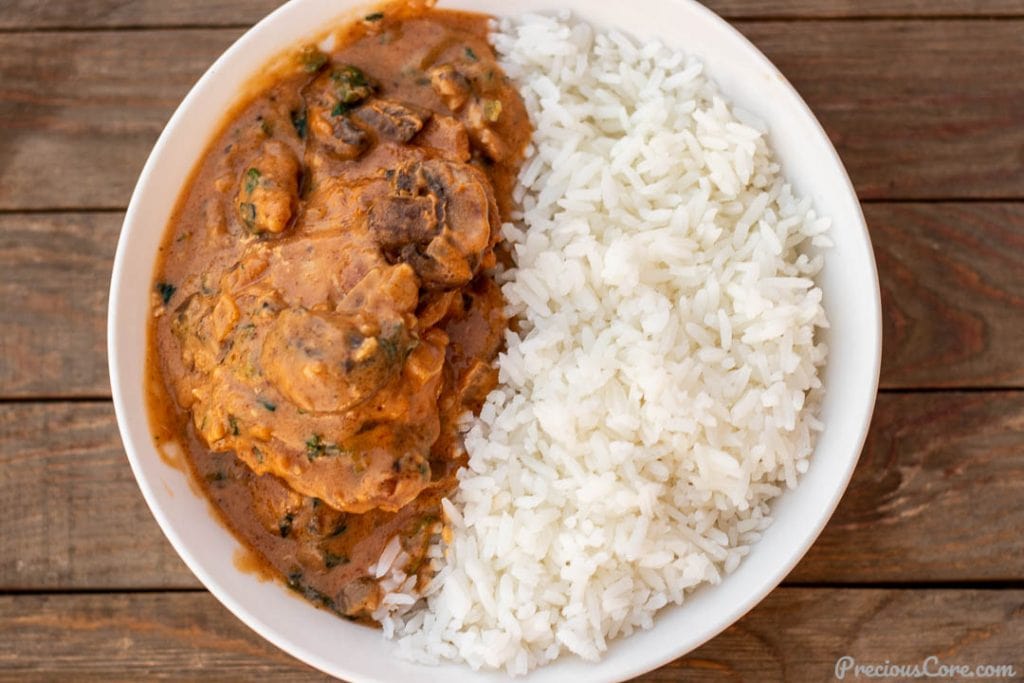 Watch How To Make African Chicken Peanut Stew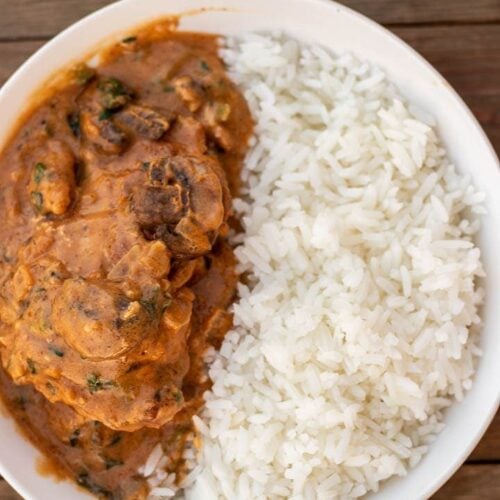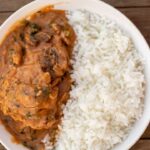 African Chicken Peanut Stew
African Chicken Peanut Stew is creamy, nutty, garlicky, loaded with chicken and so flavorful! Enjoy with rice or other side dishes like couscous for a healthier option. This easy dinner recipe for family is one to add to your weekly dinner rotation.
Keyword:
African Chicken Peanut Stew
Ingredients
2

pounds

boneless skinless chicken thighs

1

tablespoon

minced garlic

1

inch

ginger root, peeled and grated

or 2 teaspoons ginger paste

½

teaspoon

salt

¼

teaspoon

ground white pepper

2

tablespoons

olive oil

1

cup

diced onion

from about 1 medium onion

1

tablespoon

tomato paste

3

cups

water, divided

2

stock cubes (Maggi)

About 4g per cube

¾

cup

natural peanut butter

4

oz

mushrooms, sliced

¼-1/2

cup

frozen spinach

thawed and squeezed to remove excess water
Instructions
Season chicken. Add 1 teaspoon of the minced garlic and 1 teaspoon of ginger to the chicken. Add a quarter teaspoon of salt and ¼ teaspoon of ground white pepper. Toss to combine. Set chicken aside.

Sauté Mushrooms. Pour 1 tablespoon of oil into a pot, preferably a cast iron pot on high heat. Add the sliced mushrooms. Sprinkle on a pinch of salt and ⅛ teaspoon of white pepper. Let it cook on one side for about 2 minutes then flip to the other side and let it cook for another 2 minutes. Remove mushrooms from pan.

Cook Chicken. Add the remaining one tablespoon of oil into the same pan in which you cooked the mushrooms. Spread using a wooden spoon to ensure the oil completely coats the bottom of the pot. Add the chicken to the pot in a single layer. Let it cook on one side for about 5 minutes. Flip the chicken to the other side and let it cook for another 4-5 minutes. Remove chicken from pot. Some oil should be left in the pot.

Sauté Onions. Add the onions to the pot and sauté for about 2 minutes until translucent. Add the remaining garlic and ginger to the pot and stir for about 1 minute until translucent. Add the tomato paste and stir for about a minute.

Add Water and Stock Cubes. Add 2 cups of water then stir. Add the stock cubes, remaining salt and stir to combine well. Bring to a simmer.

Add Peanut Butter. Add the peanut butter to the pot and stir well until well combined. Add in the remaining 1 cup of water and stir to combine.

Add Back Chicken. Add the cooked chicken back into the pot and bring to a simmer. Simmer for about 5 minutes. Taste to ensure seasoning is perfect. If you like the stew a little lighter, add more water (note that it thickens as it cools).

Add Veggies. Add the mushrooms back into the pot, stir to combine then add the spinach into the pot and stir. Let it simmer for 1 minute then turn off the heat.