Beef Stew Without Wine
Published Oct 05, 2023
Updated Oct 25, 2023
This recipe for super tasty Beef Stew Without Wine features tender chunks of beef, carrots, and potatoes, enveloped in a rich savory sauce. Comfort in a bowl!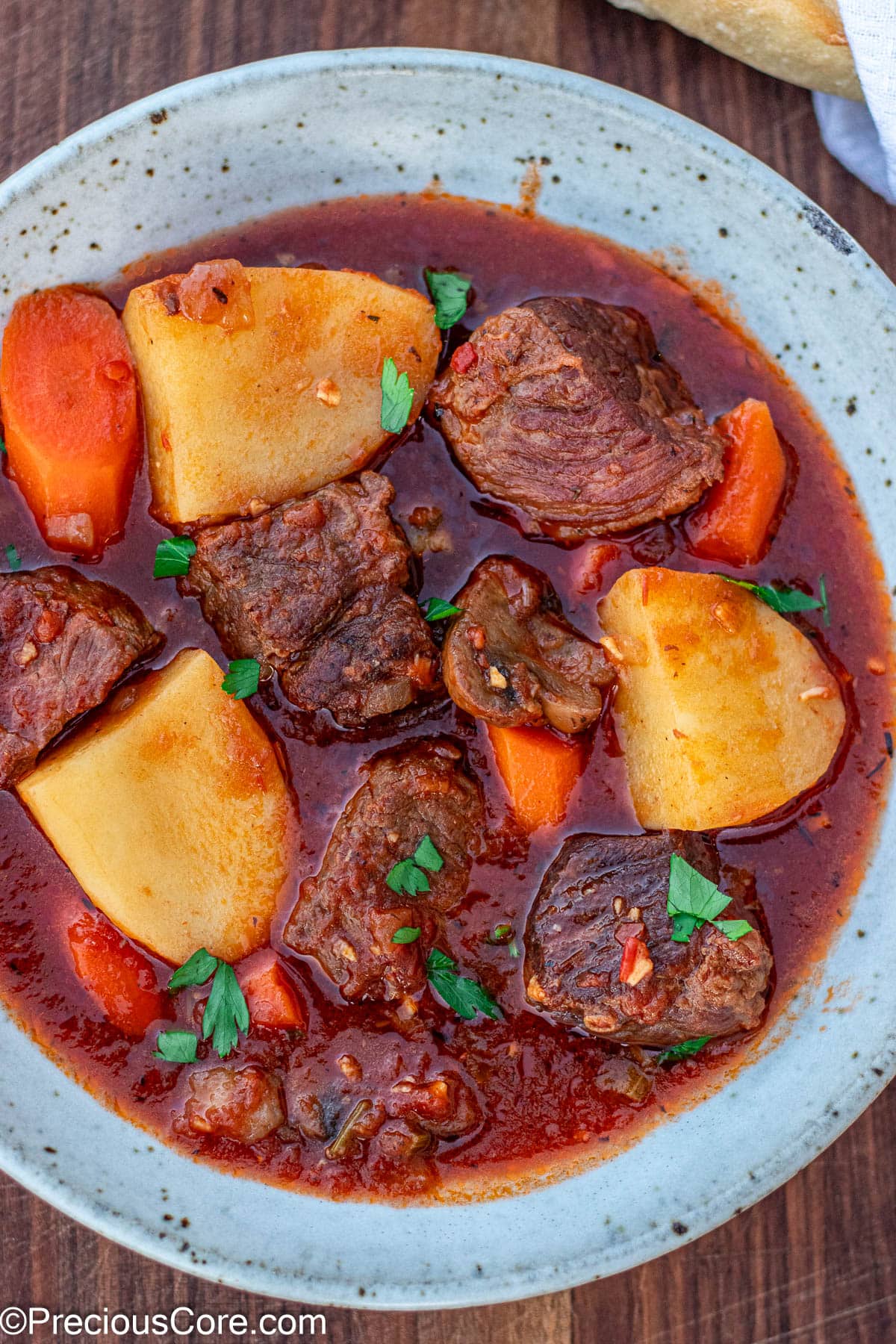 When the weather starts getting cool outside, it's time to cozy up inside with a bowl of beef stew.
This beef stew is made without wine or flour and yet the sauce is thick and glossy, incredibly tasty and hearty. A great option if you are looking for a more wholesome beef stew recipe!
Serve this Beef Stew Without Wine as a complete meal on its own or pair it with some Easy Homemade French Bread, Cornbread Without Buttermilk, or Garlic Butter Rolls.
Stovetop Beef Stew Without Wine
This recipe eliminates the need for adding wine to beef stew and shows that with humble ingredients like crushed tomatoes and beef stock, you could make a really good stew on the stovetop.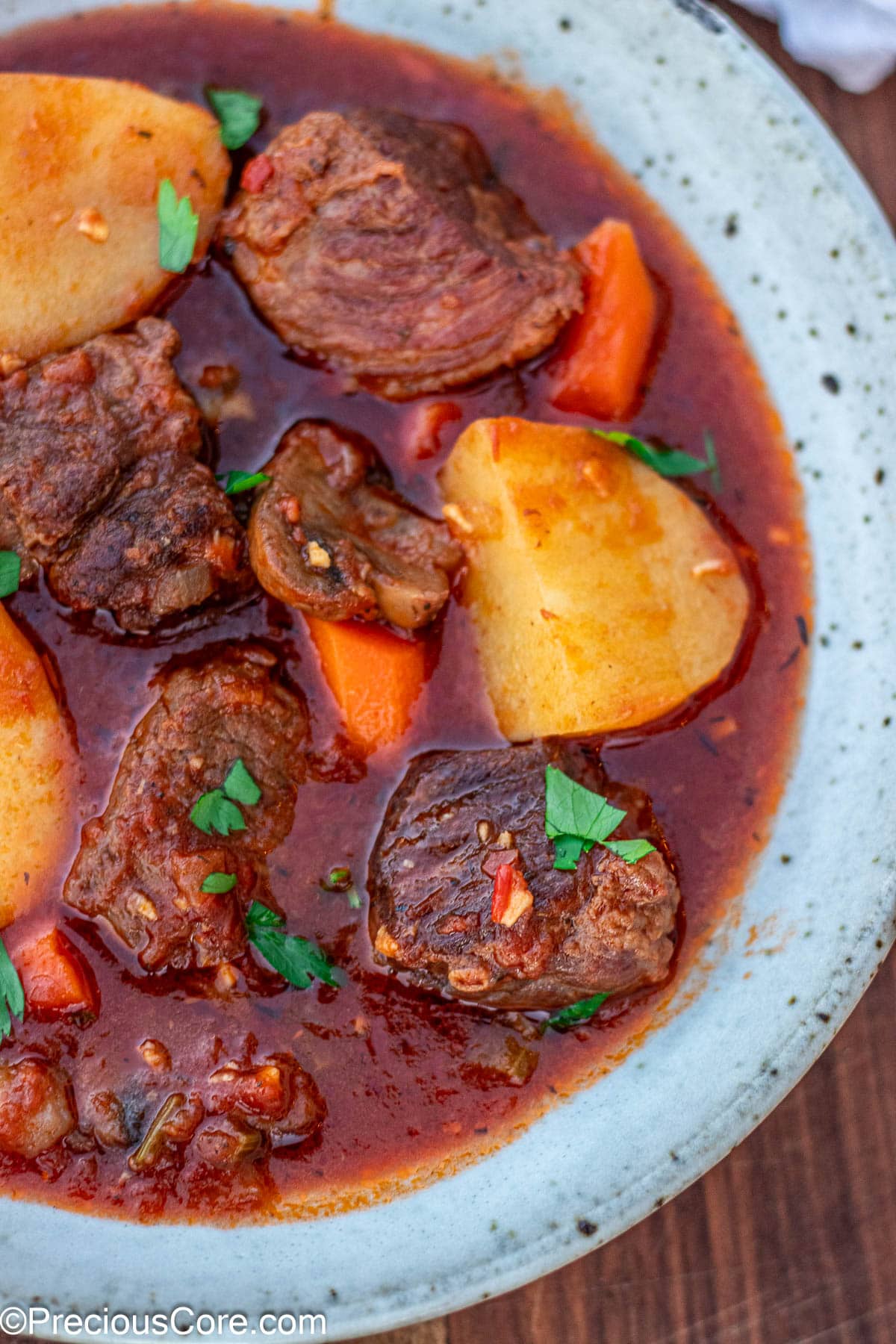 I have been testing beef stew recipes over the years and I found that when I made the version with wine, we did not like the flavor. And we didn't also like the fact that there was wine in it.
Then I tried beef stew sans wine and while we preferred it, the typical added flour made the stew unnecessarily heavy and gloopy. Not ideal either.
I tested without flour and it was just right. The consistency worked and the flavors bloomed more.
Flour is often added to beef stew for thickness. Through recipe testing, I found that crushed tomatoes added sufficient thickness and eliminated the need for flour.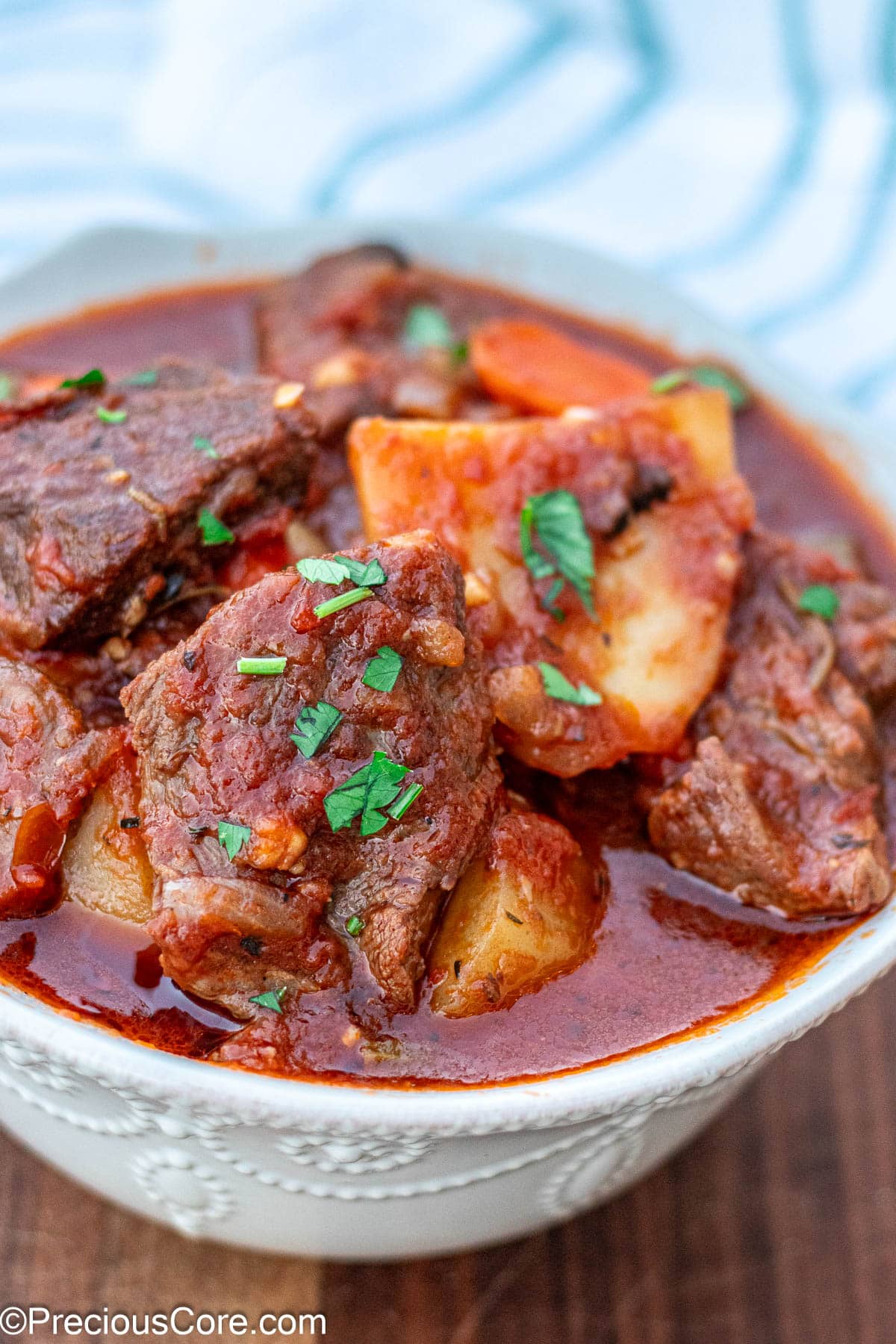 The crushed tomatoes also provide some acidity (one reason why wine is added) which balances the richness of the stew well.
Flour tends to mask some of the flavors from the lovely spices and herbs added to stew. So it's best to avoid it if you can.
Also, potatoes are starchy enough to provide just the right amount of thickness for stew.
So here we are with our family-favorite version of Stovetop Beef Stew Without Wine. My kids insist I must make this weekly.
Hope it becomes a regular on your family table as well.
Ingredients
Here are the ingredients you need and some notes on important ingredients.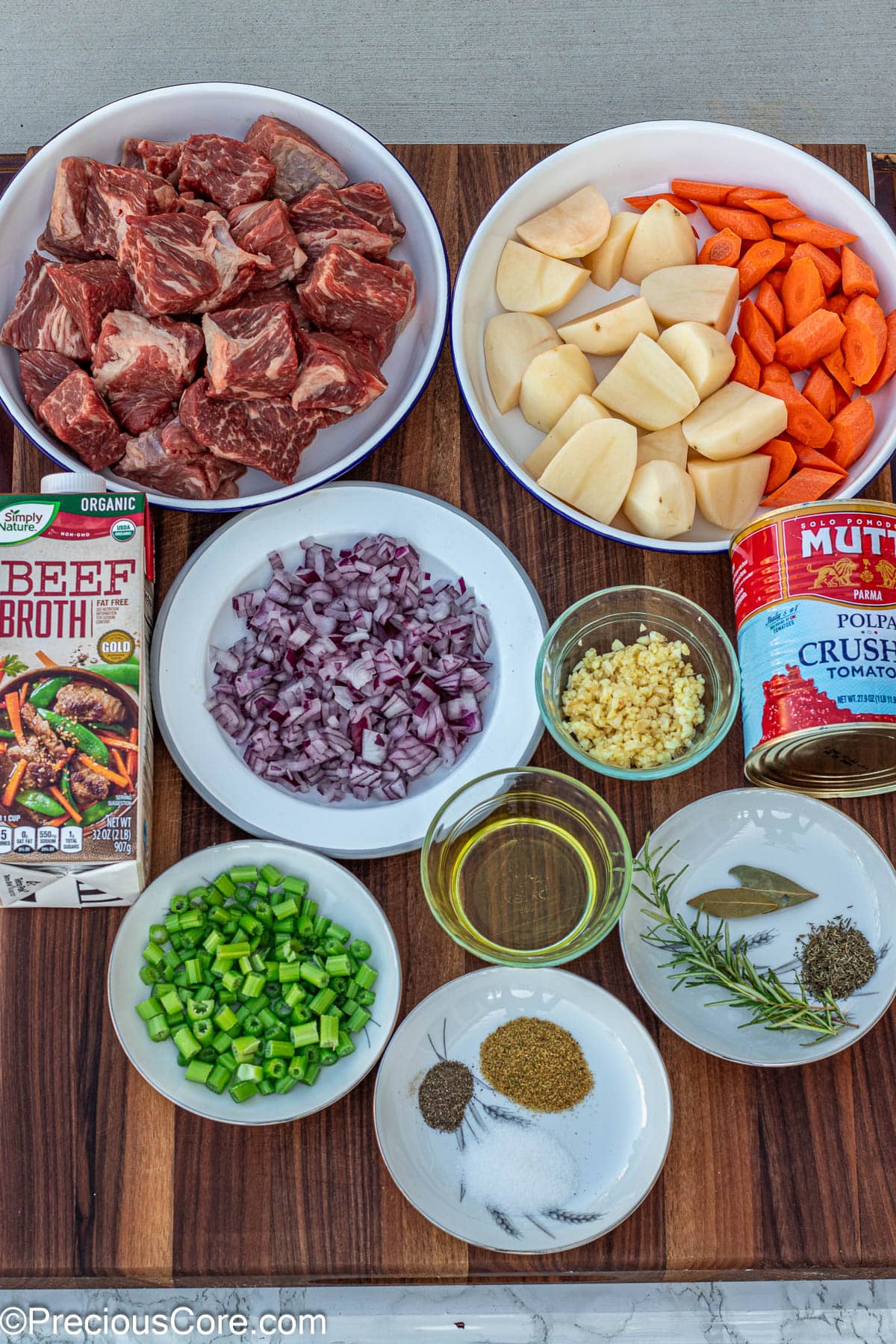 Beef: Use chuck roast with a good marbling of fat. You should see veins of fat running through the meat. The beef labeled "stew meat" won't cut it here as it doesn't get tender as well as chuck roast would.
Beef Bouillon Powder: This enhances the beef flavor and it is truly one of the secrets of this recipe. Our favorite brand to use is Knorr Beef Bouillon Powder.
Crushed Tomatoes: This eliminates the need to use tomato paste and dice tomatoes. Instead, crushed tomatoes are an ideal form of broken-down tomatoes that are not too chunky and not too smooth. This adds texture to the stew, thickens the stew, and the acidity of the tomatoes balances all the flavors well, eliminating the need for red wine.
Beef Stock or Broth: To control the quantity of salt in the stew, use low-sodium beef stock or broth.
Herbs: A combination of thyme, rosemary, and bay leaves imbues the stew with flavor.
Minced Garlic: An essential for tasty stew. Finely mince the garlic on the chopping board, pass it through a garlic press, or grate on a microplane zester.
See the recipe card below with a detailed list of ingredients and instructions.
How To Make Beef Stew Without Wine
First season the beef with salt, pepper, and beef bouillon powder. Beef bouillon powder is my secret ingredient for ensuring that the beef gets lots of flavor.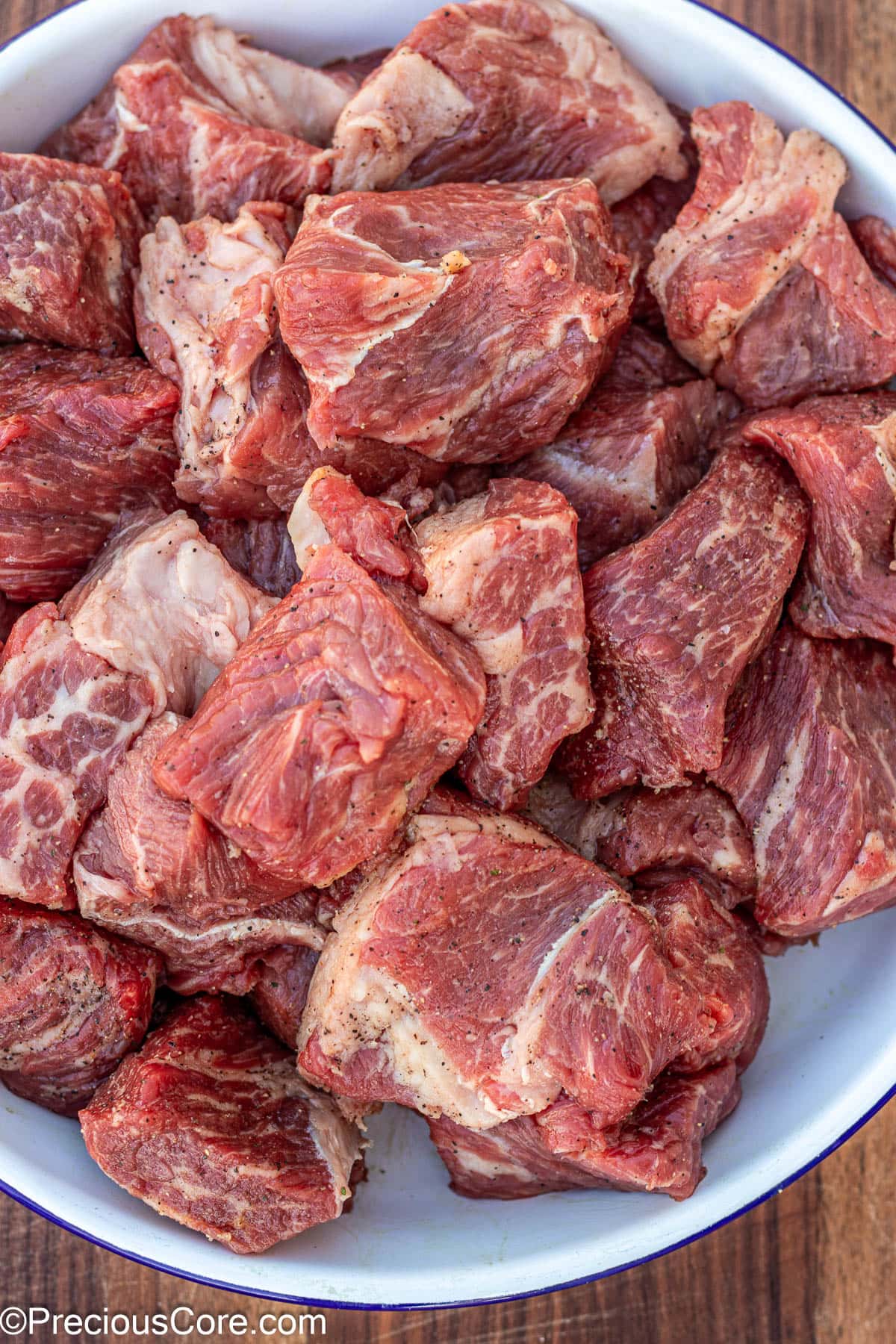 Heat olive oil in a Dutch oven and brown the beef in batches. The simple but perfect seasoning on the beef is so good you might want to eat half the beef before it makes it into the stew. (Not admitting to anything.)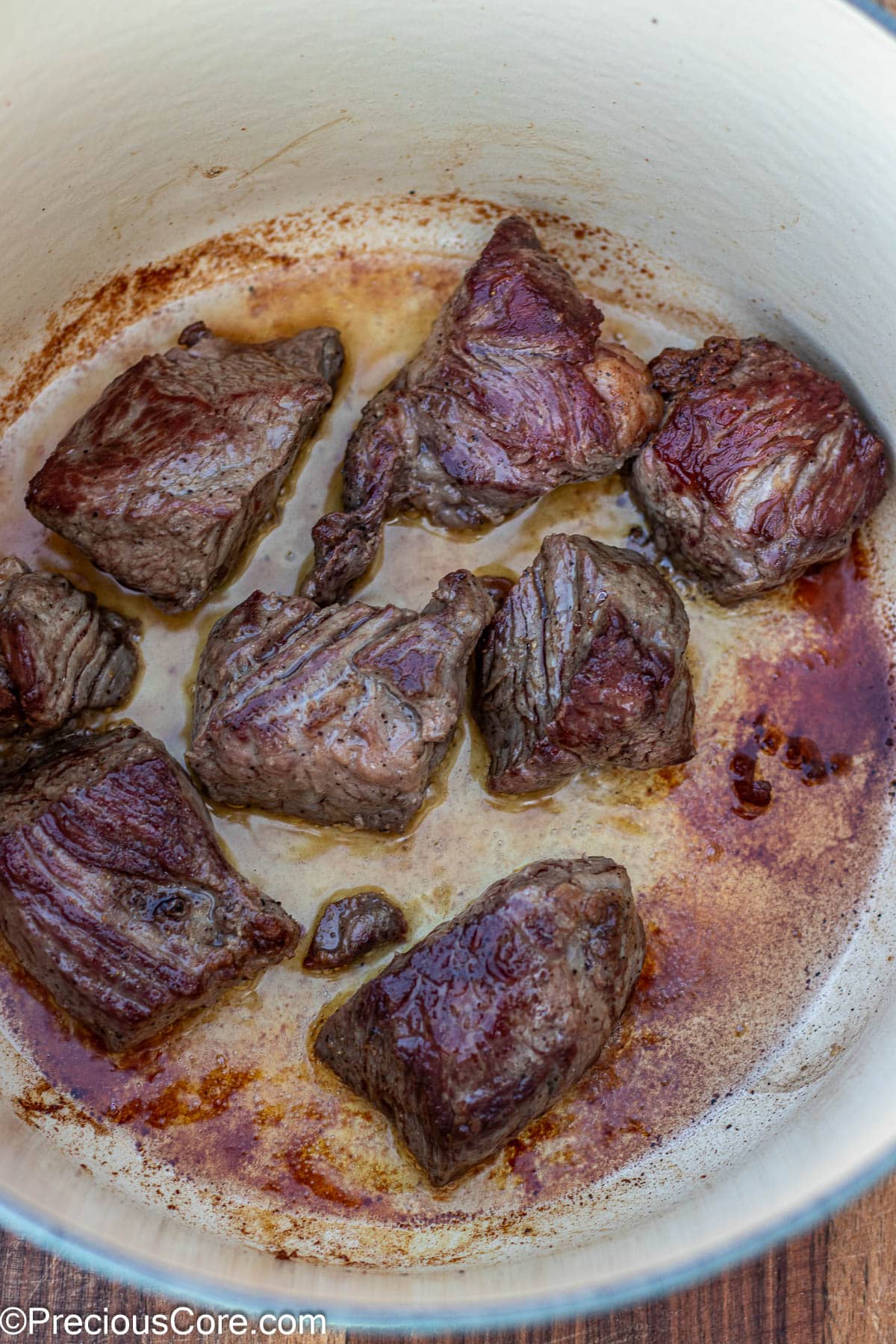 Cook onions and celery in the beef fat until broken down. This is the flavor base that will set up the beef stew for success.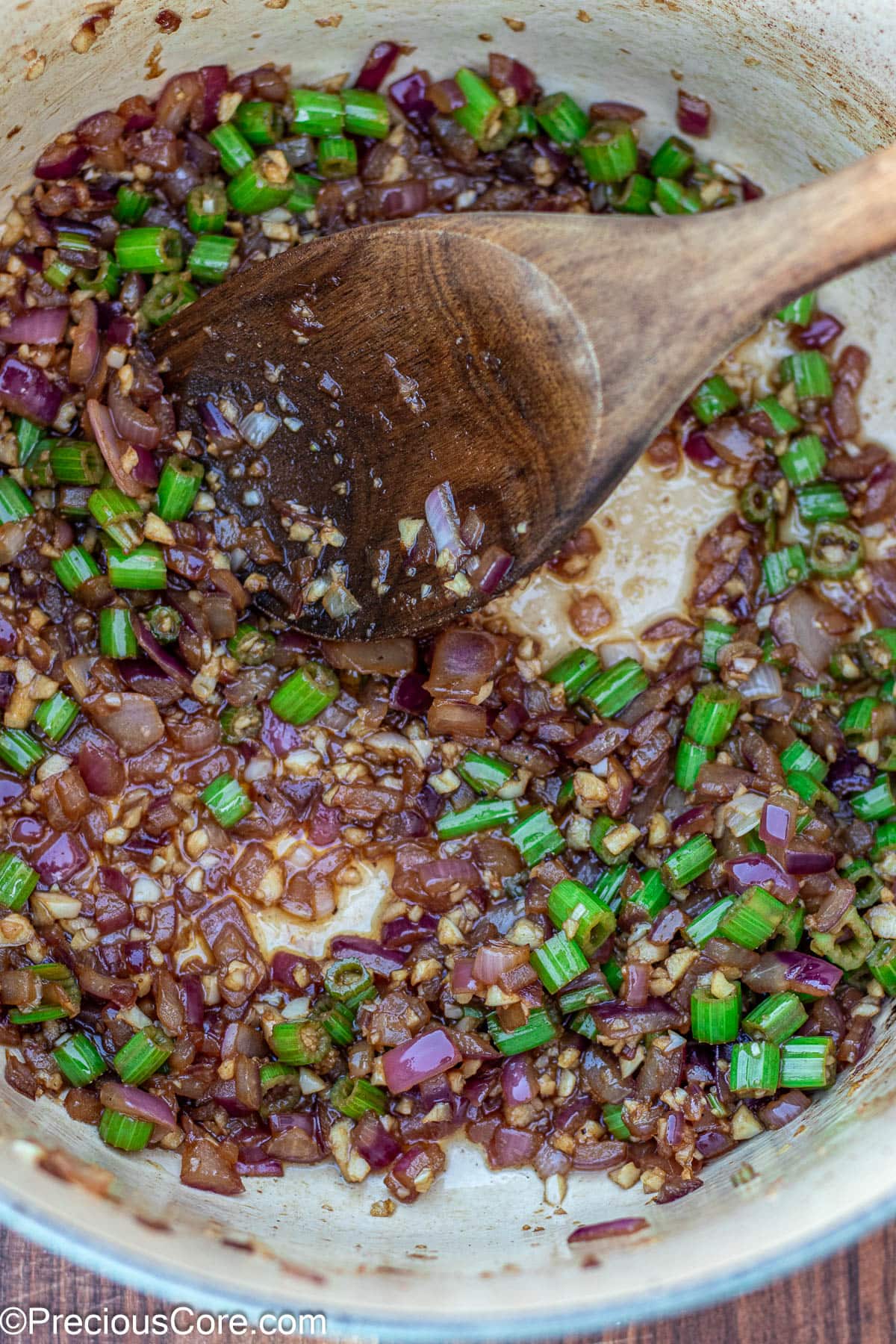 Add minced garlic and cook to release the flavors. Be careful not to cook the garlic for too long as it tends to burn quickly. I added some sliced mushrooms at this point too. It's an optional ingredient but it adds umami, more texture, and nutrients to the stew.
Add crushed tomatoes, beef broth, browned beef, bay leaves, thyme, and rosemary. The ingredients meet together in the pot for simmering action.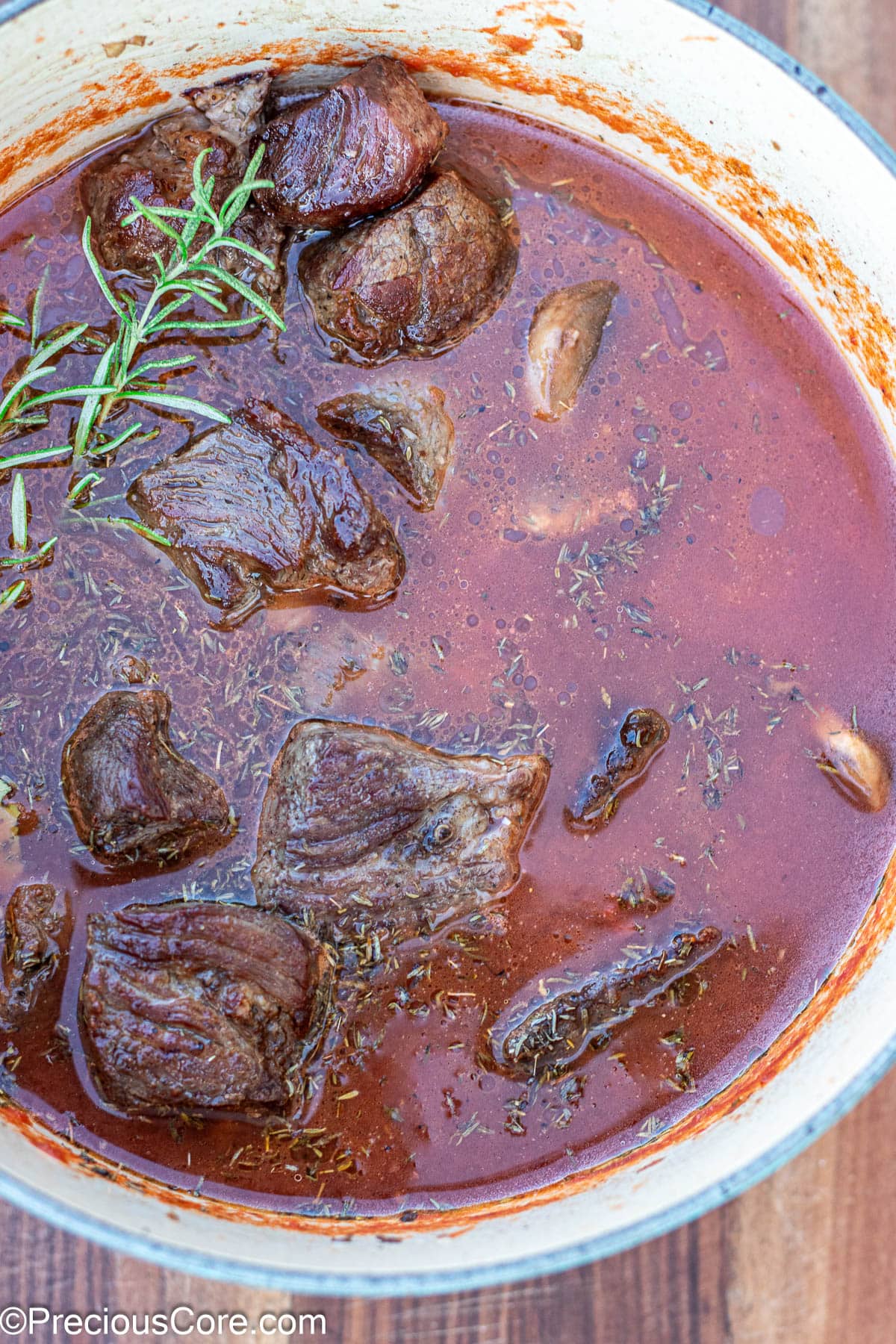 Cook until beef is tender but still firm. Let the stew simmer and simmer. Your house will smell good.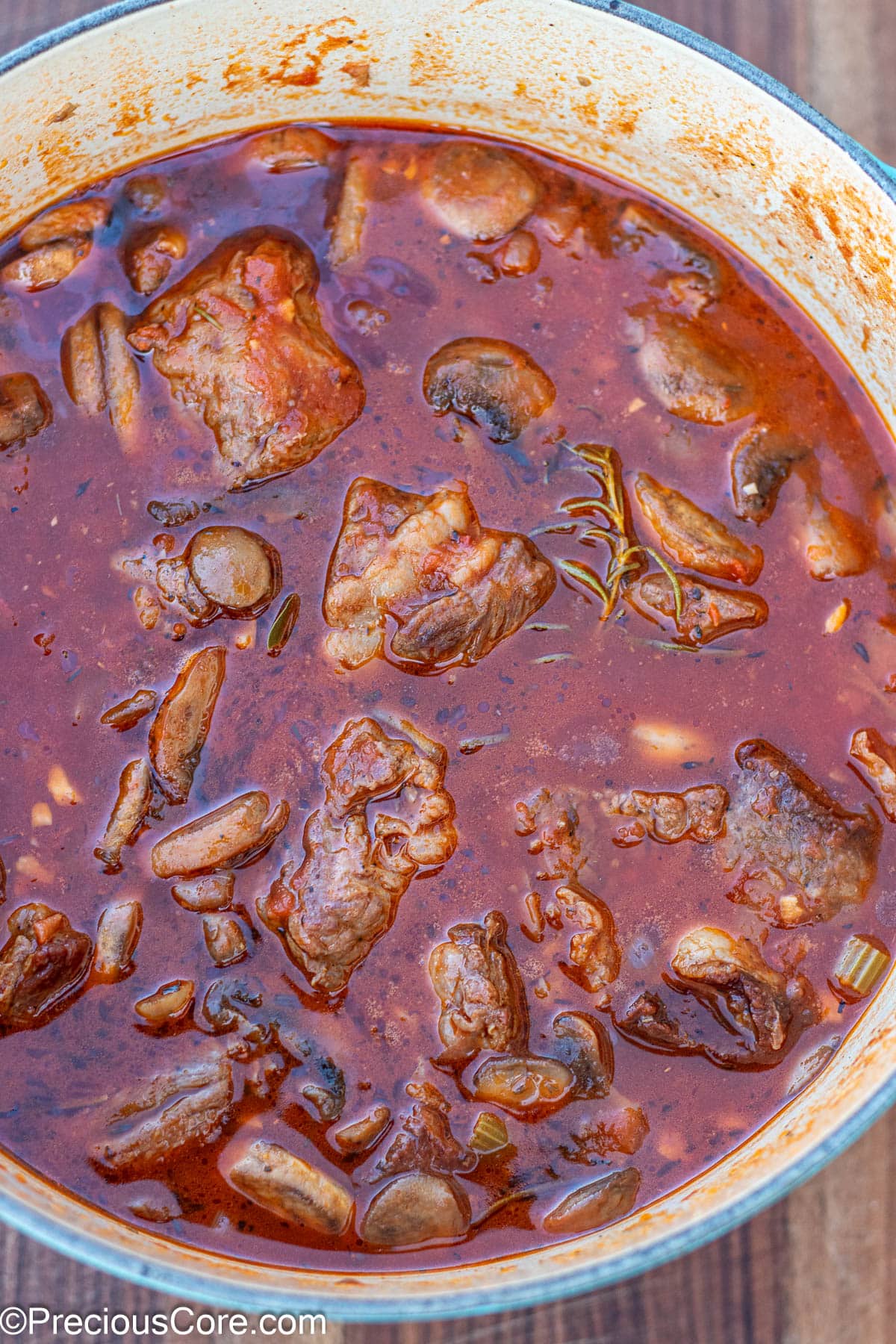 Add carrots and potatoes. The beef stew already looks great at this point but let's take it further by adding carrots and potatoes, beef stew classics.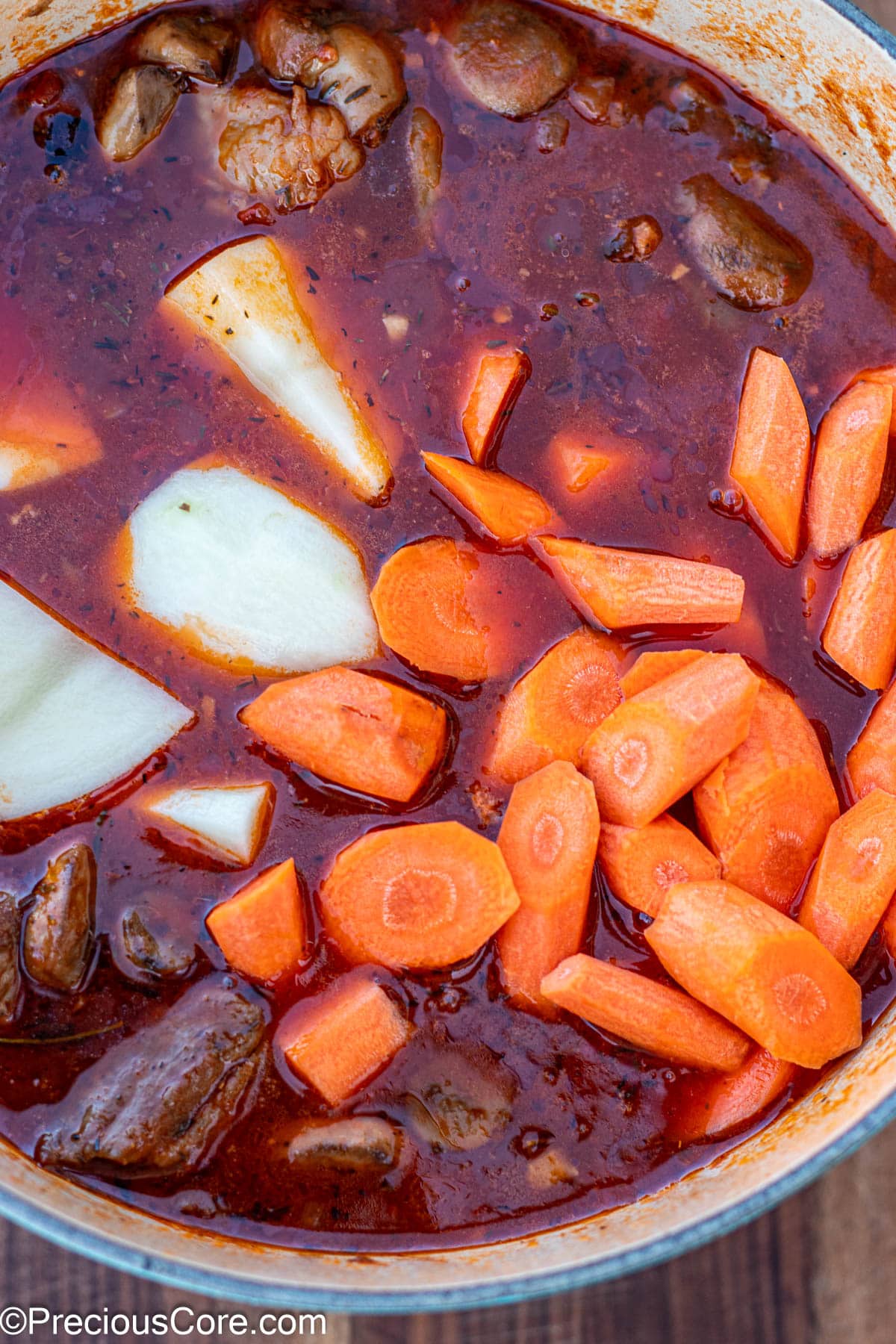 Cook until potatoes are fork-tender. It takes about 25 to 30 minutes for the potatoes to cook through.
Adjust the texture and taste of the stew. Add more stock if it is too thick, or cook it down to the desired thickness on high heat if it is too runny. I usually add a little more beef bouillon powder and black pepper at this stage. If you are satisfied with your stew remove the rosemary stems and bay leaves.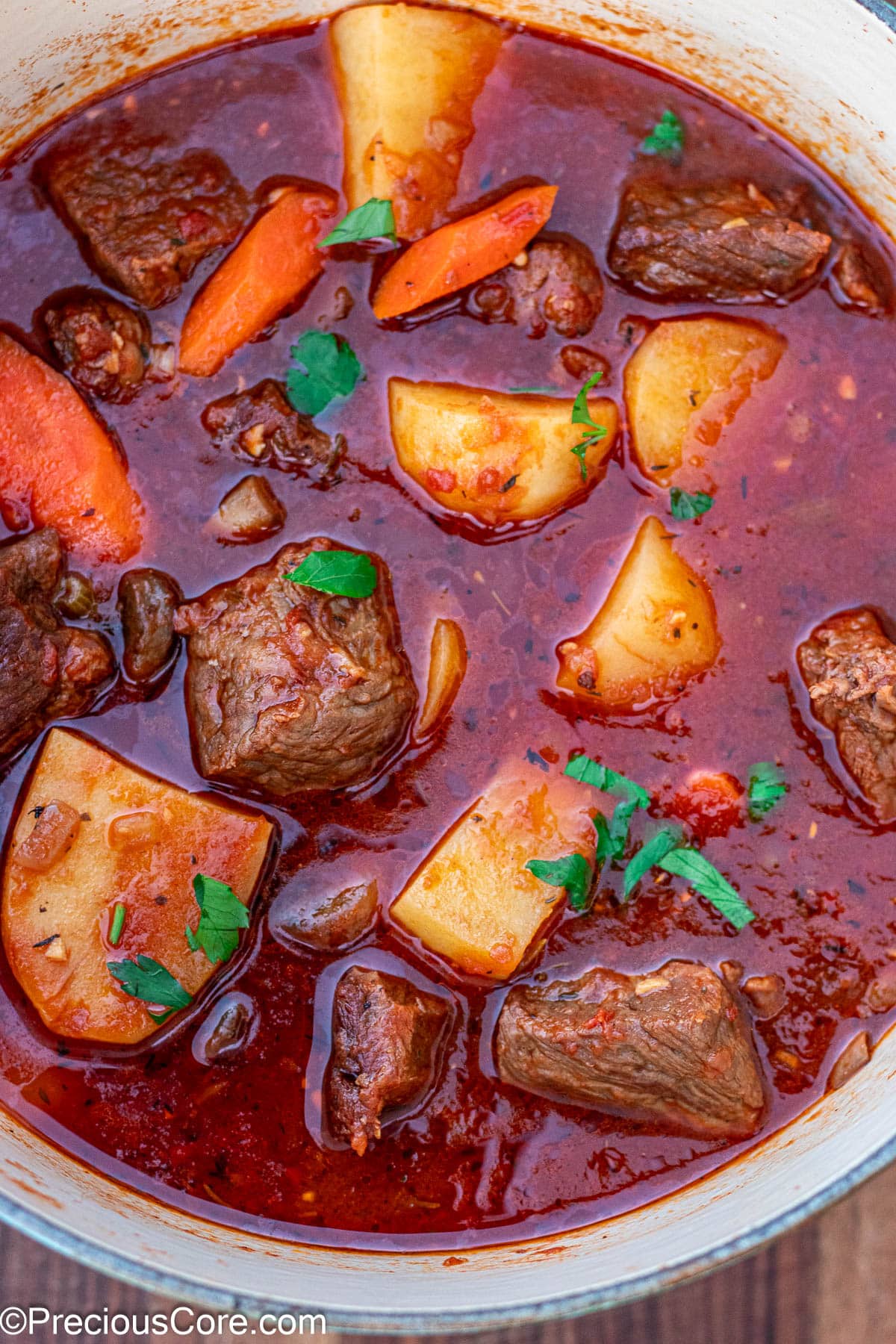 Garnish and serve. Chopped parsley or chives sprinkled over the stew give it that cheffy finishing touch.
Serve Beef Stew Without Wine warm on its own or with your favorite side dishes. Consider serving the stew with Easy Dinner Rolls or Lettuce Salad.
If you try to brown all the beef at once, it will steam instead of sear and you won't get a good browning on the outside. Browning beef and getting a good caramelization requires time and patience. So brown the beef in batches.
Substitutions For Beef Stew
Lamb – instead of beef, use lamb.
Chicken – consider using chicken instead of beef.
Vegetarian – replace the beef with mushrooms for a vegetarian stew.
Variations
Peas: Add peas at the end of cooking and let them cook in the stew for about 5 minutes.
Spicy: Add red pepper flakes or cayenne pepper to make it spicy.
Other flavors: add cumin and cinnamon for a stew with a Moroccan flare.
Also, check out this African Chicken Stew and Lentil Stew.
Recipe FAQs
What can I use instead of wine in beef stew?
Use beef stock or beef broth.
Can I skip red wine in beef stew?
Yes, you definitely can.
How important is red wine in beef stew?
Red wine adds flavor and breaks down the meat to be tender. But you can achieve a flavorful stew by using just beef broth or beef stock and cooking the stew long enough on the stovetop for the meat to be tender.
Similar Recipes
Love this Beef Stew Without Wine Recipe? Also, check out these comforting recipes:
If you make this recipe please leave a star rating below. Your rating helps others find the recipe plus I love hearing from you! Thank you!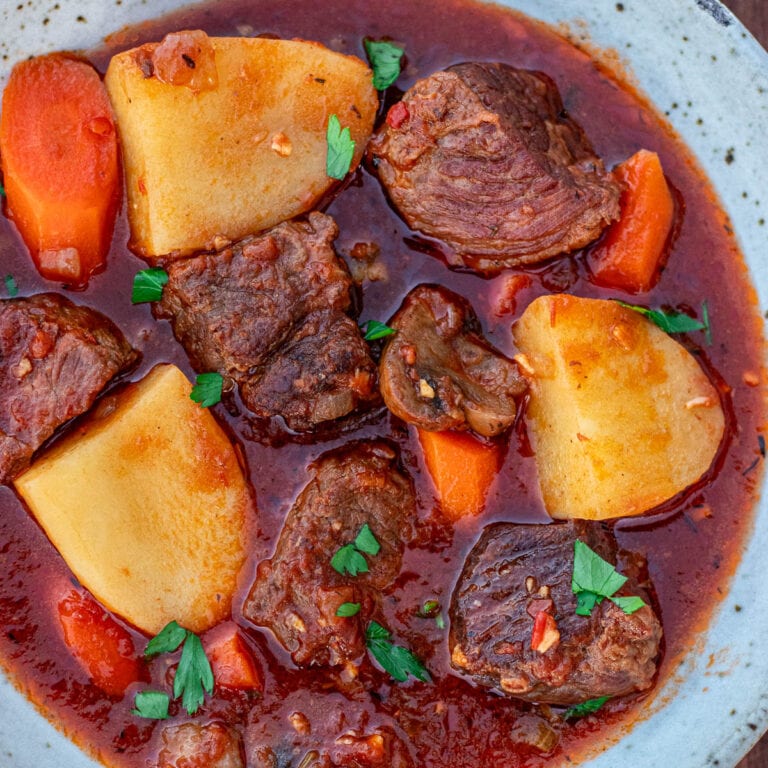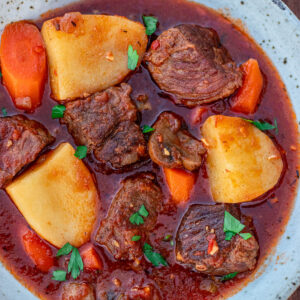 Beef Stew Without Wine
How to make the most incredible Beef Stew Without Wine, without flour, and without tomato paste. This wholesome beef stew is so tasty, it will quickly become your favorite way to make Beef Stew. Serve as is or with some crusty bread to mop the stew.
Ingredients
2

Tablespoons

olive oil

3

pounds

chuck roast

cut into 1½ inch chunks

1

teaspoon

salt

¼

teaspoon

ground black pepper

1

teaspoon

beef bouillon powder

1

medium onion

diced

2

celery stalks

diced

2

Tablespoons

minced garlic

from about 8 cloves

28

oz

crushed tomatoes

4

medium carrots

peeled and cut into 1-inch chunks

4

cups

beef stock

1

pound

russet potatoes

about 4 medium potatoes, peeled and cut into 1½-inch chunks

1

teaspoon

dried thyme

3

sprigs

fresh rosemary

2

bay leaves

Minced parsley or chives for garnish

Crusty bread for serving
Instructions
Season the beef: Add the salt, ground black pepper, and beef bouillon powder to the beef chunks. Toss well to combine.

Brown the beef: Place a medium Dutch oven on high heat. Add the olive oil. Heat up for two minutes. Add part of the seasoned beef and brown all around. You'll need to brown the beef in batches (see Note 1). Avoid overcrowding the pan to get a nice sear.

Sauté the aromatics: To the same pot the beef was browned, leaving the fat from the beef in the pot, add the diced onion and celery. Let it cook in the fat while stirring from time to time for about 4 minutes until the onion softens. Add the minced garlic and let it sauté for 30 seconds. Be careful not to overcook and burn the garlic.

Add the remaining ingredients: To the pot add the crushed tomatoes, beef stock, browned beef, thyme, rosemary, and bay leaves. Stir to combine. Bring to a boil on high heat then reduce to a simmer on medium heat and let it simmer for about 10-15 minutes.

Add carrots and potatoes: Add the carrots and potatoes, cover the pot, and let it simmer for about 25 to 30 minutes or until the potatoes are fully cooked. Taste and adjust seasoning as needed. I usually add about ½ a teaspoon more beef bouillon powder at this point.

Adjust the stew's consistency: If it is too soupy, increase the heat and let it cook until reduced. Remove the rosemary stems and bay leaves.

Garnish and serve: Garnish with minced parsley or chives and serve warm with crusty bread.
Notes
Beef: Chuck roast or round roast would work. Brown the beef in badges to get a nice steam and prevent the beef from steaming instead of searing. Potatoes: After peeling and cutting the potatoes into chunks, soak them in cold water to prevent oxidization (color changing). Adding mushrooms: Mushrooms are a great addition to this beef stew. If you choose to add mushrooms, use about 8 ounces of sliced mushrooms and saute them in the same pot after sauteeing the aromatics. Storage: Refrigerate this beef stew for up to 5 days or freeze for up to 3 months.
Nutrition
Calories:
688
kcal
|
Carbohydrates:
43
g
|
Protein:
55
g
|
Fat:
34
g
|
Saturated Fat:
14
g
|
Polyunsaturated Fat:
3
g
|
Monounsaturated Fat:
17
g
|
Trans Fat:
1
g
|
Cholesterol:
129
mg
|
Sodium:
31407
mg
|
Potassium:
1751
mg
|
Fiber:
4
g
|
Sugar:
27
g
|
Vitamin A:
5344
IU
|
Vitamin C:
16
mg
|
Calcium:
162
mg
|
Iron:
7
mg