Easy Homemade French Bread
Published Dec 10, 2021
Updated Jan 24, 2022
How to make Homemade French Bread from scratch! This recipe is so easy, you won't believe it. Enjoy fresh out of the oven with some butter or use it to make an appetizer. So good!
While making this French bread I thought it would be a sin not to share. How can I not share this easy homemade French bread recipe with you??
If you have been a regular around here, you already know how much I love homemade bread. And I have baked so many loaves of bread in my life. Making bread at home is one of my favorite things to do.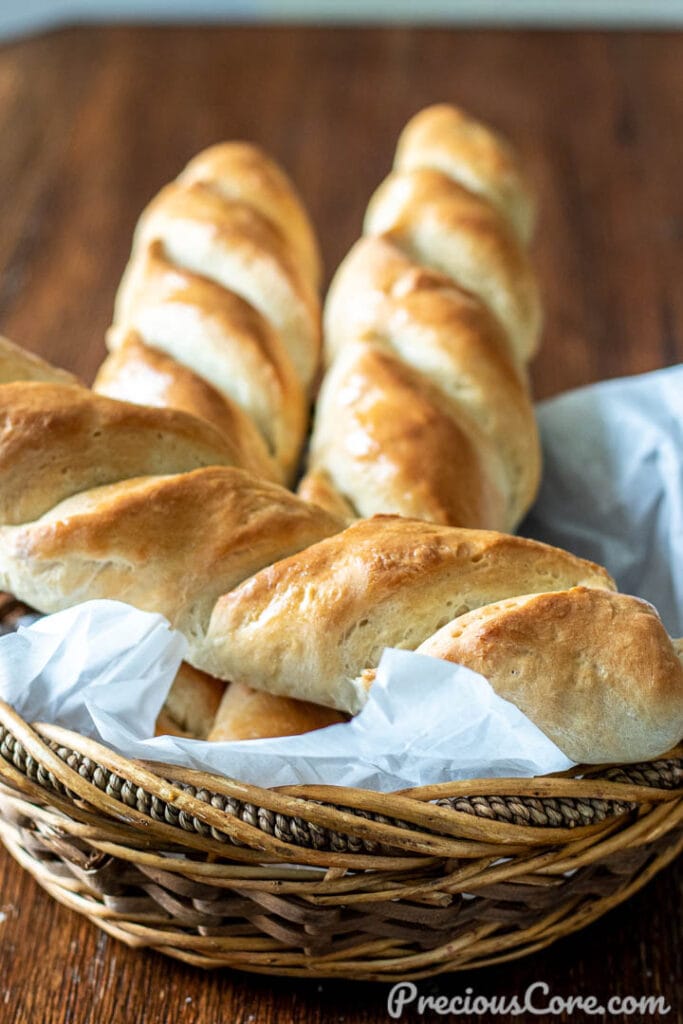 The thing is once you start making bread at home, you look at those in the grocery store and roll your eyes. 🙄 Homemade bread is so much better! The taste, flavor and texture are to die for!
Also, homemade bread is void of preservatives and weird ingredients. So for these reasons, I am an unrepentant bread baker.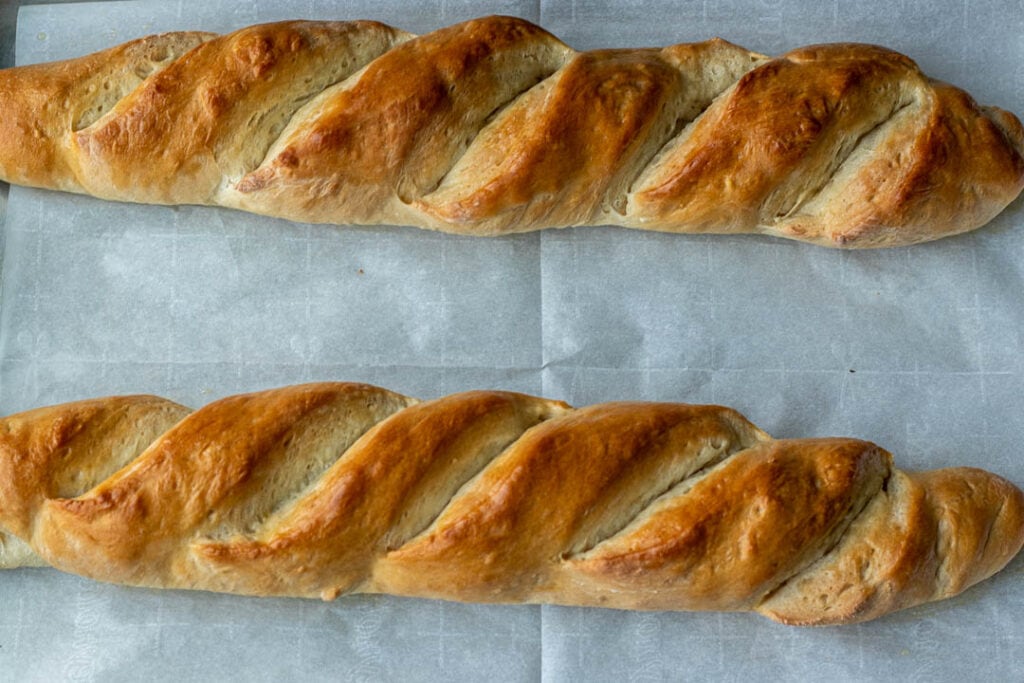 So what triggered the making of this bread? These meatballs right here. You see, where I come from (Cameroon) we believe meatballs and French bread are a match made in heaven. And we are absolutely right! That combo is everything! Have you ever had a sub with meatballs? 🤤
So after making a decent batch of meatballs, I kept dreaming about having them with some French bread. But the trip to the grocery store to buy some wasn't going to happen. So I hopped into the kitchen to make some. And the results were fantastic.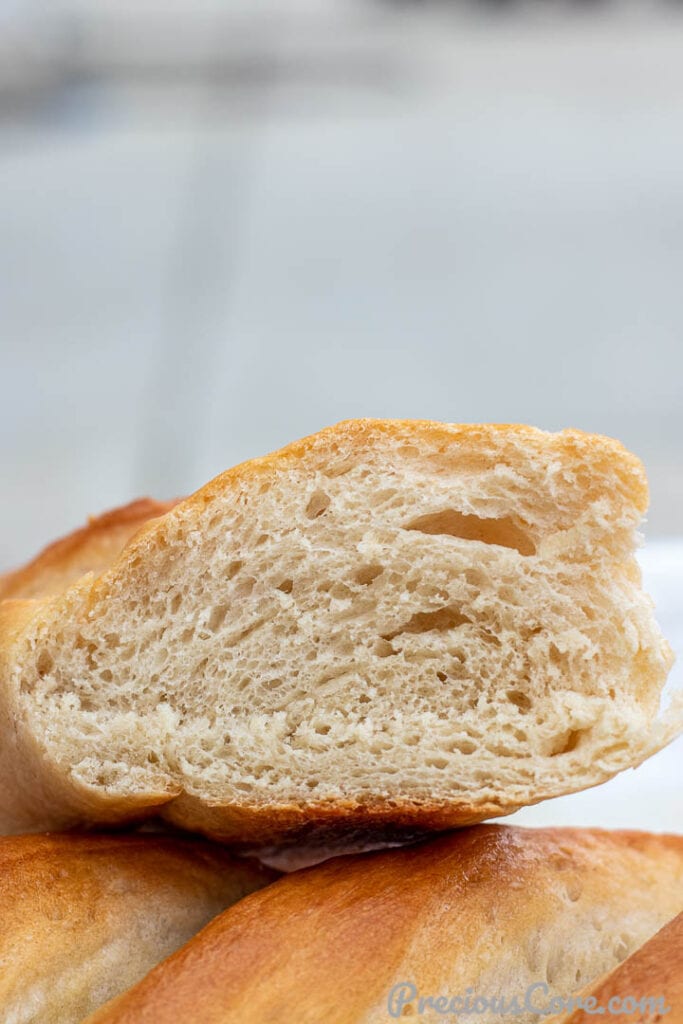 Ingredients For French Bread From Scratch
The French bread dough requires pretty simple ingredients They include:
Lukewarm Water (around 110 degrees F). The water should be comfortable enough for you to wash your hands in.
Active Dry Yeast or Instant Yeast
Sugar
Vegetable Oil (or any neutral tasting oil).
Salt
All-Purpose (Plain) Flour or Bread Flour
You can find the right quantities of each ingredient in the detailed recipe at the bottom of this post.
How To Make Easy Homemade French Bread
1. Place all ingredients in a bowl. Mix them all with a wooden spoon or use a stand-up mixer if you have one.
2. If mixing by hand transfer the dough onto a clean surface and knead until smooth.
3. Let the dough right until doubled in size then you punch the dough to remove air.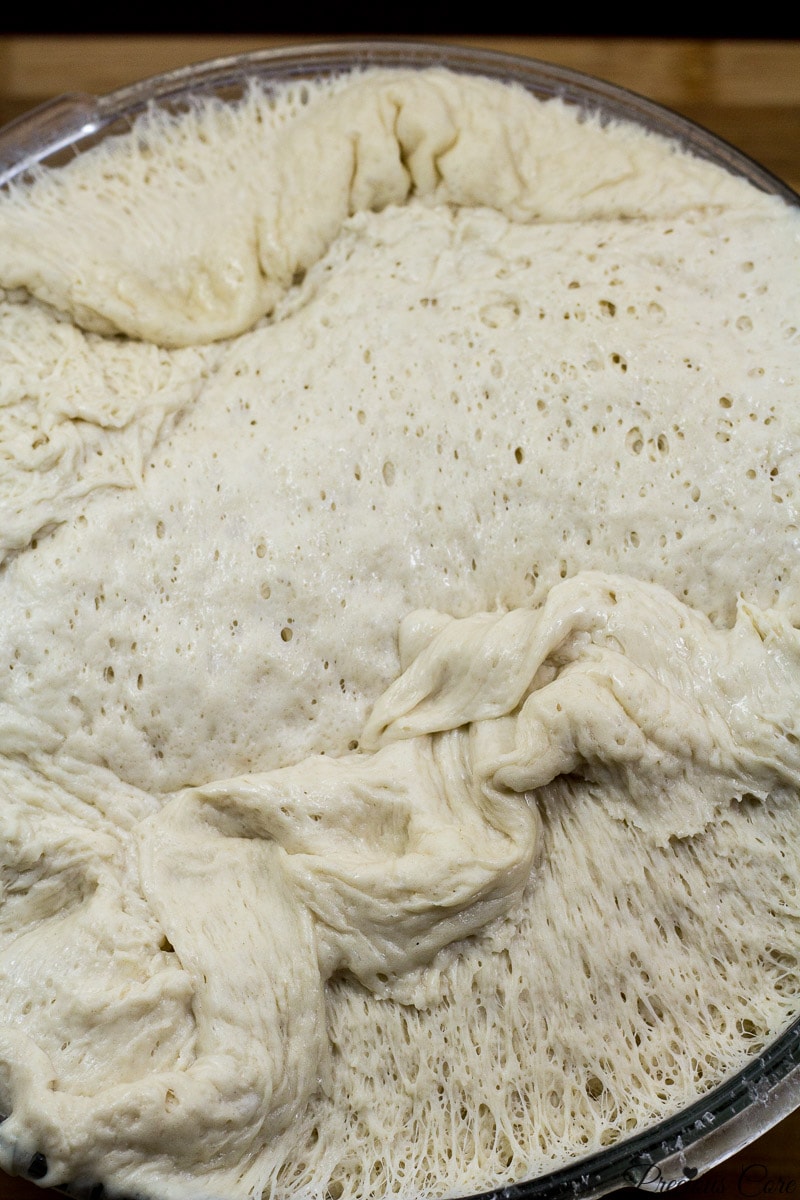 4. Shape the dough into a ball and place on a floured surface.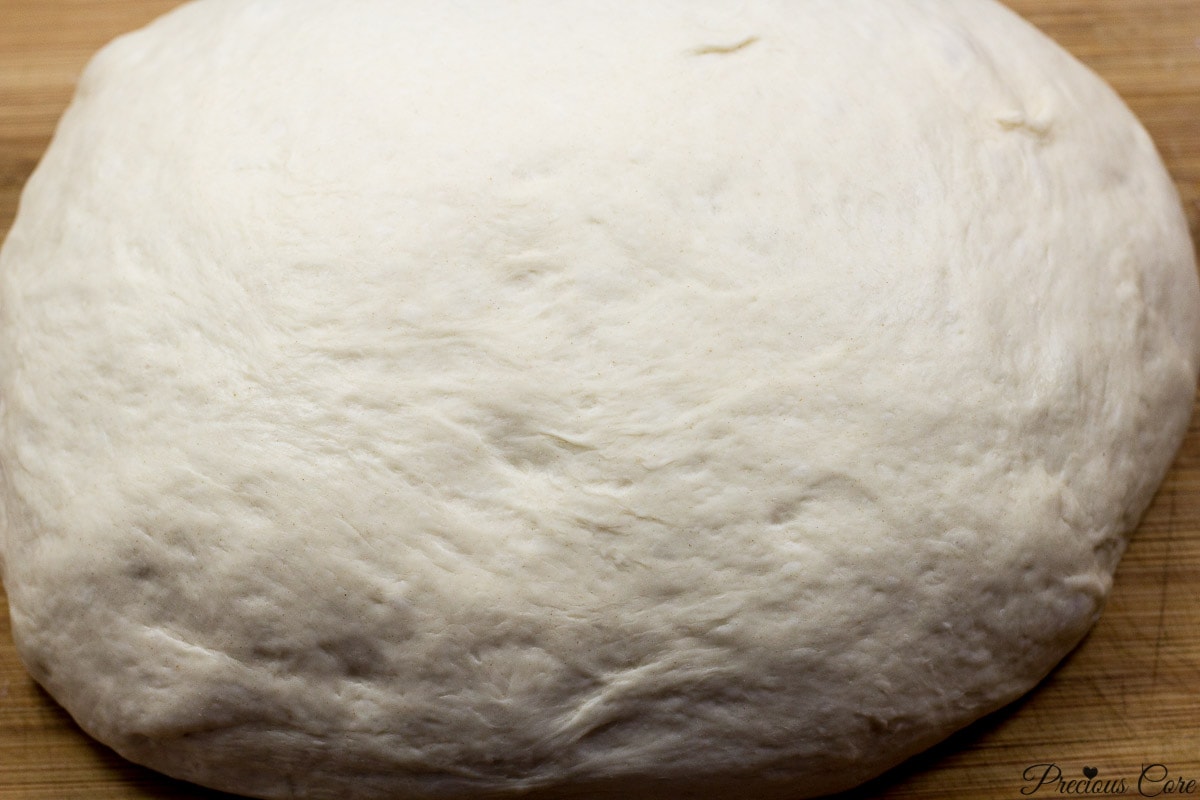 5. Cut the dough into 4 equal pieces.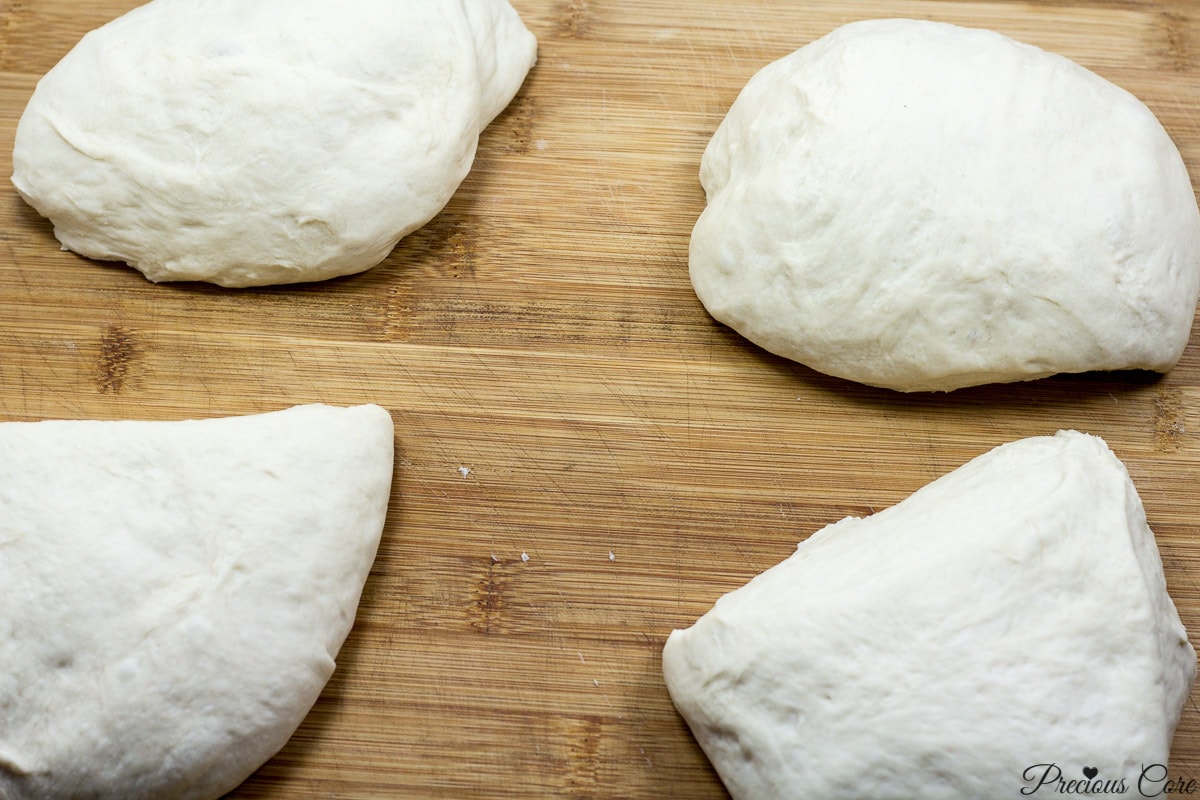 5. Remove three pieces from the board, leaving one then you shape that one into a log.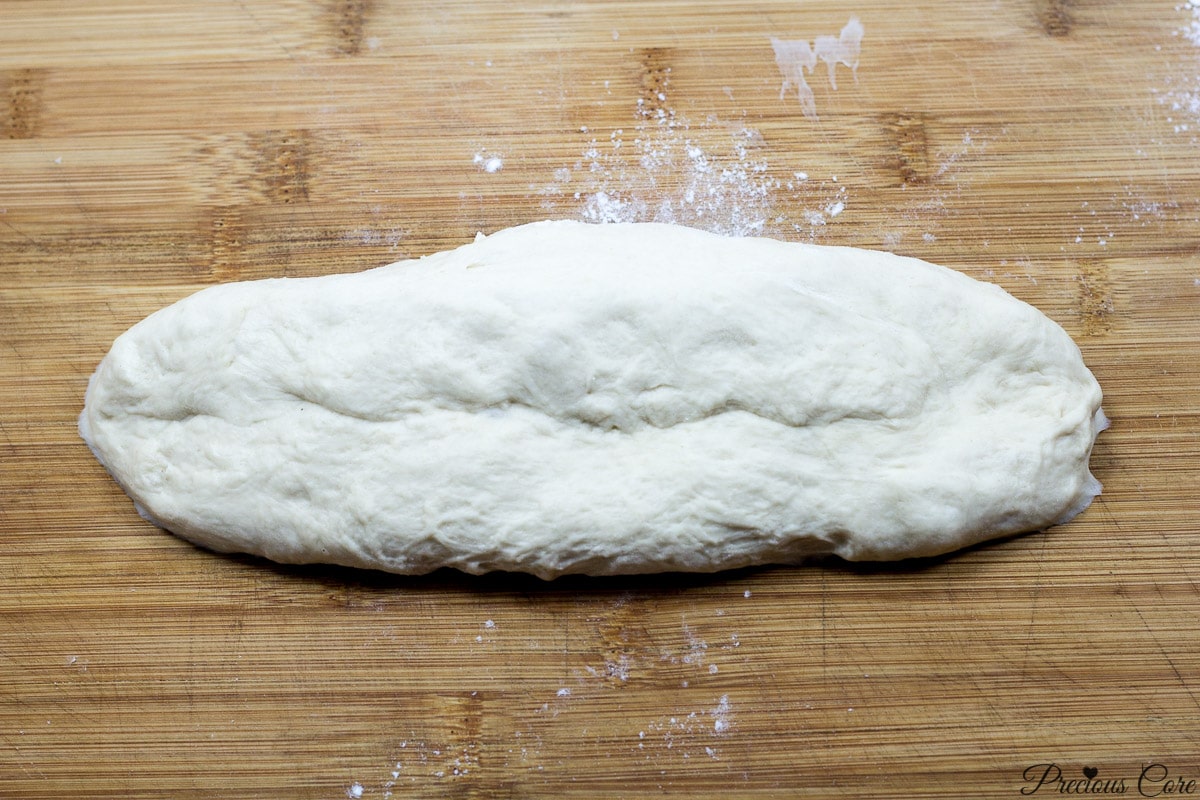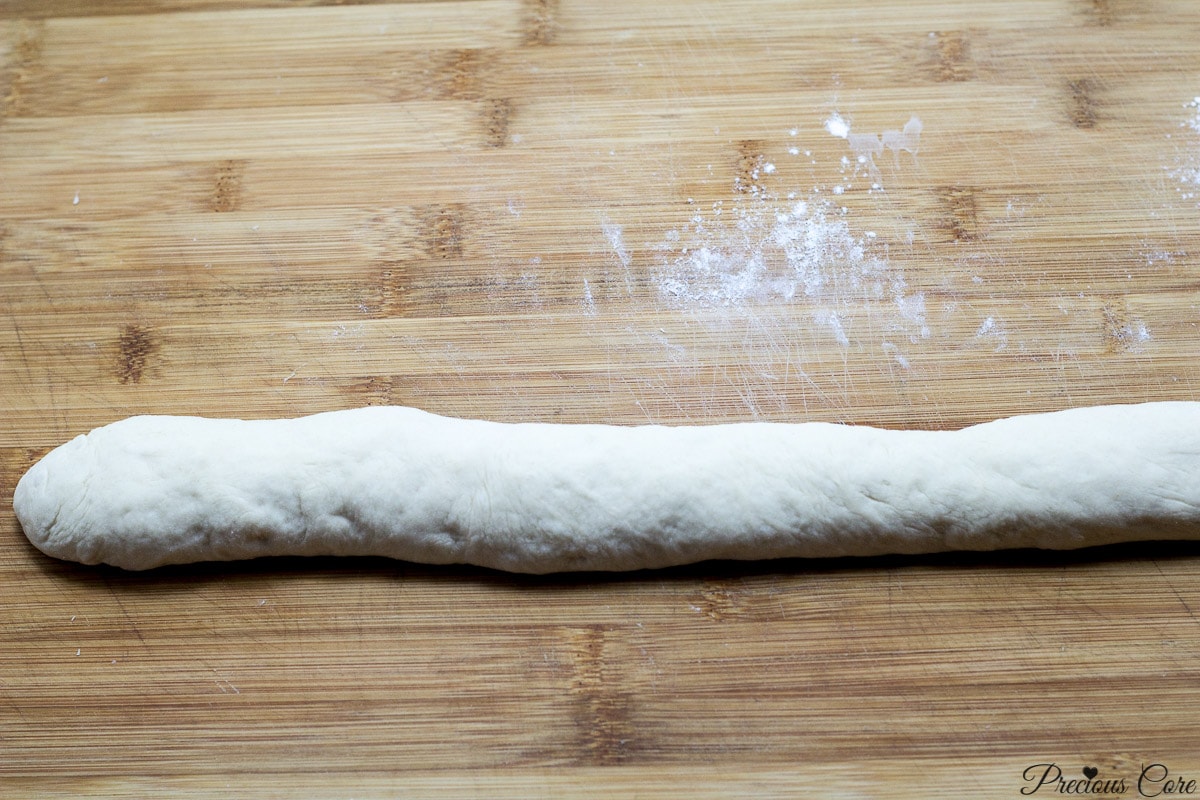 6. Now, use a knife to make diagonal lines across your loaf of bread.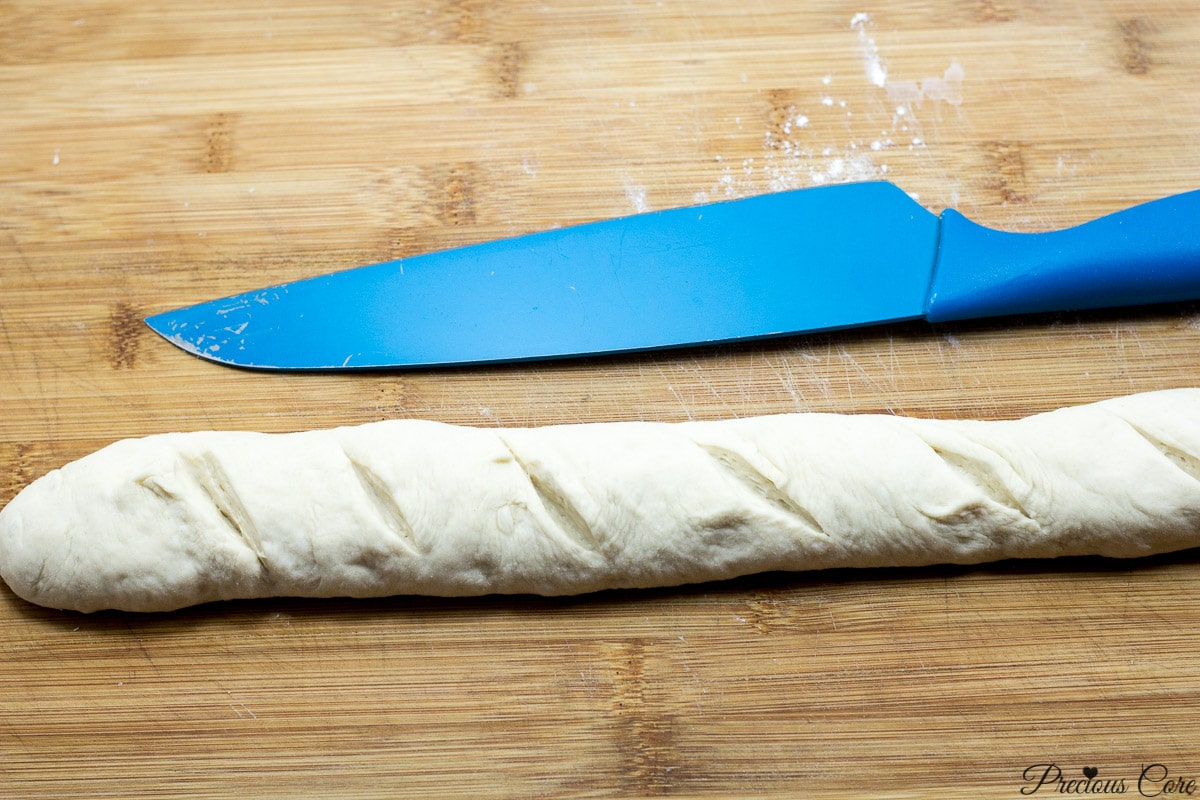 You can make your bread as long or as short as you want. I used a long baking sheet (around 17 inches long) which could accommodate long loaves.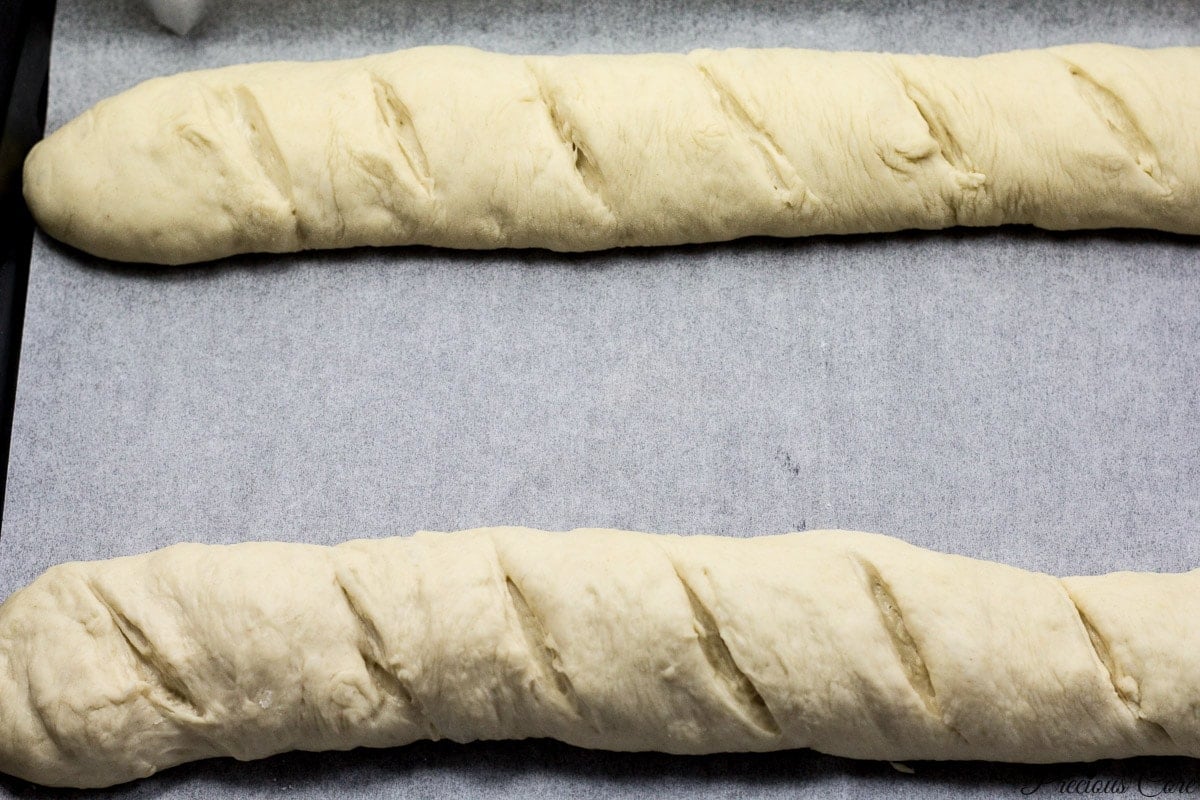 You could also use a shorter baking sheet for shorter loaves.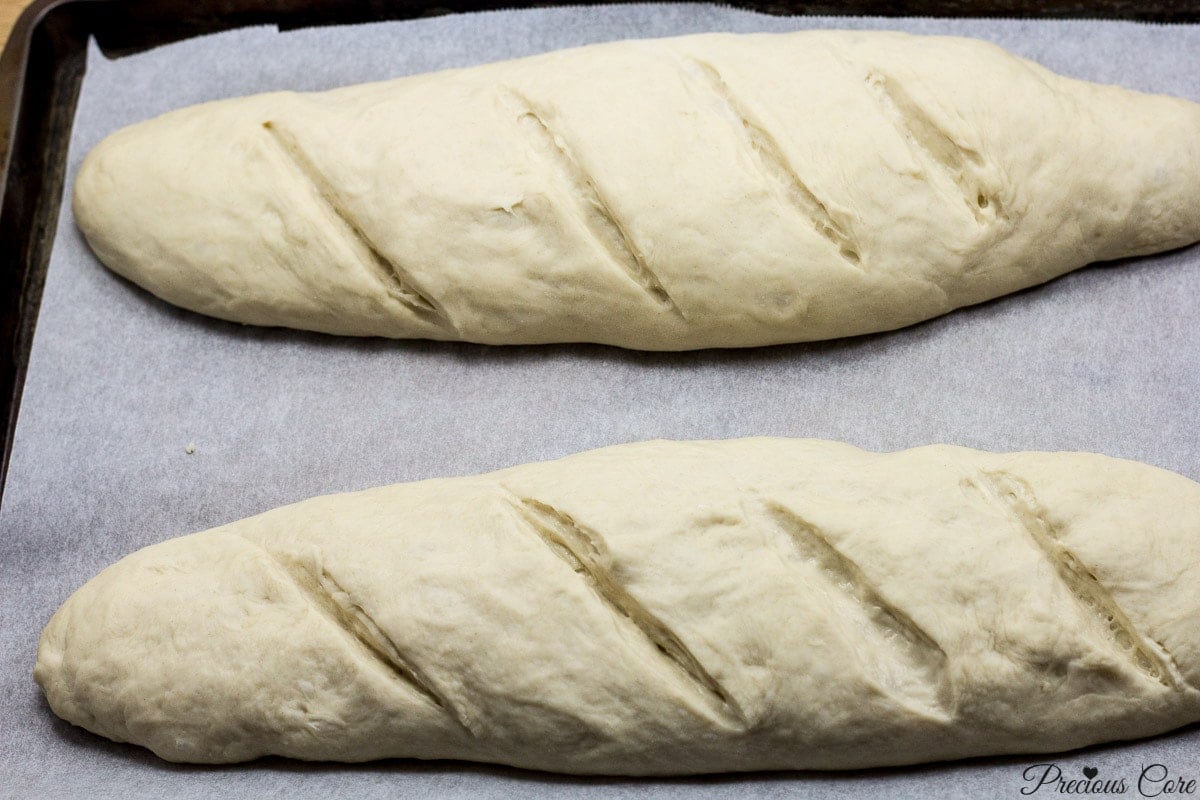 7. Let the loaves rise in a warm place for another 20- 30 minutes.
8. Bake them until golden brown for about 25 minutes.
9. As soon as the loaves are out of the oven, brush with some melted butter.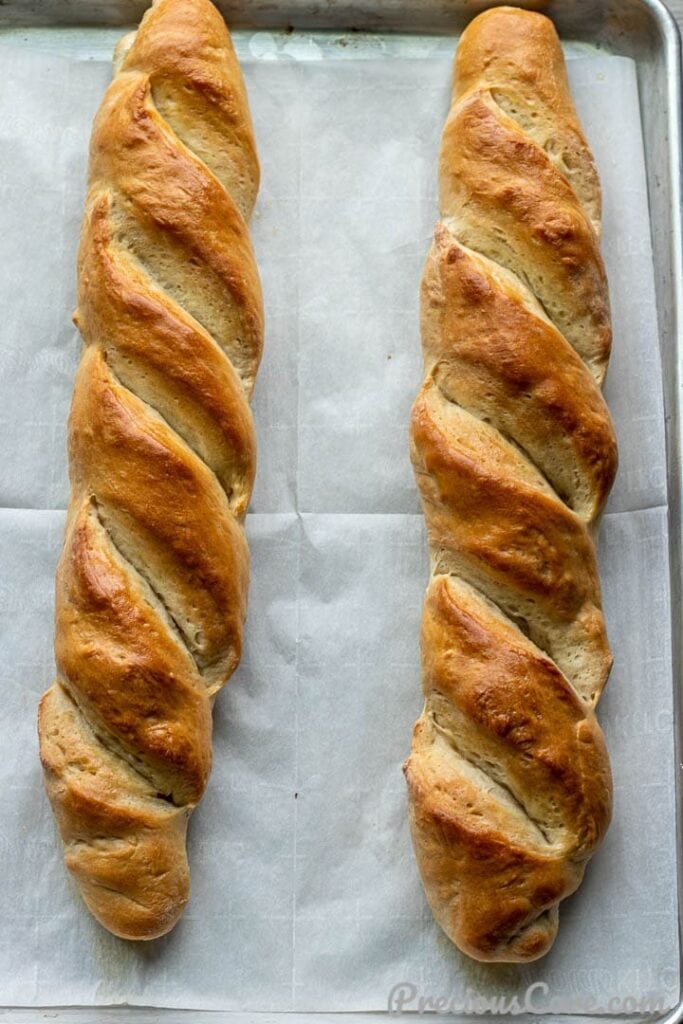 This homemade French bread is a must-try! The loaves are so delish with the perfect salty taste balanced with a hint of sweetness. And yes, I devoured some with meatballs!
Try some warm with some good 'ole butter spread on top. Phenomenal!
Watch How To Make Homemade French Bread
Watch me show you step-by-step the process of making Easy Homemade French Bread in the video below. If you would like to keep up with my cooking videos subscribe to my YouTube channel and click on the notification bell.
More Bread Recipes From Scratch You Might Love: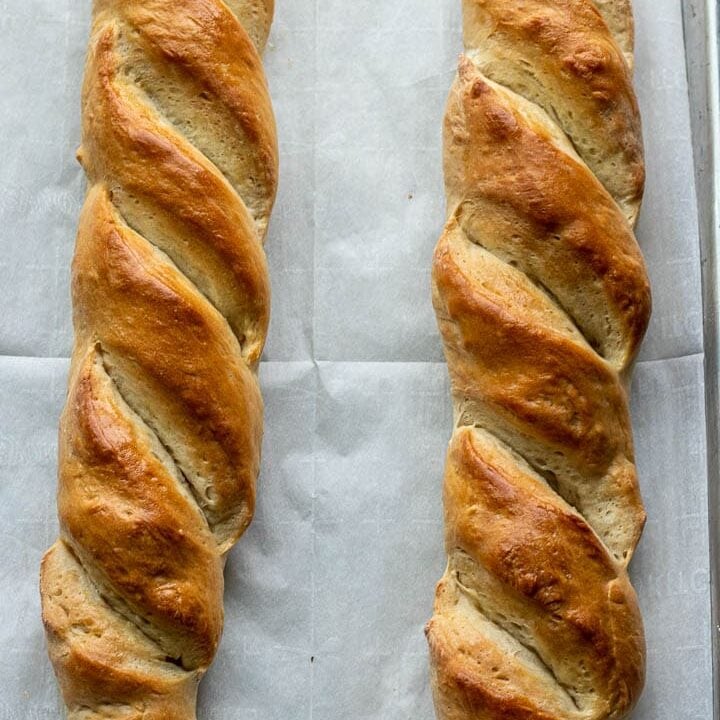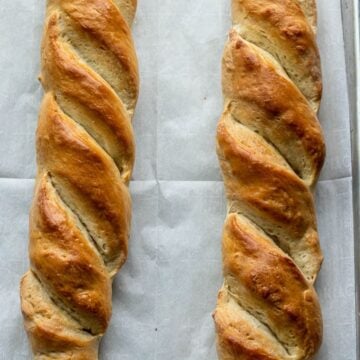 Easy Homemade French Bread
How to make Homemade French Bread from scratch! This recipe is so easy, you won't believe it.
Ingredients
2 1/2

cups

warm water

4 1/2

teaspoons

active dry yeast

1/4

cup

granulated sugar

cane sugar or brown sugar would work

1

tablespoon

vegetable oil

1

tablespoon

salt

1

tablespoon

butter (melted)

for brushing bread with

6

cups

all-purpose flour (plain flour) or bread flour

720g
Instructions
In a large bowl, mix together warm water, yeast and sugar. Add in salt, vegetable oil and flour then mix with a wooden spoon or a kitchen stand-up mixer to form a dough.

Place the dough on a floured board and knead for about 5 minutes until smooth. Let the dough rise in a warm place until doubled in size for about 1-2 hours.

Punch the dough to remove air. Cut the dough into four equal parts. Shape each part into a long log. Use a knife to create 5-8 diagonal lines (about half inch deep each) across each loaf. Place the loaves on greased baking sheets/trays and let them rise in a warm place for about 20-30 minutes.

Note: Don't let them rise too long or they'll rise out of shape.

Bake in a preheated oven at 350 degrees F (180 degrees C) for about 25 minutes until the bread is nice and golden brown and hard on the outside. Brush with melted butter as soon as they are out of the oven.
Notes
1. To get a warm place to let your dough rise, you could turn on your oven to warm up lightly (to about 110 degrees F) THEN turn it off and place the dough inside. This works every time for me.
2. Nutrition information assumes that one loaf of bread makes 4 servings.