The best Easy Homemade Bread recipe. This is a basic bread recipe that even beginner bakers can bake! It is so soft and fluffy. You MUST eat some warm with butter slathered on top!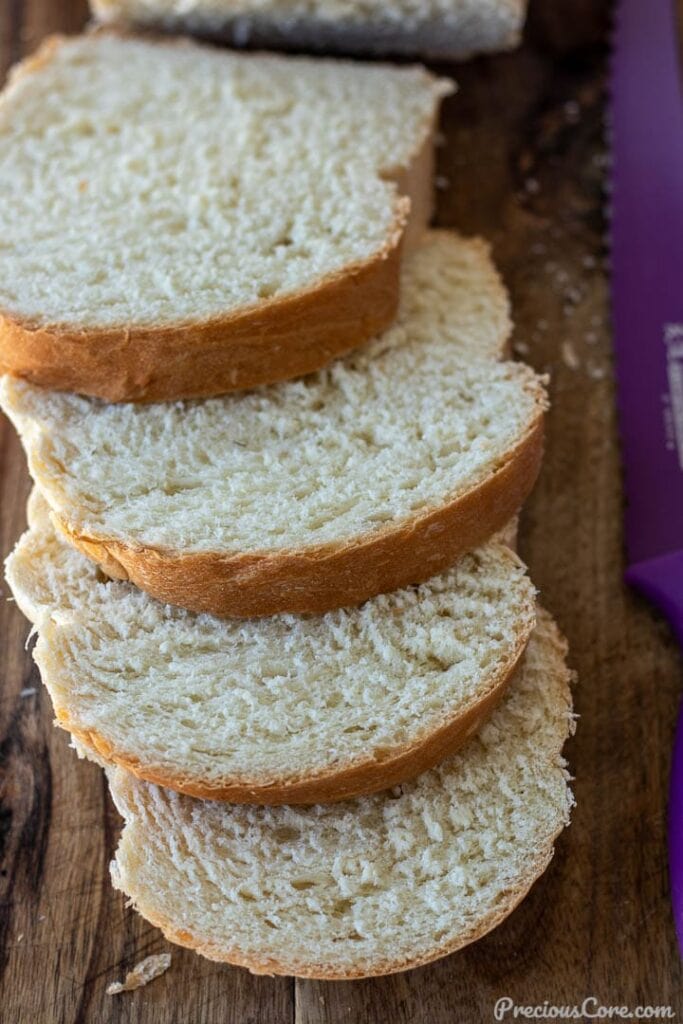 I have made bread so many times in my life and I wanted to share with you a really easy homemade bread recipe anyone can make.
This is a no-fuss recipe which is great for beginners. It only takes about 2 hours from start to finish.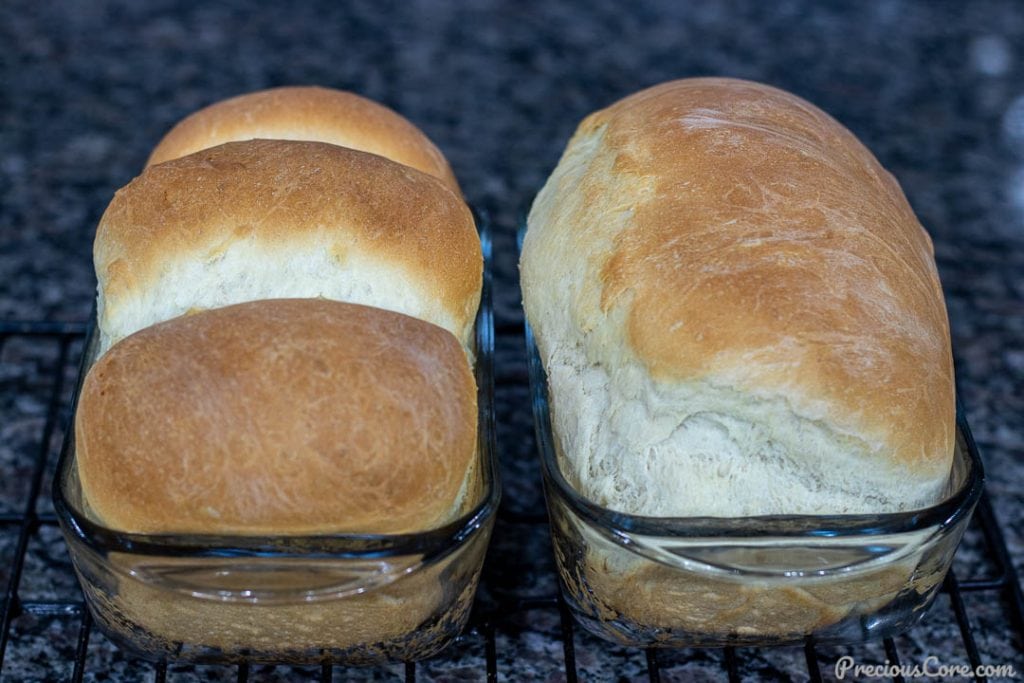 The bread is perfectly fluffy and great for slathering on some butter, for sandwiches, for dunking in stews and soups.
Ingredients For Homemade Bread
You only need 7 ingredients for this Easy Homemade Bread.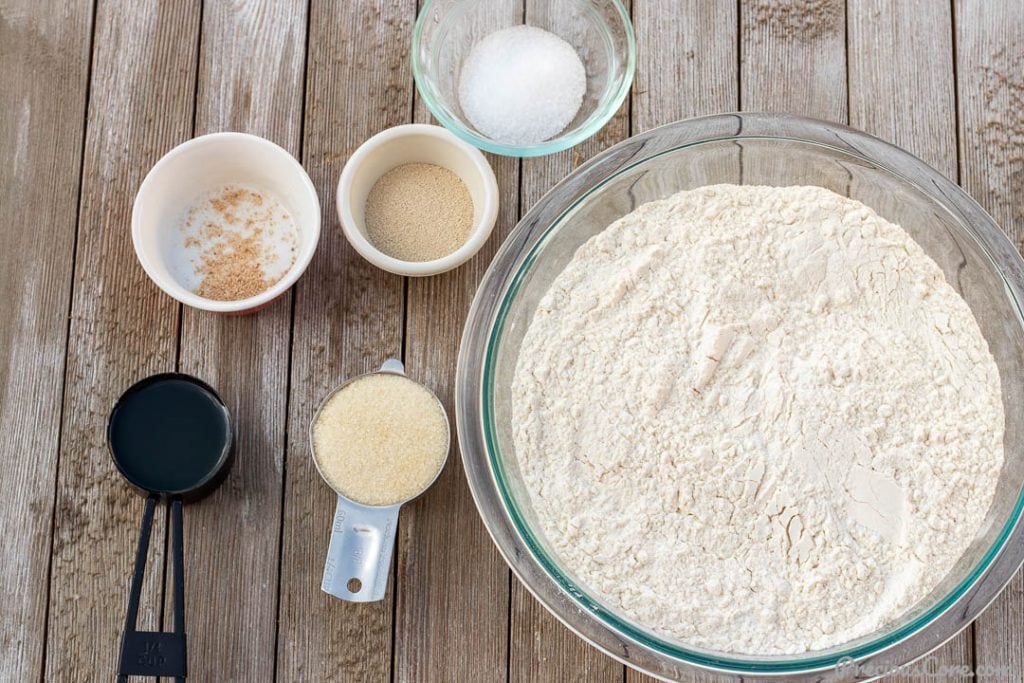 1. All-purpose or bread flour. I tested this recipe with both all-purpose and bread flour and both work well. Use bread flour if you can find it but do not fuss about it.
2. Yeast. You need active dry yeast or instant yeast.
3. Sugar. Granulated sugar or cane sugar is fine. You can also substitute with honey.
4. Oil. Any neutral tasting works for homemade bread. Vegetable oil, canola oil or corn oil are great options.
5. Lukewarm water. You need water that is slightly warm. It shouldn't be too hot or too cold.
6. Salt. Salt is really important for bringing out the flavors.
7. Nutmeg. I add a little nutmeg to this bread recipe. It adds a nice flavor to the bread without being overpowering so use it if you can.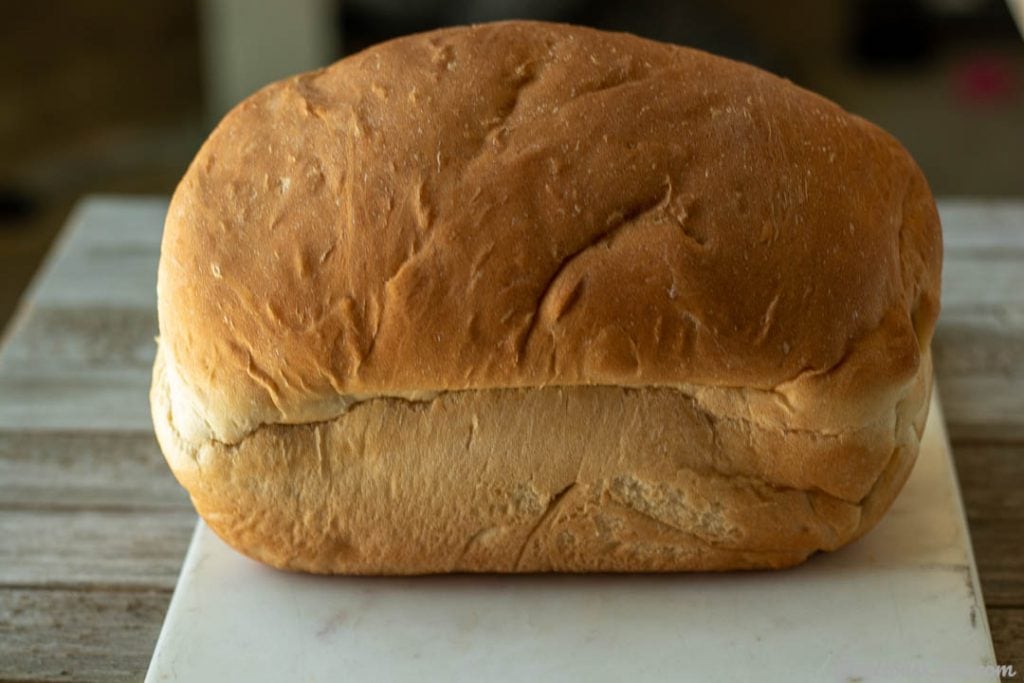 How to Make Easy Homemade Bread
1. Combine yeast and warm water in a bowl.
2. Add sugar, oil, flour, salt and ground/grated nutmeg. Mix to combine.
3. Transfer the mixture onto a clean surface and knead for 5 minutes. Place the dough in a large oiled bowl.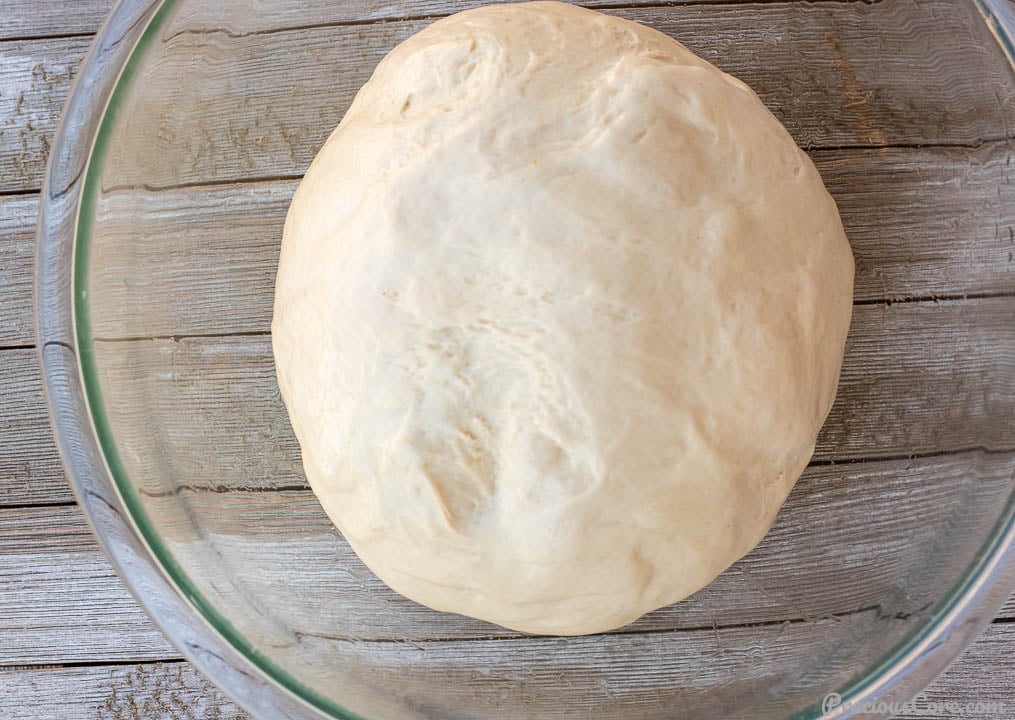 4. Cover the dough and let it rise until doubled in size.
5. Punch the dough to deflate, divide into 2 equal portions, shape and put into loaf pans.
6. Let the dough rise a second time for 20 minutes.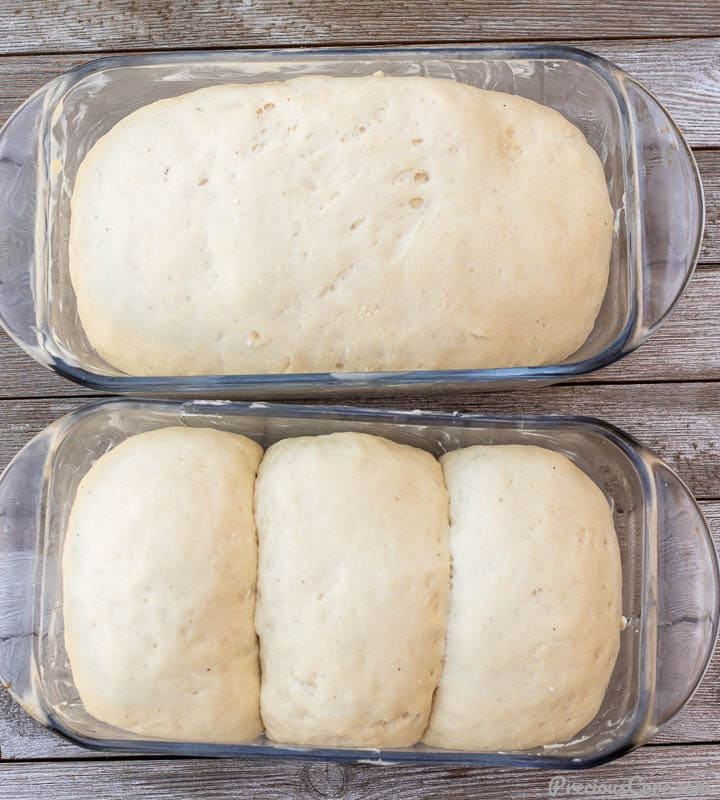 7. Bake until golden brown.
Watch How To Make Easy Homemade Bread

Watch me making Easy Homemade Bread in the video below. If you haven't subscribed to my YouTube channel yet, SUBSCRIBE so you do not miss any of my videos.
Other Bread Recipes You Might Love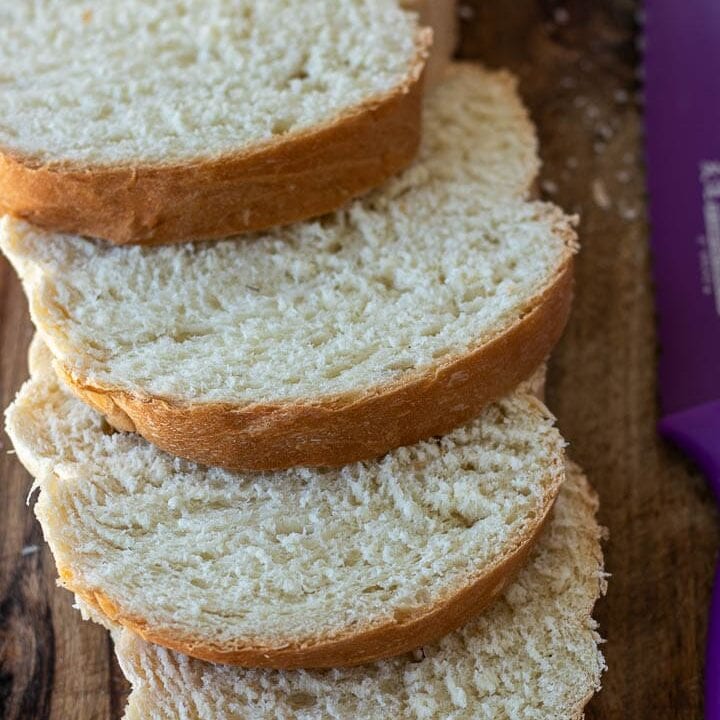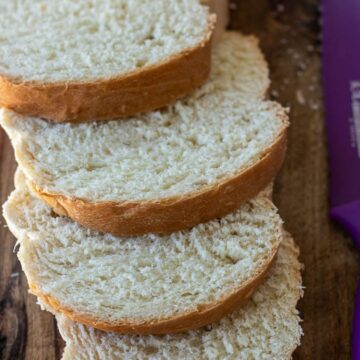 Easy Homemade Bread
This Easy Homemade Bread recipe is a basic bread recipe that is perfect for beginners. This recipe yields bread that is so fluffy and effortlessly vegan. This is the perfect homemade bread for sandwiches or serving alongside dinner.
Ingredients
6

cups

bread or all purpose (plain) flour

750 grams

2

cups

lukewarm water

110 degrees F ( 43 degrees C)

1

tablespoon

active dry yeast

1/4

cup

vegetable oil

canola oil, corn oil, peanut oil would work

1/4

cup

granulated sugar

or cane sugar

2

teaspoons

salt

1/4

teaspoon

freshly grated nutmeg
Instructions
Proof the yeast.
Pour the lukewarm water into a large mixing bowl. Add the yeast and let it sit for 5 minutes. It is going to look creamy.

To the mixing bowl add the sugar, oil, flour and salt. Mix with a wooden spoon to combine.

Transfer the mixture onto a clean working surface. Knead to form a dough. If it is too hard, sprinkle on a little water. You need the dough be be soft and slightly sticky. Softer dough yields softer bread.

On the flip side, if the dough is too sticky and difficult to handle, sprinkle a little flour on the dough and knead, sprinkling on a little flour at a time if needed until the dough can be handled without being too sticky.

Knead the dough for 5 minutes.

Rub oil all over a large mixing bowl. Place the dough into the bowl and move the dough around so the oil gets all over it, Cover with a plastic wrap and keep in a warm place to rise.

To create a warm place I usually turn my oven on for about 1 minute then I turn it off. This creates the perfect atmosphere for yeasted dough to rise.

Let the dough rise for 1-2 hours until about doubled in size.

Punch the dough to remove the excess air then divide the dough into two equal portions.

Generously grease two 9 by 5 inch loaf pans.
Shape the dough and put into prepared loaf pans.
Divide one portion into 3 equal portions. Shape it into ovals then place the ovals in one loaf pan (check out the video to see how I do this.)

Roll out the other portion with a rolling pin then roll it with your hands to form a log. Tuck in the edges of the log. Place the log into the other loaf pan.

Let the loaves rise in a warm place for another 20 minutes.

Preheat oven to 350 degrees Fahrenheit or 180 degrees Celsius.

Place the loaves into the oven and bake for 30-35 minutes until golden brown. Check around 30 minutes – if the bread is browning fast loosely cover with aluminum foil.

Remove loaves from oven and let them rest for about 5 minutes on a cooling rack then remove loaves from pan and enjoy!
Notes
1. I used glass loaf pans but metal loaf pans work perfectly too.
2. The nutmeg in this recipe is optional but add it if you can. It really elevates the flavor of the bread without being overpowering.
3. I tested this recipe with both bread and all-purpose flour and both work perfectly!
4. Number of calories is per slice of bread considering that one loaf is cut into 10 slices.
Nutrition
Calories:
1684
kcal
|
Carbohydrates:
298
g
|
Protein:
46
g
|
Fat:
32
g
|
Saturated Fat:
7
g
|
Polyunsaturated Fat:
10
g
|
Monounsaturated Fat:
11
g
|
Trans Fat:
3
g
|
Sodium:
2347
mg
|
Potassium:
396
mg
|
Fiber:
10
g
|
Sugar:
26
g
|
Vitamin A:
8
IU
|
Vitamin C:
0.01
mg
|
Calcium:
66
mg
|
Iron:
3
mg