I should really call these West African and/or Central African meatballs because not all of Africa makes meatballs like this. Now that we have that out of the way... meatballs yummmm. There is something you must do as soon as you make the first batch of these meatballs. You must grab some and fit into your mouth (translation: eat them). And this you must do when these meatballs are still somewhat hot. They are epic in every way.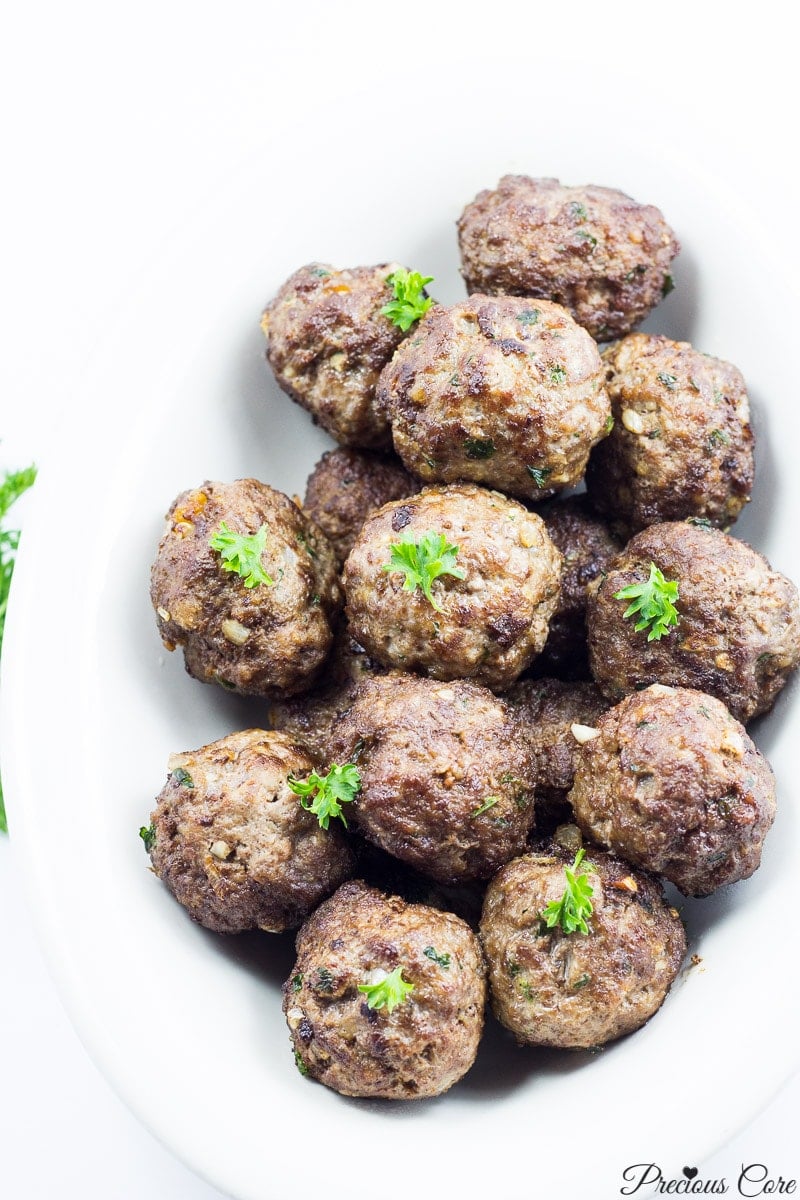 Here is the cast of characters for the meatballs: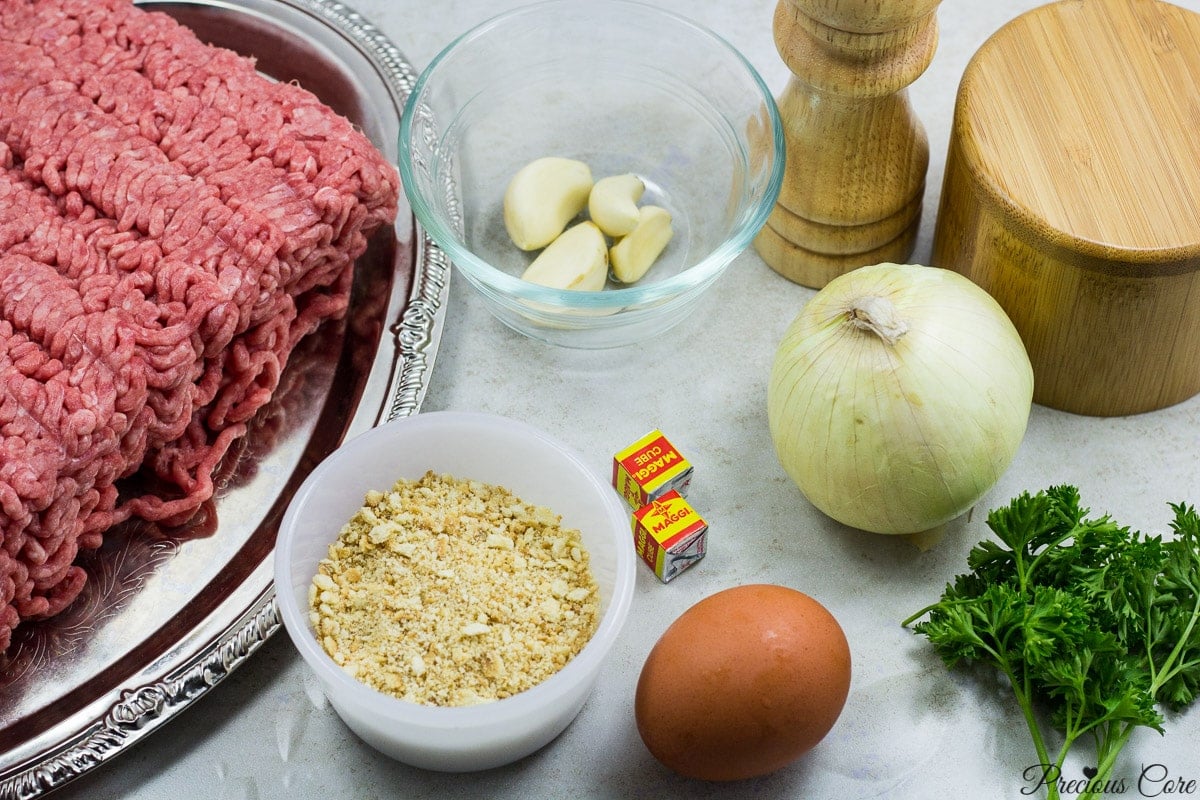 Some nice ground beef, garlic cloves, egg, seasoning cubes, onions, parsley, breadcrumbs, salt and, white pepper. Now let me tell you something about breadcrumbs: you could substitute with crushed butter crackers. They are amazing!
All you need to do is chop your parsley, garlic, and onion then dump all the ingredients into a large bowl.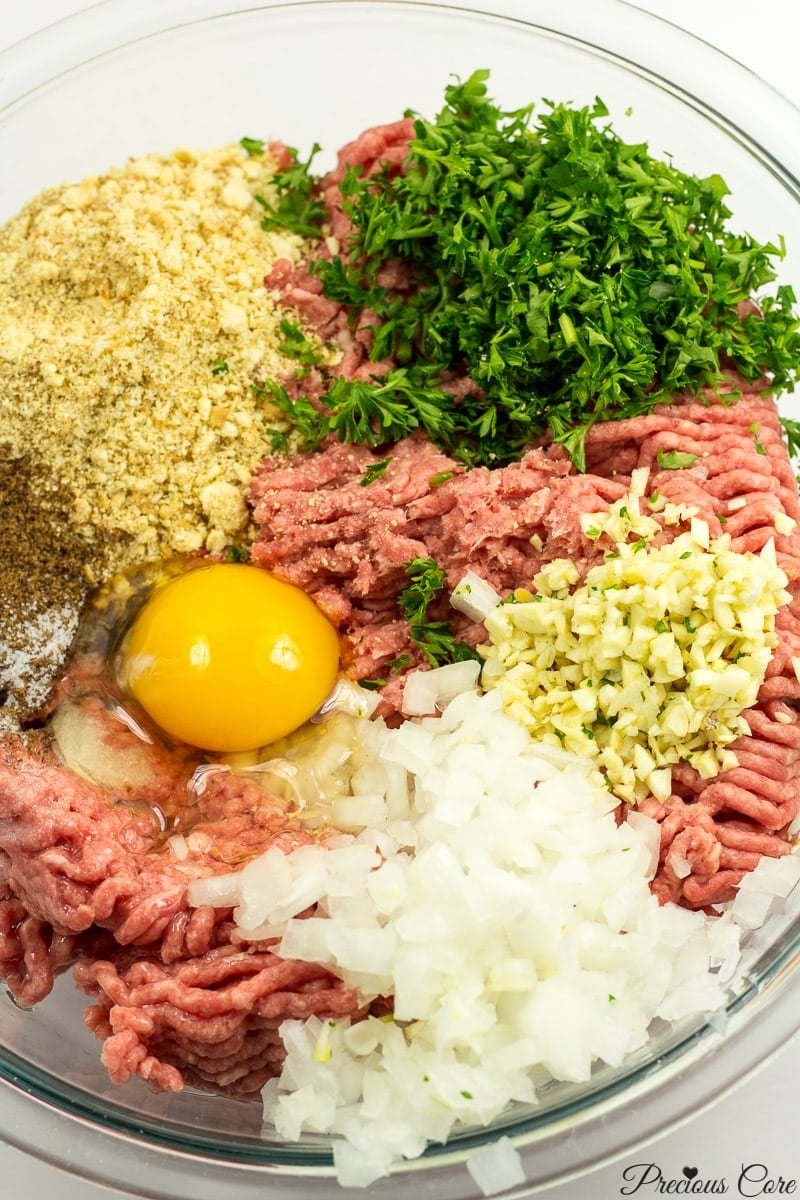 Mix them until they marry completely.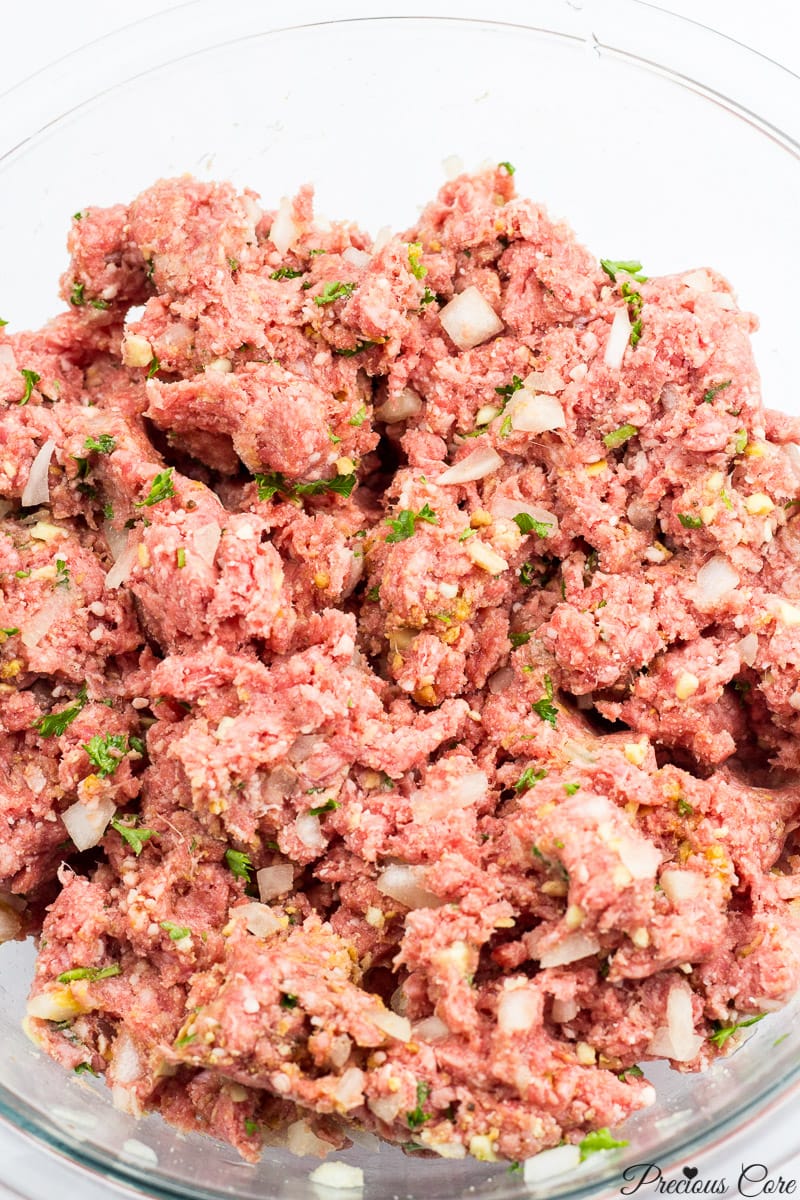 Talking about marriage, I am thrilled by how much yesterday's post inspired you guys to have better marriages. We do not want merely okay marriages just like we do not want merely okay meatballs!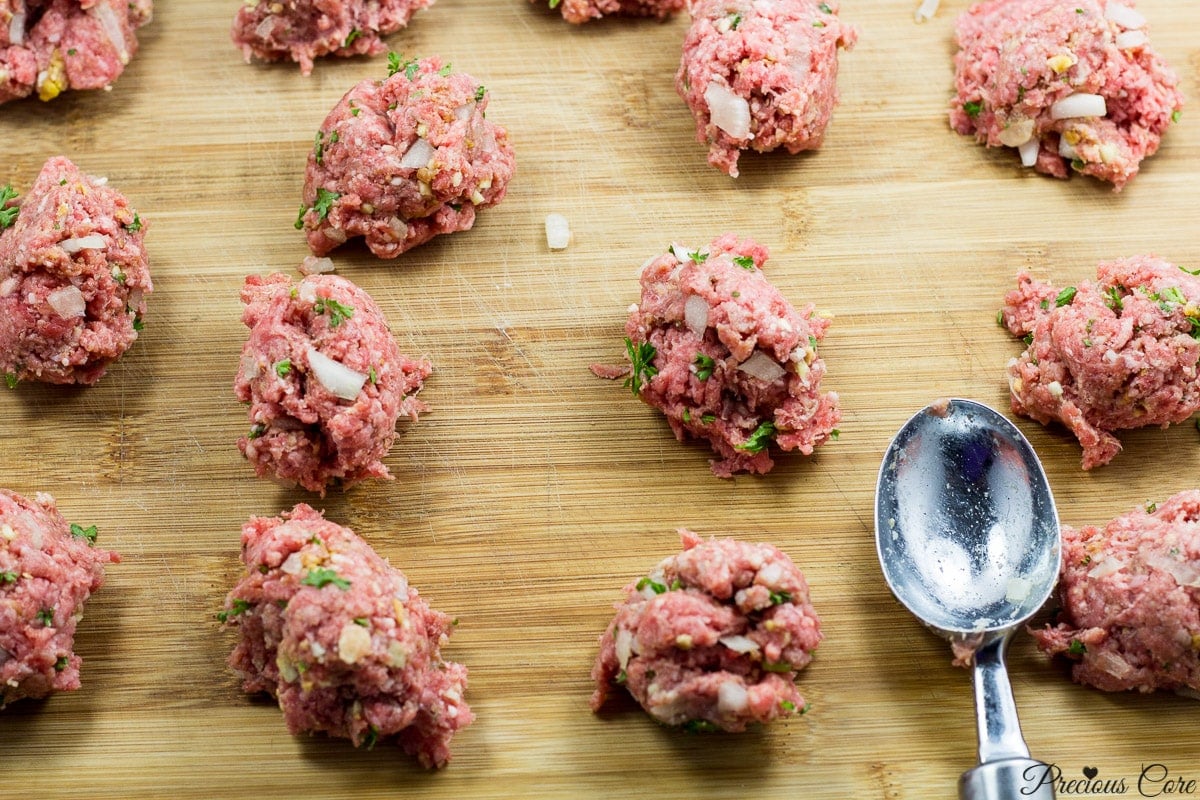 Okay, I use an ice cream scoop to scoop out portions of the mixture evenly. You could just use your hands and mold into balls directly if you want.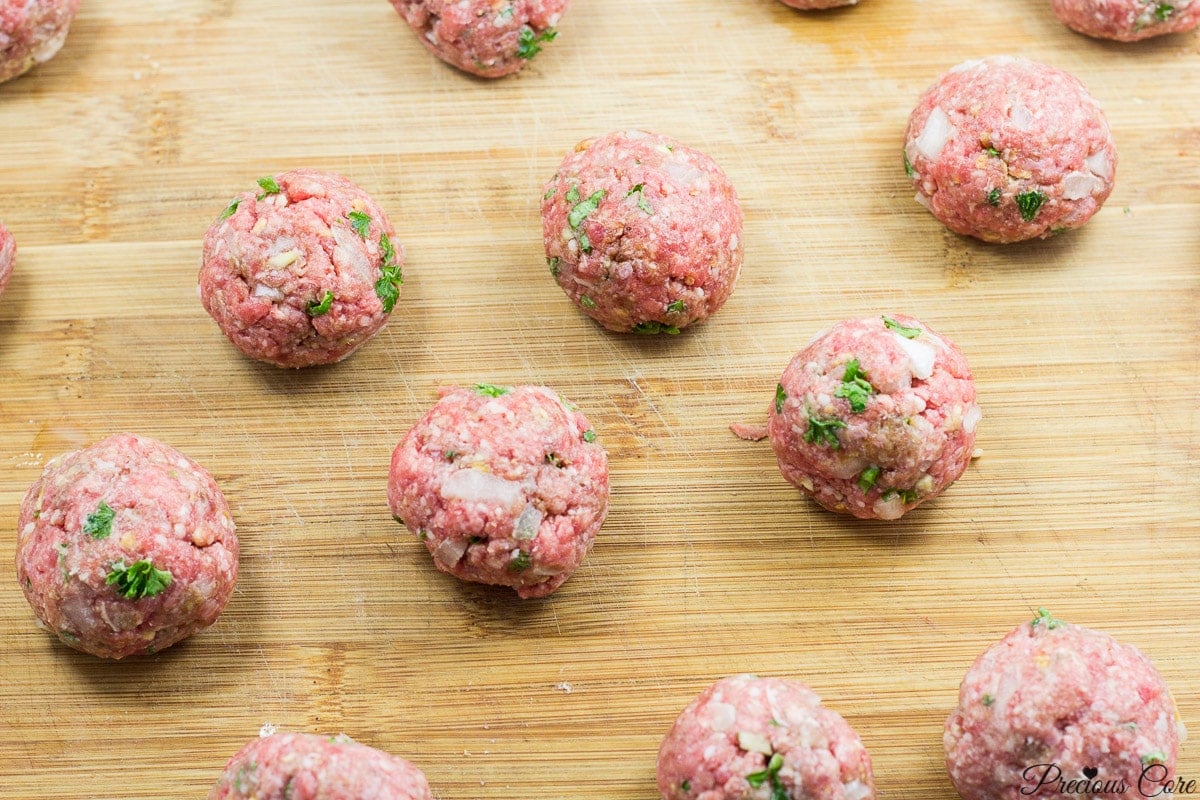 Now heat up some oil and fry away, baby!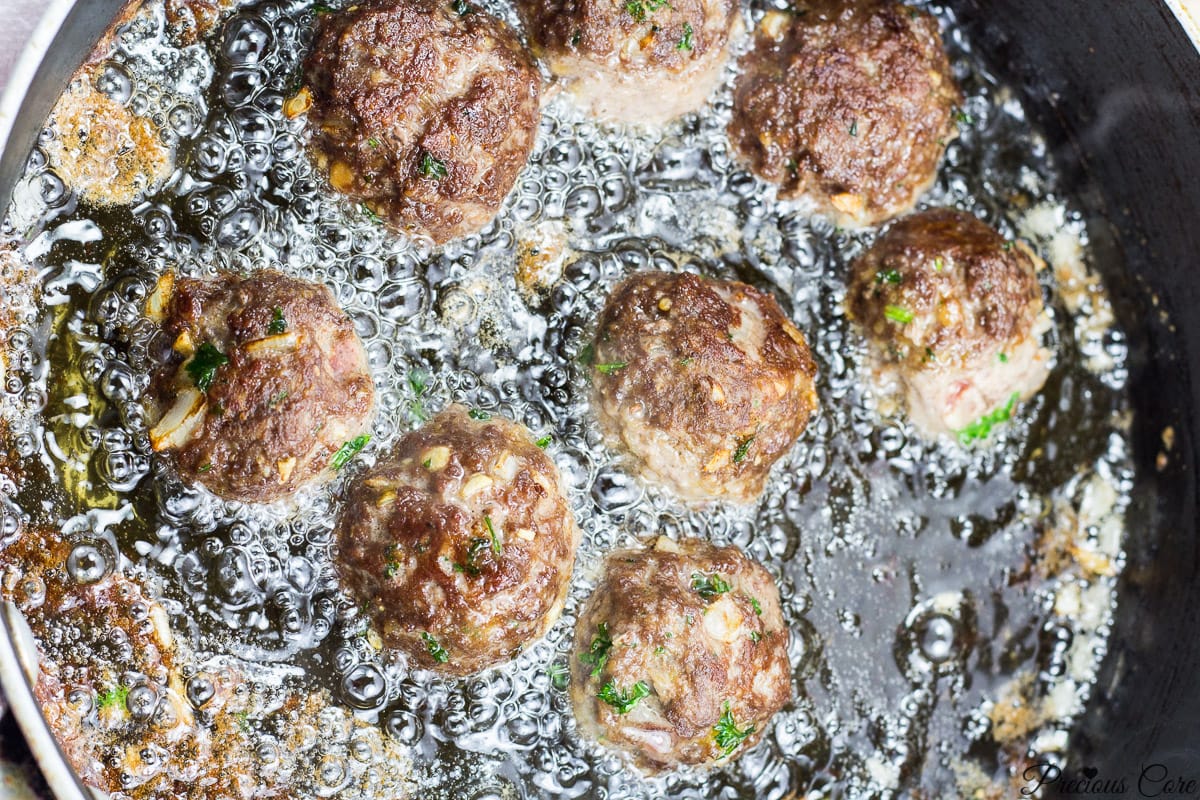 The meatballs are ready when they are no longer pink in the middle. They should be brown to the core. Remove them and place on a paper towel.
This is the point where you should absolutely make out with a meatball or two. They are divine!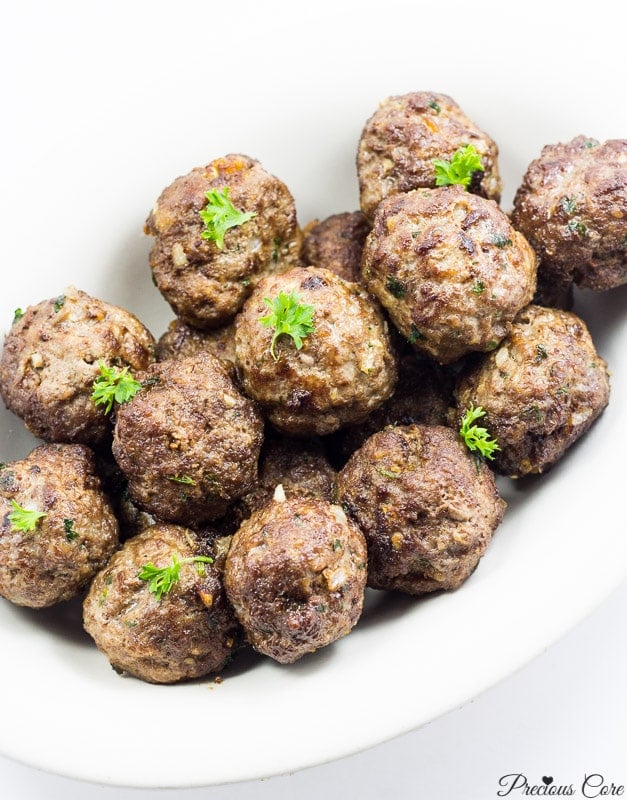 Now, these are amazing but the magic doesn't end there! Chop up ingredients for some tomato sauce.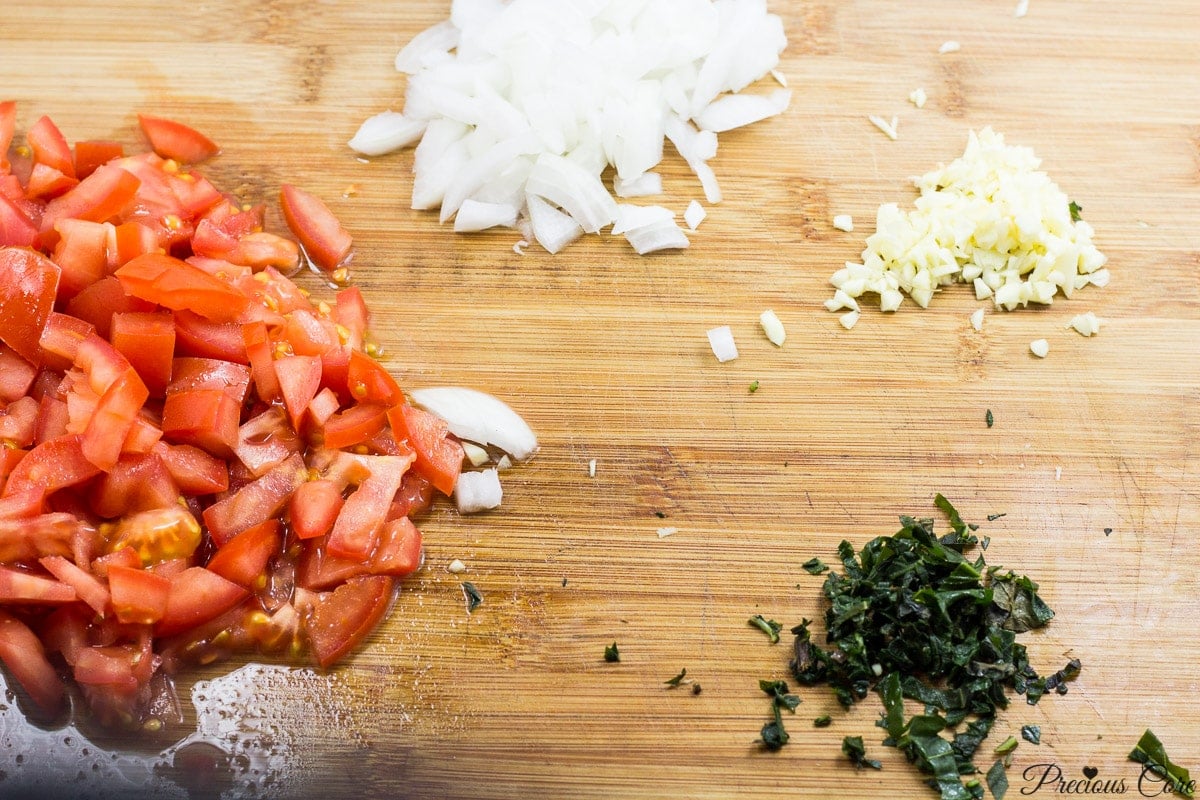 The key ingredients here are tomatoes, garlic, basil and onions. Then saute, simmer and season to perfection (no worries, all details in recipe below).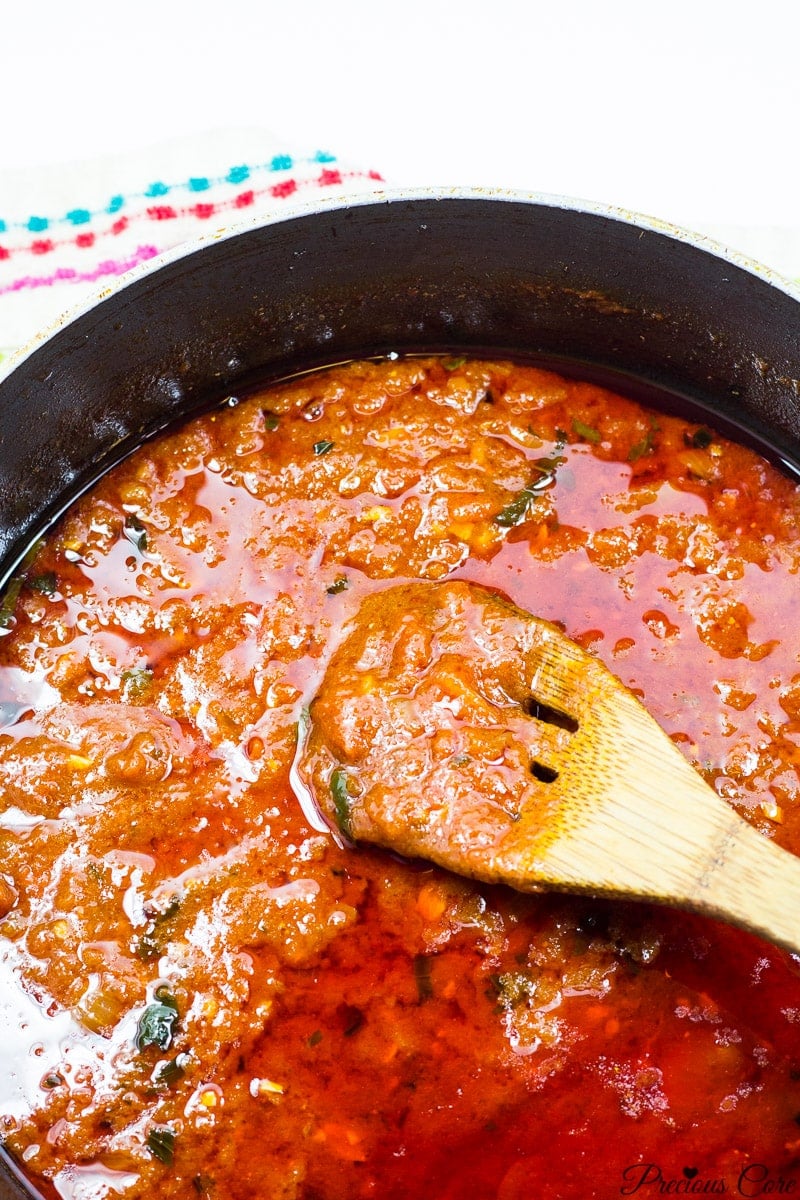 It even gets better. Dump your meatballs into this and simmer together.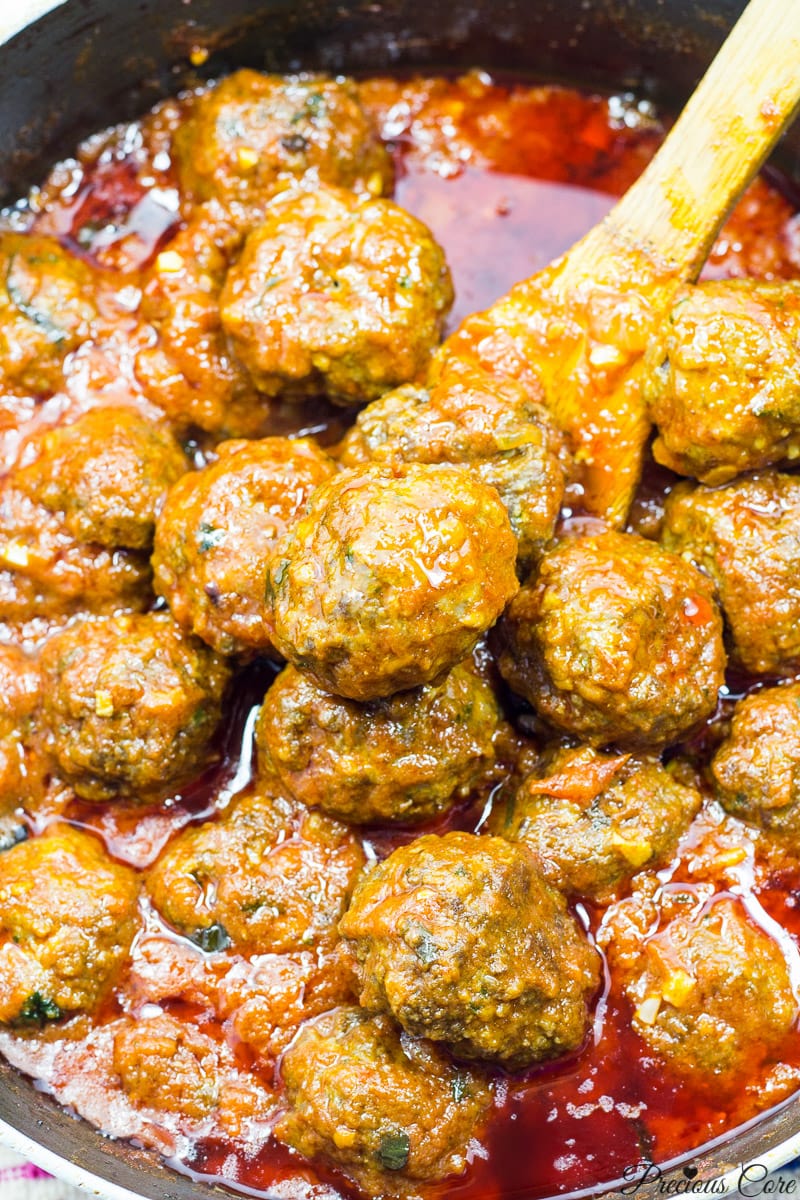 Oh my! Who wants some meatballs??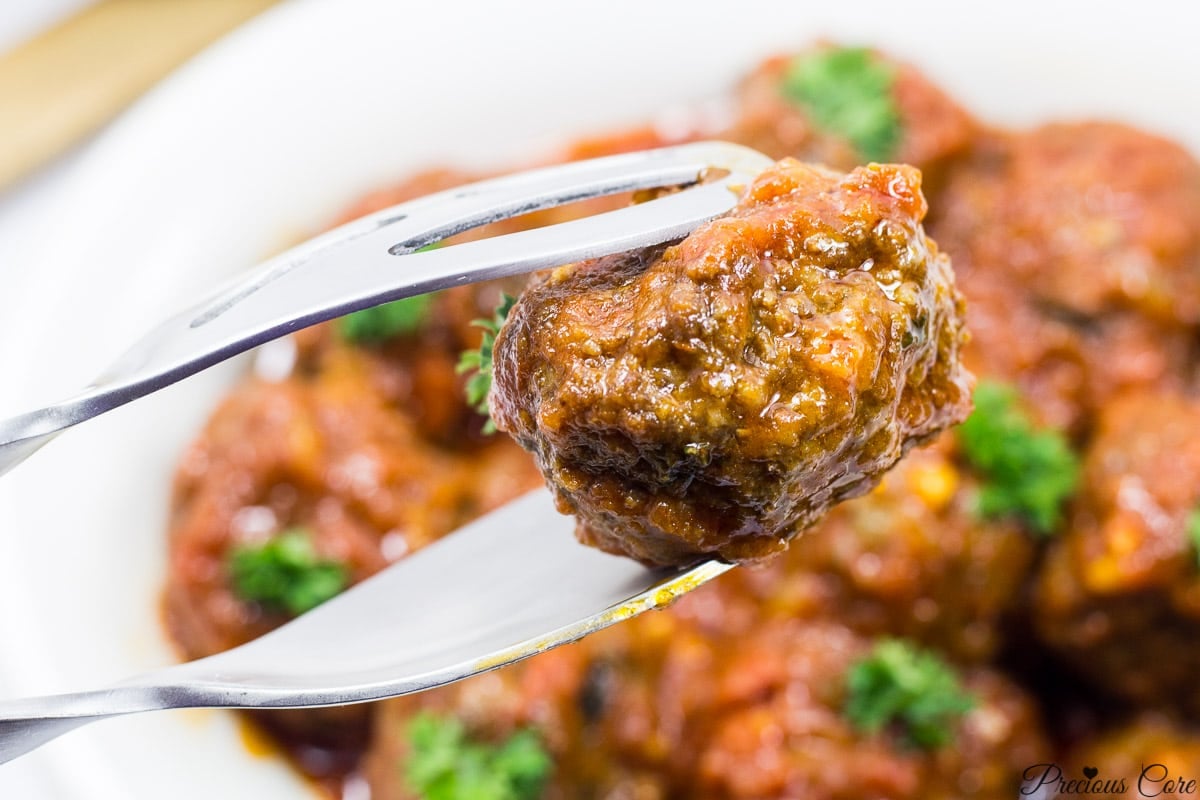 This could be eaten with:
Any boiled pasta of choice - my favourite is spaghetti!
Boiled rice.
Bread - it will make the perfect sandwich with this milk bread!
Meatballs, how I love thee!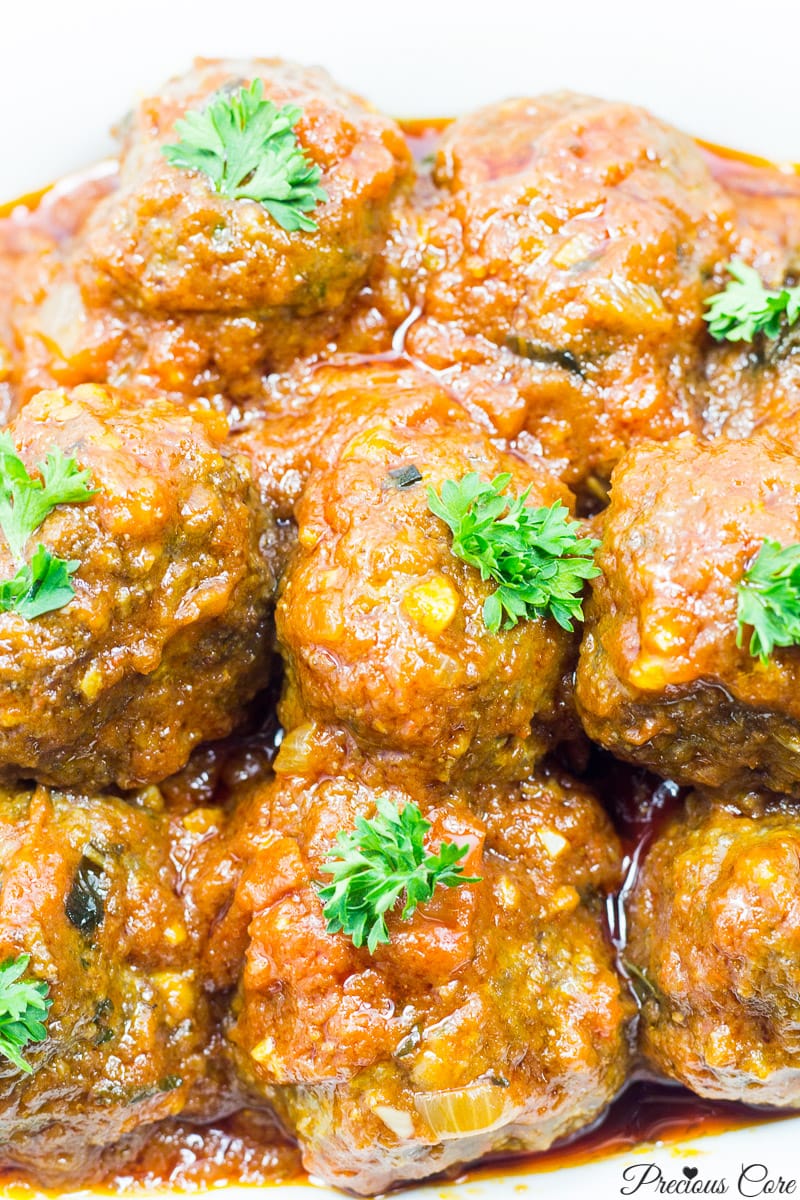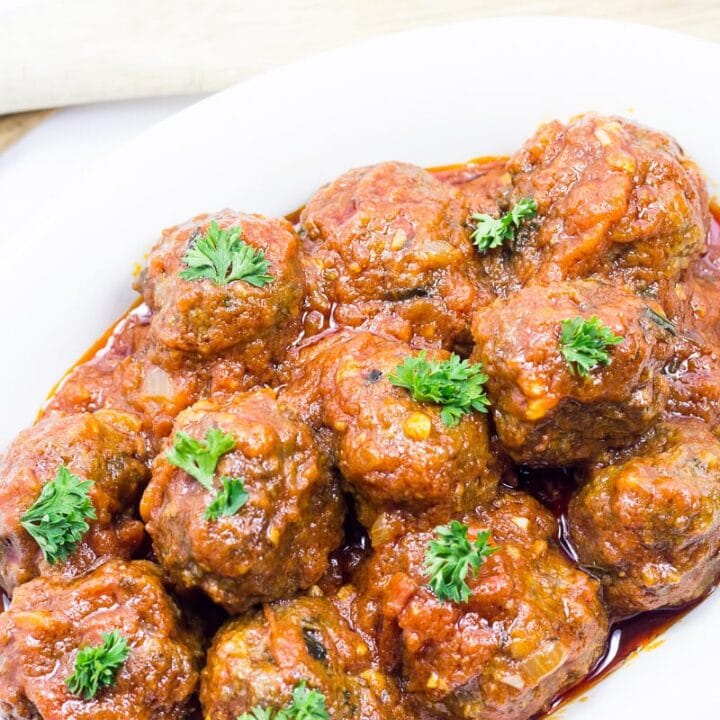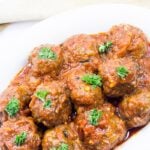 Meatballs in Tomato Sauce - West African Style
These are meatballs made with minced garlic, onion, breadcrumbs, eggs and a hint of white pepper. They are epic in every way. Make them with this tomato sauce to get the whole experience.
Ingredients
Meat Balls
2

pounds

ground beef (about 1 kg)

1

large egg

½

cup

bread crumbs or crushed butter crackers

3

sprigs

parsley - finely chopped

½

medium onion - finely chopped

4

cloves of garlic - minced

½

teaspoon

white or black pepper

1

teaspoon

salt

2

small cubes Maggi

1

cup

canola oil for frying
Tomato sauce
2-3

roma tomatoes - chopped or crushed

½

medium onion - chopped

3

cloves of garlic - minced

2

sprigs

basil - finely chopped

2

small cubes Maggi

Salt

1

15 oz can

tomato sauce
Instructions
Put all ingredients for the meatballs into a large bowl and mix until everything is well incorporated.

Scoop out the mixture with your hands or with an ice cream scoop then mold into balls. To make the balls easily, wet your hands and repeat as needed.

Heat oil in a pan on medium high then put in the meatballs to cook. Turn the sides from time to time for about 10 minutes or until the meatballs are thoroughly cooked. The balls are cooked when they are no longer pink but brown in the middle.

Pour out some oil from the pan, leaving some for the sauce. Saute onions until fragrant then add in chopped tomatoes and cook until dehydrated. Add in tomato sauce then cook together stirring from time to time for about 15 minutes.

Add in garlic, basil, salt and seasoning cubes (Maggi) then cook together for another 5 minutes. Add water as needed to adjust the consistency of the sauce.

Add meatballs to the tomato sauce and stir well making sure the sauce coats the meatballs. Then let them simmer together for another 5 minutes.

Go ahead and enjoy your life! Meatballs in tomato sauce could be eaten with any boiled pasta of choice, boiled rice or bread (pssst they make the perfect sandwich filling). Enjoy!

I'll love to have you follow me on Instagram @preciouscore. If you make this recipe, take a photo and tag me on Instagram. I'll love to see!