These Garlic Butter Rolls have it all! They are soft with a brioche-like texture, so buttery, and the garlic herb mixture on top is so good. The perfect side dish for Thanksgiving, Christmas or Easter!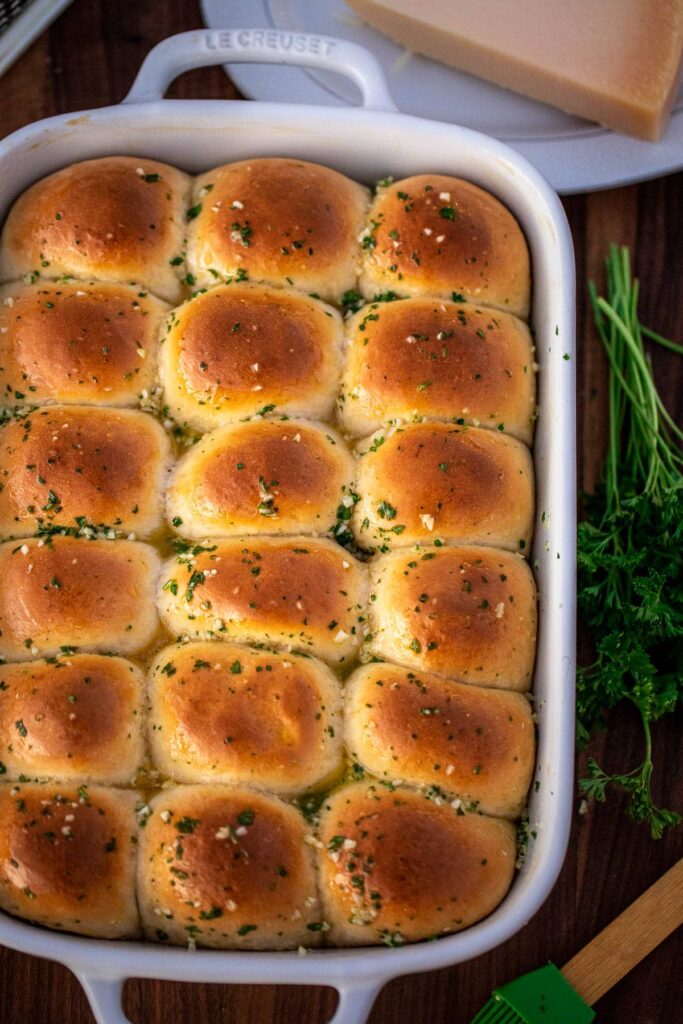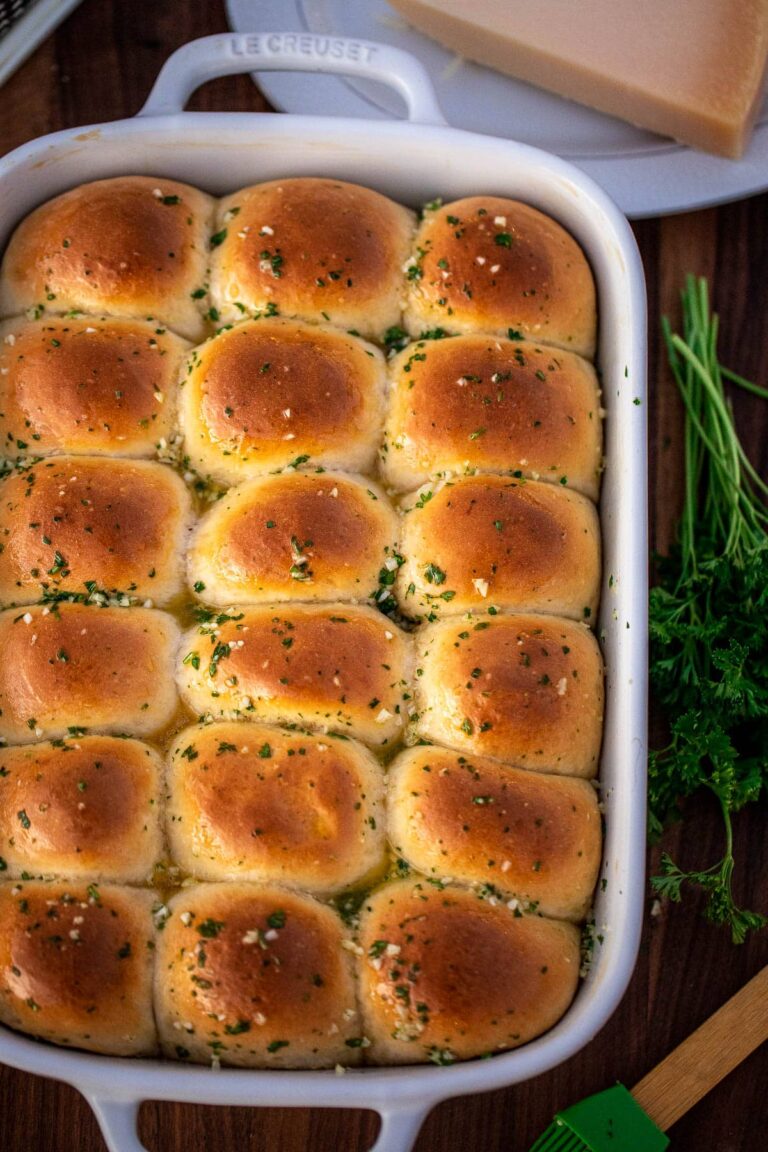 Include these show-stopping dinner rolls in your holiday menu and everyone will be impressed! Also, check out my incredible easy dinner rolls that are ready in one hour, and my sweet dinner rolls.
Serve these garlic butter dinner rolls alongside herb roasted chicken and buttermilk mashed potatoes for an insanely delicious dinner!
Jump to:
The Best Garlic Butter Rolls!
When I say show-stopping, I mean it. These Garlic Butter Rolls are so good, my hubby inhaled a ridiculous amount the other day when I made them!
They are buttery, soft, fluffy (probably the fluffiest rolls I have made!), garlicky, so so tasty and addicting!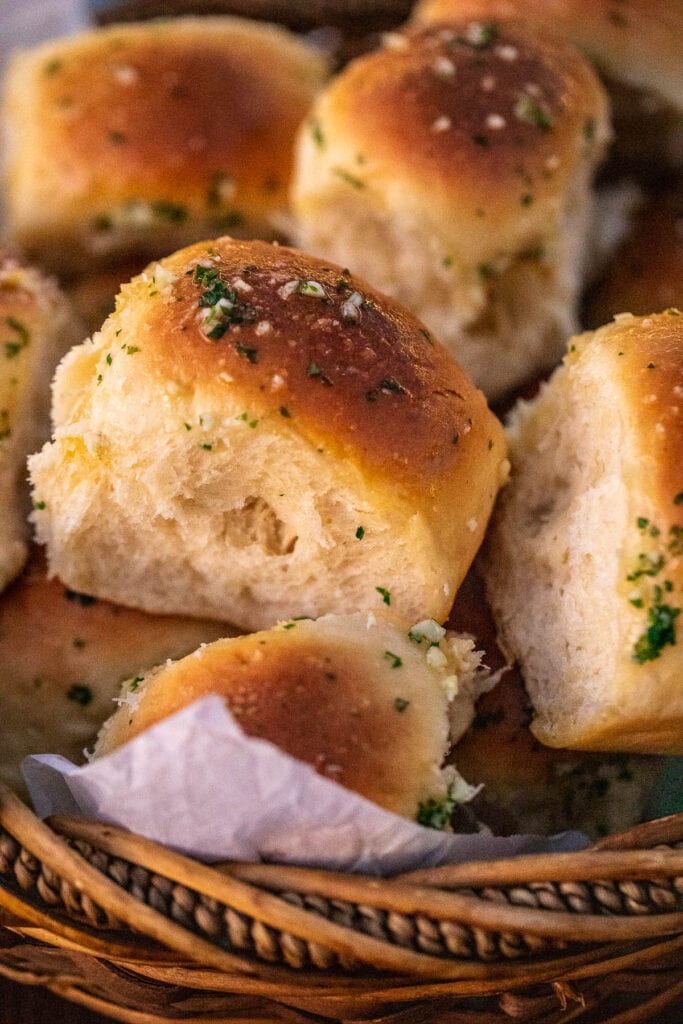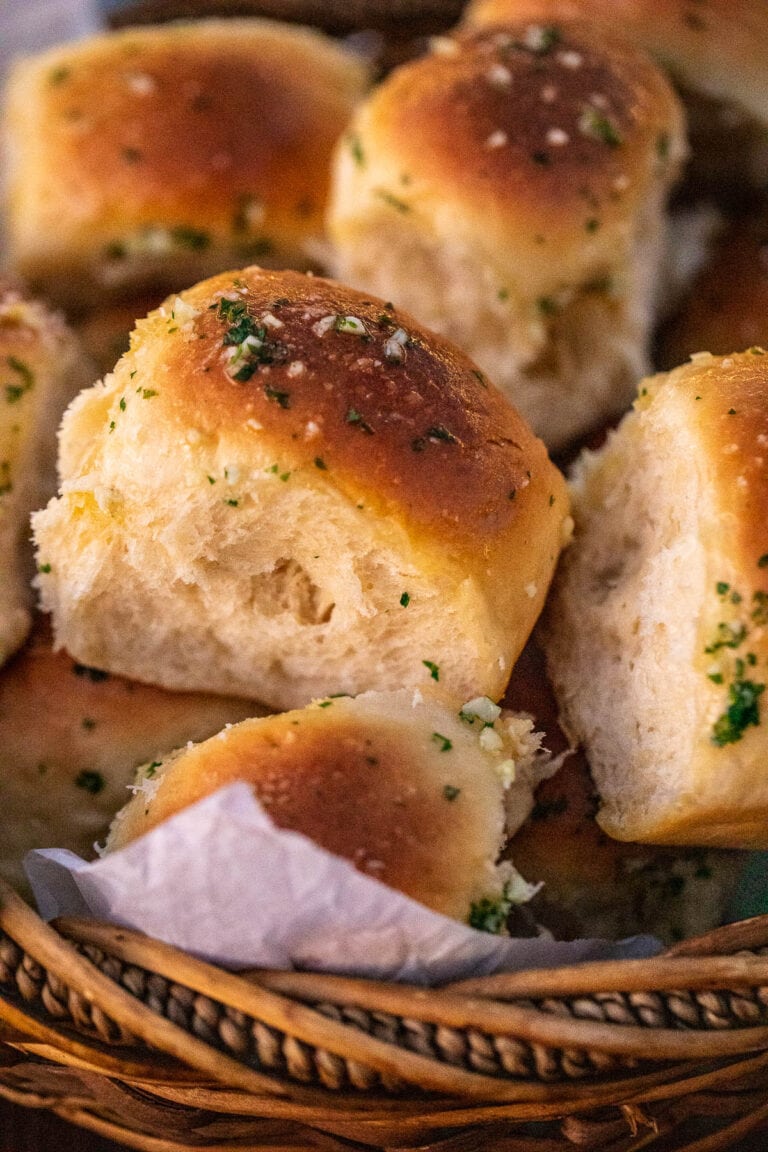 I adapted this recipe from my easy dinner rolls recipe but made it even better by adding more butter to the dough that makes the bread so soft that it tastes like brioche.
Brushing the rolls after baking with a simple garlic butter and parsley mixture imbues a lot of flavor to the rolls, taking them to the next level of dinner rolls deliciousness!
Ingredients For Garlic Butter Rolls
Here are the ingredients you need for the dinner rolls and the ingredients you need for the garlic butter.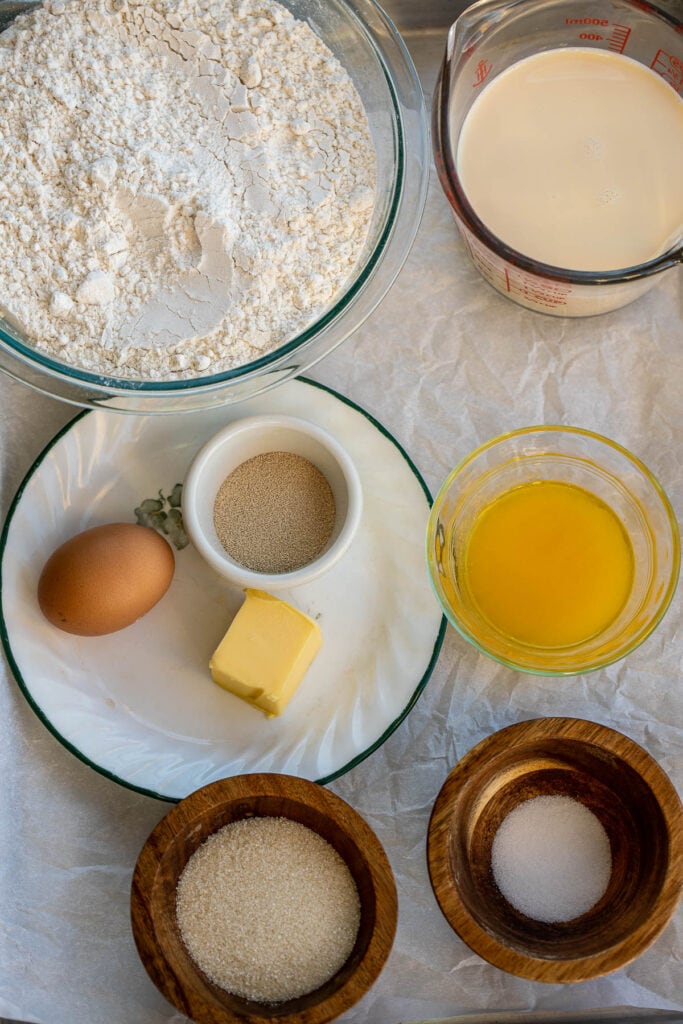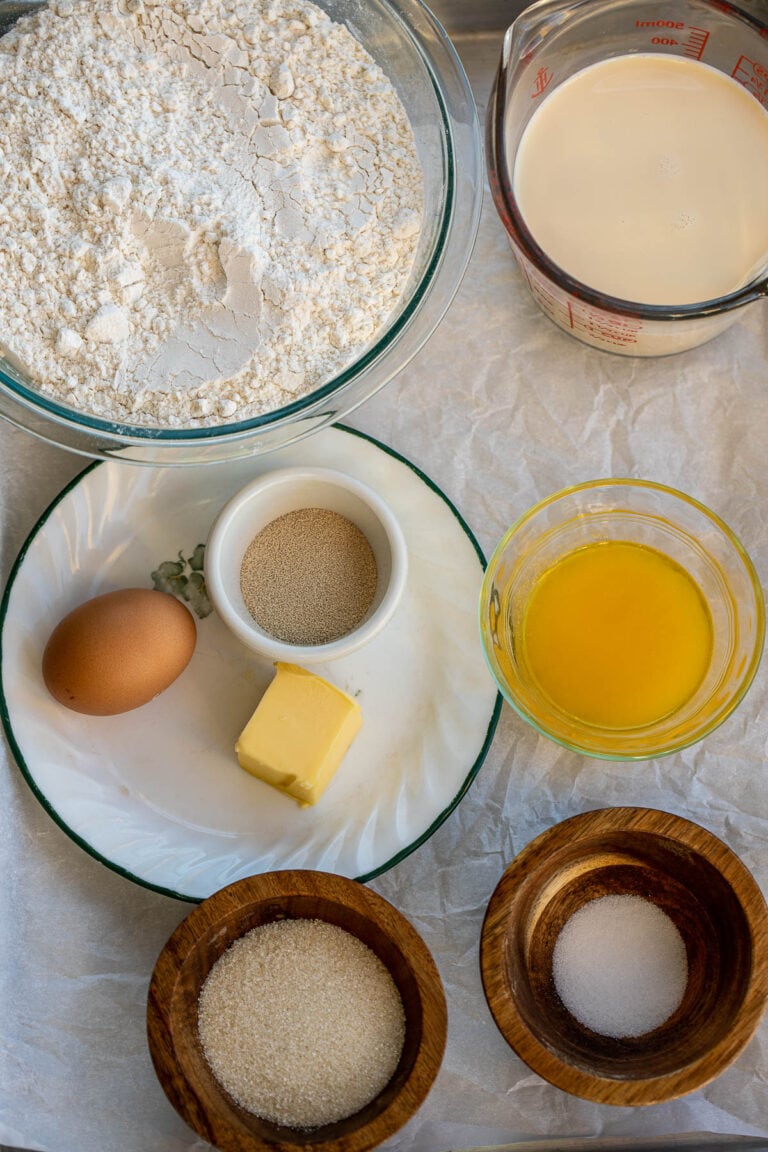 For the soft dinner rolls you need:
Flour. All-purpose flour or bread flour would work here.
Salt
Sugar
Instant yeast or rapid rise yeast. Using instant yeast quickens the bread making process as you only have to let the rolls rise once.
Butter. Use a good quality butter if you can. I love using Kerrygold!
Egg
Evaporated milk. I love evaporated milk for it's concentrated flavor but you could use regular whole milk or 2% milk too.
Here are the ingredients you need for Garlic Butter to brush over dinner rolls: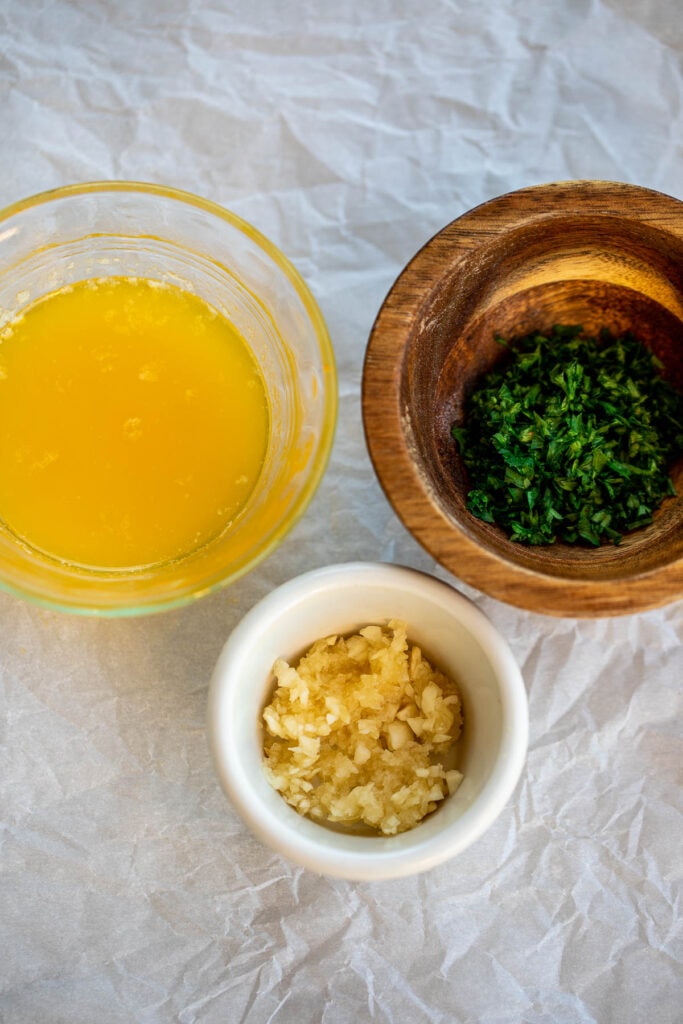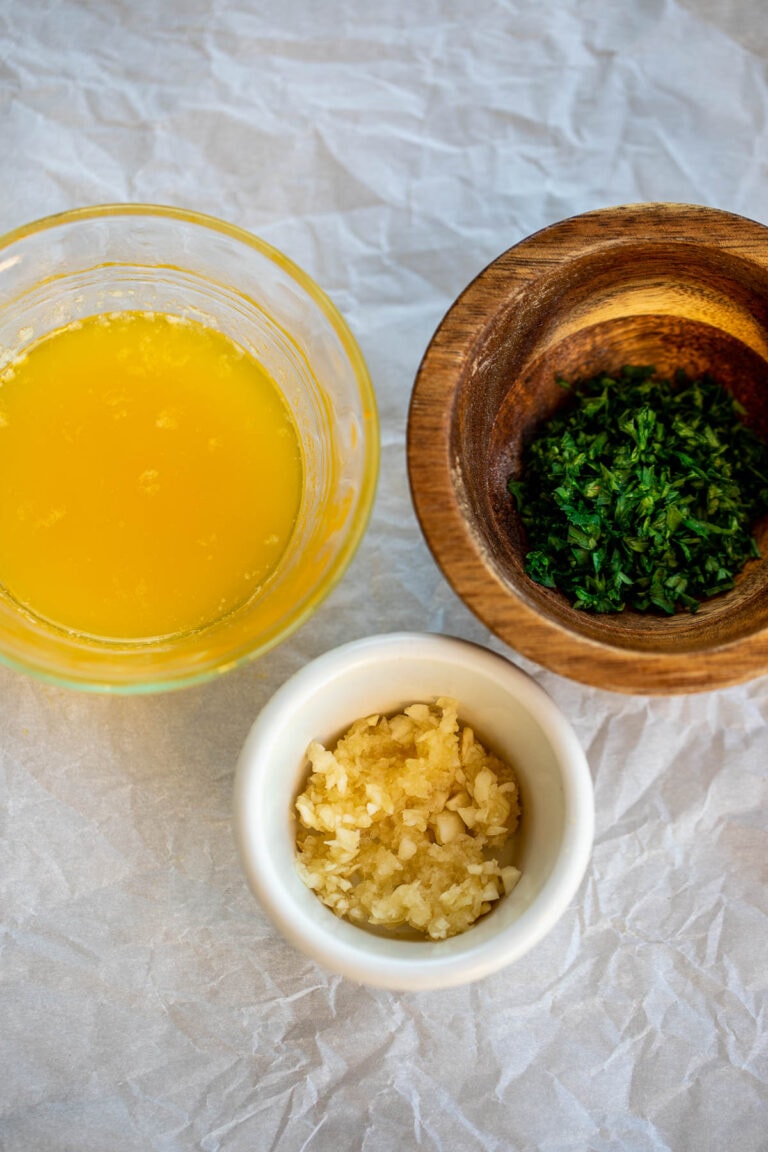 Minced Garlic
Melted Butter
Minced Parsley. You could replace freshly minced parsley with dried parsley
See the recipe card below for quantities.
How To Make Garlic Butter Rolls
Here is how to make Garlic Butter Rolls in 8 easy steps!
Hint: consider grating parmesan cheese over your rolls for more flavor and a hint of saltiness from the parmesan. I have made these rolls with and without parmesan and both ways are delicious! It's just a matter of preference.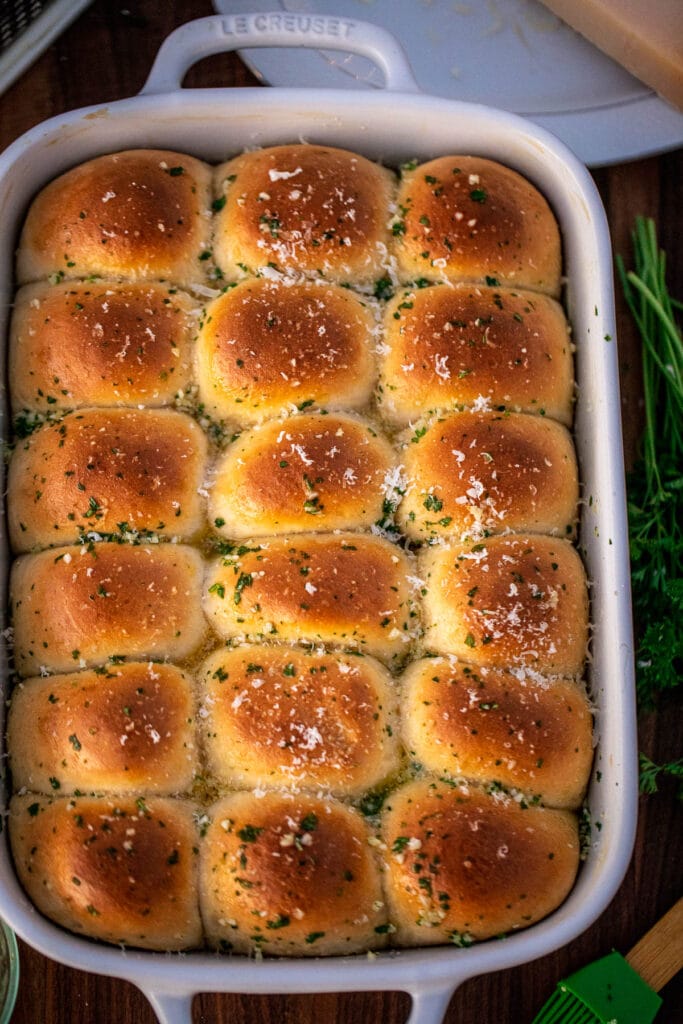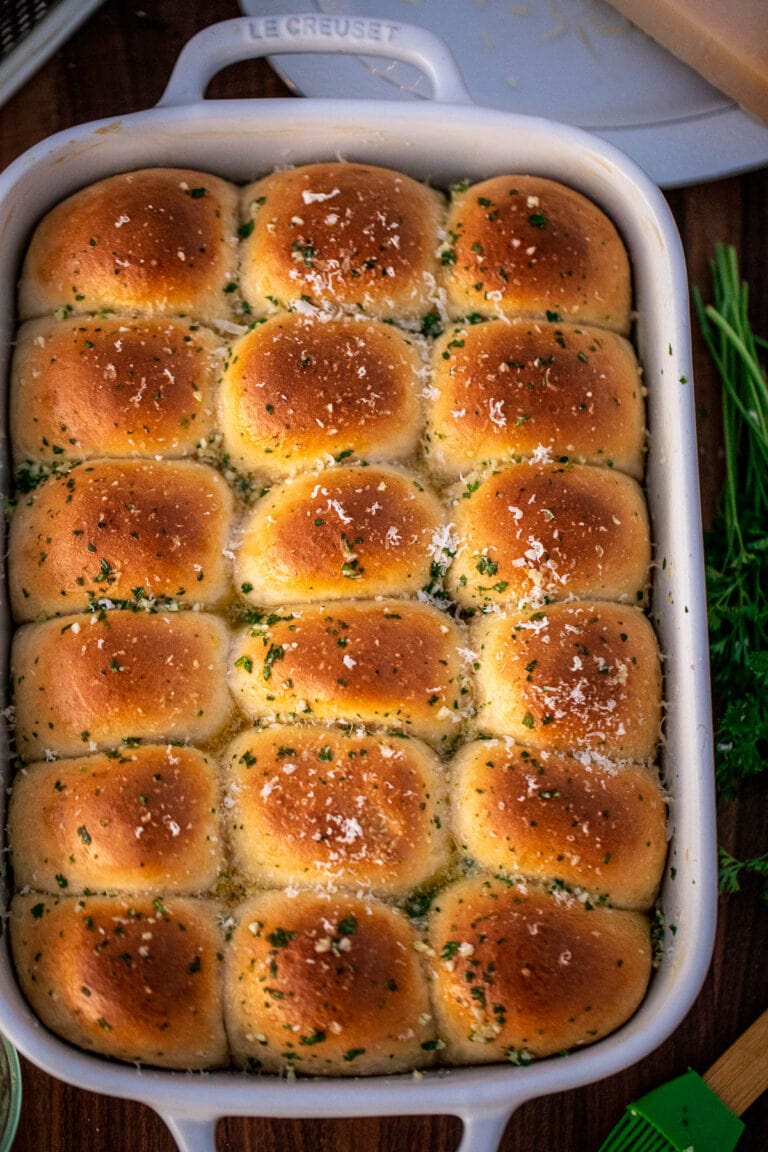 Variations
You can switch up your garlic butter rolls by trying the following variations.
Different Herbs - add different herbs like rosemary or thyme to the garlic butter. Use the herbs fresh and mince them before adding to the garlic butter. The flavors of rosemary and thyme also ring of the holidays so add them to bring some holiday flavors if serving these for the holidays.
Add Cheese - Consider grating a nutty and salty cheese like Parmesan cheese or Asiago cheese over the warm rolls.
Bread Flour - If you can find bread flour, use it instead as bread flour gives more structure and elasticity to your bread due to its high protein content. However, all-purpose flour works just fine.
Also, see these easy dinner rolls which are ready in one hour!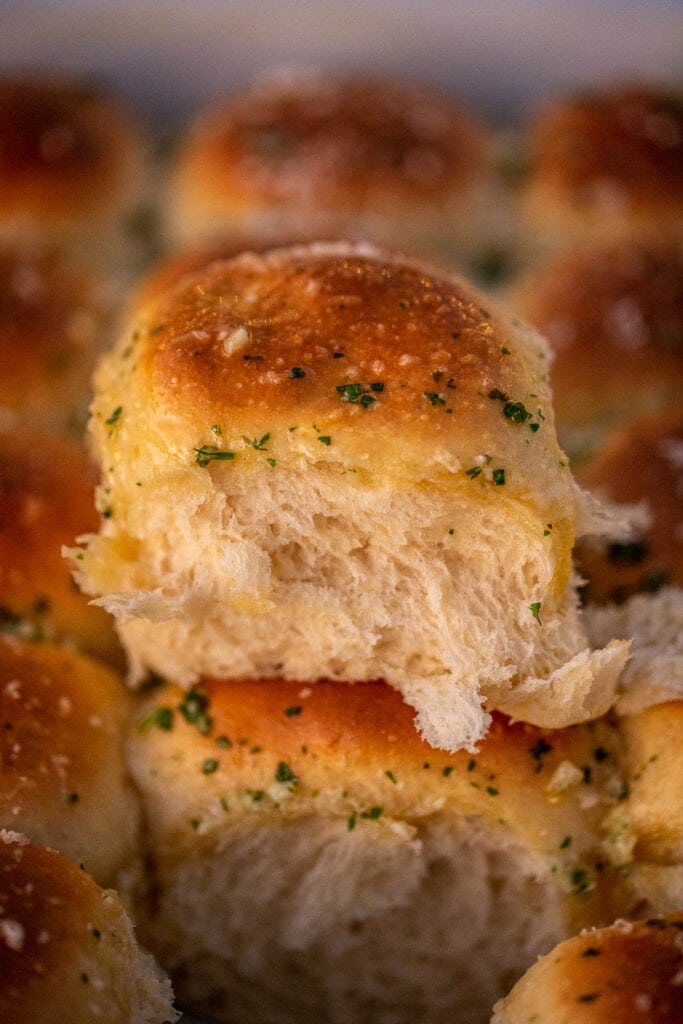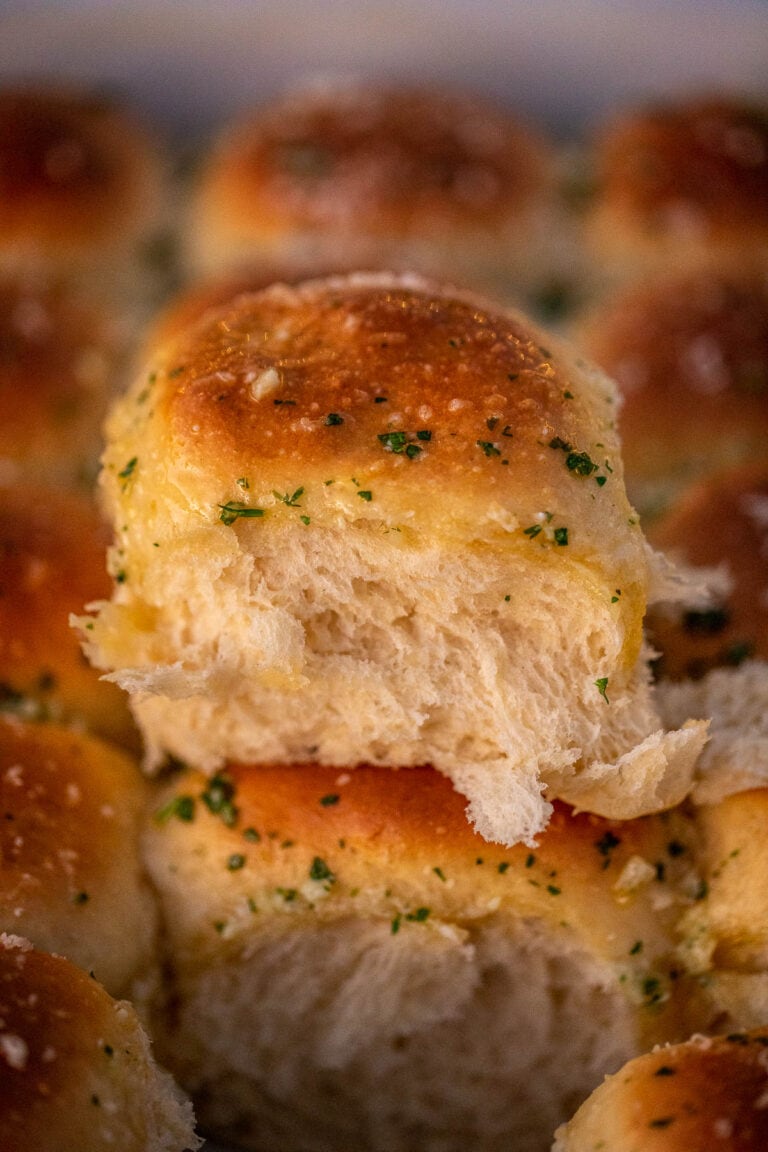 Equipment
The following equipment make making Garlic Butter Rolls easier for me:
Inexpensive Kitchen Mixer: This affordable kitchen mixer I got from Amazon makes mixing the dough a breeze.
9 by 13 Baking Dish or a Cookie Sheet for baking the rolls
Basting Brush: For basting the garlic butter over the rolls.
Make Ahead
To make these Garlic Butter Rolls ahead, make the dough, shape the rolls, and let them rise overnight in the fridge. Then remove from the fridge and bake the next morning. Note that the rolls will take longer to bake when the dough is cold.
More Holiday Recipes
Recipe