These Baked Turkey Wings are so full of flavor, easy to put together and a whole less complicated than roasting a whole turkey! The turkey is tender with still a bit of a bite to it, garlicky and just adorned with rich bold flavors. And easy turkey recipe the whole family will love!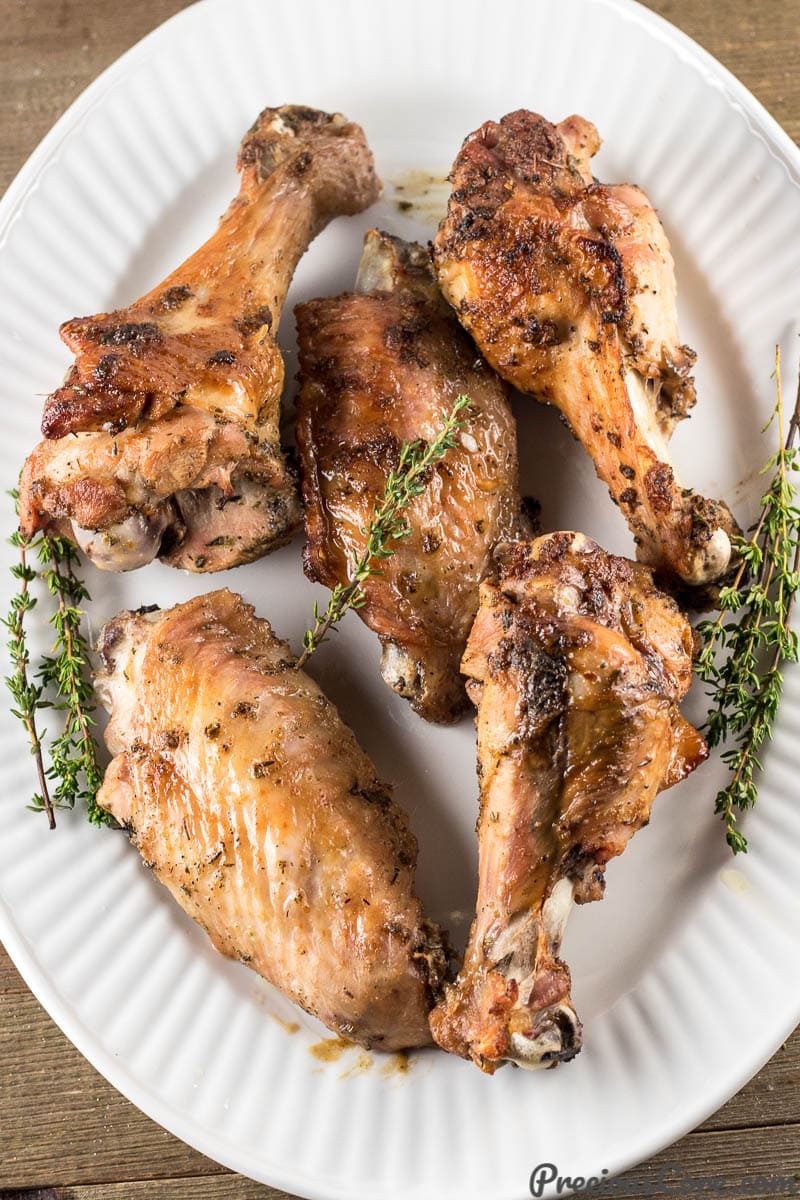 If roasting a whole turkey doesn't cut it for you, here is an alternative turkey recipe that you may want to try. This is a completely stress-free recipe and after making it, I am contemplating if I want to ever roast a whole turkey again!
Ingredients for Baked Turkey Wings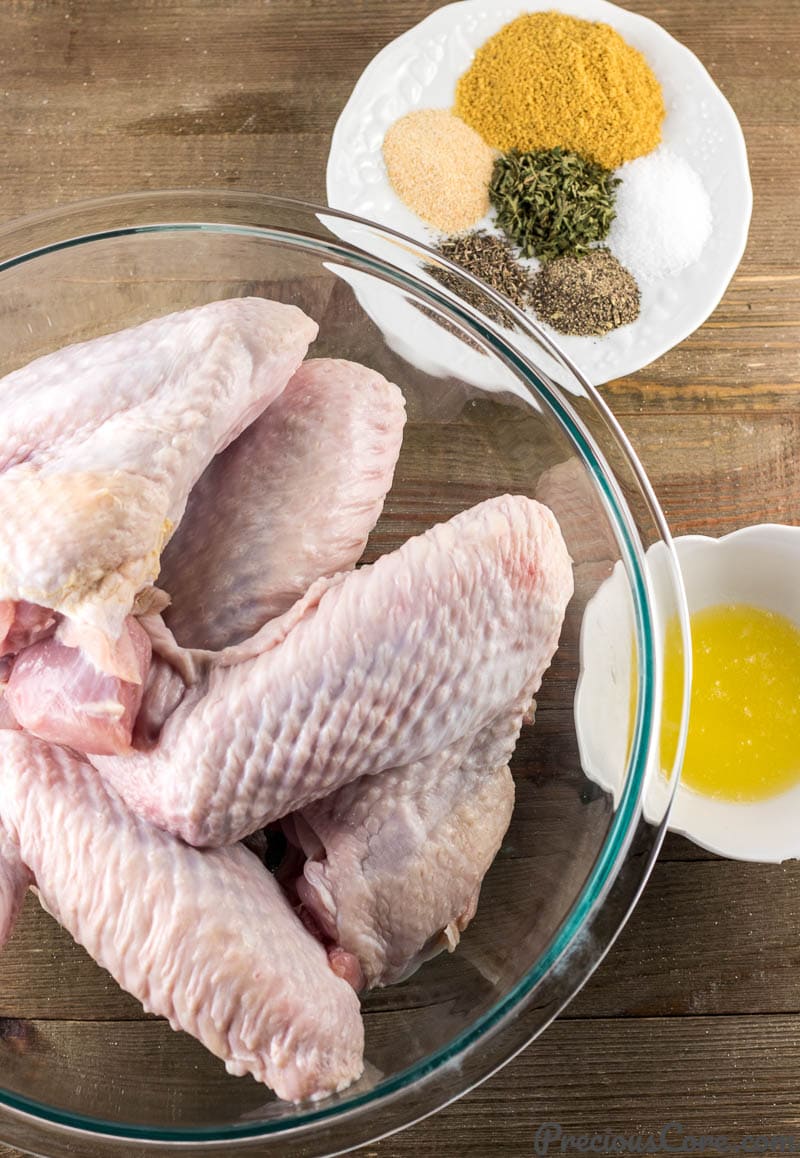 To make Baked Turkey Wings, you need turkey wings, garlic powder, dried thyme, dried parsley, chicken bouillon powder, melted butter, salt, and black pepper.
You could use fresh herbs/spices of course but there is very little difference in taste compared to when you use dried herbs. So I just go with dried herbs/spices since they are easier to use anyway.
How to Make Baked Turkey Wings
1. Cut the turkey wings at the joints then discard the tips or save them for making stock. Pour all ingredients over the turkey and rub well to ensure that the seasoning gets all around the flesh. Place the turkey wings in a baking dish.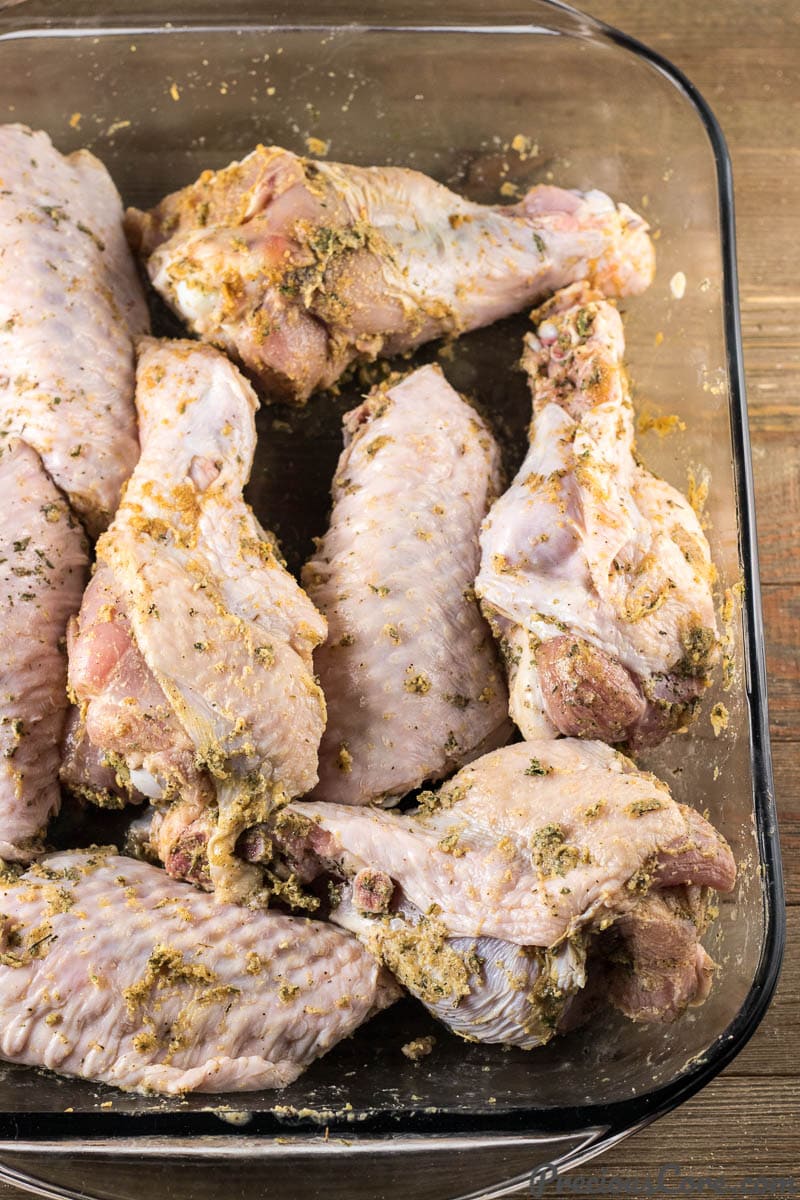 Note that you should use a baking dish for this recipe, not a roasting pan. You'll get beautiful drippings from the turkey, which you can drizzle over your side dish or drizzle over the turkey right before serving.
2. Place the turkey in the oven and let it cook at 400 degrees Fahrenheit for 1 full hour. Halfway through the baking, turn the pan to ensure even distribution of heat.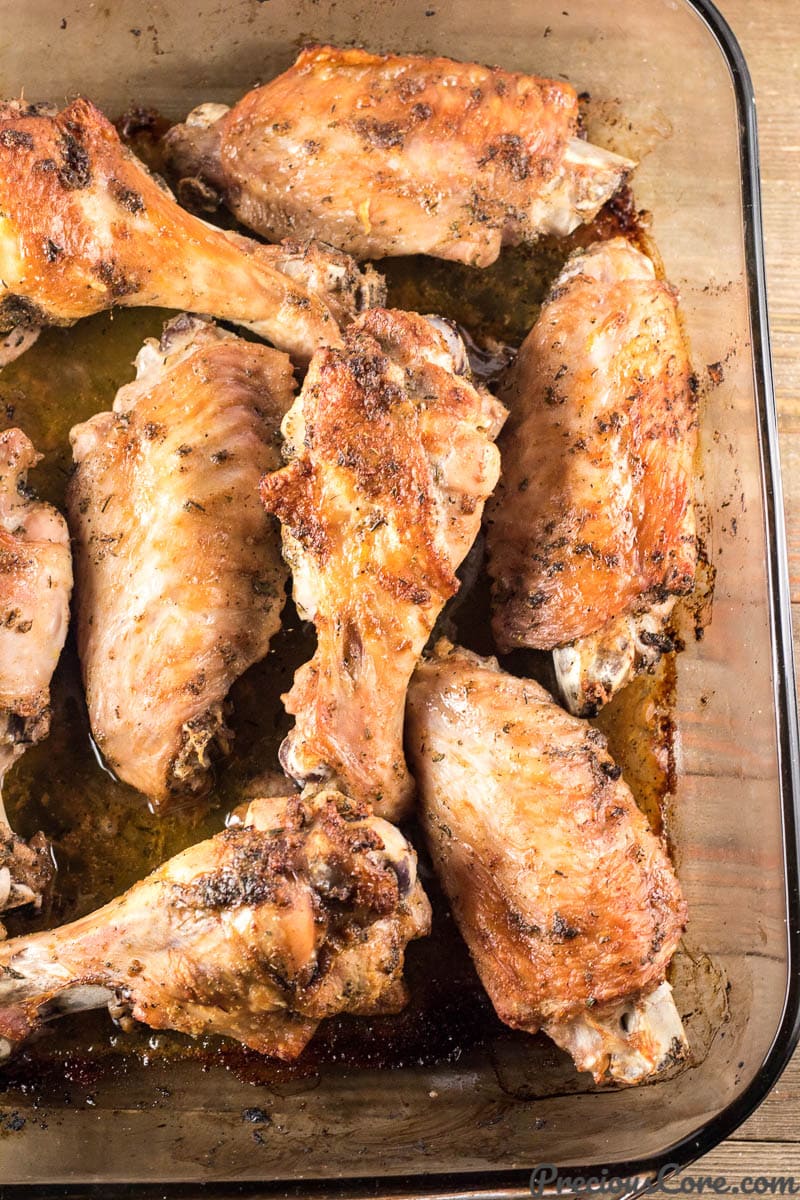 After that, the turkey develops a nice golden color and crispy skin on the outside. It also has beautiful drippings which taste so good! The blend of spices gives it an incredible taste and you don't even have to marinate the turkey overnight to get that taste!
This Baked Turkey Wings recipe requires no marinating time or defrosting time. Simple cut some turkey wings, wash them, marinate and pop into the oven. If you are looking for a last minute Thanksgiving dinner idea, this one works perfectly!
What Goes with Baked Turkey Wings?
Baked Turkey Wings goes well with several side dishes like:
Tostones (twice fried plantains)
Any potato side dish!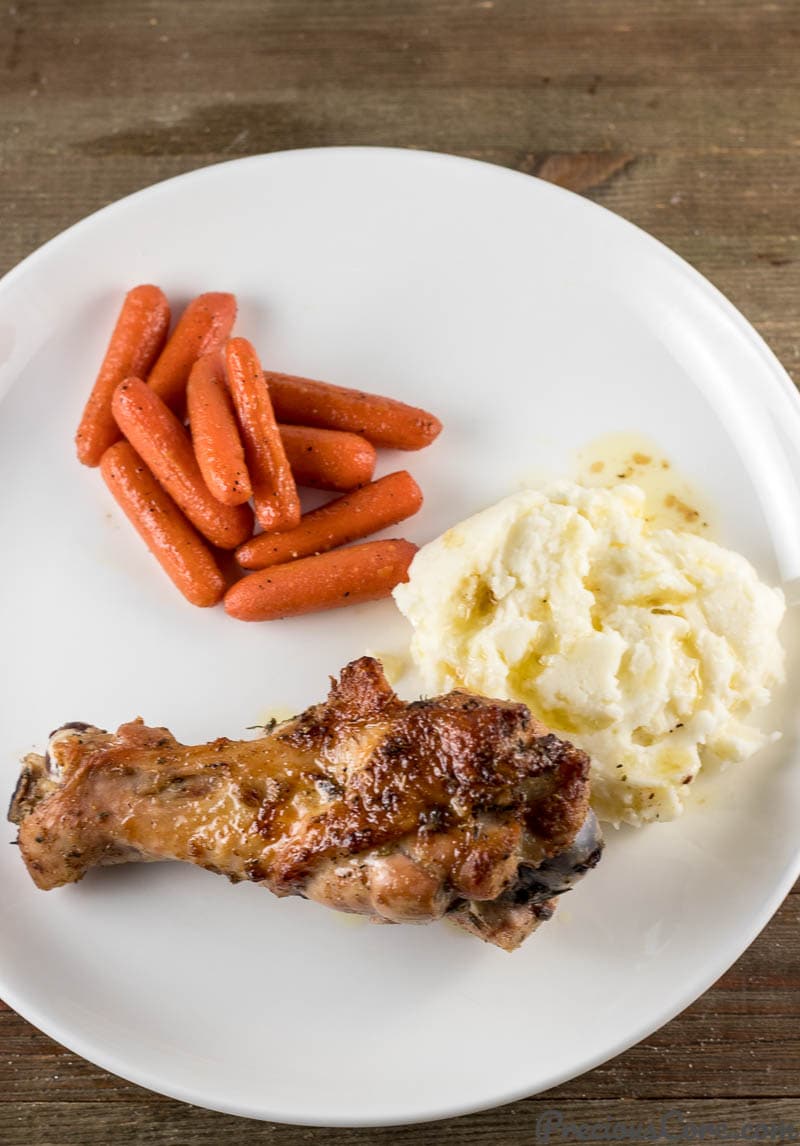 Hope you enjoy this Baked Turkey Wings recipe, friends and have a very happy Thanksgiving!!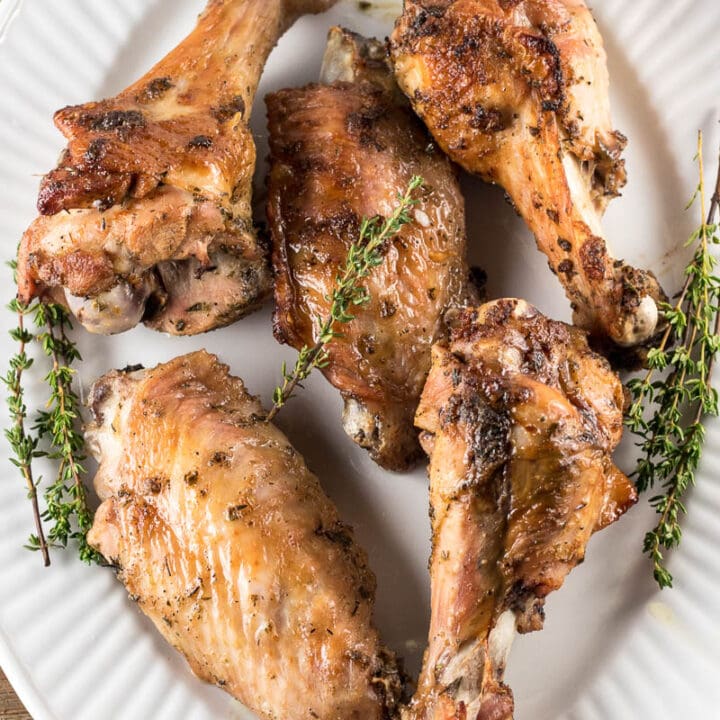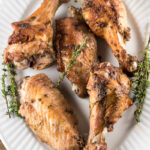 Baked Turkey wings
These Baked Turkey Wings are so full of flavor, easy to put together and a whole less complicated than roasting a whole turkey!

Cuisine:
American, Southern
Keyword:
Baked Turkey Wings
Ingredients
4

turkey wings

1

tablespoon

chicken bouillon powder

1

teaspoon

salt

½

teaspoon

ground black pepper

½

teaspoon

dried thyme

1

teaspoon

garlic powder

1

teaspoon

dried parsley

2

tablespoons

salted butter - melted
Instructions
Preheat oven to 400 degrees F (200 degrees C).

Rinse turkey wings then slit the wings at the joints. (Discard the wing tips or keep them for making stock/broth). Pat the turkey pieces dry with paper towel.

Place the turkey pieces in a baking dish then add all the other ingredients. Mix well so the seasoning coats all of the turkey.

Place in preheated oven and bake for one hour until the turkey is golden and crispy on the outside.

Serve warm with your favorite side dish.
Recipe Notes
1. I use butter in this recipe because the butter gives so much flavor to the baked turkey. Alternately, you could use two tablespoons of oil.
2. Make ahead tip: Mix turkey with all the ingredients, place in baking dish then wrap with a plastic wrap and place in the fridge. The next day, simply unwrap it and place it in the oven to bake. Be sure to take the turkey out of the fridge 30 minutes before baking so it can come to room temperature before going into the oven.
3. I used 4 turkey wings here which measure at about 4-5 pounds (2-2.5 kg). If your turkey wings are smaller, reduce the salt if not, they will be too salty.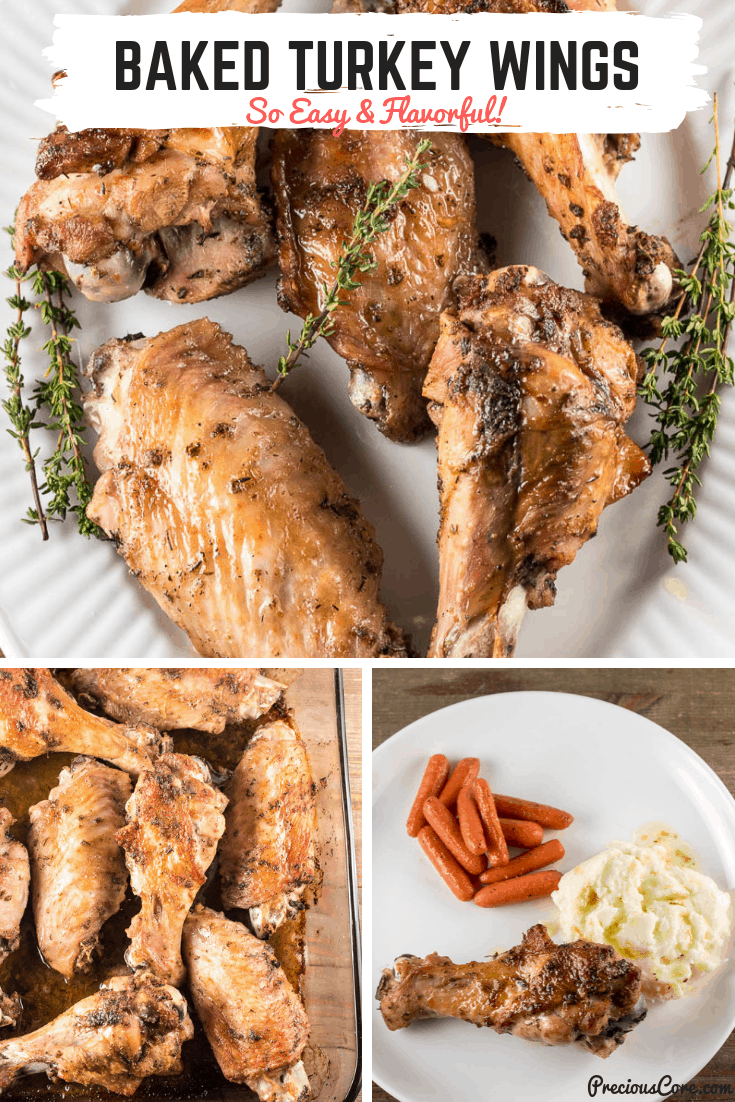 "Trust in the Lord with all thine heart; and lean not unto thine own understanding.
In all thy ways acknowledge him, and he shall direct thy paths." Proverbs 3:5-6, KJV