Oven Baked Turkey Wings
Published Nov 18, 2022
Updated Aug 25, 2023
These Oven Baked Turkey Wings are so full of flavor, easy to put together, and way less complicated than roasting a whole turkey for Thanksgiving! Only 10 minutes of prep time is required to make this tasty turkey dinner!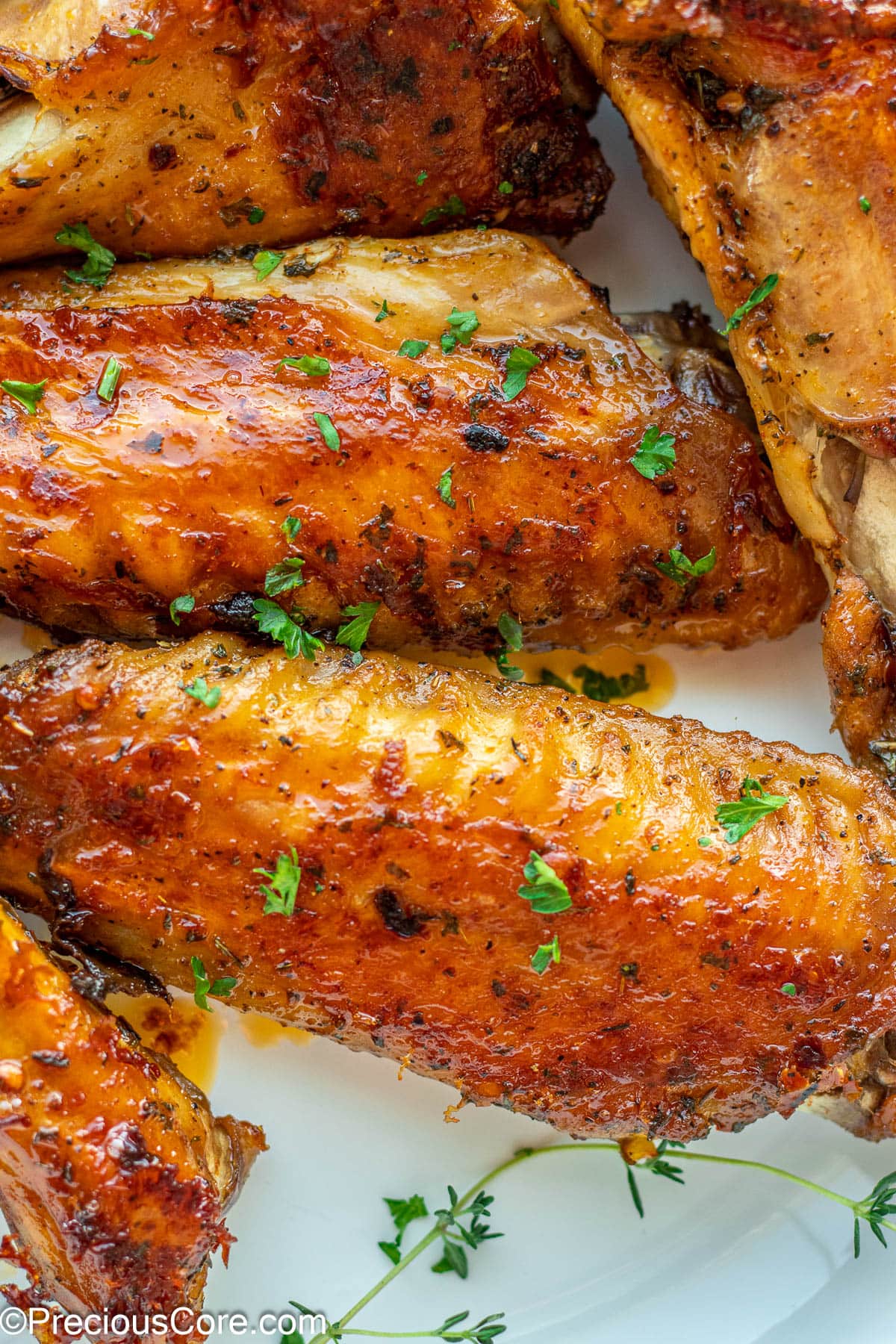 We love easy turkey recipes like baked turkey drumsticks and baked turkey breast!
If roasting a whole turkey doesn't cut it for you, here is an alternative turkey recipe that you may want to try. This is a completely stress-free recipe and after making it, I am contemplating if I want to ever roast a whole turkey again!
These Oven Baked Turkey Wings are tender with a bit of a bite to them, garlicky, herby, just adorned with rich flavors. This is an easy turkey recipe the whole family will love! Serve it alongside Garlic Herb Rice, Fried Carrots, and Garlic Butter Green Beans.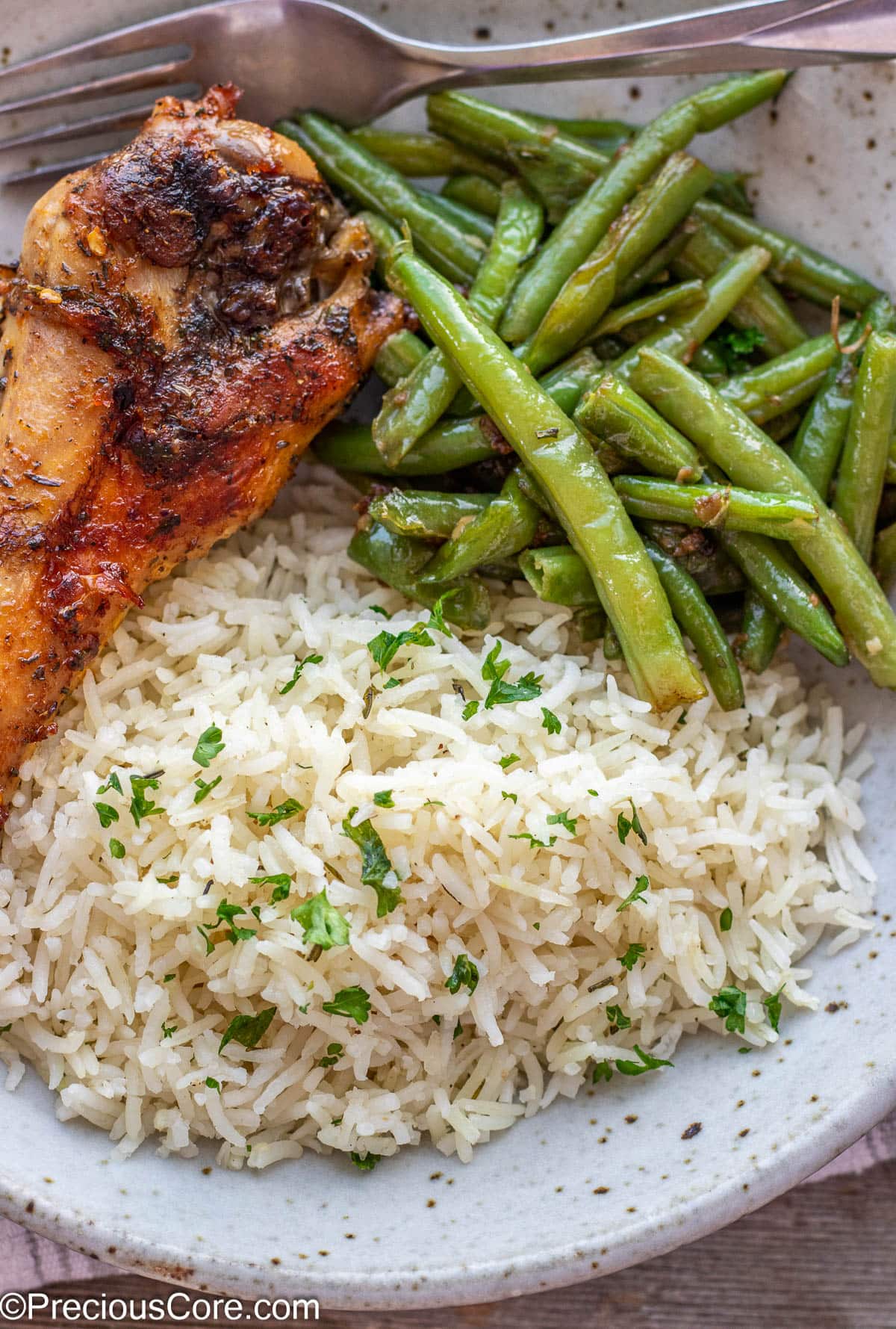 Why You'll Love This Recipe
Ridiculously easy! You only need 10 minutes of prep time to season the turkey! After that, you let the oven do all the work!
A great alternative to cooking a whole turkey! Making these baked turkey wings is way easier than cooking a whole turkey.
Insanely delicious! The blend of herbs, spices, and seasoning used gives the turkey wings great flavor. No bland turkey here!
So versatile! You can switch these turkey wings up in many different ways. See suggestions for variations below!
Ingredients Needed
For oven baked turkey wings, you need some turkey wings and a few herbs and spices. You only need 8 ingredients including salt and pepper!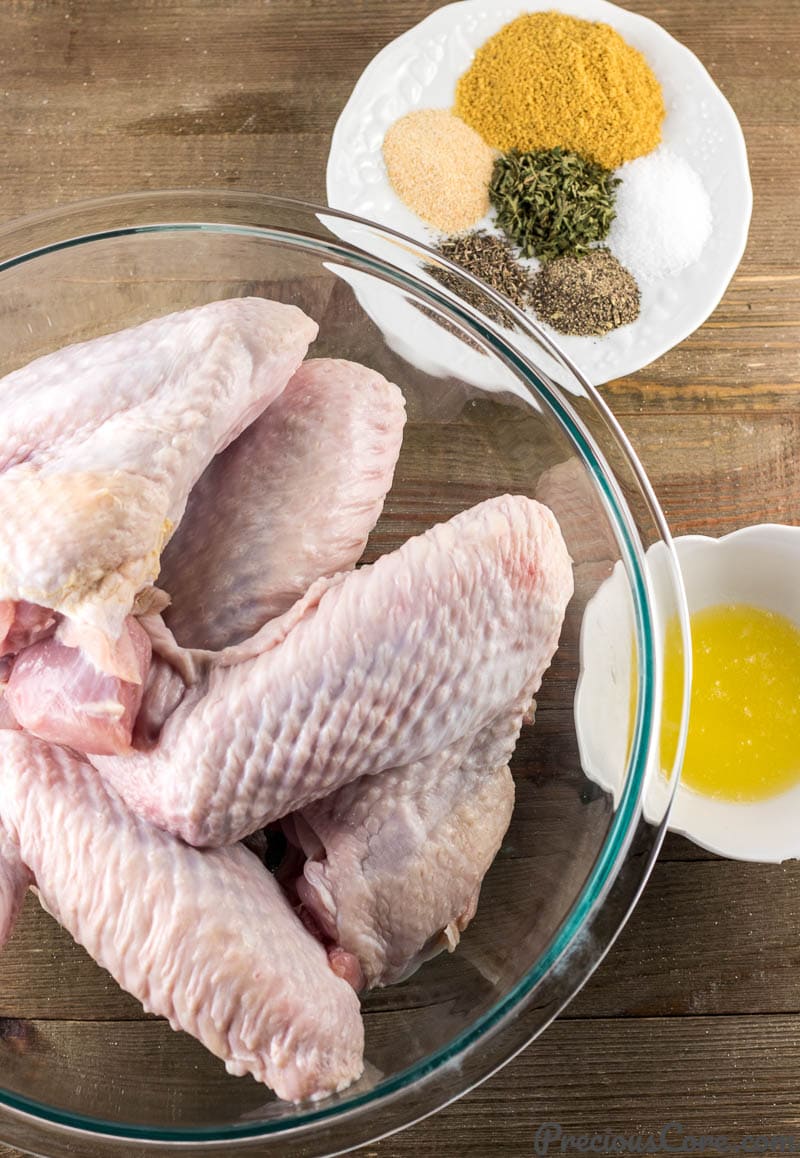 Here are the ingredients you need:
Turkey Wings
Melted Butter
Garlic Powder
Dried Thyme
Dried Parsley
Chicken Bouillon Powder
Salt and Black Pepper
Note: You could use fresh herbs/spices of course but there is very little difference in taste compared to when you use dried herbs. So I just go with dried herbs/spices since they are easier to use anyway.
Substitutions and Variations
Turkey: Instead of turkey wings, try using other parts of turkey like turkey thighs, turkey drumsticks, or turkey breasts. Note also check out my Baked Turkey Drumsticks and Baked Turkey Breast recipes.
Spices and Herbs: Try adding other spices and herbs like onion powder, crushed pepper flakes, rosemary, oregano, or sage. You could also use different seasoning blends to season the turkey like Cajun seasoning, Lemon Pepper seasoning, poultry seasoning, or Italian seasoning. If using a seasoning blend, be sure to check if it is salt-free or not so you can reduce the amount of salt if your seasoning blend contains salt.
Garlic Butter: Try tossing the turkey wings with a garlic butter sauce after baking them for even more flavor. Make the Garlic Butter Sauce by combining melted butter, minced garlic, and minced parsley.
Turkey, Potatoes, and Vegetables: Add potatoes and vegetables like broccoli, bell peppers, and mushrooms to the same pan as the turkey and bake them together for a complete meal.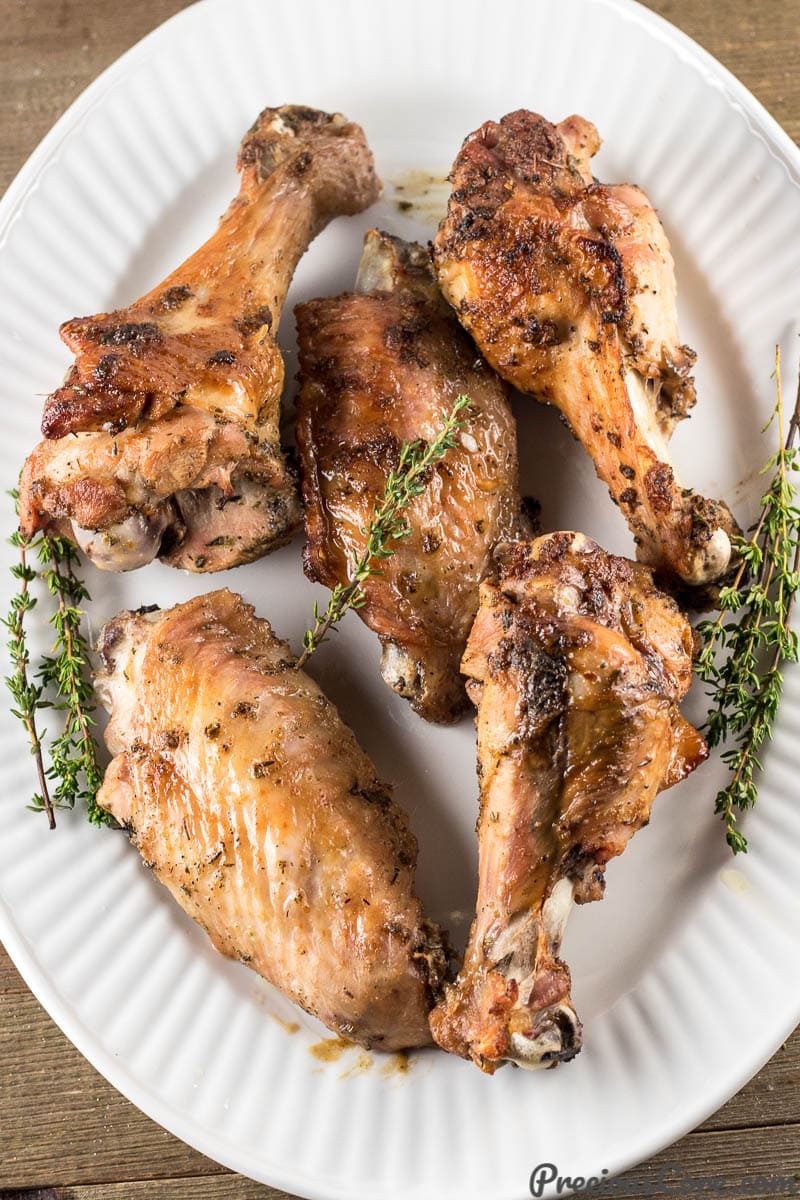 How to Make Oven Baked Turkey Wings
1. Prep and Season Turkey: Cut the turkey wings at the joints then discard the tips or save them for making stock. Pour all the other ingredients over the turkey and rub well to ensure that the seasoning gets all around the flesh. Place the turkey wings in a baking dish. Note: if you get already cut turkey wings, there will be no need to cut them at the joint.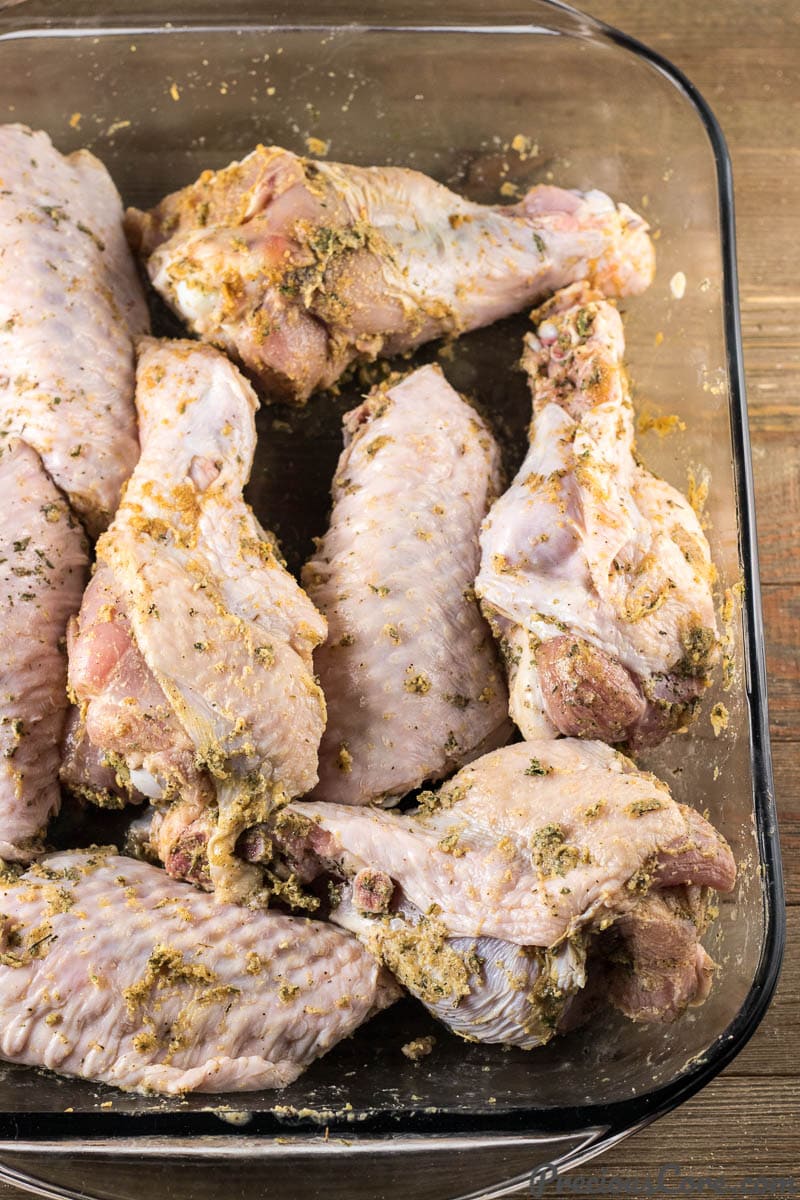 2. Bake Turkey Wings: Place the turkey in the oven and let it cook at 400 degrees Fahrenheit for 1 full hour. Halfway through the baking, turn the pan to ensure an even distribution of heat.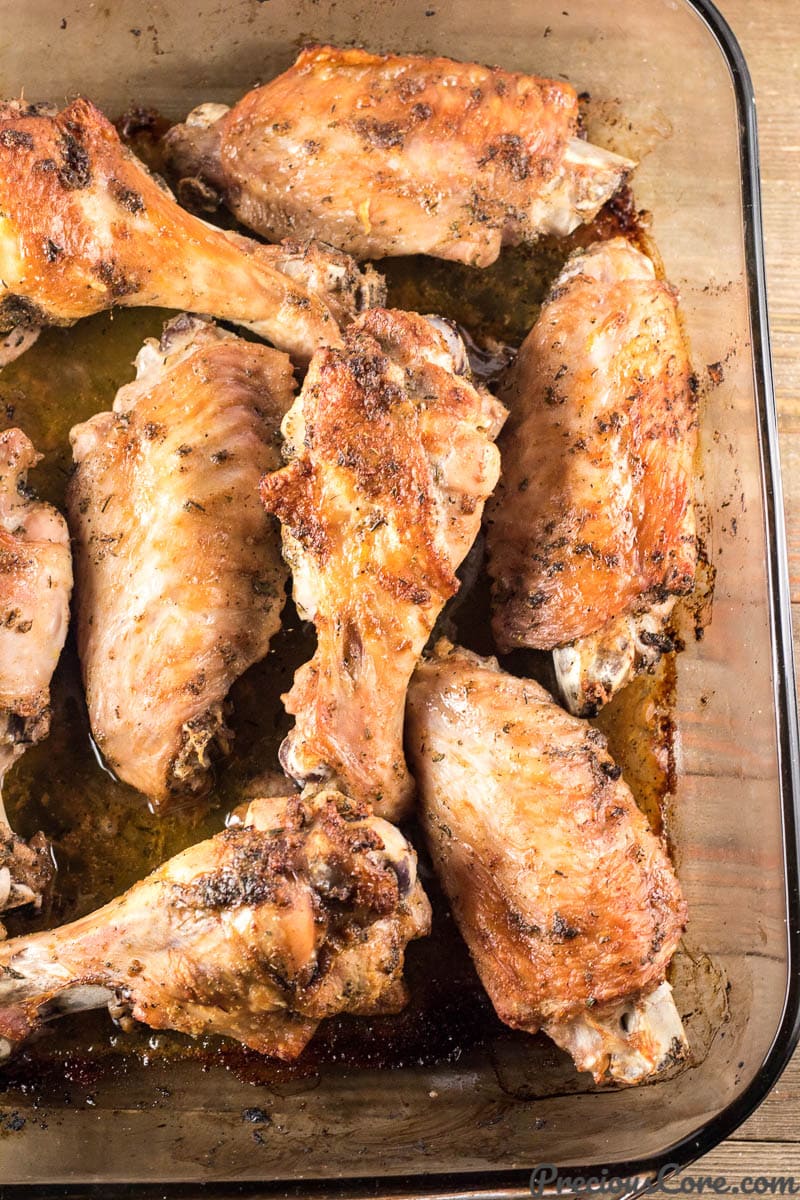 After baking, the turkey wings develop a nice golden color and crispy skin on the outside. They also have beautiful drippings which taste so good! The blend of spices gives it an incredible taste and you don't even have to marinate the turkey overnight to get that taste!
Hint: You should use a baking dish for this recipe, not a roasting pan. You'll get beautiful drippings from the turkey, which you can drizzle over your side dish or drizzle over the turkey right before serving. You could also baste the turkey with its drippings halfway through cooking.
This Baked Turkey Wings recipe requires no marinating time or defrosting time. Simply cut some turkey wings, wash them, pat them dry, marinate, and pop them into the oven. If you are looking for a last-minute Thanksgiving dinner idea, this one works perfectly!
Tips For The Best Baked Turkey Wings
Pat the turkey wings dry with paper towels before seasoning them. This makes the wings have crispy skin as they bake!
Baste the turkey wings with the dripping from the pan in which they were roasted before serving. This makes the wings glossy, making for a better appearance and imparting more flavor!
Measure the turkey wings per pound, not by the number of turkey wings since turkey wings come in different sizes. This recipe calls for 4 pounds of turkey wings.
To ensure the turkey wings are fully cooked insert an instant-read meat thermometer into the thickest part of a wing. If the thermometer reads 165 degrees Fahrenheit or 75 degrees Celsius, then the turkey is cooked through. Another way to check for doneness is to cut a wing on the side. If it is no longer pink in the middle and the juices run clear, then the wing is ready.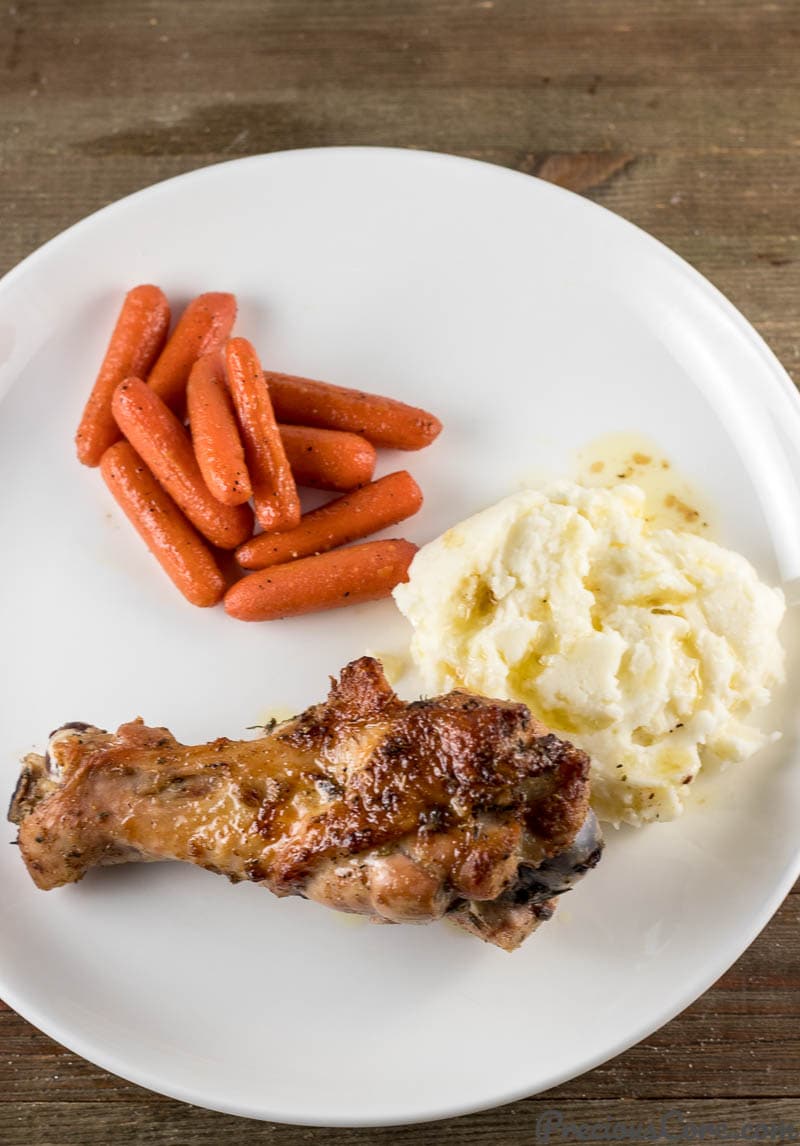 What Goes with Oven Baked Turkey Wings?
Baked Turkey Wings go well with several side dishes including: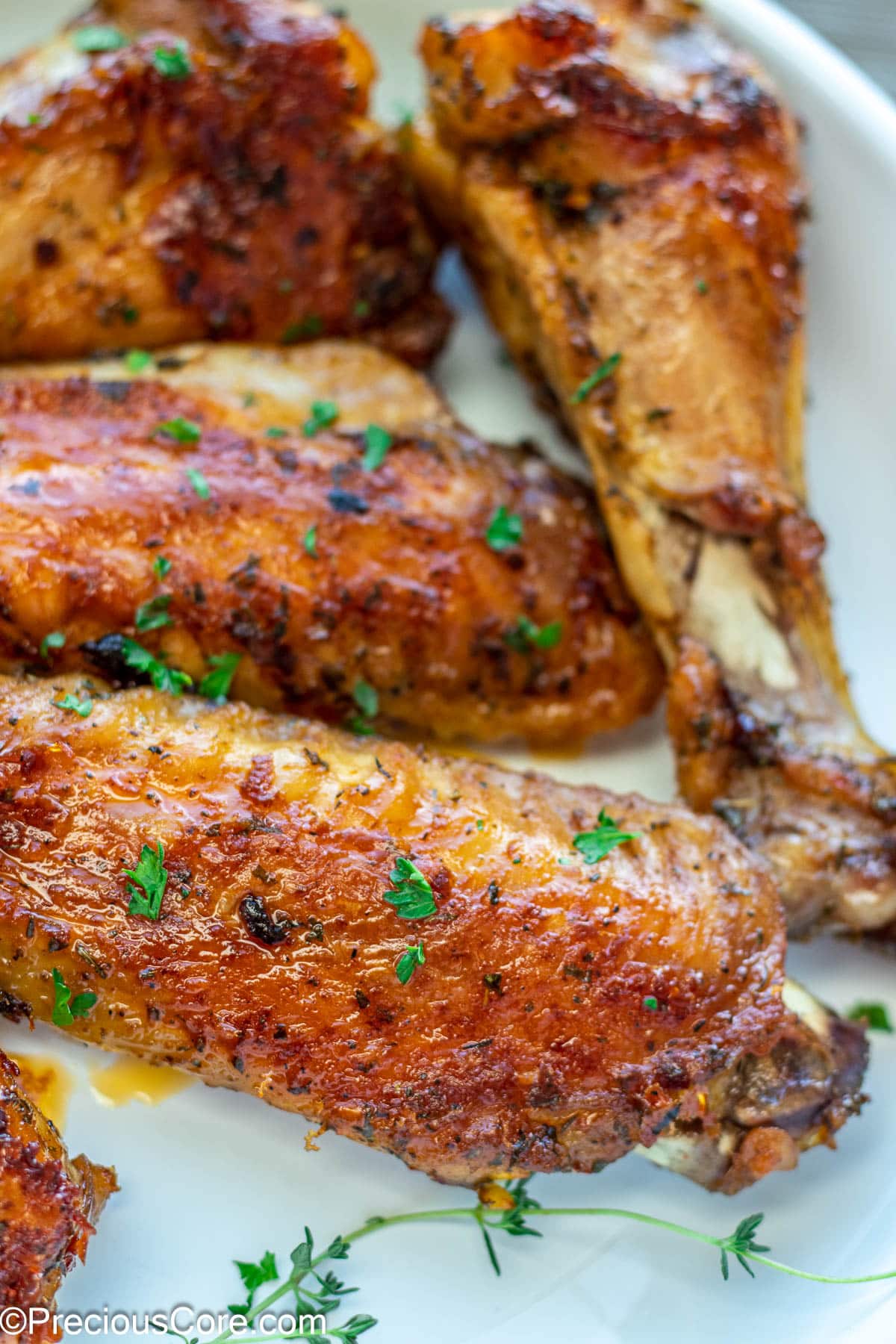 Frequently Asked Questions
How long does it take turkey wings to cook? It takes about one hour for turkey wings to cook at 400 degrees Fahrenheit or 200 degrees Celsius.
Why are my turkey wings tough? Turkey wings turn tough when they are undercooked or overcooked. The best way to tell if a turkey wing is done is to insert a digital thermometer into the thickest part of a wing. If it reads 165 Degrees Fahrenheit or 74 Degrees Celsius then the turkey wings are done.
Should you wrap turkey wings in foil? There is no need to wrap turkey wings in foil. Only wrap them in foil if you do not want them to get brown.
How do I get my wings extra crispy? Get extra crispy wings by patting the wings dry with paper towels and letting them air dry before adding seasoning to them. Also, use dried seasonings on the wings to make them crispy.
More Turkey Recipes To Try
Looking for more turkey recipes to try? Try these:
Thanksgiving Recipes To Try
Here are more Thanksgiving recipes to try:
If you make this recipe please leave a star rating below. Your rating helps others find the recipe plus I love hearing from you! Thank you!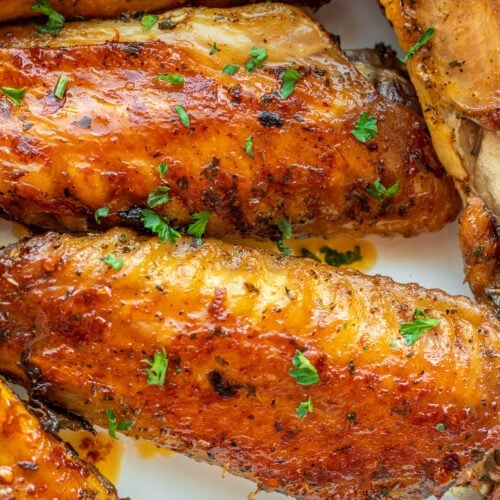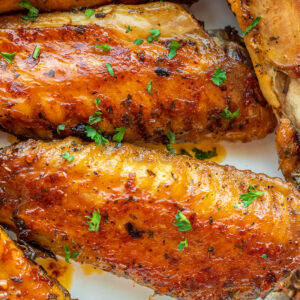 Baked Turkey Wings
These Baked Turkey Wings are so full of flavor, easy to put together and a whole less complicated than roasting a whole turkey! They ony require 10 min utes of prep time!
Ingredients
4

pounds

turkey wings

split at the joint, tips discarded

1

tablespoon

chicken bouillon powder

1

teaspoon

salt

1/2

teaspoon

ground black pepper

1

teaspoon

dried thyme

1

teaspoon

garlic powder

1

teaspoon

dried parsley

2

tablespoons

unsalted butter, melted
Instructions
Preheat oven to 400 degrees F (200 degrees C).

Rinse turkey wings then split the wings at the joints. (Discard the wing tips or keep them for making stock/broth). Pat the turkey wing portions dry with paper towels.

Place the turkey pieces in a baking dish then drizzle on the butter and add all the other ingredients. Mix well so the seasoning coats all of the turkey.

Place in preheated oven and bake for one hour until the turkey is golden and crispy on the outside. Halfway through baking, flip the turkey wings to the other side. Let them bake until done. The turkey wings are done when an instant-read meat thermometer inserted into the thivkest part of a turkey wing reads 165°F.

Serve warm with your favorite side dish. These turkey wings go well with a side of mashed potatoes, collard greens and mac n cheese.
Notes
1. Butter: I use butter in this recipe because the butter gives so much flavor to the baked turkey. Alternately, you could use two tablespoons of oil. 2. Make ahead tip: Mix turkey with all the ingredients, place in a baking dish then wrap with plastic wrap and place in the fridge. The next day, simply unwrap it and place it in the oven to bake. Be sure to take the turkey out of the fridge 30 minutes before baking so it can come to room temperature before going into the oven. Note that the turkey wings might require more time to bake if they are baked cold. 3. Turkey wings: I used 4 full turkey wings here which measure at about 4-5 pounds (2-2.5 kg). If your turkey wings are smaller, reduce the salt if not, they will be too salty. This recipe has been updated with more content to help you make the best baked turkey wings! I have also increased the quantity of dried thyme from half a teaspoon to one teaspoon for more flavor! And I have changed the butter from salted to unsalted so your turkey wings don't get too salty.
Nutrition
Calories:
395
kcal
|
Carbohydrates:
1
g
|
Protein:
35
g
|
Fat:
27
g
|
Saturated Fat:
9
g
|
Polyunsaturated Fat:
5
g
|
Monounsaturated Fat:
10
g
|
Trans Fat:
0.2
g
|
Cholesterol:
135
mg
|
Sodium:
1020
mg
|
Potassium:
431
mg
|
Fiber:
0.2
g
|
Sugar:
0.2
g
|
Vitamin A:
200
IU
|
Vitamin C:
0.1
mg
|
Calcium:
33
mg
|
Iron:
2
mg
"Trust in the Lord with all thine heart; and lean not unto thine own understanding.
In all thy ways acknowledge him, and he shall direct thy paths." Proverbs 3:5-6, KJV