Baked Turkey Breast
Published Nov 17, 2020
Updated Dec 19, 2022
This Baked Turkey Breast is so flavorful thanks to the garlic and herb butter that is slathered all over it! It is tasty all the way through and a great substitute for a whole turkey! Make this tasty roast turkey breast for dinner or the holidays!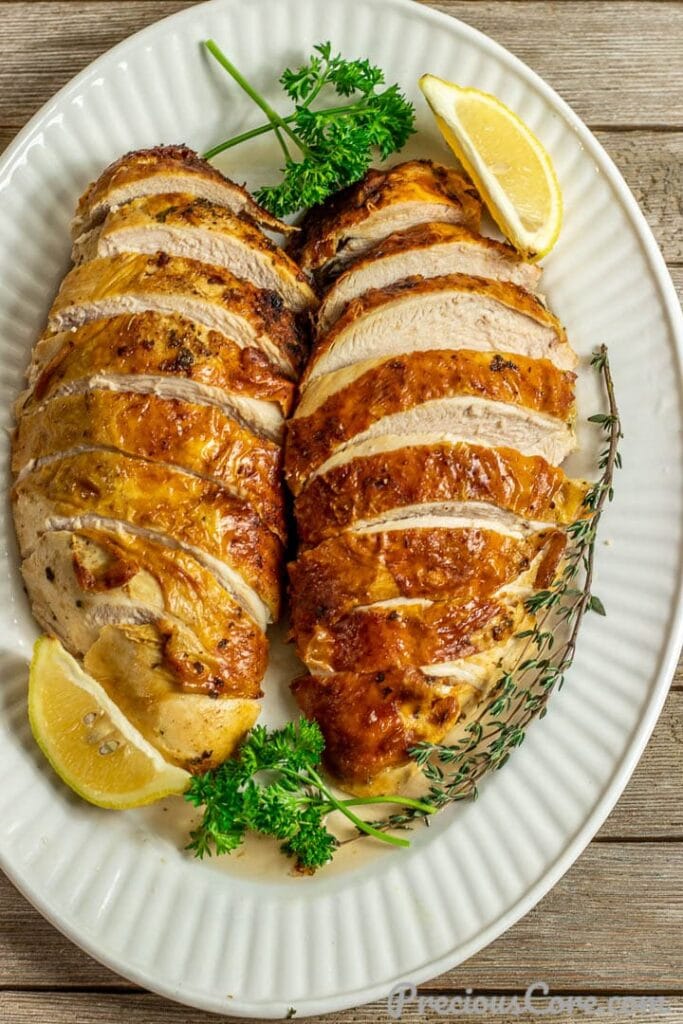 I love this whole turkey breast because it is incredibly flavorful! For me, turkey has to be tasty. I do not like the experience of big chunks of bland meat (especially white meat) in my mouth.
This Baked Turkey Breast is garlicky, herby and filled with flavor all the way through. The skin is crispy on the outside, and it is tender and juicy on the inside.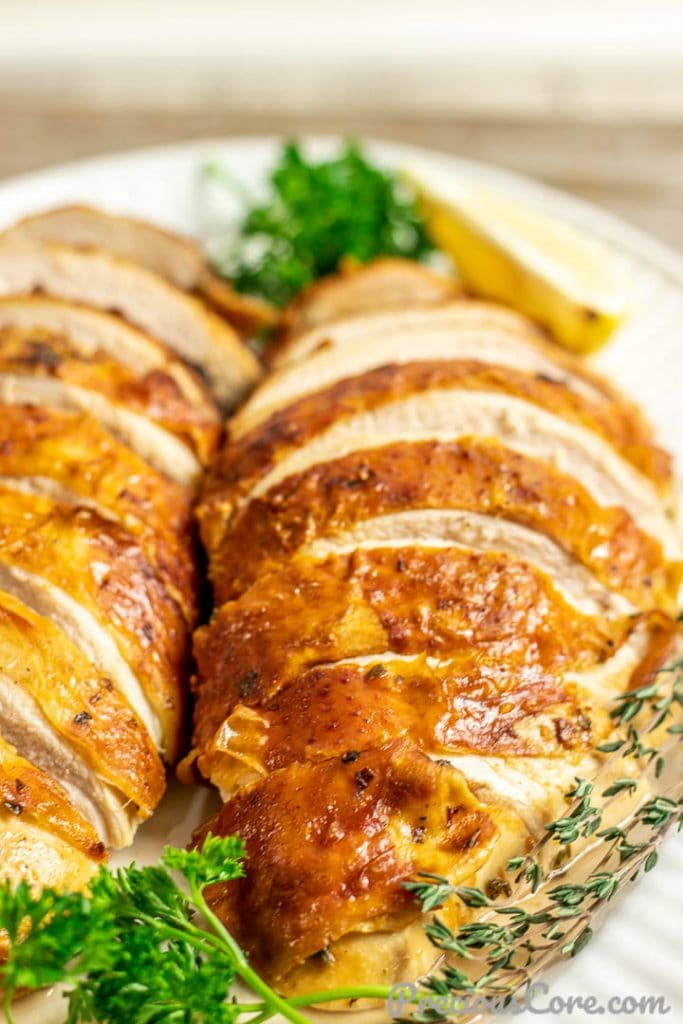 I kept eating this and saying it is amazing how the flavors really penetrate the turkey! This is thanks to the quantity of garlic and herbs used!
They might seem too much at first but I promise they work. Follow my ratio of ingredients and you will be rewarded with incredibly tasty turkey. Serve this tasty turkey alongside my 3 cheese mac and cheese, garlic butter green beans, and garlic butter rolls. So good!
Okay, who is ready for the best baked turkey breast of their life?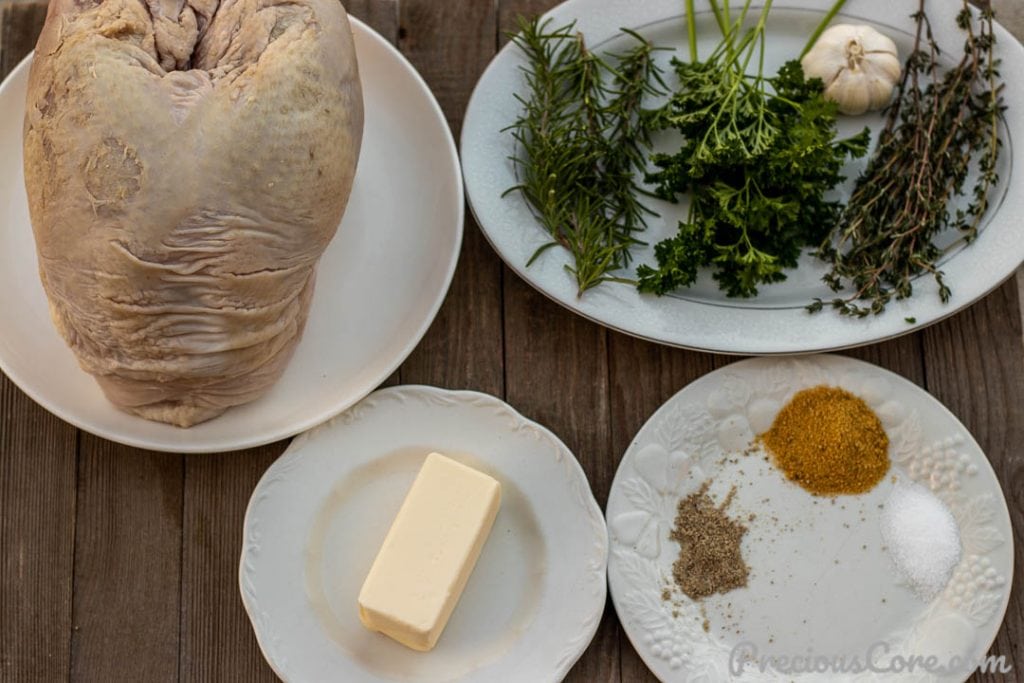 Ingredients for Baked Turkey Breast
Bone-in turkey breast or boneless turkey breasts
Unsalted butter: For flavor. The butter should be at room temperature.
Garlic: For flavor.
Thyme: For flavor.
Rosemary: For flavor.
Parsley: For flavor.
Salt
Chicken Bouillon Powder: This adds flavor to roast chicken or turkey. You can get it from grocery stores or Amazon.
Ground Black Pepper
This Baked Turkey Breast works for feeding a small family or a small group of people. Because you know, not everyone is keen on roasting a whole turkey for Thanksgiving or other occasions.
The solution: just roast a part of the turkey instead like turkey breasts, turkey thighs or turkey wings.
This roast turkey breast recipe makes 8 servings. Also, the leftovers are phenomenal for making sandwiches, salads or pasta (as a substitute for chicken).
How To Bake A Turkey Breast
1. Thaw the turkey breast. Leave the turkey breast in its packaging. Place it in a bowl and thaw in the fridge for one to three days. Once the breast is fully thawed, pat dry with paper towels.
2. Make the garlic herb butter. Mix together room temperature butter, minced garlic, salt, white pepper, chicken bouillon powder, chopped rosemary, thyme, and parsley.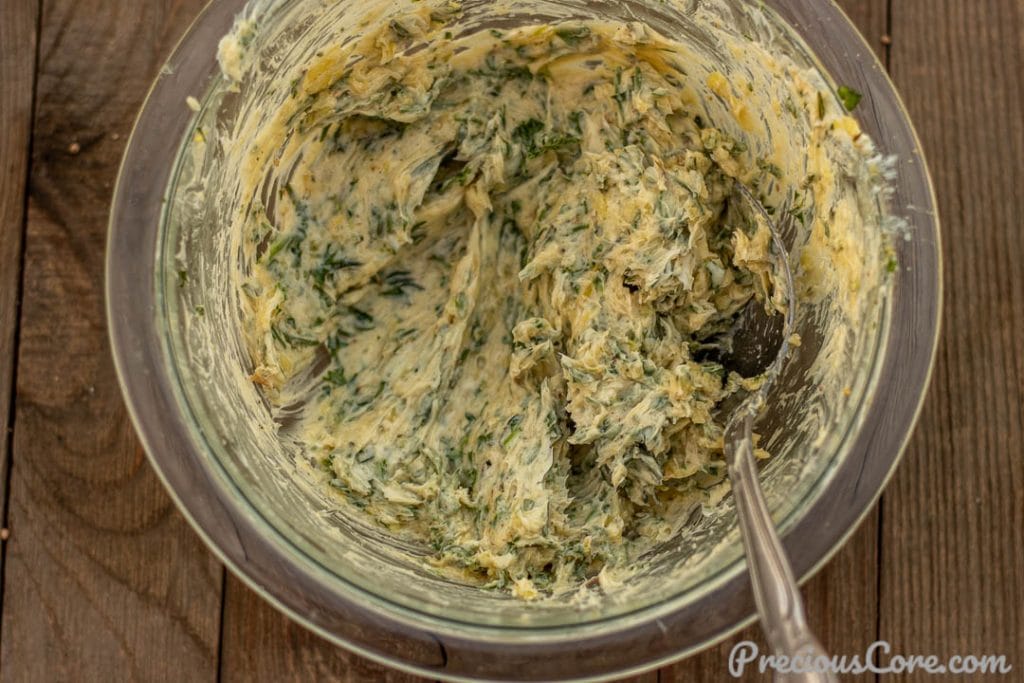 3. Rub herb butter on turkey breast. Rub the herb butter all over the turkey breast being careful to rub the cavity. Place the turkey breast on a roasting pan with lemon slices and sprigs of rosemary placed at the bottom of the pan.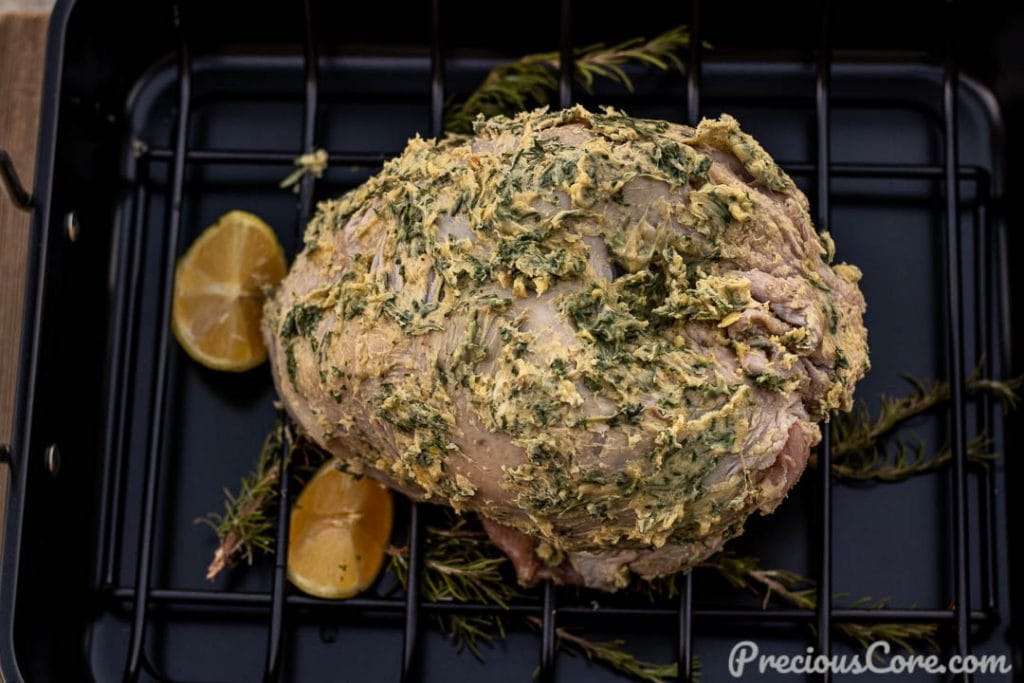 3. Marinate the turkey breast. If you have enough time, cover the turkey breast and let it marinate in the fridge for 2 hours or up to overnight. OR bake immediately. It will still taste amazing!
4. Bake the turkey breast. Place the turkey breast in a 425-degree Fahrenheit oven and bake for one hour. The thickest part of the breast should be an internal temperature of 165 degrees F when tested with a meat thermometer.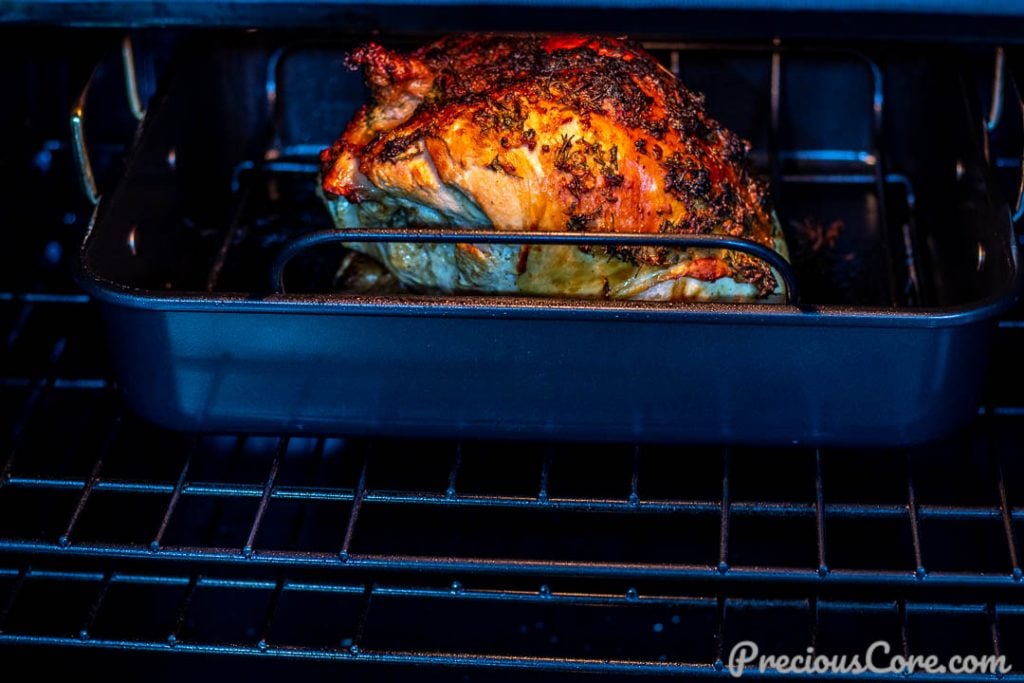 5. Rest the turkey breast. It is important to let the turkey breast rest for 20 minutes so the juices can redistribute then you slice and serve.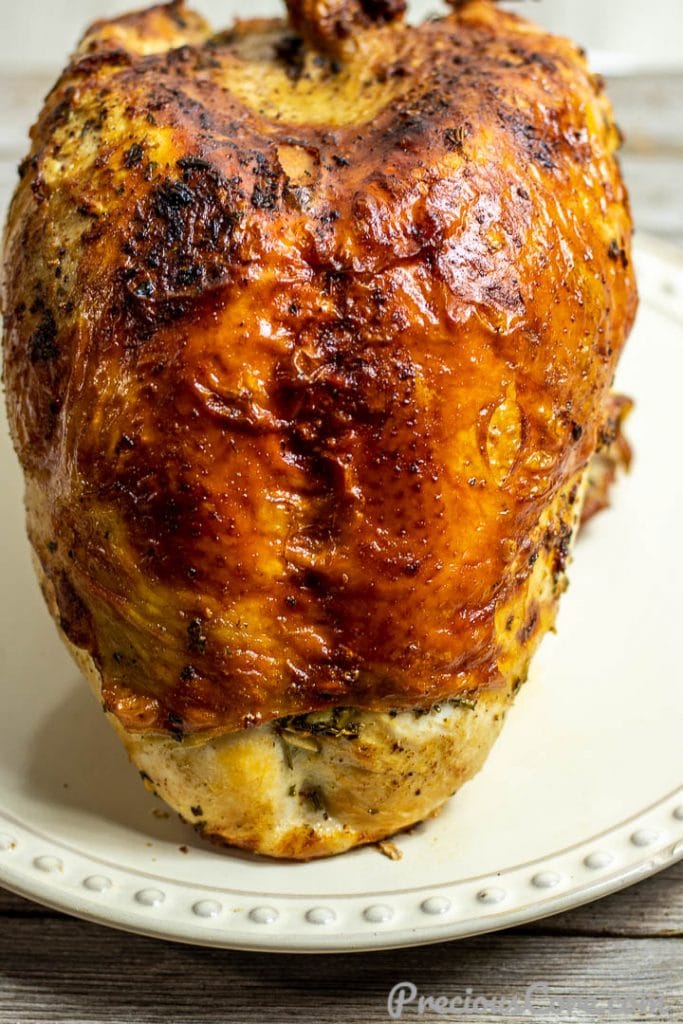 6. Carve the turkey. First, carefully run your knife under the breast to separate it from the bone then you slice the breast.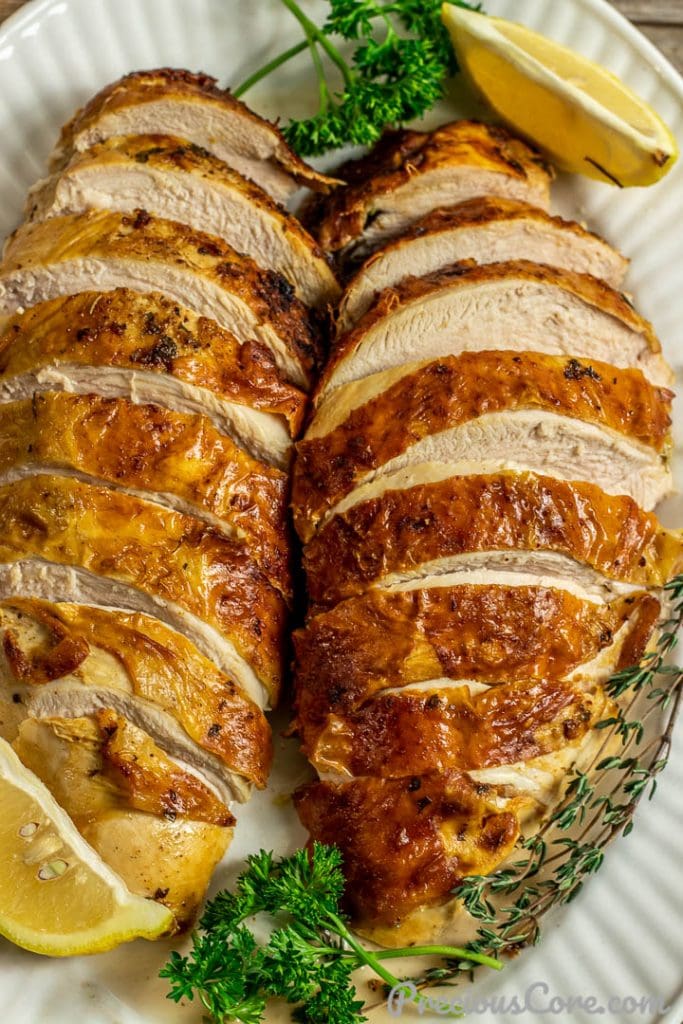 How Long To Bake Turkey Breast
For a 6-7 pound bone-in double turkey breast, bake at 425 degrees for 60 minutes (1 hour) until a thermometer inserted into the deepest part of the meat reads 165 degrees F.
You may also slow roast your turkey at 350 degrees Fahrenheit for 1hr 30 minutes. A good rule to follow here is roast 1 pound of turkey for 15 minutes at 350 degrees Fahrenheit.
Best Baked Turkey Breast Recipe
This is the best baked turkey breast recipe. It is full of flavor. The fresh herbs, garlic, and white pepper make the turkey breast taste really good! Also, the leftovers are great for adding to all sorts of meals.
This is one of those recipes that is good to make whether celebrating Thanksgiving, Christmas, Easter or other special occasions. It is also great for Sunday Supper or weeknight dinners.
AND some pre-cooked insanely flavorful turkey breast will help you make easy lunches or dinner.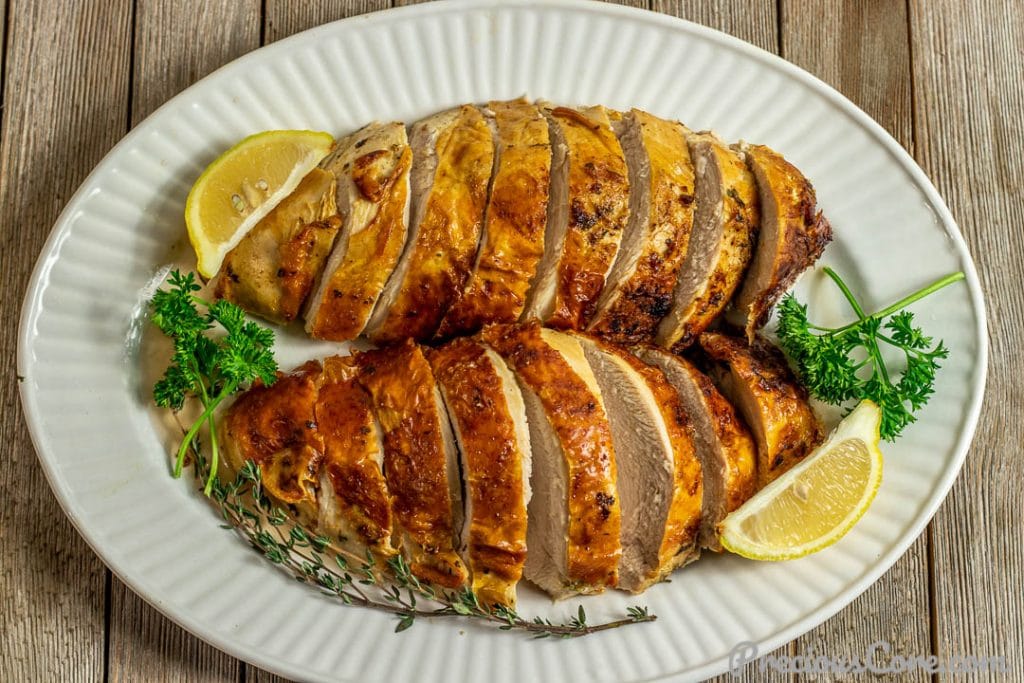 Here are some other turkey/chicken recipes you might love: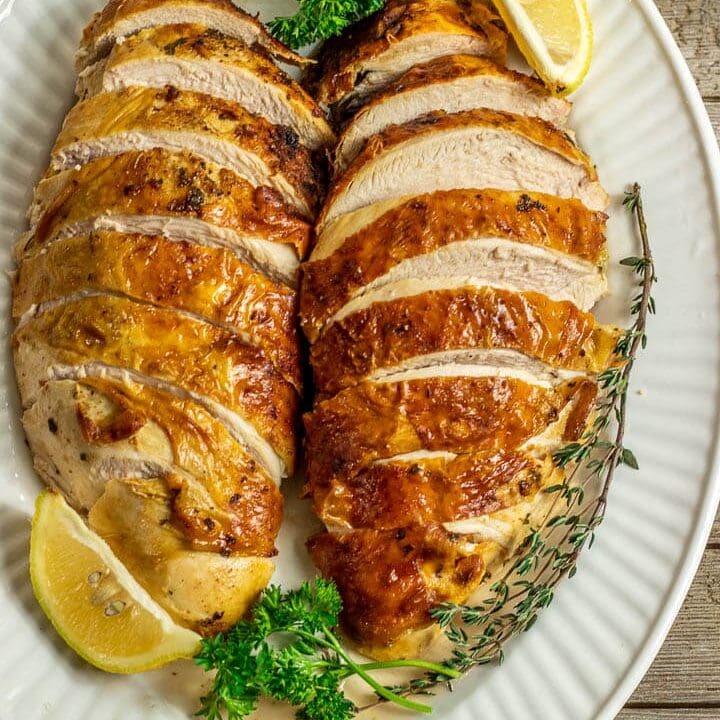 Baked Turkey Breast
This recipe calls for bone-in double turkey breast. For a one half turkey breast that is about 3-4 pounds, half all the ingredients in the recipe.
Equipment
Roasting Pan or 9 by 13 baking dish
Ingredients
6-7

pound

bone-in double turkey breasts

1/2

cup

unsalted butter

room temperature

10

sprigs

parsley

chopped

10

sprigs

fresh thyme

leaves removed from stem and chopped

4

sprigs

rosemary

removed from stem and chopped

8

cloves

garlic

finely minced

2

teaspoons

chicken bouillon powder

1

teaspoon

salt

1

teaspoon

ground white pepper

sub with black pepper

More rosemary sprigs for bottom of roasting pan

Lemon wedges for bottom of roasting pan
Instructions
Thaw the turkey breast in the refrigerator for at least 24 hours or for 1-3 days.

Pat the turkey breast dry with paper towels.

In a bowl, mix together the room temperature butter, salt, white pepper, chicken bouillon powder with minced garlic, chopped parsley, thyme, and rosemary. Rub the seasoning all over the turkey breast being sure to reach every nook and cranny and generously rub the cavity of the turkey breast.

Place rosemary sprigs and lemon wedges on the bottom of a 11 by 13-inch baking dish with raised sides or any fitting baking dish or a roasting pan.

Place the breast in prepared pan, cover and marinate for up to overnight or bake immediately.

Set oven to 425 degrees Fahrenheit. Put in the turkey breast and bake for 1 hour. Halfway through cooking, rotate the pan for even cooking then baste the breast. If the turkey breast starts browning too quickly, loosely cover the top with aluminum foil.

Let the turkey rest for about 15-20 minutes before carving.

Serve with mashed potatoes and gravy or your favorite side dishes.
Notes
1. Adjust the seasonings depending on the size of your turkey breast. If you use a boneless half turkey breast that is around 3-4 pounds, reduce every ingredient by half. If your turkey breast is significantly larger than 7 pounds, increase the salt as needed.
2. Make sure the turkey and butter are at room temperature before seasoning the turkey. This will help the butter to easily stay on the turkey instead of sliding away if the turkey or butter is cold.
3. The herbs on the turkey skin will probably be burnt by the time the turkey is fully cooked. This is not a problem. Once the turkey breast is fully cooked, gently brush the  burnt herbs off using a pastry brush.
Nutrition
Calories:
524
kcal
|
Carbohydrates:
8
g
|
Protein:
71
g
|
Fat:
25
g
|
Saturated Fat:
7
g
|
Polyunsaturated Fat:
2
g
|
Monounsaturated Fat:
4
g
|
Cholesterol:
182
mg
|
Sodium:
1029
mg
|
Potassium:
119
mg
|
Fiber:
1
g
|
Sugar:
2
g
|
Vitamin A:
167
IU
|
Vitamin C:
5
mg
|
Calcium:
23
mg
|
Iron:
1
mg
*This post contains affiliate links.