Chicken Avocado Salad
Published Jan 31, 2020
Updated May 30, 2023
This Chicken Avocado Salad is currently my family's favorite salad! I have made it countless times because everyone loves it. Hope it becomes your family's favorite too!
Enjoy this Chicken Avocado Salad as a meal on its own, serve it as an appetizer or make it for parties or potlucks. It looks great on the table and tastes even better!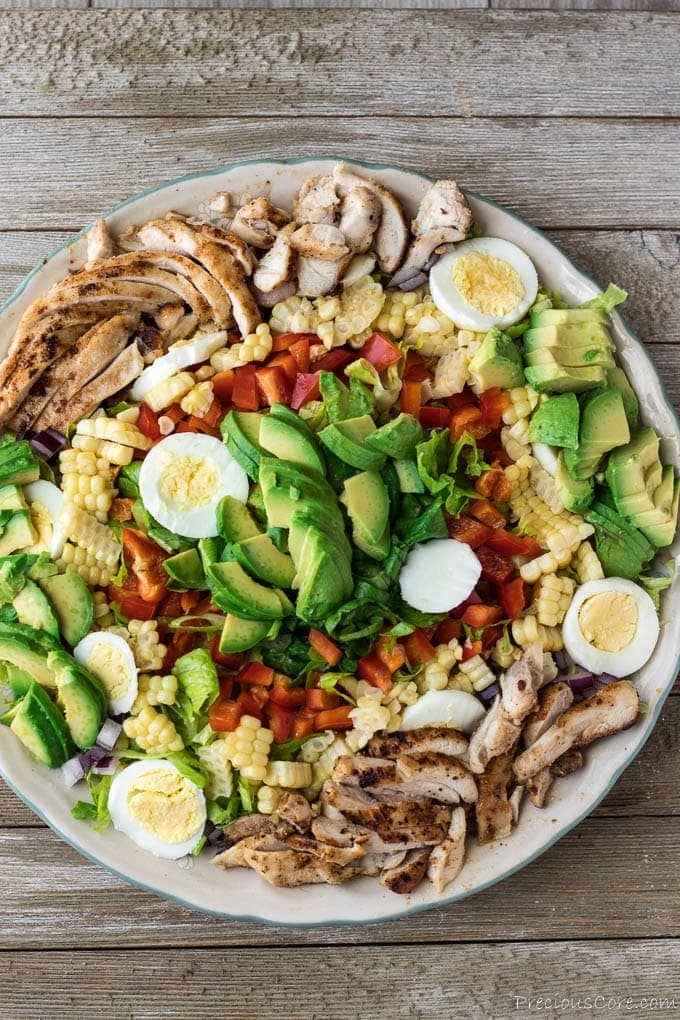 We enjoy this Chicken Avocado Salad so much that honestly, it won't be fair if I don't share the recipe here on the blog. The girls love it, it's my hubby's fave and we mostly eat it as a complete meal.
It contains some of my favorite ingredients: nicely grilled chicken, avocado, hardboiled egg, and sweet corn!
It also contains a good amount of romaine lettuce so when you eat this salad, you are eating your leafy greens too!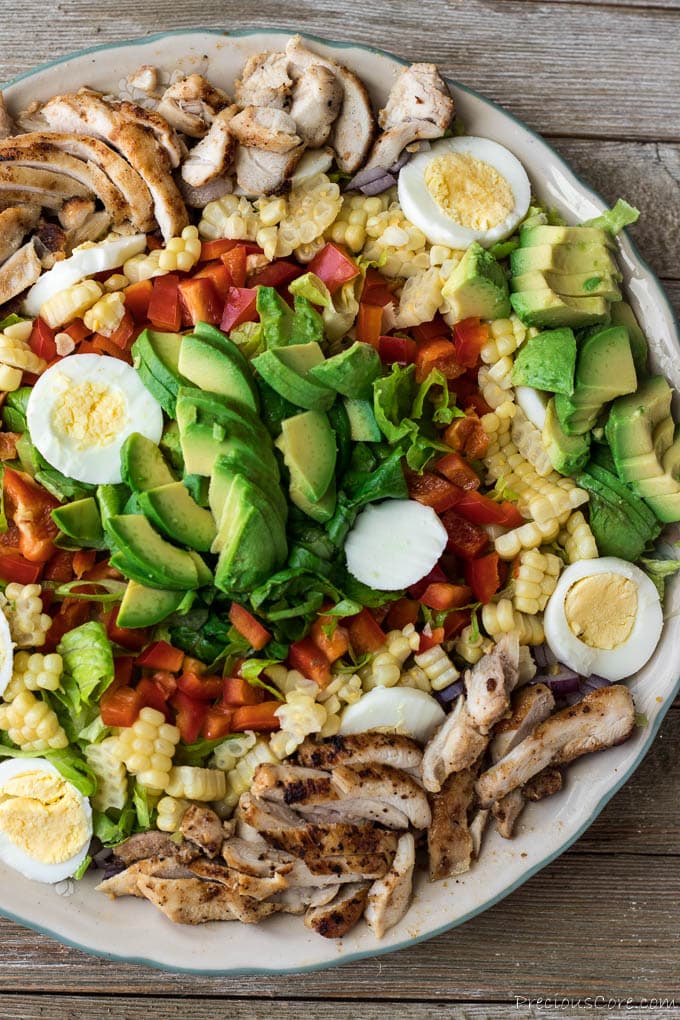 To top it off is a simple lime vinaigrette that is to die for. The vinaigrette contains freshly squeezed lime juice, extra virgin olive oil, salt, and pepper. That's it!
The simple dressing really ties together all the ingredients in this healthy chicken avocado salad.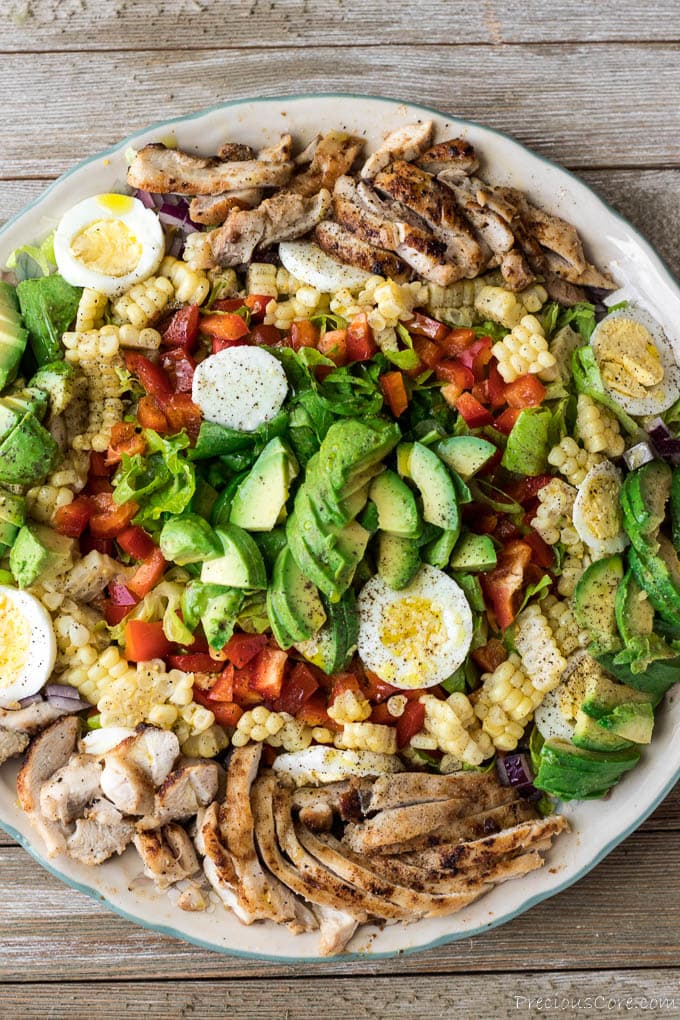 So, friends, this is my Chicken Avocado Salad with lime dressing. Your salad life will never be the same again after you try this. I guarantee you that!
If you try this recipe, feel free to rate it below. I love hearing from you guys!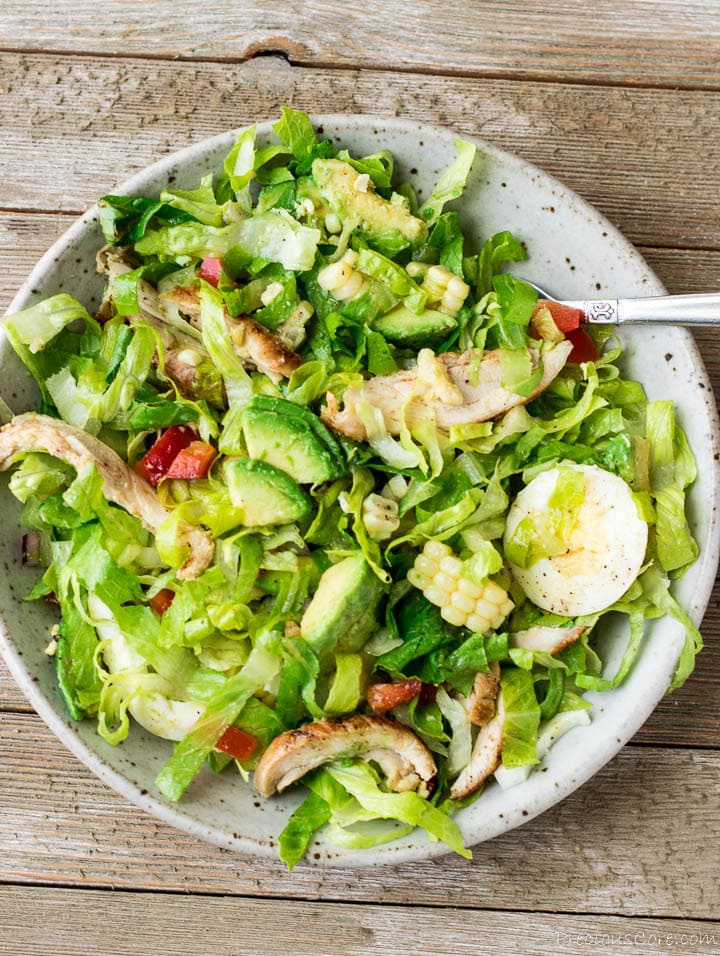 If you love salads with avocado like me, also check out my Shrimp Avocado Salad, Avocado Egg Salad, and Cucumber Avocado Salad!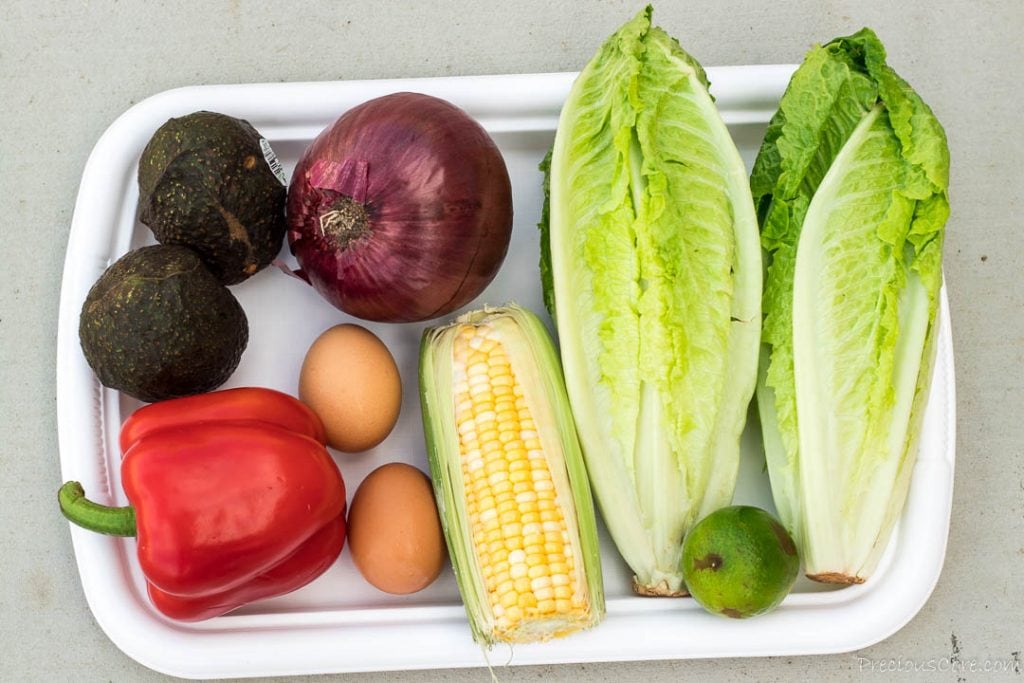 Ingredients For Chicken Avocado Salad
1. Chicken. Use chicken breasts or chicken thighs. You could also use store-bout rotisserie chicken if you are pressed for time.
2. Avocado. This recipe requires 2 medium ripe avocados.
3. Lettuce. Romaine lettuce forms a great base for this salad.
4. Red bell pepper. This could be replaced with a tomato.
5. Sweet corn. Fresh corn which has been lightly boiled takes this salad up the notch. You could grill the corn too right after grilling the chicken.
6. Hardboiled eggs. For more nutrients!
7. Lime juice. You need lime juice for marinating the chicken and also for squeezing over the avocado to prevent browning.
8. Seasonings for the chicken. Use onion powder, garlic powder, salt and white (or black) pepper to season the chicken before grilling.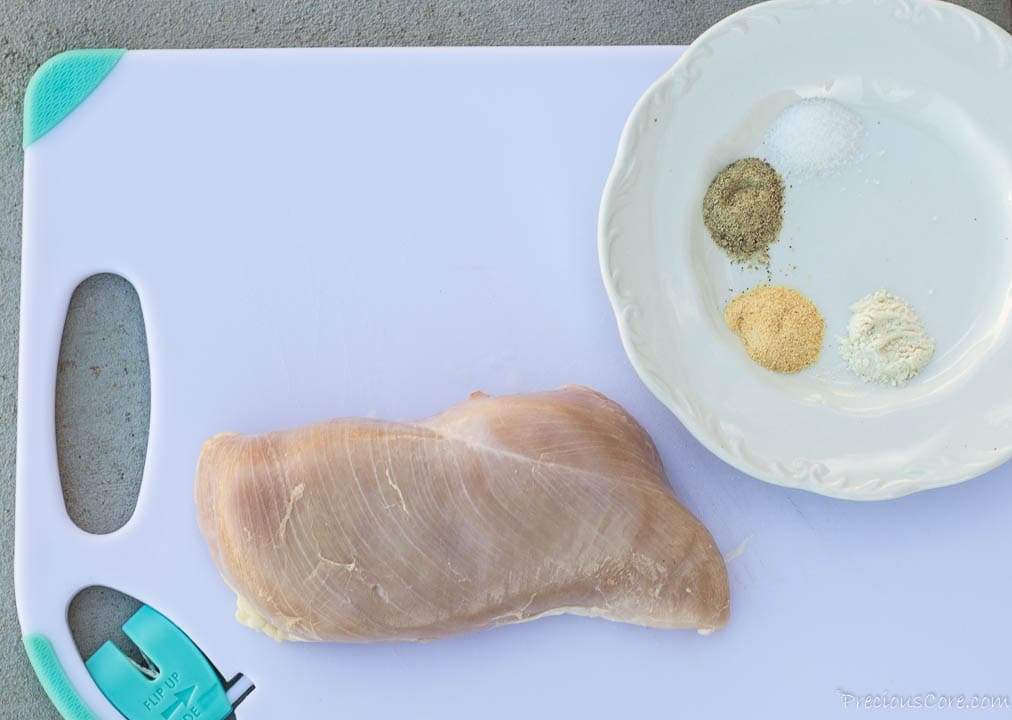 Ingredients for Chicken Avocado Salad Dressing
For a simple lime dressing for this chicken avocado salad, you only need 4 ingredients. They are
Extra virgin olive oil
Freshly squeezed lime juice
Salt
Ground black pepper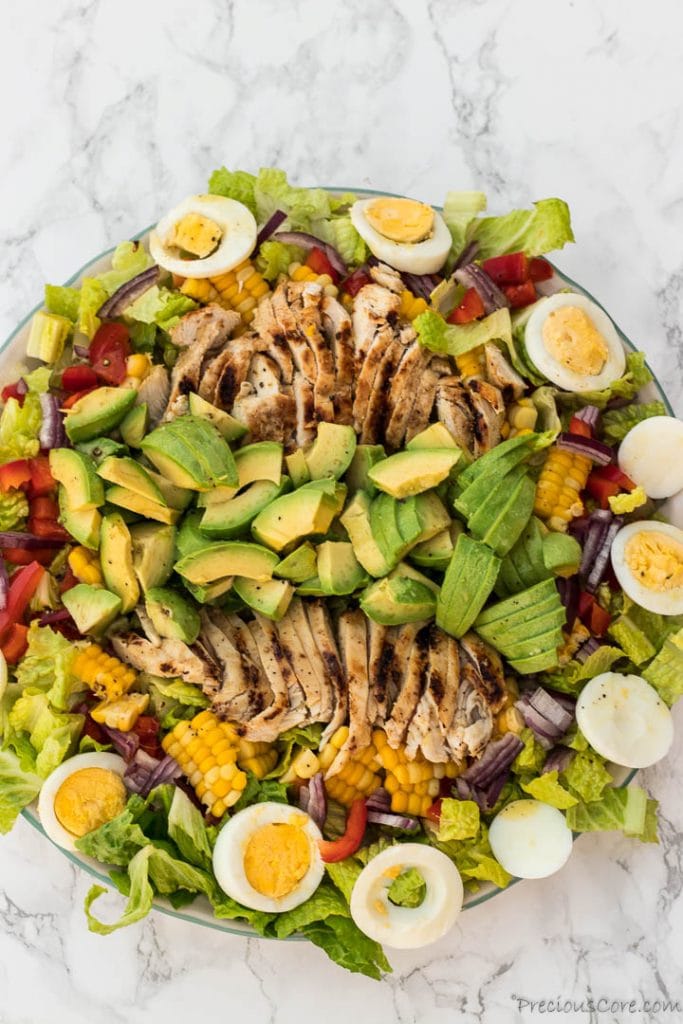 How To Make Chicken Avocado Salad
1. Grill the chicken. Season chicken with onion powder, garlic powder, salt and white (or black) pepper. Squeeze on 1 teaspoon of lime juice. Grill chicken in a grill pan for about 4 minutes on each side.
2. Chop the ingredients. Chop the romaine lettuce and lay on a platter. Chop and add the red bell pepper. Cut corn kernels from the cob and add to the platter. Also chop and add the onion, hardboiled egg, chicken and avocado.
3. Make the dressing. Combine extra virgin olive oil, lime juice, salt and black pepper in a jar with a tight-fitting lid. Lock the jar to combine.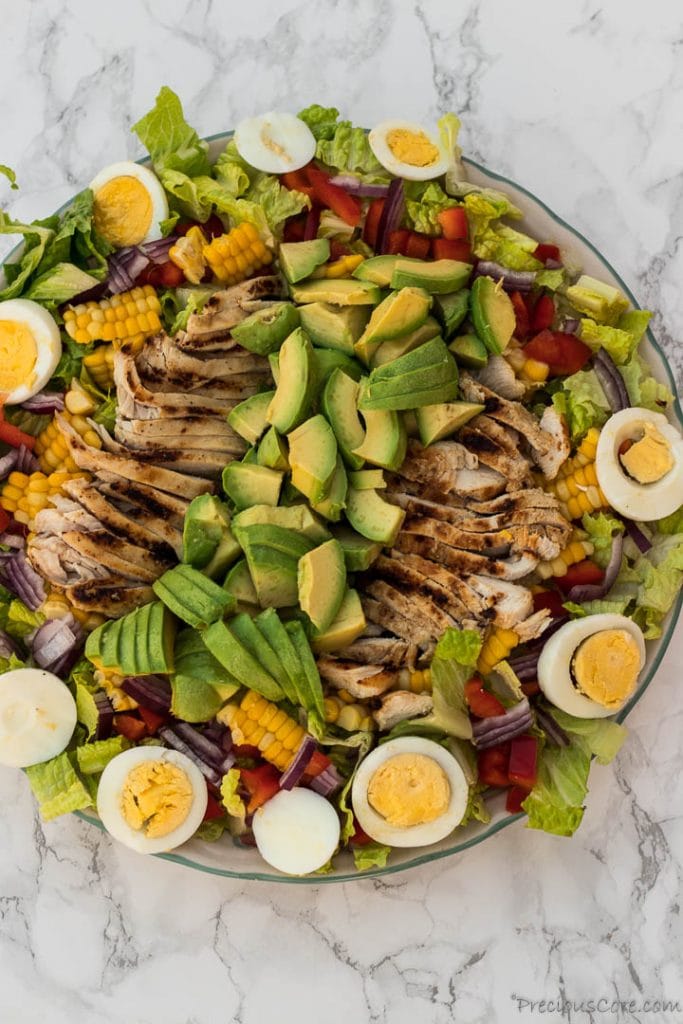 4. Pour dressing over the salad then toss and serve.
Watch How To Make Chicken Avocado Salad
Watch me making Chicken Avocado Salad in the video below. If you haven't subscribed to my Youtube channel yet, SUBSCRIBE so you do not miss any of my videos.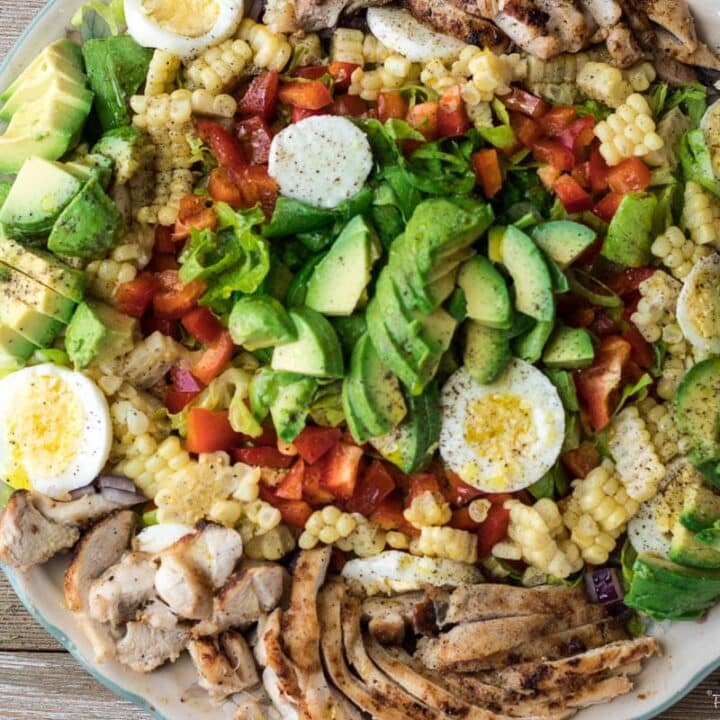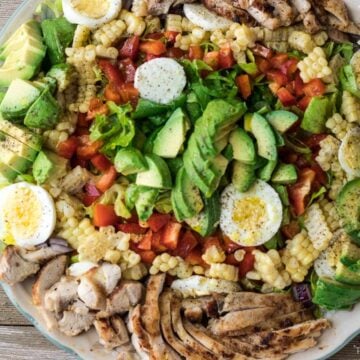 Chicken Avocado Salad
This Chicken Avocado Salad is on repeat in my home. It is kid-approved, fresh with juicy chunks of chicken and a well-rounded meal. I mostly serve it as a complete meal but it will make a great appetizer, side dish or party salad. So pretty on the table and most importantly, so delicious!
Ingredients
1/2

pound

boneless skinless chicken thighs

or chicken breast, see Note 1

2

romaine lettuce hearts

2

medium ripe avocados

1/2

large red bell pepper

diced

1

ear of corn

1

tablespoon

chopped red onion

2

hardboiled eggs

sliced
To season the chicken
1/4

teaspoon

salt

1/4

teaspoon

white pepper

1/4

teaspoon

garlic powder

1/4

teaspoon

onion powder

1

teaspoon

olive oil

1

teaspoon

freshly squeezed lime juice
Salad dressing
2

tablespoons

extra virgin olive oil

1

tablespoon

freshly squeezed lime juice

1/4

teaspoon

salt

1/4

teaspoon

ground black pepper
Additional ingredients
1/2

lime

for squeezing over cut avocado to prevent browning

1

tablespoon

oil

for coating cast iron pan before grilling the chicken
Instructions
Grill the chicken
In a bowl, combine the chicken thighs plus all ingredients for seasoning it. Mix well to combine.

Heat a cast-iron skillet on high heat. Add a tablespoon of oil and swirl to coat the pan or just brush the pan all around with some oil.

Add the chicken thighs and cook for 4-5 minutes on one side. Flip to the other side and cook for another 4-5 minutes.

Remove the chicken and place on a plate to rest.
Cook the corn
Place corn in a pot and add water to immerse the corn. Cover and bring to a boil then let it cook for 5 minutes. Remove the corn from the pot and place on a plate to cool.
Make the salad
Chop the romaine lettuce and place on a large tray or in a large bowl. Add the diced red pepper, onions, and sliced hard-boiled egg.

Place the corn on a chopping board then gently cut the grains off the cob from top to bottom. Add the corn to the pan.

Cut the avocado then peel and chop. Add to the pan and squeeze a little lime juice over the avocado to prevent it from turning brown.

Dice the grilled chicken and add to the pan.
Add the ingredients for the dressing.
Sprinkle the salt and pepper over the salad then drizzle over the oil and lime juice. Toss everything to combine. Taste the salad to ensure seasoning is perfect. Add a little sprinkling of salt and pepper if needed. Serve immediately.
Notes
1. If you choose to use chicken breast, cut the chicken breast across in half before seasoning and grilling. You can see how I do this in the video. This ensures that the chicken cooks through.
2. You could substitute lime for lemon in this salad. You need approximately 1-2 limes (depending on how juicy they are) for the dressing, the marinade for the chicken and for squeezing over the avocado to prevent browning.
3. You could substitute grilled chicken with rotisserie chicken in this recipe. I think about 2 cups of shredded rotisserie chicken will work. I always grill my own chicken because the flavor is exceptional that way.
4. I always make this salad and serve immediately but you could make it, cover with plastic wrap and keep in the fridge. Don't toss it yet if you choose to keep it. Toss just before serving and taste and add salt if needed.
5. Please note that the salt in the dressing really brings out the flavors in this salad. That's why I emphasise on tasting before serving so it doesn't turn out bland. Salt makes such a huge difference!
Nutrition
Calories:
267
kcal
|
Carbohydrates:
11
g
|
Protein:
12
g
|
Fat:
21
g
|
Saturated Fat:
3
g
|
Polyunsaturated Fat:
3
g
|
Monounsaturated Fat:
13
g
|
Trans Fat:
0.02
g
|
Cholesterol:
98
mg
|
Sodium:
257
mg
|
Potassium:
536
mg
|
Fiber:
5
g
|
Sugar:
2
g
|
Vitamin A:
1349
IU
|
Vitamin C:
23
mg
|
Calcium:
27
mg
|
Iron:
1
mg