SHRIMP AVOCADO TOMATO SALAD
Published Mar 02, 2018
Updated Mar 10, 2019
Welcome to the tastiest, most filling salad you will ever have! This Shrimp Avocado Tomato Salad is the bomb.com. Fresh, tasty, satisfying with a sweet and tangy citrus dressing that is to die for.
Mr. N and I had it for dinner the other night. One thing I love about it is I didn't feel bloated at all. And it digests quickly. Also, I didn't have to eat anything else apart from the salad. I felt light but I was full. So if you are someone who eats late at night, this salad is for you.
Also, this salad is for everyone because it is just so good!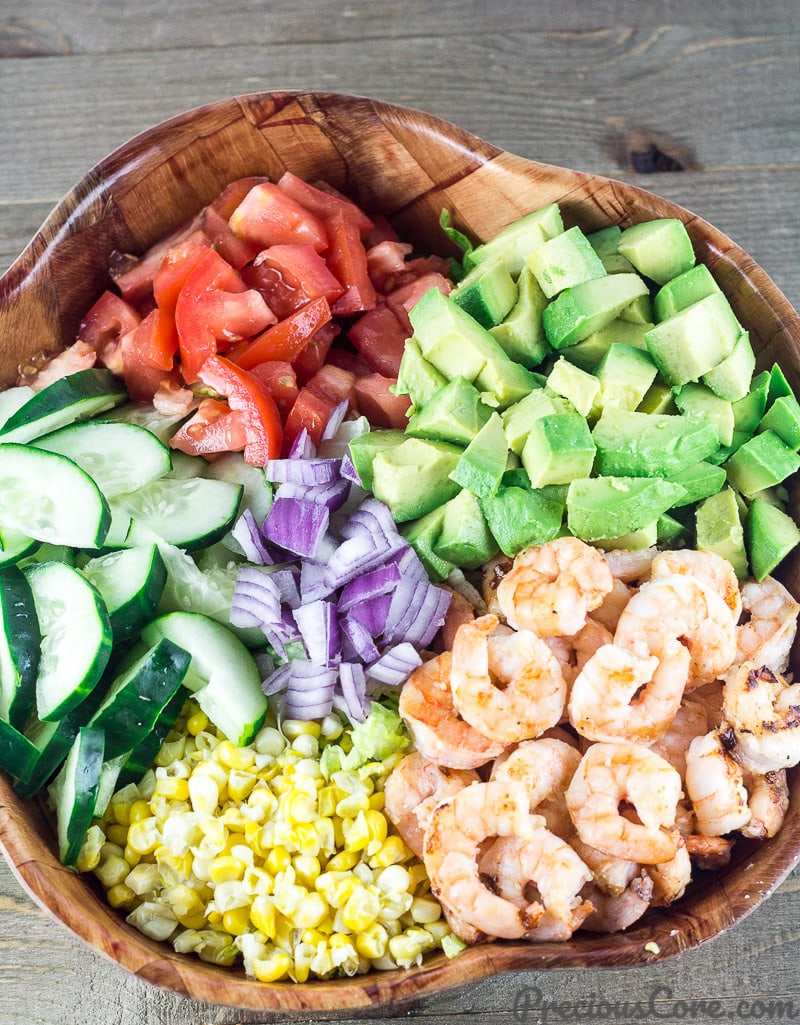 So yesterday March 1 started 14 days of clean eating. I started it off by sharing tips for clean eating in a Facebook LIVE video. I highly recommend you watch the video if you haven't done so already.
We are moving on today with this salad which is the salad of my dreams. It has two of my favorite things in life: shrimp/prawns and avocado. Then it has tomatoes. To make it even better, it has freshly boiled corn! Then there is lettuce, cucumber and onion. Such a nutrient-filled meal! Please try this at home!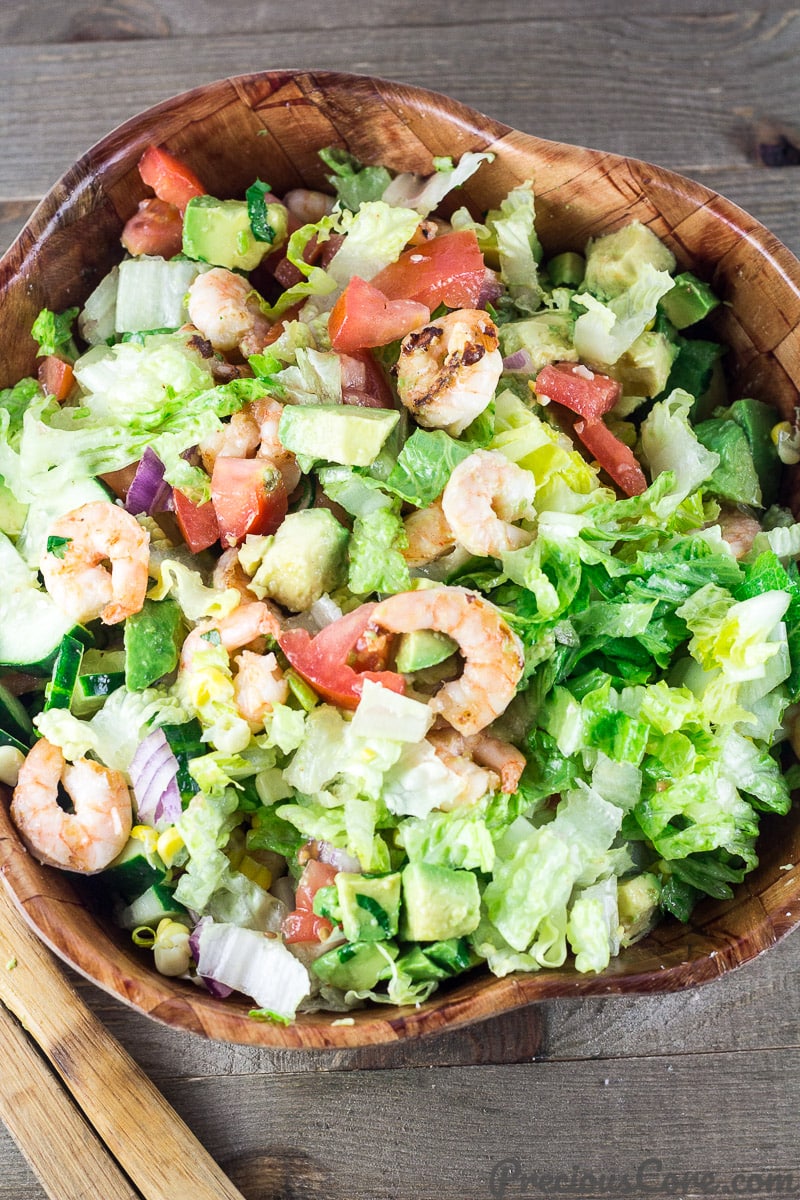 I seasoned the shrimp with a pinch of salt and some white pepper because white pepper is so tasty! However, you could also use West African Suya Spice on the shrimp. So good!
Now let's talk about the salad dressing for a minute. It is a sweet zesty dressing made of freshly squeezed lime juice, orange juice, extra virgin olive oil, cilantro (you could use parsley), salt and pepper. Mix everything together and you'll be in salad dressing heaven.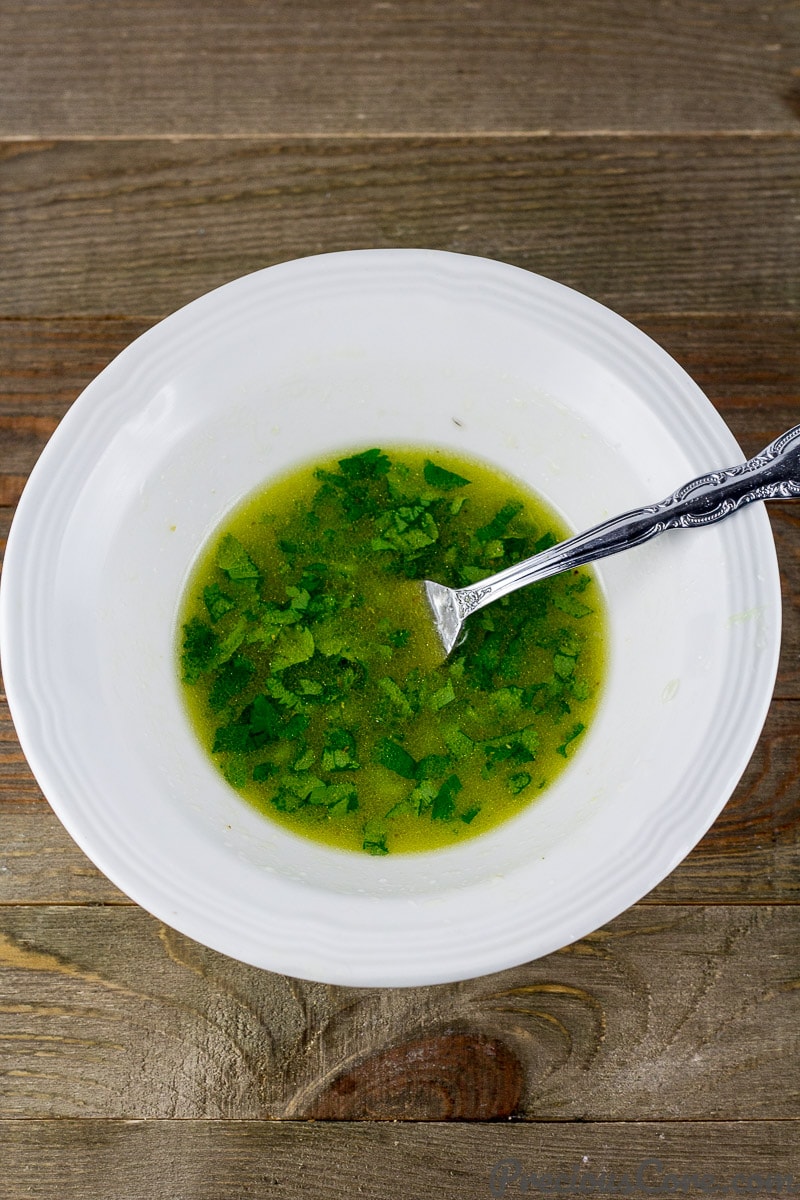 This salad joins my repertoire of tasty, filling, healthy, insanely good salads. Like this simple avocado salad and this pasta salad. Can I just tell you something? Always have some avocado at home. Avocado is life! It is tasty, it is filled with healthy fats and it is so versatile. In fact, I panic when there is no avocado. I love the creaminess it brings to salads especially. So the next time you go shopping, buy all the avocado you can!
Okay, let me leave you to enjoy this Shrimp Avocado Tomato Salad. Deliciosio!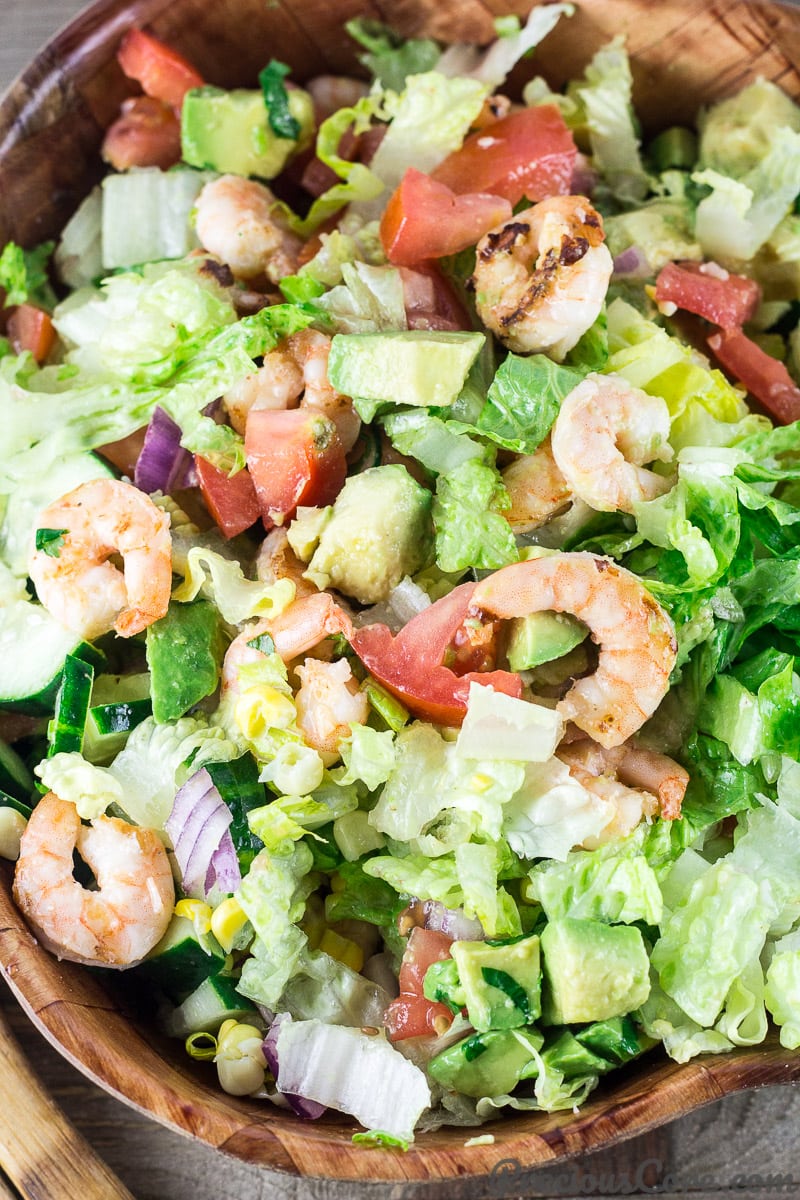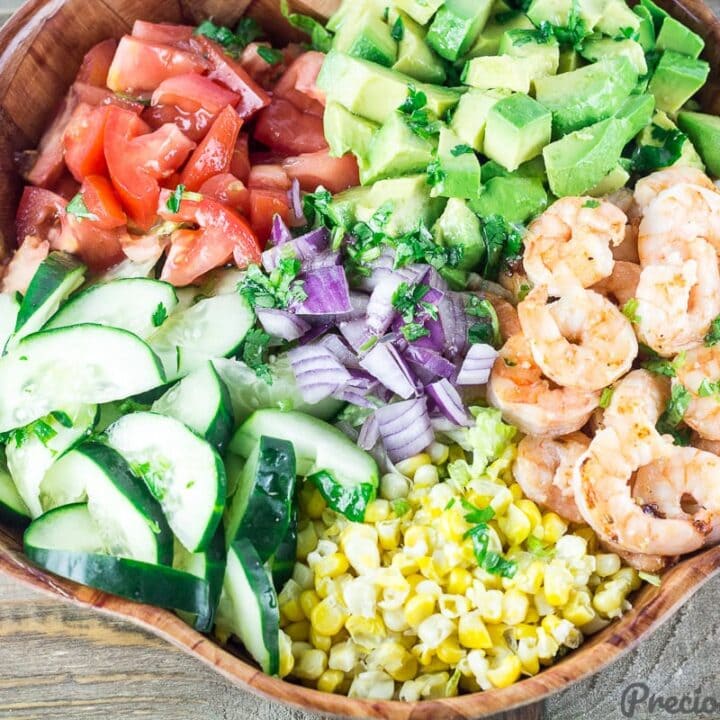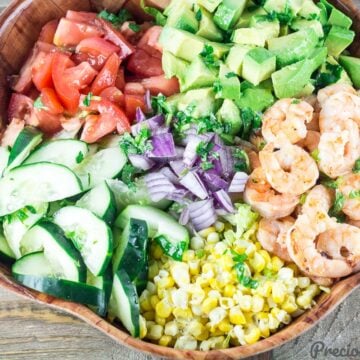 Shrimp Avocado Tomato Salad
A very satisfying and insanely good shrimp and avocado salad. This salad is also very healthy. The citrus dressing gives it a slightly sweet and tangy taste that is to die for. This salad feeds 2 people as a complete meal or 4 people as an appetizer.
Ingredients
1/2

pound

shrimp/prawns - about 1/4 kg

raw. peeled and deveined

1

head

romaine lettuce or green leaf lettuce - chopped

2

ripe

avocados - chopped

1

large roma tomato

1/4

small onion - chopped

1/2

large cucumber - chopped

2

freshly boiled corn on the cob - corn cut out from cob
For the shrimp
1/4

teaspoon

ground white pepper/ black pepper

Pinch of salt

1

tablespoon

extra virgin olive oil
Citrus dressing
1

lime

1/2

orange

2

tablespoons

extra virgin olive oil

1/4

teaspoon

salt

1/4

teaspoon

ground black/white pepper

4

sprigs

cilantro or parsley - chopped
Instructions
Cook the shrimp. Season the shrimp with salt and white pepper. Place oil in a skillet and heat on high heat for 2 minutes. Add the shrimp and let it cook for 2 minutes on each side. Remove and set aside.

Place lettuce, tomatoes, avocado, corn, corn, onion and shrimp in a salad bowl.

Make the dressing. Squeeze the juice out of the lime and lemon into a bowl. Add the cilantro or parsley, extra virgin olive oil, salt and pepper. Use a fork to mix everything together. Taste to ensure that the seasoning is according to taste. If you desire, add more salt and pepper.

Pour the dressing over the salad. Toss to combine then serve.
Notes
1. Vegetables should be sliced salad style that's not as little as you will slice them if they are to be cooked.
2. Alternately, seaspoon your shrimp with a teaspoon of West African suya spice. It is so good!
Nutrition
Calories:
231
kcal
|
Carbohydrates:
20
g
|
Protein:
16
g
|
Fat:
12
g
|
Saturated Fat:
2
g
|
Polyunsaturated Fat:
2
g
|
Monounsaturated Fat:
8
g
|
Trans Fat:
0.01
g
|
Cholesterol:
91
mg
|
Sodium:
236
mg
|
Potassium:
817
mg
|
Fiber:
6
g
|
Sugar:
8
g
|
Vitamin A:
14067
IU
|
Vitamin C:
27
mg
|
Calcium:
112
mg
|
Iron:
2
mg
Pin this recipe:

"Don't you realize that your body is the temple of the Holy Spirit, who lives in you and was given to you by God? You do not belong to yourself, for God bought you with a high price. So you must honor God with your body." 1 Corinthians 6:19-20 New Living Translation (NLT)