Roasted Turkey Thighs
Published Nov 23, 2022
Updated Nov 11, 2023
Dark meat lovers unite! You'll love the flavors and juiciness of these Roasted Turkey Thighs. It's hard to mess these up as they stay juicy even after cooking for a while. Only 10 minutes of prep time is required for this holiday or everyday dinner!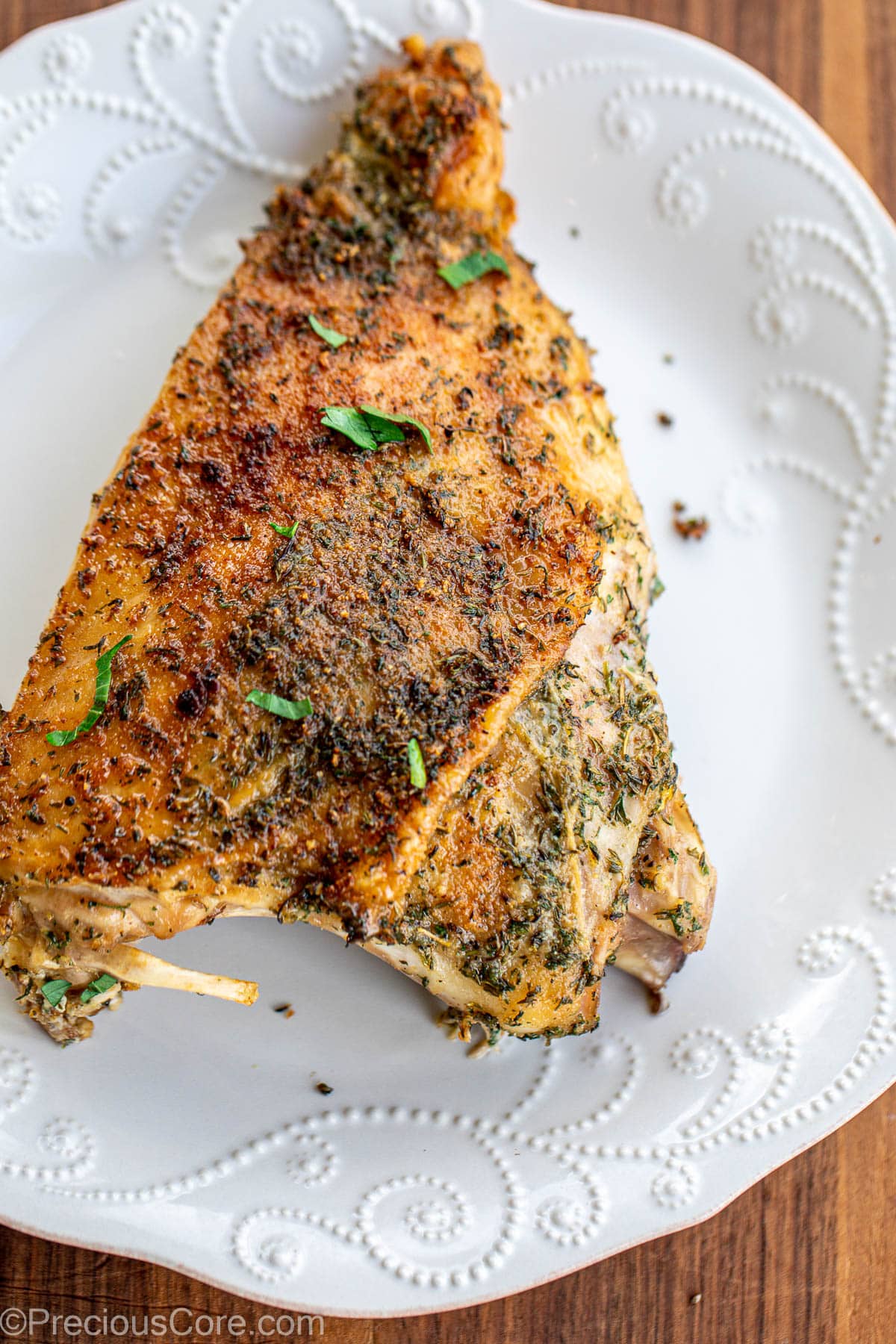 It's time for a celebration! Turkey will be on most tables in the United States come Thanksgiving day!
This recipe for crispy skin ultra crispy Roasted Turkey Thighs is perfect for feeding a few people, served with Rosemary Garlic Mashed Potatoes and Fried Carrots.
I was inspired to share this recipe after seeing how much you guys love my Baked Turkey Wings and Baked Turkey Drumsticks.
Why You'll Love This Recipe
So easy! You just rub seasoning on the meat and put it in the oven. Also, since this is dark meat, it is hard to overcook it and make it tough.
Perfect for everyday dinner! This recipe is perfect for the holidays and for weekdays or weeknights. Just pair it with your favorite sides!
So tasty! The easy combination of herbs and spices used here yields really tasty meat! You'll love all the flavors, especially the crispy skin.
Love roasted meat? Also, try the Perfect Roast Chicken and Herb Roasted Duck.
Ingredients
Here are the ingredients you need for easy tasty Roasted Turkey Thighs.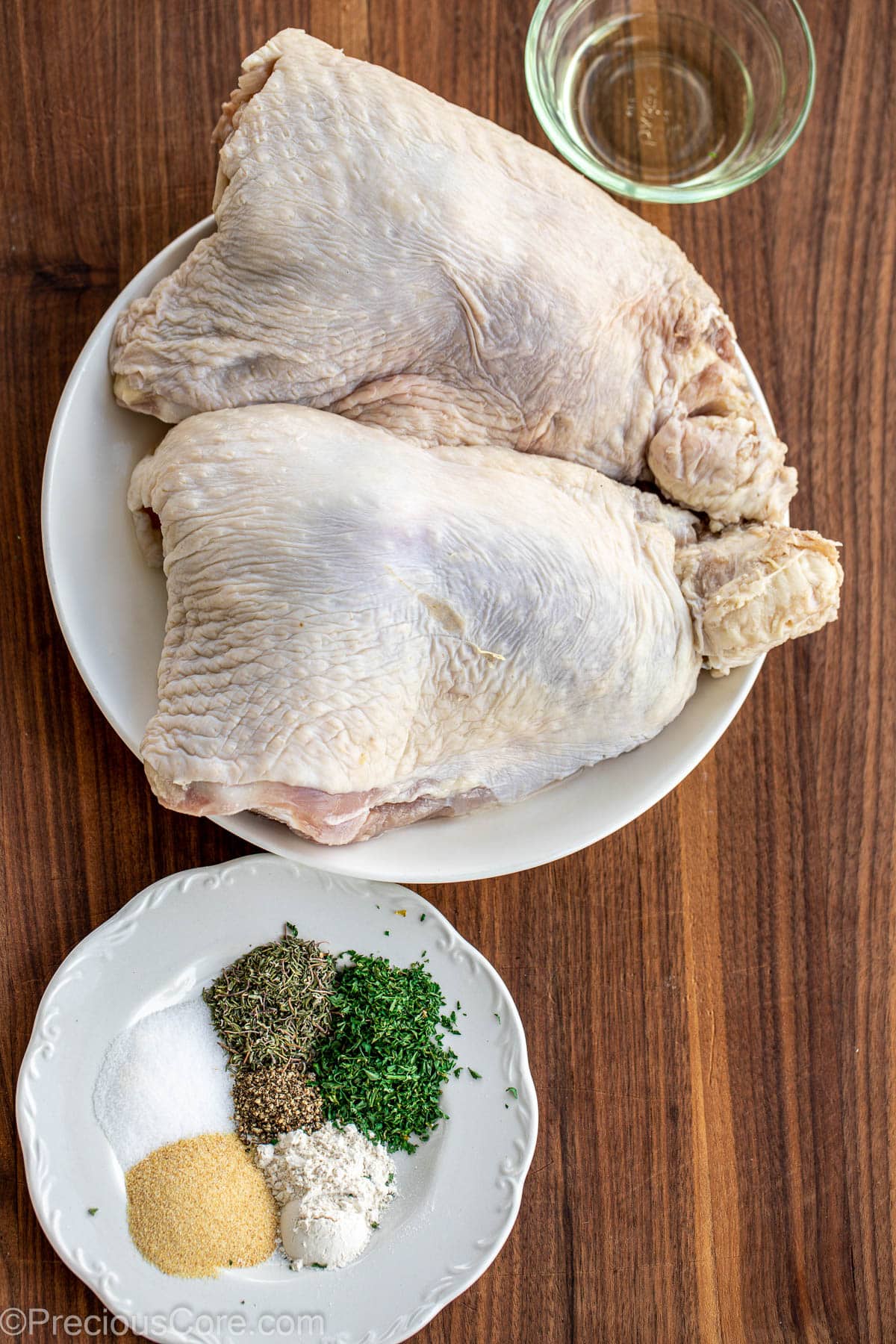 Turkey Thighs: The thighs should be brought to room temperature and patted dry before cooking.
Olive Oil: For crisping up the skin of the turkey thighs. You could substitute the olive oil with any neutral-tasting oil or you could use butter.
Spices and Herbs: I use a combination of garlic powder, onion powder, dried thyme, and dried parsley in addition to salt and pepper.
See the recipe card below for the quantities of each ingredient.
How To Roast Turkey Thighs
Here is how to roast turkey thighs in 3 easy steps. It is truly one of the easiest roasted turkey recipes you will ever make!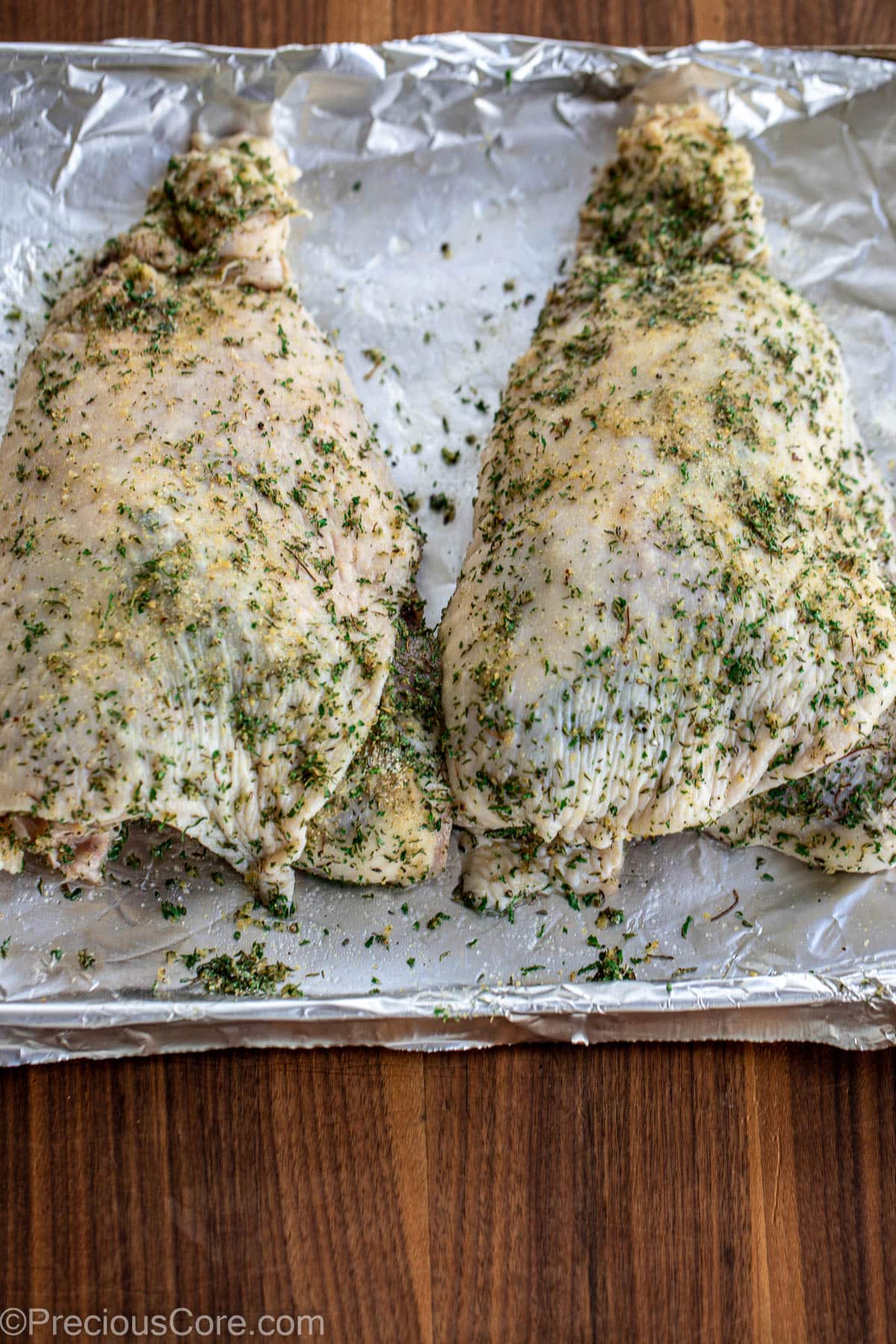 1. Pat turkey thighs dry, drizzle on the olive oil, and rub on all the seasonings.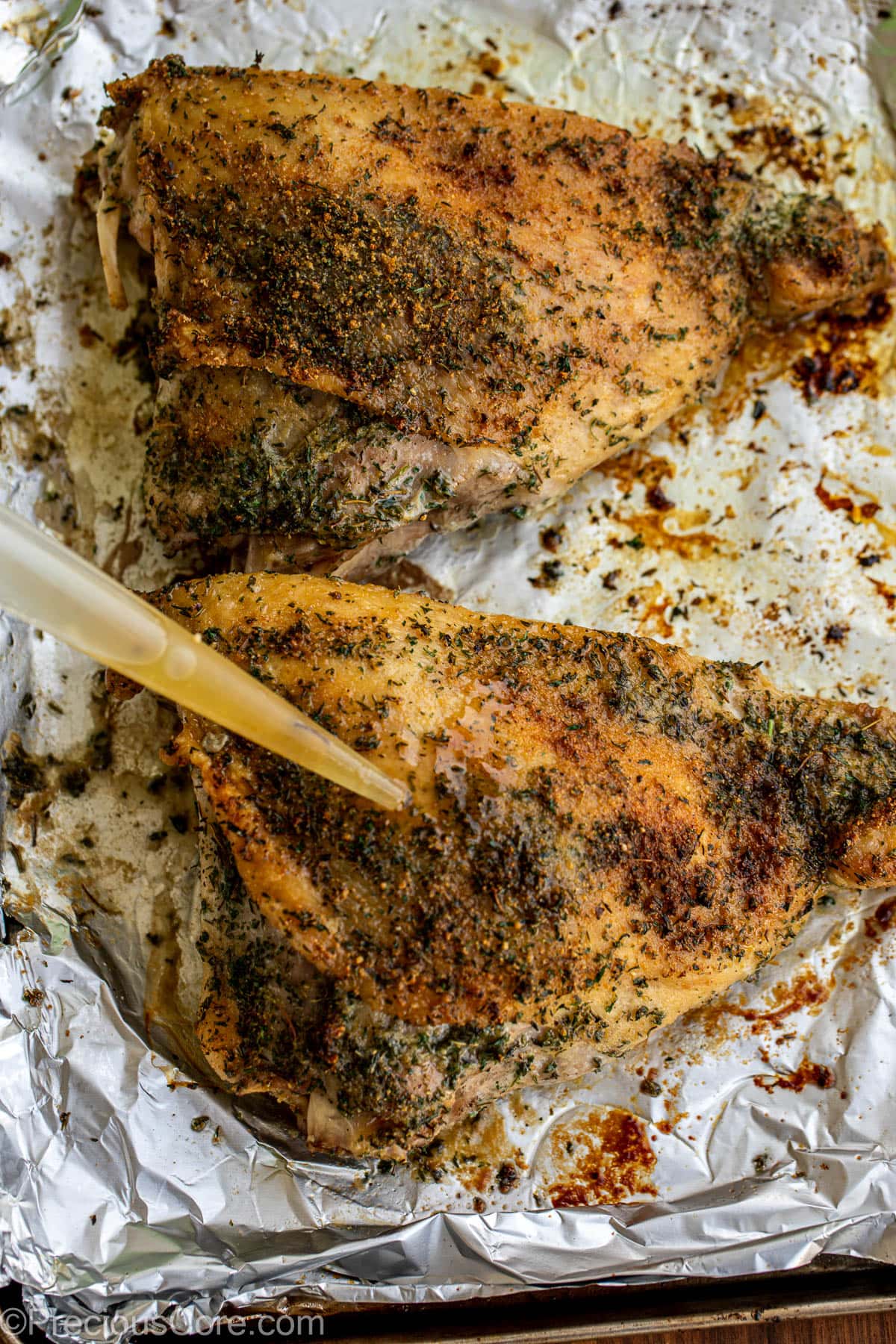 2. Place the turkey thighs into the oven to roast at 375 degrees Fahrenheit and baste after 30 minutes. Let it roast then baste again after 30 minutes. Baste twice in total using either a baster or a basting brush.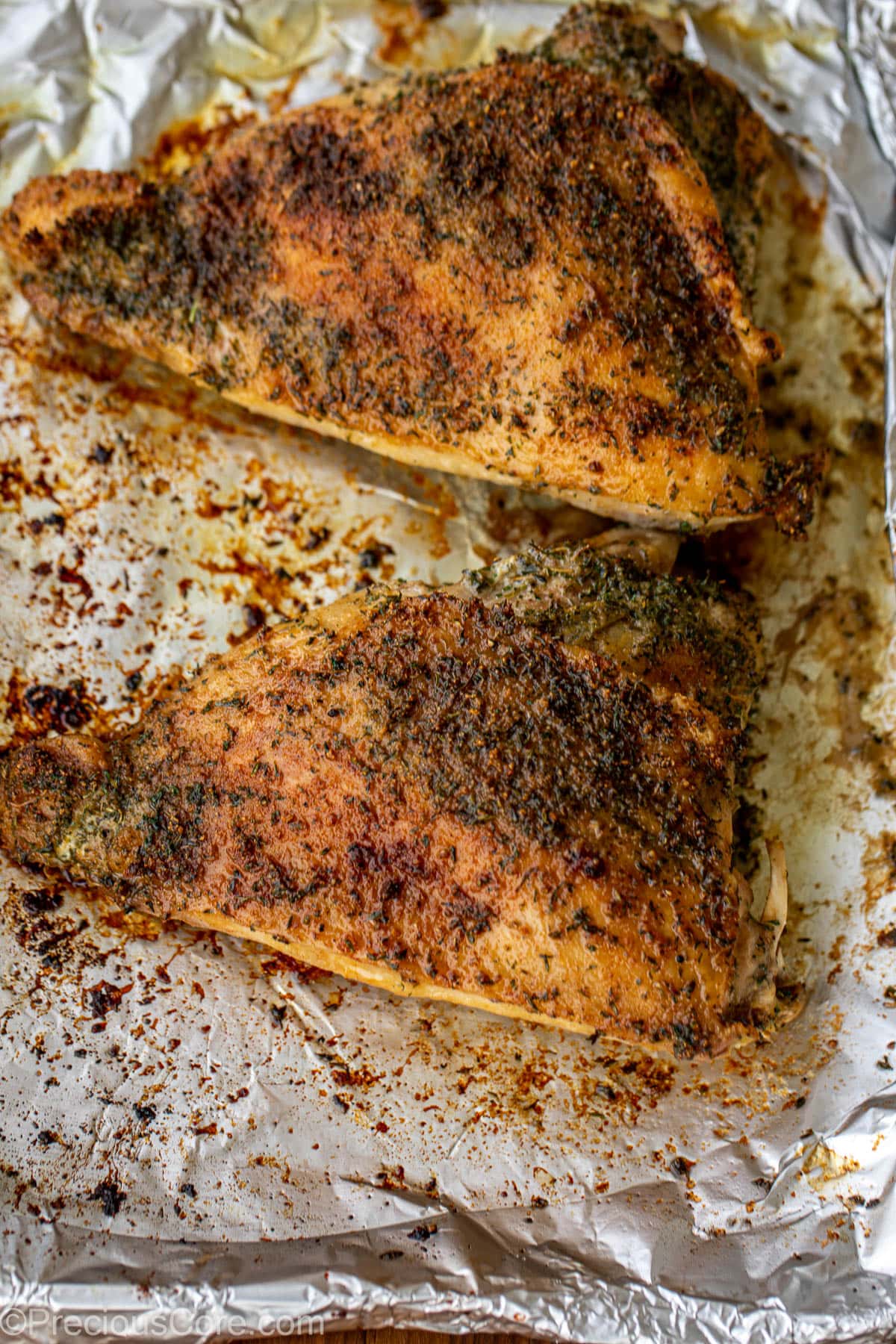 3. Let the turkey thighs rest for about 10 minutes before serving. Letting them rest allows the juices to redistribute making for juicy meat.
Hint: basting the turkey thighs as they roast helps in creating crispier skin. Also, I find basting meats one of the most relaxing things to do while cooking.
Substitutions and Variations
Different turkey parts – Try the same seasoning blend here on other turkey parts such as turkey drumsticks or wings. You could roast a combination of turkey thighs and legs.
Ultra juicy – Add chicken stock to the roasting pan and let the thighs cook in the chicken stock as they roast.
Spicy – add crushed pepper flakes or cayenne pepper to the seasoning blend to make it spicy.
One pan meal – add cubed potatoes, carrots, and brussel sprouts to the same pan as the turkey thighs and roast together to create a one pan dinner.
Also, check out my Baked Turkey Drumsticks and Lemon Pepper Turkey Wings.
Top tip
To ensure the Roasted Turkey Thighs are fully cooked, insert an instant-read meat thermometer into the thickest part of a thigh. If it reads 165 degrees Fahrenheit and up, then it is done. It is okay if it reads up to 180 degrees Fahrenheit.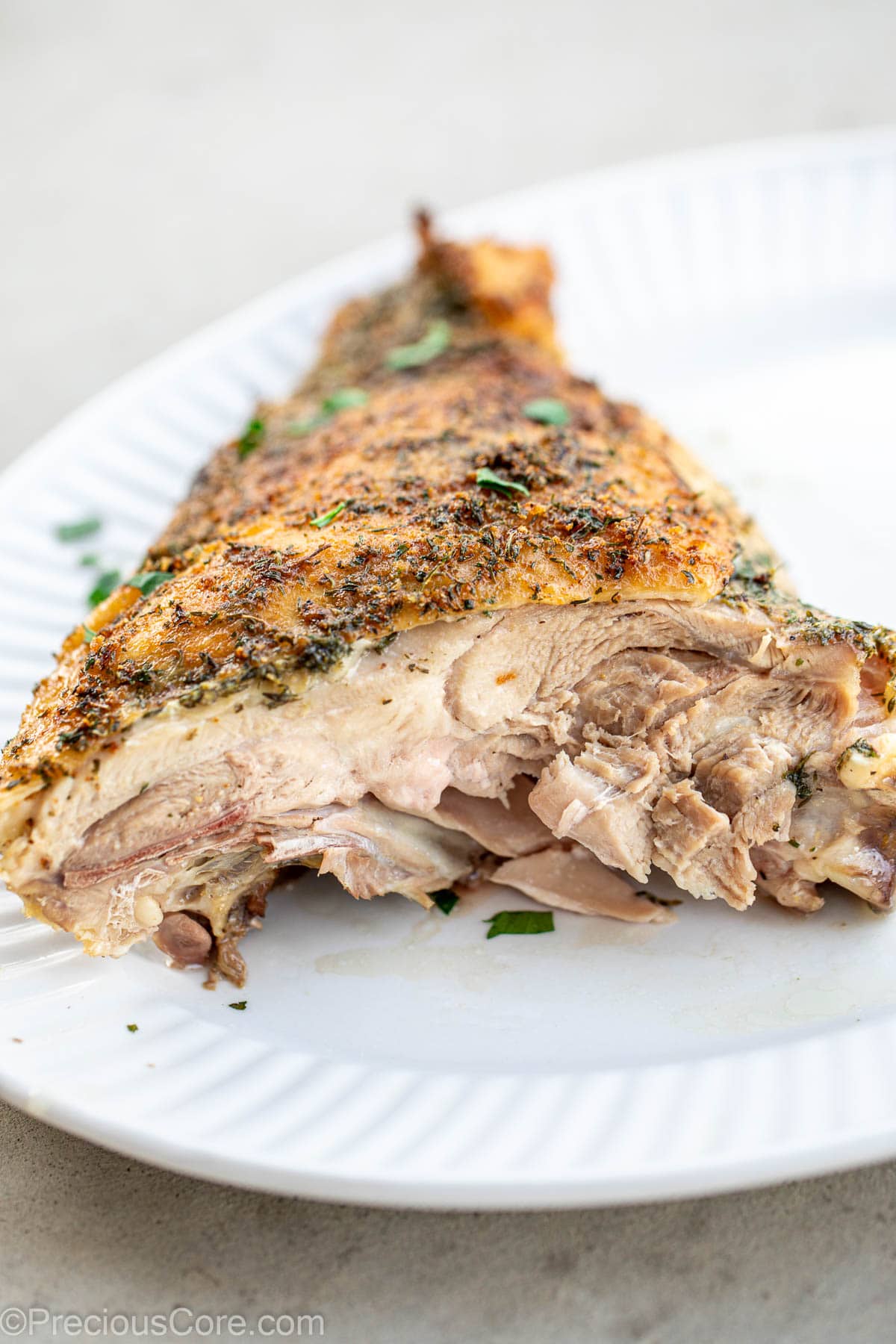 FAQs
How long do you roast turkey thighs?
Roast turkey thighs at 375 degrees Fahrenheit for one hour fifteen minutes to one hour 30 minutes. If you add chicken stock to the pan, roast longer until the thighs are fully cooked. The cooking time will also vary depending on the number of turkey thighs you roast.
Which takes longer to cook, turkey breast or thighs?
When roasting a whole turkey, the turkey breast will cook faster than the thighs.
Is turkey breast or thigh better?
It depends on your preferences. If you like white meat, go for turkey breast. If you like dark meat go for turkey thighs.
P.S. Check out my Baked Turkey Breasts recipe.
What To Serve With Roasted Turkey Thighs
More Delicious Turkey Recipes
If you make this recipe, please take a minute to leave a comment and give it a star rating below! I love hearing from you!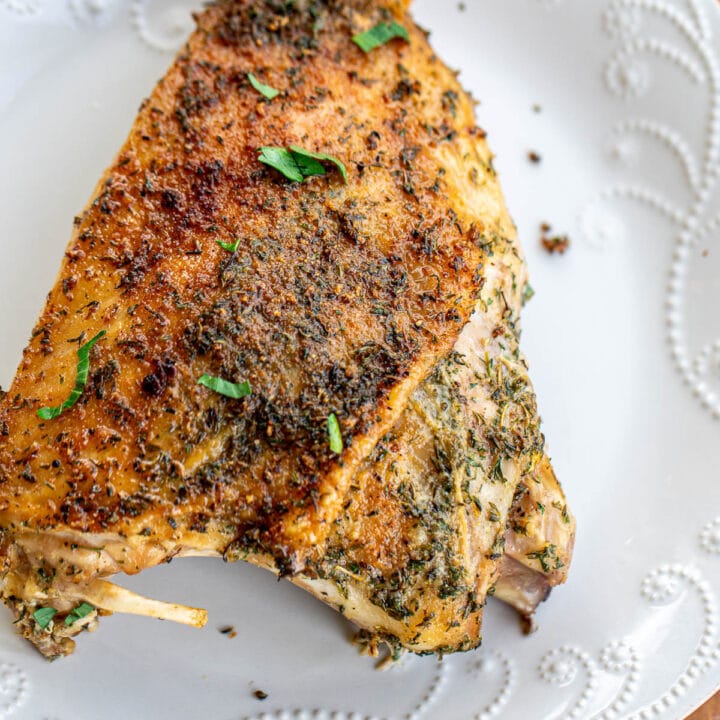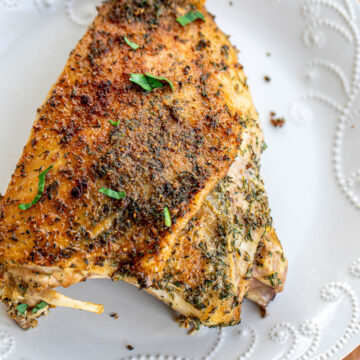 Roasted Turkey Thighs
Dark meat lovers unite! You'll love the flavors and juiciness of these roasted turkey thighs. It's hard to mess these up as they stay juicy even after cooking for a while. Only 10 minutes of prep time is required for this holiday or everyday dinner!
Ingredients
4

pounds

turkey thighs

2 large thighs

2

teaspoons

salt

½

teaspoon

ground black pepper

2

teaspoons

garlic powder

2

teaspoons

onion powder

or granules

2

teaspoons

dried parsley

2

teaspoons

dried thyme

2

Tablespoons

olive oil
Instructions
Preheat oven to 375°F. Line a 9 by 13 inch baking sheet with aluminum foil.

Pat turkey thighs dry with paper towels.

Drizzle the olive oil over the turkey thighs.

Mix together the salt, pepper, garlic powder, onion powder, dried parsley, and dried thyme, and rub the seasoning mix all over the turkey thighs, getting some under the turkey skin.

Place the seasoned turkey thighs on the prepared sheet pan. Place into the preheated oven and roast for about 1 hour 15 minutes until a meat thermometer inserted into the thickest part of a thigh without touching the bone reads 165°F and above. After the first 30 minutes of roasting, remove the turkey thighs and baste with the juices at the bottom of the pan. Repeat basting after the thighs have been roasting for one hour. So baste twice in total.

Serve with your favorite side dish.
Nutrition
Calories:
607
kcal
|
Carbohydrates:
2
g
|
Protein:
64
g
|
Fat:
36
g
|
Saturated Fat:
10
g
|
Polyunsaturated Fat:
9
g
|
Monounsaturated Fat:
14
g
|
Cholesterol:
211
mg
|
Sodium:
2652
mg
|
Potassium:
857
mg
|
Fiber:
1
g
|
Sugar:
0.1
g
|
Vitamin A:
21
IU
|
Vitamin C:
1
mg
|
Calcium:
44
mg
|
Iron:
6
mg