Rosemary Garlic Mashed Potatoes
Published Mar 29, 2023
Updated Nov 02, 2023
In 40 minutes, you'll have ready these Rosemary Garlic Mashed Potatoes, which are superior in taste compared to other mashed potatoes. The addition of rosemary and garlic inundates the potatoes with flavor.
They are creamy, and buttery, and make the perfect side dish whether for the holidays or for everyday dinner.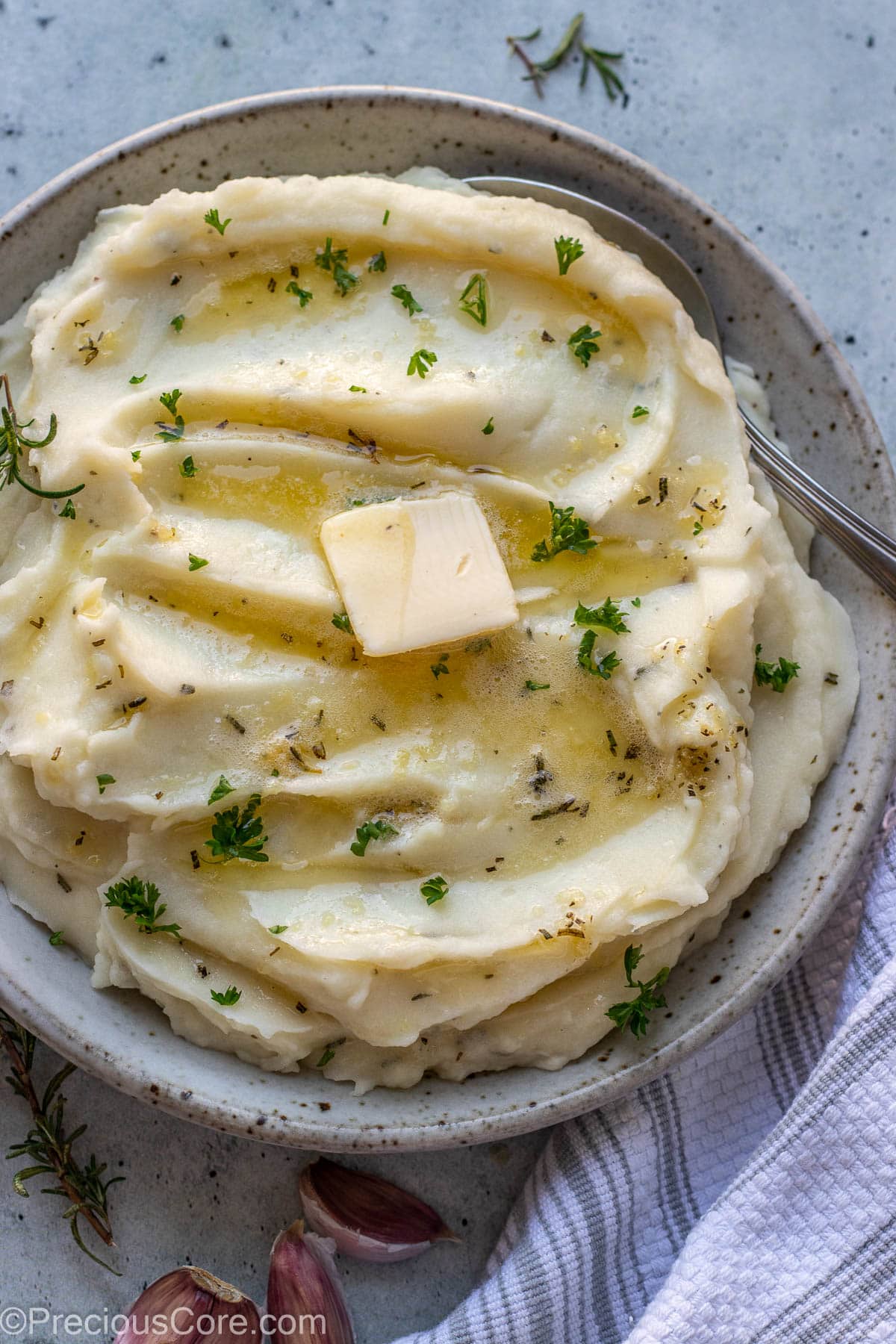 Rosemary and garlic are a match made in heaven! Add them to mashed potatoes to create really tasty Mashed Potatoes and pair them with Herb Roasted Chicken, Pan Grilled Salmon, Pan Seared Chicken Tenders, Pan Seared Lamb Chops, or Roasted Turkey Thighs.
We love flavorful meals in my home so how about a mashed potato recipe that tastes so good you can eat it by itself? That would be Rosemary Garlic Mashed Potatoes!
And if you love potatoes, be sure to check out our Buttermilk Mashed Potatoes, Easy Roasted Potatoes, and Roasted Baby Potatoes.
Why This Recipe Works
Everyone needs a good mashed potatoes recipe that they could use over and over again whether for Christmas, Thanksgiving, Easter, Sunday Supper, or those dinner nights when they want a great meal.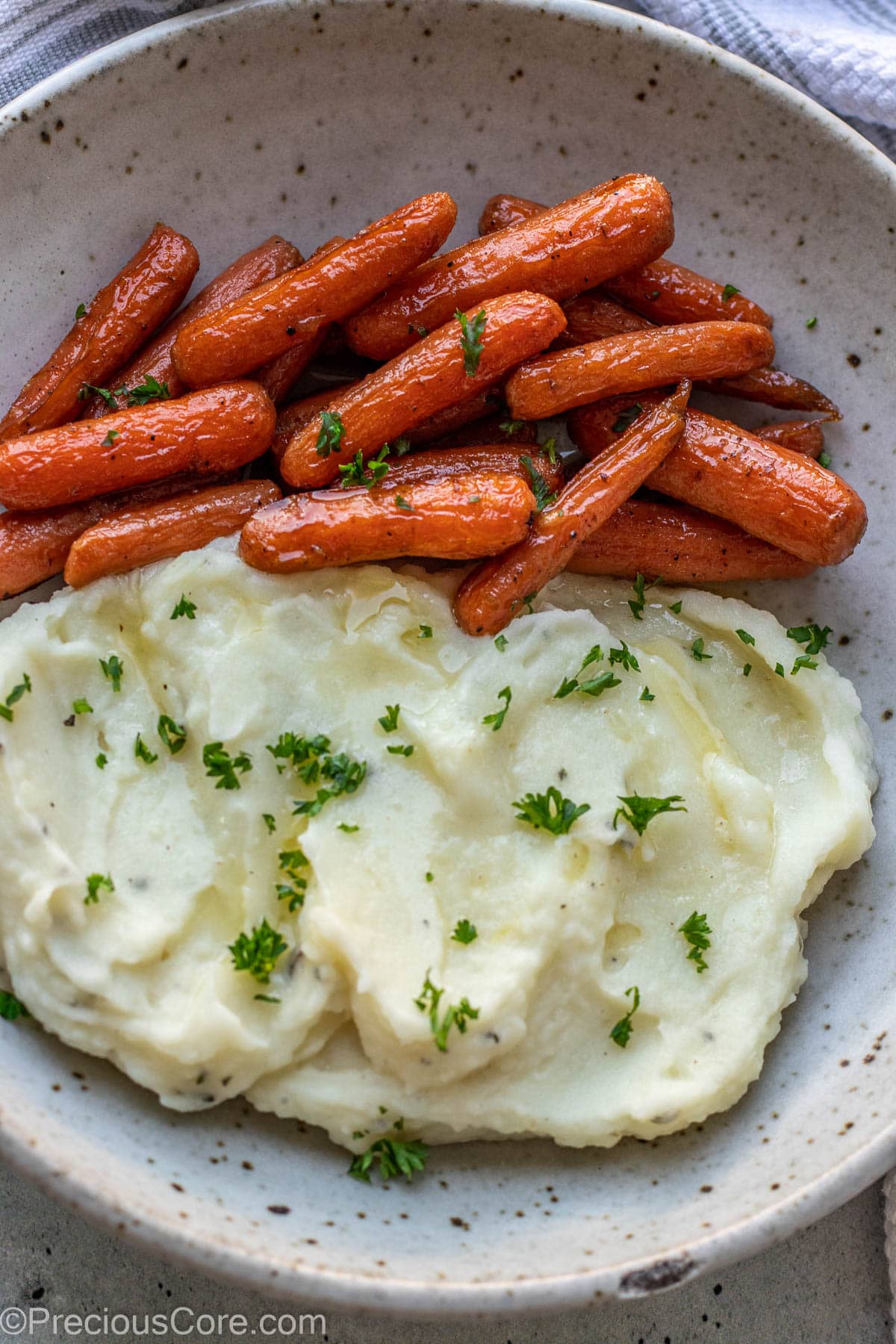 So here is your handy go-to mashed potatoes recipe loaded with flavor and prepped to impress. You'll love this recipe because:
Rosemary and garlic: This herb and spice duo works together to make really tasty meals. This combination also adds great flavor to pan-seared steak.
Creaminess: Mashed potatoes have to be creamy and this recipe makes creamy mashed potatoes by combining whole milk and butter.
Make ahead: This is a great do-ahead mashed potatoes recipe. Just make it, place in the fridge, and reheat it the next day. See instructions for reheating below!
The Ingredients
For Rosemary Garlic Mashed Potatoes you need: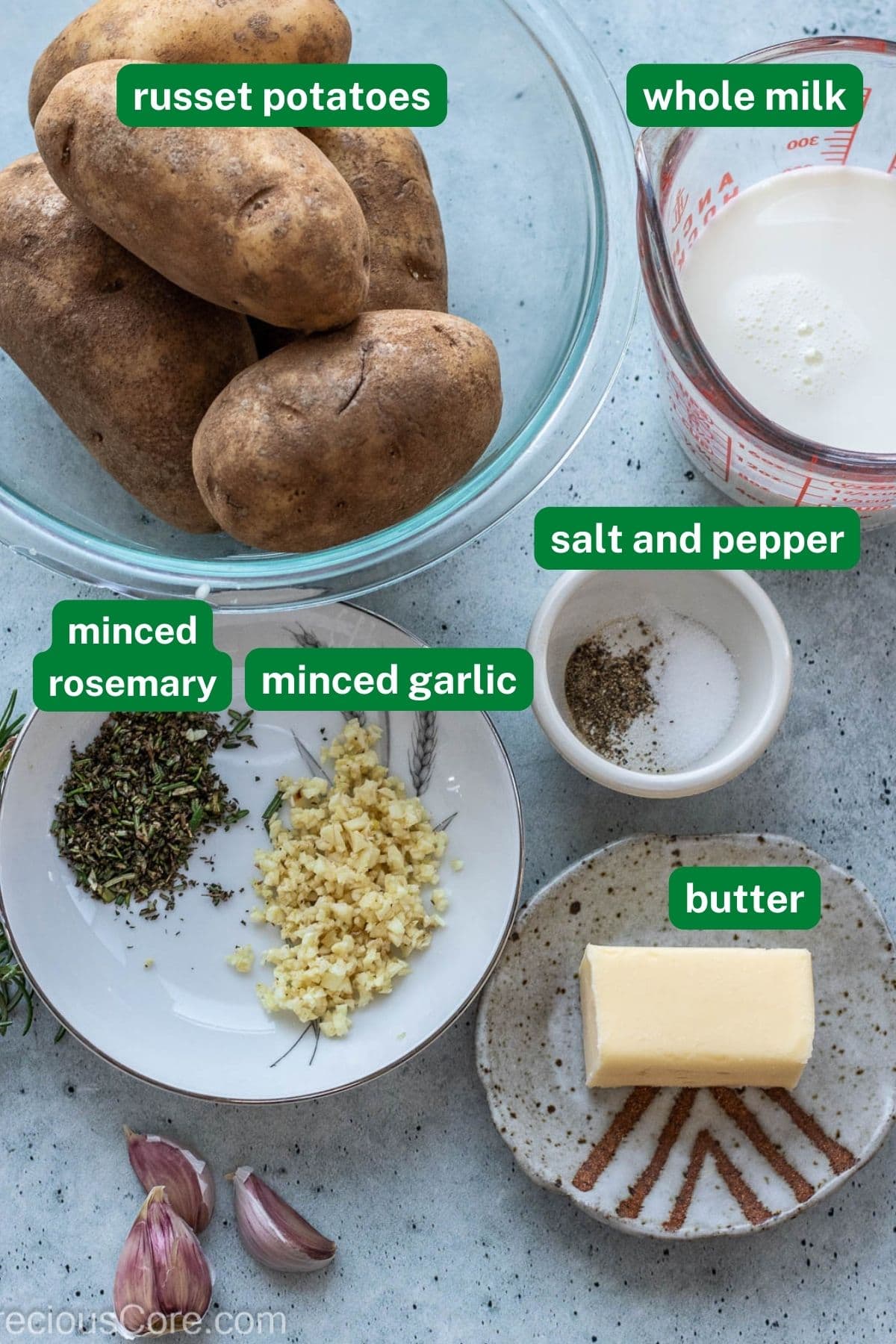 Russet Potatoes: Starchy potatoes are a go-to for mashed potatoes but waxy potatoes could work here as well.
Garlic: Use fresh garlic for the best flavor! Mince the garlic or easily grate it so it incorporates well into the mashed potatoes.
Rosemary: Rosemary is tasty but it could be overpowering. Add it in little bits and adjust the taste as needed.
Whole milk: Milk adds creaminess and should be slightly heated before use.
Butter: For buttery flavor in the potatoes and to top the mashed potatoes because there's nothing like the look of pools of butter over potatoes.
Salt and pepper: Black or white pepper would work. In fact, if you do not use white pepper, consider adding that to your spice collection for a more piquant flavor in meals.
Garnishes: Minced parsley or chives sprinkled over mashed potatoes make for a tasty presentation.
Please check out the printable recipe card at the bottom of this post for the detailed recipe.
Substitutions and Variations
Potatoes: Consider using Yukon gold potatoes instead as they have a buttery flavor that already makes for tasty mashed potatoes from the get-go. You could also use half Russet and half Yukon gold potatoes.
Cream: For richer mashed potatoes, substitute the milk with heavy cream or even evaporated milk (unsweetened).
Cheese: Add cheddar cheese or any other cheese of your choice for cheesy mashed potatoes.
Cream cheese: Consider adding cream cheese for a creamier mash and a hint of tang from the cream cheese. If you use any cheese, reduce the amount of salt used as cheese is already salty.
More herbs: Add other herbs like thyme, dill, or oregano to your mashed potatoes.
Bacon: Add bacon bits for more flavor and meatiness from the bacon.
Chicken bouillon powder: For really tasty mashed potatoes, replace half of the salt with chicken bouillon powder. Taste and add more bouillon powder as needed.
Step By Step Process
Here is how to make Rosemary Garlic Mashed Potatoes in 4 easy steps: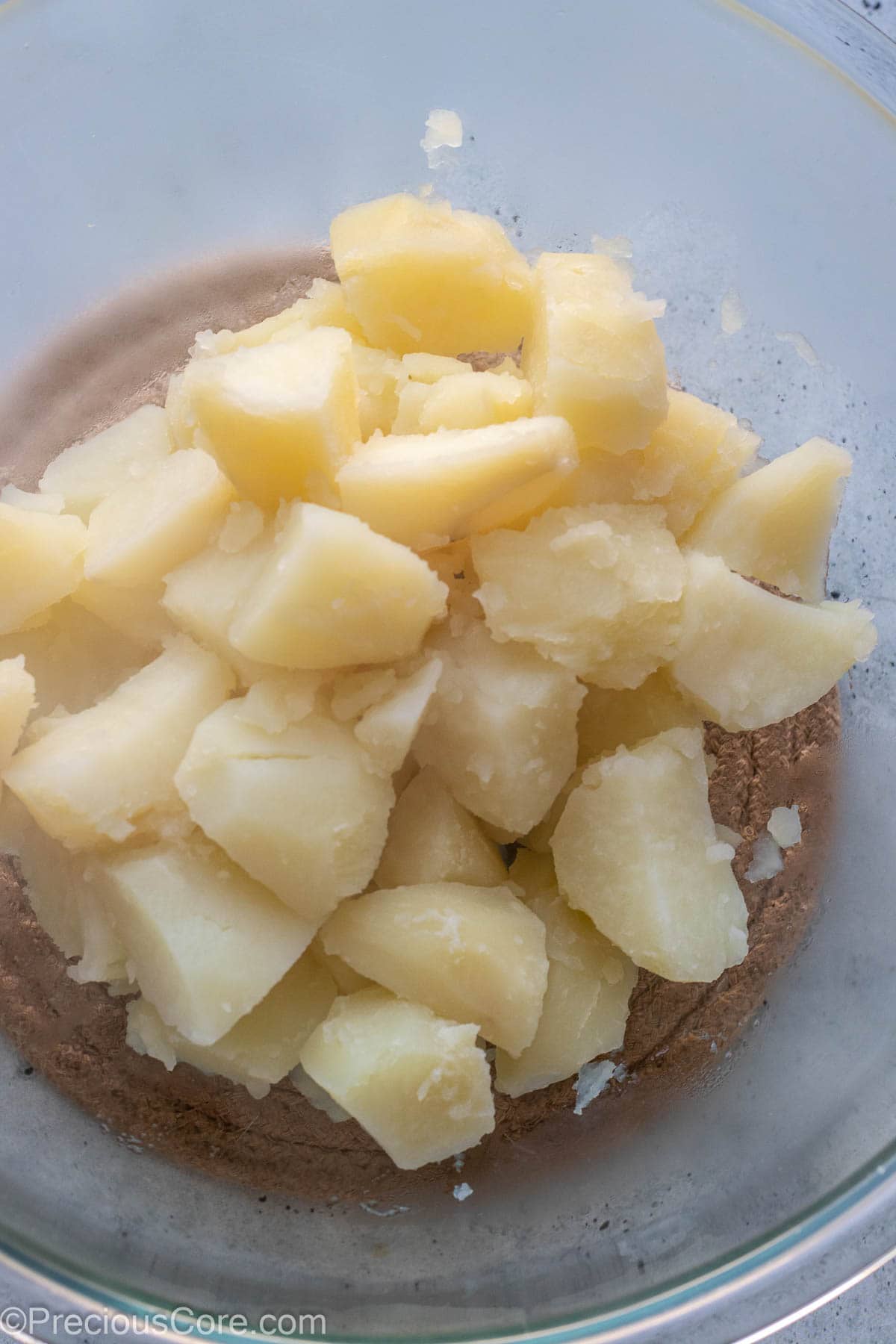 Step 1: Peel and dice potatoes then boil until fork tender.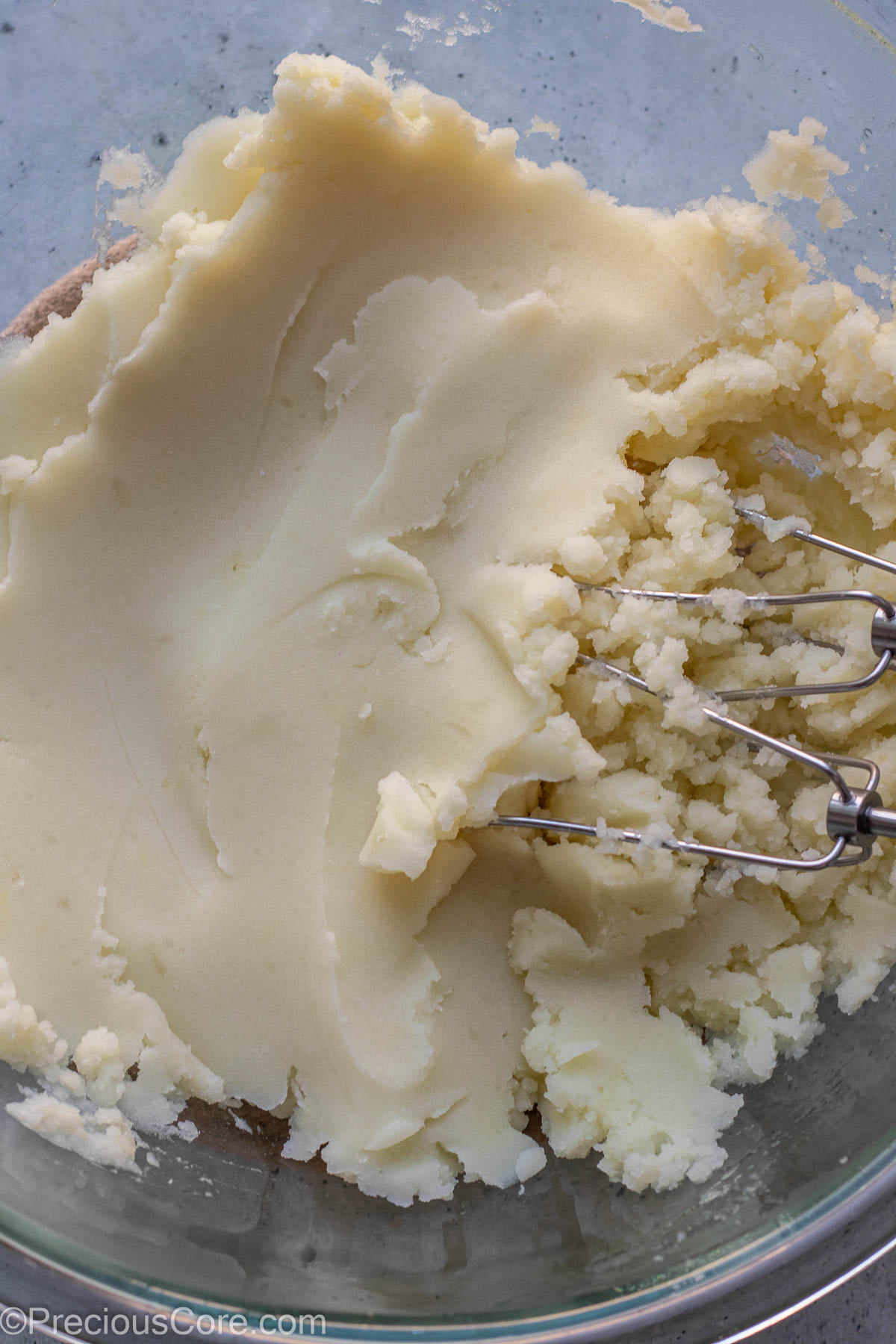 Step 2: Mash the potatoes using a potato masher then beat using an electric beater until smooth. Do not overmix.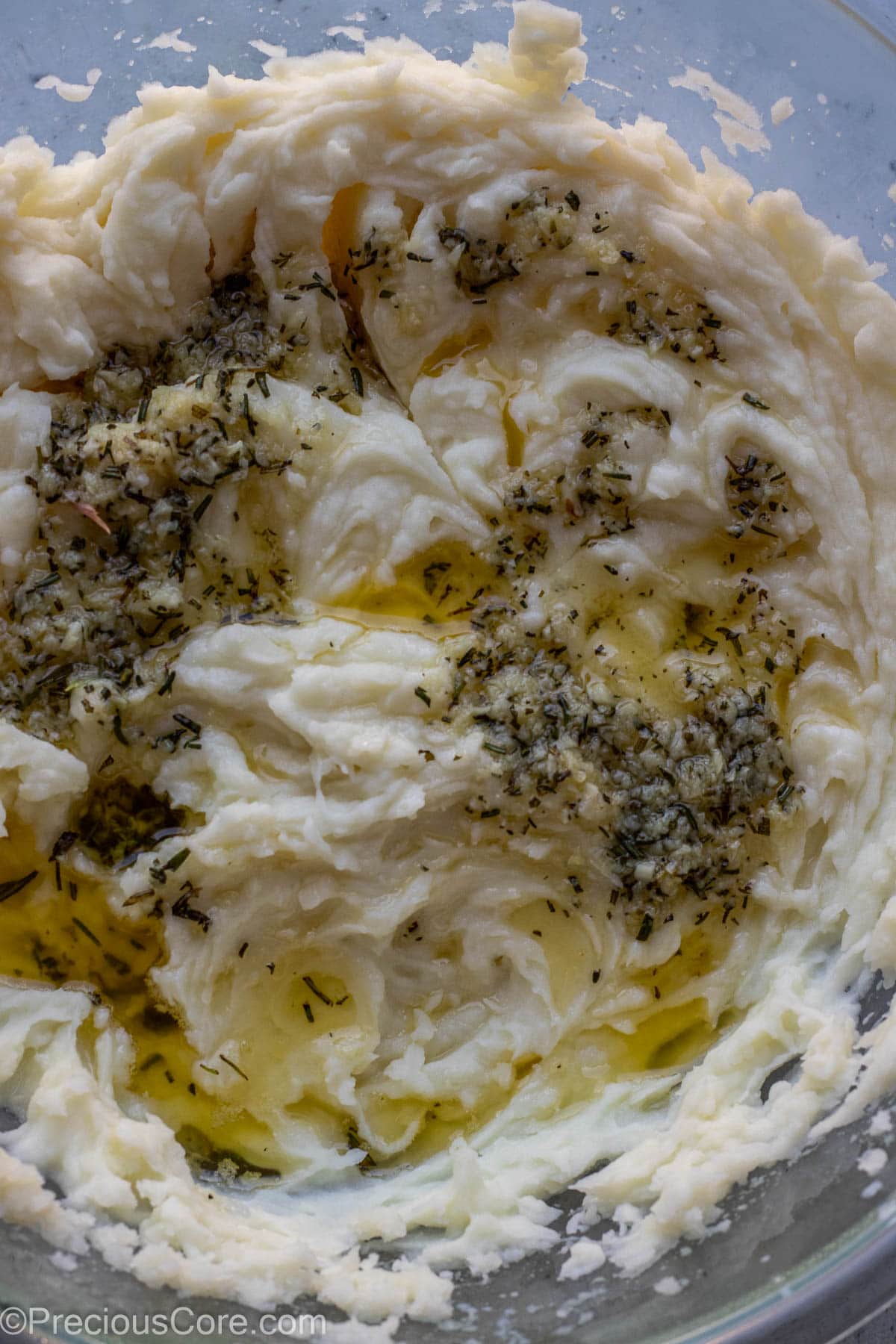 Step 3: Pour melted butter with minced garlic and rosemary over the mashed potatoes.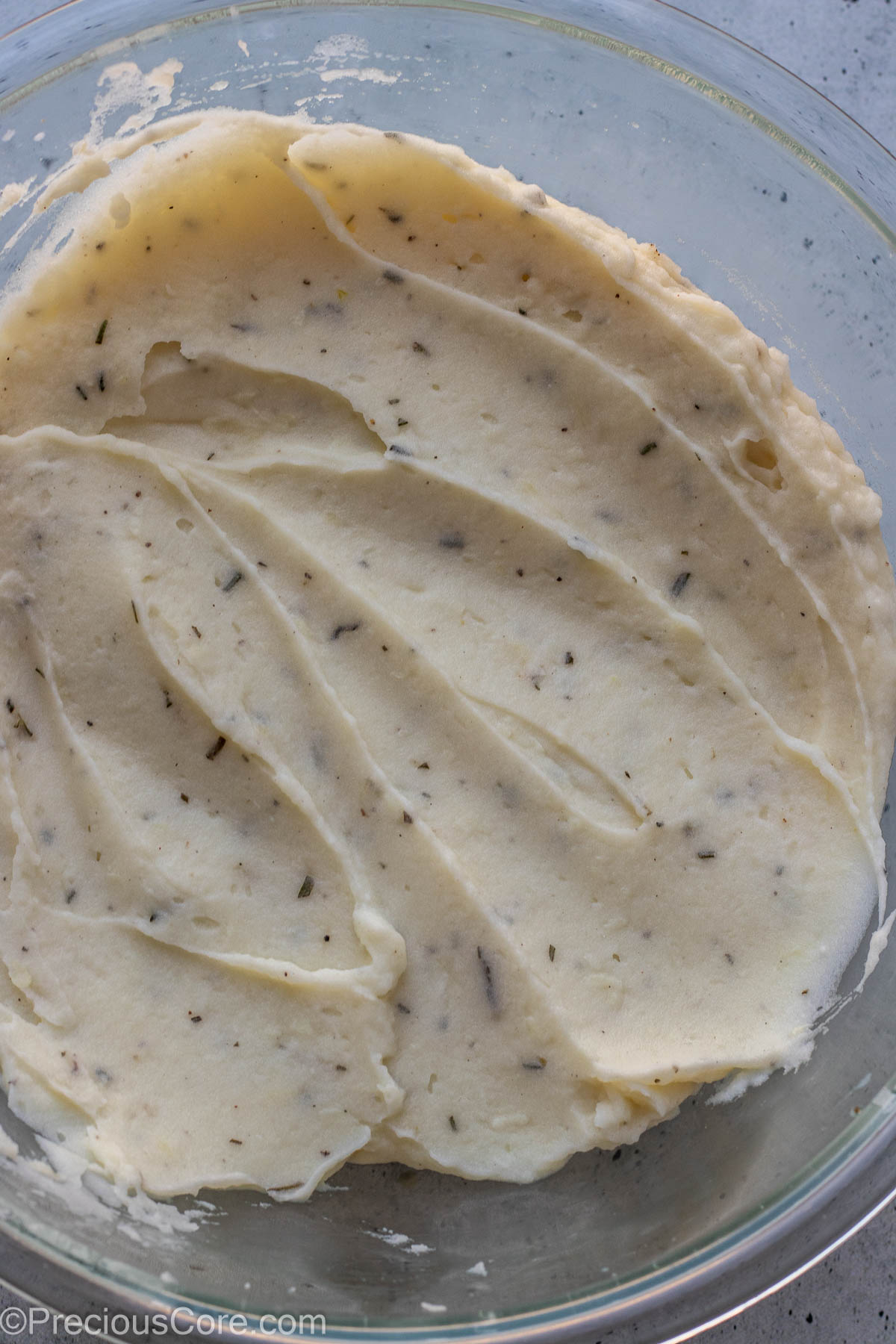 Step 4: Season with salt and pepper and mix everything to combine. Taste to adjust seasoning.
Hint: mashing the potatoes with a potato masher breaks down the potatoes so they are easier to beat with an electric beater.
Also, check out this recipe for Buttermilk Mashed Potatoes.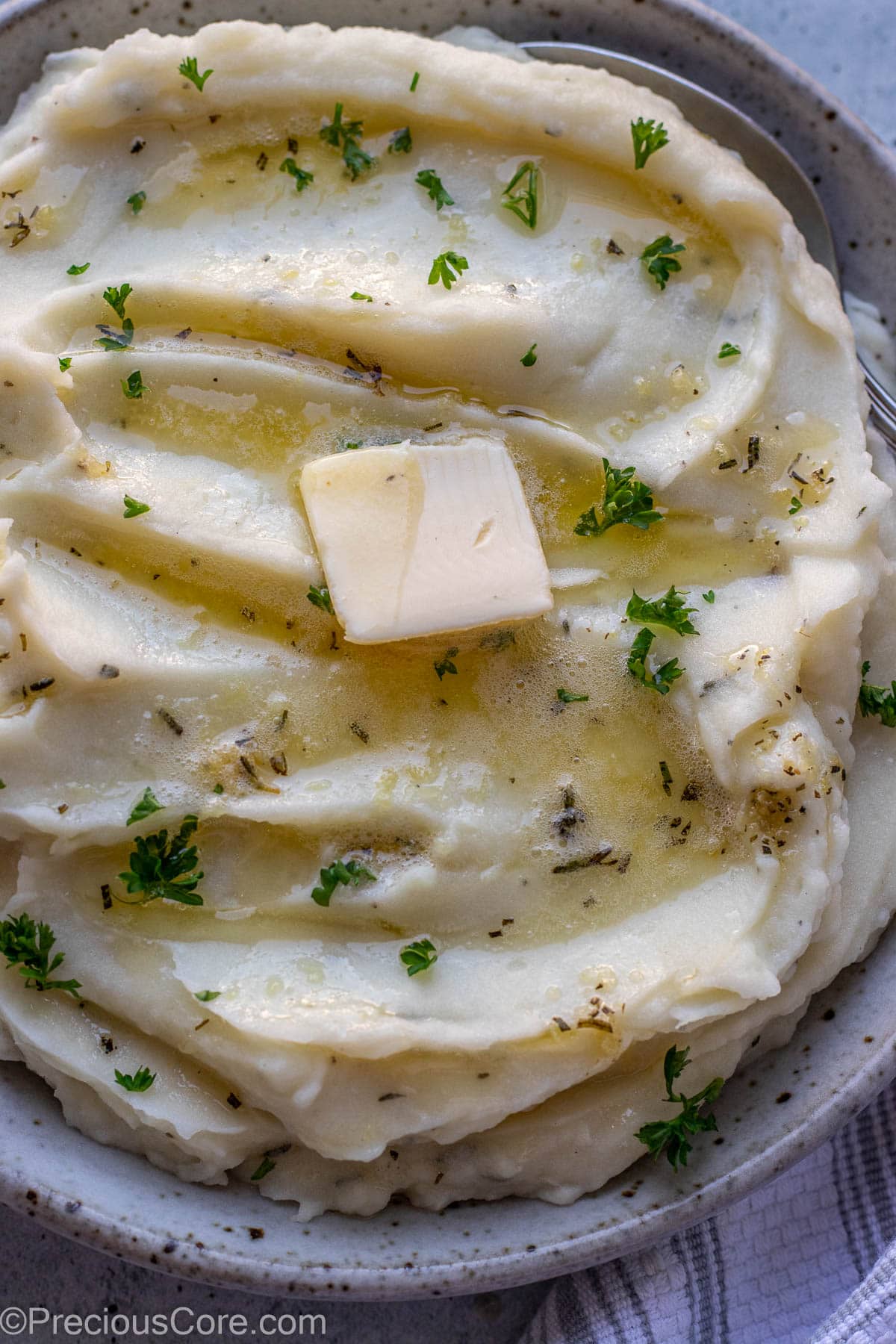 Expert Tips
Cold water: Start cooking the potatoes in cold water so they cook evenly.
Warm milk: Slightly warm the milk before adding it to the mashed potatoes. Cold milk could prevent the potatoes from mashing smoothly if you're going for smooth mashed potatoes.
Good quality butter: For the best flavor, use good quality butter so the flavor of the butter adds to the mashed potatoes. Use European-style butter like Kerrygold for this.
Beat potatoes while still hot: Mash and beat the potatoes while they are still hot, straight after draining them. Do not delay mashing so you can mash them easily and avoid lumps in the mashed potatoes.
Use good potatoes: If the potatoes are starting to get bad, that will negatively impact the texture and taste of the mash.
Bloom the spices: Simmering the garlic and rosemary in butter for a few minutes deepens their flavor, leading to really tasty mashed potatoes.
Don't overwhip! Overwhipped mashed potatoes have a gluey texture which is unpleasant.
Cutting potatoes: Cutting the potatoes into 1-inch pieces helps them cook faster.
Reheating Mashed Potatoes
Microwave method: To reheat mashed potatoes, place them in the microwave to microwave for a few minutes then stir and serve.
Oven method: Cover the mashed potatoes and place them covered in the oven at 350 degrees Fahrenheit (180 degrees Celsius) to heat up until heated through.
Recipe FAQs
What spices go well with mashed potatoes?
Mashed potatoes go well with a number of spices and herbs including garlic, white or black pepper, parsley, dill, thyme, or basil.
How to season bland mashed potatoes?
A simple seasoning of salt and pepper will take mashed potatoes from bland to tasty! Add the seasoning in little bits then taste and adjust as needed. For more flavor, consider adding in some onion powder or garlic powder.
What is the secret to the best mashed potatoes?
To make the best mashed potatoes, keep your potatoes hot before mashing, don't add all the liquid at once, and taste as you make it to adjust seasoning.
Serving
The following dishes pair well with mashed potatoes:
Similar Recipes
Looking for more tasty side dishes? Try these:
If you make this Rosemary Garlic Mashed Potatoes Recipe, please leave a star rating or comment below. We love hearing from you!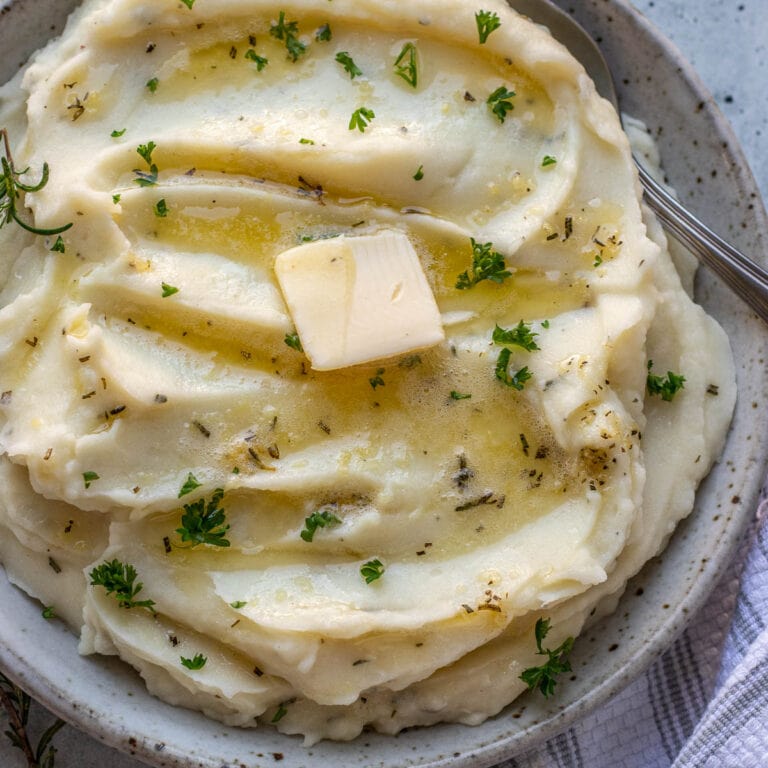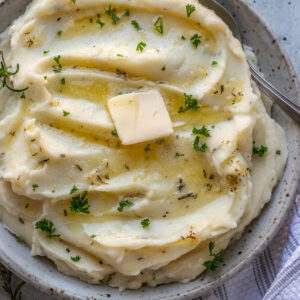 Rosemary Garlic Mashed Potatoes
Elevate your mashed potatoes by adding rosemary and garlic to them. Simmering the garlic in melted butter really amps up the flavor of this creamy side dish. The perfect accompaniment to chicken, steak, lamb, or pork.
Ingredients
2

pounds

Russet Potatoes

About 4-5 Russet potatoes

5

cloves

garlic, minced

3

sprigs

rosemary

leaves removed and minced

4

tablespoons

unsalted butter

1

cup

whole milk

½

teaspoon

salt

¼

teaspoon

ground black or white pepper

Chopped parsley or chives for garnish

More butter for topping mashed potatoes
Instructions
Peel the potatoes and rinse thoroughly. Cut them into 1-inch pieces.

Place the potatoes into a medium-sized pot. Add cool water to the same level as the potatoes. Bring to a rolling boil on high heat. Boil the potatoes until they are fork-tender. About 15-20 minutes.

While the potatoes boil, melt the butter in a skillet on medium heat. Add the minced garlic and minced rosemary and stir for about 30 seconds to one minute until the flavors bloom. Remove from heat.

When the potatoes are fork-tender, drain them and place them in a large mixing bowl. Mash them immediately with a potato masher until they are all broken down. Immediately beat them using an electric beater at medium speed for 2 minutes until smooth. Add the milk in 3 batches beating to combine each time. If the mashed potatoes turn too runny, reserve the rest of the milk.

Add the garlic rosemary butter and beat to combine.

Add salt and ground black pepper or white pepper then beat to combine. Taste to adjust the seasoning.

To serve, top with extra butter if desired, garnish with chopped parsley or chives, and serve warm.
Notes
Potatoes: I used Russet potatoes but you could use any starchy or waxy potatoes you like. Yukon gold potatoes would work well here.
Heavy cream: Feel free to substitute the milk with heavy cream for more richness and creaminess.
Make ahead: Make these mashed potatoes a day ahead and let them heat up covered in the oven at 350 degrees Fahrenheit (180 degrees Celsius) before serving.
Please read the recipe blog post for lots of great tips!
Nutrition
Calories:
191
kcal
|
Carbohydrates:
28
g
|
Protein:
3
g
|
Fat:
8
g
|
Saturated Fat:
5
g
|
Polyunsaturated Fat:
0.4
g
|
Monounsaturated Fat:
2
g
|
Trans Fat:
0.3
g
|
Cholesterol:
20
mg
|
Sodium:
203
mg
|
Potassium:
643
mg
|
Fiber:
2
g
|
Sugar:
1
g
|
Vitamin A:
237
IU
|
Vitamin C:
9
mg
|
Calcium:
27
mg
|
Iron:
1
mg