Cameroonian Pepper Soup
Published Feb 04, 2023
Updated May 26, 2023
Brothy, hearty soup made up of tender chunks of meat. The broth in this Cameroonian Pepper Soup is so flavorful, you will want to keep drinking it! This recipe only requires 15 minutes of prep time!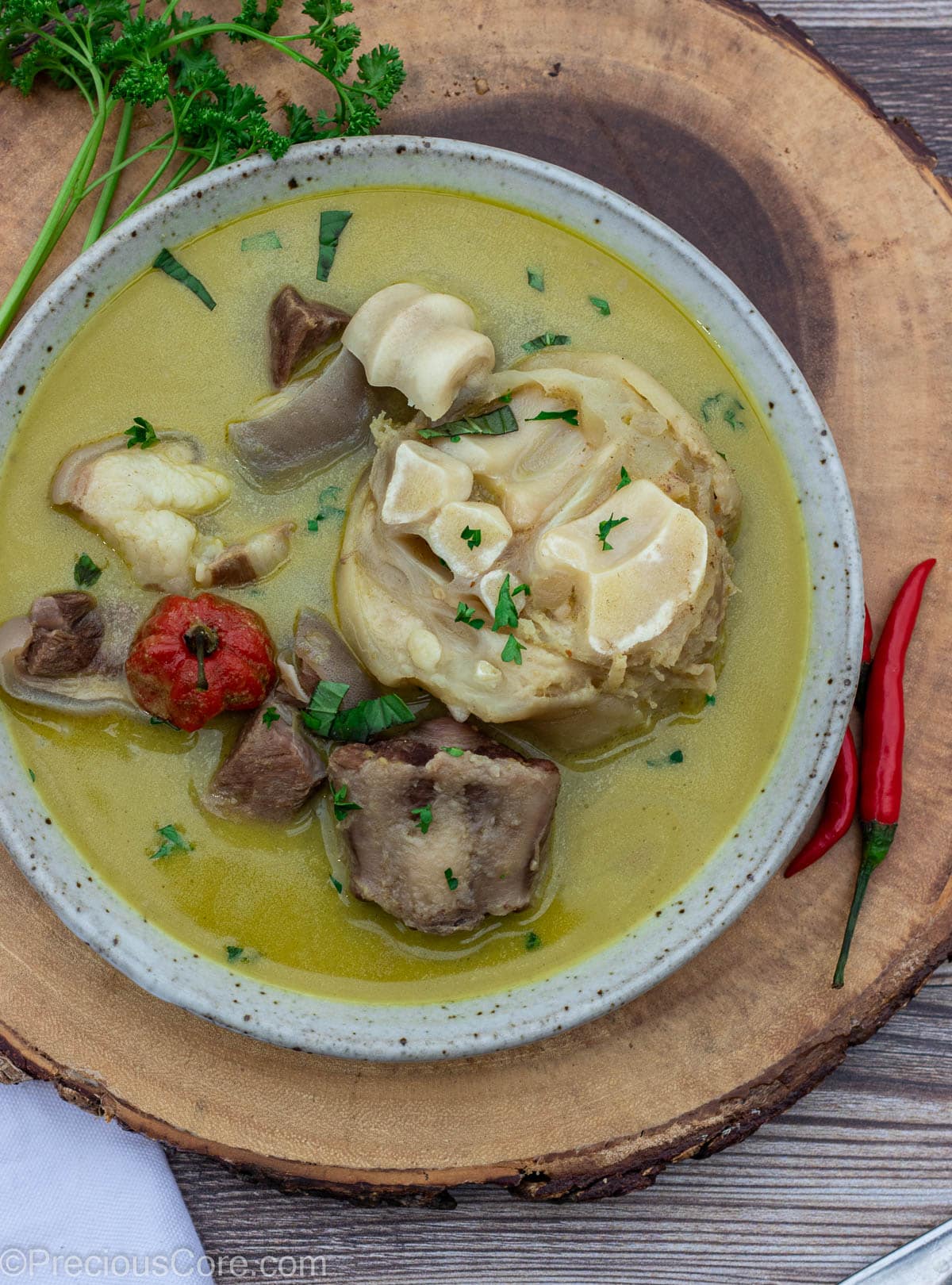 This year, we've had so many rainy days here in Southern California. The rainy weather just keeps luring me to go into the kitchen and make some tasty pepper soup!
Cameroonian Pepper Soup is always top on my list because it is one soup that I grew up eating. There are many different versions of pepper soup. There is Fish Pepper Soup, Chicken Pepper Soup, and Meat Pepper Soup.
What Is Pepper Soup?
Pepper soup in West and Central Africa is a soup that is loaded with spices and herbs and has a consistency that is slightly thicker than broth.
The name "pepper soup' implies the use of hot peppers like habaneros or scotch bonnet in the soup. But pepper soup can also be made without hot peppers and it will still be delicious!
Different African countries have their versions of pepper soup! The common principle is that the soup is spicy, loaded with spices, and made with fish, meat, or chicken.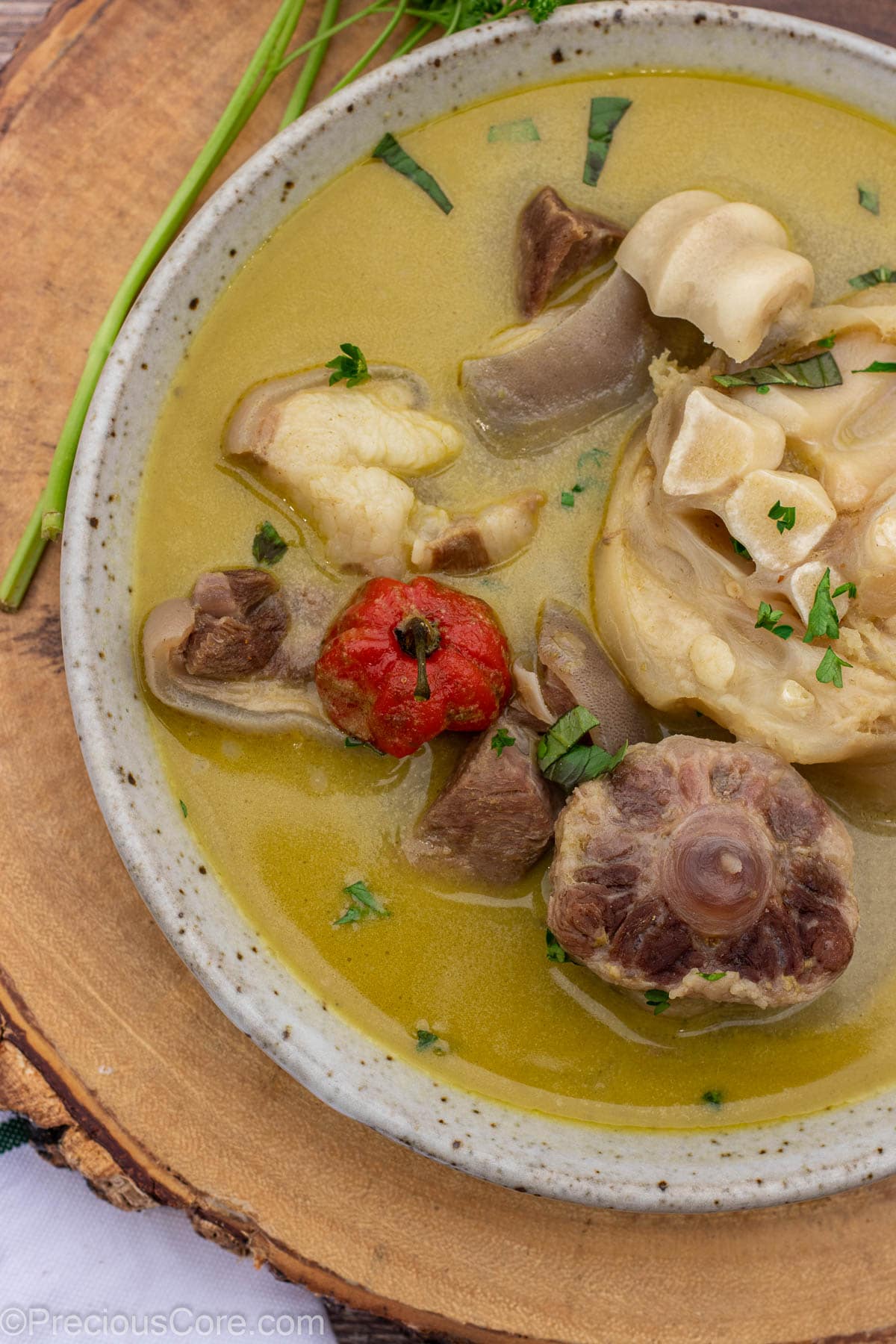 Cameroonian Pepper Soup With Meat
The meat version of pepper soup could contain just one kind of meat or various kinds of meat. For this recipe, I used 3 different kinds of meat. Because why have only one type of meat when you could have 3?
But don't feel obliged to use the same kinds of meat as I did. You could use any meat you have on hand: beef, goat meat, beef feet, organ meats like beef tripes or intestines, and more.
You could even use pig feet/trotters for your pepper soup. I recently had pork pepper soup at a Cameroonian party and it was amazing!
The beauty of pepper soup is that you could always adapt it to suit whatever protein you have on hand.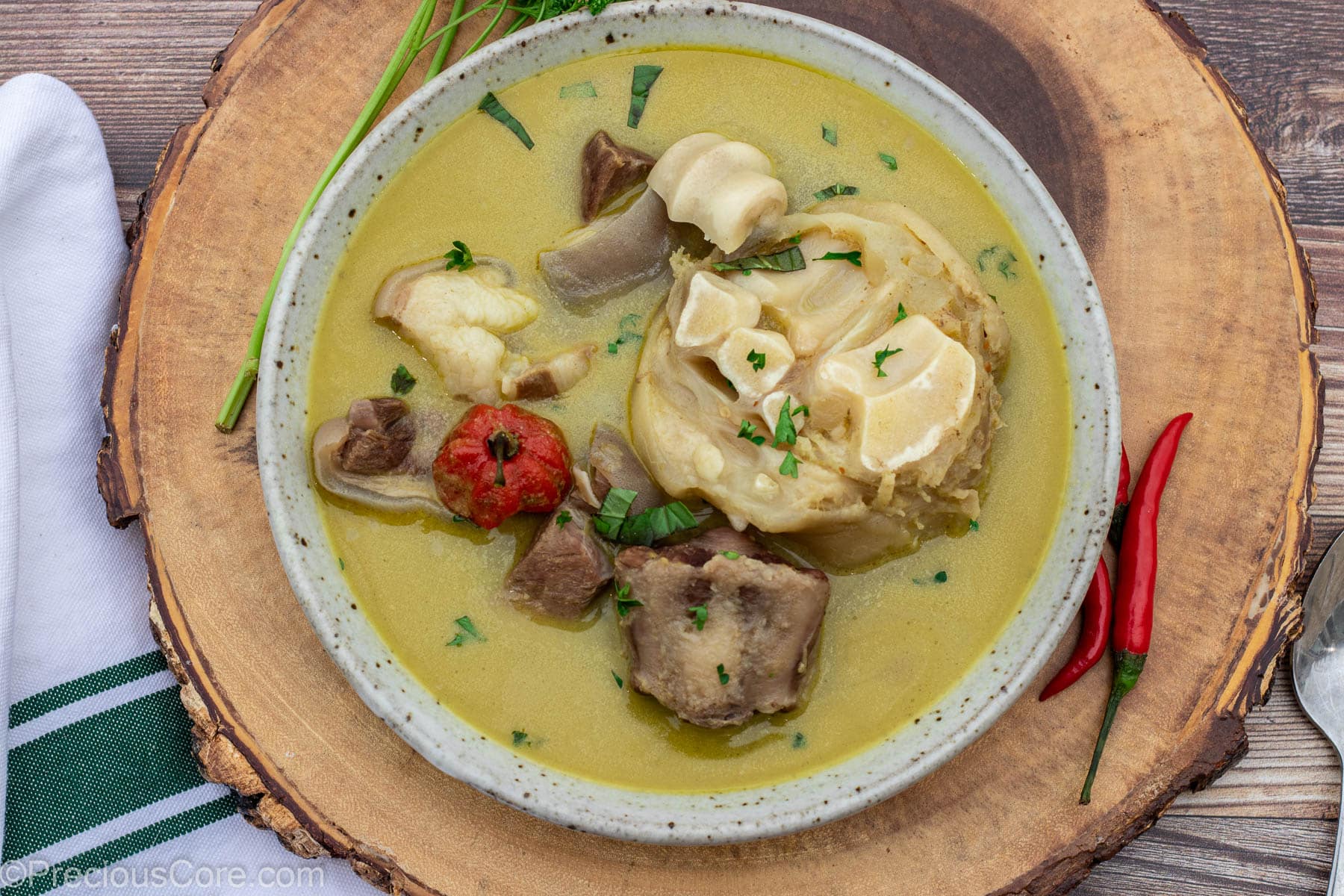 Key Ingredient In Cameroonian Pepper Soup
Njangsa or Njansa, a seed-like spice with a striking resemblance to chickpeas is the key ingredient that gives Cameroonian Pepper Soup its uniqueness.
But let me note right here that please don't step back and say, "oh, I can't make this recipe because I don't have njangsa."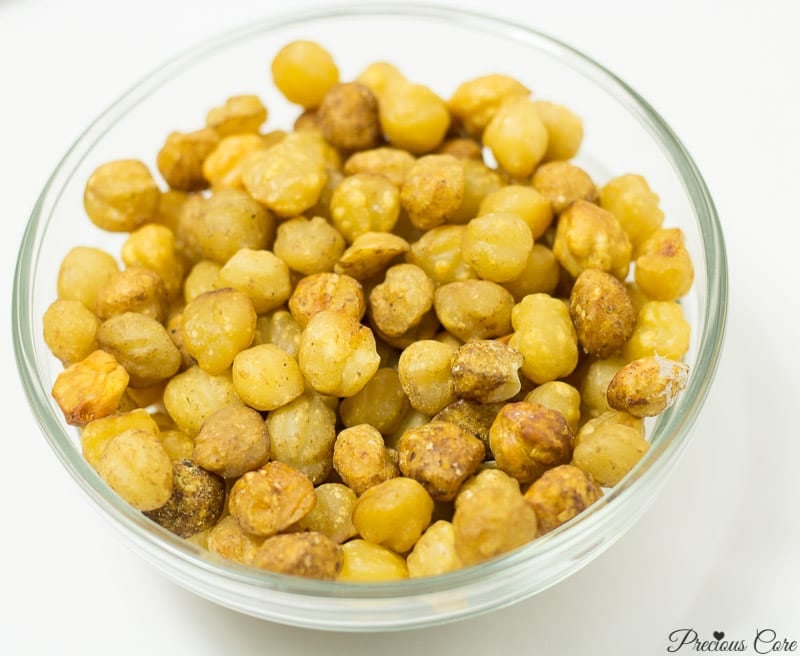 Although njangsa adds a unique earthy nutty flavor and creaminess to Cameroonian Pepper Soup, you can still make pepper soup without njangsa and it will taste amazing!
With the right combination of herbs and spices (see recipe below), you get a really flavorful broth that is so comforting.
Why You'll Love This Recipe
Whether you are from Cameroon or not, Cameroonian Pepper Soup is the recipe for everyone! You'll fall in love from the first sip. There is so much to love about this recipe:
It is adaptable: Use any meat you have to make your soup. No Njangsa, no problem! If you don't like it spicy, you could completely omit the habanero pepper.
It is easy: You literally just have to blend the ingredients and pour into the meat and let the stove do all the work.
It is super tasty! Yes, the broth is so flavorful, you'll want to keep drinking it!
It has healing properties: All the herbs and spices in Cameroonian pepper soup will soothe you if you are sick or have a cold.
A Note About Organ Meats
Organ meats are the other parts of the cow that are not the beef aka red flesh. Some cow organ meats include beef tongue, kidneys, beef tripe, beef liver, intestines, and beef skin.
In Cameroon, where I grew up we cook with every single part of the beef. I can tell you that all the parts are delicious when cooked properly.
Even better, beef organs are loaded with nutrients! Check out my epic liver sauce.
Now, if you haven't cooked with beef organs before, you could add some to your pepper soup and see how you like them. For pepper soup, I recommend beef feet, beef tripe, and beef intestines.
Cook the organ meats until tender and enjoy all the benefits therein.
Expert Tips For Cameroonian Pepper Soup
After making Cameroonian Pepper Soup umpteen times, here are some of my best tips:
Use bone-in meats. Bone-in beef has way more flavor than just plain meat. Try using bone-in parts like short ribs or oxtails for amazing bone-marrow flavor in your broth!
Cook the toughest cuts of meat first then gradually add the other meats according to their toughness.
Use organ meats to make Cameroonian pepper soup when you can. Their health benefits are amazing!
For a one-pot meal, throw in some peeled plantains cut in half. You'll have incredible pepper soup and plantains in one pot!
Use Thai basil instead of Italian basil for a more intense basil flavor.
Serving
Serve Cameroonian Pepper Soup on its own as an appetizer or serve it with the following side dishes:
Bonus: My husband thoroughly enjoys pepper soup with bread! Use some fluffy or crusty bread to soak up that sauce!
Okay friends, hope you enjoyed learning about a dish from my cultural heritage! I have a full recipe for you below and even a pepper soup video on my YouTube channel. If you have any questions, please leave them below.
More Recipes You'll Love
Also, check out some of my favorite Cameroonian recipes:
If you make this recipe, please consider leaving a comment and star rating below. I love hearing from you!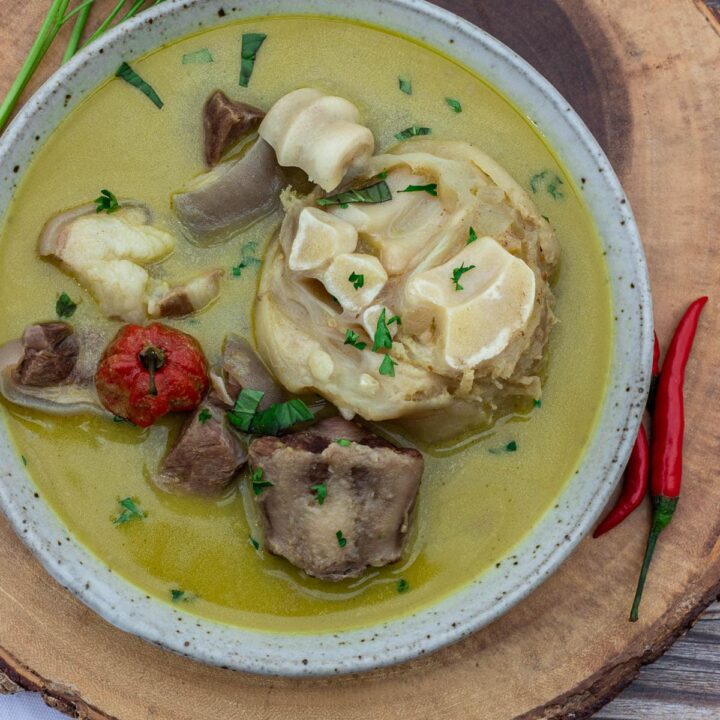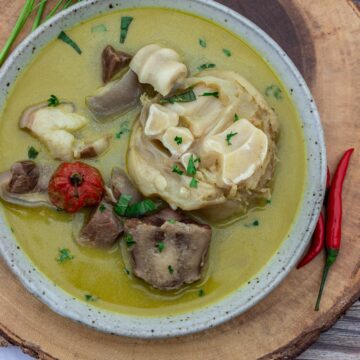 Cameroonian Pepper Soup
Brothy, hearty soup made up of tender chunks of meat. The broth in this Cameroonian Pepper Soup is so flavorful, you will want to keep drinking it! The soup is really flavorful with a little kick but not spicy! If you want it spicy, blend the habanero or scotch bonnet peppers with the other ingredients.
Ingredients
10

pounds

goat meat, beef feet and oxtails

2

teaspoons

salt

4

teaspoons

chicken bouillon powder

1

medium onion

1

head of garlic

about 10 cloves

4

inches

ginger root

5

sprigs

fresh basil

I used Thai basil

4

sprigs

parsley

1

celery stalk

1/2

cup

njangsa

2

habanero or scotch bonnet peppers

1

teaspoon

ground white pepper
Instructions
Rinse all the meats and add to a large pot. Add enough water to the pot to completely cover the meats.

Place the pot on high heat and cover it with the lid tilted on one side to prevent boiling over. Bring to a boil and let it boil for 10 minutes. Skim the scum off the top of the meats.

As the meat boils, combine the onion (cut into chunks), garlic, ginger, basil, parsley, celery, and njangsa. Add enough water to blend into a paste and blend everything into a smooth paste. If you want the soup spicy, blend all the ingredients together with a habanero pepper.

Add the seasoning blend to the meats, then add the salt and chicken bouillon powder, and the full habanero peppers. Let it simmer together until the meats are all tender. It takes about an hour. After 30 minutes, remove the habanero peppers so they don't burst into the soup.

Taste the broth and adjust the salt as needed. Add the ground white pepper and stir to combine. Let it simmer for about 2 minutes with the white pepper.

Garnish with chopped basil or parsley if desired.

Serve pepper soup hot with boiled plantains (semi-ripe or unripe), boiled African white yam or rice.
Notes
Meats: You could use different cuts of meat in this protein or only one kind of meat. Try making this with just chuck roast (will cook longer) or with beef short ribs. Meats with bone add more flavor to the soup. Different Protein: You could make pepper soup with chicken or fish as well. Cooking times will vary, depending on the protein used. Fish cooks a lot faster. Njangsa replacement: Sorry I don't know of a replacement for Njangsa. You could try getting it on Amazon or search for an African store near you. If you can't find it, you could definitely make pepper soup without njangsa. It will still be delicious! Spices: Add other herbs and spices like thyme, bay leaves, cumin, or cloves.
Nutrition
Calories:
359
kcal
|
Carbohydrates:
2
g
|
Protein:
60
g
|
Fat:
11
g
|
Saturated Fat:
4
g
|
Polyunsaturated Fat:
0.5
g
|
Monounsaturated Fat:
5
g
|
Cholesterol:
106
mg
|
Sodium:
829
mg
|
Potassium:
1097
mg
|
Fiber:
0.4
g
|
Sugar:
1
g
|
Vitamin A:
108
IU
|
Vitamin C:
5
mg
|
Calcium:
63
mg
|
Iron:
6
mg