CAMEROONIAN FISH PEPPER SOUP (VIDEO RECIPE)
Published Apr 03, 2017
Updated Sep 26, 2018
"Can you do fish pepper soup?" a viewer asked me on YouTube after watching my Mpuh Fish (a traditional sauce) video. "Yes I will!" I replied. And here we are today! That's how a lot of recipes are born around here, people. You ask, I oblige and boom the video is made. I already have a written recipe for fish pepper soup here on the blog. But you know, a video is so different. When you watch me put everything together, it is livelier. Amiright?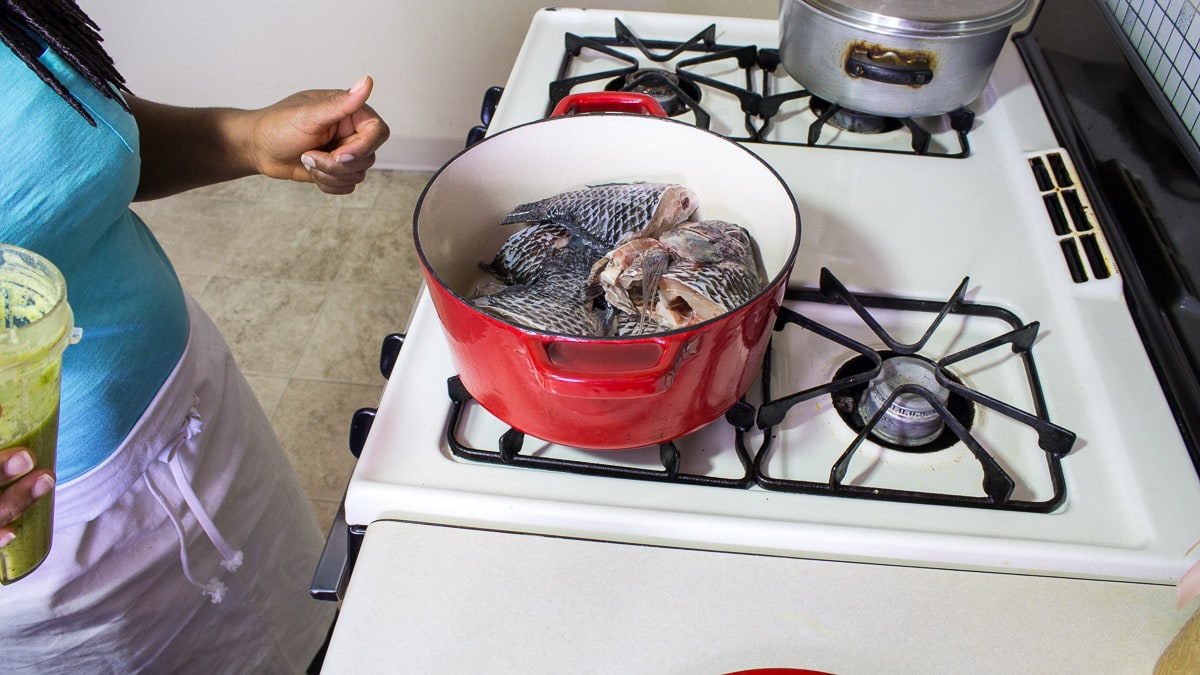 The really cold days are getting over here. Spring has sprung! It feels so good to go out and breathe air that doesn't feel like air coming from the freezer. But we still get to have some cold days which means there is enough room for fish pepper soup. I love pepper soup! Whether with beef, with chicken, or with fish, pepper soup is so comforting! I particular love the one with fish because it gets ready in no time – under one hour!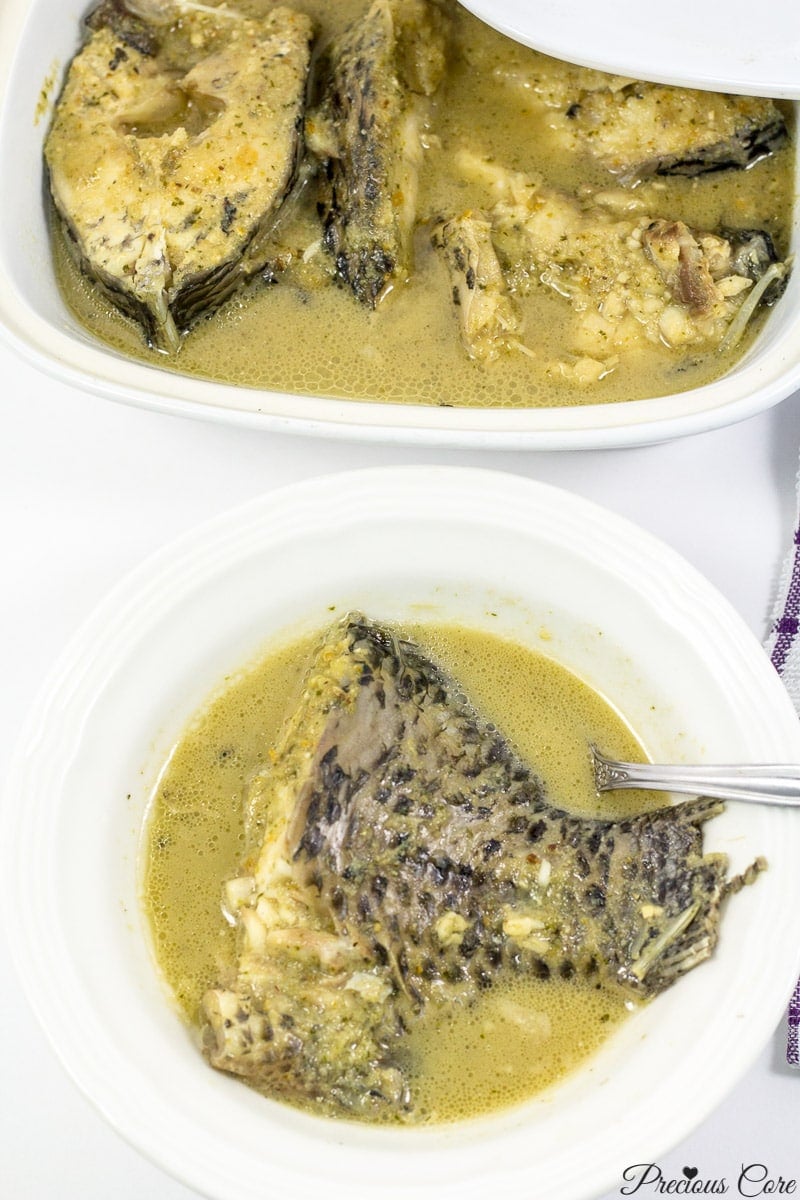 Pepper soup is a light spicy soup prepared differently in different African countries. The Cameroonian version, which is what this post is about contains Njangsa, a nutty Cameroonian spice. The Nigerian version is made with a blend of spices that excludes njangsa. I have seen Sierra Leonean pepper soup made with all kinds of meats and fish and some tomatoes. So pepper soup recipes are different across various African countries but if there's one thing that remains similar, it is the pepper soup principle.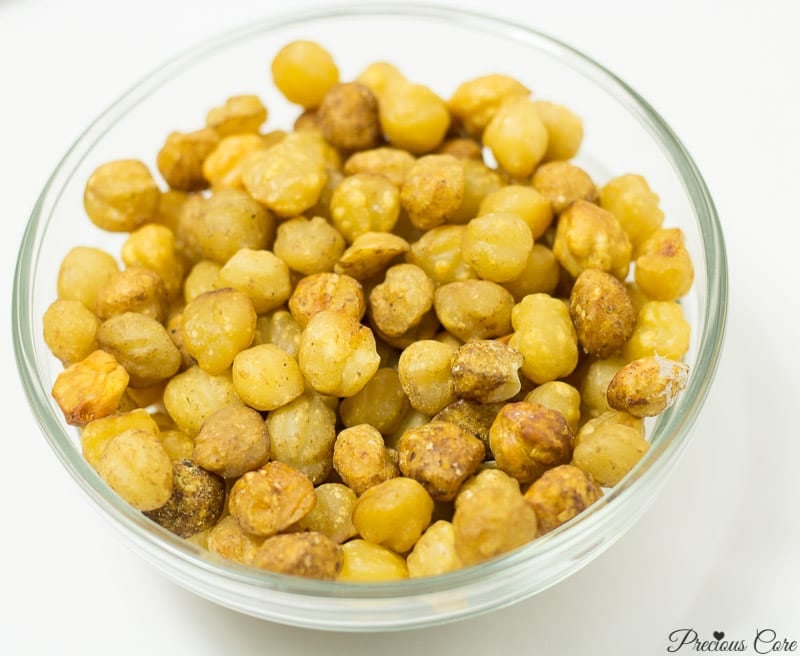 According to the unwritten pepper soup principle, the soup has to be light, it has to be hot (like spicy-hot) and it has to contain a melange of spices. So if you do not have njangsa, no worries. A nice blend of spices works just fine. My favourite spices include ginger, garlic, basil, celery, parsley and white pepper. I also usually throw in some fennel seeds if I happen to have them but they are not essential.
You can eat pepper soup as it is an appetiser or combine it with a starchy side like boiled plantains or yams for a complete meal. I had this one with boiled white yams because they just work together beautifully.
Did I convince you to make some pepper soup? It is really easy to make and tasty! Watch the video: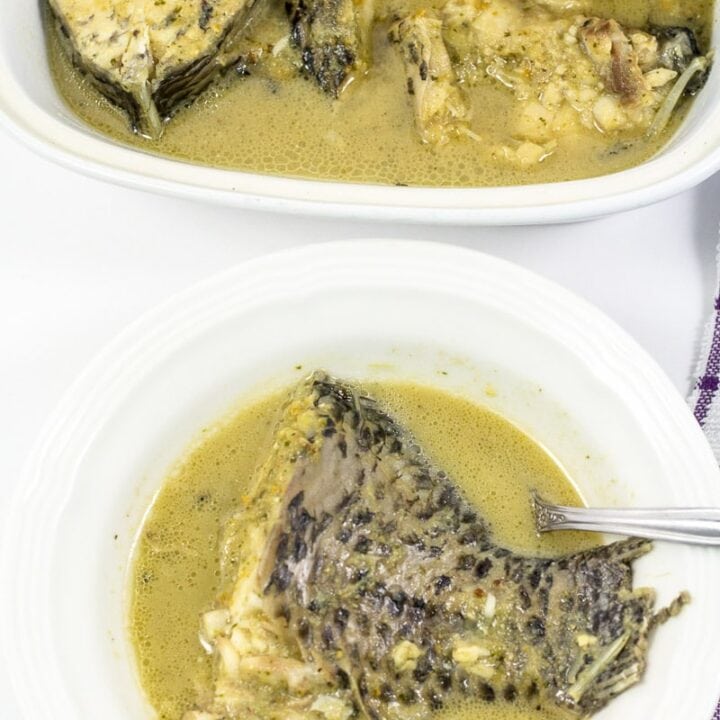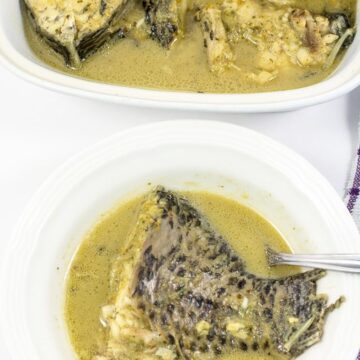 Cameroonian Fish Pepper Soup
This is a hot and spicy soup made with fish.
Ingredients
2

large tilapia fish

1/2

medium onion

5

cloves

garlic- peeled

1

inch

ginger - peeled

1

sprig

parsley

1

sprig

celery

1

sprig

basil

1

African nutmeg (ehuru/nutmeg) - peeled

optional

30

seeds

Njangsa (Cameroonian pepper soup spice)

optional

1

habanero(hot) pepper

1

teaspoon

white pepper

3

small cubes Maggi

Salt to taste
Instructions
Cut each fish into 4 or 5 steaks. Remove gills from the fish heads and remove any unwanted entrails from the middle part of the fish. Wash fish slices thoroughly then place in a pot. Add water to the same level as the fish.

Put ginger, garlic, white pepper, hot pepper, 'pebe', njansang and all the herbs into a blender. Add water and blend into a smooth paste.

Pour spice blend into fish. Add in Maggi and salt to taste. Cover and let it cook for about 20-30 minutes until the fish is thoroughly cooked.

Serve warm as it is or with a starch side like boiled plantains or yams.
Notes
Do not stir so you do not break up the fish and create a mushy mess. If you want to mix the soup, hold the pot and gently sway from side to side.
Adjust the soup consistency according to your taste. If you want it thicker, put in less water. If you want it lighter, put in more water.
Nutrition
Calories:
71
kcal
|
Carbohydrates:
3
g
|
Protein:
12
g
|
Fat:
1
g
|
Saturated Fat:
0.4
g
|
Polyunsaturated Fat:
0.3
g
|
Monounsaturated Fat:
0.4
g
|
Cholesterol:
29
mg
|
Sodium:
510
mg
|
Potassium:
214
mg
|
Fiber:
0.4
g
|
Sugar:
1
g
|
Vitamin A:
34
IU
|
Vitamin C:
4
mg
|
Calcium:
21
mg
|
Iron:
1
mg

For more cooking inspiration, follow me on Instagram: @preciouscore. And if you make this, don't hesitate to take a picture and tag me. I'll love to see!