There are many Chin Chin recipes on the internet and I get that. But this is really the best Chin Chin recipe.
Every ingredient here works together beautifully to produce perfectly crunchy yet not hard Chin Chin.
This Chin Chin is rich in flavour and so addictive. I actually have to beat myself from eating more than my waistline can accommodate.
If you are not familiar with Chin Chin, let me explain. This is a popular West African snack eaten in countries like Nigeria, Ghana, and Cameroon. It is called "Les Croquettes" in French.
The ingredients for Chin Chin are pretty simple: flour, butter, sugar, eggs, milk, baking powder, salt and some sort of flavour.
All ingredients are combined to form a dough which is then rolled out, cut into desired shapes then deep fried. Insanely delicious!
Watch How to Make Chin Chin
Now the pasta maker I use in cutting the Chin Chin dough in the video can be bought on Amazon.com. Let me pull out a direct shopping link for ya. Here:
Now if you can't get a pasta maker, no worries! You could use your knife to cut beautiful Chin Chin as I do in this post.
You could equally use a pizza cutter like you see me doing in the video or you could just use your hands to form small balls out of the dough and deep fry.
You could even use small cookie cutters to cut out your Chin Chin. Really!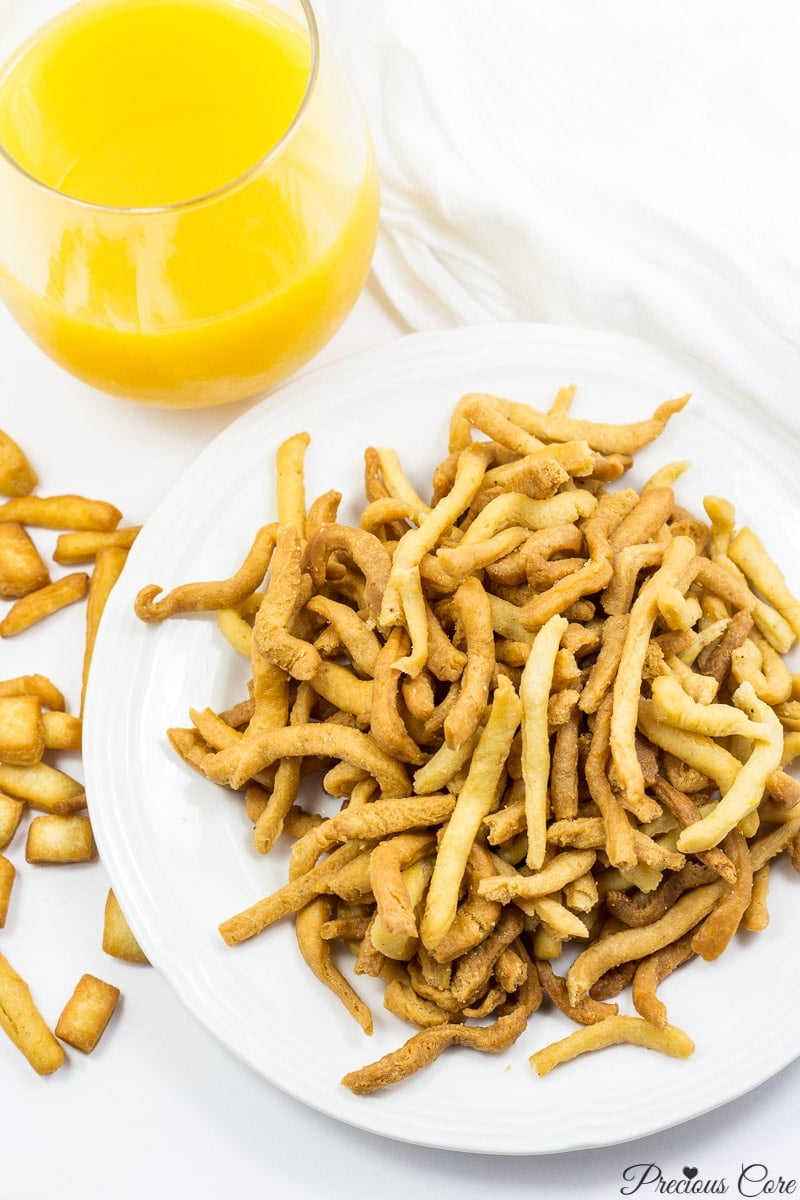 What makes this the best Chin Chin recipe? The proportion of ingredients for the Chin Chin (see full recipe below to get them – measurements are equally included in grams :)).
The ratio of flour to butter to eggs and milk is just right. Perfecto!
With the right proportion of ingredients, you get Chin Chin that is super crunchy but not hard at all!
Now I insist on you using butter if you can even though margarine or vegetable/canola/corn oil could work as well.
But if you want your Chin Chin to have a really rich flavour, buttah is the way to go.
Make sure the butter is left out of the fridge to soften (at room temperature) so you can easily incorporate it into the flour.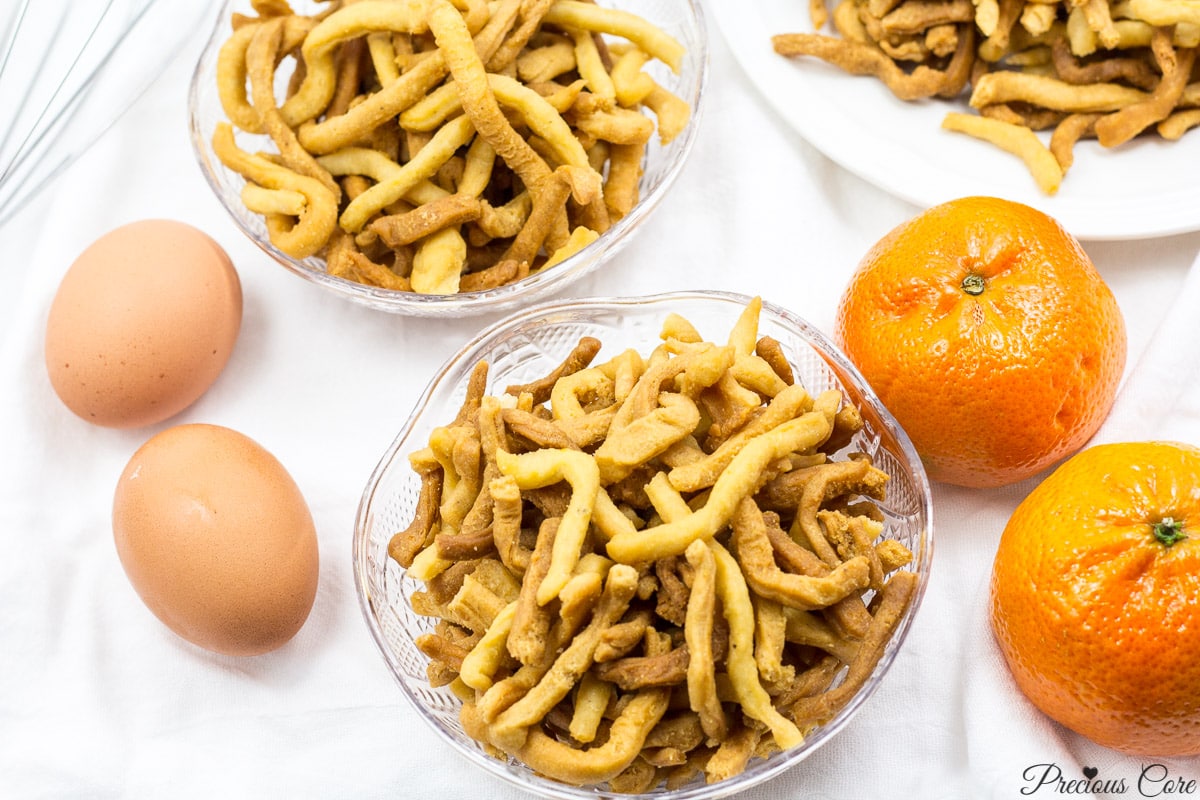 Also I use evaporated milk instead of any other form of milk. The flavour is simply to die for. I love using evaporated milk in making cakes, breads and other baked goods. It takes their flavour up a notch.
And to make the Chin Chin super tasty, I add in some orange zest. So you need one orange, whose back you will grate away with the fine side of your grater.
Avoid grating the white part of the orange as that part is bitter. Grate just the skin. Then add the grated back of orange to your Chin Chin dough. Does that make sense?
To get the whole Chin Chin experience, make sure you serve it with a cuppa something. It could be milk, juice or your favourite drink. Enjoy!
This is one African Dessert recipe, you will want to make over and over again! I first published this recipe on April 21, 2017, but I am bringing it to the front page of the blog now so you can make some for Christmas!
Chin Chin is one of those things that has to be made for Christmas in my home. Growing up, we always made Chin Chin for Christmas. It is a Christmas tradition that has continued for years and years!
Check out how to make Chin Chin below, get the ingredients and go make some! Have a wonderful season of celebration, friends.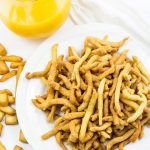 The Best Chin Chin Recipe
It tastes like cake but it crunchy. Rich in flavour and so addictive. This is really the Best Chin Chin recipe ever!
Ingredients
4

cups

all-purpose flour (1/2 kg or 500 grams)

1/2

cup

granulated sugar ( 8 tablespoons)

1

cup

evaporated milk

240 ml

1/2

cup

unsalted butter - softened

8 tablespoons or 1 stick or 113 grams

1

teaspoon

orange zest - grated from one orange

1/2

teaspoon

ground nutmeg

2

eggs

A pinch of salt

1

teaspoon

baking powder

Oil for frying - I used canola
Instructions
In a bowl, mix together the eggs, sugar, milk and orange zest then keep aside.

In a large bowl rub in flour, butter, baking powder, ground nutmeg and salt with your finger tips until the mixture looks like fine breadcrumbs.

Add egg mixture into the dry ingredients and mix to form a dough. Transfer dough onto floured surface and knead for one minute.

Cut a small portion of the dough about the size of a golf ball then roll out to 1/8 inch thick and cut with a knife or pizza cutter into squares or thin strips. You could also use a pasta maker to cut it.

Heat oil in a large pan on high heat for about 10 minutes (for about 1 1/2 litres of oil) then reduce to medium and start frying chin chin in small batches. Be careful not to overcrowd the pan so your chin chin doesn't soak up the oil. Fry each batch until golden brown then remove and place on paper towel to drain the excess oil.

When chin chin cools completely, store it for up to a month in an airtight container. Enjoy as a snack with juice, milk, or your favourite drink!
Pin for later:

I'm so happy that you are interested in making one of my recipes! If you make this, please tag me in a photo on Instagram (@preciouscore) or share a photo on my Facebook page  so I can see your masterpiece.
*This post contains affiliate links.