The Best Chin Chin Recipe
Published Dec 13, 2019
Updated Dec 30, 2022
There are many Chin Chin recipes on the internet and I get that. But this is really the best Chin Chin recipe.
Every ingredient here works together beautifully to produce perfectly crunchy yet not hard Chin Chin.
This Chin Chin is rich in flavour and so addictive. I actually have to beat myself from eating more than my waistline can accommodate.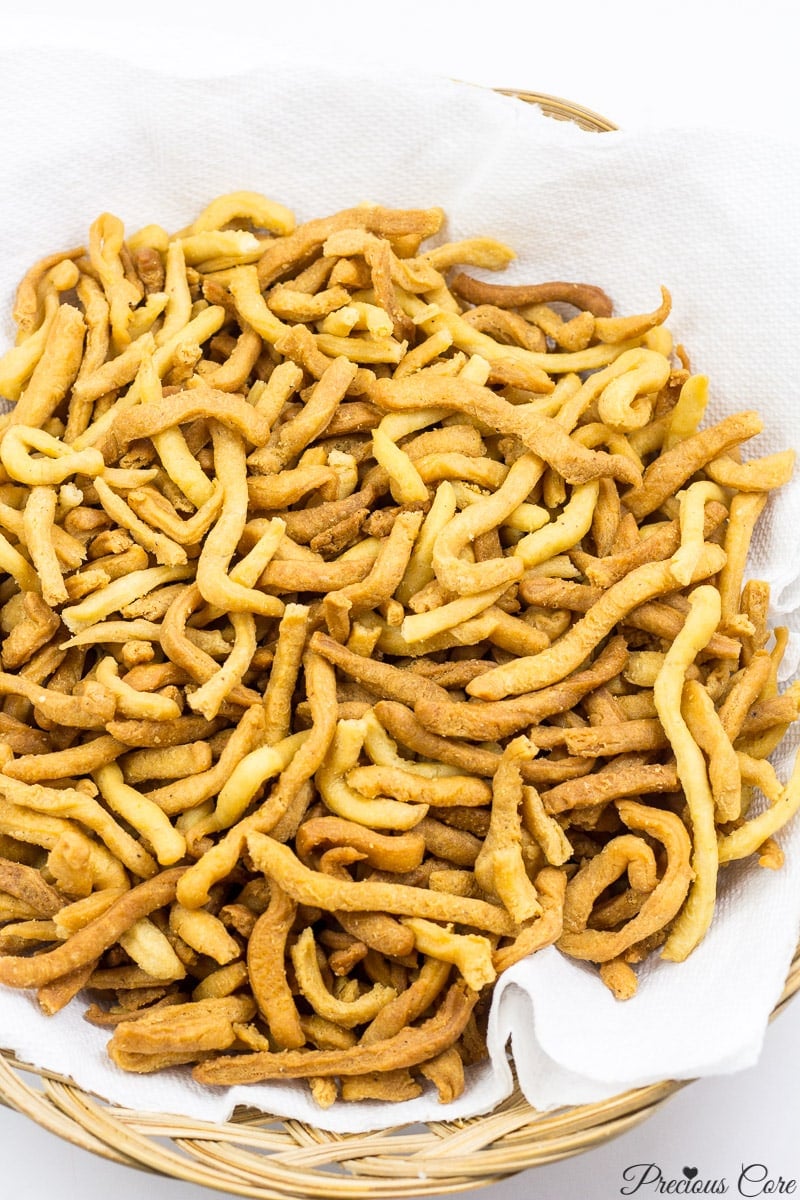 If you are not familiar with Chin Chin, let me explain.
What is Chin Chin?
Chin Chin is a popular West African snack eaten in countries like Nigeria, Ghana, and Cameroon. It is called "Les Croquettes" in French.
The ingredients for Chin Chin are pretty simple: flour, butter, sugar, eggs, milk, baking powder, salt and some sort of flavour.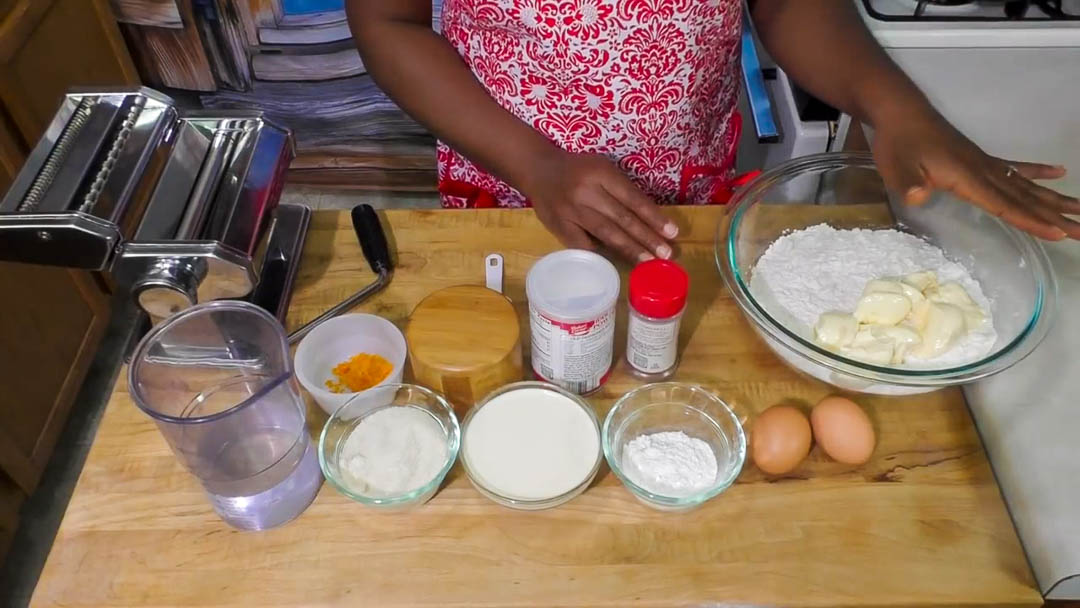 All ingredients are combined to form a dough which is then rolled out, cut into desired shapes then deep fried.
What Does Chin Chin Taste Like?
Chin Chin is sweet and crunchy. It tastes like fried cookies. The taste might slightly vary depends on the flavours added.
I add freshly grated nutmeg and some orange zest (orange rind) to mine. Insanely delicious!
How To Make Chin Chin
Making Chin Chin requires 7 easy steps:
1. In a bowl, mix together eggs, milk, sugar and orange zest.
2. In another bowl, mix together flour, baking powder, a pinch of salt, freshly grated nutmeg and room temperature butter until combined.
3. Add the egg mixture into the flour mixture and mix to form a dough.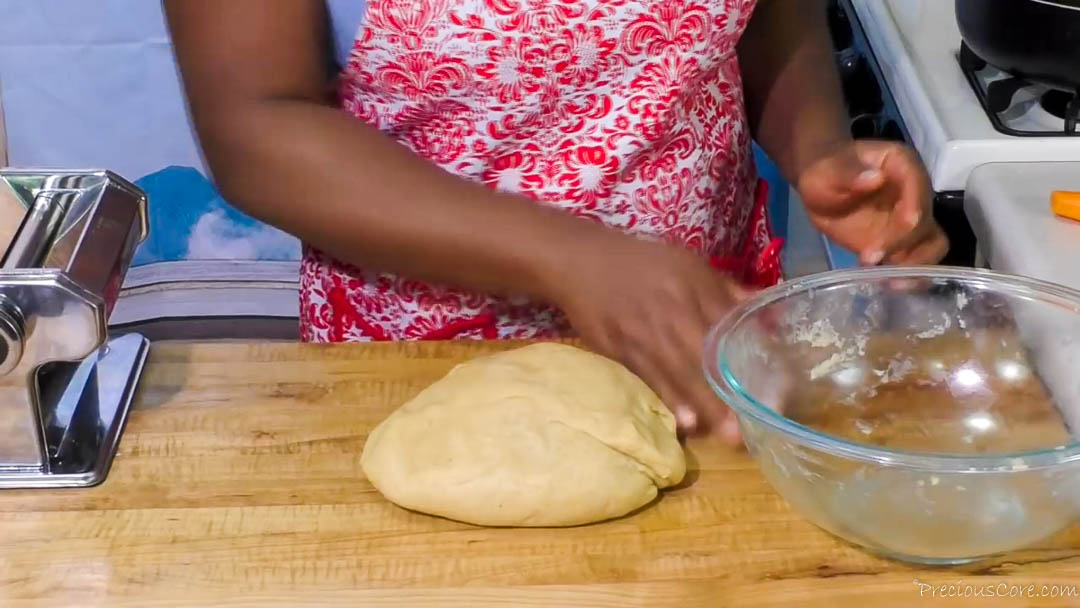 4. Transfer the dough onto a floured working surface and lightly knead.
5. Cut out a portion of the dough (about the size of a golf ball). Roll the dough into about 1/8 inch thick.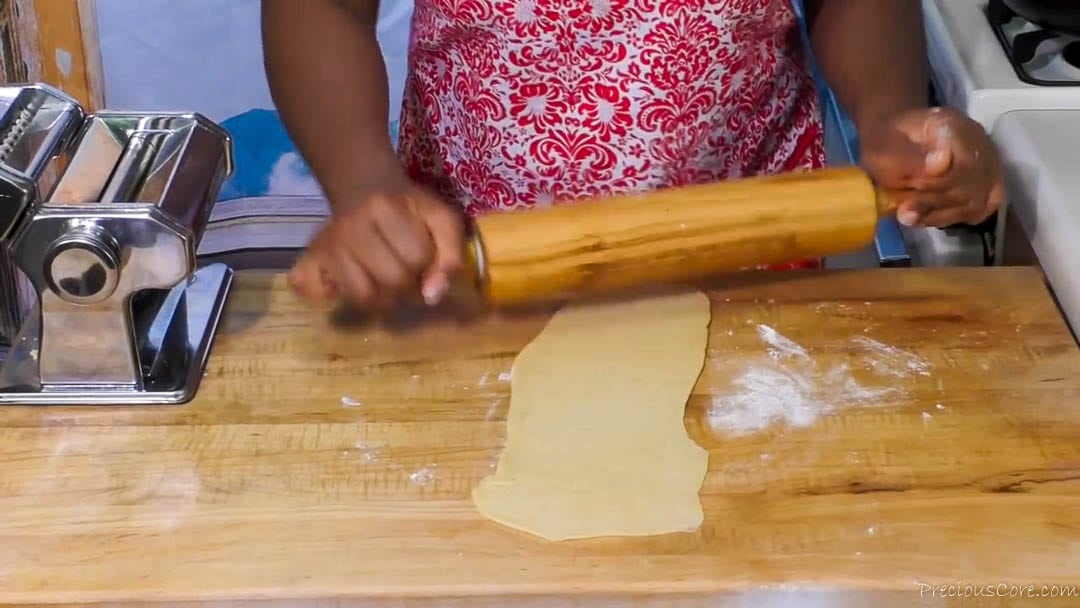 6. Cut into 1-inch squares or strips (about 1 by 5 inches).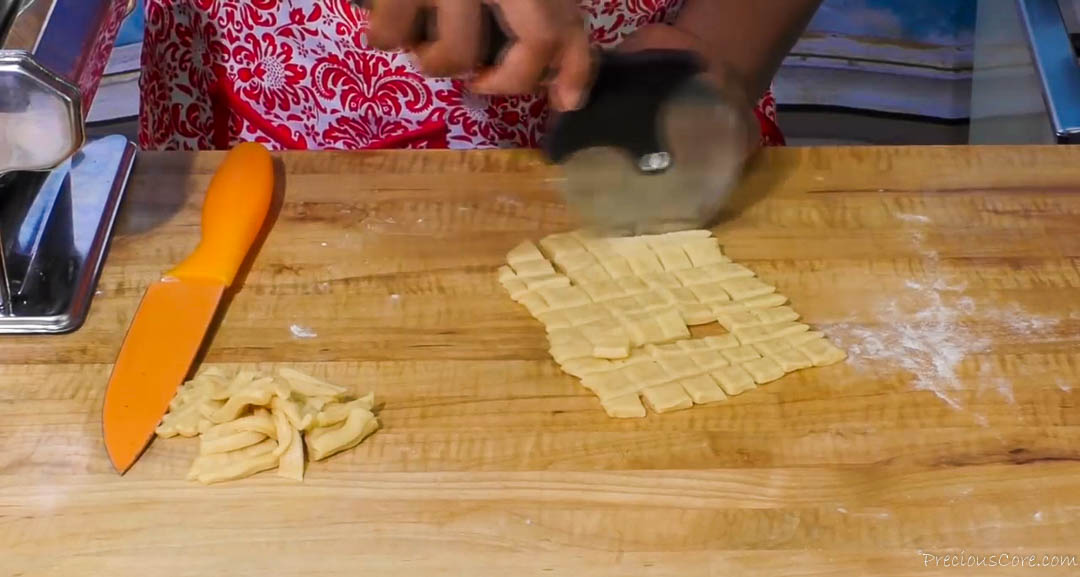 7. Heat up oil in a frying pot or pan and fry until lightly golden in colour.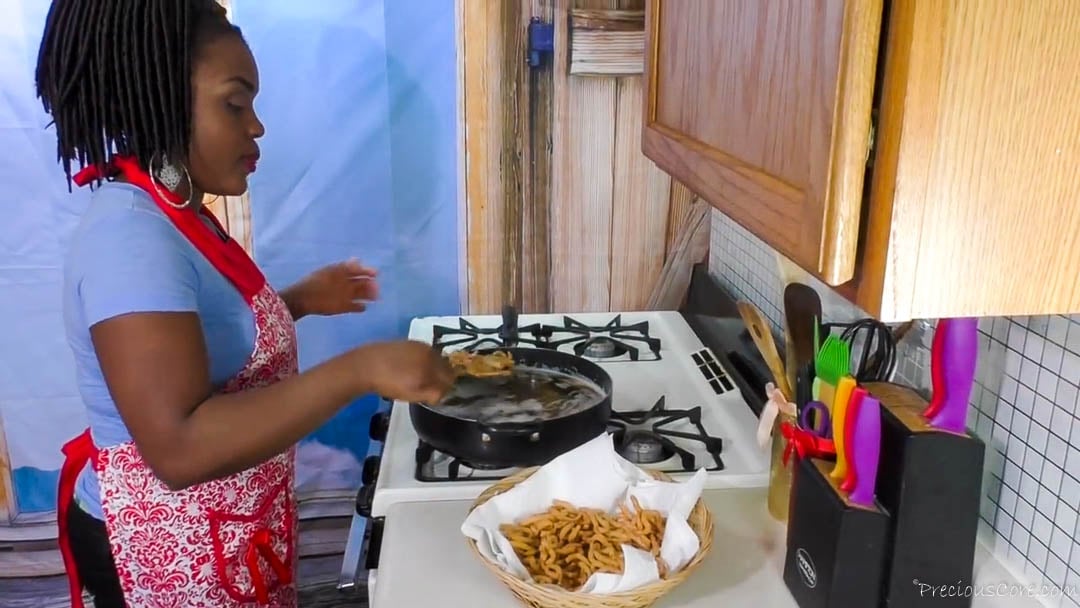 How Do I Stop The Oil From Foaming When Frying Chin Chin?
This is a commonly asked question about making Chin Chin. To stop your oil from foaming, follow these tips:
1. Do not overcrowd the frying pan. The key is do not overcrowd the frying pan when frying Chin Chin. Fry only a small quantity of Chin Chin at once.
For example, only fry 1 cup of Chin Chin at once if frying in a 12-14 inch wok. Only fry about half a cup of Chin Chin at once if using a smaller pot or pan.
Avoid the temptation of placing a huge quantity of Chin Chin into the pan at once. I have found after years and years of making Chin Chin that this leads to the oil foaming.
It takes more time to fry only a small quantity of Chin Chin at once but it is worth the wait!
You could be rolling out more dough and cutting on the side while gradually frying the already cut-out dough. This is how I do it and it works well for me.
2. Follow the recipe. Also, be sure to follow my recipe exactly as it is with the right measurement of ingredients. Do not eyeball anything.
If your ratio of ingredients is off, it might result in the oil foaming.
3. Don't overfill the frying pan with oil. Another thing to note is do not overfill the frying pan with oil.
Allow at least 3 inches (7 centimeters) between the oil and the top of the frying pot or pan.
This tip doesn't directly prevent foaming per se but it prevents your oil from boiling over the frying pot of pan if that happens.
4. A little bit of foaming is normal. Lastly, note that a little bit of foaming is normal when frying Chin Chin. Even after you do everything right, your oil might still lightly foam especially after some frying sessions or if you are using previously used oil.
This is totally normal and that's why it is important that you do not overfill your frying pot/pan with oil.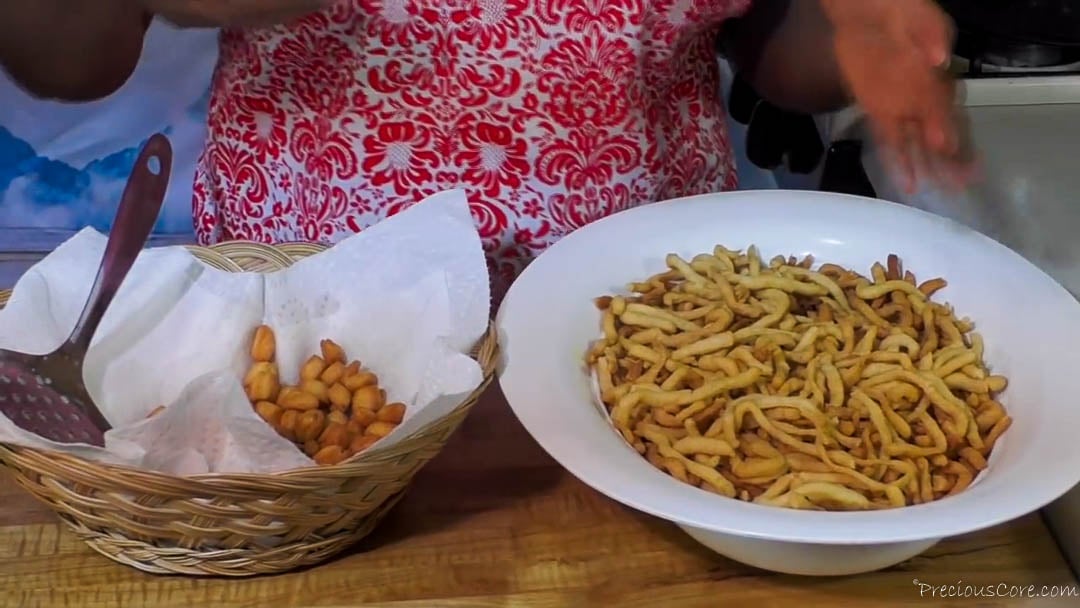 Watch How to Make Chin Chin
In the YouTube video below you can watch me guide you on how to make Chin Chin step by step!
How To Cut Chin Chin
1. Use a pasta maker.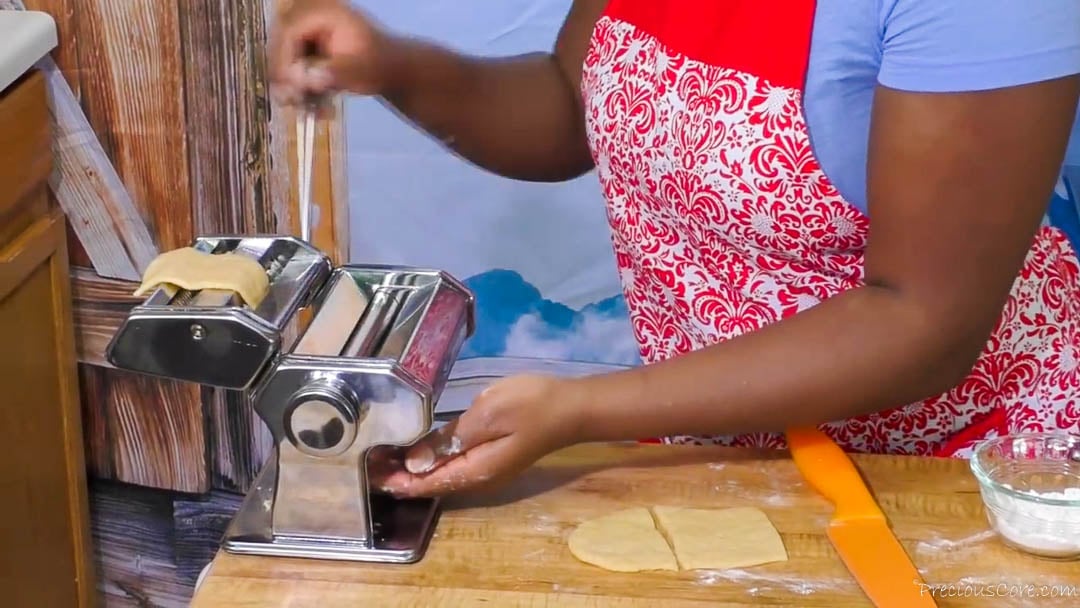 The pasta maker I use in cutting the Chin Chin dough in the video can be bought on Amazon.com. Here is a direct link to get it:
Now if you can't get a pasta maker, no worries! Keep reading for more suggestions.
2. Use a knife.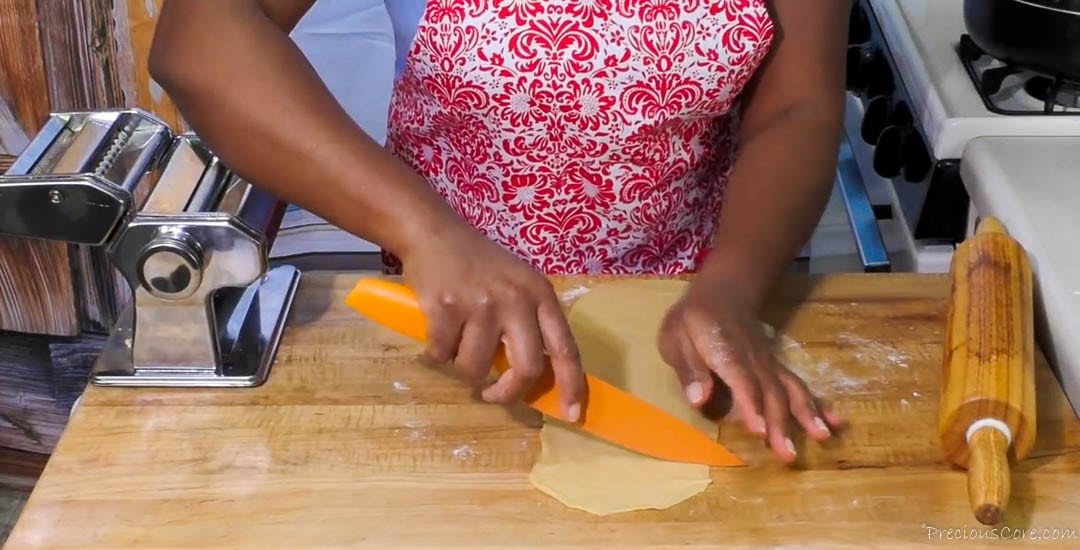 You could use your knife to cut beautiful Chin Chin as I do in this post.
3. Use a pizza cutter.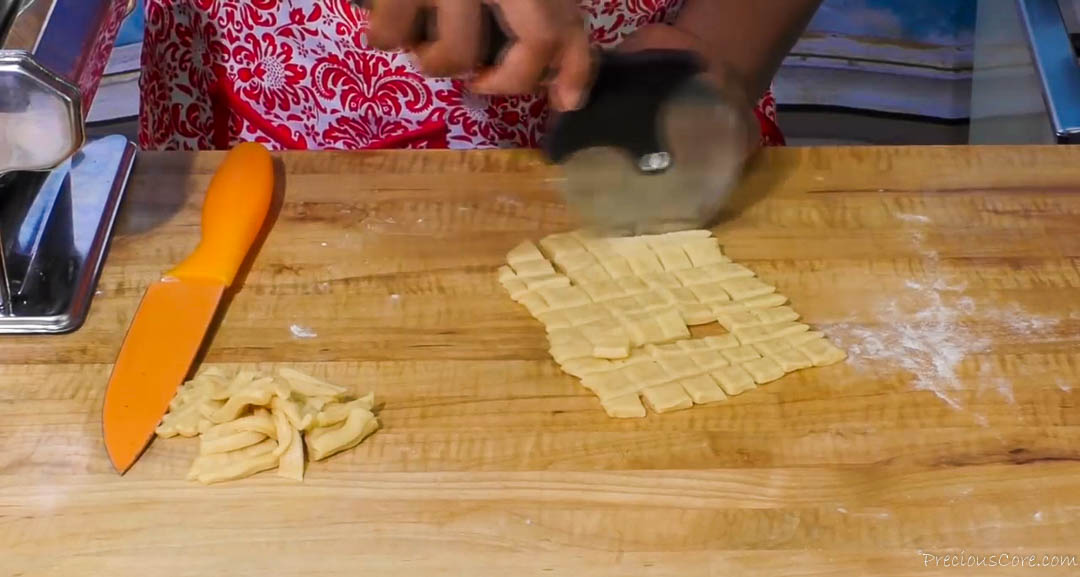 You could equally use a pizza cutter like you see me doing in the video.
A Pizza Cutter is much easier to use in cutting the dough than a knife. If you can find one, use it! In the United States, you can get a pizza cutter for $1 from Dollar Tree.
4. Use your hands. You could just use your hands to form small balls out of the dough and deep fry.
5. Use cookie cutters. You could even use small cookie cutters to cut out your Chin Chin. This is going to result in fairly larger Chin Chin than usual but the slices will be pretty even and cute (depending on the shape you use).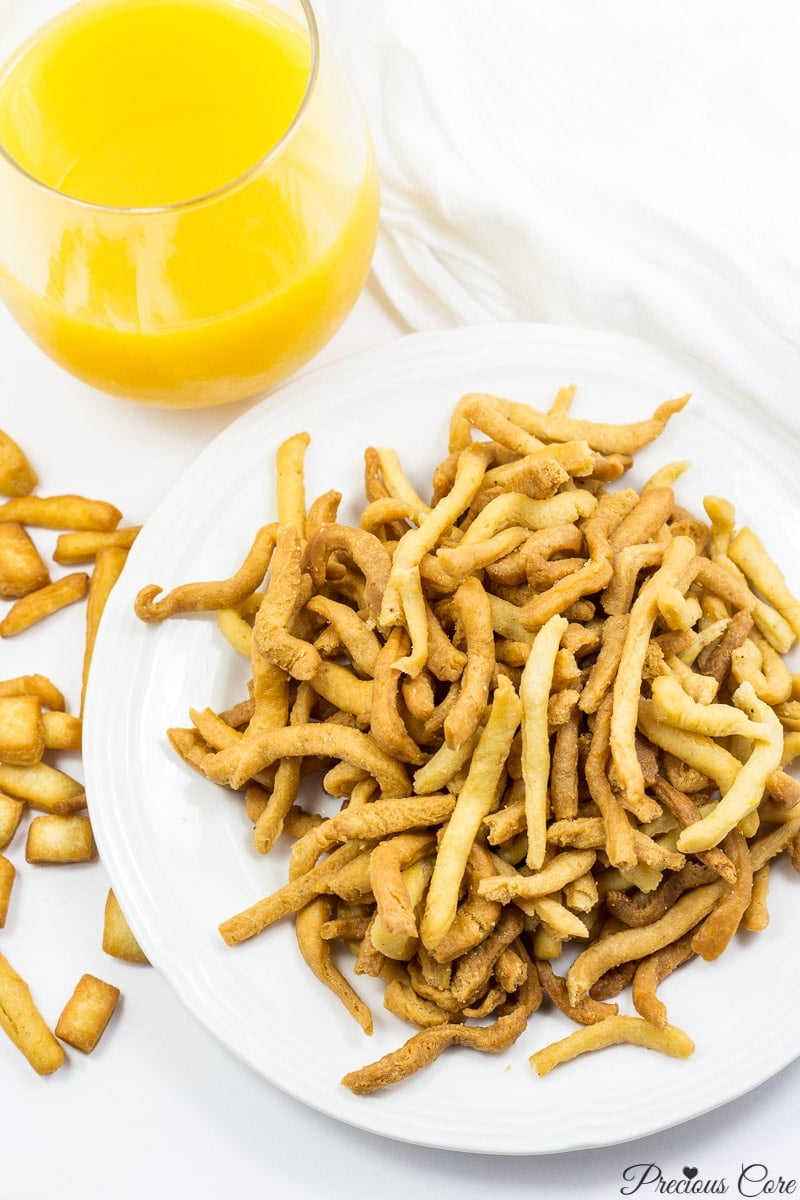 How To Make The Best Chin Chin Recipe (Lots of Tips for the Perfect Chin Chin!)
What makes this the best Chin Chin recipe?
1. The right proportion of ingredients.
The proportion of ingredients for the Chin Chin is just right (see full recipe below to get them – measurements are equally included in grams :).
The ratio of flour to butter to eggs and milk is just right. Perfecto!
With the right proportion of ingredients, you get Chin Chin that is super crunchy but not hard at all!
2. Butter.
Now I insist on you using butter if you can even though good quality margarine or vegetable/canola/corn oil could work as well.
But if you want your Chin Chin to have a really rich flavour, buttah is the way to go. Good quality margarine is your next best bet.
Make sure the butter is left out of the fridge to soften (at room temperature) so you can easily incorporate it into the flour.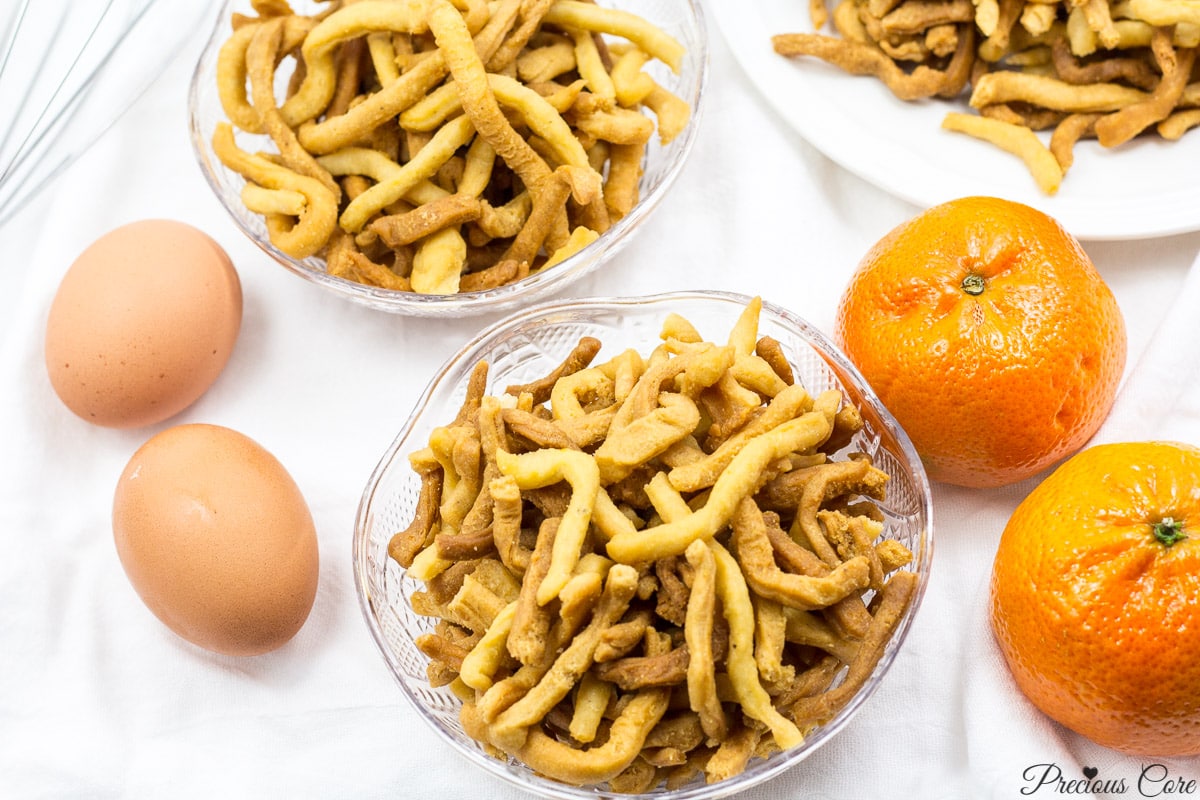 3. Evaporated Milk.
Also, I use evaporated milk instead of any other form of milk. The flavour is simply to die for. I love using evaporated milk in making cakes, breads and other baked goods. It takes their flavour up a notch.
4. Orange Zest
And to make the Chin Chin super tasty, I add in some orange zest. You need one orange, whose back you will grate away with the fine side of your grater.
Avoid grating the white part of the orange as that part is bitter. Grate just the skin. Then add the grated back of orange to your Chin Chin dough.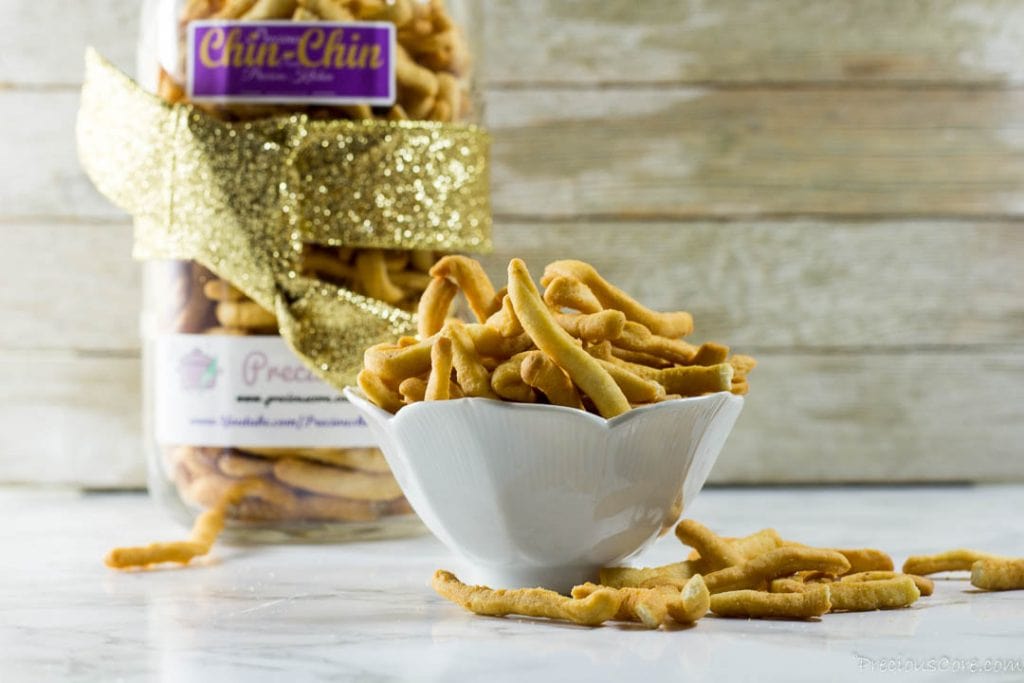 The Chin Chin Recipe to Make!
I have had my fair share of bad Chin Chin experiences over the years: Chin Chin that is too soft, Chin Chin that is too hard, Chin Chin with no flavor, Chin Chin that is too sweet or Chin Chin that is barely sweet.
After testing and retesting, I now have a recipe I can confidently make over and over again! A lot of you already tried this recipe and gave me awesome feedback.
If you haven't tried it yet, here is your chance to try the very best chin chin recipe! The numerous 5-star reviews below are there to testify!
To get the whole Chin Chin experience, make sure you serve it with a cuppa something. It could be milk, juice or your favourite drink. Enjoy!
It also makes great gifts! I love giving out parcels or jars of Chin Chin at Christmas time.
This is one African Dessert recipe, you will want to make over and over again! I first published this recipe on April 21, 2017, but I am bringing it to the front page of the blog now (and I have updated the post with lots of tips!) so you can make some for Christmas!
Chin Chin is one of those things that has to be made for Christmas in my home. Growing up, we always made Chin Chin for Christmas. It is a Christmas tradition that has continued for years and years!
Check out how to make Chin Chin below, get the ingredients and go make the best chin chin! Have a wonderful season of celebration, friends.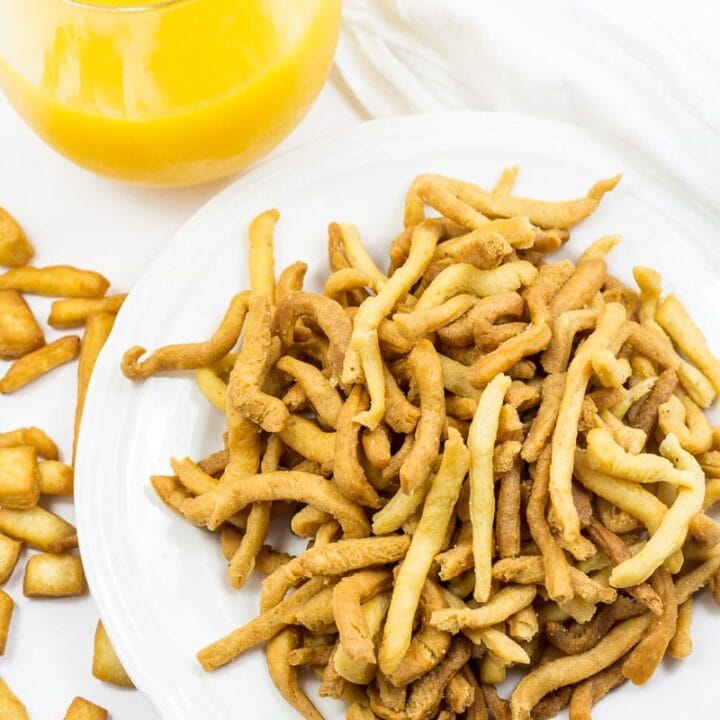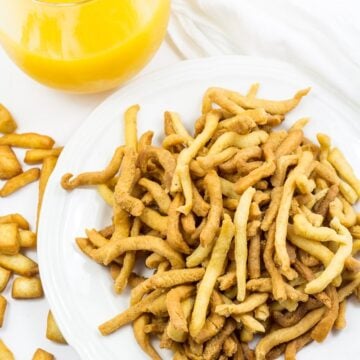 The Best Chin Chin Recipe
It tastes like cake but it's crunchy, rich in flavor, and so addictive. This is really the Best Chin Chin recipe ever!
Ingredients
4

cups

all-purpose flour (1/2 kg or 500 grams)

1/2

cup

granulated sugar ( 8 tablespoons)

1

cup

evaporated milk

240 ml

1/2

cup

unsalted butter - softened

8 tablespoons or 1 stick or 113 grams

1

teaspoon

orange zest - grated from one orange

1/2

teaspoon

ground nutmeg

2

eggs

A pinch of salt

1

teaspoon

baking powder

Oil for frying - I used canola
Instructions
In a bowl, mix together the eggs, sugar, milk and orange zest then keep aside.

In a large bowl rub in flour, butter, baking powder, ground nutmeg and salt with your finger tips until the mixture looks like fine breadcrumbs.

Add egg mixture into the dry ingredients and mix to form a dough. Transfer dough onto floured surface and knead for one minute.

Cut a small portion of the dough about the size of a golf ball then roll out to 1/8 inch thick and cut with a knife or pizza cutter into squares or thin strips. You could also use a pasta maker to cut it.

Heat oil in a large pan on high heat for about 10 minutes (for about 1 1/2 litres of oil) then reduce to medium and start frying chin chin in small batches. Be careful not to overcrowd the pan so your chin chin doesn't soak up the oil. Fry each batch until golden brown then remove and place on paper towel to drain the excess oil.

When chin chin cools completely, store it for up to a month in an airtight container. Enjoy as a snack with juice, milk, or your favourite drink!
Pin for later:

I'm so happy that you are interested in making one of my recipes! If you make this, please tag me in a photo on Instagram (@preciouscore) or share a photo on my Facebook page  so I can see your masterpiece.
*This post contains affiliate links.