Different Shapes of Chin Chin
Published Jul 06, 2015
Updated Apr 27, 2017
Who created Chin Chin? Seriously who did? I need to find them and award them for generating an all-time favourite snack. I have seen Chin Chin done in two shapes as seen in the pictures above.

This snack is so easy to love. You literally have to stop yourself from eating so much at once. This happens to me all the time.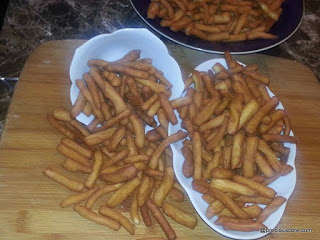 I have given packs of Chin Chin as gifts to people of different cultures and they loved it instantly!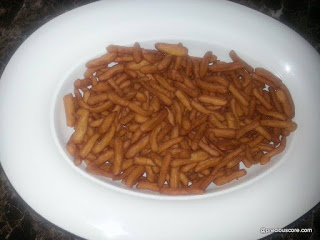 It is one of those snacks I love to have at home. It comes it handy as a snack for a surprise guest. It also keeps my mouth busy while watching a movie. I know for sure that it is a good substitute for movie night pop-corn. Well, I can't tell if it is a healthy substitute.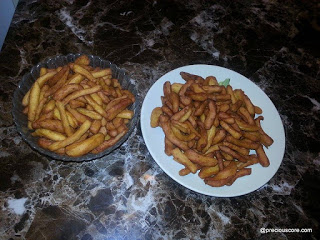 Just like with Fish Rolls, Gateau, Milk Bread, Cococonut Pancakes and Puff-puff, flour is the basic ingredient in Chin Chin. It is combined with margarine, sugar and eggs to produce these lovely crunchies. Good Chin Chin to me is one that is that is crunchy but not hard.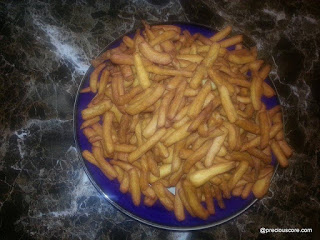 Let's cook already!
Cameroon Chin Chin Recipe
Prep time: 40 mins
Cook time: 30 mins
Total time: 70 mins
Serves: 4-6

Ingredients

4 cups flour (1/2 Kg or 500 grams)
6 level tablespoons of margarine (or 1 cup veg. oil)
8 tablespoons of sugar (can add more if you want)
1 teaspoon of baking powder
2 eggs
1/4 teaspoon salt
1 small can of evaporated milk (I used peak)
Half teaspoon of nutmeg
1 litre of vegetable oil for frying
Method
-Rub in flour, baking powder, salt, nutmeg and margarine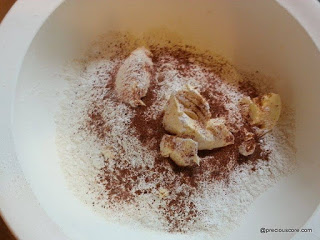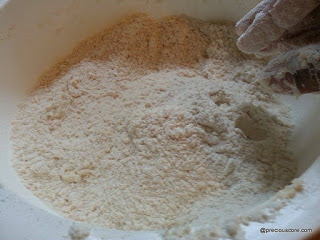 -Beat eggs with a fork or an egg whisk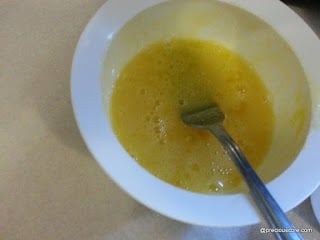 -Add evaporated milk and sugar and beat. Then add the wet mixture to the dry one and mix well. Add a little water (if needed) and mix till it forms a nice elastic dough. If it forms a dough like the one below with no added water, then no need for water.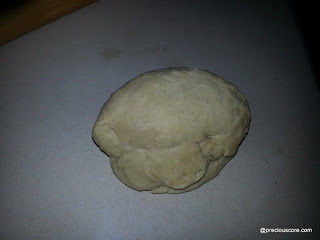 – Cut a part of the dough and roll out on a floured board to about half an inch thick. Then cut the dough into the desired shapes. The two used shapes are demonstrated below:
-Heat oil on medium heat and start frying in SMALL batches. Small is stressed here because if you overcrowd the pan with the dough the Chin Chins will absorb the oil and get to an undesirable state.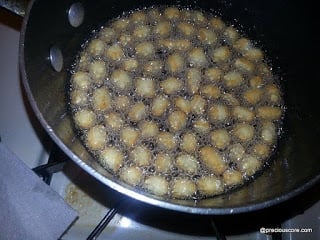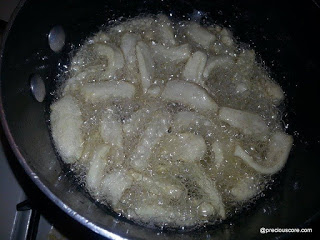 -Flip sides. When completely golden brown, remove from oil and drain on a paper towel.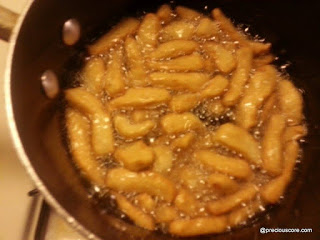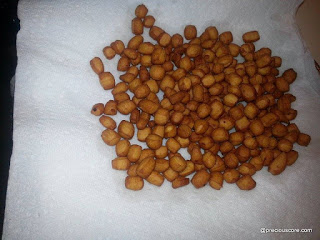 Notes:

Allow to cool completely before packaging for later consumption.
Update: Grate the back of an orange and add for extra flavour.
Which shape of Chin Chin do you prefer? The squares or the small rectangles? Let me know below.
Enjoy!