MANDAZI – EAST AFRICAN DOUGHNUTS
Published Feb 23, 2019
Updated Mar 06, 2019
Mandazi: East African doughnuts with a slightly crunchy exterior and light fluffy interior. Sweet but not too sweet. Perfect for pairing with tea or coffee. This is one treat you'll want to make over and over again.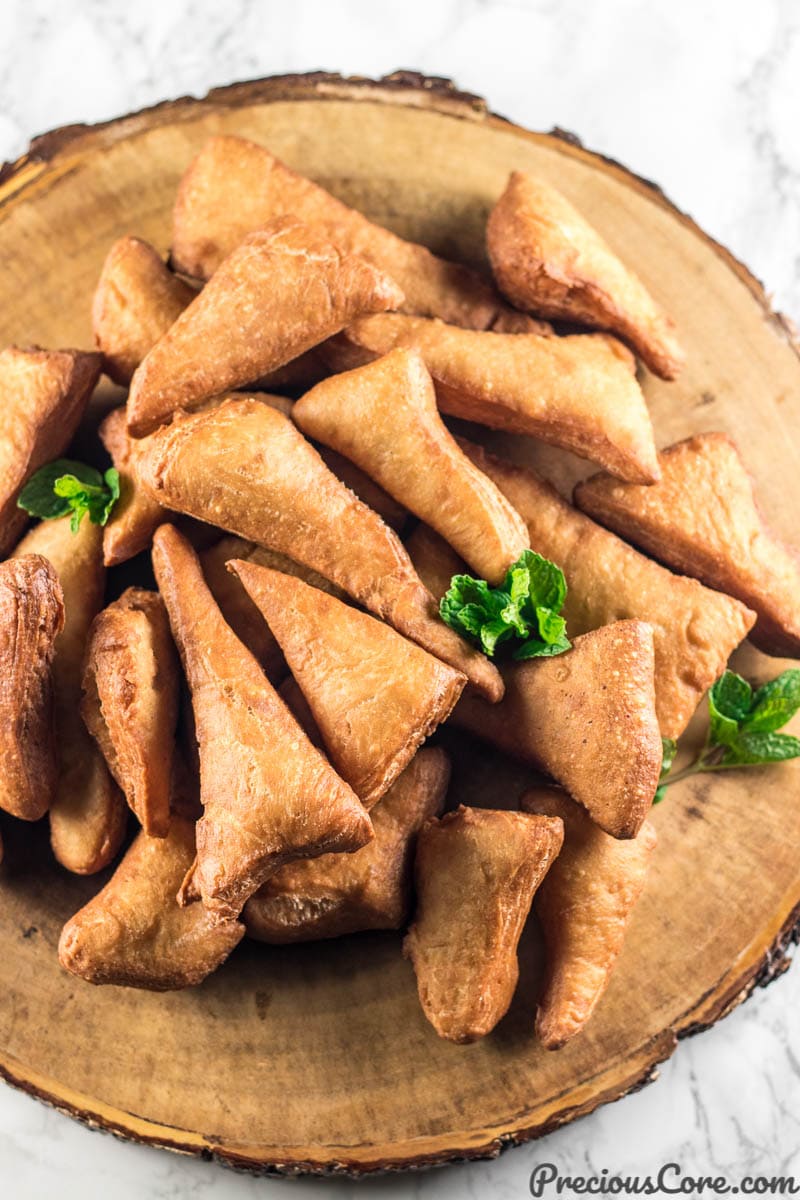 I am on a journey which I am enjoying so much. It is the journey of discovering various African foods, trying them out in my kitchen then bringing them to you. Reason why I have so far shared this recipe for Pilau (Rice Pilaf) and this recipe for Kachumbari (tomato onion salad). I have so much to tell you in this post so buckle up your seatbelt and let's go.
First, if you are in the United States, I want to tell you about an app called Instacart. It is literally saving my life right now. Instacart lets you shop from home! Yes, you heard me right. You shop from home then the food gets delivered right to your doorstep. So, no more long walks with my entourage of kids at the grocery store for me. At least I should safe grocery shopping for when I really just want to visit a store and for when I go to an African or Asian store for groceries that are not commonly found elsewhere.
I really enjoy grocery shopping but when you factor in dressing kids to take along, answering endless questions from a curious 8-year-old and 6-year-old. then having to deal with a temperamental toddler and a newborn… then my love for grocery shopping flies right out the window!
So Instacart it is. This is not an ad but I totally love and recommend this service which you can simply get by downloading the Instacart app on your phone.
Why am I telling you this? Because for an adventurous cook like me who has to shop for new/strange ingredients all the time, this service saves me tons of time that would have been spent digging through shelves to find the right ingredient. All I need to do is search for what I want to buy on the app, order and it will be brought to my doorstep.
With that, I have been able to quickly get lots of ingredients which I will be bringing to you in new exciting recipes in the days ahead. For today, let me tell you about my new spice BFF: cardamom!
Cardamom is the truth! When you have a spice that gives life to both savory and sweet dishes, then you know you have a winner. Cardamom makes these doughnuts really special. The cardamom in this Mandazi gives it great flavor and also gives it an authentic Kenyan taste.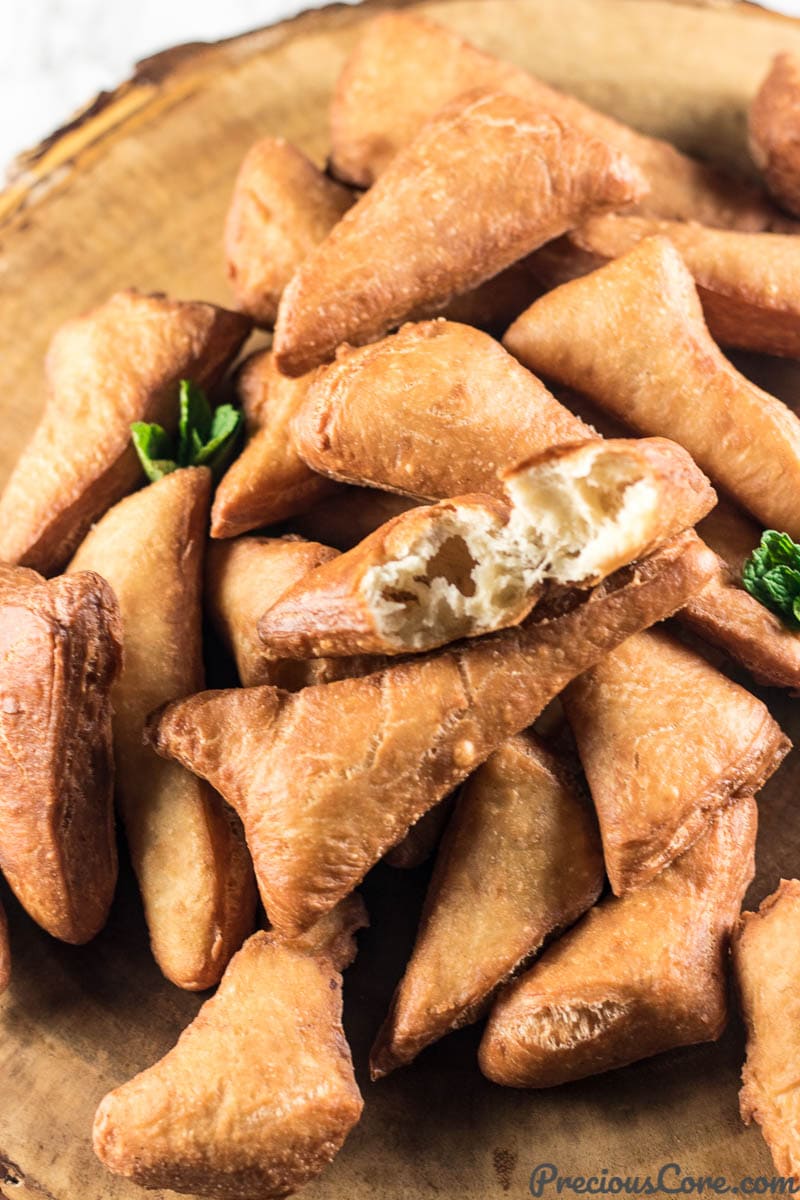 Then add cinnamon to the cardamom and you have doughnuts that are BOOM-KAPAW! Yes, the doughnuts combine both cinnamon and cardamom and the flavor is out of this world. I just want to eat and eat and sniff and sniff because… cardamom oh my! That thing smells so good.
Take it from a girl whose tummy is slightly bloated because she overfed herself with Mandazi: these East African doughnuts are to die for!
My girls share the same sentiments. They ate and ate and though I wanted to stop them, I let them eat because I said to myself, once in a while let the kids indulge.
So you really want to make this Mandazi. It is slightly crunchy on the outside, fluffy and airy on the inside, slightly sweet, perfect for pairing with tea or coffee.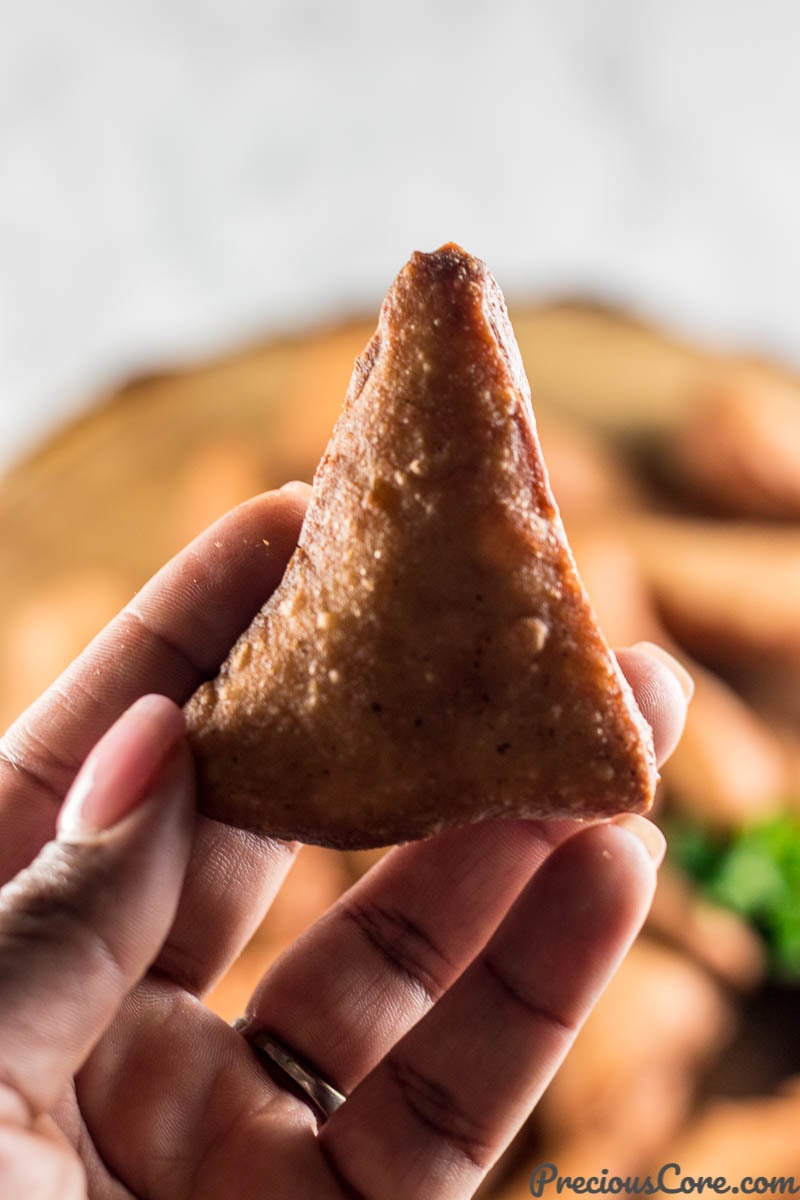 When I make and enjoy treats like this, I feel like I have truly lived. If I am going to load up on carbs, let it be something special and this Mandazi is phenomenal just like my African Twisted Doughnuts or this Cameroonian Gateau.
Mandazi is the treat to take to potlucks or to make for guests or to use to satisfy your spur-of-the-moment-I-need-a-doughnut-craving! or to make for breakfast.
Also, if there's an essential oil that combines cinnamon and cardamom, I am totally buying it!
What is Mandazi?
Mandazi is known as the East African Doughnut. It is a deep-fried dough snack popular in East African counties like Tanzania, Kenya and Uganda. It is also known as Swahili Coconut Doughnuts. Other names for Mandazi include Dabo, Dahir, Mahamri, Mamri or Maandazi.
The main ingredients for making Mandazi include flour, sugar, coconut milk, a raising agent (baking powder or baking soda), egg and cardamom for flavor. Sometimes coconut flakes are added to make it extra coconutty.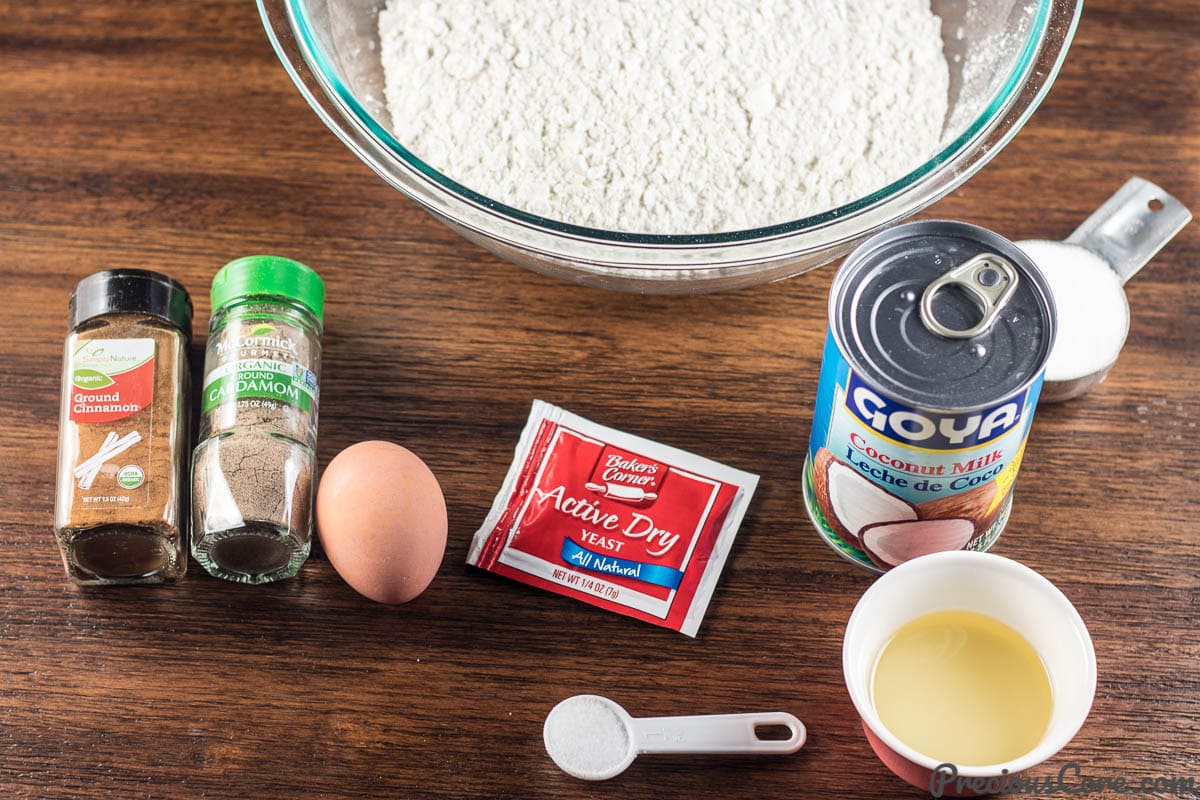 How To Make Mandazi
Step 1. Combine yeast and warm water in a large bowl.
Step 2. Add sugar, egg, oil and coconut milk and mix well.
Step 3. Add flour salt, cardamom powder and cinnamon powder then mix to form a dough.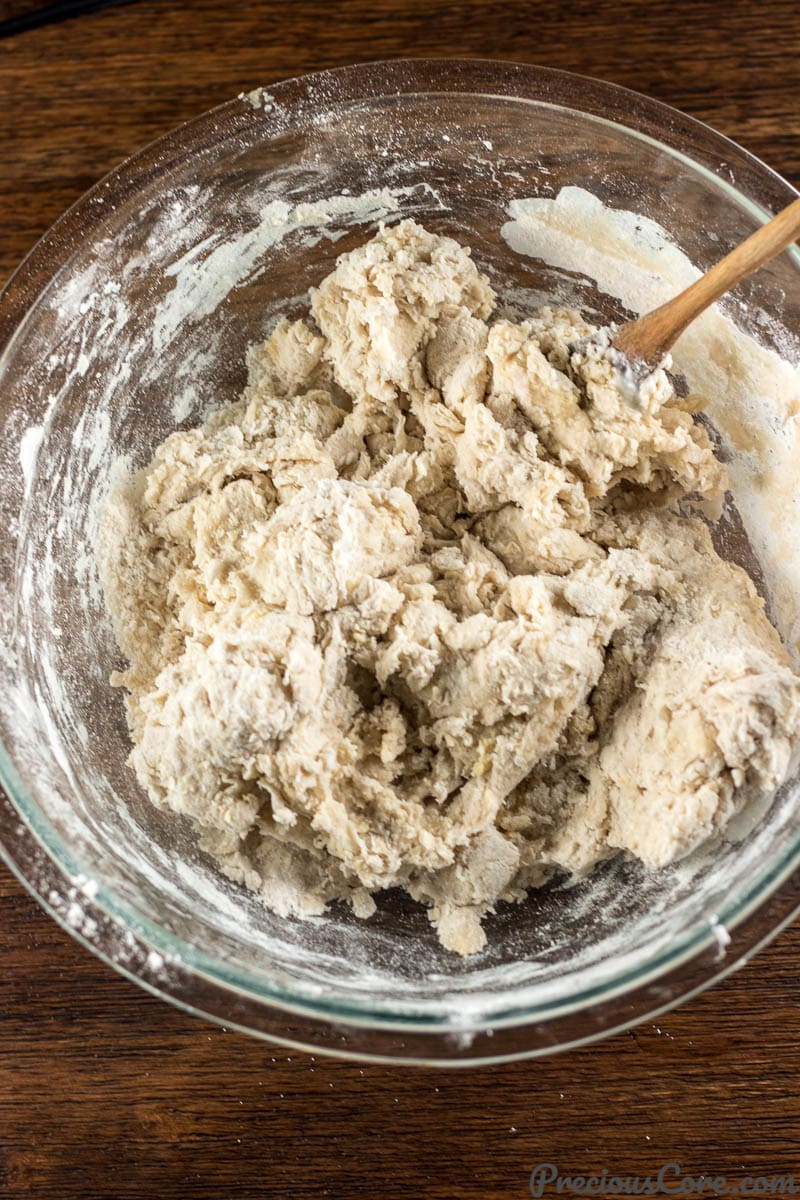 Step 4. Knead the dough for about 3 minutes.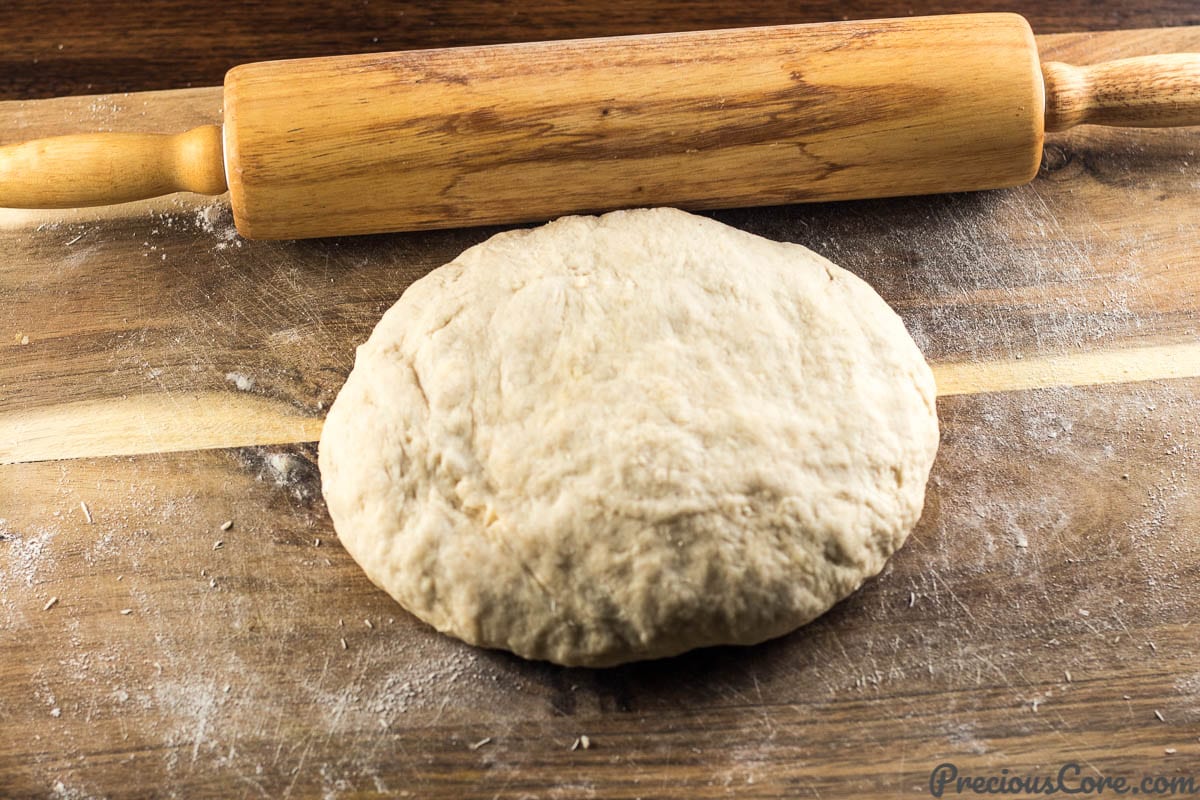 Step 5. Roll out the dough then cut into triangles.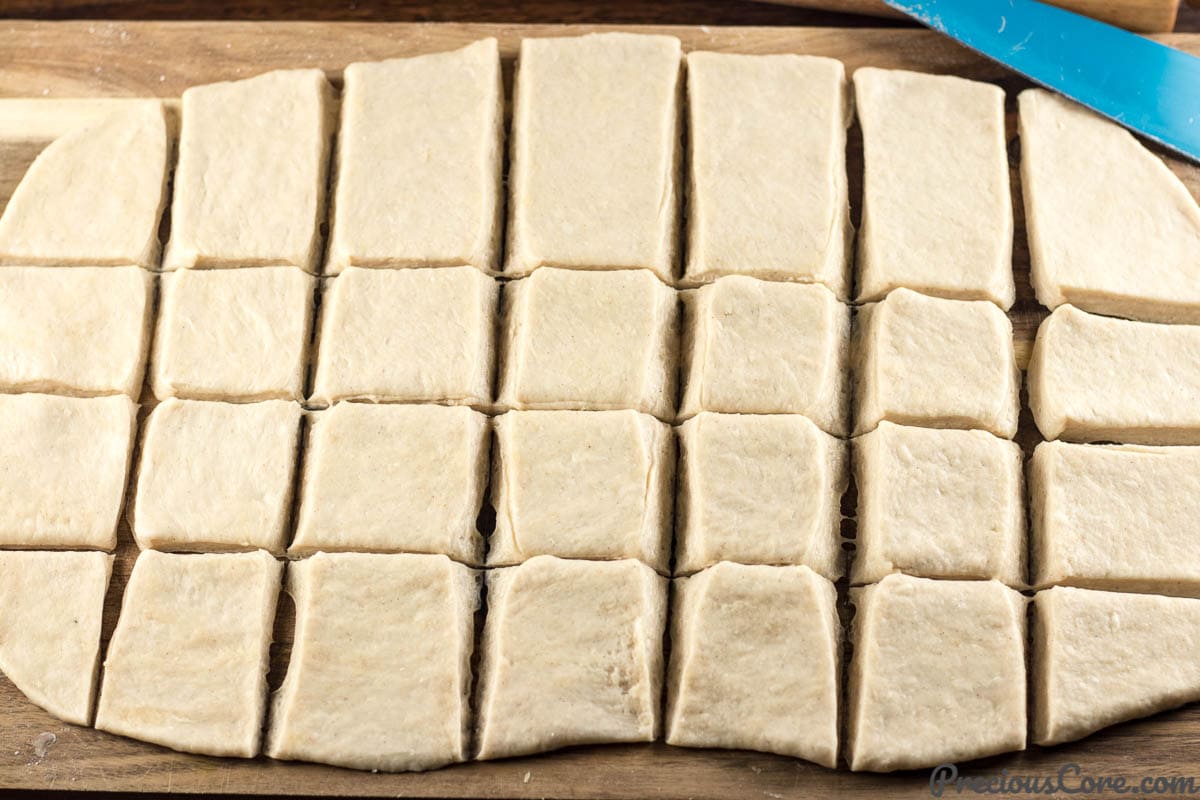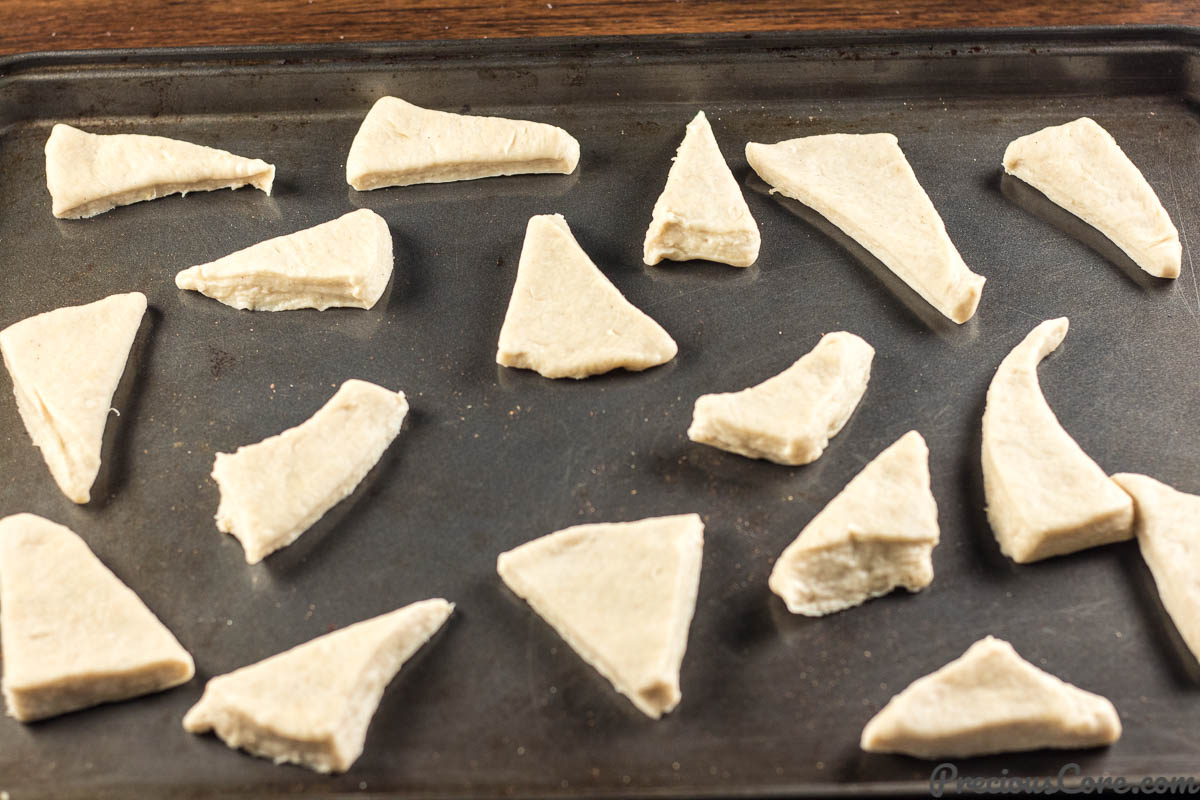 Step 6. Deep fry until golden brown.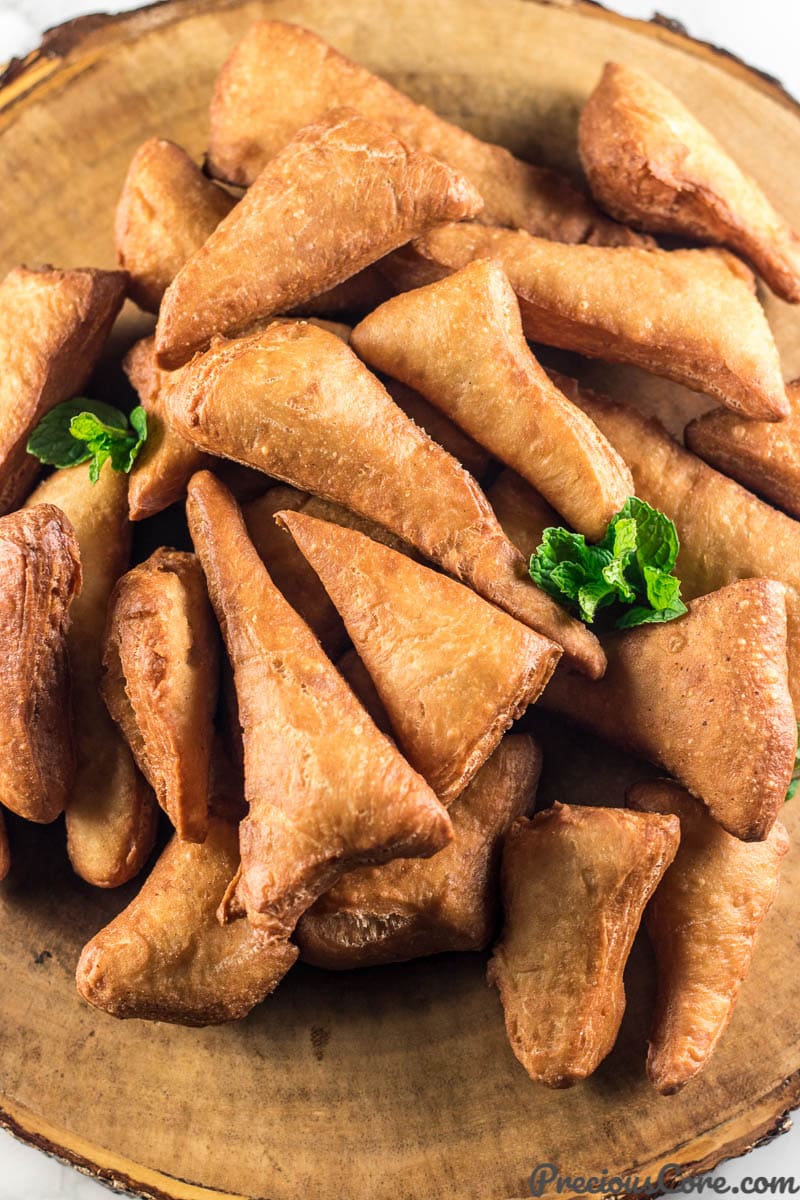 What Makes Mandazi Hard?
If your Mandazi turns out hard, that's because you must have added too much flour. The dough for Mandazi should be soft and stretchy, easy to roll out and not hard. Avoid adding too much flour when kneading your dough. That way, you will have Mandazi that is crunchy on the outside and soft on the inside.
Can I Make Mandazi with Self-Raising Flour?
Yes, you definitely can! If you choose to use Self-Raising flour to make Mandazi, omit the yeast,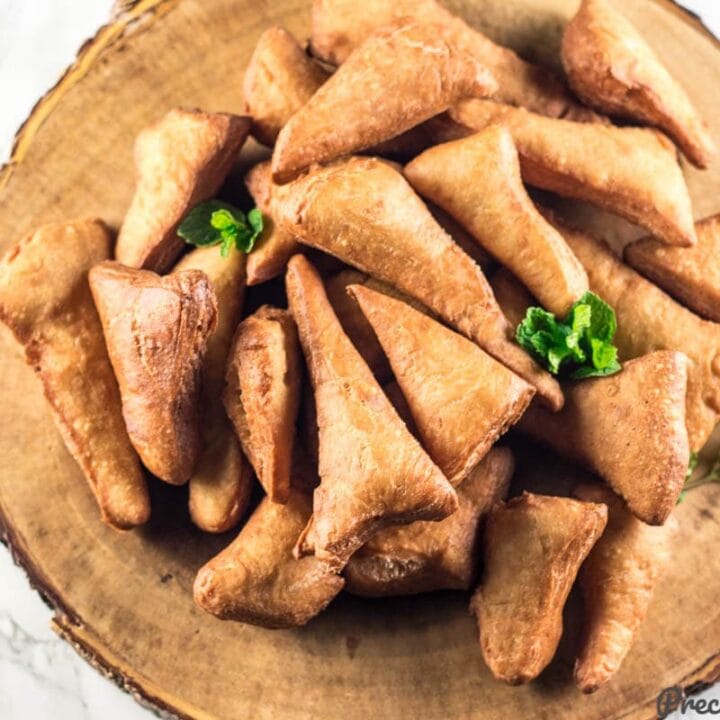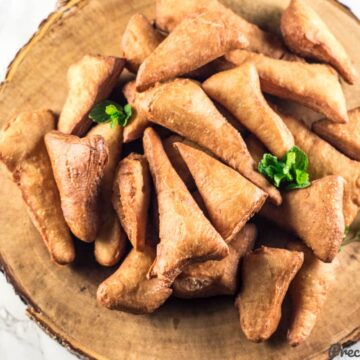 Mandazi (East African Doughnuts)
East African doughnuts with a slightly crunchy exterior and light fluffy interior. Sweet but not too sweet. Perfect for pairing with tea or coffee. This is one treat you'll want to make over and over again.
Ingredients
4

cups

all-purpose flour

1/4

cup

granulated sugar

1

cup

coconut milk

2 1/4

teaspoons

active dry yeast

1

large egg

3

tablespoons

oil I used corn oil

1/2

teaspoon

ground cardamom

1/2

teaspoon

ground cinnamon

1

teaspoon

salt

1/2

cup

lukewarm water
Instructions
Place lukewarm water in a bowl then add the yeast to it. Add sugar, egg, milk and stir well. Add the flour, cinnamon, cardamom and salt then stir to form a dough.

Place the dough onto a floured board and knead, sprinkling flour as needed (avoid over sprinkling flour as this will yield a hard dough). Knead until the dough comes together. It's okay if it is still slightly sticky.

Flour a board then form dough into a board and place on it. Roll out into a rectangle that is 1/4 inch thick. Cut the rolled out dough into squares then cut the squares across into triangles.

Let the cut-out dough rest for 20 minutes.

Pour oil in a pan up to 3 or 4 inches. Heat up oil then fry the doughnuts for about 2 minutes on each side.

Serve warm with tea or coffee.
Notes
1. I do not let my dough rise the first time because I want my Mandazi to be ready in no time. This recipe only takes about 1 hour!
Nutrition
Serving:
1
doughnut
|
Calories:
60
kcal
|
Carbohydrates:
9
g
|
Protein:
1
g
|
Fat:
2
g
|
Saturated Fat:
1
g
|
Polyunsaturated Fat:
0.3
g
|
Monounsaturated Fat:
1
g
|
Trans Fat:
0.003
g
|
Cholesterol:
3
mg
|
Sodium:
49
mg
|
Potassium:
27
mg
|
Fiber:
0.4
g
|
Sugar:
1
g
|
Vitamin A:
5
IU
|
Vitamin C:
0.1
mg
|
Calcium:
3
mg
|
Iron:
1
mg