Plantain Cake
Published Jun 12, 2019
Updated May 23, 2023
Tender, sweet plantain cake loaded with soft sweet plantains. This plantain cake is moist and delightful. It will quickly become your favorite plantain dessert!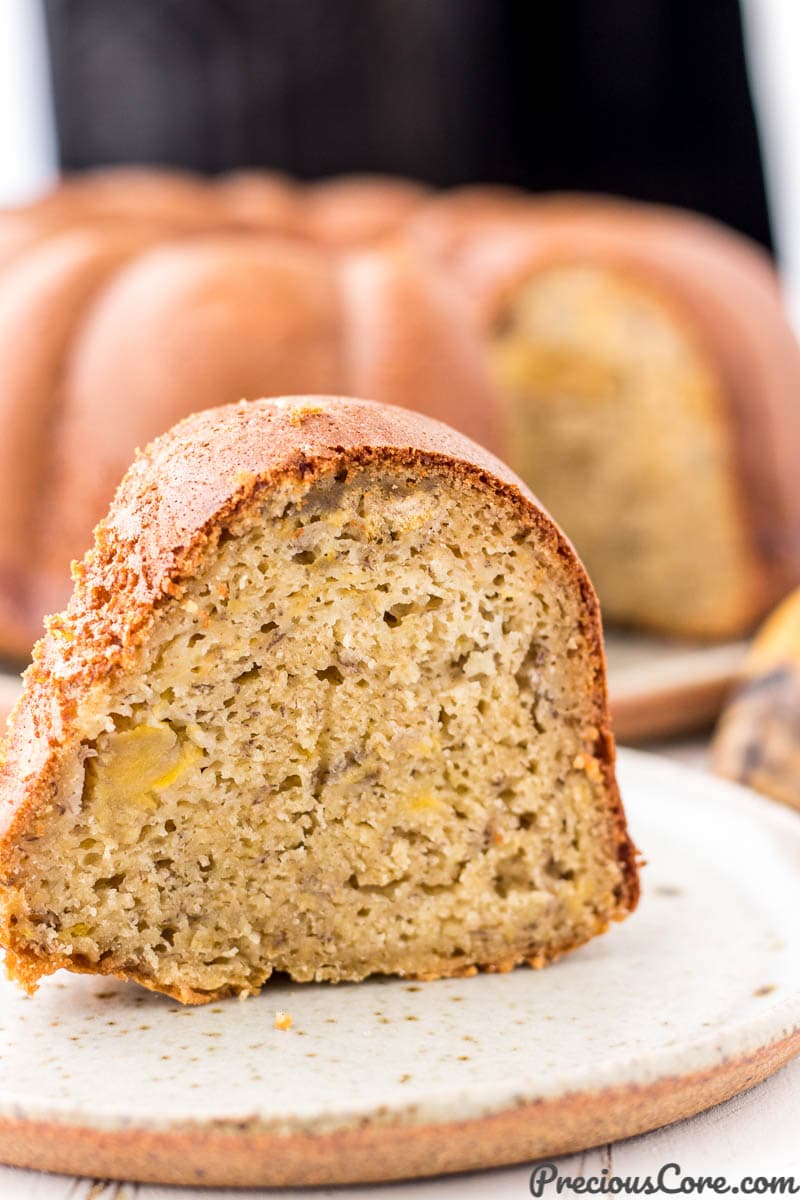 Plantains make up a huge part of my diet so I sometimes end up with plantains that are overripe and can't be boiled, fried or roasted. Plantains turn from green to yellow when they are ripe. When they are overripe their skin may develop black spots. They could also turn completely black when overripe.
You will be tempted to throw them away but don't. Instead, use overripe plantains to make Plantain Puff Puff or Plantain Cake.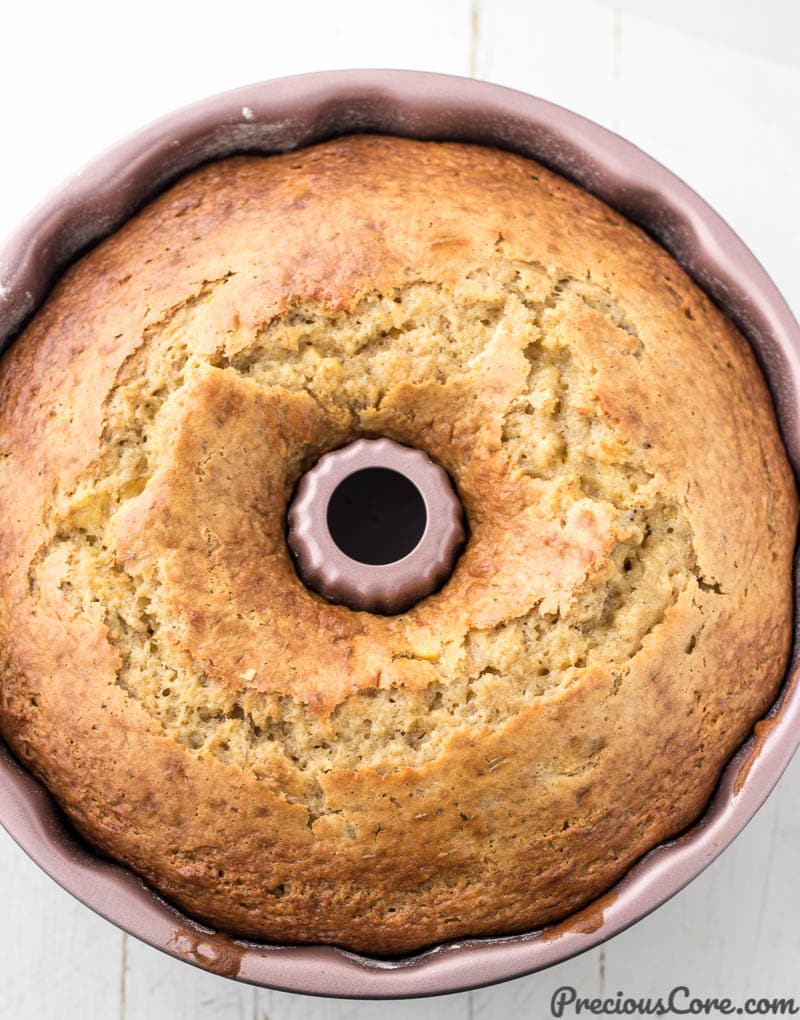 This recipe for Plantain Cake is really easy.
Easy Plantain Cake Recipe
First, mash some overripe plantains.
Add in milk, vanilla extract, lemon juice, and oil then stir.
Add flour, baking powder, salt, sugar, lemon zest, and cinnamon. Mix everything until combined.
Add beaten egg and mix until just combined.
Place into a greased baking pan and bake until done.
I highly suggest you use a bundt pan. I love my bundt pan. The beauty of a cake from a bundt pan cannot be rivaled. And it's a great baking pan for a pound cake.
Check out this Southern Lemon Pound Cake Recipe and Vanilla Pound Cake.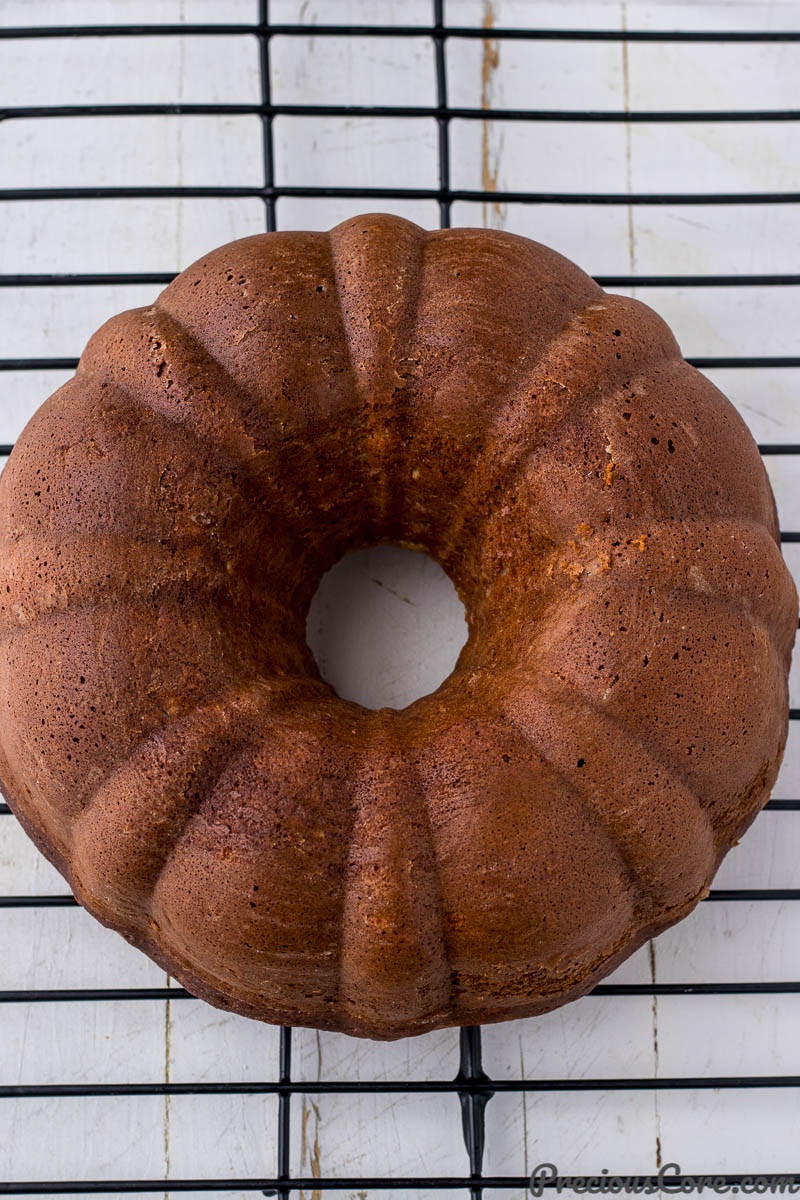 Once your plantain bundt cake is done, serve as it is or drizzle a simple glaze on top once it has cooled down then let the glaze to set and serve. You can also serve it with some sour cream or whipped cream and fresh fruit.
This Plantain Cake is perfectly moist and sweet with little bits of tender sweet plantains. My whole family loves this cake.
This is a great plantain dessert or breakfast! We ate some as a dessert and my daughters took a slice each to their dance class as a treat. This morning, we will be having some more for breakfast. It is a large cake so there's a lot to go around! It is completely versatile too so it serves us for breakfast, dessert or snack time.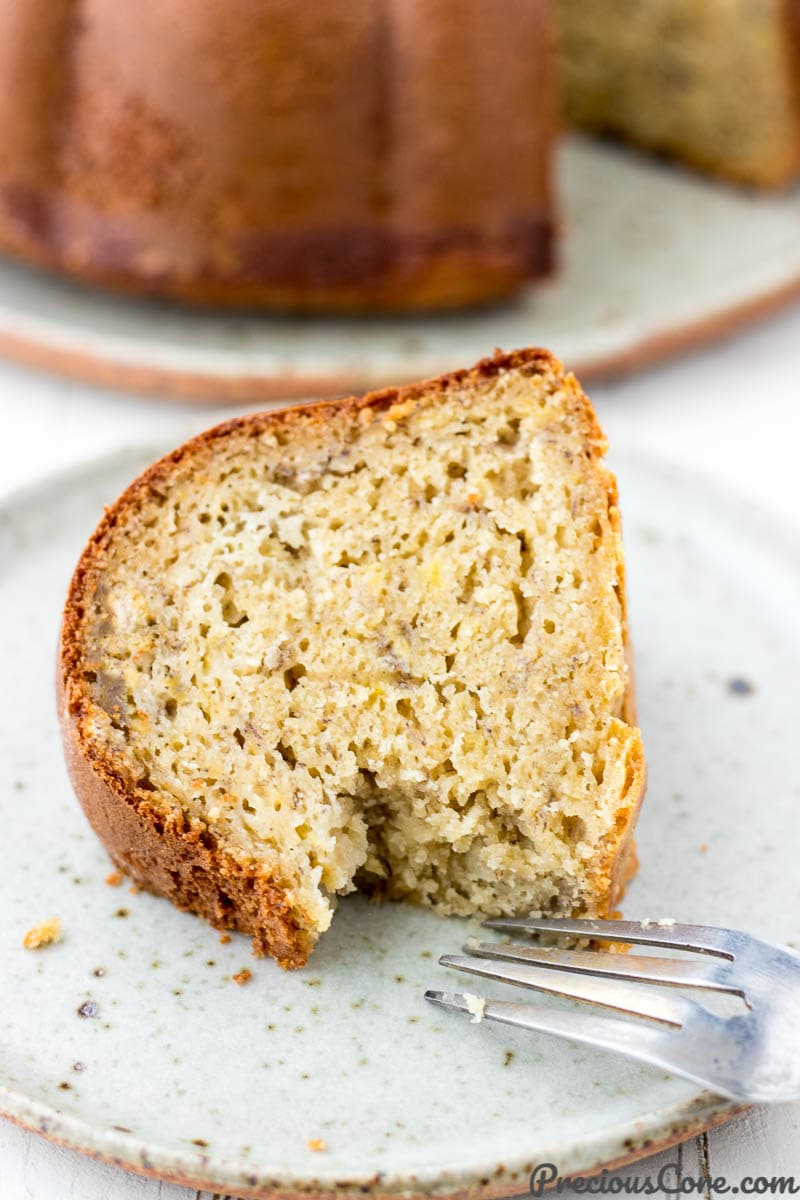 I beseech thee, no more throwing away your overripe plantains. Make them into something beautiful. Transform them into plantain cake.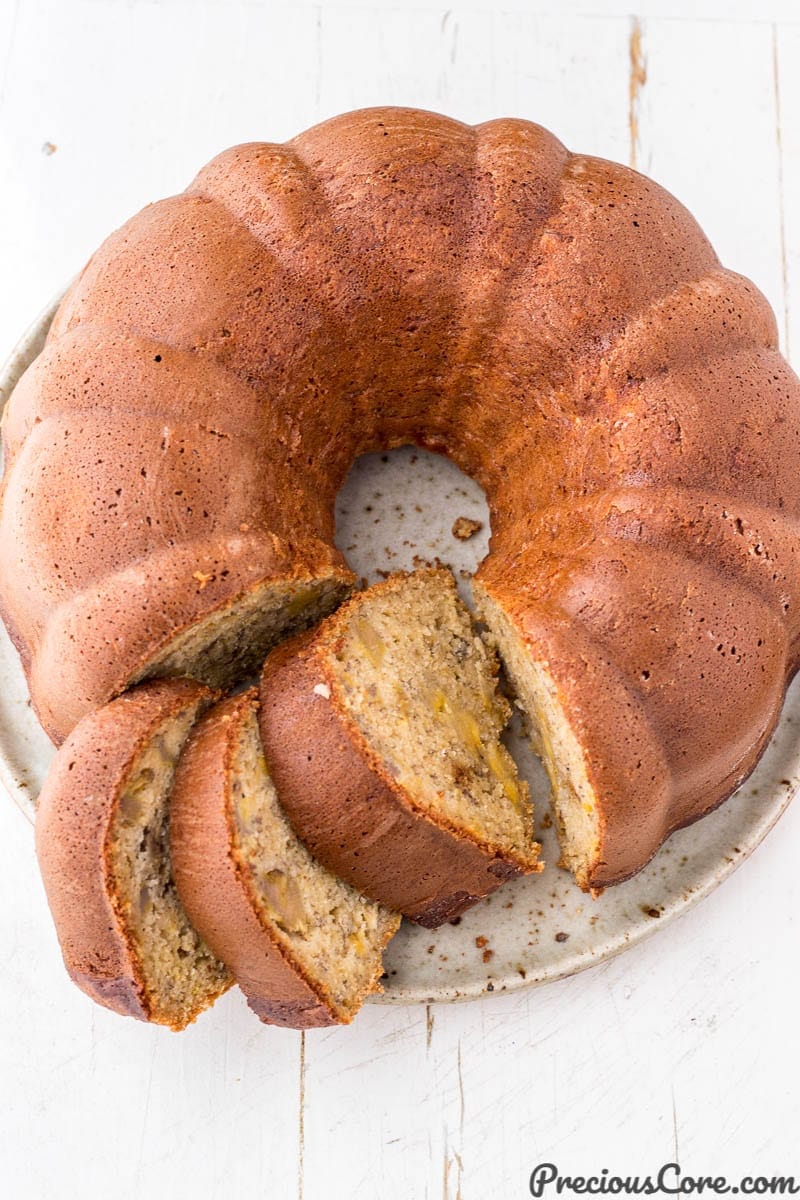 P.S For a gluten-free plantain cake recipe, check out this post.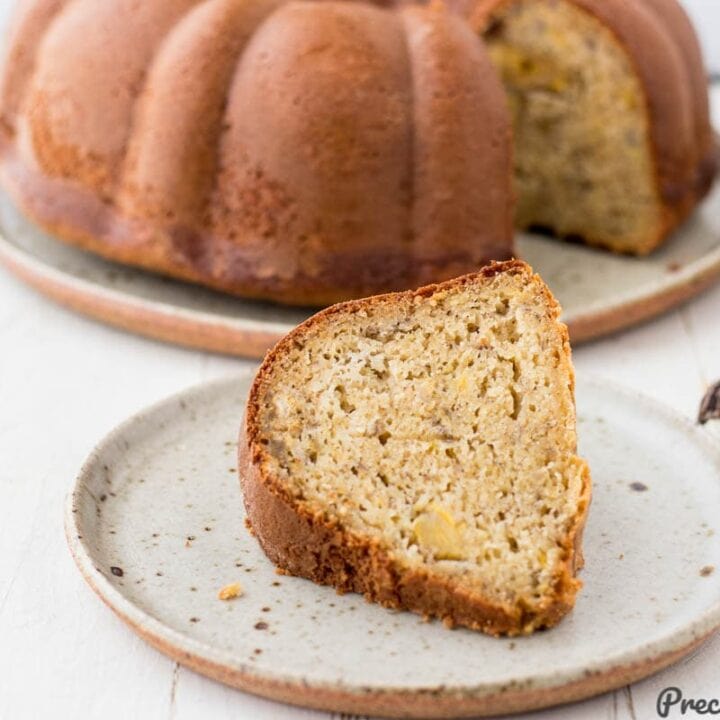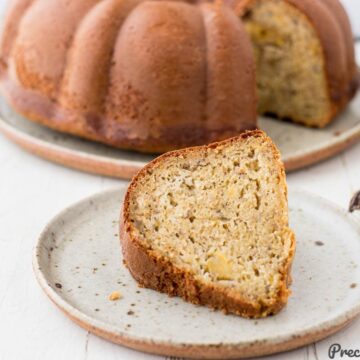 Plantain Cake
Exceptional Plantain Cake made with overripe plantains. This scrumptious plantain dessert will become a regular at your table. Simple enough for breakfast and elegant enough ton serve when receiving guests. This recipe makes at least 10 servings so there is enough to go round!
Ingredients
4

overripe plantains

3/4

cup

oil (175 ml)

12

oz

evaporated milk (354 ml)

2

teaspoons

vanilla extract

Zest of one lemon

Juice of one lemon

4

large eggs

2

cups

flour (250g)

1

teaspoon

baking powder

1

teaspoon

baking soda

1/2

teaspoon

salt

3/4

cup

granulated sugar (150g)

1

teaspoon

cinnamon powder
Instructions
Preheat oven to 350 degrees F (180 degrees C). Grease and flour a 9 1/2 inch bundt pan.

Peel plantains and place in a large bowl. Mash the plantains into a paste using a fork.

Add oil, vanilla and, lemon juice milk and mix until just combined.

In another large bowl whisk together flour, salt, sugar, baking powder, baking soda, lemon zest.

Add wet ingredients to dry ingredients and mix until just combined.

Beat eggs then add to mixture and mix until just combined.

Pour the batter into the prepared pan.

Bake for 1 hour until a toothpick inserted in the cake comes out clean.
Notes
1. To make a successful cake, your plantains should be overripe. They should be soft and squishy.
2. Evaporated milk may be substituted with whole milk or 2 percent fat-free milk.
3. Wrap leftover Plantain Cake in aluminum foil - be sure the cake is completely covered. Store at room temperature for 2-3 days.
Nutrition
Calories:
439
kcal
|
Carbohydrates:
61
g
|
Protein:
8
g
|
Fat:
19
g
|
Saturated Fat:
2
g
|
Polyunsaturated Fat:
5
g
|
Monounsaturated Fat:
11
g
|
Trans Fat:
0.1
g
|
Cholesterol:
67
mg
|
Sodium:
336
mg
|
Potassium:
515
mg
|
Fiber:
2
g
|
Sugar:
32
g
|
Vitamin A:
1037
IU
|
Vitamin C:
14
mg
|
Calcium:
140
mg
|
Iron:
2
mg
*This post contains affiliate links.