Lentil Stew
Published Jan 26, 2022
Updated Oct 13, 2023
How to make a really flavorful Lentil Stew that makes a nutritious vegetarian or vegan dinner. Lentils are loaded with fiber and you should definitely be making them if you don't cook them.
Enjoy this stew as it is or serve it with some easy roasted potatoes, cornbread, or easy coconut rice. This is one yumminess you'll need to make over and over again!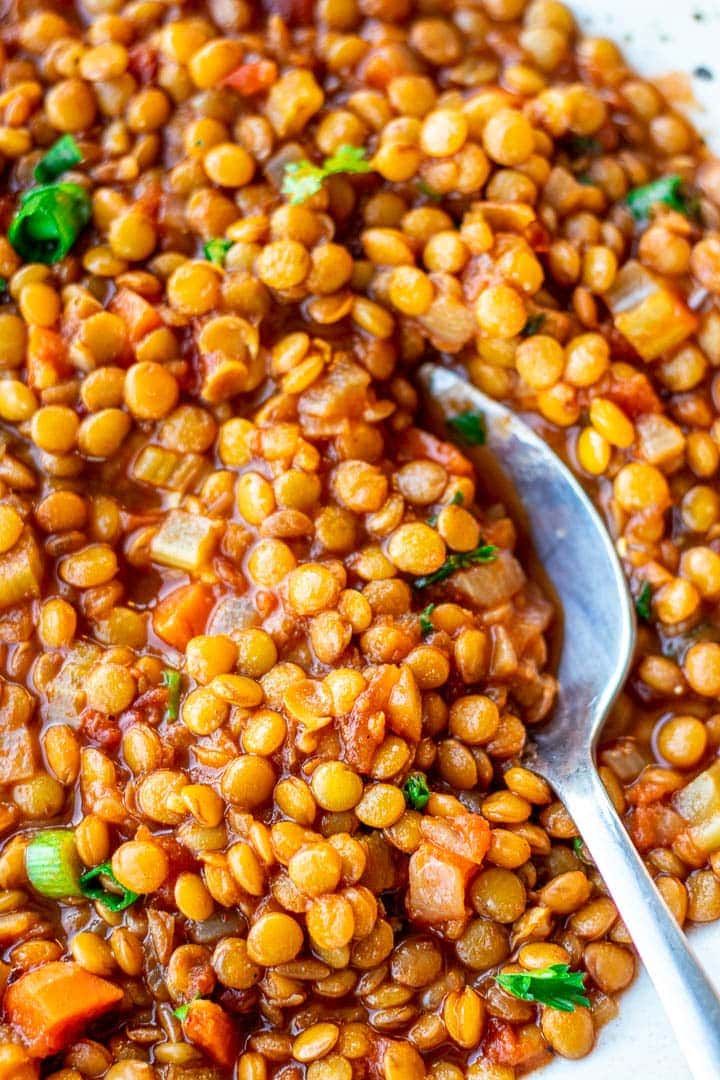 A bowl of this Lentil Stew is hearty lip-smacking good and loaded with nutrients for you. With the combination of herbs and spices used the stew is highly flavorful! Add this vegetarian dish to your dinner rotation!
At this time of the year when many of us are trying to reset our lives, I find this stew to be one of the most delicious and filling meals I can use to nourish my body.
I recently decided to eat mostly plant-based meals for a few weeks. And this is one of the recipes I enjoyed again and again.
A bowl of stew made with lentils is really good on its own but feel free to pair it with some cornbread, French bread, or hot fluffy rice. I even made a Lentil Stew VIDEO to show you how to make it.
If you love tasty stews, check out this Beef Stew Without Wine and African Chicken Stew.
What Is Lentil Stew?
Lentil Stew is a stew made with lentils. Lentils are legumes (similar to beans) that are high in protein.
Lentils look like pebbles and have a mild flavor which makes them a good canvas for adding other flavors.
Lentils come in different varieties including red lentils, brown lentils black lentils, and green lentils.
Lentil Stew is made with different spices, sometimes tomatoes, and can be made completely plant-based or can be made with added meat.
Lentils are similar to beans as they are part of the legume family but they are smaller in size and they cook faster than beans.
Ingredients For Lentil Stew
Here are the ingredients you need for an easy stew made with lentils: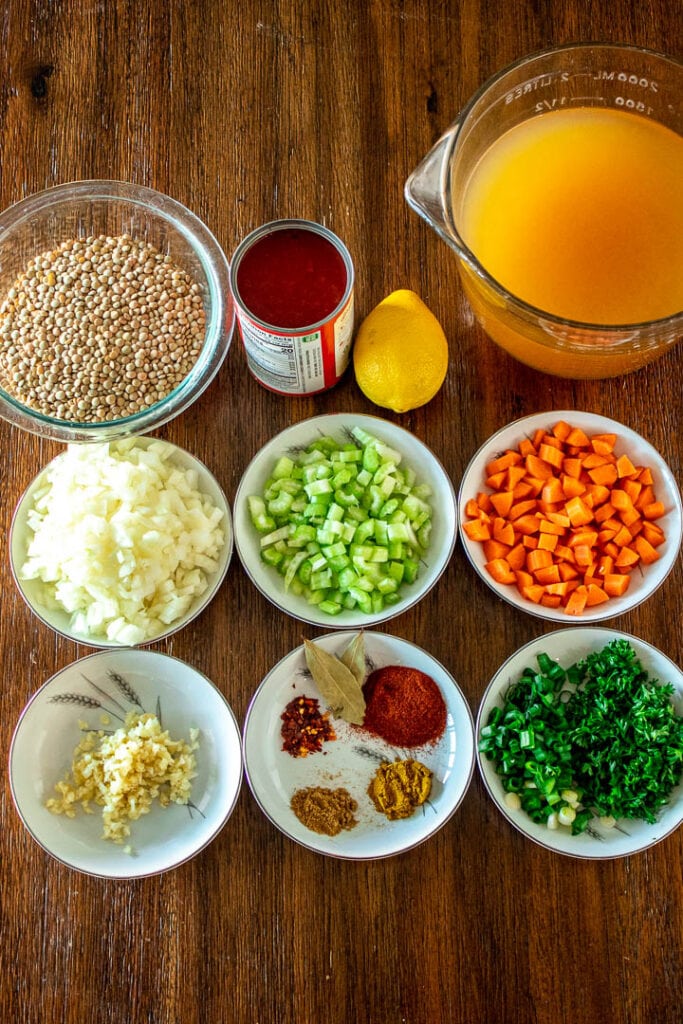 Onion and Garlic: These build the flavor base for this stew.
Carrots and Celery: These are a classic addition to any stew and they add great flavor.
Cumin, Paprika, Curry Powder, Red Pepper Flakes, and Bay Leaves: For even more flavor. No bland stew here!
Green or Brown Lentils: Avoid lentils that will easily disintegrate like red lentils. I used green lentils. The lentils I use don't easily disintegrate but the one you use might disintegrate more so take note of that.
Vegetable Broth or Stock: If you use low-sodium broth you'll have to add quite a bit of salt to bring out the flavors. Other kinds of broth or stock like chicken broth or beef broth would work here as well.
Crushed Tomatoes: I prefer crushed tomatoes to diced tomatoes in this recipe because I don't cherish chunks of tomatoes in my Lentil Stew.
Lemon Juice: Finish off the stew with a squeeze of lemon juice for an even brighter flavor.
See the recipe card below for quantities.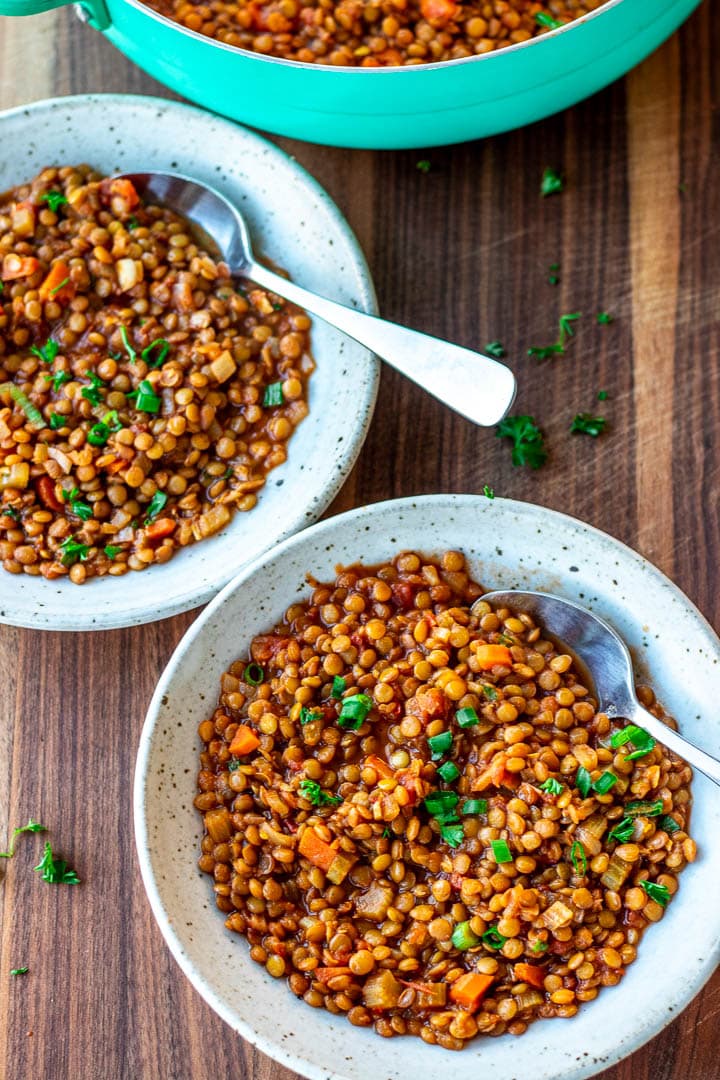 How To Cook Lentil Stew
First, sauté some onion and garlic then add carrots and celery and cook to release their flavors.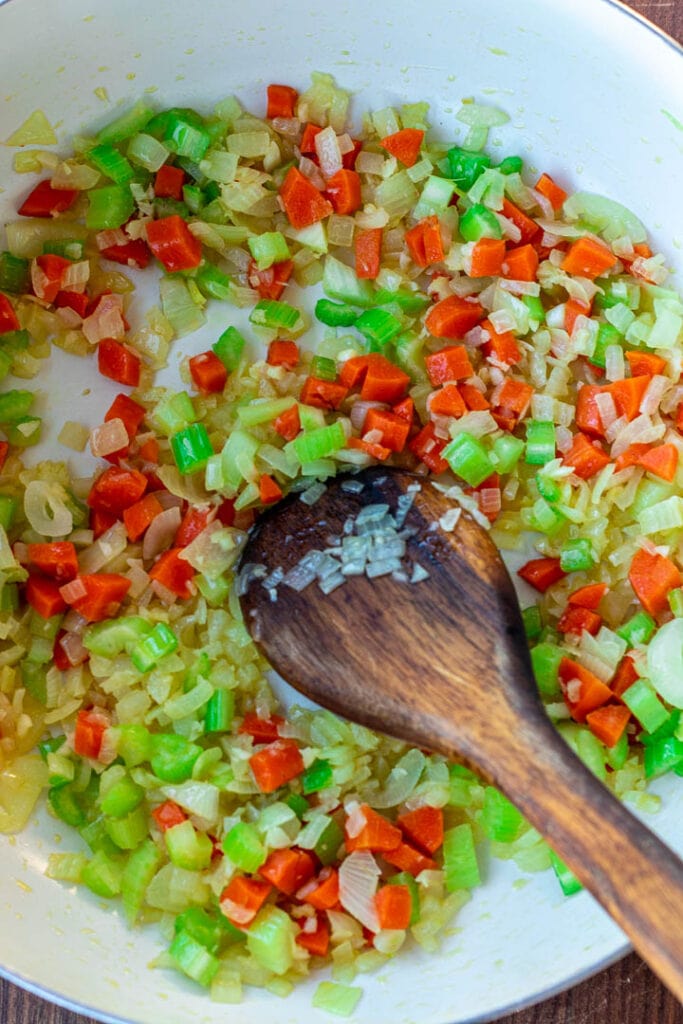 Next, add dried spices and stir so their flavors can bloom. Then add in lentils, vegetable broth or stock, crushed tomatoes, bay leaves, salt, and pepper.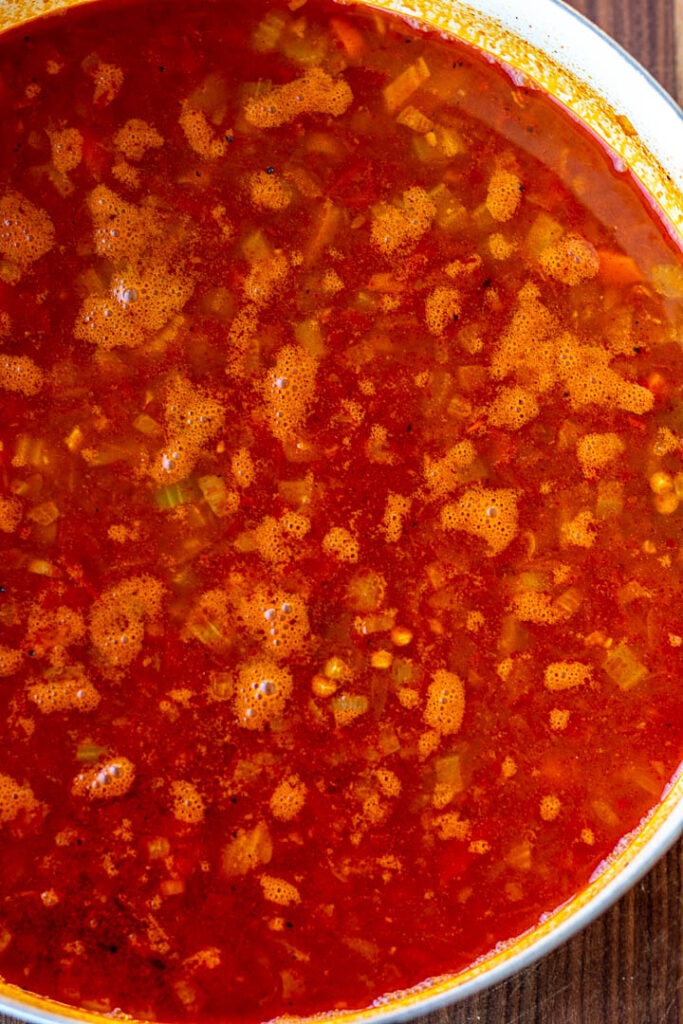 Let the stew cook until the lentils are soft. It takes about 35 minutes.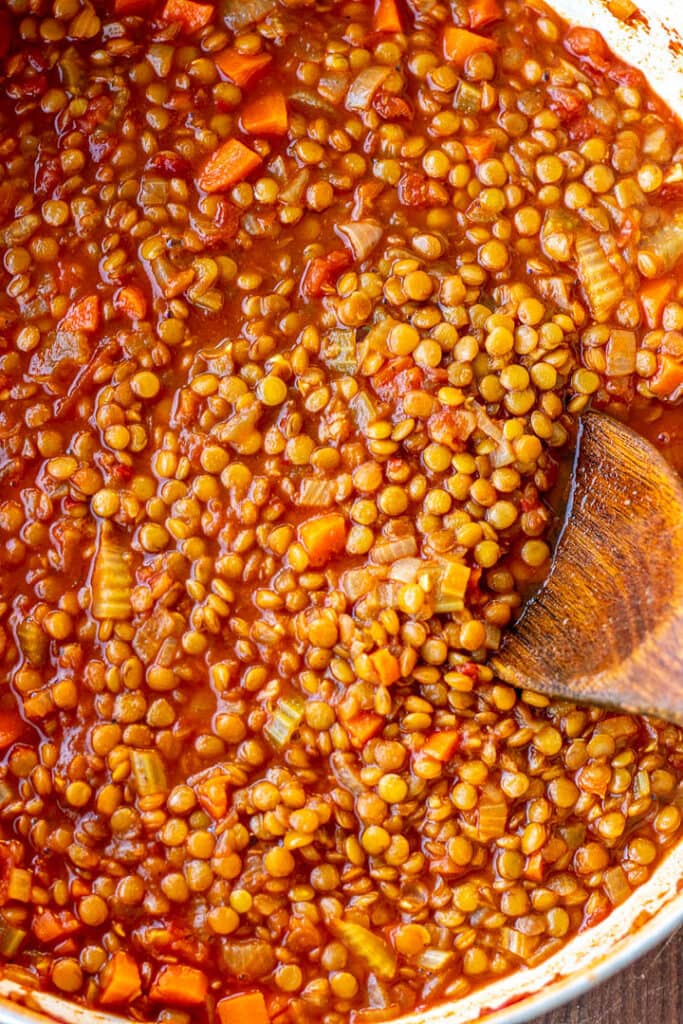 Note that cooking times could vary so start checking your lentils around 30 minutes for doneness.
Top tip:
If you can, make this Lentil Stew in a Dutch oven pot because Dutch oven pots retain their heat well so they are great for making stews.
Finish your stew with a squeeze of lemon juice for freshness, and top with minced fresh parsley and chopped green onions if desired.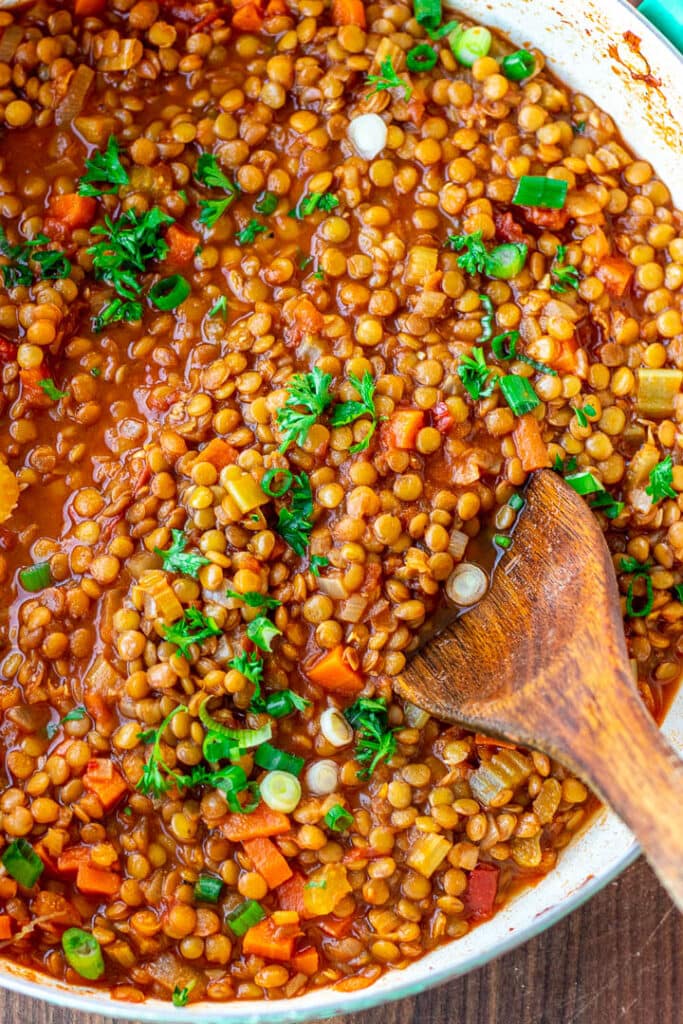 Variations
Here are different ways you could take this easy vegetarian tew recipe to the next level.
Spicy – add more red pepper flakes or a little cayenne pepper to bring the heat.
Potatoes – add diced potatoes and cook them with the lentils to make a filling one-pot meal. Note that you may need to adjust seasoning and the add the amount of broth used if you choose to add potatoes.
Chicken – Add chicken to make chicken lentil stew.
Greens – add leafy greens like kale or spinach and let them wilt just before you turn off the heat for even more nutrients.
Can You Freeze Lentil Stew?
Yes! Lentil Stew freezes quite well for up to 4-5 months. Place the stew in freezer-safe bowls, let it cool completely then transfer it to your freezer.
I love freezing individual servings that I can easily thaw and reheat for a quick lunch!
How Many Calories in Lentil Stew?
A serving of Lentil Stew is 412 calories. This recipe makes 6 good servings.
What To Serve With Lentil Stew
Enjoy this stew on its own or serve it with the following:
More Hearty Stew and Soup Recipes
Also, check out these Easy Dinner Recipes For Family and African Dinner Recipes.
If you make this Lentil Stew recipe, please leave me a comment or star rating below.
Lentil Stew
The secret is in the combination of spices used! This yields a really flavorful Lentil Stew that makes a nutritious vegetarian or vegan dinner. Enjoy as is or pair with some crusty bread, cornbread or rice. This is one yumminess you'll need to make over and over again.
Ingredients
2

Tablespoons

olive oil

1

onion, chopped

I used yellow

6

garlic cloves, minced

2

celery stalks

chopped (about 3/4 cup)

2

medium carrots

chopped (about 3/4 cup)

1/2

teaspoon

cumin powder

2

teaspoons

smoked paprika

1

teaspoon

curry powder

1/4

teaspoon

red pepper flakes

for a little heat, optional

15

oz

crushed tomato (425g)

2

cups

lentils (400g)

picked over and rinsed

6

cups

vegetable broth or stock

or chicken/beef stock. Sub with enough bouillon cubes and water to make 6 cups.

1/2

teaspoon

salt

2

dried bay leaves

1/4

teaspoon

ground black pepper

1/2

lemon (juice)
To Serve
Chopped green onions and fresh parsley

for garnish

Warm bread or hot rice to serve
Instructions
Place a large pot on medium heat. Add oil and heat up for 2 minutes. Add onions and cook for 2 minutes. Add the minced garlic and stir. Cook for 1 minute.

Add the chopped carrots and celery. Cook for about 7 minutes until softened.

Add the cumin, smoked paprika, curry powder and red pepper flakes (if using). Stir and let them cook for 2 minutes with the carrots, celery and onions while stirring so the flavors can bloom.

Add the rinsed lentils, crushed tomatoes, vegetable broth or stock, salt and pepper. Stir everything to combine. Increase the heat and bring to a simmer. Remove the scum on the surface of the stew and discard.

Cover the pot and let it simmer for about 30-35 minutes until the lentils are soft and the liquid has greatly reduced. Add more liquid to the pot if desired (I add a little more broth at this point).

Taste and adjust seasonings as needed. Add a little more salt/pepper if you like.

Squeeze in lemon juice and stir to combine just before serving. Garnish with parsley and green onions if desired and serve as is or with arm crusty bread, cornbread or hot fluffy rice.
Notes
Lentils: This recipe works well with green or brown lentils. Avoid red lentils as they will easily disintegrate.
Storage: Store lentil stew in the fridge for up to 5 days or keep in the freezer for up to 4-5 months.
Optional add-ins: Shredded chicken or leafy greens like kale or spinach make great optional add-ins.
Source: This recipe is slightly adapted from the Lentil Soup recipe by Nagi of RecipeTinEats. I added some touches to it to make it more suited to my taste.
Nutrition
Calories:
412
kcal
|
Carbohydrates:
63.8
g
|
Protein:
26.3
g
|
Fat:
7.7
g
|
Saturated Fat:
1.3
g
|
Sodium:
1312
mg
|
Potassium:
1704
mg
|
Fiber:
25.9
g
|
Sugar:
4.1
g
|
Calcium:
157
mg
|
Iron:
9
mg